10 Most Beautiful Islands in the South Pacific
Eye-popping blue waters, palm trees, powdery beaches, and perfect sunny days probably spring to mind when you dream about the fabled islands of the South Pacific. Some of the most beautiful islands in the world lie in this beguiling region, but each of these tropical beauties offers something different.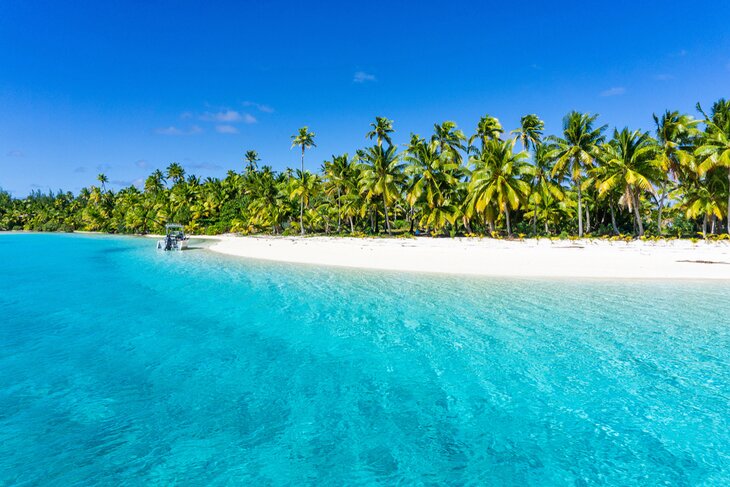 Polynesian island chains like Samoa, the Cook Islands, and French Polynesia offer luminous aqua lagoons, fish-rich coral reefs, and dazzling beaches with silky-soft sands.
Melanesian island chains like Fiji, Vanuatu, the Solomon Islands, and New Caledonia offer a similar brand of natural beauty, but with their own distinct cultures. Palau is a topographic wonderland above and below water, and cultural and archeological attractions are a top draw in destinations like enigmatic Easter Island.
From some of the best islands in Fiji to eco-tourism destinations in Australia, find the top places to visit for an idyllic holiday with our list of the best islands in the South Pacific.
1. Bora Bora, French Polynesia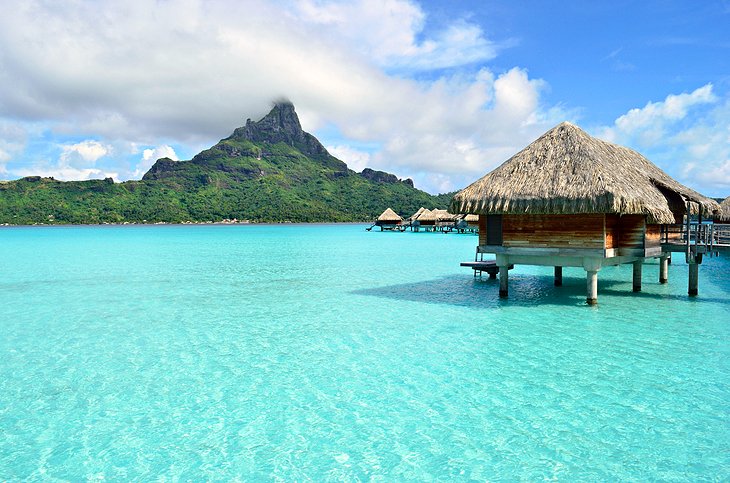 Cloaked in green and encircling an impossibly radiant turquoise lagoon, Bora Bora is the beauty queen of the South Pacific. Glimpsed from afar, the lush peaks of Mount Otemanu and Mount Pahia jut from the sea, with arms outstretched as if to welcome you into their seductive embrace.
Adventures here cover both land and sea. You can explore the lagoon and its tiny islets or motus on cruises, which often include the opportunity to snorkel with sharks and rays, and you can hike a web of trails up jungly hillsides to survey all the beauty. Top it all off with mouthwatering French-inspired food and romantic resorts.
Where to Stay: There is no shortage of beautiful resorts on Bora Bora. The islands are famous for having some of the best overwater bungalows in the world. Are you looking for the ultimate honeymoon escape? Both the Four Seasons Resort Bora Bora and the InterContinental Resort & Thalasso Spa offer the island's famous over-the-water bungalows right on the ravishing lagoon.
Bora Bora's sister island, Moorea deserves special mention and also boasts a beautiful lagoon, slices of white-sand beach, and plunging emerald peaks.
Accommodation: Top-Rated Resorts in Tahiti
2. Aitutaki, The Cook Islands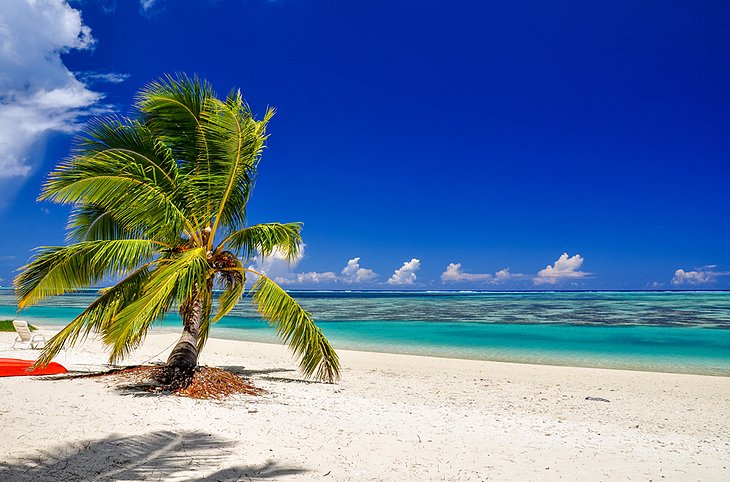 Presiding over another of the most beautiful lagoons in the South Pacific, Aitutaki is an underrated jewel. Closely linked to New Zealand, the Cook Islands lie between French Polynesia and Samoa.
Aitutaki is the second-most visited island in the chain and lies about a 45-minute flight away from Rarotonga, the most popular island and location of the international airport.
Attractions: At its most northern end, the island of Aitutaki hooks around one of the Cook Islands' top attractions: spectacular Aitutaki lagoon. Uninhabited motus (islets) dot the clear waters within kayak distance from some of the resorts, and schools of trevally and other tropical fish flit through the shallows. You can paddle out with a picnic and pretend you're Robinson Crusoe for the day.
Where to Stay: A string of plush resorts perch along its gleaming shores, including Pacific Resort Aitutaki and Aitutaki Lagoon Resort & Spa, yet the island manages to retain a relaxed and traditional feel, with friendly locals and a snoozy pace of life. Best of all, the Cook Islands are among the cheapest Pacific islands to visit if you choose more modest accommodations.
3. The Mamanuca Islands, Fiji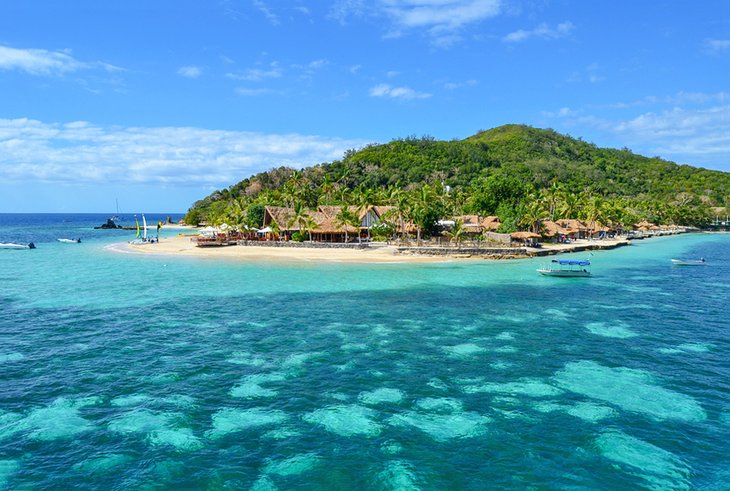 Dazzling beaches, serene blue seas, and plenty of sunshine make the Mamanucas among Fiji's best islands. Coral reefs shimmer in the clear waters around these 20 tropical beauties, and the famous Cloud Break, a world-class surf break, lies a short boat ride away.
If you loved the scenery on the movie Cast Away and Survivor Fiji, both of which were filmed on islands in this chain, this is your place. Plus you can enjoy the warm hospitality of the locals, for which Fiji is famous.
Where to Stay: You can take your pick from plenty of resorts here, including luxury options like Likuliku Lagoon Resort, and the adults'-only Tokoriki Island Resort, a romantic destination for couples.
Surfers head to Tavarua Island Resort, which just reopened its doors in October of 2022, and backpackers can bask at the more affordable Beachcomber Island Resort. Most of these islands lie less than an hour away by boat from Denarau Island Marina on the main island of Viti Levu.
Just north of the Mamanuca Islands, the less-developed Yasawa Islands come a close second in the beauty stakes.
Accommodation: Best Family Resorts in Fiji
4. Samoa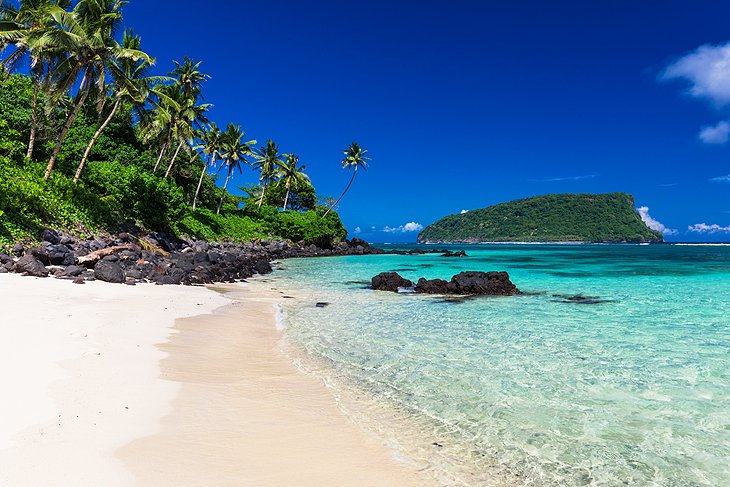 Samoa is one of the South Pacific's best kept secrets. Unassuming, unsullied, and stunningly beautiful, it lies in the heart of Polynesia. If you look on a South Pacific islands map, you'll find this alluring archipelago of 10 tropical islands about halfway between New Zealand and Hawaii.
Samoa was born in a dramatic volcanic uprising, creating rugged rock islands and toothy peaks. Lush jungles cloak the hillsides, waterfalls tumble down sheer cliffs, and coral reefs rim the islands' shores.
Adding to all this natural beauty is the warm hospitality of the locals, who still fiercely cling to their traditional values and customs, called "Fa'a Samoa."
Savai'i and Upolu are the two main islands. Most visitors stay on Upolu, where Apia, the capital, is home to the Robert Louis Stevenson Museum. But Savai'i offers its own sleepy South Seas charm.
Top aquatic adventures in Samoa include snorkeling and diving on the fringing coral reefs, game fishing, swimming, and kayaking. Surfing is also fantastic, but is best left for more experienced surfers due to the treacherous coral reefs.
On land, you can bask on Lalomanu Beach, hike the rainforest trails, take a 4WD or bicycle sightseeing tour, and photograph some of the South Pacific's most beautiful waterfalls.
Don't miss taking a dip in the To Sua trench, about a 1.5-hour drive from Apia. Surrounded by beautiful gardens, this 30-meter-deep crater filled with seawater stars on Samoa postcards and tourist brochures.
Where to Stay: Samoa's accommodations range from rustic huts (fales) on the beach to five-star resorts like Sinalei Reef Resort & Spa.
5. The Solomon Islands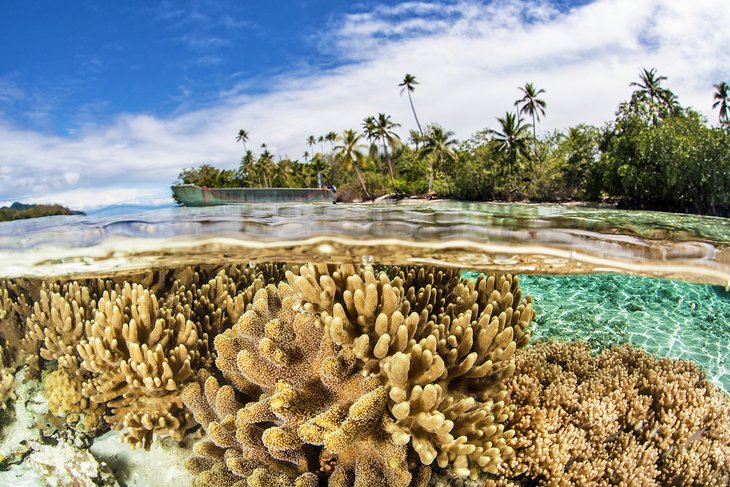 Wondering how the South Pacific used to be, back in the days before rampant tourism and ritzy high-rise resorts? Book a ticket to the Solomon Islands. A three-hour flight from Brisbane, Australia, this idyllic arc of almost 1,000 islands is an eco-tourist's dream.
Things to Do: Lying between Papua New Guinea and Vanuatu, the Solomons offer a dazzling array of adventures. Snorkel through clouds of tropical fish on kaleidoscopic reefs. Surf your dream wave in Malaita or Tagovave. Catch a giant trevally or a monster mahi mahi. Dive World War 2 shipwrecks. Kayak across crystal-clear lagoons or cruise through croc-filled mangroves on an eco-tour.
Looking for land-based adventures? The options are equally exciting. You can climb an extinct volcano or trek through dense jungles to thundering waterfalls and traditional leaf-hut villages. If history is high on your list of interests, head to Honiara, the capital, where you can explore war sites and World War 2 relics.
The Solomon Islands are also renowned for their rich biodiversity — both in the sea and on land. Dappled with coral reefs, the waters host an astounding variety of sea life, and bird-watching is especially rewarding, with many endemic species to tick off your birding bucket list.
Where to Stay: If you're looking for big chain hotels, you won't find them here. Instead, accommodation is mostly in charming beachfront bungalows, family-run eco retreats, and village stays — the perfect way to soak up the culture and meet the friendly locals.
Heritage Park Hotel Honiara is a four-star hotel set on the island of Guadalcanal. Three restaurants, comfortable rooms, and friendly staff welcome guests to this waterfront resort. Fatboys Resort is a hidden gem perfect for couples. Set on Mbambanga Island, it boasts four bungalows and a beach house, water sports, a restaurant, and privacy.
6. Palau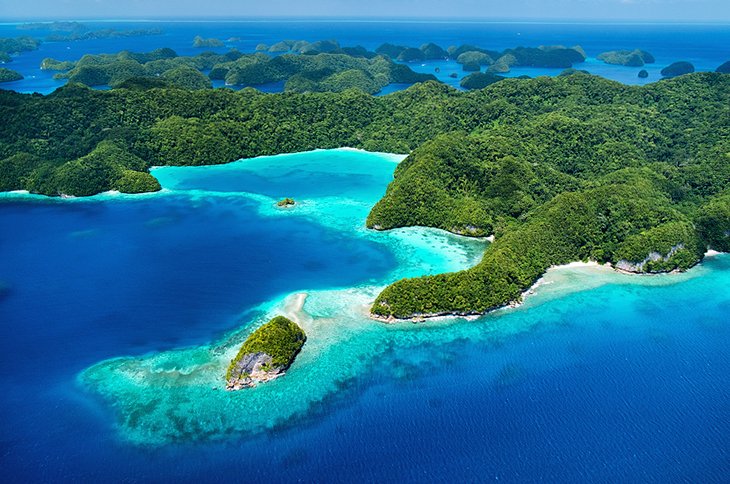 Palau is one of the world's top dive destinations, and for good reason. From the air, the 500 plus islands of Palau are a study in topographic beauty, jutting out of the sea like a maze of jungly blobs, and beneath their limpid turquoise waters lies a fish-rich wonderland.
Water Sports: The multi-hued hard and soft corals are populated by an astounding diversity of marine life, including turtles, sharks, sea snakes, giant clams, and rays. Palau is also known for its WWII wreck diving and the Ngemelis Wall, or Big Drop-Off, reputedly one of the best wall dives in the world.
One of the top things to do in Palau is take a boat trip to the Rock Islands, where you can snorkel in crystal-clear waters, paddle around them in sea kayaks, and bask on their slivers of white-sand beach.
Activities on Land: Though underwater scenery is the star attraction, the islands offer plenty of land adventures. More than three quarters of the land is cloaked in native forest and mangroves, and you can hike to waterfalls and Polynesian stone monuments.
Palau's main commercial town, Koror, is also home to a few museums and WWII monuments.
Where to Stay: The Palau Pacific Resort is a great place to stay for families and couples alike. Kids will love the oceanfront pool and water sports, while amorous couples will appreciate the romance oozing from luxury overwater bungalows and a relaxing spa. The newly renovated Palau Central Hotel is centrally located on Koror Island, close to shops and restaurants.
7. Espiritu Santo, Vanuatu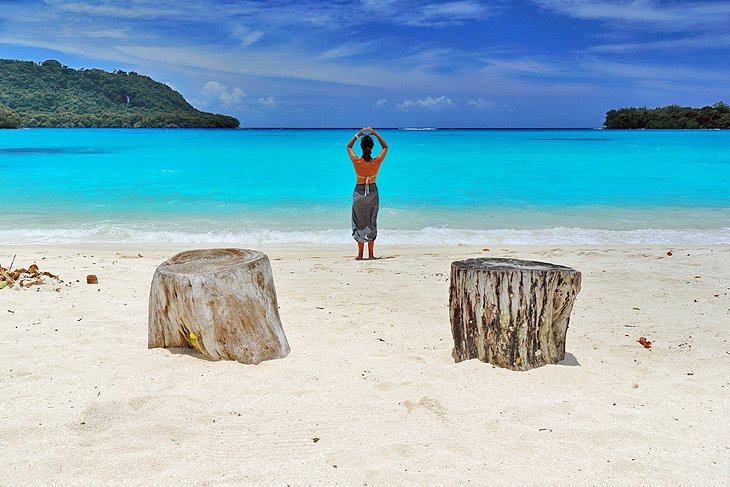 Vanuatu's largest island, Espiritu Santo ("Santo" as it's affectionately called), is one of the prettiest islands in the South Pacific and a top place to visit for adventurers. Wrecks, reefs, and ravishing beaches are the top attractions here, and jungle-based adventures are also high on the list.
Champagne Beach is a must-visit, with its powdery sands and crystal-clear waters, and you can snorkel and dive fertile coral reefs, as well as famous wrecks like the SS President Coolidge from WW II.
Landlubbers will also find plenty of adventures. One of the island's top adventures is a visit to Millennium Cave, which involves a jungle trek, crossing bamboo bridges, descending deep into a cave, and a swim through a pond and a series of jungly rapids.
You can also horseback ride along empty beaches and scale some of the country's highest peaks in the southwest of the island. The lush countryside inland is dotted with tiny villages that have changed little over the years.
The island is also known for its beautiful blue holes, where crystal-clear water bubbles up from freshwater springs through layers of limestone in brilliant blue hues.
Getting Here: The easiest way to access Santo Espiritu is to fly from Vanuatu's capital, Port Vila. Direct flights also run from Brisbane and Sydney in Australia.
Where to Stay: If you're traveling with children, a stay at the family-friendly Holiday Inn Resort Vanuatu will tick all the boxes. Their kids' club is well liked, the main pool is fabulous, and there are plenty of activities to keep kids and parents happy. Or, step things up with a stay at the five-star The Havannah Vanuatu, a romantic luxury resort boasting plush villas and unbeatable service.
8. Lord Howe Island, Australia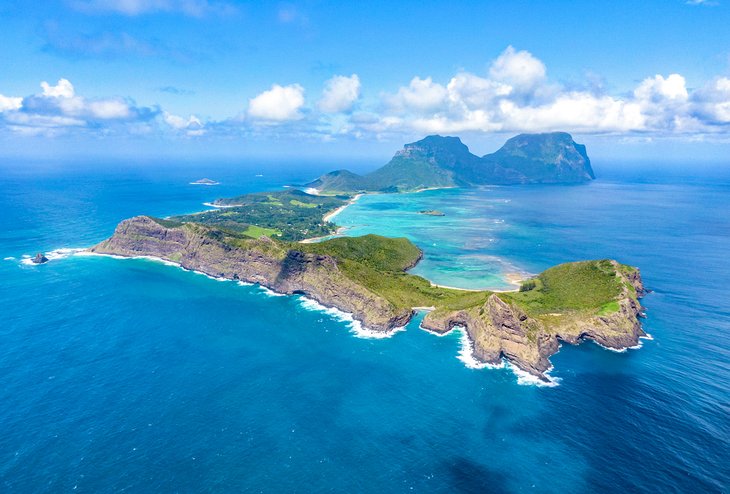 Peaceful and pristine, World Heritage-listed Lord Howe Island limits the number of guests allowed to alight upon its unspoiled shores — and that's just one of its many charms. About 660 kilometers off the north coast of New South Wales in Australia, this ring of soaring sea cliffs and tiny islets was once part of a volcano.
Today, almost two thirds of the island is protected, making it a nirvana for nature lovers.
Things to Do: You can bask on its beautiful white-sand beaches; snorkel, swim, and feed the colorful fish at Ned's Beach; hike in the pandanus- and palm-splotched forests; and, if you love bird-watching, you can tick an astounding diversity of species off your bird lists.
On land, one of the most popular things to do on Lord Howe Island is hike up 875-meter Mt. Gower for spectacular views, or scale the slopes to Malabar Hill or Kim's Lookout.
In the sea, you can dive and snorkel along Elizabeth Reef, the world's most southerly coral reef; go deep-sea fishing; or sea kayaking.
Bicycles are the preferred form of transport here, and the fact that cell phones might not have coverage is seen as a blessing by most who visit.
Getting Here: Lord Howe Island is less than two hours by air from Brisbane or Sydney.
Where to Stay: Pinetrees Lodge is one of the most popular places to stay. Set on the Lord Howe Island lagoon, this luxe resort offers easy access to diving, snorkeling, surfing, and kayaking, among other fun activities. The five-star Capella Lodge offers a relaxing, romantic experience at the foot of two towering mountains.
9. Isle of Pines, New Caledonia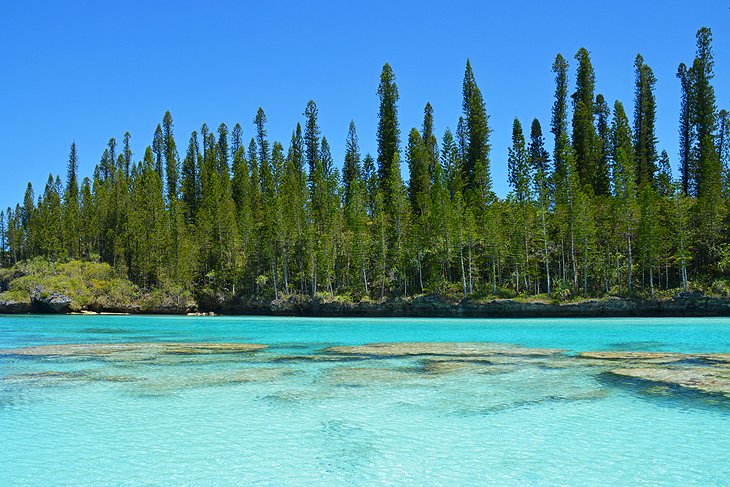 Captain Cook named this southernmost island in New Caledonia for the slender pines that stand like sentries along its gleaming white shores. Today, it's one of the top tourist places to visit in this overseas French territory.
Isle of Pines (Île des Pins) is probably best known for its pretty pine-fringed bays with soft white-sand beaches lapped by water in brilliant hues of blue. Adding to this natural beauty, cute rock islets loom offshore, capped with lush foliage.
Popular things to do in the Isle of Pines include swimming, snorkeling, and sunbathing at Kanumera Bay and Kuto Bay; stand up paddleboarding; glass-bottom boat tours; and exploring the island's caves. Not far from Oro Bay is a natural seawater swimming pool, Piscine Naturelle, where you can swim and snorkel with swarms of tropical fish, and Upi Bay is dotted with picturesque mushroom-shaped rock formations.
Getting Here: Isle of Pines lies a 30-minute flight or 2.5-hour boat ride from New Caledonia's distinctly French capital of Noumea. New Caledonia is about a 2.5-hour flight from Sydney.
Where to Stay: Two of the best hotels in Ile des Pins include Le Meridien Ile des Pins, which lies in an ancient coconut grove, and the family-friendly Oure Tera Beach Resort.
10. Easter Island (Rapa Nui), Chile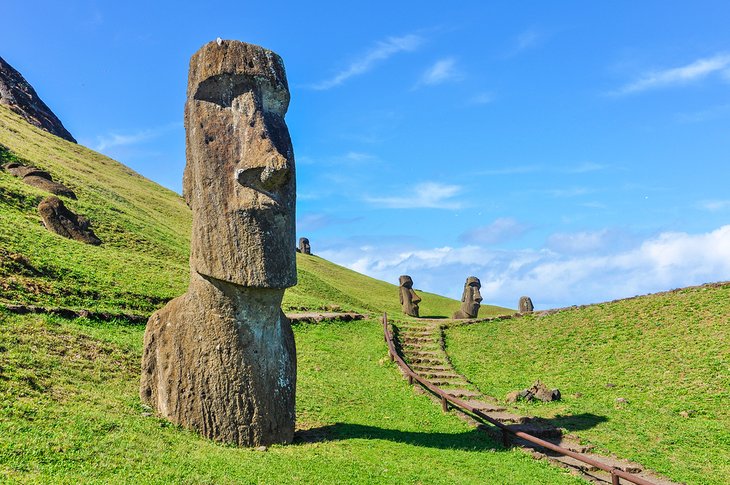 One of the planet's most isolated inhabited islands, Easter Island (Rapa Nui: Polynesian, Isla de Pascua: Spanish) exudes a rugged, mystical beauty. This popular ecotourism destination belongs to Chile, yet it lies more than 3,700 kilometers to the east in the southeastern Pacific Ocean and feels true to its deep Polynesian roots.
The island's landscapes consist primarily of the grassy domes of extinct volcanoes rippling against a backdrop of brilliant blue water. Much of the island is protected by the World Heritage-listed Rapa Nui National Park, and this is where many of the archeological and natural attractions lie, including caves; volcanoes; hiking trails; ceremonial sites; and some of the island's 887 moai, its most famous attraction.
The moai, massive stone statues created by the Rapa Nui people from the 10th through the 16th centuries, loom over vibrant landscapes of stark beauty. Biking, hiking, and horseback riding are all popular ways to explore the island.
Other things to do include trekking, diving, snorkeling, and surfing the island's powerful swells. If you really need a beach fix, you can bask on Anakena Beach, a pretty bay with a half-moon slice of white-sand and groves of slender coconut palms.
Where to Stay: The stunning Explora Rapa Nui resort is an architectural masterpiece that makes the most of its spectacular scenery. And the exquisite Nayara Hangaroa resort is more than worthy of its steep price. It boasts a spa, elegant rooms, a reading room, and an outdoor pool.
Map of South Pacific - Most Beautiful Islands