18 Best Springs in Florida
Florida is known for its areas of natural beauty (think: mangrove forests, the Everglades, and miles of sandy beaches). One of its less famous yet remarkable features is found farther inland: the incredible freshwater springs.
Nearly 700 natural springs pepper this lush East Coast peninsula, offering the most magnificent and unforgettable views. Crystalline turquoise water bubbles up from the limestone bottom, welcoming visitors to its tranquil habitat, which is home to incredible wildlife (we see you, manatees).
The majority of Florida's best springs remain at a constant 72 degrees Fahrenheit throughout the year, making swimming a fun and refreshing activity.
Many of the top springs in Florida feature winding systems of underwater caves popular with snorkelers and scuba divers. Others offer kayak and canoe rentals for visitors to better enjoy the vast expanses that feed into nearby rivers.
Deciding which freshwater spring to visit first can be challenging — they're all breathtakingly gorgeous. Narrow down your starting point with this list of the best springs in Florida.
1. Three Sisters Springs, Crystal River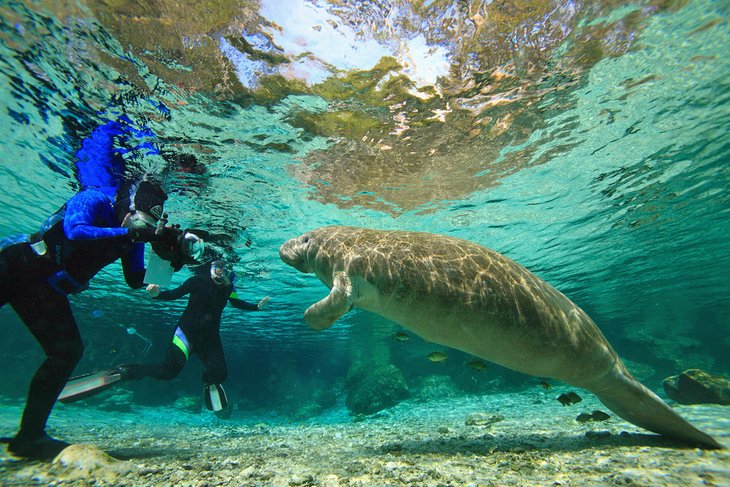 Talk about crystal clear. Three Sisters Springs in Crystal River has water so clean, you can see straight through it. Time your visit right, and you'll spot one (or more) of the state's most prized inhabitants: manatees. Just an FYI, they're more prevalent during the cooler winter months.
In order to protect these and other species, no motorized vessels are allowed inside the park, and you can't access the springs by land, either. The only way to enjoy this pristine wonderland is by kayak, canoe, or paddleboard.
Insider's tip: For in-water access to the springs, head to nearby Hunter Springs Park or Kings Bay Park to launch your kayak or canoe.
2. Madison Blue Spring State Park, Lee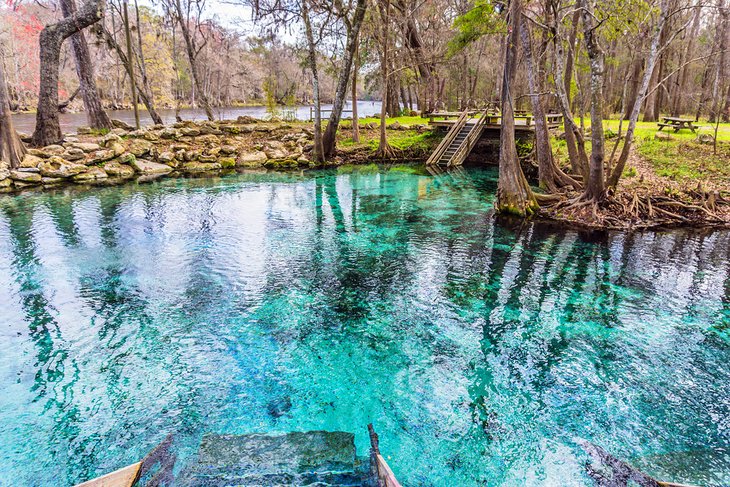 Located about 10 miles east of Madison and nearly 70 miles east of Tallahassee, this captivatingly clear freshwater spring is one of the best springs in Florida. It ends along the western bank of the Withlacoochie River.
A popular swimming hole, the spring is 25 feet deep and nearly 82 feet wide. It's surrounded by verdant forest lined with walking trails. Hop on a raft to enjoy a float, or paddle your canoe along the spring's 150-foot run. While you can't rent a canoe on-site, many local retailers will allow you to hire one.
3. Ginnie Springs, High Springs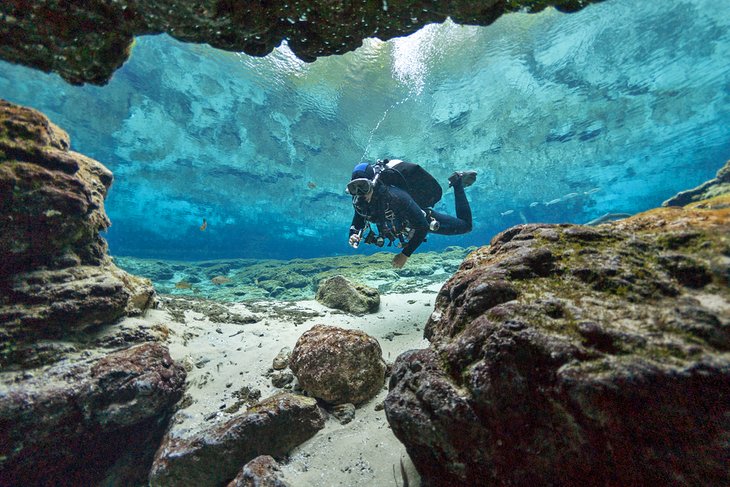 Linked to multiple springs that are tied together by the Santa Fe River, this expansive property serves up a plate overflowing with fun. The main attraction is hard to beat. Crystal-clear turquoise water beckons every visitor to at least dip in a toe.
A base made up of sandy limestone helps add to the spring's allure, reflecting the sun's rays and enhancing the vibrant blue hues. It's so pretty here, you'll swear you've entered a magical world. Tall trees canopy over parts of the lagoon, creating a natural tunnel to guide visitors along the length of the spring. Snorkeling, scuba diving, canoeing, kayaking, and paddleboarding are popular things to do. It's easy to rent equipment for each of these sports on-site.
Another favorite pastime at Ginnie Springs is rafting. Load on the sunblock and hop on an inflatable (tube-shaped or otherwise) to lazily drift along.
4. Homosassa Springs, Homosassa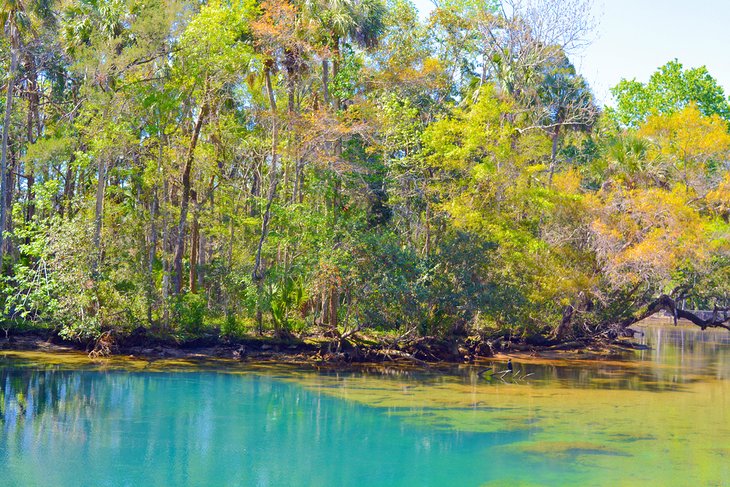 Almost 30 springs make up the Homosassa Springs in Ellie Schiller Homosassa Springs Wildlife State Park. Together, they've been deemed one of the largest (and best) springs in Florida. This first magnitude spring (i.e. one that discharges 100 cubic feet or more of water per second) feeds the Homosassa River. Given its size, and the fact that the main headspring flows from three vents containing varying degrees of salt, you'll find both salt and freshwater creatures here.
One of the most famed visitors is the West Indian manatee. Loving the spring's warm water, these Florida sea cows flock here during the winter. The best way to see them up close is by entering the Underwater Observatory. The best part? It's an enclosed venue, so you won't get wet.
On land, keep your eyes peeled for wildlife, including red wolves, black bears, alligators, and the Florida panther. The huge resident hippo is unmissable.
5. Weeki Wachee Springs State Park, Weeki Wachee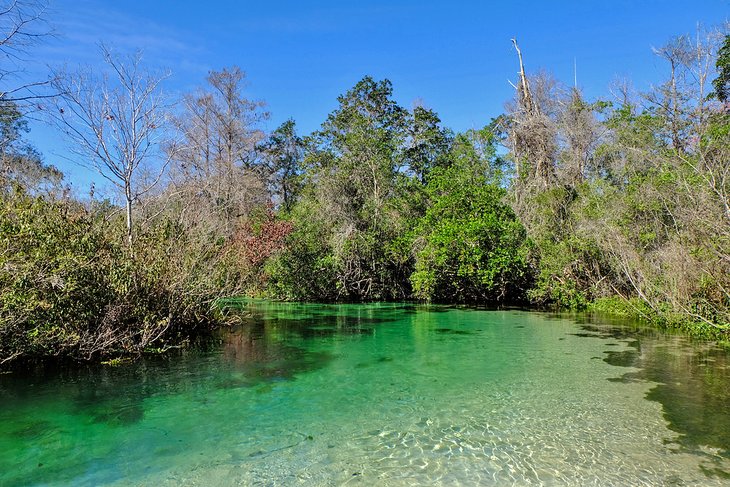 To some, Weeki Wachee Springs State Park can feel a bit kitschy. Located about an hour north of Tampa, its most famous attraction is a mermaid show, followed by waterslides at Buccaneer Bay and a riverboat cruise. But don't let that throw you. The park is also home to Weeki Wachee Springs, a first magnitude spring with a bottom so deep, it has yet to be found.
6. Rainbow Springs, Dunnellon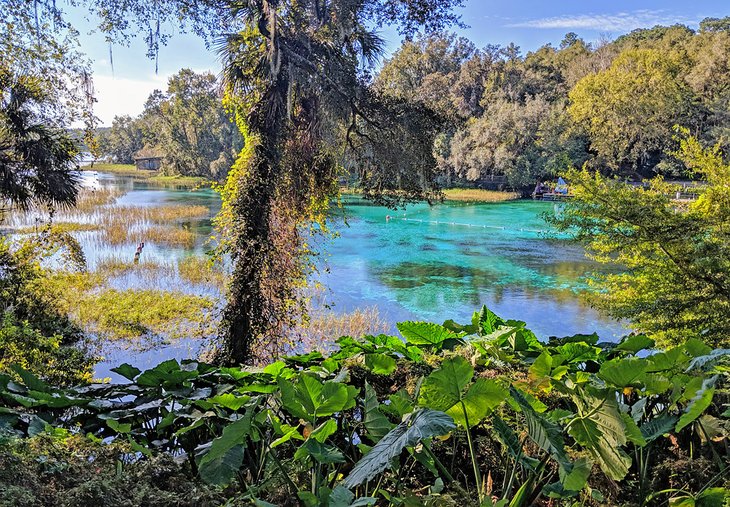 It's easy to understand the hype around Rainbow Springs. One of the oldest (it dates back 10,000 years) and largest springs in Florida, this transparent waterway is breathtakingly gorgeous. The springs, which feed the Rainbow River, sit at a comfortable 72 degrees Fahrenheit year-round and are between five and 18 feet deep.
They lie in Rainbow Springs State Park, just over 20 miles southwest of Ocala and almost 90 miles northwest of Orlando — the perfect spot for a day trip.
7. Ichetucknee Springs, Fort White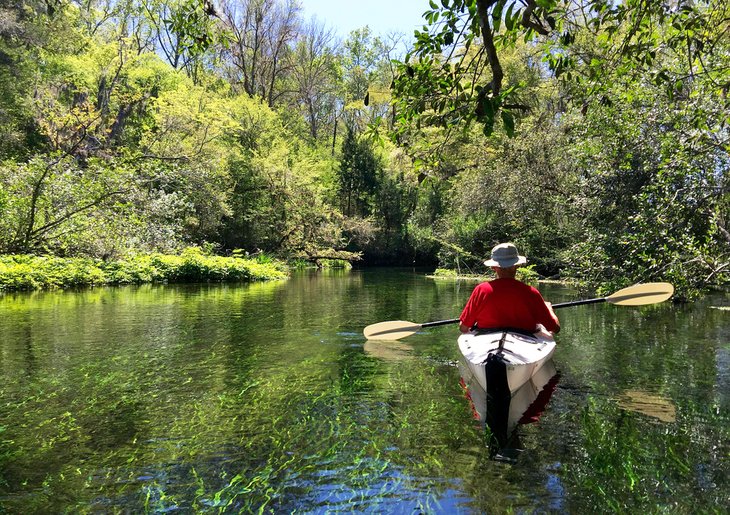 Nine gleamingly lucent springs feed the Ichetucknee River in Ichetucknee Springs State Park, which lies just an hour north of Gainesville. And boy, are they gorgeous! Lined by floodplain forests filled with cypress, pine, and oak trees, as well as towering hammocks, the turquoise-hued water reflects each waving branch.
The main spring (a.k.a. the Ichetucknee Head Spring) has been deemed a national natural landmark and is home to many of Florida's most precious wildlife species. Not surprisingly, it's also been dubbed one of the best springs in Florida.
While canoeing, kayaking, scuba diving, and SUPing are popular pastimes in this lovely spot, the most relaxing activity is tube riding. Don't worry, they aren't pulled behind a boat (namely because motorized boats aren't allowed). Hop aboard and prepare for a quiet ride along the six-mile expanse of this natural lazy river. Turtles, beavers, otters, and wood ducks will help guide you along the way.
8. Ponce de Leon Springs, Ponce de Leon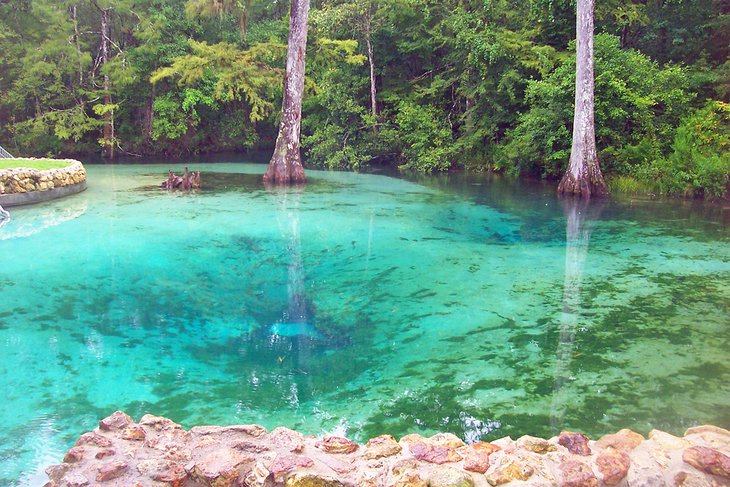 Named after the Spanish explorer, Juan Ponce de León, this lovely spot is more than worthy of a visit. Fourteen million gallons of water are produced daily in the main spring, which sits at a slightly cool 68 degrees Fahrenheit year-round.
In addition to swimming and snorkeling, the surrounding Ponce de Leon Springs State Park offers two hiking trails through verdant forest, as well as picnic areas with pavilions and grills, making this an easy place to visit for a day.
Another bonus: since the spring's namesake was searching for the infamous fountain of youth, a trip here may dole out more than just a refreshing break from the heat. It's worth a try, right?
9. Devil's Den Spring, Williston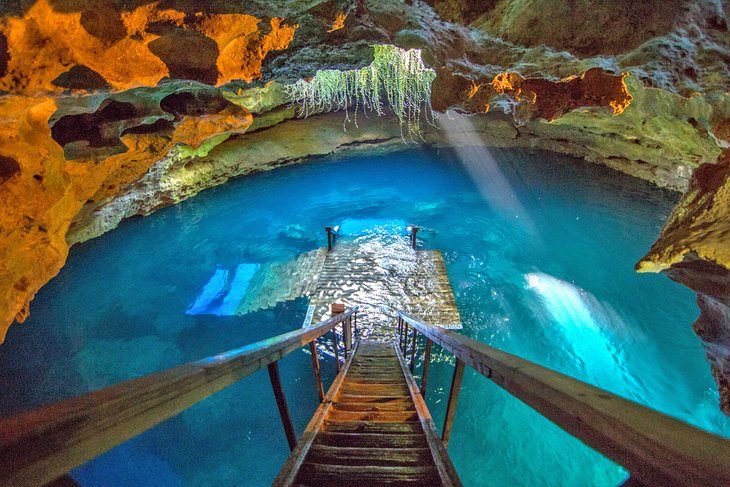 The most unique of Florida's natural springs, Devil's Den lies in a prehistoric cave. A popular setting for Instagram photo shoots, the spring is 120 feet in diameter and 54 feet at its deepest part. It's also 72 degrees Fahrenheit year-round, which means you may not need to don a wet suit while visiting this top Florida spring.
It's a privately-owned scuba diving center, so you'll have to pay an admission fee upon entry. You'll also have to snorkel or scuba dive in order to enjoy the venue, as mere swimming isn't allowed. No worries if you don't have your own equipment, you can rent it on-site.
Can't get enough of the coolness? Spend the night in their on-site campground. If you don't have a tent or RV, you can rent one of their four cabins.
10. Juniper Springs, Silver Springs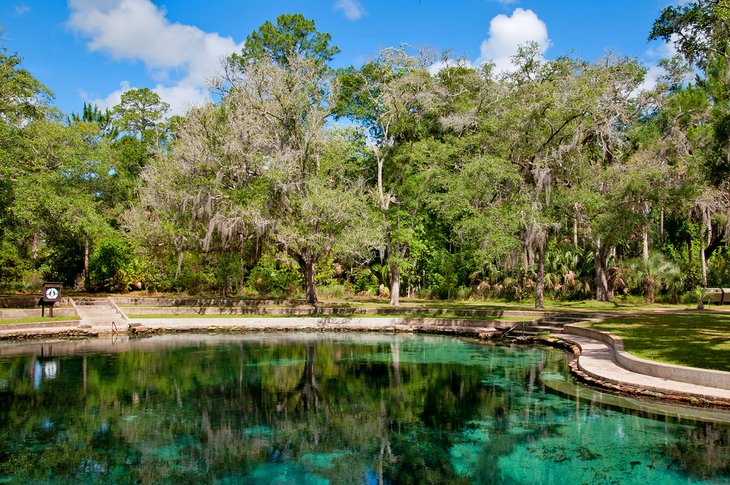 Serene Juniper Springs lies within one of the oldest recreational areas on the East Coast: Ocala National Forest. A freshwater headspring, this gorgeous spot is in the Juniper Springs Recreation Area of the park, just over 30 minutes east of Ocala. It acts as the headwater for Juniper Creek, which leads to Lake George.
Juniper Springs boasts the translucent water typical of other Floridian natural springs. In fact, it's this pristine, turquoise liquid that draws visitors from across the state and beyond. A crisp 72 degrees Fahrenheit year-round, this is a great place to take a refreshing dip. Plus, Juniper Springs encourages jumping. They even have a platform to help you get the best position for perfecting that cannonball.
An old mill lies at the edge of the springs. While the main building now serves as a visitor's center, the wooden wheel still spins. Talk about charming!
11. Alexander Springs, Altoona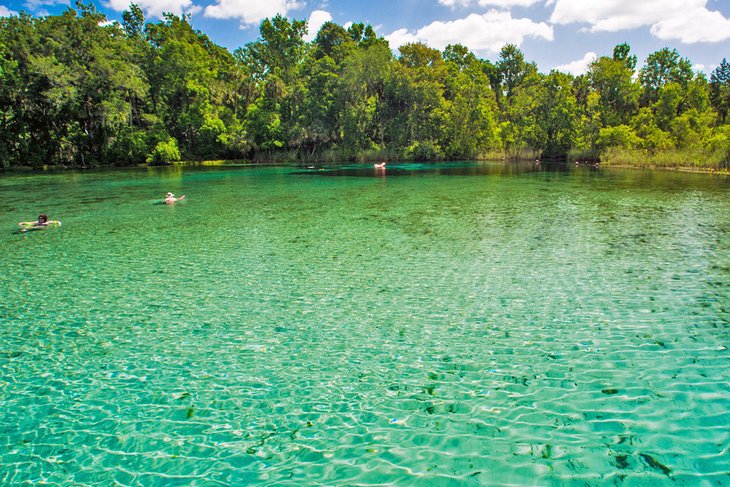 Another watery gem located in Ocala Natural Forest, Alexander Springs is a prime spot for snorkeling. The crystal-clear water makes viewing the underwater crowd (we're talking about you, fish, turtles, and lilies) a cinch. No wonder so many photographers break out their best underwater cameras at this gorgeous locale.
With over 70 million gallons of water pouring from this haven each day, Alexander Springs is considered a first magnitude spring. Its water runs to Alexander Creek before traveling over seven miles to join the St. Johns River.
12. Silver Glen Springs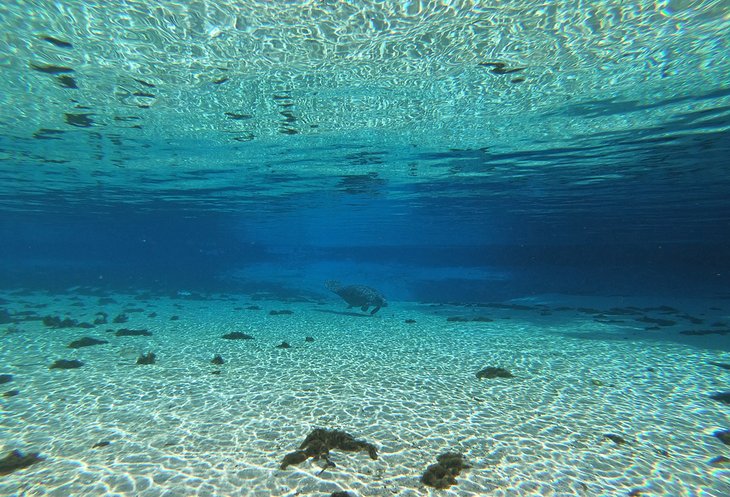 At 74 degrees Fahrenheit pretty much year-round, the water in Silver Glen Springs is so clear and warm, it makes swimming a must! There's no excuse not to jump in. It's also a popular place to snorkel, so don't forget your gear if you're hoping to explore the marine life that calls this area home. This pretty spot is located in Silver Glen Springs Recreation Area.
While you're in, try to spot an ancient "midden," a fancy word for a trash heap. There are plenty of fossilized snail shells and other interesting items to be found, but stick to the marked areas, as there are protected spots that are closed to swimmers.
13. The Springs of Silver River, Silver Springs State Park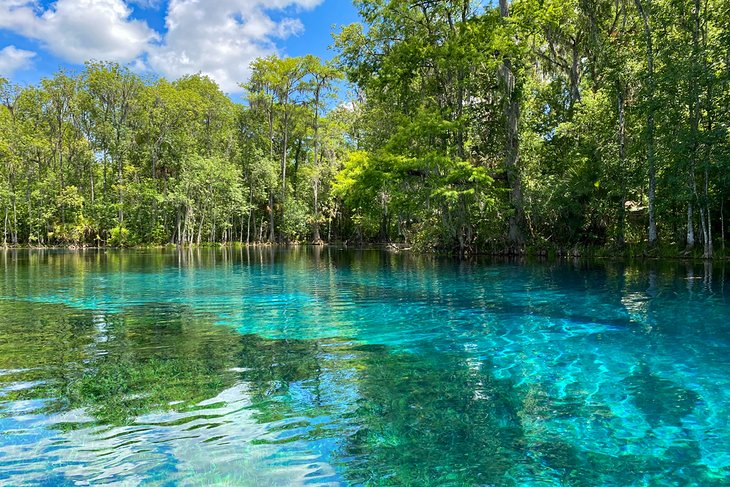 You may not be able to swim in the springs of Silver River, but that doesn't mean there isn't fun to be had on the water at this beautiful spring in Florida. Board a glass-bottom boat for a unique look at the beautiful creatures (including manatees) that lurk beneath the clear surface of this serene spring. The best part? You won't get wet.
Set against a lush, forested backdrop of pine, oak, and cedar trees, the spring is a photographer's dream. It lies in the 4,000-acre Silver Springs State Park.
14. Wakulla Springs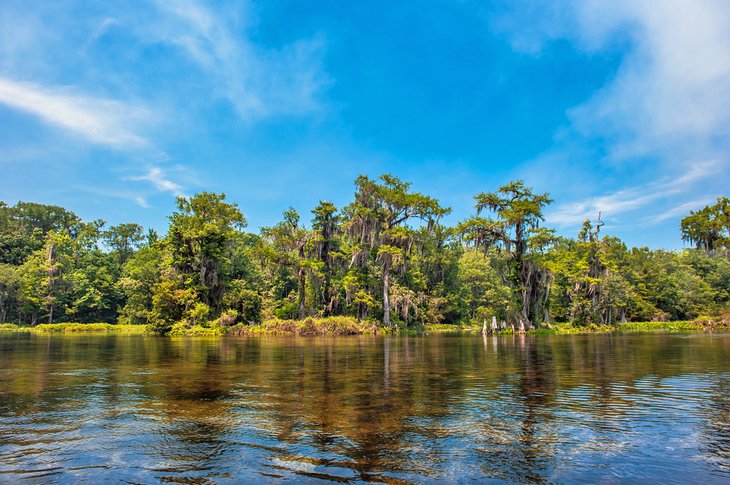 You won't be alone when you visit Wakulla Springs in Ed Ball Wakulla Springs State Park. Deemed the deepest (and largest) freshwater spring on the globe, this is a popular place to spend a day swimming, kayaking, snorkeling, and scuba diving. It's also been deemed a National Natural Landmark and a National Archaeological and Historic District.
A wooden tower is located at the main spring, enticing adventure seekers to jump into the clear water below. Those craving even more excitement will find it below the surface of Wakulla Spring's turquoise waves. A system of underwater caves spans the area, calling all scuba divers to explore their secret treasures.
Located 30 miles south of Tallahassee, this extensive park is peppered with more than 10 miles of trails that wind through floodplains and hammocks, offering breathtaking views at almost every turn.
15. Salt Springs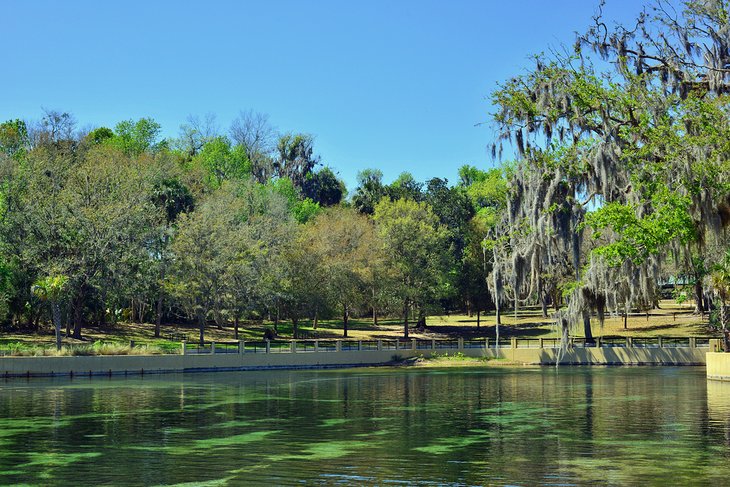 Another shimmering star of the Ocala National Forest, Salt Springs lies in Salt Springs State Park. The water in this large Florida spring (it pumps about 53 million gallons of water daily) is slightly saltier than other springs in the area. The reason? The spring contains various minerals and elements, including ancient salt deposits, which combine to create the taste.
Visitors are free to walk along the edge of the "pool" (an area of the spring measuring about 90 by 20 feet that's enclosed on three sides) on the observation walkway. Those who choose to swim will enjoy temperatures of 72 degrees Fahrenheit, and a depth ranging from two to 20 feet, depending how far you are from the spring's vents.
16. Warm Mineral Springs, North Port
There's something truly special about Warm Mineral Springs, and it's not just the balmy, 85-degree temperature of its water. The only natural warm mineral springs in Florida, this historic gem is thought to have healing properties.
It's rich in helpful minerals like potassium and magnesium, and many pay the admission fee to bathe in its relaxing water in hopes of finding the key to a longer, healthier life.
If you're hoping for a quiet trip, avoid traveling during the spring's high seasons (October through November and March through May). Bus loads of tourists are dropped here to luxuriate in the water and search, once again, for the Fountain of Youth.
17. Gilchrist Blue Springs, High Springs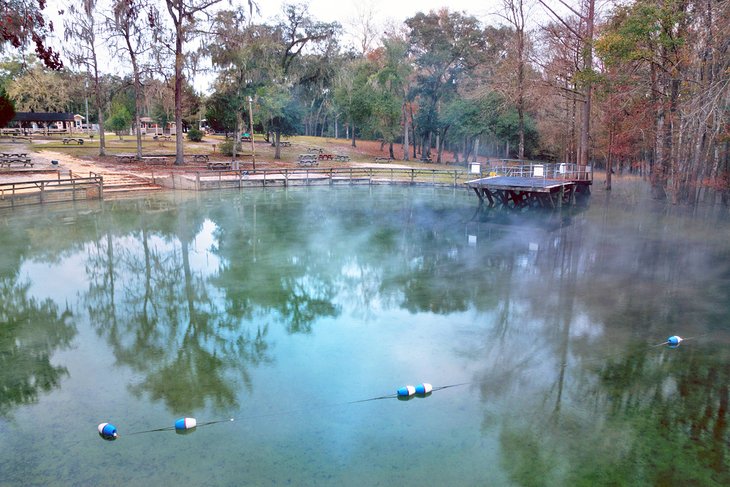 A multitude of natural springs lie within Ruth B. Kirby Gilchrist Blue Springs State Park. The most famous is the idyllic Gilchrist Blue Springs, which produces a whopping 44 million gallons of water every day.
While this second magnitude spring is the highlight of the park, this top spring in Florida has great company. Little Blue Spring, Kiefer Spring, Johnson Spring, and Naked Spring all lie within the park's borders and offer visitors plenty of picturesque backdrops.
Adorable wildlife call this area home, so expect to come face to shell with a turtle or two, spy a hawk soaring in the sky above, and see a variety of fish (including channel catfish) if you head into the water for a snorkel or swim.
18. Rock Springs, Kelly Park, Apopka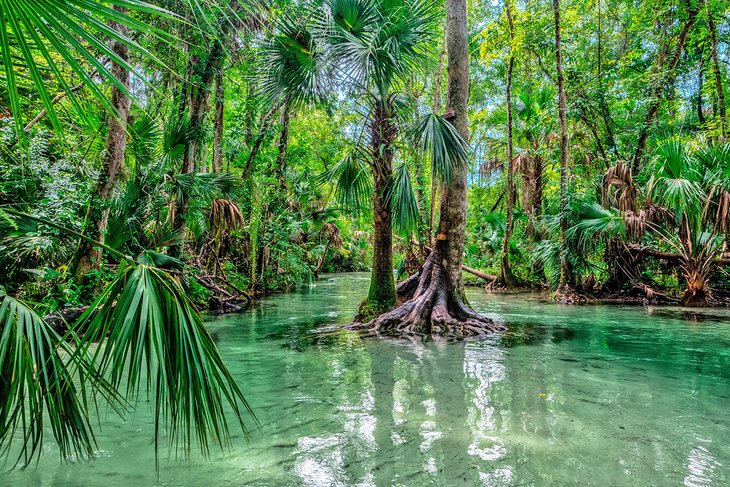 Tubing along Rock Springs in Kelly Park is the perfect thing to do for families. A pretty, crystalline spring, this popular, free-flowing tourist attraction is one of the best places to visit in Apopka, a tiny town just north of Orlando.
If you're looking for a quiet getaway, this isn't the spot, as it's a magnet for visitors, especially during the summer and holidays. But for families, as we said, this is the place to be.
You'll find concessions, pavilions, bathroom facilities, and a playground on-site. Tube rentals are available just outside the property, but you're welcome to bring pool noodles or small inflatable rafts to help you enjoy the warm 68- to 72-degree Fahrenheit water of the springs.
Don't forget water shoes to protect your feet, and snorkel gear if you're hoping for a closer look at the impressive creatures that call this spring home.
More Related Articles on PlanetWare.com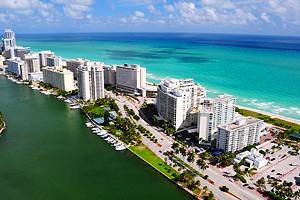 Unmissable Florida Cities: From quiet seaside escapes to bustling metropolises, the Sunshine State boasts a city to suit your every whim. Spend the day sunning, shopping, or sightseeing in Miami, check out Tin City in Naples, or visit one of these best cities in Florida during your trip.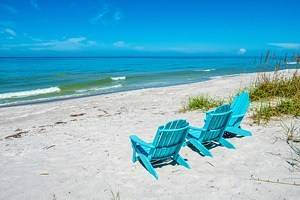 Hit the Beach in Florida Whether you have a penchant for water sports or prefer a tranquil soak in the sea, Florida has a lot to offer when it comes to fun in the sun. Families will love these top-rated beaches boasting everything from oceanfront playgrounds to paddleboard rentals. Don't miss a visit to the beaches on Florida's best islands. They're spectacular.