12 Best Florida Beaches for Families
Author Bryan Dearsley has traveled extensively throughout Florida, making repeated visits in recent years.
Florida isn't called the "Sunshine State" for nothing. America's favorite family playground draws countless visitors from across the continent and overseas, lured by the promise of plenty of sun and fun by the sea.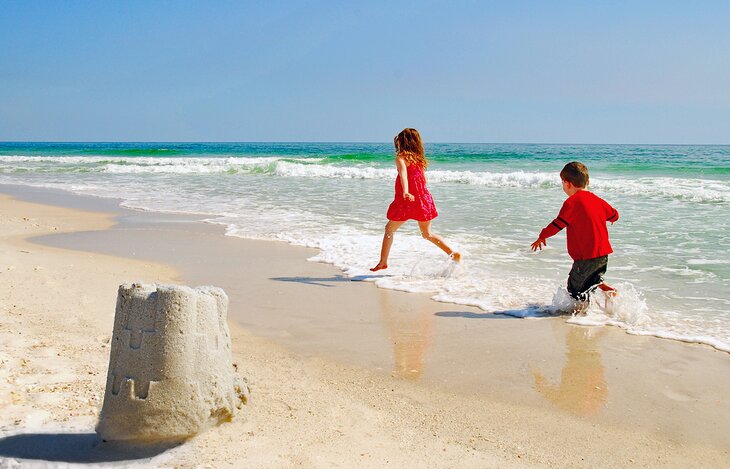 The same clever marketers could easily have opted for another, equally applicable, nickname: the "Beach State." All told, more than half the state's coastline, around 700 out of 1,200 miles, comprises magnificent stretches of sand.
From the Panhandle on the Gulf of Mexico all the way around to Amelia Island on the Atlantic coast, Florida's beaches provide travelers and day trippers alike the perfect setting for a memorable family vacation.
To help you choose the very best stretch of coast for your next vacation, be sure to refer to our list of the best Florida beaches for families.
1. Cocoa Beach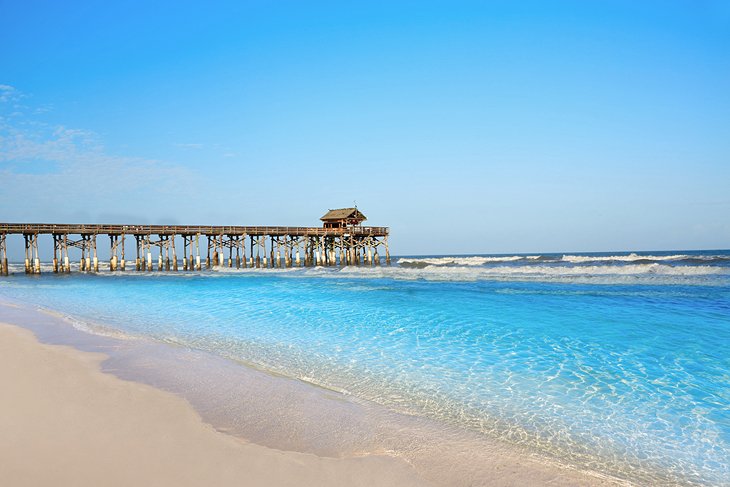 The Atlantic coast of Florida offers no end of superb beaches for families to lay down their beach mats, pop up an umbrella, build a sandcastle, and splash their feet. And Cocoa Beach has much to commend it to families, not least of which is its location.
Just a short drive south of Cape Canaveral, Cocoa Beach's location on the "Space Coast" places it within easy reach of top attractions. These include the Kennedy Space Center, an easy 25-minute drive to the north, as well as Walt Disney World, an hour's drive inland.
Whether you're here for a day, a week, or a weekend, there's plenty of fun to be had on the beach, too. The top things to do for families with kids on Cocoa Beach include swimming in the shallow waters offshore; surfing and boogie boarding, with lessons and rentals easy to find; as well as Jet Ski rentals.
For a truly memorable family experience, opt for an exciting and kayaking tour to explore Cocoa Beach's Thousand Islands area. These fun excursions offer a chance to see manatees, dolphins, and birds.
Accommodation: Top-Rated Resorts in Cocoa Beach
2. Clearwater Beach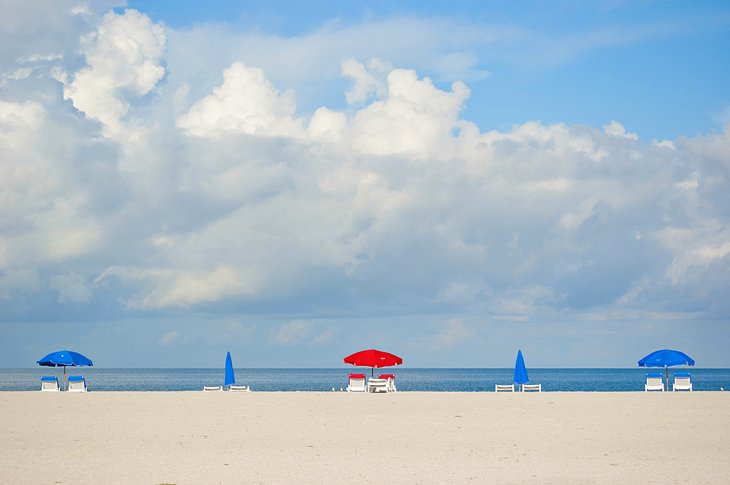 Of all the beaches on Florida's Gulf Coast, it's Clearwater Beach that many families will choose for their seaside vacation. Why? The reasons are many. For starters, Clearwater Beach boasts some of the finest, softest sand anywhere in North America, with visitors insisting that it is, at times, a little like walking on talcum powder.
It's also a very wide beach, perfect for finding a quiet spot where you won't get trampled on, or feel crowded, with plenty of space to throw up an umbrella to provide some shade for the kids while they nap and build sandcastles. And the water is generally calm and shallow, perfect for smaller children to play in, while older kids can enjoy activities as diverse as parasailing or fishing off the long Clearwater Beach pier.
After you've had your fill of the beach, head inland to visit top attractions including the Clearwater Marine Aquarium, home of a dolphin called Winter, famous for its prosthetic tail. There are also plenty of other things to do, from great shopping and dining to sunset festivals, street music, and fun pirate cruises for the kids.
Another fun thing to do is rent a pontoon boat to hit the water and explore the full length of the beach. A number of good tour operators offer half-day "fun-ship" rentals including waterslides from their upper decks, water mats, and floating devices.
Accommodation: Top-Rated Resorts in Clearwater
3. Fort DeSoto State Park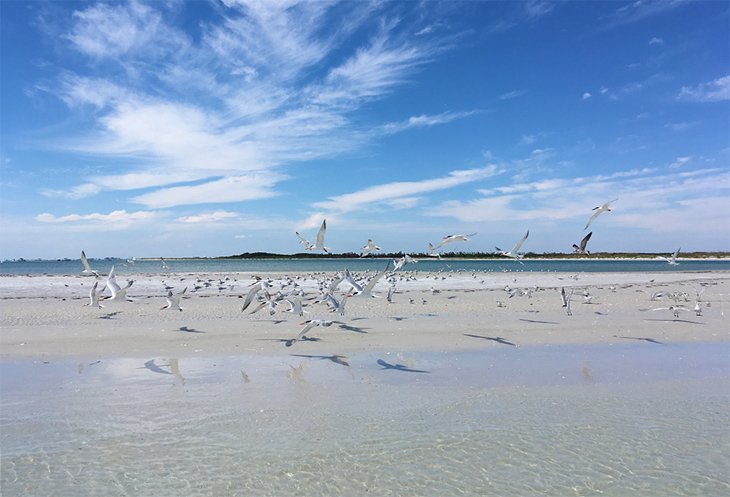 Those with a penchant for nature would do well to include the beaches of Fort DeSoto on their list of great Florida family getaways. The park is just a 20-minute drive from St. Petersburg.
Fort DeSoto State Park covers five distinct keys comprising a total of some 1,100 acres, including mangrove swamps that are protected as a natural habitat for a variety of animal species, including the loggerhead turtles that lay their eggs here. Young bird-watchers, too, will enjoy trying to identify the more than 300 species of birds that live in the islands, including herons, egrets, and pelicans.
Amenities: In addition to the park's lovely stretches of pure white sand, there's other fun to be had. Highlights include a number of adventure playgrounds, plenty of hiking trails, two fishing piers, bike rentals, and an old fort dating from the time of the war with Spain, all waiting to be explored. Other amenities include picnic spots, washrooms, and on-site lifeguards.
Accommodation: Top-Rated Resorts in St. Petersburg, FL
Read More: Dog-Friendly Beaches in Florida
4. Fort Lauderdale Beach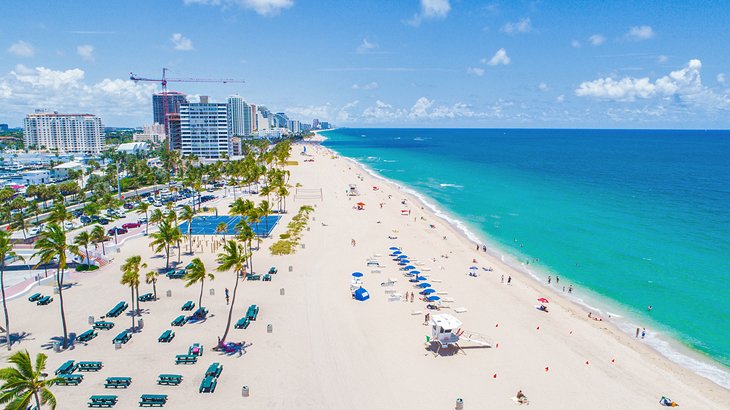 For those seeking an urban beach experience without the crowds of, say, Miami, Fort Lauderdale may be just the ticket. Flanked on one side by the Atlantic and on the other by a lovely long boardwalk that separates the beach from the waterfront-facing resorts and hotels, it's far more family-friendly than many other such beach locations.
Stretching for seven miles, with two miles of it staffed by lifeguards, the beach is long enough and wide enough to ensure there's ample space to spread out with the kids.
There's plenty of fun to be had, from swimming and snorkeling off the beach to renting Jet Skis or kayaks and exploring the inland canals and waterways.
And when it's time for a change of pace, take a walk or rollerblade along the boardwalk and grab a bite at one of the many restaurants along the way. Time your visit right, and you'll find yourself enjoying street performances and entertainment, along with festivals and concerts.
The beaches and attractions of Boca Raton are also close by and worth considering if you need a change of scenery. Just 30 minutes south by car, some of Boca's best beaches are located within local parks and often include a nature reserve component, such as Red Reef Park, adding an additional reason for wanting to visit with kids.
Read More: Top-Rated Beaches in Fort Lauderdale, FL
5. Panama City Beach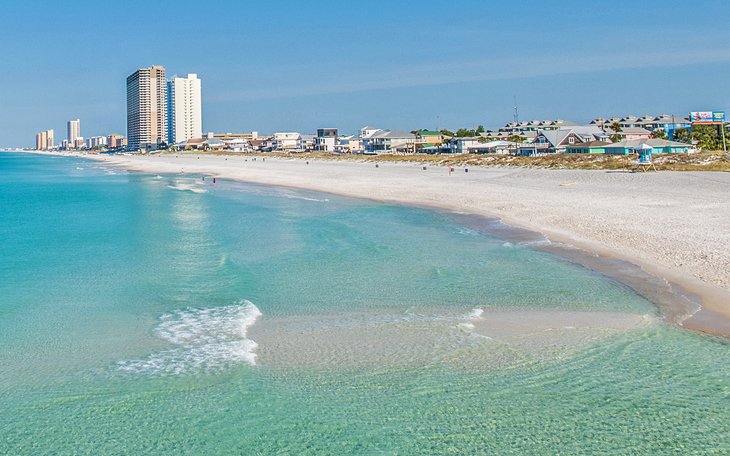 Florida's Panhandle, although often overlooked by sunseekers for destinations farther south, should certainly be considered by those seeking a memorable family beach vacation. Panama City Beach is one such destination.
Stretching for an impressive 27 miles along the most westerly section of Florida's Gulf Coast, the white-sand beach here is a delight. Soft and silky, it faces mostly shallow waters that are great for swimming and paddling.
Activities: In addition to sunbathing and swimming, popular activities include kayaking and paddleboarding, snorkeling and diving, fishing charters and dolphin cruises, along with rentals of Jet Skis.
Off-beach adventures are also plentiful here, with enough family-friendly attractions to keep kids busy for days. Highlights include water parks and amusement arcades, music and entertainment venues, a fun pirate festival, plus plenty of great places to shop and dine. The beach here is also pet-friendly, making it popular with families traveling with pets.
Accommodation: Top-Rated Resorts in Panama City Beach, FL
6. Venice Beach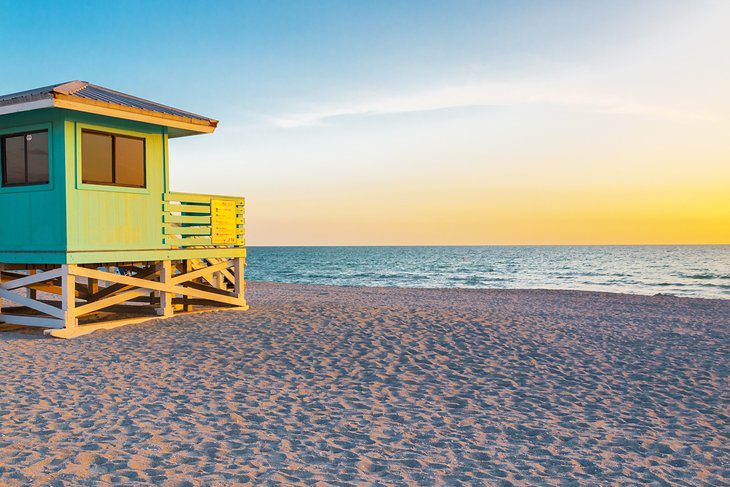 Of all Florida's many wonderful family-friendly beaches, few can boast the very thing that makes Venice Beach so unique: shark's teeth. Widely considered the "shark tooth capital of the world," Venice Beach, like most of Florida, was once completely underwater. As the water receded, the shark habitat diminished with it, until only the area around Venice Beach remained.
Nowadays, millions of shark teeth are submerged off the coast, with many being washed ashore almost daily just waiting for kids to find them. The best places to look? Check around the Venice Jetty for the best results.
Other fun things to do here include wildlife spotting, with commonly seen species including dolphins (dolphin cruises are available), along with turtles and plenty of bird-watching opportunities. The beach has plenty of quality amenities, too, including a fishing pier, a long boardwalk, volleyball courts, picnic areas, washrooms, and ample parking.
Read More:
7. Fort Myers Beach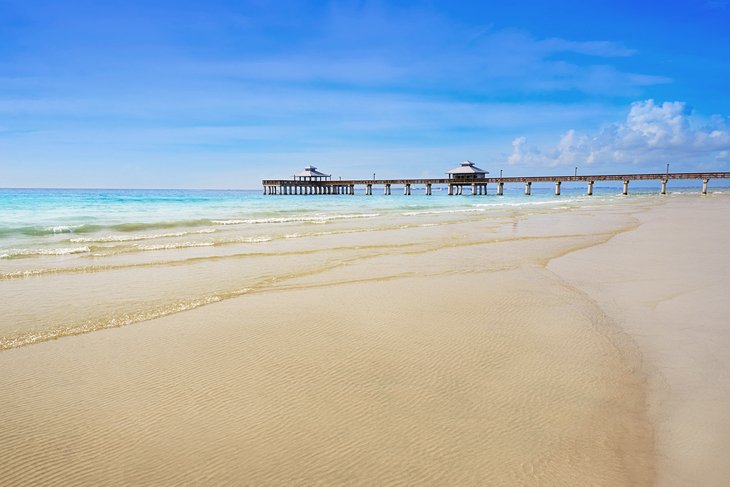 Just a little south of Venice Beach and north of Naples, is Fort Myers Beach. Situated on Estero Island just a short drive outside of Fort Myers proper, it's the perfect place to spend a day or longer outdoors, enjoying quality family time on the beach.
Unlike many of the beach resorts in Florida, Fort Myers Beach has managed to retain its small-town beach community feel. The area has several beaches to choose from, but your best bet is to head right to the heart of Fort Myers Beach, where you'll find the Pier and Times Square.
In addition to its historic bed-and-breakfasts and classy inns, there are many great family resorts here, too, most with direct beach access and plenty of fun activities to enjoy. And what a beach! Stretching seven miles, the sand is soft and powdery underfoot, and perfect for playing in and building sandcastles.
Activities: In addition to the usual fun activities such as swimming, diving, and snorkeling, Fort Myers Beach has earned a reputation as a great place to spot dolphins, and a variety of fun dolphin-watching excursions are available; but book in advance if you can to avoid disappointment during the peak seasons.
Other fun things to do include fishing from the centrally located pier, or challenging family and friends to some beach volleyball.
Read More: Top-Rated Attractions & Things to Do in Fort Myers
8. Daytona Beach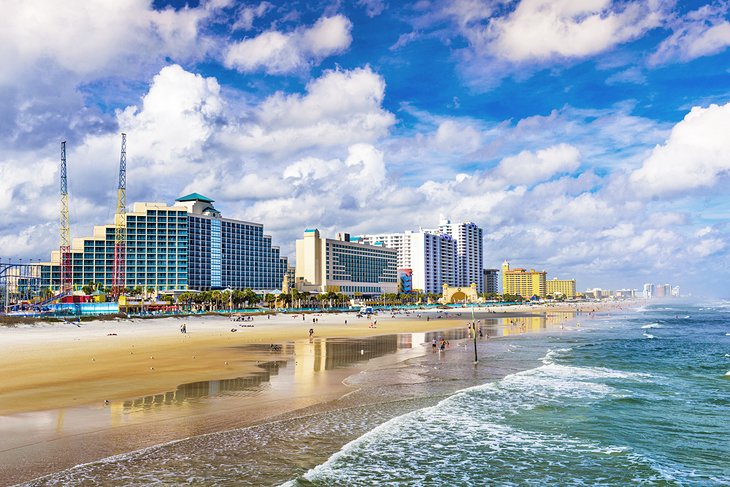 Daytona's former reputation as a place where adults and college-age big kids went to, well, unwind, has long been a thing of the past. Modern sensibilities along with consumer demands have prevailed, and Daytona these days ranks highly as one of the top family-friendly travel destinations in Florida.
With its wide and hard-packed shore, it's not unusual to see cars parked directly on the beach itself, though not in the main beach area any more. Alongside them you'll even see makeshift picnic shelters and changing rooms.
If you're traveling with older kids, try to set up as close to the main beach area around the famous pier as possible. This ensures you'll not only be able to keep an eye on the kids when they're in the water, but also when they venture off to explore the endless amusement arcade options close by, including those on the pier itself. Jet Ski and scooter rentals are also popular diversions for older teens.
It's not just the beaches that appeal to families here. Daytona is only an hour or so drive from the world's theme park capital of Orlando, and the city boasts numerous world-class attractions of its own.
Top tourist attractions in Daytona Beach include the famed Daytona International Speedway, home to thrilling NASCAR races, as well as the popular Daytona Lagoon waterpark and Marine Science Center.
9. Sanibel Island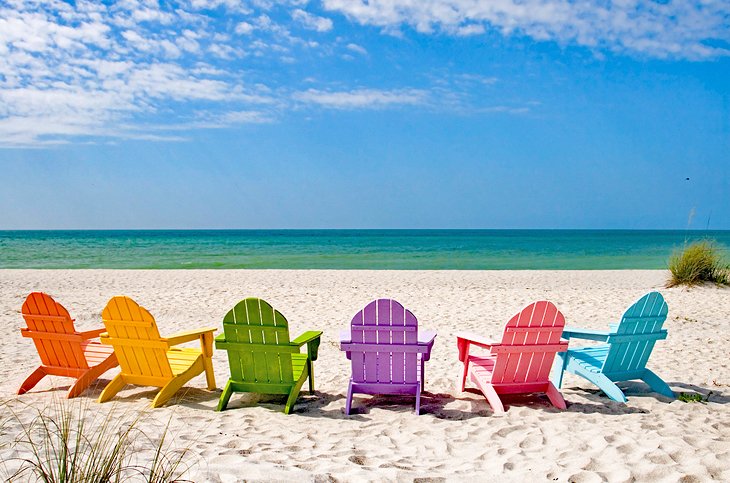 Just a short distance farther west of Fort Myers, Sanibel Island is widely regarded as one of the best islands in Florida to visit. Joined to the mainland by a spectacular bridge, Sanibel Island has made a name for itself as a family vacation destination.
Topping the list of great reasons to visit is its unique reputation as the perfect place to collect seashells, a beach holiday activity that, let's face it, never grows old (so bring a bucket and spade).
The beach itself is pristine clean, its soft sand a delight to walk on, sit on, and play on, with plenty of shade offered in its parks from handy shelters and the plentiful palm trees lining the beach, boardwalks, and picnic areas.
Activities: In addition to swimming and sunbathing, popular activities geared to families include rentals of bikes on which to explore the many dedicated cycling trails. Boat and Jet Ski rentals, fishing charters, and sunset cruises are also popular.
Kids wanting to know more about the diverse wildlife that calls the island home should be taken to the JN Ding Darling National Wildlife Refuge, popular for its great interactive displays and exhibits.
Accommodation: Top-Rated Resorts on Sanibel Island
10. New Smyrna Beach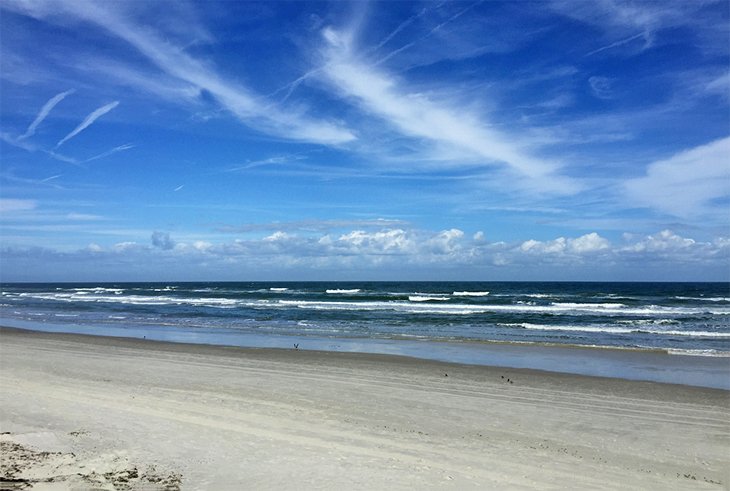 Another great family beach that is within an easy commute of top Orlando attractions such as Walt Disney World and Universal Studios, New Smyrna Beach is well worth a visit if you're traveling with kids. Popular for its very wide, long beach area, it's a delightful place to pitch a beach umbrella for a while.
Whether you're here to relax or partake in outdoor adventures, you won't be disappointed by the views and laid-back ambience.
While the usual Jet Ski rentals and wakeboarding opportunities can be enjoyed here, there is also plenty of emphasis given to the area's natural habitats.
The best of these can be enjoyed at Smyrna Dunes Park, a 70-plus-acre nature preserve located at the north end of Smyrna Beach that features an easy-to-walk 1.5-mile-long boardwalk that's perfect for animal viewing. Picnic and parking facilities are provided.
11. Siesta Key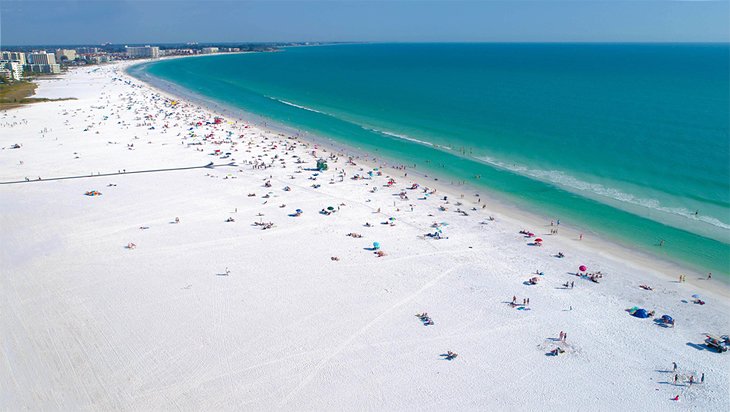 The beaches of Siesta Key are some of the best beaches on the East Coast of USA. Located an easy drive from downtown Sarasota on the Gulf side of Florida, this barrier island offers endless stretches of soft white sand to explore, lovely warm shallow water, and no end of fun things to see and do.
The sand itself is quite unique, popular for its cooler-than-average feel when walking barefoot, which is great for toddlers, thanks to its composition of granulated quartz.
Amenities: In addition to its ample selections of great places to stay and eat, Siesta Key's main beach offers good amenities, too. Notable features include picnic spots, playgrounds, sun shelters, volleyball courts, and clean washroom facilities. Parking is plentiful, and you're also close to Sarasota attractions, like the excellent Ringling Circus Museum, as well as shopping excursions in Siesta Key Village.
Another great option for a family beach vacation in this area of the Florida Gulf Coast is Anna Maria Island, a 40-minute drive northwest of Sarasota. In addition to its great beaches, the island boasts a number of excellent beachfront resorts to consider, too.
Accommodation: Best Resorts on Siesta Key, FL
12. Amelia Island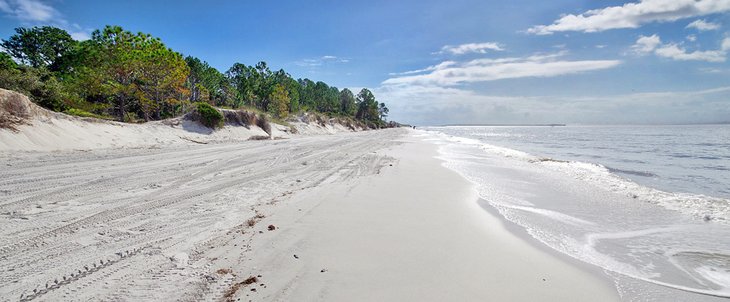 The pristine beaches of Amelia Island are undoubtedly some of the best beaches in Florida, particularly for those traveling with children. Located just 35 miles north of the major city of Jacksonville, this beautiful corner of the Sunshine State is often overlooked for the better-known vacation destinations to the south. This means there are far fewer crowds and plenty more room to spread out your beach towel and for the kids to build sandcastles.
The island, which holds the unique distinction of having been under various flags over the centuries, is where you'll find Fernandina Beach. The name of a seaside city that just so happens to be home to a beautiful stretch of sandy shoreline, Fernandina Beach is a delightful location for a family seaside vacation.
A favorite spot for families is Peter's Point Beachfront Park, popular for its easy beach access with its shallow waters, lovely sand, and even a safe playground suitable for younger children. Older kids will enjoy activities such as swimming, snorkeling, surfing, and beach volleyball. Horseback riding is also available, as is wildlife spotting and bird-watching.
There's also plenty of fun to be had in-town, which boasts excellent shopping and dining opportunities, as well as experiences such as buggy rides and ghost tours.
Looking for great luxury accommodations on Amelia Island? Our favorite is the luxurious Ritz Carlton Amelia Island. Just 15 minutes' drive from downtown Fernandina Beach, the resort offers plenty of great accommodation options, not to mention beach activities for kids of all ages—oh, and for parents, too.
Accommodation: The Best Resorts on Amelia Island, FL
Read More: Best Things to Do in Amelia Island, FL
Map of Florida Beaches for Families