14 Top-Rated Attractions & Things to Do in Cocoa Beach, FL
We may earn a commission from affiliate links ()
The cities of Cocoa Beach and Cocoa – two neighboring communities separated by the wide Banana River – have no shiny skyscrapers, no traffic-clogged roads, and no hustle and bustle.
Here, the pleasures come almost entirely from Mother Nature, who is kind enough to bestow this area with soft subtropical breezes, soothing waves on beautiful beaches, nesting sea turtles, and incredible sunrises and sunsets. Not to say that there aren't a few manmade sightseeing opportunities here, though. Scratch the surface, and you'll find evidence of the early pioneers, along with a variety of modern attractions for all ages to enjoy.
Cocoa and Cocoa Beach are ideal places to relieve the stresses of modern-day life, to unwind and savor their cultural, historical, technological, and culinary surprises. You can take a cruise, see where modern pioneers fly into the heavens, peer into the galaxies, visit a historic pioneer village, get up-close-and-personal with the local wildlife, and tee off at some of the greatest golf clubs in Florida. When you're done, relax at one of the best resorts in Cocoa Beach.
Whatever your preference, you'll see there's no end of fun things to do in Cocoa Beach.
See also: Where to Stay in Cocoa Beach
1. Explore the Kennedy Space Center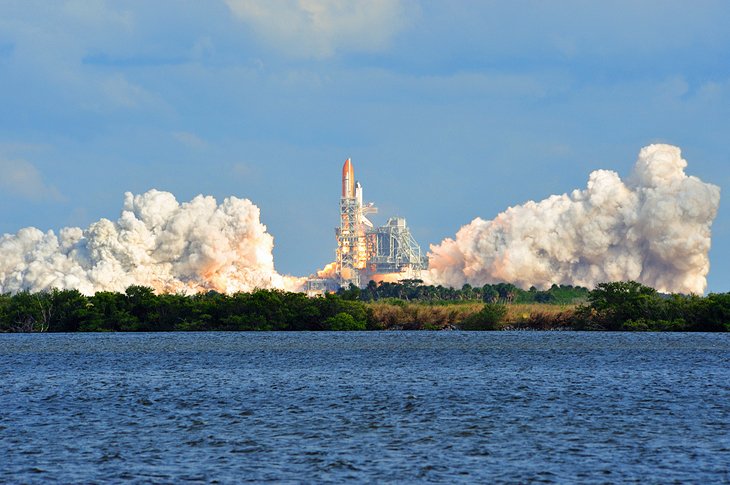 Located on a barrier island just north of Cocoa Beach is the Kennedy Space Center Visitor Complex, the site of a glorious path of exploration, as well as some touching human tragedies and memorials. Here, the first Americans to orbit the Earth and land on the moon shot off into space.
Today, the public face of the Kennedy Space Center tells the story of humankind's march into space – step by step, personality by personality, and mission-impossible by mission-impossible. This fascinating facility not only offers us the opportunity to follow in that path, but also allows visitors to experience some of the sights and sounds, movements and sensations experienced by these pioneers, on interactive – and totally realistic – attractions.
2. Spend a Day at the Beach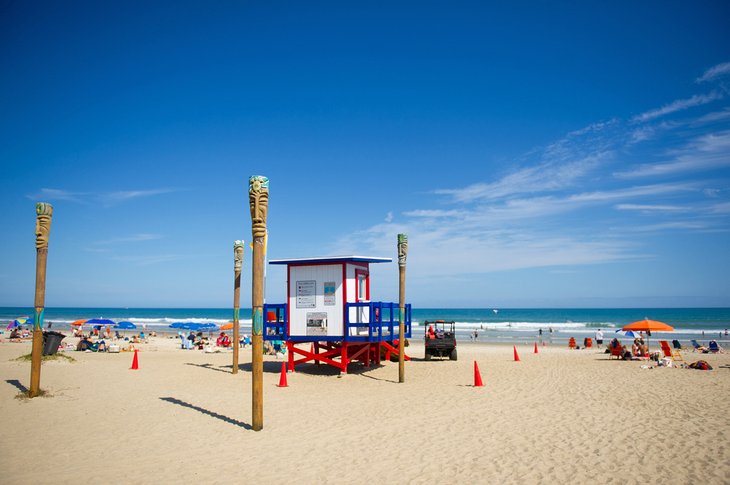 As its name suggests, Cocoa Beach has plenty of sand. In fact, using Cocoa Beach as a base for your Florida family vacation will give you access to no less than 72 miles of shoreline, much of it consisting of first-rate beaches.
Whether you're here for sun and relaxation, or for the adrenaline rush caused by water pursuits such as surfing – you'll find some of the best waves anywhere on the East Coast here – Cocoa Beach has a stretch of sand for you.
A favorite for tourists is the always popular beach adjacent to the iconic Cocoa Beach Pier. It's a safe stretch of beach with lifeguards, where you're as likely to catch glimpses of surfers hitting the waves as you are families and friends engaging in a game of catch or beach volleyball.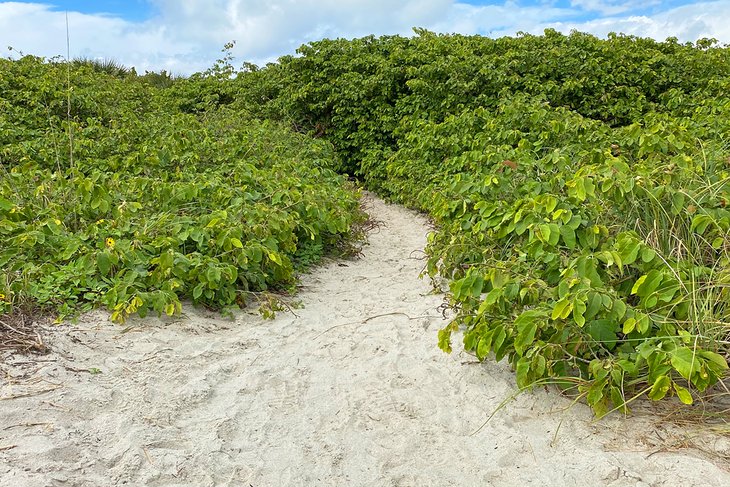 Just two minutes by car or a 25-minute stroll farther up from the pier is pretty Lori Wilson Park, which offers easy beach access. In addition to offering ample free parking, this 20-acre park features a boardwalk and restrooms, as well as a dedicated dog park and easy access to Ron Jon Surf Shop (both retail and rental).
Also good for families, Alan Shepard Park has plenty of picnic space, changing rooms, and is easy walking distance to restaurants and shopping.
Although a little further afield, Playalinda Beach at the Canaveral National Seashore reserve is worth visiting. In addition to its 24-mile-long stretch of quiet sandy beach, you can also explore the dunes, marshes, and lagoon without ever feeling crowded.
3. Take a Trip Back in Time at Historic Cocoa Village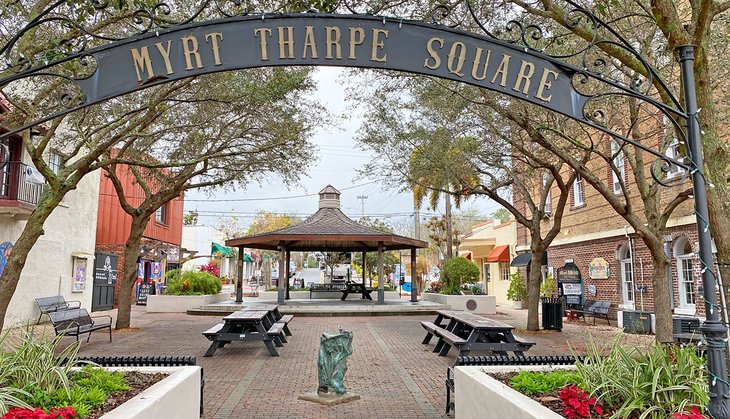 Many towns refer to themselves as "historic." But Historic Cocoa Village, the old downtown core of the city of Cocoa, truly is, and was in fact first settled in the middle of the 19th century. Now, in addition to being a shopping and entertainment district that retains its heritage ambience, it has also become a legitimate 21st-century tourist attraction. Here, the way it was, is the way it still is.
This is a colorful, historic old-time village made for walking, with surprises behind every colorful doorway and window. It's also a tree-lined, riverside community of local merchants and artisans. Dining in any of the many restaurants is a truly gourmet experience, while other casual eateries and cafés offer hearty fare.
If time allows, be sure to visit the Florida Historical Society with its displays in the Library of Florida History. There's also plenty of information on the other fun things to do and discover about this little piece of heaven.
4. Take in a Broadway Show at the Historic Cocoa Village Playhouse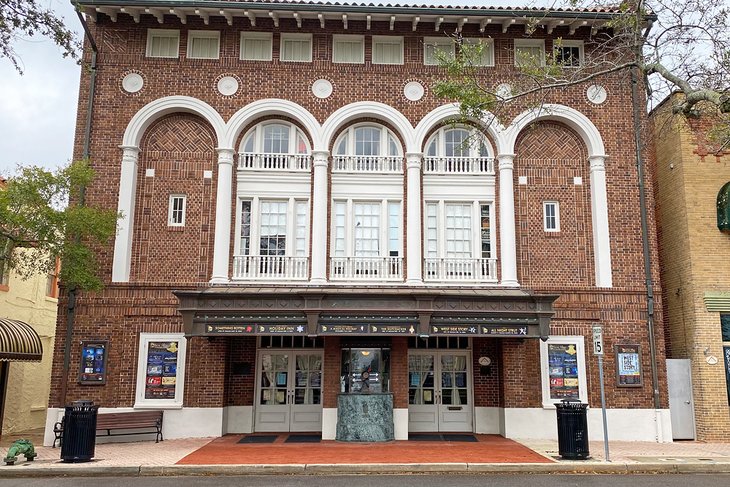 Situated in the heart of Historic Cocoa Village, the Playhouse – originally named the Aladdin Theater – opened in 1924 and remains one of the most important old buildings in the city of Cocoa. It's also one of the top venues on Florida's east coast for those who enjoy musicals, with its regular roster of Broadway performances leading to its having earned the nickname "Broadway on Brevard."
The attractive red-bricked building, with its white brick accents, is certainly photogenic. And it's equally appealing inside, too. With its plush red-upholstered original wood seating, red velvet curtains, and lovely plaster cornices, taking a seat today is like stepping back in time.
5. See the Wild Things at the Brevard Zoo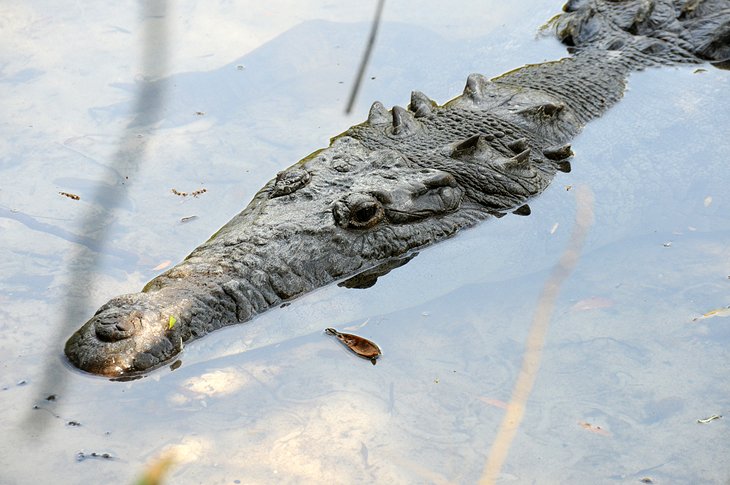 Just 25 minutes' drive from the beach, the excellent Brevard Zoo is a great place to visit for interactive learning, as well as just good ol' family fun.
In the zoo's Paws On Play section, you can meet a variety of jumping, creepy crawly critters from various regions of the world; in Wild Florida, you can get up-close-and-personal with the diverse animals native to Florida; and in the Expedition Africa section, you'll find yourself in the wilds of the continent. Be sure to also take the kids to La Selva. If it flies, crawls, or hangs upside down from tree branches (like the two-toed sloth), you'll find it here.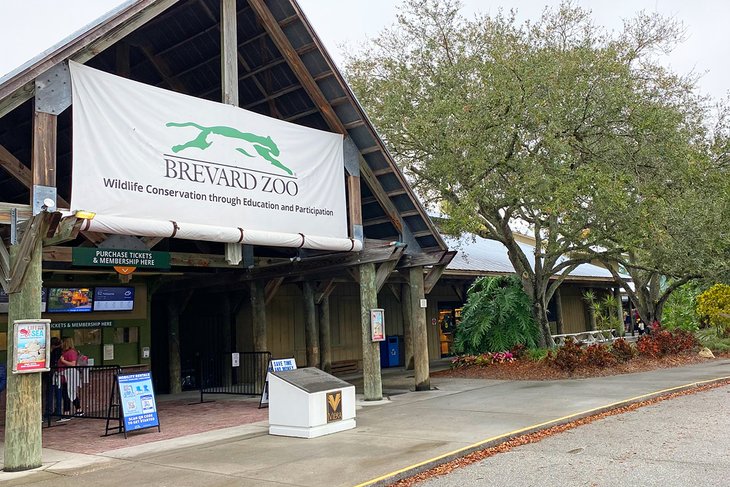 6. Brevard Museum of History and Natural Science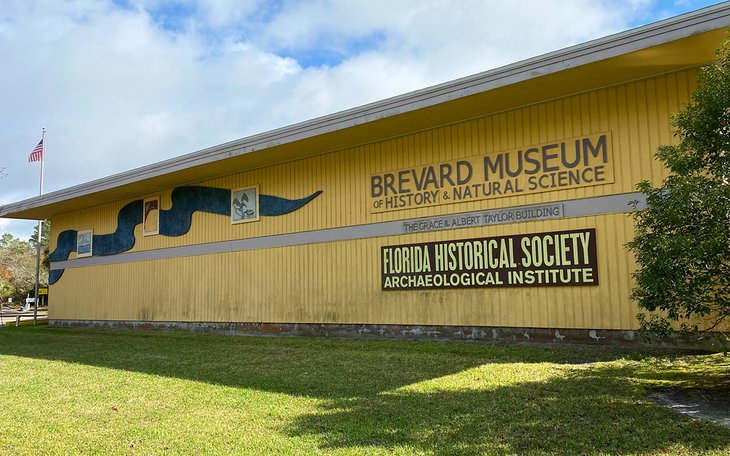 A visit to the Brevard Museum of History & Natural Science in Cocoa is a perfect additional excursion for those planning on also visiting Brevard Zoo and spending the day away from the beach (they're just 15 minutes' drive apart). Set in a leafy neighborhood with plenty of free parking, this large museum features numerous artifacts and exhibits dealing with local history and science.
Among the museum's interesting displays are the remains of the oldest human discovered to date in North America, the Windover Woman. There's also a fascinating recreation of the Windover dig, which unearthed the remains in nearby Titusville in 1982. Other exhibits detail the lives of Native Americans and the early pioneers, as well as the early days of the railroad in Cocoa.
7. Tee Off at a Cocoa Beach Golf Course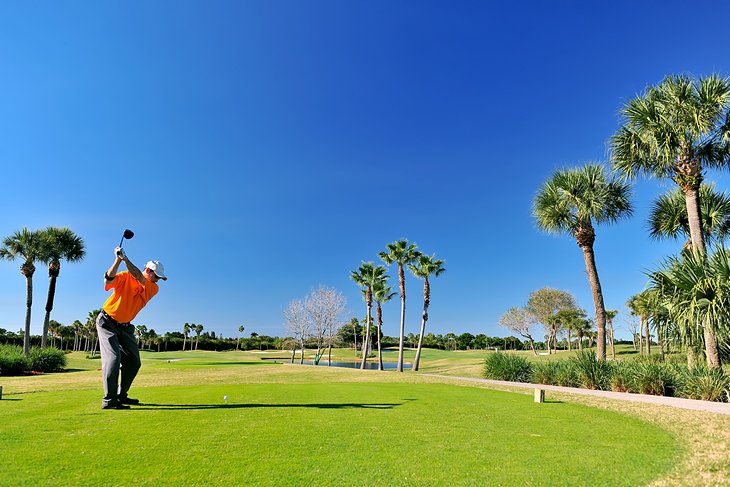 Golfing is one of the most popular things to do in the Cocoa Beach area, and the county offers dozens of top-notch courses. Each is characterized by natural beauty, with grassy dunes, crystal-clear waters, bright sunshine, and challenging holes.
At Baytree National Golf Links, for example, you'll have to navigate through mounds and moguls and uneven lies, as well as 74 white-sand bunkers, and water hazards galore.
At Viera East Golf Club, the 527-yard, Par 5, #14 sure is a challenge, as it requires an approach shot over water to an island green. The Savannahs At Merritt Island requires some deft navigation, too, with water hazards on 14 of the 18 holes.
8. Paddle with the Manatees on a Cocoa Beach Kayaking Tour
If you want to get up-close-and-personal with manatees, Florida's beloved "sea cows," Cocoa Beach Kayaking will take you out to see these wonderful 2,000-pound creatures on a guided kayak tour through the beautiful Thousand Islands or the Indian River Lagoon.
You'll find that these cartoon-like, bulbous creatures will swim right up to you, as they have no fear of humans. In addition to the manatees, you're likely to see bottlenose dolphins, colorful migratory birds, and other wildlife of the Central Florida ecosystem.
9. Take a Stroll over the Ocean on the Cocoa Beach Pier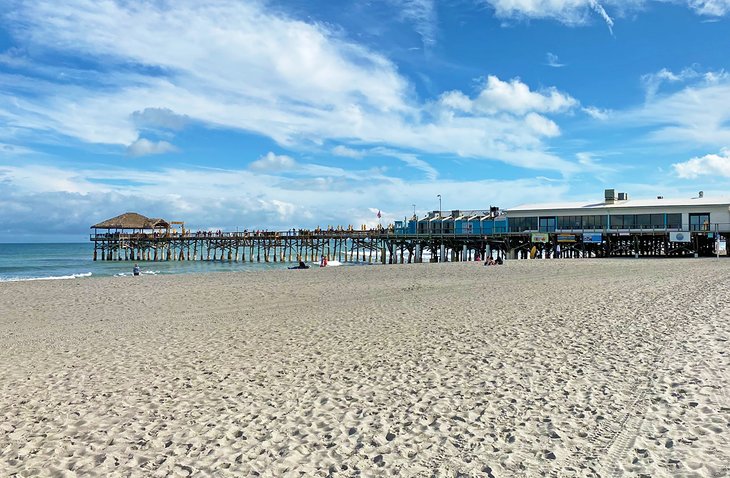 You can't really say you've been to Cocoa Beach until you visit this legendary landmark. The Cocoa Beach Pier is an honest-to-goodness, old-fashioned, woodsy structure that's right out of the history books, where you can walk over water for some 800 yards. Along the way, you'll pass funky restaurants, gift shops with unique items and souvenirs, and great local bands performing outside.
There are also beach volleyball courts nearby and, in the waters around the pier, some of the best surfing (this area is called the "East Coast Surfing Capital") and fishing in the United States. There are fishing-equipment rentals and beach rentals for whatever the family might need.
10. Whiz along Local Waterways on an Airboat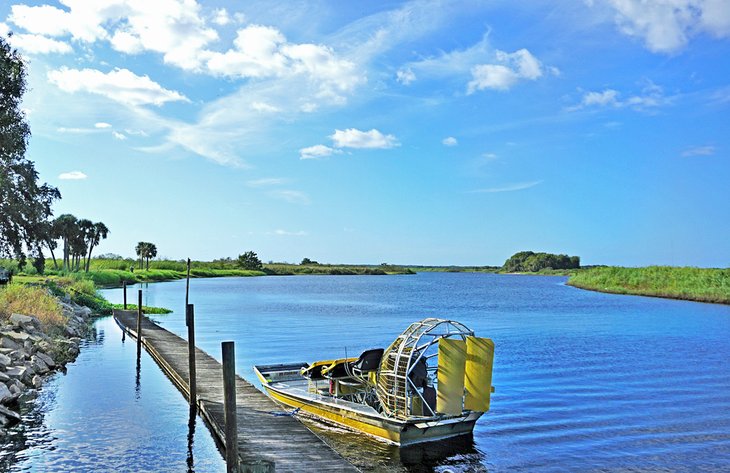 Twister Airboat Rides, deep in the interior at Lone Cabbage Fish Camp, will whiz you along the Saint John's River and Lake Poinsett. You'll have an intimate look at an ecosystem and its hundreds of plant and animal species that most people see only from afar.
Your boat captain will slow down when he spots wildlife, so you can see it and take pictures. You'll most likely see some American alligators, bald eagles, and wading birds, perhaps even rarer species such as wild hogs.
11. Haul in a Big One on a Fishing Adventure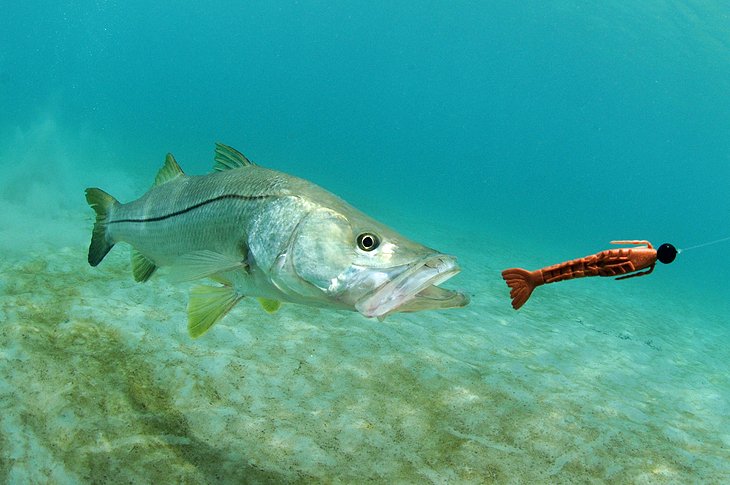 When in Cocoa Beach, you're actually sitting near one of the greatest fishing grounds on the planet, and it would be a shame to let all that ocean bounty go to waste. Cocoa Beach has many great fishing-charter outfits, any of which will know where the best fishing is on any given day.
One of the most popular charter companies is Fin and Fly Fishing Charters, who specialize in sport fishing for redfish, snook, tarpon, black drum, and speckled sea trout. The fish are simply huge in these waters, and your crew will provide all the equipment you need to catch your share.
12. Find Your Inner Surfer at Ron Jon Surf Shop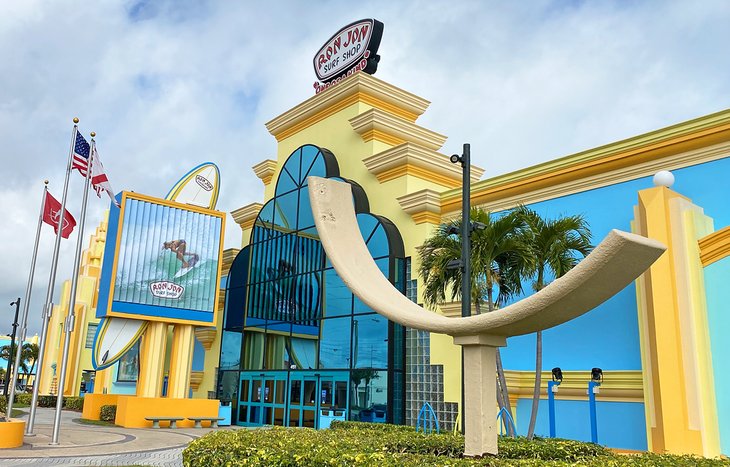 You know those Ron Jon stickers you've been seeing on beat-up old Volkswagens every time you come to Florida? Well, this is the place they come from – the world's biggest surf shop, the Granddaddy of 'em all: the Ron Jon Surf Shop. If it's related to surfing or water sports and you can't find it here, you may as well give up searching.
The original flagship Ron Jon's consists of 52,000 square feet of watersports goodies, and wandering its well stocked aisles and departments will certainly get you in the mood to hit the water.
13. Hit the High Seas at Port Canaveral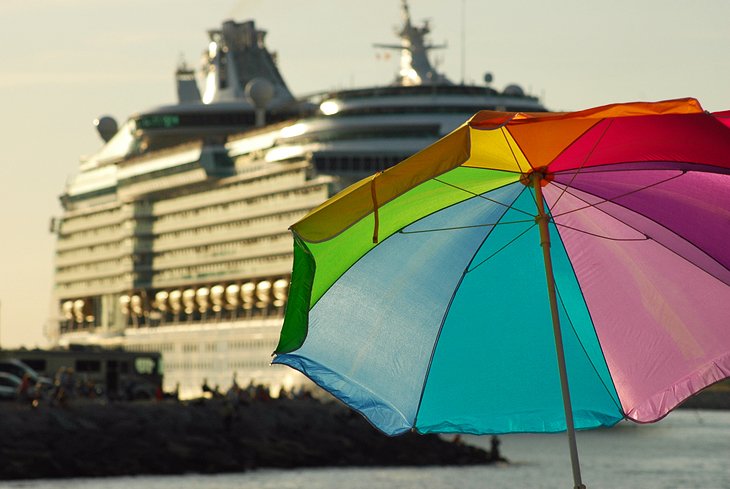 For a great getaway while you're already on vacation, consider a high-seas jaunt into the azure-blue waters of this region, with cruises starting at three days to the Bahamas and some longer ones to the Caribbean.
On the Disney Dream and Disney Wonder, you'll get to explore the many colorful islands of the Bahamas, which include stops at the historic capital city of Nassau (be sure to hit the Straw Market for wonderful handicrafts to bring back home), the sublime out-island of Castaway Cay, and the totally-different vibe of Freeport. Of course, on a Disney cruise, the cast of characters will all be there, including Mickey and Minnie, Goofy, Pluto, Donald, and the rest of the gang.
14. Climb Canaveral's Exploration Tower & Lighthouse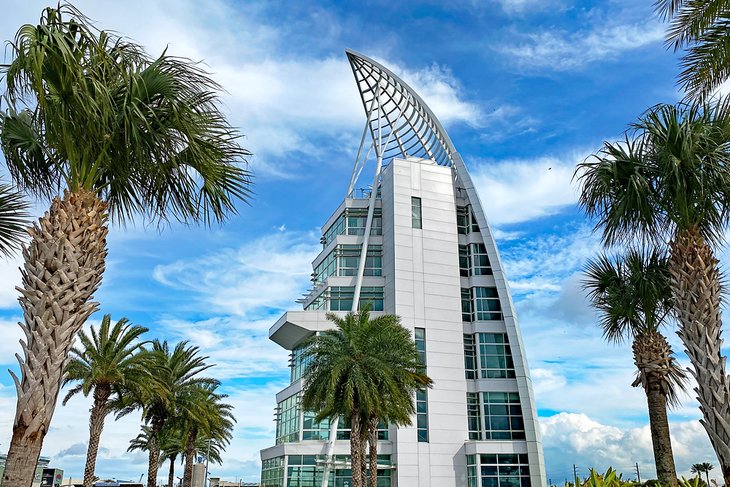 While in Canaveral, be sure to make a beeline for the Exploration Tower. Thanks to its distinctive design – it seems to resemble the billowing sails of a vessel at sea – this attractive building certainly stands out from its pleasant parklike setting. Standing seven stories tall and within easy reach of the port, the tower is one of the area's newest, and most popular, attractions.
Highlights include interactive exhibits showcasing the area's diverse wildlife, the indigenous peoples who lived here, the first settlers from Europe, as well as the environment. Also, be sure to linger at the fascinating exhibit relating to the history of Port Canaveral, including a fun game that allows you to practice steering a ship.
The top two floors of the tower include observation decks (one indoor, one outdoor), offering panoramic views toward the Kennedy Space Center and over the bustling port. A café and souvenir shop are located on the premises, as well as a small movie theater. From here, you can also join a tour of the nearby Cape Canaveral Light. Built in 1868, this historic lighthouse stands 151 feet tall and offers a fascinating insight into the workings of these once important structures.
Where to Stay in Cocoa Beach for Sightseeing
We recommend these great-value hotels near the soft sands of Cocoa Beach:
More Related Articles on PlanetWare.com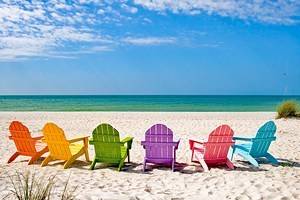 Top Florida Vacation Ideas: If you're planning a beach vacation with the family, there are plenty of great Florida beaches. Your shortlist should certainly include Clearwater Beach, near St. Petersburg, which is where you'll find the seemingly endless stretches of beach that form part of Fort DeSoto Park. The beaches and attractions of Fort Lauderdale are also a great place to visit; some of its seven miles of beaches are lined with lovely boardwalks. And, of course, if you're planning a trip to Florida, you should certainly consider a trip to the theme park capital of Orlando, famous the world over for being the home of Walt Disney World.