10 Best Things to Do in Vero Beach, FL
Author Bryan Dearsley frequently visits Florida, most recently in 2022 when he explored the Vero Beach area extensively.
Situated midway between the much larger cities of Miami to the south and Orlando to the north — it's in fact just a 90-minute drive away from Orlando's theme parks and tourist attractions — Vero Beach offers plenty of great things to do for sun-seeking vacationers.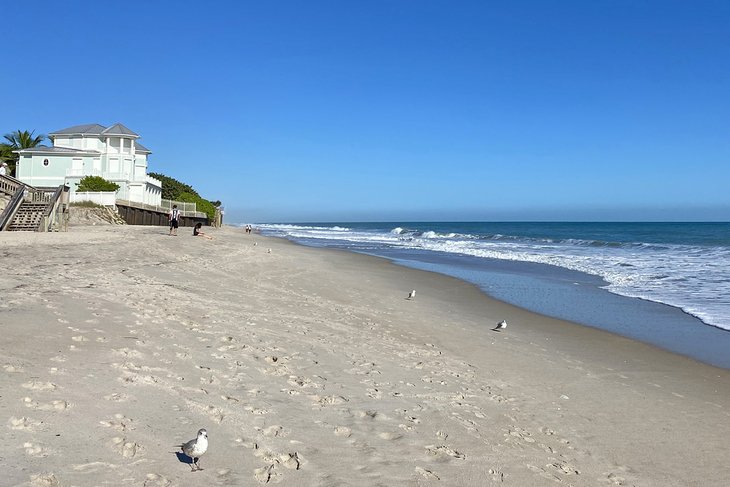 One of the most popular small towns in Florida, its location on the state's Atlantic coast, as well as its long, wide sandy beaches, also make it as popular a place to visit for those seeking leisure properties of their own as it does for those here for a day trip or weekend getaway.
In addition to its excellent beaches, Vero Beach offers plenty of other places to visit for outdoor fun. The city's parks and beaches feature volleyball courts, as well as playgrounds for the kids, along with boat launches and convenient places to dip a paddle in the water. Kayaking is especially popular on the vast Indian River Lagoon, which separates the mainland section of the city from its beaches.
Vero Beach is also a superb travel destination for wildlife fans, too. Nature parks and wildlife refuges can be explored, including some that feature fun animal experiences designed to educate visitors while protecting the creatures they protect and preserve.
Vero Beach and its surrounds also have a great reputation among anglers. The focal point here is the small city of Sebastian, an easy 20-minute drive north of downtown Vero Beach.
Add to this mix a great cultural scene, superb casual and fine-dining seafood restaurants, great family beach resorts, as well as excellent shopping opportunities, and you'll find no end of fun things to do in Vero Beach, Florida.
1. Explore Pelican Island National Wildlife Refuge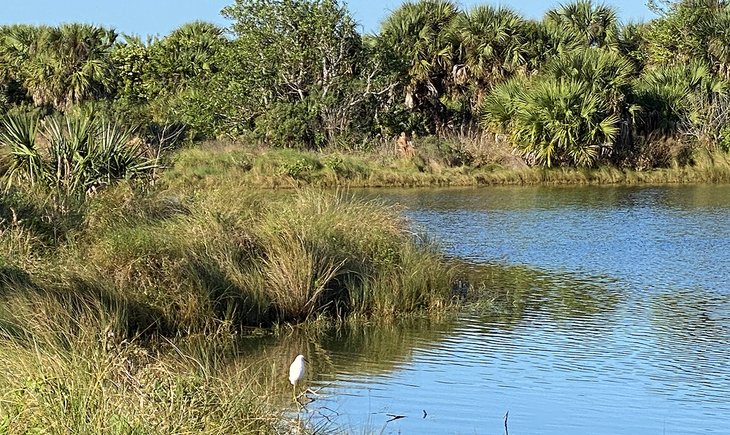 Highlights: Huge wildlife park with hiking and biking trails, birdwatching, and washrooms
Covering an area of 5,400 acres and an easy 20-minute drive from downtown Vero Beach, Pelican Island National Wildlife Refuge is a must-visit, especially for birders.
Notable as the first wildlife refuge in the USA — it was established in 1903 by President Theodore Roosevelt — the refuge is in fact part of the Great Florida Birding Trail, a network of over 500 parks and refuges dedicated to preserving Florida's abundance of birds.
The park's also profoundly quiet, allowing plenty of opportunities to not just see the many birds that nest and rest here (it's on a major migratory route), but to listen to them, too. Before tackling the trails (they're all level and relatively easy to navigate), check out the useful information kiosk located in the parking area. Here, you can get your bearings, plan your adventure, and make use of the restrooms.
While the park is a refuge for all manner of creatures, the air is literally filled with birdsong, so bring your binoculars and a notepad to record your finds. Take Centennial Trail to the first information shelter to learn more about the 140 bird species that call the refuge home.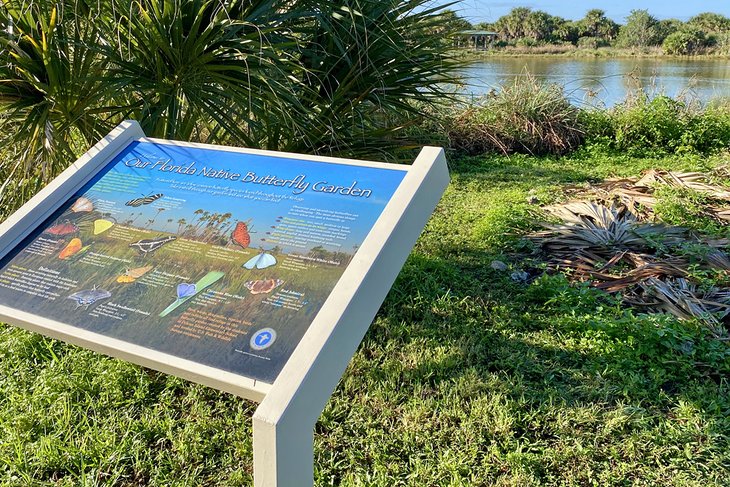 Check out the adjacent Butterfly Garden, then follow the level, paved trail that skirts around the small lake to the first of two sheltered telescopes that enable you to spy on the waterfowl as they preen and feed. Another viewing point, in the form of an 18-foot-tall observation tower, overlooks Pelican Island and the Indian River Lagoon (the island itself is prohibited).
The trails are wheelchair and stroller accessible, and also feature benches in which to sit and soak up this remarkably tranquil scene. The refuge is open dawn to dusk, and entrance and parking are free. Wildlife tours are also available, including kayaking adventures.
Address: 4055 Wildlife Way, Vero Beach, Florida
2. Discover Nature at the Environmental Learning Center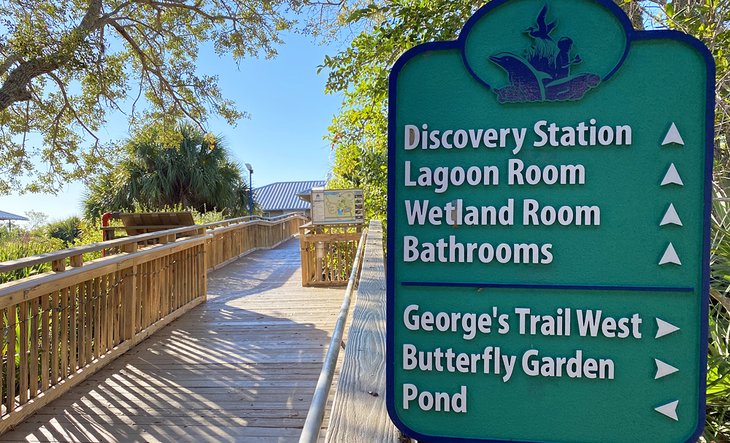 Highlights: Family-friendly attraction with boardwalks, kayaks, wildlife, and a museum
Young and old alike will want to pay a visit to the Environmental Learning Center (ELC) to find out more about the incredible diversity of creatures and plant life to be found in Vero Beach. Set on 64 acres of preserved natural habitat on Wabasso Island, this first-rate facility, as its name suggests, encourages the exploration of nature up close.
A highlight of a visit is exploring the center's 1.5 miles of wooden boardwalks, which place you at the perfect elevation to observe nature doing its thing. Afterward, board a kayak and delve deep into the dense hammock, following a network of watery trails that promise encounters with the wildlife residents, from birds to fish and turtles, as well as manatees.
Pay a visit to the facility's Interactive Museum, where you can actually handle certain local species of wildlife in the large touch tank and watch them swim about in the aquariums. Other amenities include a gift shop, an art gallery, and a new event pavilion. ELC also offers fun pontoon excursions across the Indian River Lagoon. For a special treat, opt for one of the sunset tours.
Address: 255 Live Oak Drive, Vero Beach, Florida
3. Enjoy a Day at the Beach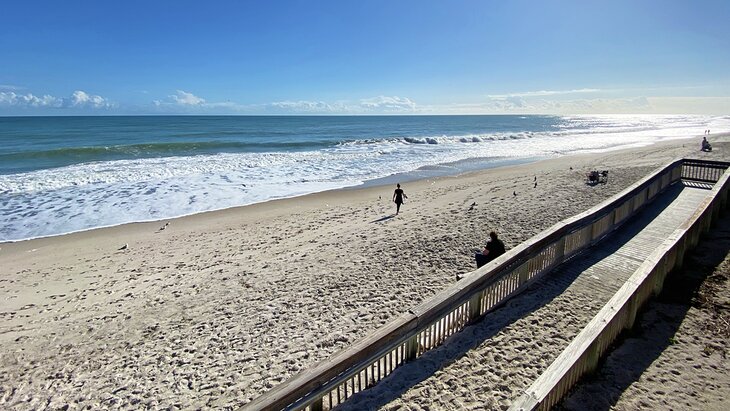 Highlights: Long stretch of clean beaches, free parking, and oceanfront resorts
Little surprise that Vero Beach is a very popular destination for those who enjoy a great sandy beach on which to relax. Whether you're staying here or seeking a great beach break near Orlando, you're certainly spoiled for choice.
A favorite for many, Wabasso Beach Park is located at the end of the road of the same name, and offers free parking just steps away from the beach (it can fill up quickly, so arrive early). Surrounding the parking area are a variety of souvenir shops selling towels and other beach gear, if needed, while "Beach Bites" offers snacks and beverages.
The beach itself stretches a long way in each direction here and is perfect for a beach stroll as it's hard-packed near the water's edge when the tide's out. Head south, and you'll pass Disney's Vero Beach Resort; head north on launch day at Cape Canaveral and, although it's 80 miles away, you might be lucky enough to catch a glimpse of a rocket making its way into space.
Other parks to include on your beach list are Golden Sands Beach Park, which features lifeguards and picnic tables, changerooms (with showers), and washrooms; Jaycee Park, which features a playground and boardwalk; and Humiston Beach Park, popular for its location in Vero Beach's poshest shopping district along Ocean Drive.
Feeling peckish? Just a few steps away from Humiston Beach along Ocean Drive is also where you'll find Cravings, a great little bakery with outside seating that serves fresh-baked pastries, sandwiches, and espresso coffees.
Address: 1820 Wabasso Beach Road, Vero Beach, Florida
4. Visit Historic McKee Botanical Garden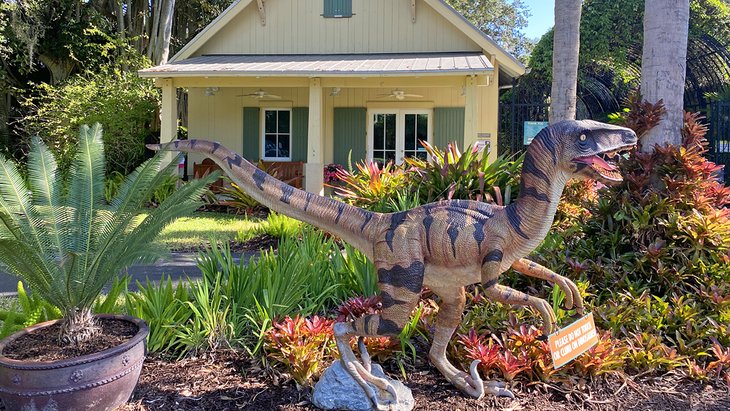 Highlights: Life-size dinosaurs, beautiful gardens, gentle walking trails, kids' playgrounds
Opened in 1932 and included on the U.S. National Register of Historic Places, the McKee Botanical Garden is set on some 18 acres of tropical hammock near the Indian River that's been transformed into a showcase of native and exotic flora. Crisscrossed by attractive gentle streams, and waterfalls, and dotted with numerous ponds, the garden's easy-to-follow trail network is fun to explore.
Along the way, you'll see numerous species of indigenous vegetation, as well as beautiful plants, flowers, and trees from across the globe. There are also a number of interesting sculptures to enjoy. On-site amenities include a gift shop and restaurant, as well as a kids' splash zone and playground.
Address: 350 US-1, Vero Beach, Florida
5. Take a Drive to Sebastian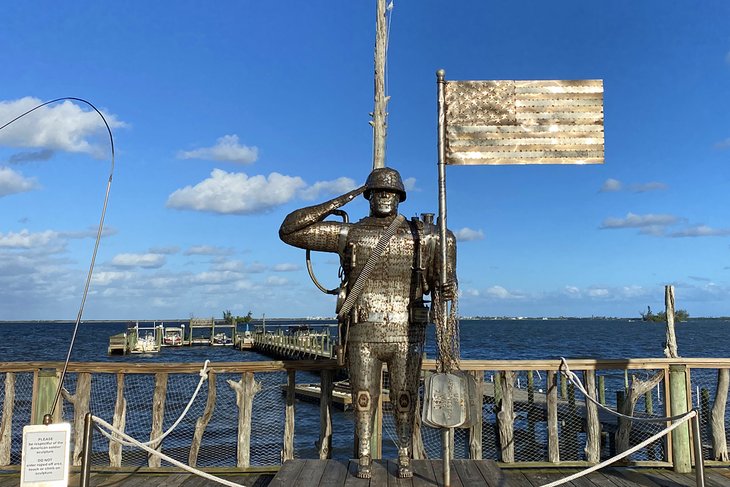 Highlights: Inland waterway with great fishing, kayaking, swimming, and boardwalk
Just 15 minutes' drive north of Vero Beach along the scenic coastal highway A1A, Sebastian Inlet Park makes for an excellent side trip. It's set on the Atlantic side of the Indian River Lagoon, a wide estuary that's teeming with wildlife, and which is a big draw for its rich flora and fauna.
The park is especially well-known for its superb fishing, and features some excellent fishing off its jetty. It's also a popular spot for surfers, drawn here by the challenge of surfing the park's "First Peak" and "Monster Hole." Kayaking, swimming, collecting seashells, and sunbathing are also fun, as is taking a stroll along the park's unspoiled stretch of beach.
Be sure to allow a little time to also explore mainland Sebastian, too. You'll have to cross the Wabasso Causeway bridge to get you there, so take the Main Street exit from US Hwy 1 toward the water, where you'll find plenty of parking. There's a pleasant boardwalk area to explore, as well as some neat outdoor sculptures (check out the huge all-metal alligator).
The promenade stretches for some distance in both directions, with many great eateries offering a variety of fresh-caught fish dishes.
Address:9700 S Hwy A1A, Melbourne Beach, Florida
6. Hike or Bike the Historic Jungle Trail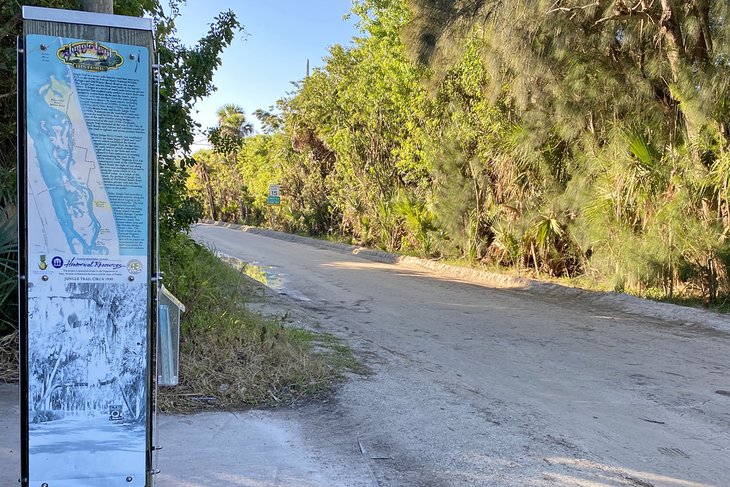 Highlight: Traffic-free biking and hiking trail on a historic route through a lush natural area
Located in the same vicinity as Pelican Island (these two tourist attractions share the same parking lot) and a must-do for hikers and bikers, the Historic Jungle Trail is an eight-mile-long sandy road on Orchid Island that's just waiting to be explored.
While bikers will want to tackle the whole trail, hikers shouldn't feel too bad about it if they only tackle the first half. The trail here follows an old sandy road that was literally cut through the thick hammock foliage — the "jungle" — by citrus farmers in the 1920s and offers a unique perspective as it runs parallel to the Indian River.
Now included on the National Register of Historic Places, it's fascinating to contemplate the fact these early settlers managed to carve a road through the dense undergrowth. If biking, watch out for the occasional soft sandy section.
A number of additional trails can also be accessed off the Jungle Trail, including a number that lead deeper into the Pelican Island National Wildlife Refuge (though please note, bikes aren't allowed on these sections, so chain them up in the car park if venturing down them).
Location: The Jungle Trail starts at 4055 Wildlife Way, Vero Beach, Florida (Pelican Island National Wildlife Refuge)
7. Vero Beach Museum of Art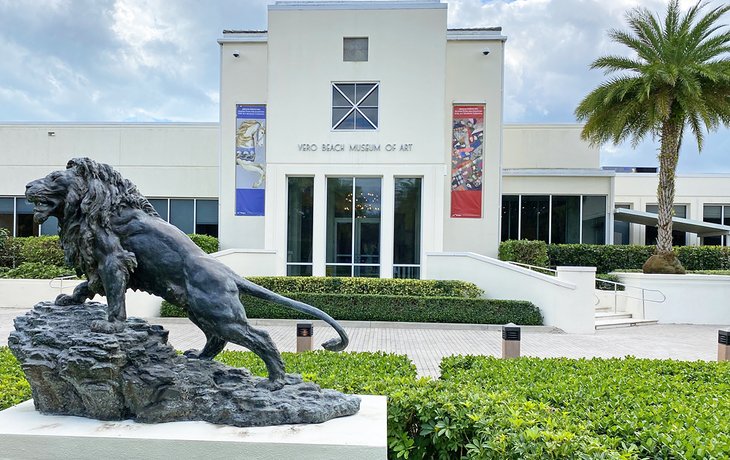 Highlights: Large art gallery with local and USA artists, workshops, kids' programs, and a shop
Boasting no less than five distinct galleries, the Vero Beach Museum of Art makes for an excellent diversion from all those outdoor activities. It's a huge facility and covers more than 55,000 square feet of great art created by artists from across Florida and the USA. It also boasts an impressive sculpture collection.
In addition to great art, you can also participate in a variety of fun art-related experiences. These include lectures and educational classes and seminars, workshops, a foundry, an art library, and a store.
Be sure to explore the sculpture garden, which features a variety of eclectic pieces in a lovely park-like setting.
Address: 3001 Riverside Park Drive, Vero Beach, Florida
8. McLarty Treasure Museum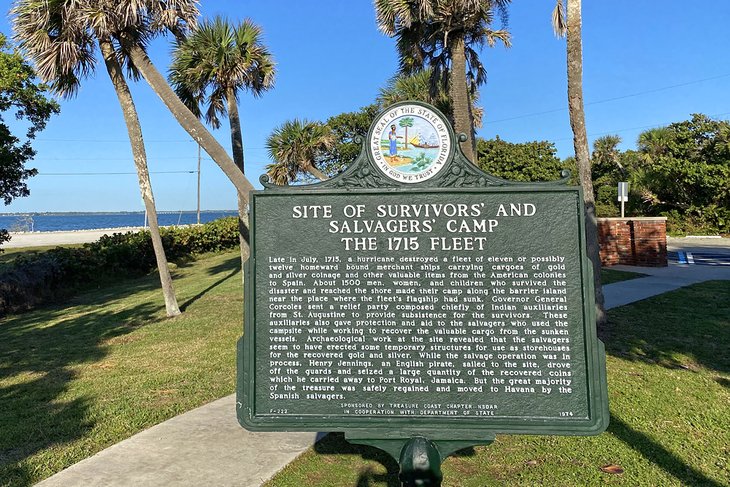 Highlights: Hear stories about buried treasure and shipwrecks with displays and artifacts
Vero Beach has long been known as a place where old treasures were lost. Its location on what's known as Florida's "Treasure Coast" can be discovered in the McLarty Treasure Museum, a great little museum chock-full of interesting displays and artifacts relating to real-life tales of buried treasure.
Of special interest are displays relating to the 1715 sinking in the area of a Spanish fleet carrying large quantities of gold and silver "treasures" from its colonies in South America and Mexico. To this day, some of the booty they carried has yet to be recovered
An interesting short film outlining this rich history is included with your admission. There's also a gift shop, as well as a great viewing platform looking out over the very coast on which the Spanish fleet floundered.
Address: 13180 North A1A, Vero Beach, Florida
9. Take in a Show at Riverside Theatre
Highlights: Twin-stage theater with Broadway shows, kids' programs, and a restaurant
Located in the city's Riverside Park cultural hub, Riverside Theatre is a state-of-the-art performance center that hosts a variety of shows each year on its two stages. Highlights include new and off-Broadway hits, as well as a range of shows for kids in its children's theater.
In need of a laugh? Then check out the regular Friday night stand-up comedy performances, which feature two comedians each show. Live music performances are also hosted here regularly, and a restaurant is located on the premises for a pre- or post-show meal.
Address: 3250 Riverside Park Drive, Vero Beach, Florida
10. Visit Hallstrom Farmstead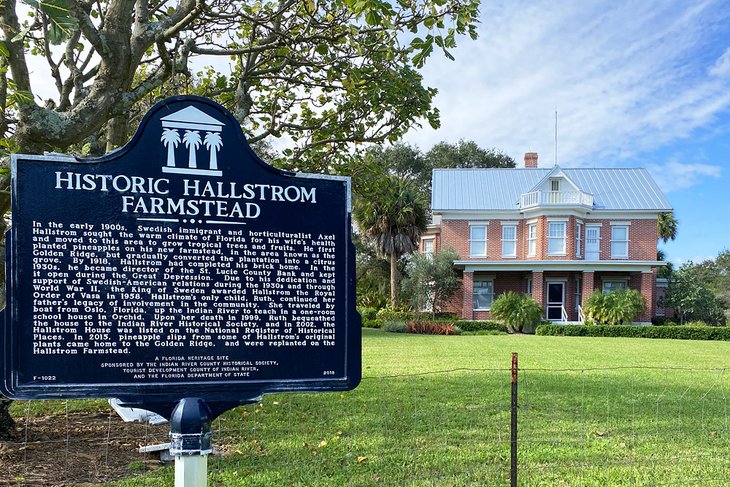 Highlights: Preserved farmhouse on old pineapple plantation offering tours and events
Hallstrom Farmstead is perhaps one of the most attractive historic homes in Vero Beach. Located a short drive away from the downtown core and set on five acres, the farmhouse was built in 1909 on what was at the time part of a working pineapple plantation.
Today, this perfectly preserved building, along with a number of outbuildings, serves as a living museum that showcases life in Vero Beach as it would have been in the early 1900s. Highlights include original furniture, photos, and memorabilia from the Hallstrom family, as well as interesting displays outlining the farm's history.
Address: 1701-1723 Old Dixie Hwy SW, Vero Beach, Florida
Vero Beach, FL - Climate Chart
Average minimum and maximum temperatures for Vero Beach, FL in °C
J
F
M
A
M
J
J
A
S
O
N
D

23

12

23

12

26

14

27

17

29

19

32

22

32

23

32

23

32

23

29

21

26

17

24

13

PlanetWare.com
Average monthly precipitation totals for Vero Beach, FL in mm.

73

62

107

73

97

153

166

153

174

128

77

56
Average minimum and maximum temperatures for Vero Beach, FL in °F
J
F
M
A
M
J
J
A
S
O
N
D

73

53

74

54

78

58

81

62

85

67

89

72

90

73

90

73

89

73

84

69

79

62

75

55

PlanetWare.com
Average monthly precipitation totals for Vero Beach, FL in inches.

2.9

2.5

4.2

2.9

3.8

6.0

6.5

6.0

6.8

5.0

3.0

2.2
The best time to visit Vero Beach is spring. Typically lasting from March through April and into May, spring in Vero Beach will see temperatures average in the low to mid-80s Fahrenheit during daytime hours, with plenty of sunshine as well. The evenings are cooler and very pleasant for those who enjoy sitting outside.
Lasting from June through July, August, and September, you can expect summers to be hot and humid. Summer is also the wettest season in Vero Beach, with the chance of rainfall as high as 40 percent during the summer months.
Come fall, you can expect low levels of rainfall with cooler, drier weather. October can, in fact, still be quite warm with temperatures around 80 degrees Fahrenheit being common. These temperatures gradually dip during November, December, January, and February, but these months are still pleasant and dry enough to make Vero Beach a great place to visit in winter, too.