12 Top-Rated Things to Do in Juno Beach, FL
Juno Beach lies on a pretty barrier island just south of Jupiter and north of West Palm Beach on South Florida's east coast. A haven for nature lovers and those who appreciate fantastic water views, this quaint town is sandwiched between the beautiful Intracoastal Waterway and Atlantic Ocean.
Having two vast waterways on both sides means there are ample opportunities for visitors to have fun in Juno Beach. Whether you're hoping to fish, swim, stand up paddleboard, snorkel, or go boating, you'll find plenty of activities to get your feet (and the rest of you) wet.
Speaking of water, the pristine beach at Juno Beach Park offers a soft, sandy base for a perfect day spent by the ocean. This is also where you'll find the town's main tourist attraction, the Juno Beach Pier.
Be careful where you step between May and October as this is the "densest sea turtle nesting ground in the world." Learn more about them at the Loggerhead Marinelife Center, or visit Juno Dunes Natural Area to see what other wildlife you can spot.
No matter which activities you fancy, be sure to choose one from our list of things to do in Juno Beach.
1. Catch Some Rays at Juno Beach Park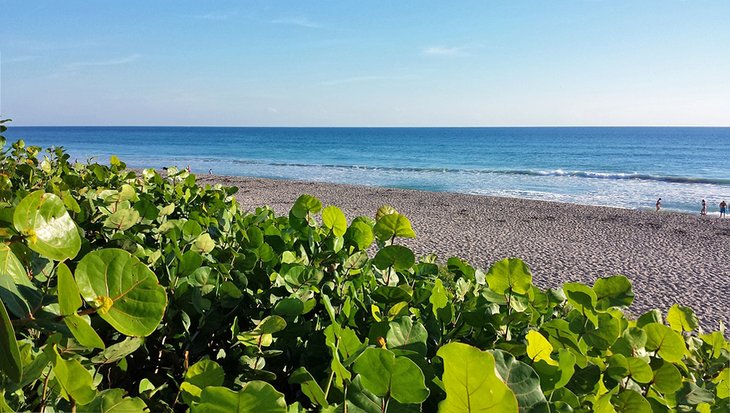 It's not really a Florida vacation until you hit the beach. Luckily for visitors to Juno Beach, this adorable town is flanked by soft, luscious sand and phenomenal ocean vistas. Head here for a sunrise you'll never forget. Be sure to pack a camera.
Lifeguards man the water at Juno Beach Park, which is where you'll find the most amenities. Restrooms, outdoor showers, and sheltered picnic tables are on hand, as well as multiple parking spaces.
Pop up your umbrella, set out your beach chair, and settle in for a fun day at the shore. Bring a bucket for shells – there are a bunch that travel in with the tide. Pack a picnic so you won't have to leave but be sure to take the garbage with you to keep the area clean and protected – turtles nest nearby.
While here, be sure to enjoy all the excitement the beach has to offer. Head to the water for a swim, snorkel, kitesurf, or boogie board. You could also build a sandcastle with the kids, dig the world's biggest hole, or enjoy a run on the sand. Plus, there's a designated section for surfing if conditions allow for big enough waves. There is a slew of things to do with the family at this pretty beach.
The Juno Beach Pier is also on-site, offering visitors a scenic spot to wander or fish. The Pier House lies at its entrance and sells snacks, bait, and other fishing equipment.
Address: 14775 U.S. Highway 1, Juno Beach, Florida
Official site: https://www.juno-beach.fl.us/community/page/juno-beach-park
2. See the Turtles at Loggerhead Marinelife Center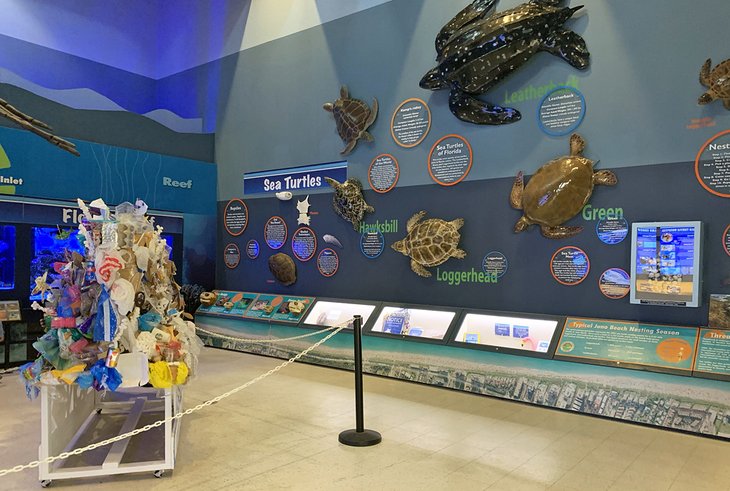 There's little cuter than a baby turtle. Actually, grown turtles are pretty adorable, too. Loggerhead Marinelife Center allows visitors to see both up close. A non-profit sea turtle research, rehabilitation, education, and ocean conservation center, this marvelous attraction is a wonder to behold.
Step inside the pastel building to learn all there is to know about endangered sea turtles. Inside the front door lies a small museum featuring informative displays about plastic in our oceans and a guide to the various species of sea turtles found in Florida. If you're lucky, you may be able to watch a hatchling release or see large turtles being fed.
An outdoor sea turtle hospital houses creatures that are currently being rehabilitated. Visitors can see into their tanks and read signs posted nearby detailing the patient's story. Book a guided tour to learn more about each turtle's condition and the events that brought them to the center.
There's also a small snack bar and gift shop on hand, as well as an education center hosting classes like the Jr. Veterinarian Lab and ArtSEA Kids Paint Class.
Address: 14200 U.S Highway 1, Juno Beach, Florida
Official site: https://marinelife.org/
3. Reel in a Big One at Juno Beach Pier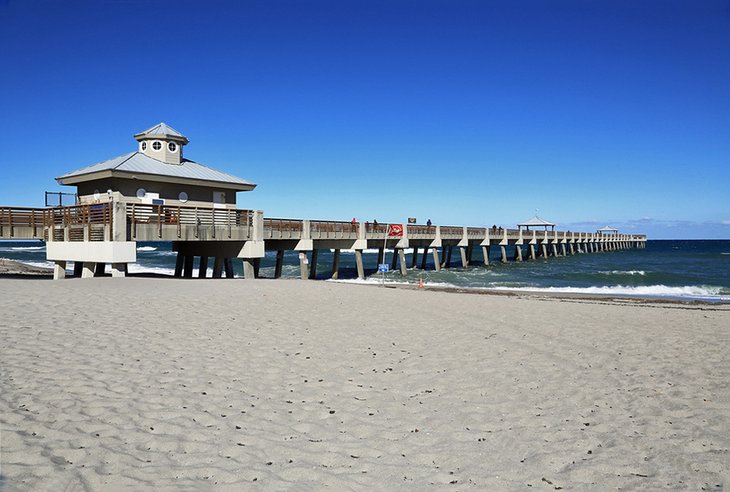 Run by the Loggerhead Marinelife Center, Juno Beach Pier is more than just a picturesque addition to the seascape. Spanning 990 feet into the Atlantic Ocean, this iconic spot attracts anglers hoping to reel in a big one from its wooden platform, as well as thousands of visitors looking to soak up the incredible views.
Pack a camera and binoculars as you'll be able to spot some pretty amazing marine life in the water below. The Pier House sits at the entrance to the pier. Its friendly staff offer fishing poles for sale and rent as well as bait, tackle, snacks, and touristy gifts.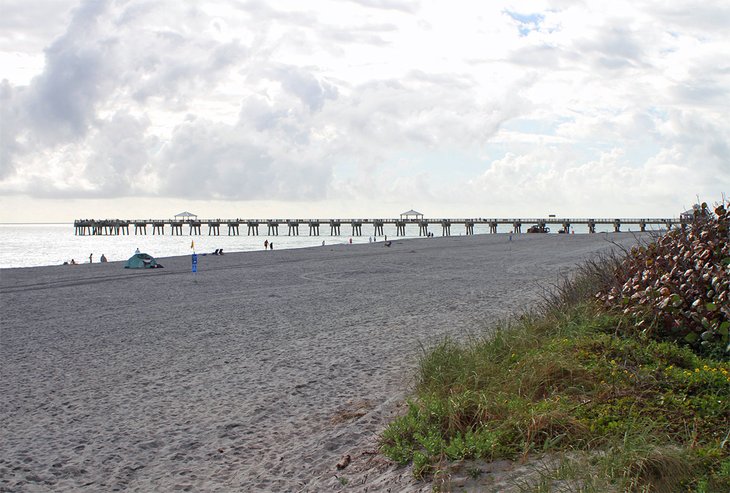 On-site educational opportunities organized through the Loggerhead Marinelife Center are available for the whole family. They offer fishing programs, which teach kids and adults the basics of fishing, as well as a Junior Sea Turtle Rescuer program that teaches kids the ins and outs of saving sea turtles that have been hooked or otherwise entangled near the beach.
There's a small fee ($1) to walk the pier and a slightly higher charge ($2 for kids and $4 for adults) for those hoping to fish.
Address: 14775 U.S. Highway 1, Juno Beach, Florida
Official site: https://marinelife.org/pier-experiences/
4. Go Bird-Watching at Juno Dunes Natural Area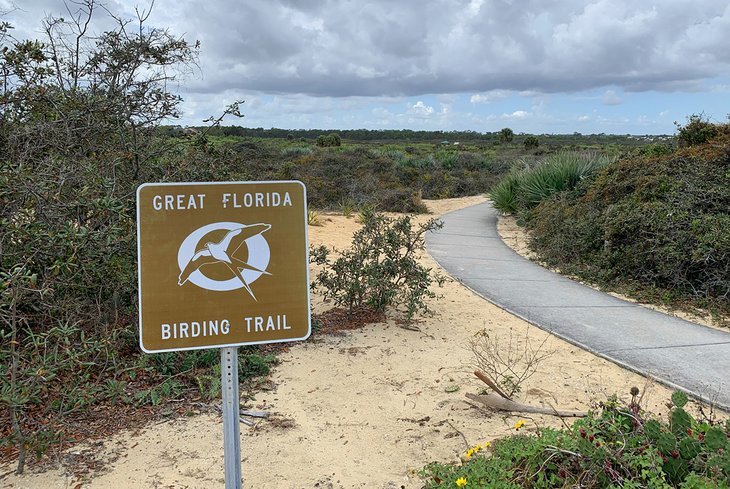 It might take you a minute to notice how the Juno Dunes Natural Area differs from other wildlife preserves you've visited. It's missing trees. This lush, 578-acre park boasts plenty of vegetation, but the majority of it stands at waist height. That means you're guaranteed spectacular sweeping vistas while visiting this stunning landscape.
It also means you won't find a lot of shade here, so it's best to do your hiking in the early morning or late afternoon. Plus, you'll want to wear a good sunhat and plenty of sunblock.
Ancient sand dunes line the nature area's two main trails, topped by a variety of flora that add color and texture to the landscape. Sawgrass, scrub oak, scrub hickory, and a mix of wetlands cover the area, providing a home to many of the state's most gorgeous birds. Not surprisingly, this is part of the Great Florida Bird and Wildlife Trail.
The Oceanfront Track is sandy, covers 42 acres, and offers spectacular water views. It leads to the Atlantic Ocean. The West Track boasts multiple trails. The paved Sawgrass Trail is a mere 0.2 miles while the unpaved Scrub Hickory Trail covers 2.1 miles.
Sandy Scrub Oak Trial is 0.8 miles long and leads to the Intracoastal Waterway. Along the way, a boardwalk transports visitors through the wetlands, while an observation tower provides an optimal look out.
Address: 14200 South U.S. Highway 1 (Oceanfront Tract); 145501 US HWY 1 (West Tract), Juno Beach, Florida
Official site: https://discover.pbcgov.org/erm/NaturalAreas/Juno-Dunes.aspx
5. Unwind at Pelican Lake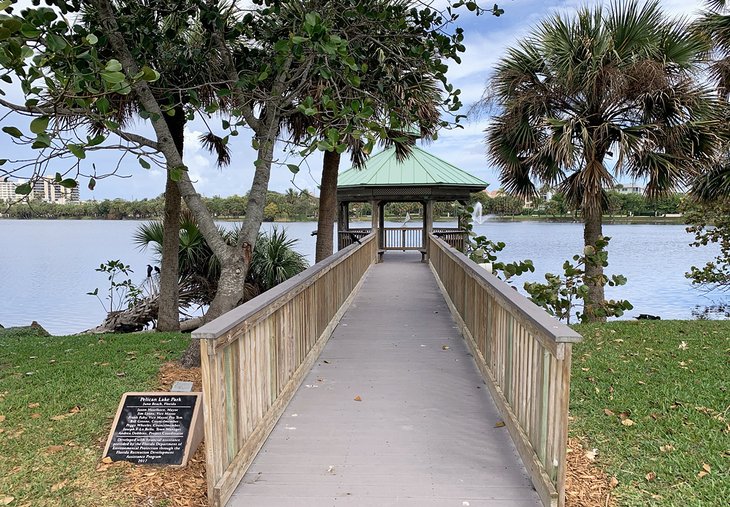 A pretty 12-acre lake lies hidden away in a quiet neighborhood just east of the A1A and a mile from Town Center. Attractive white gazebos hover above the water, connected to land by wooden boardwalks that look so inviting, you'll wish you packed a picnic. If you did come prepared for a meal, use one of the picnic tables to enjoy your lunch al fresco while soaking up the tranquil scenery.
Enjoy a serene moment on one of the many benches set along the walking path beside the lake, watching the wildlife that call this area home.
Bring the kids along to run around the playground in Kagan Park, which lies at the southwestern edge of the lake. Or join in a game of basketball on the half-sized court. There's also a bocce court on-site, but you'll need to bring your own balls.
Address: 340 Ocean Drive, Juno Beach, Florida
Official site: https://www.juno-beach.fl.us/community/page/pelican-lake
6. Spot Sea Turtle Hatchlings at Loggerhead Park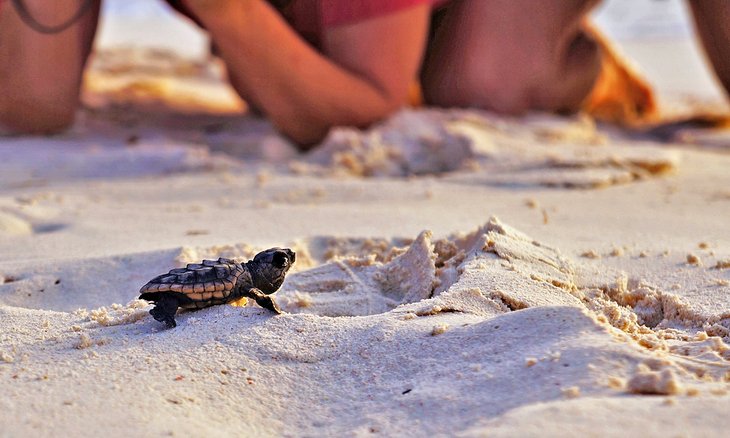 Turtle lovers won't want to miss a trip to Loggerhead Park. Home to the Loggerhead Marinelife Center we mentioned above, this 17-acre park features nature trails, 900-feet of guarded beach, and coastal hammock (basically a shady area covered in tall, tropical trees). It often serves as an educational area for the center's many environmental programs.
Hammock Hikes are organized through the center and take visitors on a 45-minute trek through the park's lush coastal hammock. Guided Turtle Walks are offered at the park during turtle nesting season from late May to September. Visitors are led to the beach to spot nesting sea turtles and learn about their plight. Attending one of these walks is an easy and fun thing to do with the family.
The center's Hatchling Release program takes visitors to the beach in August. Here, they can witness the release of sea turtle hatchlings into the ocean. Not a fan of guided excursions? Loggerhead Park also boasts a pavilion, tennis courts, playground, nature trail, and bike path. Plus, you'll find amenities such as restrooms and outdoor showers.
Address: 1111 Ocean Drive, Juno Beach, Florida
Official site: https://discover.pbcgov.org/parks/Locations/Loggerhead.aspx
7. Get Active at Bert Winters Park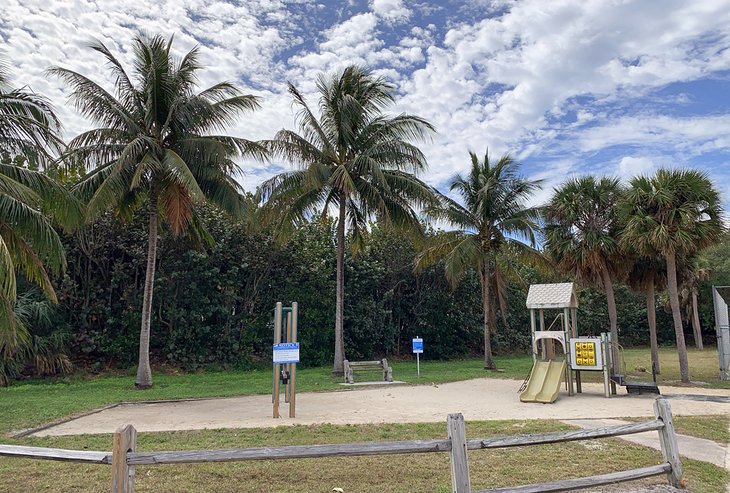 The 16.5-acre Bert Winters Park is a go-to place to visit for locals and vacationers with a penchant for being active. With tennis courts, a baseball field, and a playground, the park boasts plenty of opportunities for visitors to get fit. When it comes time to relax, enjoy a picnic at one of the tables provided.
Bert Winters Park spans 805 feet along the Intracoastal Waterway, allowing water lovers access to canoeing, kayaking, and fishing. Its two docks and boat launches make it easy to start your day on the water.
Drop your canoe or kayak in the water from the launch, and paddle your way to Juno Dunes Natural Area through the tidal channels that lead from the Intracoastal. If you're traveling with a boat trailer in tow, you'll have to get a parking permit.
Address: 13425 Ellison Wilson Road, Juno Beach, Florida
Official site: https://discover.pbcgov.org/parks/Locations/Bert-Winters.aspx
8. Kick Back and Relax at John D. MacArthur Beach State Park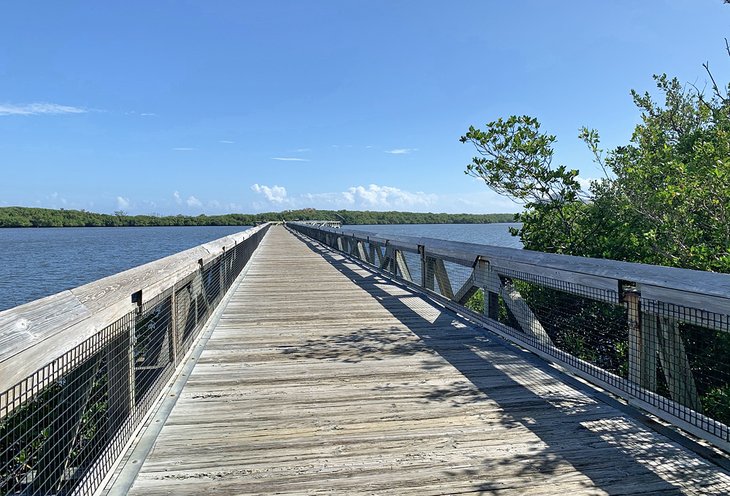 Technically located in nearby Palm Beach, the magnificent John D. MacArthur Beach State Park lies less than five miles south of Juno Beach. In just over 10 minutes, visitors can be transported to a resplendent nature area bursting with the cacophony of birds and the lapping of waves.
The only state park in Palm Beach County, this wonderland is a haven for those who appreciate time spent in a tranquil setting. As its name implies, the park is home to almost two miles of pristine beach and water clear enough to fish in and snorkel around. But that's not the only reason to visit this natural attraction.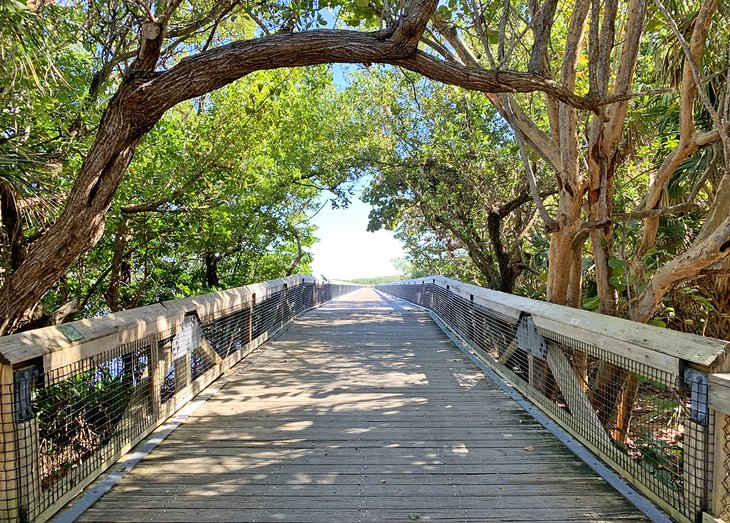 Long, wooden boardwalks allow walkers to traverse the estuary to get a closer view of the marine life that lies below. That said, the best way to visit John D. MacArthur Beach State Park is by kayak or canoe. That way, you can paddle along the estuary to Munyon Island, a wild nirvana featuring all kinds of creatures, as well as hiking trails and pavilions.
Multiple protected areas are found within this vast park, which lies on a barrier island between the Atlantic Ocean and Lake Worth Lagoon. You'll find sand dunes on the beach, maritime hammock offering shade, and an Anastasia limestone rock reef perfect for snorkeling.
Facilities are on hand, including a Nature Center with award-winning education programs, a well-stocked gift shop (they even have snacks and kayak rentals), and a canoe and kayak launch.
Address: 10900 Jack Nicklaus Drive, North Palm Beach, Florida
Official site: https://macarthurbeach.org/
9. Spot the Animals at Busch Wildlife Sanctuary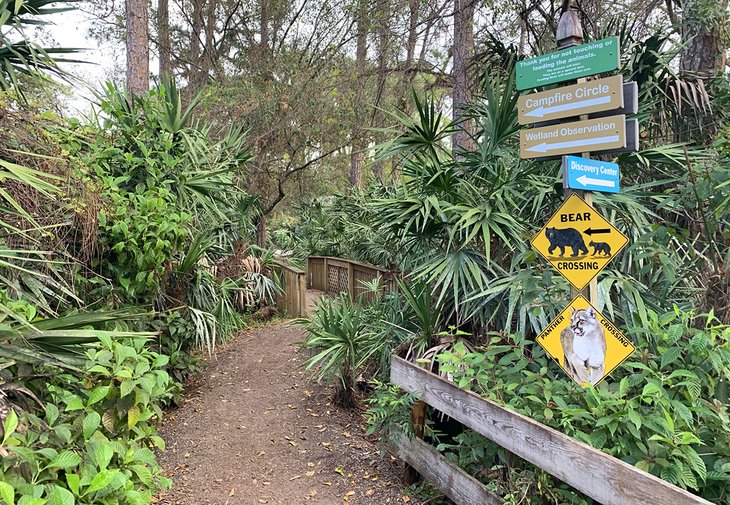 Otters and alligators and owls, oh my! There are so many incredible animals to see at the Busch Wildlife Sanctuary. It will take about 20 minutes to get to this rugged refuge located in neighboring Jupiter.
Injured and abandoned animals are rescued by staff at this non-profit organization, which has been helping and releasing creatures since 1983. While wandering the winding trails through cypress swamp, oak hammock, and pine flatwoods, you'll come face to beak with recovering waterfowl or glimpse an alligator in its expansive cage.
The Robert W. McCullough Discovery Center teaches guests about the area's wildlife through multimedia displays and interactive exhibits, while the on-site wildlife hospital offers visitors a glimpse at some of the sanctuary's most recent patients.
Address: 2500 Jupiter Park Drive, Jupiter, Florida
Official site: https://www.buschwildlife.org/
10. Go for a Hike at Frenchman's Forest Natural Area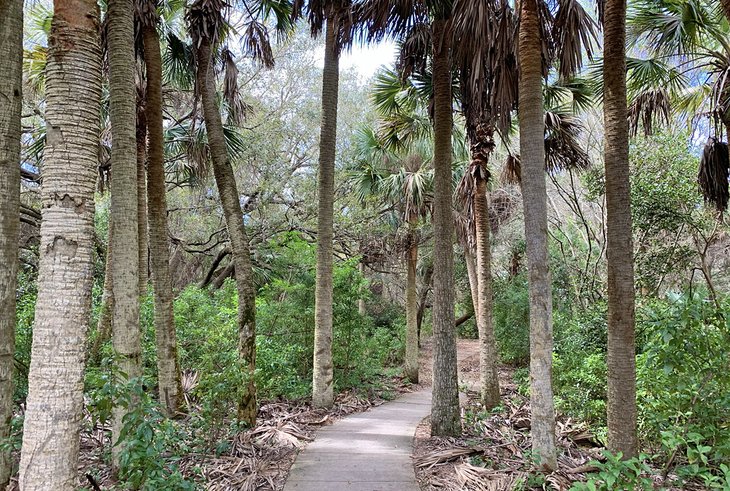 Four trails of varying length and difficulty greet visitors to the expansive Frenchman's Forest Natural Area in nearby Palm Beach Gardens. A mere three miles southwest of Juno Beach, this lush area is home to seven ecosystems, which means you'll find a lot of flora and fauna to photograph on your hike. No wonder this area was chosen to be part of the Great Florida Bird and Wildlife Trail.
Wander the boardwalk through a cypress swamp for your chance to spot turtles and possibly an alligator. Trek the sandy Saw Palmetto Hiking Trail, which is home to many a vibrant bird, or push a stroller along the 0.4-mile paved Blazing Star Nature Trail to spot some of the over 200 plant species that flourish on these lush grounds.
Staggerbush and Archie's Creek Hiking Trails, both of which measure just over 0.5 miles, are great places to stretch your legs while searching for wild coffee plants.
Address: 12201 Prosperity Farms Road, Palm Beach Gardens, Florida
11. See a Manatee at Manatee Lagoon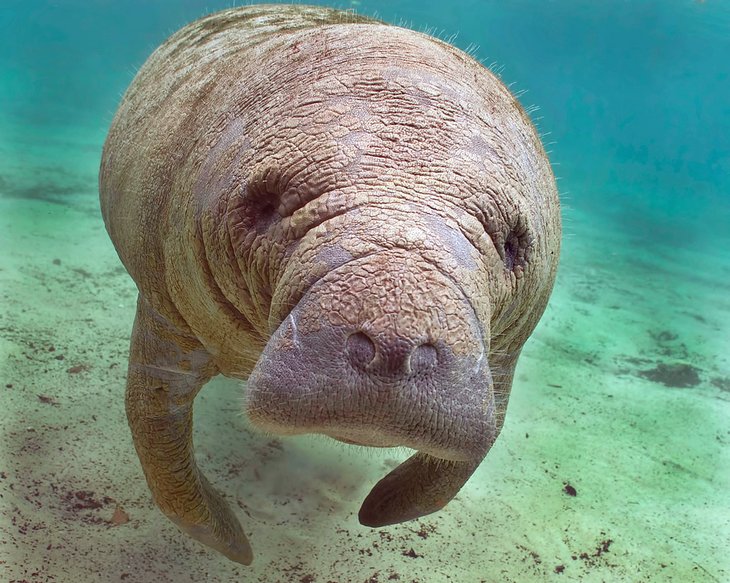 Ever wanted to see a Manatee up close? A visit to the popular Manatee Lagoon can guarantee you a sighting of these phenomenal (and elusive) creatures. Another bonus: it's free.
A quick 19-minute drive south will get you to this 16,000-square-foot Florida Power & Light Discovery Center®. While here, visitors are treated to intimate views of the amazing sea cows from the observation deck and engaging educational programs, most of which are free.
Book a Manatee Lagoon Tour to learn more about these magnificent creatures and their home, the Lake Worth Lagoon. Or sign up for an adults-only yoga class set with the picturesque backdrop of the sparkling water. This unique attraction also offers camps and scientific exploration programs, as well as story and puzzle time for kids.
Address: 600 North Flagler Drive, West Palm Beach, Florida
Official site: https://www.visitmanateelagoon.com/
12. Climb to the Top of the Jupiter Lighthouse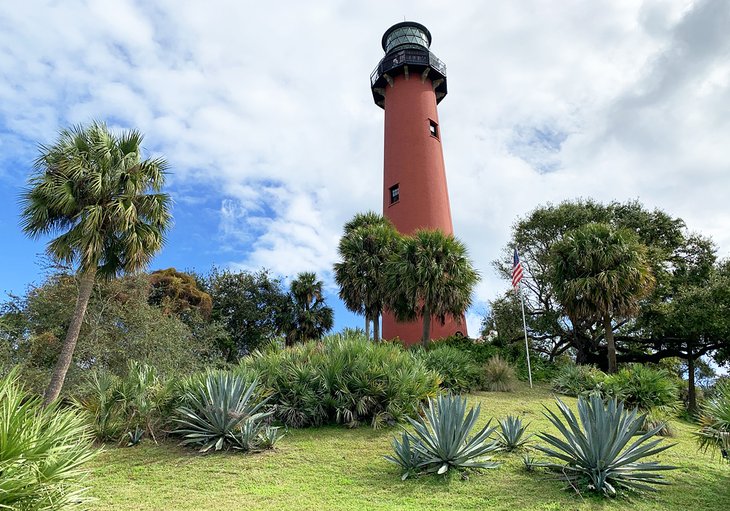 Climb the stairs to the top of the Jupiter Lighthouse and while at the top, keep your eyes peeled for a manatee.
While this attraction is in nearby Jupiter, not Juno Beach, we promise that a visit is worth your while. Plus, it's only a 12-minute drive north.
The iconic red lighthouse is unmissable. It stands guard over the azure harbor, surrounded by a grove of tropical hammock, a winding red brick walkway adds an enchanting allure to the tourist site. Not surprisingly, it has been deemed an Outstanding Natural Area.
Also on the property is Tindall House, the oldest house in Palm Beach County, and a museum filled with historic memorabilia about the town and county.
Address: 500 Captain Armour's Way, Jupiter, Florida
Official site: https://www.jupiterlighthouse.org/
Map of Things to Do in Juno Beach, FL