14 Top-Rated Attractions & Things to Do in Boca Raton, FL
Sugar-white sand and sparkling turquoise water lure tourists and a ton of "snowbirds" to pristine Boca Raton. Pronounced "Boca Rat-hone," this posh town is so clean, you could literally eat off the floor; not that you'd want to when there are so many award-winning restaurants on offer. Rest assured that, despite its name, there's not a rat to be seen in this elite South Florida enclave.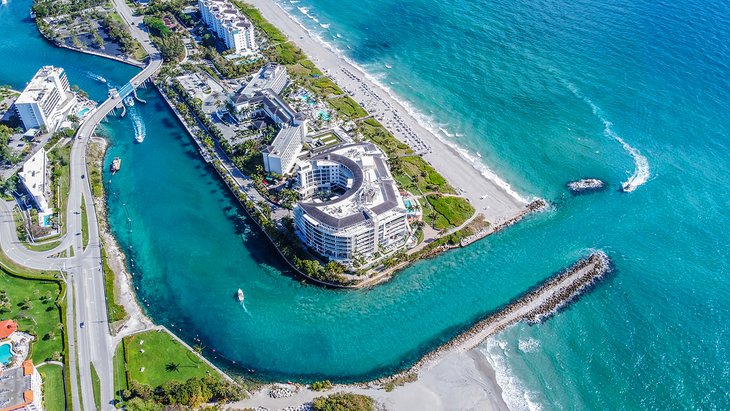 Perfectly manicured lawns and tall, luscious palms greet visitors, whose wallets seem permanently padded with extra cash. Boca's most applauded attributes come in the form of its intricate Spanish Revival-style architecture, designed in the late 20s by Addison Mizner, from the elegant Boca Raton Resort and Club to the Mediterranean-style, open-air Mizner Park shopping district. Trendy and upscale shops and eateries pack this beautiful shopping area, making it one of the most popular attractions in Boca Raton.
When they aren't shopping, Boca's visitors sprawl upon its soft sandy beaches and splash in the Atlantic Ocean's waves. A fun getaway for couples and families alike, Boca offers a bevy of things to keep you busy. From lush trails to art museums to a children's science center, it's hard to get bored in Boca Raton.
Plan the best places to visit on your next trip with our list of the top things to do in Boca Raton.
1. Gumbo Limbo Nature Center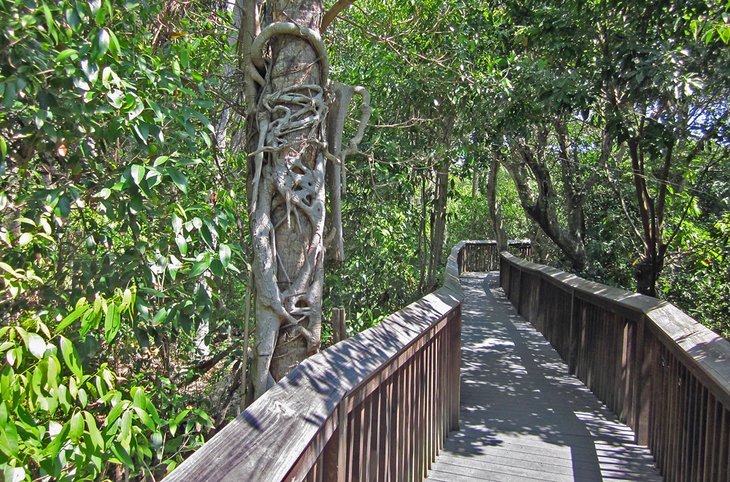 Flowers and trees and turtles, oh my! Populated by some of Florida's best, and most natural, assets (i.e. iguanas, sharks, and other marine animals), the Gumbo Limbo Nature Center is Boca Raton's top tourist attraction. It lies at the north end of Red Reef Park.
Twenty acres of a coastal sanctuary entice visitors to spend hours exploring the lush grounds. Kayak through the mangroves or walk the picturesque Boardwalk Trail, which is flanked by tropical hardwood hammock. Keep your eyes peeled for local wildlife, including the grey fox and red-bellied woodpecker.
While at the center, visitors can also admire the aquariums or spend time in the tranquil butterfly garden. Families will especially love the turtle walk and hatchling release programs, as well as aquarium feedings.
Insider's tip: Don't miss Florida Atlantic University's Sea Turtle Rehabilitation Facility. This inspiring place includes a biology laboratory viewing gallery, where guests can see the scientists' most recent research in action.
Address: 1801 North Ocean Blvd., Boca Raton, Florida
Official site: https://www.gumbolimbo.org/
2. Red Reef Park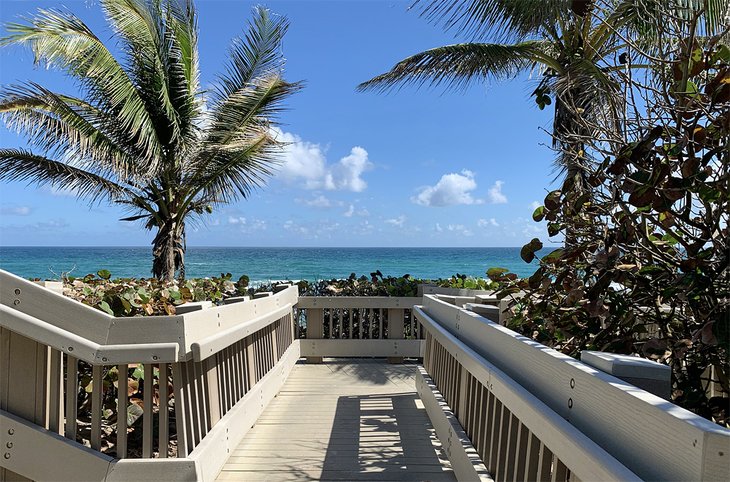 Over 67 acres of oceanfront fun, sun, and surf welcome visitors to this public beach park. Here, you'll find a nine-hole golf course offering impeccable coastal views of both the Atlantic Ocean and Intracoastal Waterway. At the park's northern tip lies the Gumbo Limbo Nature Center.
Less than half a mile away lies South Inlet Park, which can be reached by foot in mere minutes. It's known for its iguanas, so bring a camera on your wander. Plus, it boasts a jetty, used by many to fish, as well as a playground.
Just off the parking lot, you'll find grassy areas spotted with picnic tables and grills, a perfect spot to enjoy a break from the sun's intense rays. To get to the beach, follow the gorgeous, elevated boardwalk. Be sure to stop to admire the view from above, before you wind your way down to the sand.
Head's up: this is Boca's best place to snorkel. So, don goggles or a mask and a snorkel (obviously). Then head to the man-made reef located just off the beach. A beautiful marvel, this unmissable site is teeming with marine life. We're talking turtles, barracuda, and sometimes eels.
Back on shore, you can luxuriate on the soft, sugary sand while admiring the translucent turquoise water from the sidelines. Catch some shade on the mile-long boardwalk or under the branches of one of the tall palm trees lining the shore.
The park is staffed by lifeguards and offers showers, changing rooms, and pavilions, making it easy to spend a whole day here. They also offer trash bags to help curb pollution on-site.
Insider's tip: High tide is the best time to visit if you're hoping to see the marine life up close. Also, save money by arriving early and snagging a metered spot on the street.
Address: 1400 North Ocean Blvd., Boca Raton, Florida
3. Sugar Sand Park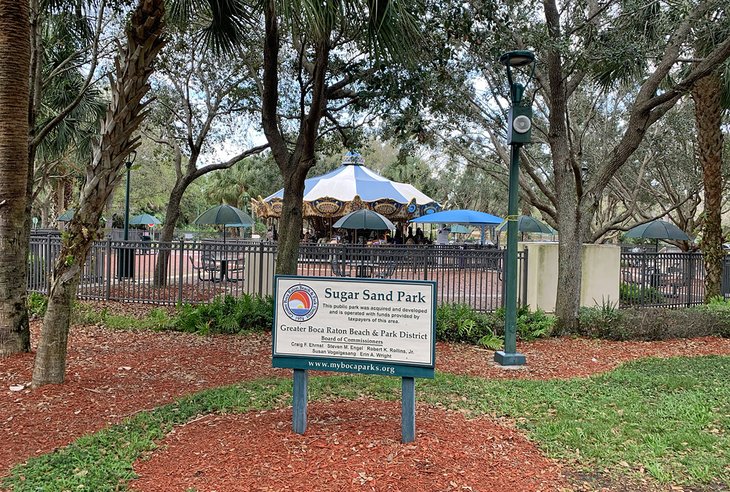 Sugar Sand Park has everything you need to keep a family busy. Carousel? Check. Nature trails? Check. Playground? Yep, it's got that, too. Play hide and seek while dodging sprinklers at the awesome, underwater-themed Science Playground, where a giant face watches over you as you play. There are so many winding tunnels in the intricate climbing structures that it's easy to find a secret spot!
Race a cheetah (don't worry, it's not a real one) in the playground. Two racing lanes are set beside an interactive lights exhibit. Choose the animal you want to race, then run as fast as you can when the signal beeps. The lights that race beside you represent the animal's actual speed. Insider's tip: cheetahs take longer to get up to speed than you'd think; you might just win.
Catch a show at the Willow Theatre or learn how to build an electric car at the Children's Science Explorium. The park even boasts a community center and gym. We promise, no kid has ever uttered the dreaded phrase, "I'm bored" while running around Sugar Sand Park. It truly is one of the best places to visit with a family in Boca.
With 132 acres to explore, you're going to want to spend a considerable amount of time here, so be sure to pack a picnic and loads of sunscreen. The park has pavilions and grills on offer, so plan your meal accordingly.
Address: 300 South Military Trail, Boca Raton, Florida
4. Children's Science Explorium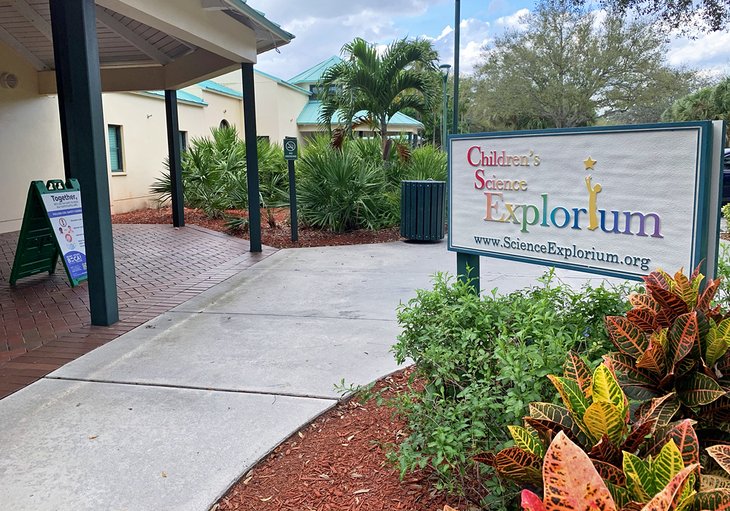 The only thing better than the Children's Science Explorium's interactive exhibits is its price - entrance is free! Located within Sugar Sand Park, this fun, hands-on museum is a perfect place for families to take a break from the hot sun. It's fun, air-conditioned, and big enough to entertain kids without being so huge they'll cry for a nap while you're halfway through.
The Explorium's target audience is families with kids aged five through 12. Within its walls, children can explore the physical world through interactive displays that both encourage and reward their curiosity. Twice a year (during spring and fall), the museum welcomes traveling exhibits for about four months.
Just outside the entrance, you'll find picnic pavilions, the expansive Sugar Sand Science Playground, and an old-fashioned Carousel.
Address: 300 South Military Trail, Boca Raton, Florida
5. Daggerwing Nature Center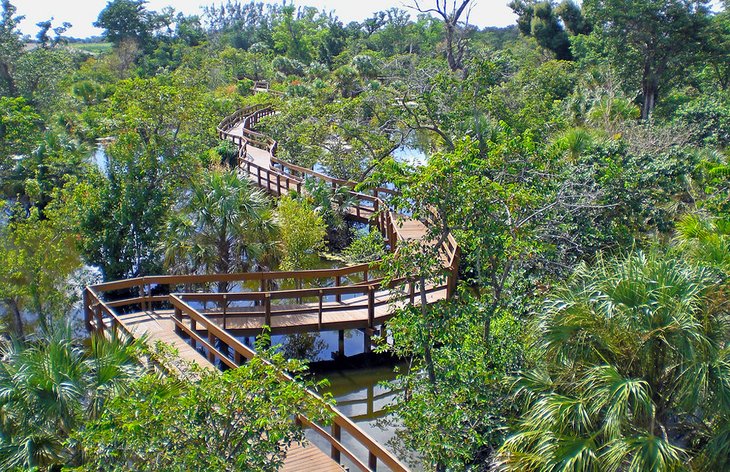 Named after the Ruddy Daggerwing butterfly, this nature center is the perfect place to relax. Stroll along the boardwalk, which winds through swampland filled with Florida's finest creatures. It's here you're likely to spot an alligator or two, spy turtles sunning themselves on floating logs, and watch an osprey swoop down to grab its lunch.
Located in western Boca Raton, the Daggerwing Nature Center also features a 3,000-square-foot exhibit hall packed with live animals, classrooms, and interactive displays. The center is also home to a vibrant butterfly garden.
Insider's tip: Exhibits are closed on Sundays, Mondays, and Tuesdays, but open during the afternoons from Wednesday through Friday and throughout the day on Saturdays. The nature trails are open from sunrise to sunset daily.
Address: 11435 Park Access Road, Boca Raton, Florida
6. Spanish River Park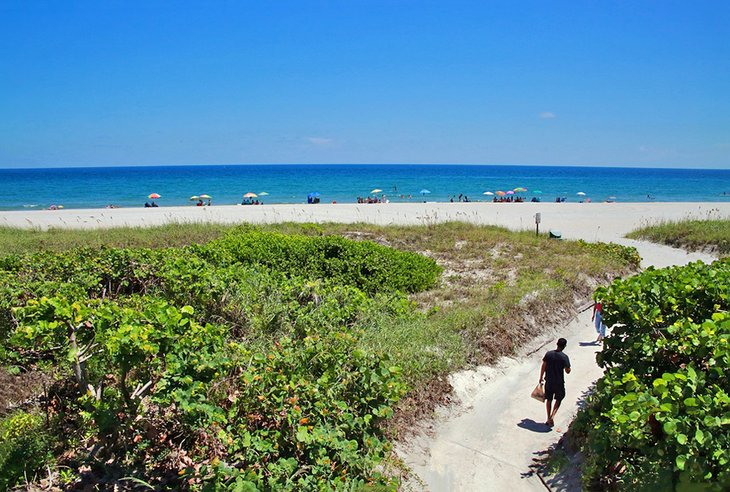 A pristine beach greets visitors to the serene and lovely Spanish River Park. A true gem, this sandy seaside retreat offers something for everyone - from picnic tables to pavilions to volleyball courts to a zipline and playground. With 95 acres of land, there's a ton of space to enjoy.
The clear, turquoise waves of the Intracoastal Waterway are so inviting, you'll have to jump in. Body surf, SUP, swim, or hop in a kayak to spend a proper day frolicking on the open sea. Pack a snorkel and mask, so you can enjoy the area's vibrant marine life up close. It's amazing how many interesting fish you can see close to shore.
Traveling with Fido? He (or she) is welcome, too. Spanish River Park is home to a dog park located between lifeguard towers 18 and 20. Dogs are welcome here between 7 and 9am, and 3pm and sunset, on Fridays through Sundays.
Address: 3001 North State Road A1A, Boca Raton, Florida
Official site: https://spanishriverpark.com/
7. Shop at Mizner Park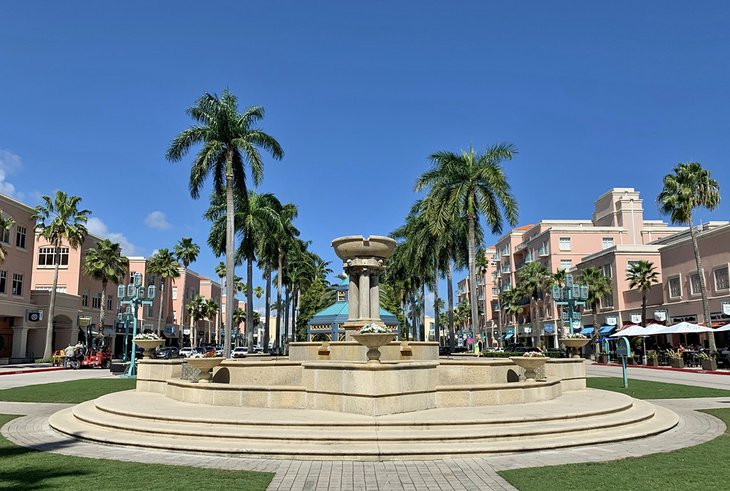 Mizner Park is a shopper's dream. A grassy promenade welcomes visitors, while the picturesque, triple-layer fountain bursts forth from the area's center. Lined with stores selling everything from dog sweaters to diamond studs, this is a fantastic place to partake in a little retail therapy.
The restaurants are divine, and many offer outdoor patios to help you soak up the atmosphere while you partake in a little people watching. Max's Grille, a popular bistro offering vegan, gluten-free, and vegetarian options, as well as other hearty fare is particularly awesome.
Whether you're searching for high-end clothes, a comfy pair of sneakers, or a five-star meal, you'll find it all at this beautiful outdoor shopping center.
Kids will lose their minds in the uber colorful and super sweet It'Sugar, while moms and dads will favor more upscale shops like Lord & Taylor, J.McLaughlin, and Les Bijoux.
It's easy to spend all day (and night) here, as Mizner Park offers more than just shopping. It's also home to a movie theater complex, outdoor amphitheater, and the Boca Raton Museum of Art.
Insider's tip: Don't miss the Artisans & Green Market, which runs from 11am to 5pm every Sunday. Here, you'll find the freshest produce, as well as local treats. It's located at the south end of Mizner Park.
Address: 327 Plaza Real, Boca Raton, Florida
Official site: https://www.miznerpark.com/en.html
8. Boca Raton Museum of Art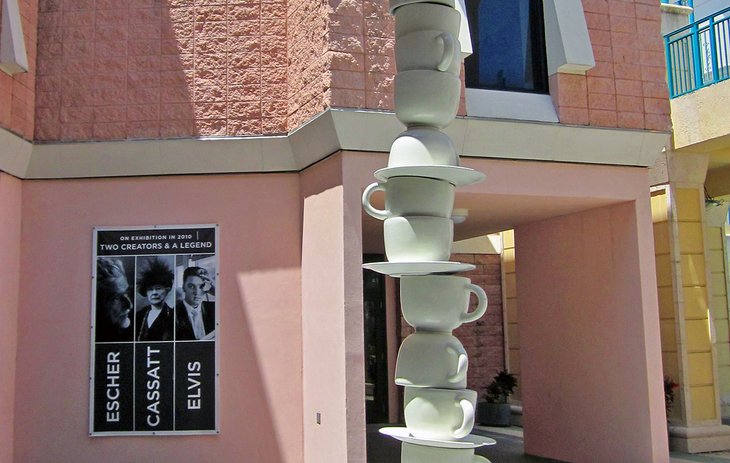 The captivating sculpture garden is Boca Raton Museum of Art's best feature. Peppered with unique creations, including giant, teetering teacups; a massive black cube; and a bunny and fox riding a horse, there's plenty to keep everyone amused.
Once you've exhausted the sculptures, head inside for an extra special treat. Upstairs, visitors are rewarded with the museum's permanent exhibit, featuring works from masters such as Picasso, Matisse, Warhol, and Degas. This is also where you'll find classic African and pre-Columbian works.
Downstairs plays host to the traveling shows featuring all kinds of works, including contemporary and modern pieces ranging from blown glass pieces to photographs.
A family-friendly museum, you'll find treasure hunts and sketchbooks on offer at the welcome desk, plus special programs aimed at kids.
Insider's tip: Follow a tour guide for a more in-depth look at the interesting pieces on display.
Address: 501 Plaza Real, Boca Raton, Florida
Official site: https://www.bocamuseum.org/
9. Hillsboro Inlet Lighthouse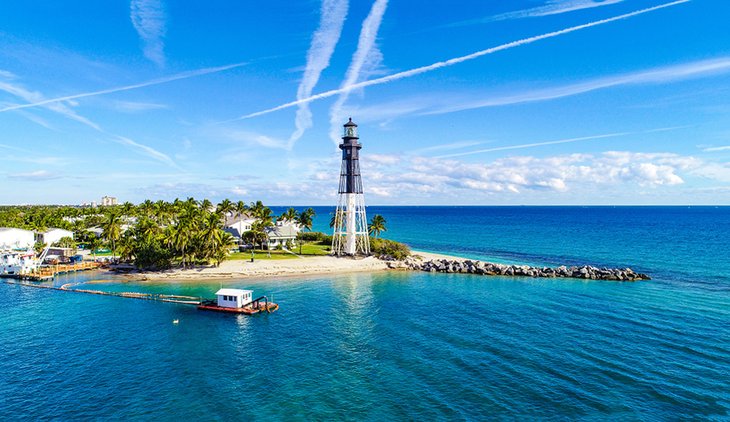 The picturesque Hillsboro Inlet Lighthouse is located halfway between Boca Raton and Fort Lauderdale on the northern edge of the Hillsboro inlet. Unlike other lighthouses, this unique structure is made from iron. It began operating in 1907 and was electrified in 1932 and automated in 1974.
A few interesting memorials reside at the lighthouse: the Barefoot Mailman Statue, which commemorates the lives of letter carriers who traipsed barefoot across over 40 miles of beaches between Palm Beach and Miami. A flagpole, fog bell, and plaque are also at the site, memorializing those who kept the light for so many years. There's also a small museum on the grounds.
Insider's tip: The State of Florida Lighthouse Day happens in April. Shuttle boats leave from Sands Dock on the hour from 9am to 3pm. Other tours are operated monthly. Check the website for details.
Address: Hillsboro Inlet Park A1A at 2700 North Ocean Boulevard, Pompano Beach, Florida
Official site: http://hillsborolighthouse.org/
10. Coconut Cove Waterpark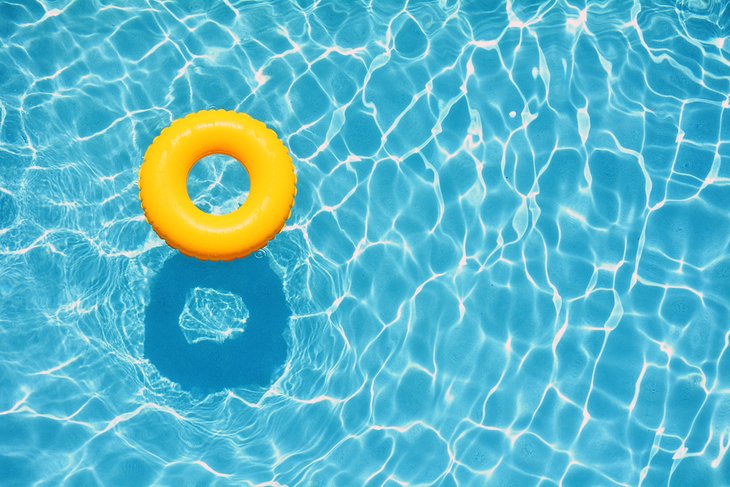 Want your kids to love you forever (or at least appreciate you for a full day)? Take them to Coconut Cove Waterpark. Not a fan of whizzing down slides? Hop on a tube and slowly wind your way along the 986-foot lazy river.
Little ones can spend a whole day in the water playground while older kids fling themselves off ropes and race each other down slides. Couples can laze poolside with a snack from one of the on-site concession stands.
This isn't a massive park, so you won't need all day to do everything, but you'll likely want to stay as long as possible. Insider's tip: There's not a lot of shade, so apply loads of sunscreen and remember to reapply.
Address: 20130 Regional Park Drive, Boca Raton, Florida
Official site: https://coconutcove-waterpark.com/
11. Sports Immortals Museum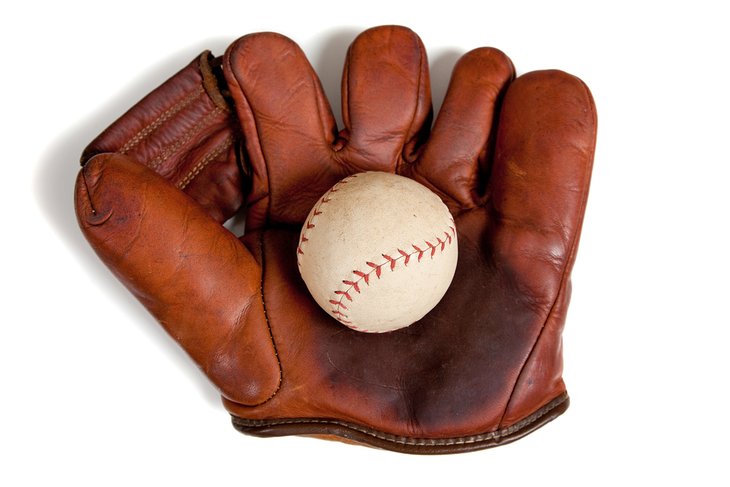 Sports fans won't want to miss this unique museum. Whether you cheer for the Yankees, Red Sox, Bulls, 76ers, Patriots, or Colts, you'll find valuable memorabilia that'll leave you wishing you'd saved those sports cards from your childhood.
The impressively vast collection of items (a sign inside claims they have "over one million mementos" is inclusive of multiple sports, including basketball, football, boxing, golf, and hockey.
It's super easy to spend hours gaping over the rarest relics. It's even easier to lighten your pocketbook, since many of the items are for sale. From posters to cards to boxing robes, there's no shortage of tokens from the sports' greats.
Owner Joel Platt, a massive sports fan, began his collection as a child. This museum is the amazing result of his lifelong obsession. Insider's tip: There are so many items to sift through that you'll want to carve out enough time to see it all.
Address: 6830 North Federal Highway, Boca Raton, Florida
Official site: sportsimmortals.com/
12. Boca Raton History Museum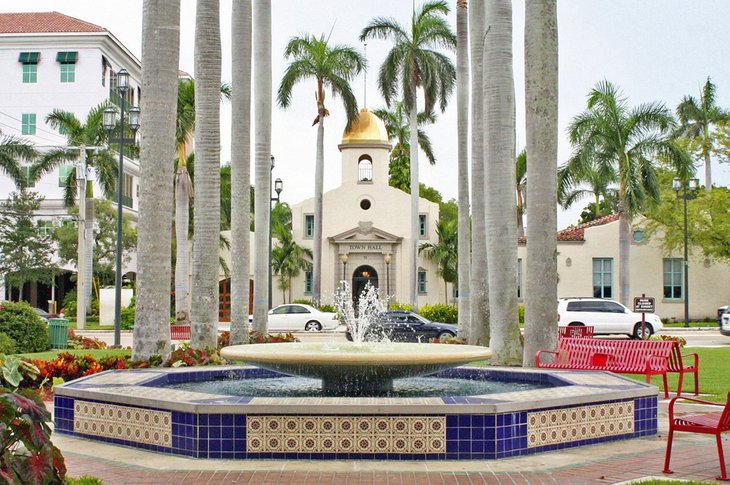 It's impossible to miss the Boca Raton History Museum. Topped by a shimmering gold dome, it sparkles in the bright, Florida sun. Built in 1927, this iconic structure has been added to the National Register of Historic Places.
This palatable museum is housed in what was once the city's Town Hall, right in downtown Boca. Operated by the Boca Raton Historical Society, it features exhibits that highlight the town's rich history, and acts as the local welcome center.
Insider's tip: The museum is currently closed for renovations but is due to reopen this year. Call in advance to find out when and schedule a guided tour.
Address: 71 North Federal Highway, Boca Raton, Florida
13. Butterfly World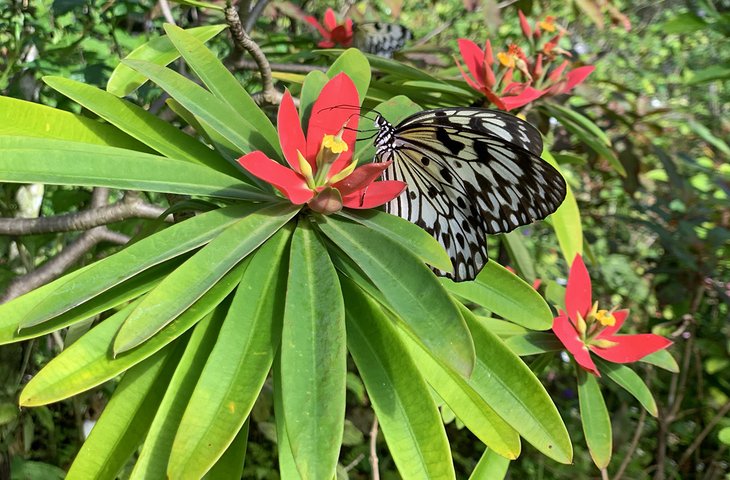 While not technically located in Boca, this unique attraction is worth the 10-mile trek to Coconut Creek. Come face to beautiful wing with a graphium agamemnon, or admire the colorful archaeoprepona demophon, all while being serenaded by the sounds of classical music mixed with trickling waterfalls and the sweet scent of fresh roses.
With over 20,000 species in the aviaries and gardens, there's no shortage of fascinating wildlife to enjoy. No matter which way you move your eyes, you're bound to see at least 12 gorgeous butterflies flitter into view. Visitors can feed lorikeets, gawk at the large (and loud) macaws, and cross a wobbly suspension bridge over the Butterfly World Lake. Or, they can cool off under the misty tunnel in the Tropical Rainforest Aviary.
Opened in 1988 by butterfly enthusiast Ronald Boender, this attraction's main goal is twofold: 1. To educate the public about butterflies and 2. To support the founder's off-site research to protect endangered species. Staff have raised over a million butterflies to date.
Insider's tip: Admission is quite pricey, so try searching for an online discount before you go. Also, many of the aviaries close during rainy weather, so plan to visit on a sunny day when the butterflies are primed for flying.
Address: 3600 W. Sample Road, Coconut Creek, Florida
Official site: https://www.butterflyworld.com/
14. Morikami Museum and Japanese Gardens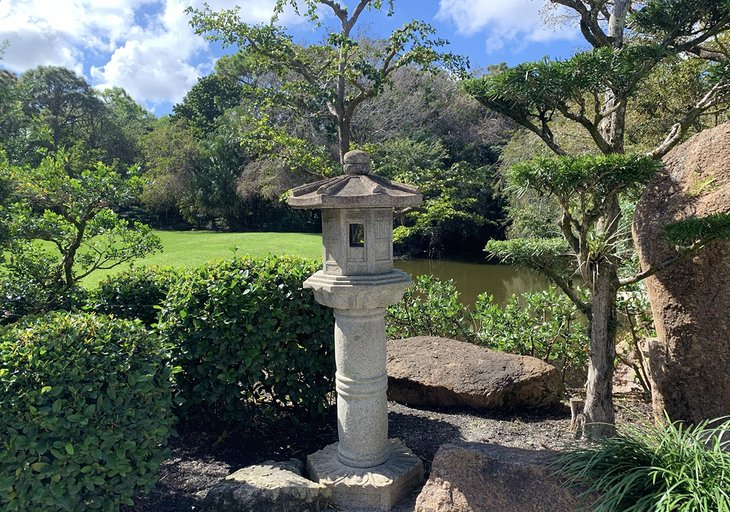 If you're looking to be bathed in serenity, visit the Morikami Museum and Japanese Gardens. Less than 10 miles northwest of Boca (technically in Delray Beach), this utopia boasts 16 acres of the most tranquil gardens in the state.
Koi ponds, sparkling lakes, immaculately trimmed bonsai trees, and a sprawling 200-acre park allow visitors to bask in nature's most beautiful gifts. You'll walk across bridges connecting the small, pristine islands (including Turtle Island), wander through a bamboo forest, and be lulled by the crashing waterfall near the main building near the end of your tour.
Wander through these pristine grounds, and you'll be welcomed by impressive gardens featuring Japanese designs from the ninth to 20th centuries. The museum itself (called the Yamato-Kan) is a photographable site. A typical Japanese villa, this lovely building offers multiple interesting exhibits, as well as a traditional teahouse and a wonderful lakeside café. We recommend the tasty bubble tea for a refreshing treat.
Address: 400 Morikami Park Road, Delray Beach, Florida
Official site: https://morikami.org
Where to Stay in Boca Raton for Sightseeing
Luxury Hotels:
Boca Beach Club, A Waldorf Astoria

Resort

is the most luxe property in town. Recently renovated and right on the city's white-sand beach, it is a family-friendly property. The rooms and suites are also contemporary, with neutral colors and large floor-to-ceiling windows or sliding doors onto a private balcony. Many have ocean views.
The Boca Beach Club shares amenities with the town's other Waldorf branded property, the Boca Raton

Resort

. Slightly less ritzy and pricy, the Boca Raton Resort is equally kid friendly, and the two properties have a shuttle running between them. Amenities and activities at both resorts include a beach with sun-loungers and umbrellas, a swimming pool, restaurant, game room, tennis courts, and a spa. There is also a fitness center, sauna, and yoga classes. Water sports and golf can also be arranged.
Boca Raton Marriott at Boca

Center

is another 4-star luxury choice in a more affordable price bracket. It recently underwent a multi-million-dollar overhaul and has some nice perks for parents, like kids stay free. The resort offers a mix of rooms and suites with high-end bedding and marble bathrooms. Amenities include a restaurant, swimming pool, and a fitness center.
Mid-Range Hotels:
Hampton by Hilton Boca

Raton

is a top mid-range choice. The hotel features spacious rooms and suites, including options for families traveling with kids. The hotel also offers perks like free breakfast, parking, and Wi-Fi.There is a Mediterranean-style swimming pool on-site, as well as squash courts, and massage services can be arranged. The location in the Lifetime Athletic Plaza is convenient, especially if you are visiting Boca Raton to play golf.
Wyndham Boca

Raton

is another solid mid-range choice. It caters to business and leisure travelers, and offers spacious rooms and suites that are modern and comfortable. The hotel offers a number of amenities, including two restaurants. Farmer's Table focuses on healthy dishes, while RED is an award-winning steakhouse. There is also a swimming pool set in a tropical garden area, a fitness center that offers yoga classes, and conference facilities on-site.
Also check out Hyatt Place Boca

Raton/Downtown

for a laid-back but clean and comfortable sleep. The hotel is located right downtown and about one-mile from the beachfront. It is a pet-friendly hotel and features perks like free breakfast and Wi-Fi. There is also a swimming pool and fitness center on-site.
Budget Hotels:
Try the Ocean

Lodge

for easy beach access at an affordable price-point. It also has extended stay options to its rooms that come equipped with kitchenettes. Amenities include a free breakfast, a heated outdoor swimming pool, BBQ facilities, and free parking. If you are traveling with a dog, Ocean Lodge is pet-friendly.