16 Top-Rated Things to Do in Boynton Beach, FL
Boynton Beach is the perfect place to enjoy a fun family vacation. About an hour north of bustling Miami and mere minutes south of posh Palm Beach, this quiet town is a low-key gem, ideal for those looking to spend quality downtime in the warm Floridian sun. Don't let its serene façade fool you – there are plenty of interesting things to do in this East Coast Florida town.
Despite its name, Boynton Beach doesn't meet the Atlantic Ocean. That said, there are plenty of sandy shores nearby. Just a mile and a half from downtown lie the pristine strands you dream of while shivering your way through winter.
In addition to the area's marvelous scenery (waving palms, verdant grasses, and mangrove forests), travelers find a bevy of fun things to do. Book a fishing trip, snorkel, or kayak through mangroves. Then, wander the trails of a nature preserve or head into town for some retail therapy.
Plan the best places to visit with our list of the top things to do in Boynton Beach, Florida.
1. Spot Wildlife at Green Cay Nature Center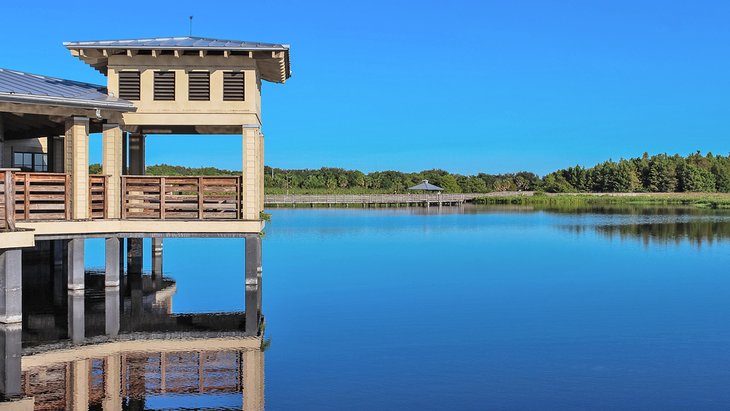 Visitors can spot everything from a blue-winged teal to a tricolored heron to an alligator at Green Cay Nature Center. A haven for animal-lovers, this 100-acre wetland is home to a 1.5-mile elevated boardwalk complete with benches, which makes it easy to spend hours appreciating the area's wildlife.
Try to spot a turtle while walking the boardwalk; you're sure to see at least 10! Then, spend a little time in the Nature Center where you can get up close and personal to live animals, learn about the area's habitat, and grab a treat from the gift shop. With so many interesting creatures to spy, it's easy to see why visiting this natural marvel is one of the best things to do in Boynton Beach.
While guests can access the boardwalk daily from sunrise to sunset, the nature center is only open from 9am to 3pm Wednesday through Sunday.
Insider's tip: QR codes accompany signs posted along the boardwalk, making it easy to guide yourself along the path. Download a QR reader app on your phone, so you can make use of it.
Address: 12800 Hagen Ranch Road, Boynton Beach, Florida
Official site: https://discover.pbcgov.org/parks/Pages/GreenCay.aspx
2. Build a Sandcastle at Ocean Ridge Hammock Park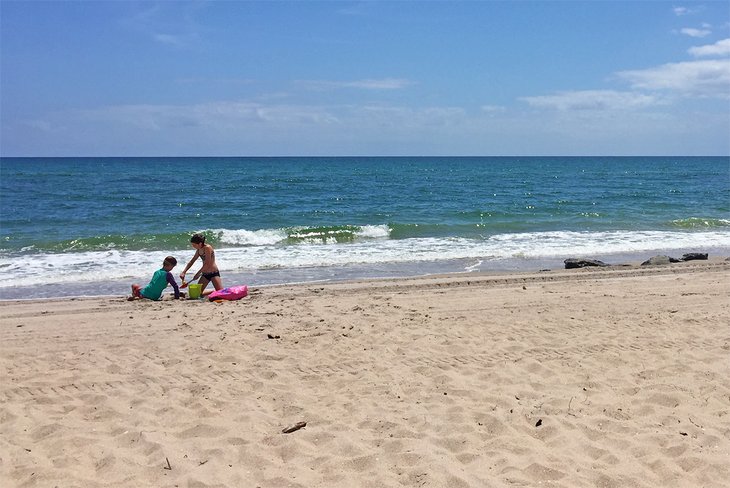 What's a Florida vacation without a trip to the beach? Boring, that's what. While Boynton Beach isn't on the coast, you can reach a silky soft beach within minutes. Ocean Ridge Hammock Park, for instance, lies just over a mile and a half from town, on North Ocean Boulevard.
Those looking to enjoy some peace and quiet while they build sandcastles will love this serene, 8.5-acre park. A secluded spot located a five-minute walk from Oceanfront Park, Hammock Park is smaller and much more zen. You won't find amenities here, but those can be easily accessed at its neighbor.
Head out early to enjoy a picturesque sunrise while you practice yoga or run along the deserted sand. Just be careful where you step: Portuguese Man-of-War commonly wash up on Florida's shores, especially from November through April. One of the best beaches on Florida's east coast, this is a relaxing place to spend a day.
Address: 6620 North Ocean Boulevard, Ocean Ridge, Florida
Official site: https://discover.pbcgov.org/parks/Locations/Ocean-Ridge-Hammock.aspx
3. Ride the Waves at Boynton Beach Oceanfront Park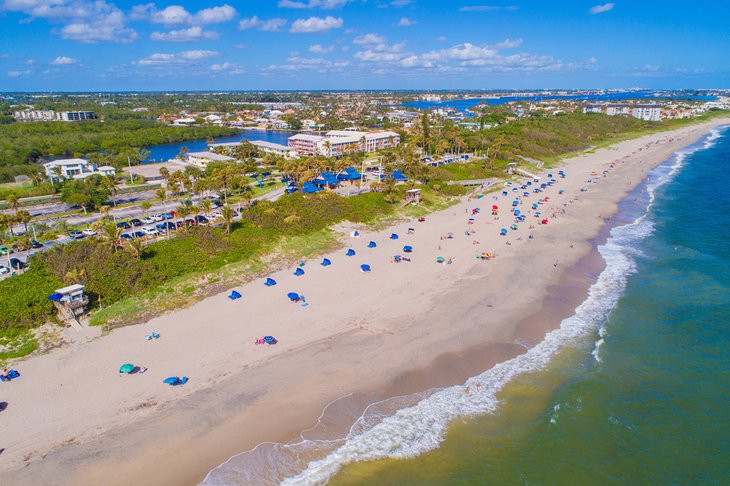 Oceanfront Park lies directly beside (and just south of) Ocean Ridge Hammock Park. Despite boasting plenty of amenities, ample parking, and an expansive sandy base, the beach at this pretty spot is rarely crowded.
Packed with fun things to do, it's easy to spend the day here. Little munchkins have their own play area with another section reserved for those aged five to 12. There's a fitness area for adults, as well as on-duty lifeguards and access to restrooms, grills, picnic tables, and pavilions.
Forgot your umbrella? You can rent one along with a sun lounge or cabana. Grab breakfast, lunch, or a snack from Turtle Café. Then, head into the waves. The north and south ends of Oceanfront Park's beach are designated for surfing and boogie boarding.
Insider's tip: Sea turtles use this area to nest between March 1st and October 31st, so be extra cautious when playing on the beach.
Address: 6415 North Ocean Boulevard, Ocean Ridge, Florida
Official site: https://www.boynton-beach.org/beach/oceanfront-park
4. Visit Arthur R. Marshall Loxahatchee National Wildlife Refuge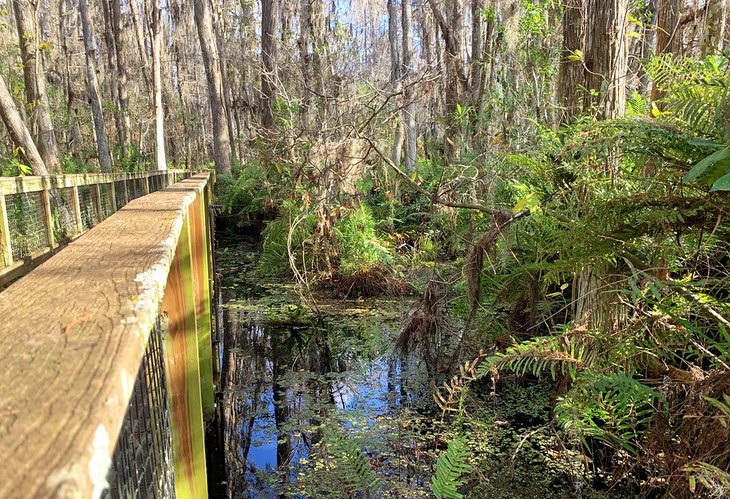 Close to 145,000 acres make up the impressive Arthur R. Marshall Loxahatchee National Wildlife Refuge. Among them, you'll find a wide variety of Everglades ecosystems, including sawgrass (don't touch; their edges are razor sharp), wet prairies, and cypress swamp. Touring this natural area is easily one of the best things to do in Boynton Beach.
A treasure trove of incredible creatures live within this vast refuge. Over 250 species of birds, 20 types of mammals, 60 species of reptiles, and 40 kinds of butterflies call this stunning area home. Be sure to pack a camera with a good zoom to catch the most inspiring shots. Don't be surprised if you come across horseback riders on the trails.
Speaking of trails, there are close to 50 miles of them within this space, and they include paths for walkers and bikers, as well as those who prefer to see wildlife from the water, while captaining a kayak or canoe. As of the summer of 2020, licensed airboats are permitted to cruise the waters as well.
Walk slowly and keep your eyes peeled on the Cypress Swamp Boardwalk; you might spot a pig frog, turtle, or alligator.
Address: 10216 Lee Road, Boynton Beach, Florida
Official site: https://www.fws.gov/refuge/ARM_Loxahatchee/
5. Meet a Pelican at Boynton Beach Inlet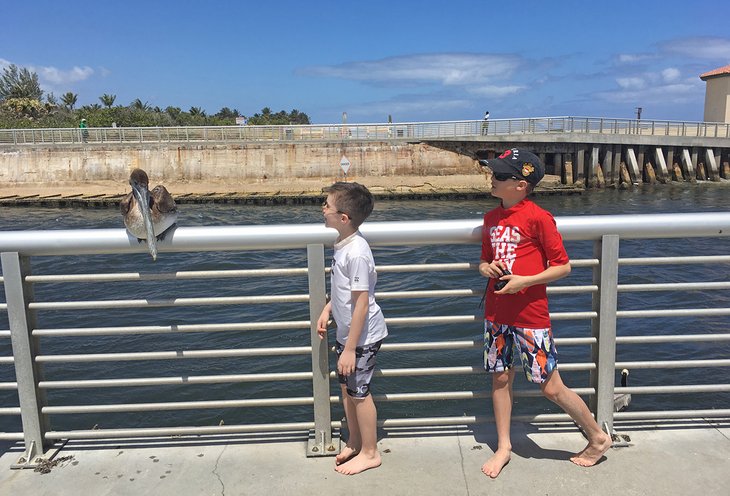 The jetty off Boynton Beach Inlet is a prime spot for shore-based fishing. Anglers have reeled in everything from Spanish mackerel to croaker to redfish to snook in these active waters. Bird-watchers also flock to this area in hopes of spotting sea fowl searching for a fishy treat.
If you have access to a boat when you visit, even better. The inlet guides sailors to the area's best coral reefs teeming with marine life. If you don't have a sea vessel on hand, book a local cruise or deep-sea fishing adventure. Many leave from nearby docks.
The 11.39-acre beach in this area is pristine and boasts smaller waves than others on the Atlantic coast. This makes it one of the best Florida beaches for families in Palm Beach County. You'll find a picnic area, playground, showers, restrooms, and a pavilion on-site. The Ocean Inlet Marina is worthy of a walk around.
Address: 6990 North Ocean Boulevard, Ocean Ridge, Florida
6. Go Deep-Sea Fishing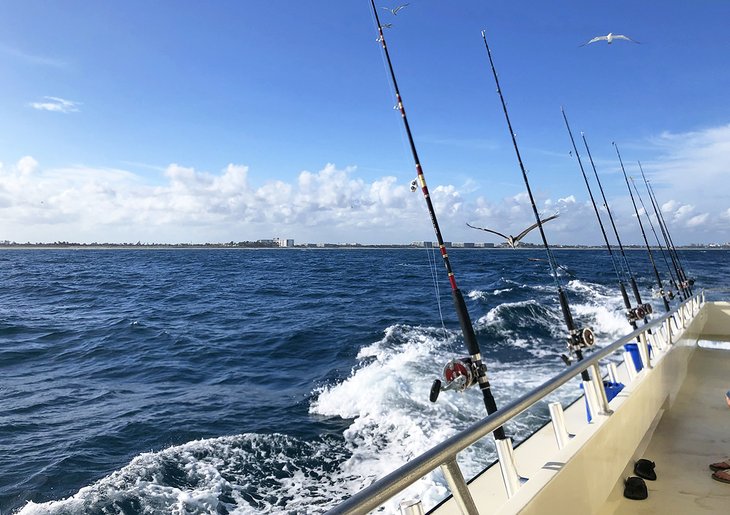 Always wanted to reel in a big one? Book a trip with a deep sea fishing charter. The waters off Boynton Beach are teeming with large catches, including wahoo, king mackerel, blackfin tuna, and snapper, making this a perfect place to cast your rod, and a super fun thing to do in Boynton Beach.
Guests are in for an exciting wildlife show with each trip. Pelicans and sharks love to follow the fishing boats, hoping to grab a bite of the catch, and dolphins often surface to play in the wake.
The bonuses of booking fishing charters are plenty. First, you'll have access to a boat and someone to captain it. Most charters also provide fishing poles, bait, reels, and tackle, as well as prepare the fishing license. All you have to do is cast your rod, sit back, and wait for a bite.
Several companies offer charters in the area, including Living on Island Time Drift Fishing, located right by the Boynton Beach Inlet at the Palm Beach Yacht Center in Hypoluxo, Florida.
7. Shop Local (or Ride a Pony) at Bedner's Farm Fresh Market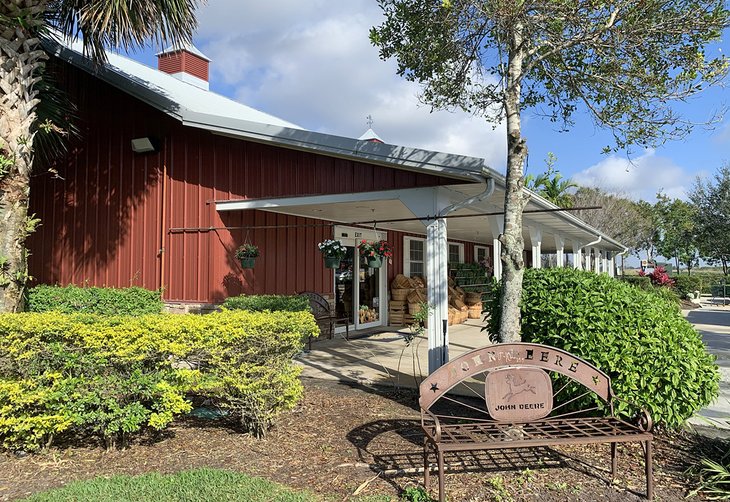 Bedner's Farm Fresh Market is more than a grocery store - it's an experience. Take a tractor ride, make your way through a corn maze, mine for gems, or pick your own fruits and veggies. You'll find everything from peppers to grape tomatoes to strawberries to sunflowers, depending on the season.
Looking for more? Visit the petting zoo or head out on a tractor for a guided field trip to Loxahatchee National Wildlife Refuge, which lies just two minutes up the road. Trust us, you won't get bored.
Bedner's hosts exotic animals in their Animal EDventure Park each weekend. Whether you're looking to feed a camel or get up close to a kangaroo, you'll find a whole lotta animal love on-site. Most of the creatures have been rescued or adopted and live nearby on a large farm.
Insider's tip: Sample the homemade ice cream. You won't be able to stop at one scoop!
Address: 10066 Lee Road, Boynton Beach, Florida
Official site: http://www.bedners.com/
8. Schoolhouse Children's Museum & Learning Center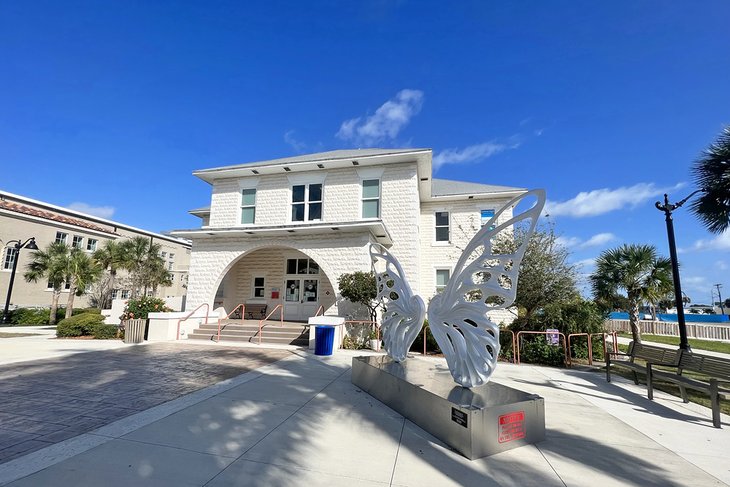 Once the kids have had enough sun on their little faces, take them to the Schoolhouse Children's Museum & Learning Center. A hands-on environment that encourages kids to touch and interact with the exhibits, this fun center is a must-visit for families with young ones.
Listed on the National Register of Historic Places, this lovely building was built in 1913 and served as the Boynton Elementary School. For its first 14 years, it was the only school in town and housed 12 grades.
Today, kids are welcome to run through its halls; reach for what they'd like; and learn all about arts, humanities, and science, as well as the region's history - from the pioneers to today.
Insider's tip: Don't plan to visit if you aren't bringing kids along. Those 18 and over can only enter if accompanied by a child.
Address: 129 East Ocean Avenue, Boynton Beach, Florida
Official site: https://www.schoolhousemuseum.org/
9. Bird-Watch at Seacrest Scrub Natural Area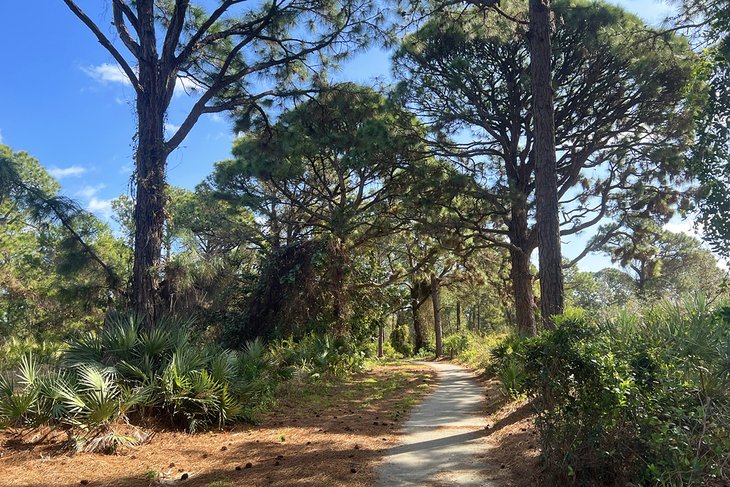 A natural wonderland is tucked away within the urban backdrop of Boynton Beach. Boasting over 54 acres of land and well-kept walking tails, this is a nice place to enjoy a shaded and quiet walk though the woods.
Keep your eyes peeled for the area's most prized residents. The protected gopher tortoise, American redstart, and green anole lizard call this lush space home. It's part of the Great Florida Birding and Wildlife Trail, so you're bound to find some spectacular winged friends during your visit.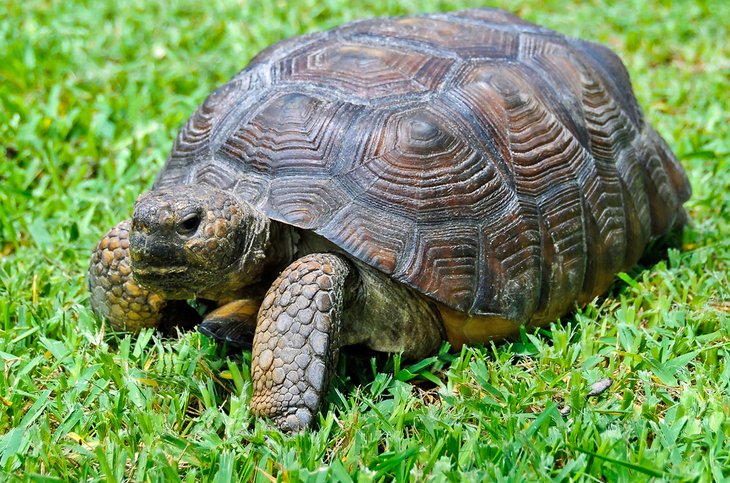 With only two short trails, you won't need to spend a lot of time sightseeing in this pretty spot. A perfect distance for young kids, the paved Gopher Tortoise Trail is only 0.18 miles long, while the unpaved Sand Pine Trail measures a mere 0.75 miles in length.
Address: 3400 South Seacrest Boulevard, Boynton Beach, Florida
Official site: https://discover.pbcgov.org/erm/NaturalAreas/Seacrest-Scrub.aspx
10. Boynton Beach Arts & Cultural Center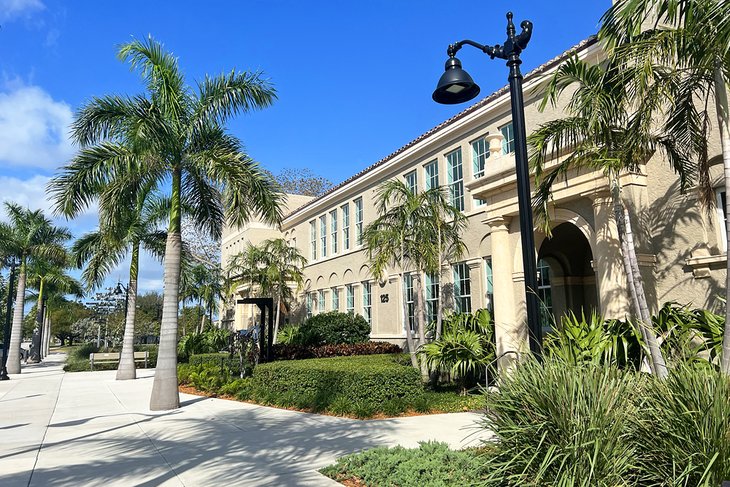 The Boynton Beach Arts & Cultural Center lies across the street from City Hall and beside an adorable playground so fun, you'll struggle to tear the little ones away. Once inside the center, though, kids and adults of all ages will be entranced by the diverse classes and unique works on display.
Open Weekdays and Saturdays until one, this interesting gem is housed in what was once the first Boynton Beach High School, right in the heart of Town Square. Lush gardens and towering palms guide visitors to the entrance. Inside, you'll find a large auditorium, exhibition spaces, multiple dance studios, and visual arts studios.
This is the place to be if you're hoping to join a painting workshop, admire unique works of art, or join a dance class.
Address: 125 East Ocean Avenue, Boynton Beach, Florida
Official site: https://www.boynton-beach.org/bbacc
11. Watch the Drawbridge Open and Close from Two Georges Restaurant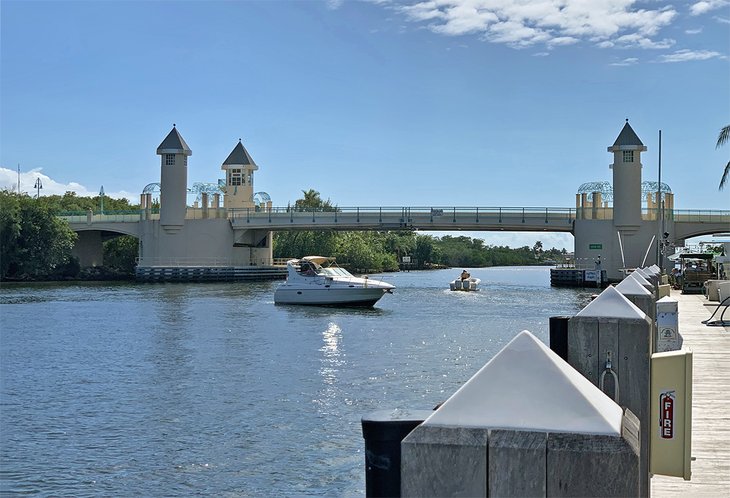 Set upon a wooden dock on the Intracoastal Waterway, the thatch roofed Two Georges serves up a relaxing vacation vibe alongside its tasty meals. Add live music and a sunset, and you'll want to stay longer.
Every table boasts an impressive view, but the outdoor patio (especially the covered swing tables) make you feel as if you're eating on the water. Kids will love feeding the droves of catfish circling the dock, and watching the drawbridge open and close.
Family-run Two Georges is known for its fresh food and friendly service. Cool off with a cold drink, enjoy a healthy salad, or tuck into an entrée (the chicken avocado B.L.T. is delish). Don't miss dessert. You can't go wrong with Sea Salt Caramel Cheesecake or Housemade Key Lime Pie.
Address: 728 Casa Loma Boulevard, Boynton Beach, Florida
Official site: https://twogeorgesrestaurant.com/boynton/
12. Search for Treasures at the Boynton Beach Haunted Pirate Fest & Mermaid Splash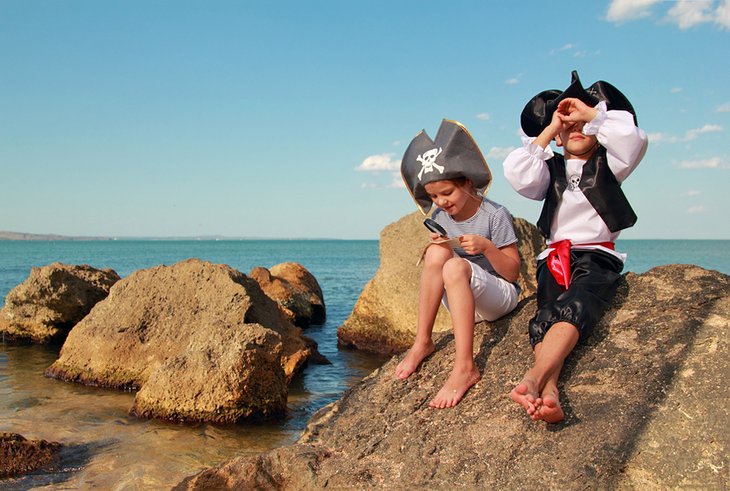 Pirates and mermaids and music, oh my! There's so much fun to be had (and so many amazing costumes to witness) at the annual Boynton Beach Haunted Pirate Fest & Mermaid Splash. A popular two-day event, this unique tourist attraction draws thousands (we're talking upwards of 50,000) of visitors each year.
Held at the end of October, this beloved event is a massive hit with families. Treasure hunts, pirate shows, costume competitions, live music, parades, and a slew of shopping opportunities are on offer along East Ocean Avenue and the surrounding neighborhoods in downtown Boynton Beach.
Costumes are encouraged, and you should have a camera at the ready to capture some of the strange and interesting characters you'll meet. The festival is free to attend and is presented by the Boynton Beach CRA (Community Redevelopment Agency).
Address: 100 North East 4th Street, Boynton Beach, Florida
Official site: https://www.bbpiratefest.com/
13. Find Serenity at the Morikami Museum and Japanese Gardens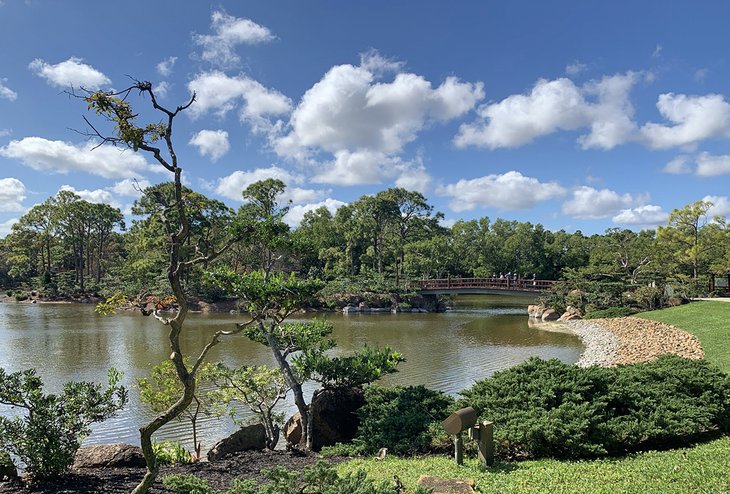 Not technically in Boynton Beach, the lovely Morikami Museum and Japanese Gardens lie a short 12-mile drive away in Delray Beach. It's easy to see why visiting this gorgeous spot is deemed one of the best things to do in Boynton Beach.
Guests are transported into the meticulous gardens of Japan as soon as they enter. An intricate bridge – the James and Hazel Gates Woodruff Memorial Bridge – symbolizes the connection between Japan and Florida provided by this unique natural wonderland.
A traditional Japanese villa named Yamato-kan greets visitors and uses indoor exhibits to teach them about a Japanese community (the Yamato Colony) that farmed in South Florida a century ago. Another newer building houses even more items and includes a 225-seat theater and traditional teahouse.
More than 7,000 objects and artifacts depicting Japan's history and culture can be seen between the two buildings, but most come to enjoy the serenity found in the area's majestic gardens. Sixteen acres of verdant land blanket the region and include a 200-acre park, clear lakes, and beautiful bonsai trees.
A bamboo forest, waterfalls, zen rock garden, and the beautiful isles that make up the Shinden Garden are just a few of the serene treats in store for visitors. Once you've left your worries behind in the magnificent landscape, settle in for a bubble tea or tasty meal at the on-site restaurant. Its lavish balcony overlooks the gardens.
Address: 4000 Morikami Park Road, Delray Beach, Florida
Official site: https://morikami.org/
14. Enjoy Nature at the Wakodahatchee Wetlands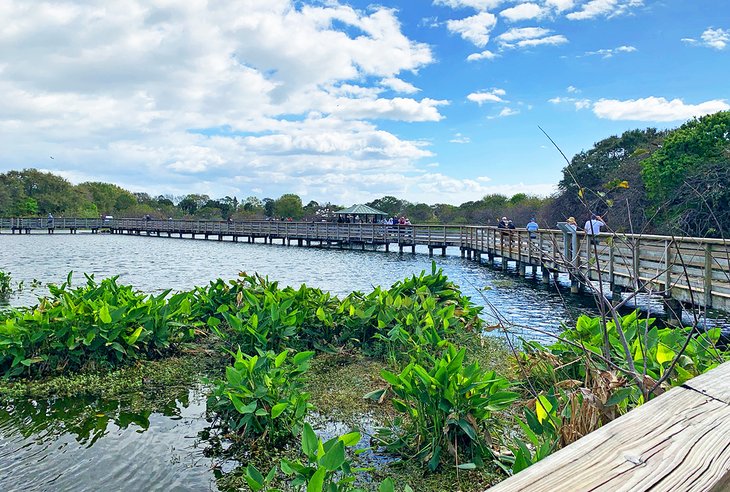 The breathtaking Wakodahatchee Wetlands is also located in Delray Beach, an eight-mile drive southwest of Boynton Beach. Once the site of a wastewater utility property, the wetlands were created in 1996.
Today, it is used as a percolation pond by the Southern Region Water Reclamation Facility. They pump nearly two million gallons of wastewater into this area, where it is cleaned and returned to the water table as fresh water.
Free to enter, the property also contains a raised boardwalk and shade-giving gazebos to make wandering its lengthy expanse a breeze. Stop to admire the nearly 100 bird species, which are easy to spot from the long wooden Wakodahatchee Boardwalk. You'll see hundreds of birds of all different species in the surrounding trees. If you stop to look a little deeper, you're sure to spot turtles, snakes, or alligators as well.
Enjoy the surroundings from one of the many benches, but be sure to visit on a weekday if you're looking for a bit of solitude; weekends can get crowded.
Address: 13026 Jog Road, Delray Beach, Florida
15. Take an Airboat Tour of the Everglades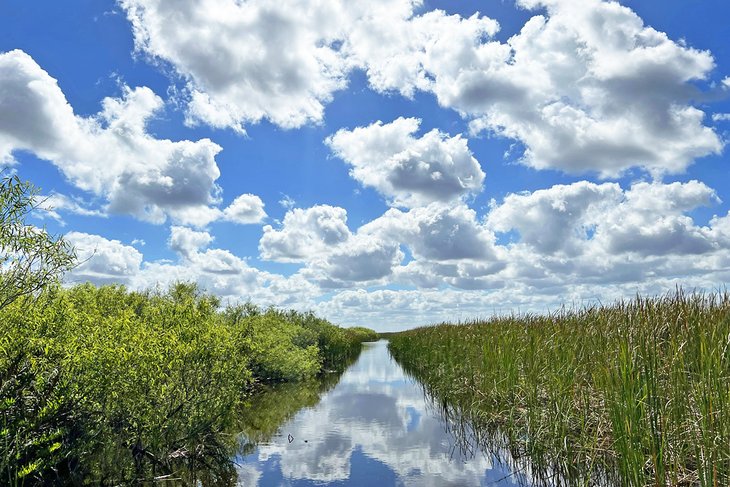 There's little more exhilarating than the feeling of warm wind whipping your face as you race through the winding waterways of Florida's Everglades.
Glide across the tough sawgrass, putter through water lilies, and gasp in delight as you spy a giant iguana poking out from its resting place in the tall grass. If you're extra lucky, you may spot the area's most famous resident: a gator, or maybe more.
Ever done a doughnut on water at 40 miles an hour? See if your tour guide is up for it when he's not busy spilling secrets about the area's beloved creatures and fragile ecosystem.
While Boynton Beach isn't directly beside the Everglades, there are multiple tours on offer a mere 45-minute drive southwest.
16. Spend a Quiet Moment at Tom Kaiser, USN Boynton Beach Veterans Memorial Park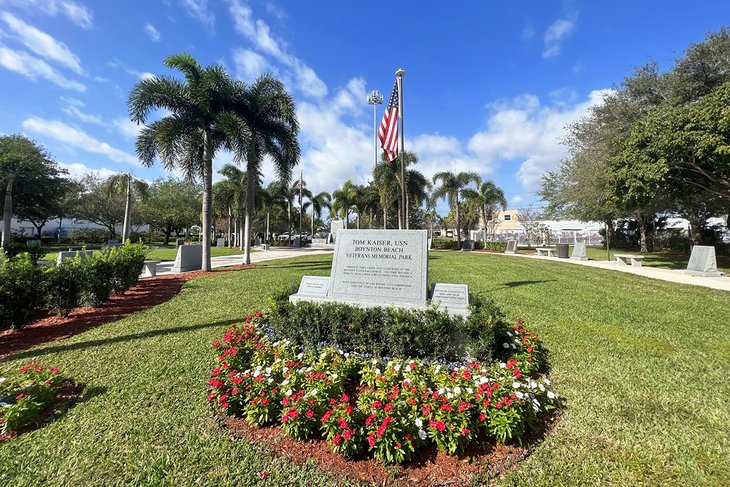 While not the most exciting tourist attraction in Boynton Beach, Tom Kaiser, USN Boynton Beach Veterans Memorial Park is worthy of a short visit. It was renamed to honor Tom Kaiser, a WWII veteran who donated much of his time to upgrading and maintaining this serene spot.
Here, you'll find multiple tributes to those who served in the army, marines, and air force, including 12 stone benches, a 20-ton monument, and 24 smaller monuments memorializing veterans. They are shaded by tall palms and a perfectly manicured lawn that fronts the busy North Federal Highway.
Insider's tip: Park at the nearby CVS (on the corner of North Federal Highway and West Boynton Beach Boulevard) and walk the few steps to the park.
A sprawling condo complex, the Casa Costa Condos, lies on the other side of North Federal Highway, just across from Veterans Memorial Park. This is a great place to enjoy a quiet walk around a manmade lake. A quaint section of town, the northern edge of the stone pathway is dotted with carved mosaic characters so cute, you'll want to snap photos.
Address: 411 North Federal Highway
Map of Things to Do in Boynton Beach, FL
Boynton Beach, FL - Climate Chart
Average minimum and maximum temperatures for Boynton Beach, FL in °C
J
F
M
A
M
J
J
A
S
O
N
D

24

14

24

14

26

17

28

18

30

21

32

23

32

24

32

24

32

24

29

22

27

19

24

16

PlanetWare.com
Average monthly precipitation totals for Boynton Beach, FL in mm.

95

65

94

91

137

193

152

169

206

139

141

80
More Related Articles on PlanetWare.com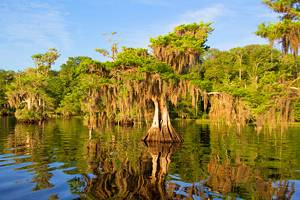 More Things to Do in Florida: Think the Sunshine State is only about its beaches? Think again. This pretty East Coast star boasts impressive natural springs and gorgeous lakes you'll beg to swim in.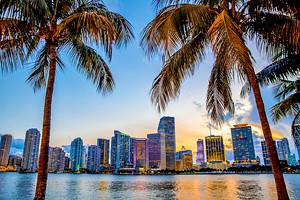 Other Must-See Cities in Florida: From amusement park havens to luxury resort towns, there are a slew of can't-miss spots to visit in Florida. Book a trip to one of these best cities for a vacay you won't regret. Traveling in December? Check out these best Christmas towns.