14 Top-Rated Things to Do in Palm Beach Gardens, FL
The official home of the PGA, Palm Beach Gardens is best known for its award-winning golf courses and high-end golf clubs. The famed PGA National Resort and Spa attracts thousands of fans wishing to follow in the footsteps of golf's best players. This is the place to visit for those who enjoy everything from swinging a nine iron to lounging beachside.
Located in the northern section of the Palm Beaches region of Florida's east coast, just over 12 miles northwest of ritzy Palm Beach, this pretty spot makes it easy to feel like you are living in the lap of luxury.
When they're not aiming for par, visitors flock to the area's upscale shopping malls, so lovely, they'll entice even the most frugal of shoppers to practice a little retail therapy and partake in a fab meal at a top restaurant.
Spending money isn't the only fun pastime in this swanky spot. From kayaking through wetlands to walking through shady hammocks to learning the area's history in grand mansions, there are plenty of ways to keep busy in Palm Beach Gardens.
Plan which activity to try first with our list of the top things to do in Palm Beach Gardens.
1. Golf with the Greats at PGA National Resort and Spa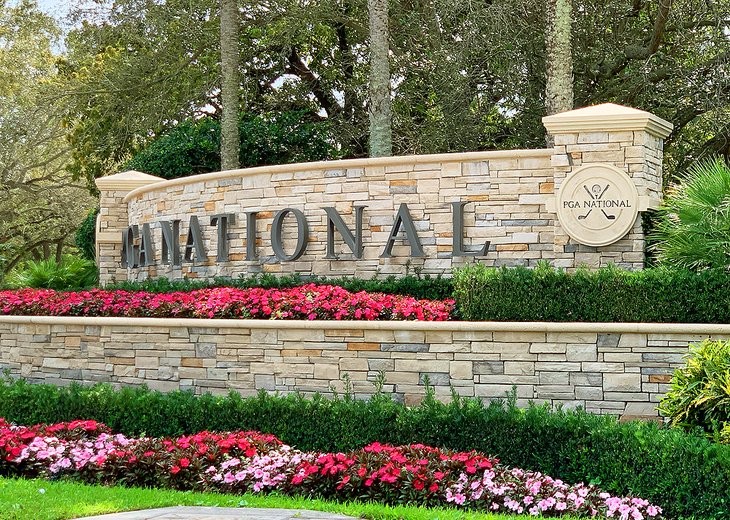 You can't visit Palm Beach Gardens without making at least one pit stop at its main attraction, the PGA National Resort and Spa. Whether you're hoping to enjoy a relaxing massage at the spa, grab a meal at one of the impressive on-site restaurants, or practice your swing on the greens, this lavish Florida golf resort offers something for everyone.
PGA National is home to five PGA golf courses, which rank among the top courses in the state. The Champion, The Palmer, The Fazio, The Squire, and The Estates offer championship level play for golfers who like to add a side of challenge to their swing. Not surprisingly, golfing is very popular in Palm Beach Gardens.
These courses have been played by golfing legends, so you will literally be walking in their footsteps as you play. Looking for some tips? Book classes with the PGA National Golf Academy to sharpen your skills.
When it comes time to rest your weary head, opt for a stay at the PGA National Resort and Spa. With its uber comfy beds and pretty views (many of the courses themselves), you really can't go wrong. Plus, your resort fee includes access to the fitness center and its associated classes, the Sports & Racquet club, unlimited range balls, and golf bag storage.
Address: 400 Avenue of the Champions, Palm Beach Gardens, Florida
Official site: https://www.pgaresort.com/
2. Take a Hike at Frenchman's Forest Natural Area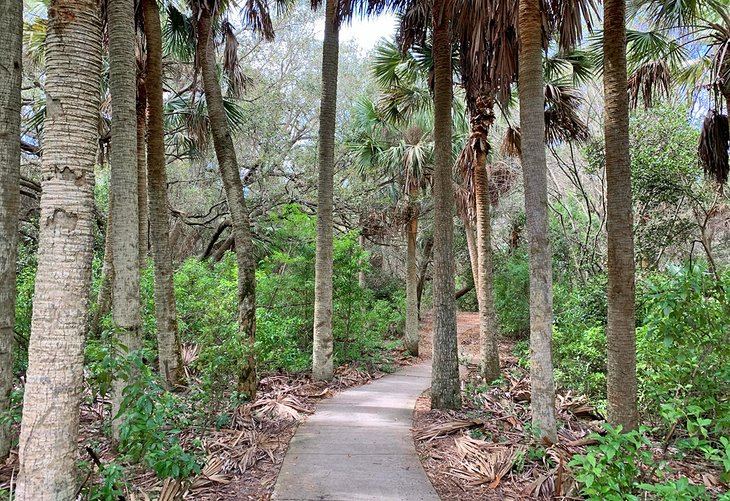 You'd never expect to find a 172-acre nature preserve just minutes from a massive shopping center, but that's exactly what you'll uncover less than two miles from the Gardens Mall. A low-lying wet natural area consisting of leather fern and cypress, as well as slash pine, palmetto, and over 5,000 red mangroves, Frenchman's Forest Natural Area is a wonderful escape from the hustle and bustle of city life.
Visitors to this serene attraction can choose between four trails of varying lengths and difficulties. All are well shaded by the vast hammock, an area which means "shady place" and includes tall trees and lush plants like the verdant ferns found here. Admission is free.
The easiest trail is Blazing Star Nature Trail. A paved loop measuring 0.4 miles, it once belonged to a sawgrass marsh. Over time, it became what you see today: wet hammock, wet flatwoods, and a tidal swamp. Use insect repellant, as it can get buggy. Also, keep your eyes peeled for resident wildlife including owls, iguanas, snakes, gopher tortoises, and opossums.
The main trail, Saw Palmetto Hiking Trail, is a 1.3-mile loop. It's quite sandy and traipses through land strewn with sabal palm and oak trees. Running shoes will serve you better than sandals on this path.
Staggerbush and Archie's Creek Hiking Trails are 0.6 miles long each. Both meet up with the Saw Palmetto trail, but only Staggerbush connects to the Cypress Swamp boardwalk. You'll pass wild coffee plants, butterflies, and birds of all shapes and sizes, so keep a camera at the ready.
Address: 12201 Prosperity Farms Road, Palm Beach Gardens, Florida
3. Launch a Canoe at Loxahatchee Slough Natural Area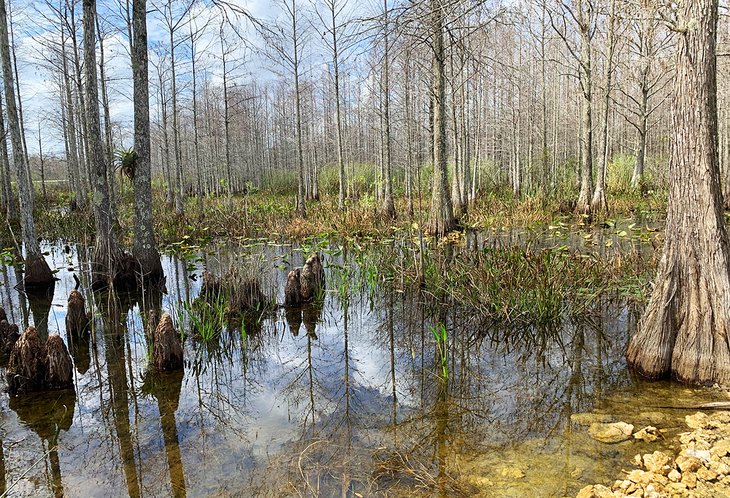 Few things are as peaceful as paddling through winding canals lined by mangroves, cypress, and palms. Situated at the headwaters of the Loxahatchee Wild and Scenic River, the Loxahatchee Slough Natural Area is the perfect place to destress while taking a canoe or kayak out for a spin.
This attraction is the largest and most biologically diverse of the Palm Beach Natural areas. You'll find nine different ecosystems preserved within this almost 13,000-acre site, including depression marshes, slough marsh, mesic hammock, and cypress domes.
Not a paddler? Don't worry, there are plenty of trails on offer for those who prefer to walk, bike, or ride horseback. Be sure to pack good shoes, as these can get particularly muddy during summer and fall.
Insider's tip: The main parking lot is large, but if you're looking to launch a canoe or kayak, head to the lot at 8311 PGA Boulevard. If you're in need of a restroom, you'll find it near the main entrance or in nearby Sandhill Crane Access Park, just across the canal from the kayak launch.
Address: 11855 Beeline Highway, Palm Beach Gardens, Florida
4. Shop 'Til You Drop at The Gardens Mall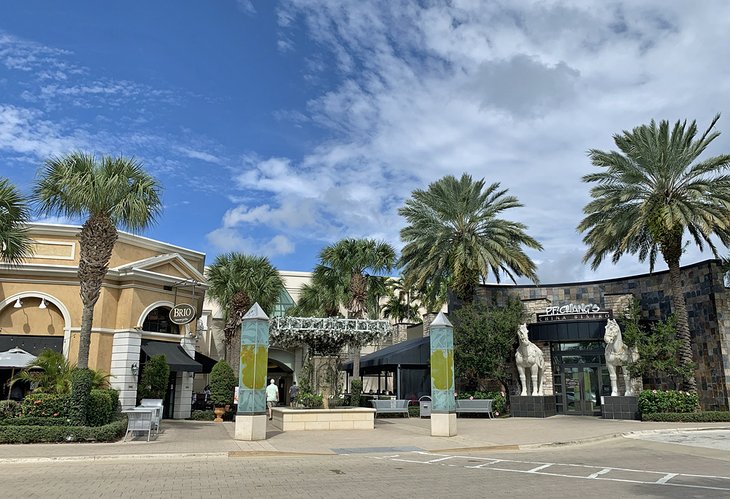 The Gardens Mall is about as upscale as you can get in Florida. Tall, leafy palms line the outdoor walkways, adding a pop of color to the golden walls and enough glam that you know you're in for a treat, and likely a few hefty price tags.
Inside is even more luxurious. It, too, boasts tall trees, as well as sparkling skylights, white floors polished to gleaming, and the high-end stores luxury shoppers dream of. We're talking Saks Fifth Avenue, Lily Pulitzer, Salvatore Ferragamo, Jimmy Choo, Kate Spade New York, and Tiffany & Co.
Trying to stick to a budget? The Gardens Mall offers plenty of more affordable shops mixed in with its ritzy counterparts. With over 130 stores to choose from, you're sure to find something that won't hurt your bank account.
When it comes to curbing those hunger pangs, there are plenty of restaurants to choose from. P.F. Chang's is especially opulent, and its Chinese food is quite tasty, while other faves like Chick-Fil-A, Shake Shack, and Chipotle Mexican Grill are also on offer.
Address: 3101 PGA Boulevard, Palm Beach Gardens, Florida
Official site: https://www.thegardensmall.com/
5. Bike the Bluegill Trail from Karen T. Marcus Sandhill Crane Access Park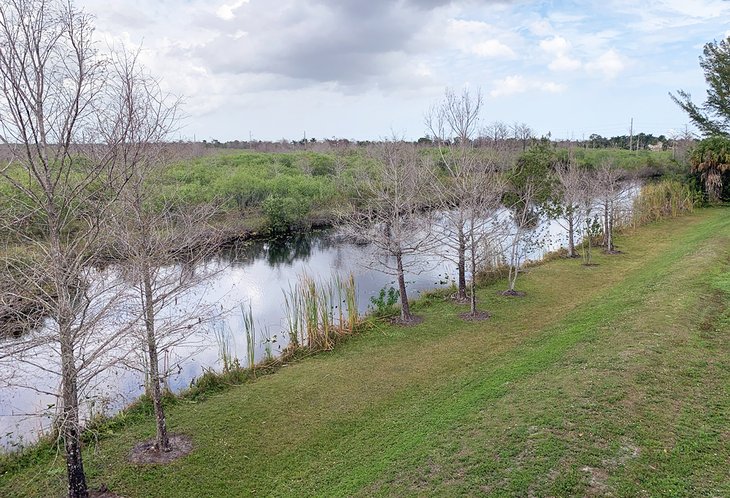 The Karen T. Marcus Sandhill Crane Access Park lies directly across from Loxahatchee Slough Natural Area's boat launch. Technically part of the Loxahatchee Slough, this park allows visitors to access a slew of fun local activities that are perfect things to do with the family.
From here, bikers can join the Bluegill Trail, a multi-use trail that follows the C-18 Canal from Riverbend Park in Jupiter to Grassy Waters Preserve. Five miles of the trail, including a grassy section perfect for equestrians and off-road bikers, passes through the Loxahatchee Slough.
Sandhill Crane also allows visitors to connect with a section of trails running through Jeaga Wildways, a massive nature preserve covering over 160,000 acres. On the immediate grounds, you'll find a parking lot with posts where you can tie a horse, a fishing pier, a canoe and kayak launch, and access to the canal.
Insider's tip: Pack a picnic to eat in the pavilion or climb the observation tower to enjoy a snack with a view. There are also restrooms on hand.
Address: 8175 PGA Boulevard, Palm Beach Gardens, Florida
6. Grab a Bite at PGA Commons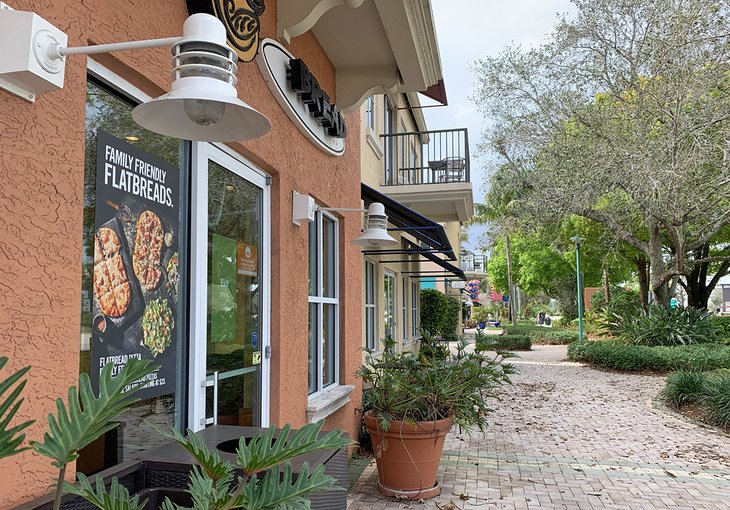 Known as Palm Beach Garden's "Art & Dining District," PGA Commons is the go-to destination for those looking for a tasty meal in a pretty, outdoor setting. It boasts numerous prominent restaurants catering to every taste bud. Enjoy fresh seafood at Kabuki, grab a sandwich at Prosecco Café, or linger over a decadent Italian meal at Prezzo.
Many flock here for the eclectic art galleries and unique outdoor sculptures. Onessimo Fine Art is a treat for the eyes, featuring bold colors and daring creations mixed with impressive photography and sculptures crafted by world-renowned artists. Even if you aren't in the market for a new piece, this gallery is worthy of a walk around.
If you have extra time, reward yourself with a little pampering. Relax with a treatment from Blowtox Premier Hair Salon, or indulge in a manicure at Polished Nail Spa, both of which are on-site.
Insider's tip: There's plenty of parking to be had, but you may have to use one of the farther lots on busy weekends.
Address: 5100 PGA Boulevard, Palm Beach Gardens, Florida
Official site: https://pgacommons.com/
7. Attend an Event at Downtown Palm Beach Gardens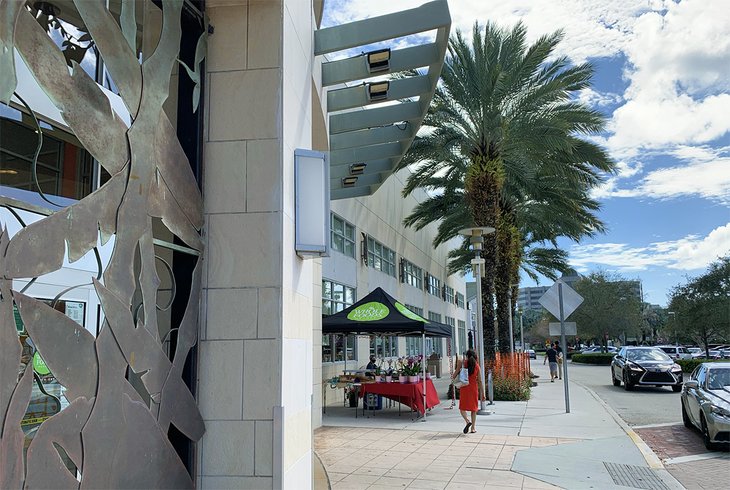 A whopping 49 acres make up Downtown at the Gardens, a giant "lifestyle and entertainment" complex in the heart of downtown Palm Beach Gardens. More than just an upscale mall, this pedestrian-friendly, open-air shopping haven is home to a movie theater, multiple restaurants, and over 50 boutique shops. It's one of the most popular places to visit for those who enjoy being entertained.
You won't find large department stores here, instead, you'll meet unique shops like Bungalow Palm Beach (an interior design company offering furniture, décor, clothes, and jewelry), Craft Haus (an interactive art studio), and Couture Optique (which sells luxury eyewear).
Referred to by locals as "Downtown," this community hub features signature events (we're talking holiday scavenger hunts, concerts, and weekly exercise programs) plus, family-friendly activities throughout the year.
Address: 11701 Lake Victoria Gardens Avenue, Palm Beach Gardens, Florida
Official site: https://downtownpbg.com/
8. Catch a Show at Ballet Palm Beach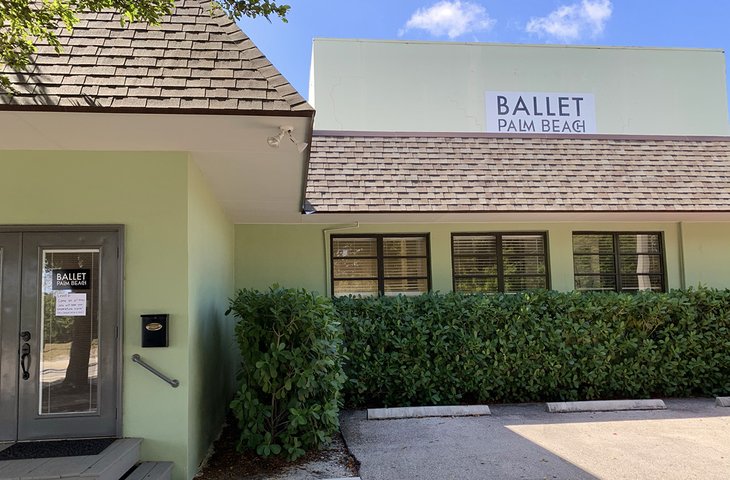 Don't be deceived by Ballet Palm Beach's off-the-beaten-path address. While it may appear you're visiting a small building located smack in the middle of an industrial park (you are!), true magic happens within its pale green walls.
Home to Palm Beach County's professional ballet company, this beloved center produces ballets of all types – from neoclassical to contemporary – and performs multiple shows each year. It is in this building that they offer classes to inspire and train dancers of all ages (beginning at three).
The shows (including The Nutcracker, Cinderella, Gatsby, and Giselle) are performed at the Kravis Center for the Performing Arts in nearby West Palm Beach. Ballet Palm Beach also offers a worthy outreach program to help bring the gift of dance to all members of the community.
Address: 10357 Ironwood Road, Palm Beach Gardens, Florida
Official site: http://www.balletpalmbeach.org/
9. Eat Local at The Gardens GreenMarket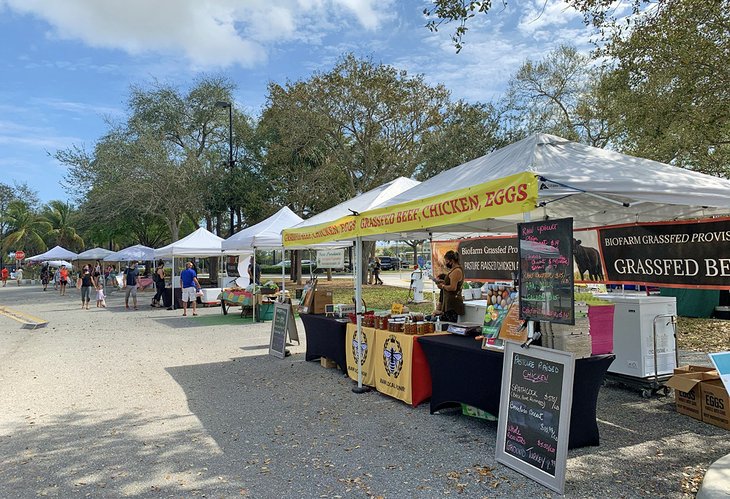 Fresh bread and berries and flowers, oh my! There are so many delicious and beautiful treats to choose from at Gardens GreenMarket. And every one of them is offered with a smile.
Held every Sunday morning from 9am to 1pm, the Gardens GreenMarket is a community staple serving up a fresh dish of local produce and crafts from a multitude of vendors. Farmers market meets art gallery meets entertainment venue at this fun weekly event run by the City of Palm Beach Gardens.
Whether you're searching for a handmade gluten- and dairy-free scone, the season's freshest veggies, yummy honey, or an inspired painting, you'll find it and so much more at this friendly weekly market.
It's held in the City Hall Municipal Complex from October to May. Local vendors create a lively open-air market from scratch each week. Wander around the stalls, stopping at each to strike up a conversation, have a taste, or buy your meat, seafood, cheese, or pies for the week. You definitely won't be starved for choice at this fun venue. If you're lucky, you may even be serenaded by musicians while you shop.
Address: 10500 North Military Trail (in the winter), Palm Beach Gardens, Florida
Official site: https://www.pbgfl.com/greenmarket
10. Step into the Gilded Age at the Flagler Museum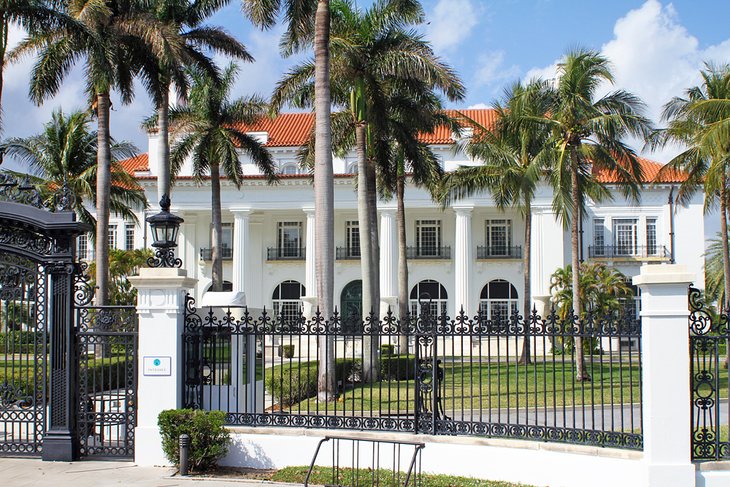 The Flagler museum makes a grand statement. Perched just a block from the Atlantic Coast in nearby Palm Beach, this striking mansion is unmissable. Intricate columns anchor the large front porch, beckoning tourists to saunter up the steps to see the treasures held inside its crisp, white walls.
Across the walking path that lies in front of the black gate stands a faultlessly manicured lawn dotted by three rows of perfectly spaced, tall, waving palm trees. It's impossible to feel big while standing in the presence of this building and its impressive grounds.
Built in 1902, this lavish estate, known as Whitehall, has been impeccably restored. This lovely attraction is listed as a National Historic Landmark and is run today as the Flagler Museum.
The 100,000-square foot Whitehall mansion was built in the Gilded Age by wealthy businessman, Henry Flagler for his wife, Mary Lily Kenan Flagler. Today, the couple's furniture, art, and other coveted items can be seen within the property's lavishly decorated rooms. Many exhibitions depicting the art and culture of the Gilded Age of America can be viewed at this popular tourist attraction at various times throughout the year.
Address: One Whitehall Way, Palm Beach, Florida
Official site: https://www.flaglermuseum.us/
11. Unwind at Mounts Botanical Garden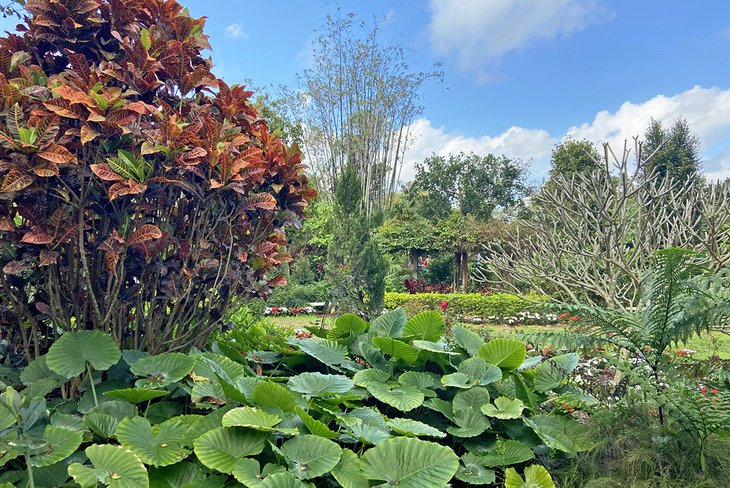 Mounts Botanical Garden lies about 10 miles southeast of Palm Beach Gardens, in neighboring West Palm Beach. Home to over 2,000 species of plants hosted in more than 14-acres, this is the largest botanical garden in Palm Beach County. Created over 40 years ago, it's also the oldest botanical garden in the area.
A feeling of calm embodies visitors the moment they step through the front gate. Greeted by a tree featuring carved owls and a vibrant garden boasting plush and colorful plants, you'll feel immediately relaxed.
Farther inside, guests are treated to a multitude of spectacular gardens – 25 to be exact. Fragrant roses, tropical trees, herb gardens, a rain garden, and a dry stream bed are highlights, as is the lovely butterfly garden, which is frequented by monarchs and atlas moths.
A gift shop, nursery, and a vintage thrift shop (for garden tools, pots, and furniture) make it easy to bring memorable treasures home.
Address: 531 North Military Trail, West Palm Beach, Florida
12. Sun Yourself at Palm Beach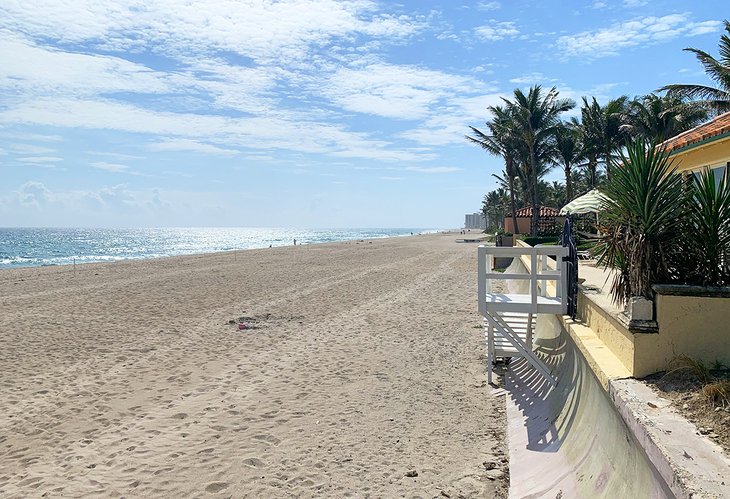 It's not really a Florida vacation if you haven't visited a beach. As you now know, Palm Beach Gardens is nowhere near the coast, despite its seaside name. To experience that satisfying feeling of sand between your toes, you'll have to head east, towards the Atlantic Coast.
Beautiful and pristine Palm Beach is a wonderful spot to unfurl your beach blanket and soak up some rays. About 12.5 miles from Palm Beach Gardens, a quick 25-minute drive will get you to the soft, golden sand and breathtaking turquoise surf at this luxurious beach.
Walking north along the sand, you'll spot multiple mansions to make you feel small and poor, but the overall beauty will make you forget any worries.
Since Palm Beach is exclusive, it's important to know where to access the public sections of the beach, particularly the Municipal Beach off the 300 block of South Ocean Boulevard, just steps from the bustling and gorgeous, palm-lined Worth Avenue.
Insider's tip: Park on the street but be sure to read the signs carefully so you don't end up with a ticket.
Address: 300 Block of South Ocean Boulevard, Palm Beach, Florida
13. Catch a Show at the Eissey Campus Theatre
If you're a fan of being entertained, you'll love spending time at the Eissey Campus Theatre. Home to Palm Beach State College's most happening arts and entertainment venue, the theater can seat 750 visitors, and wows its guests with shows of all kinds.
Whether you're a fan of Broadway-type musicals, educational plays, or concerts, you're sure to find a performance to enjoy during your vacation. Other popular things to do at this venue include attending their Arts in Gardens and Rockin' Radio in the Gardens events. The Golden Family Fun Series is another winner, especially if you're toting little ones.
The theater even boasts an art gallery. Fittingly called the Theatre Art Gallery, you'll find creative works lining the theater lobby. The gallery is open Monday through Friday, from 10am to 5pm, as well as one hour prior to each event.
Address: 11051 Campus Drive, Palm Beach Gardens, Florida
Official site: https://www.palmbeachstate.edu/theatre/eissey-campus-theatre/
14. Enjoy a Stroll through Mirasol Park
There's a bevy of fun things to do with the family in Mirasol Park. Built with children and outdoor recreation in mind, this town park is perfect for those who like to run their kids ragged so they plop into bed at night.
Whether you or your kids are into volleyball, basketball, or baseball, or they merely prefer to run around a playground, you'll find something exciting to do during your visit. Pack a picnic and make a day of it; with so many activities on hand, you won't get bored.
There are multiple pavilions, not to mention outdoor grills, on hand to make it easy to enjoy your own meal. The on-site restrooms are an added plus if you're planning to spend a few hours here.
Adults will enjoy the trail that wiggles its way through the park. Walk, run, or bike along it for some added exercise.
Address: 12385 Jog Road, Palm Beach Gardens, Florida
Map of Things to Do in Palm Beach Gardens, FL
Palm Beach Gardens, FL - Climate Chart
Average minimum and maximum temperatures for Palm Beach Gardens, FL in °C
J
F
M
A
M
J
J
A
S
O
N
D

24

14

24

14

26

17

28

18

30

21

32

23

32

24

32

24

32

24

29

22

27

19

24

16

PlanetWare.com
Average monthly precipitation totals for Palm Beach Gardens, FL in mm.

95

65

94

91

137

193

152

169

206

139

141

80