15 Top-Rated Things to Do in Jupiter, FL
Home to some of the world's best golfers (hello, Tiger Woods), basketball stars (howdy, Michael Jordan), and singers (Celine Dion had a home here for years), Jupiter is one of the most lavish areas in the United States. One of the best small towns in Florida, it's packed with enough fun things to do to keep everyone busy.
With all that glitz and glam come perfectly manicured gardens, grand estates, and pristine beaches untouched by unsightly hotel and condo developments. Ogling the insanely large beachfront mansions on nearby Jupiter Island is one of the best things to do in Jupiter, but be warned – this popular pastime can make you feel very poor.
While Jupiter lacks a main shopping area and theater district, visitors will be happily entertained by the area's most gorgeous stars: its breathtaking parks and nature preserves. Climb to the top of Jupiter Lighthouse for the best view, catch a baseball game at Roger Dean Stadium, or visit the rescued animals in Busch Wildlife Park. It's almost impossible to get bored in Jupiter.
Use our list of the best things to do in Jupiter to help plan which fun activity you want to do first.
1. Climb the Jupiter Inlet Lighthouse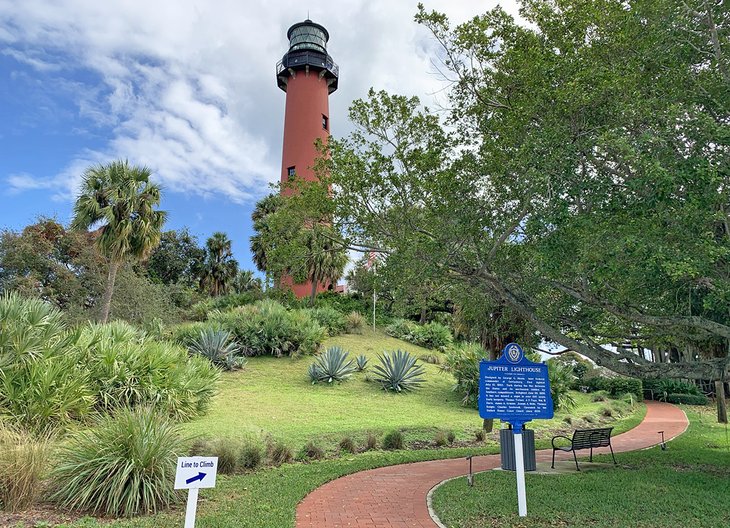 The Jupiter Inlet Lighthouse & Museum is unmissable. After all, there's little as charming as a historic lighthouse perched upon a hill overlooking an azure harbor. Paint it red and surround it by tropical hammock and a massive ancient ficus tree, and you've got a real beauty on your hands.
First lighted in 1860, this charming icon remains standing on spectacular grounds that boast the oldest house in Palm Beach County (Tindall House) and a museum reflecting many years of the area's storied past.
Today, the lighthouse and its museum are operated by the Loxahatchee River Historical Society. Visiting this breathtaking tourist attraction, deemed an Outstanding Natural Area, is one of the best things to do in Jupiter. Climb to the top for the best views in town. If you're lucky, you'll spot a manatee or two swimming in the water below.
Take time to explore the Keeper's Workshop, a small building that lies just before the lighthouse - you'll find a bevy of interesting exhibits in this small museum.
Insider's tip: Grab a map at the entrance to the lighthouse trail and try the History Mystery Scavenger Hunt on the back of the map for added fun.
Address: 500 Captain Armour's Way, Jupiter, Florida
Official site: https://www.jupiterlighthouse.org/
2. Visit the Animals at Busch Wildlife Sanctuary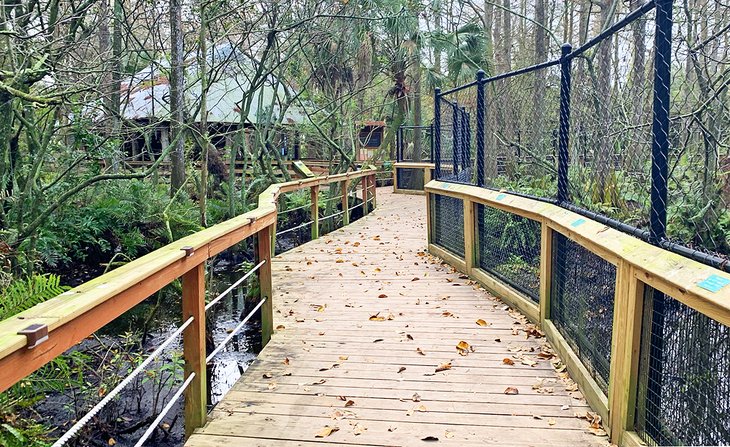 It's easy to believe you're in the wild at Busch Wildlife Sanctuary. Paths lead visitors through cypress swamp, pine flatwoods, and dense oak hammock, introducing them to some of Florida's greatest animal residents along the way. From otters to pelicans to owls, amazing creatures live within spacious cages in this outdoor sanctuary. A long boardwalk guides guests past alligators.
So much more than a zoo, this non-profit organization has two main goals: One, to rehabilitate sick, injured, and orphaned wild animals; and two, to promote wildlife and conservation.
The on-site wildlife hospital is home to animals undergoing treatment, while informative signs teach guests about the creatures and plants they'll spot along the way. Head inside to the Robert W. McCullough Discovery Center to partake in interactive exhibits and learn even more about the area's wildlife through multimedia displays.
Address: 2500 Jupiter Park Drive, Jupiter, Florida
Official site: https://www.buschwildlife.org/
3. Snorkel at Dubois Park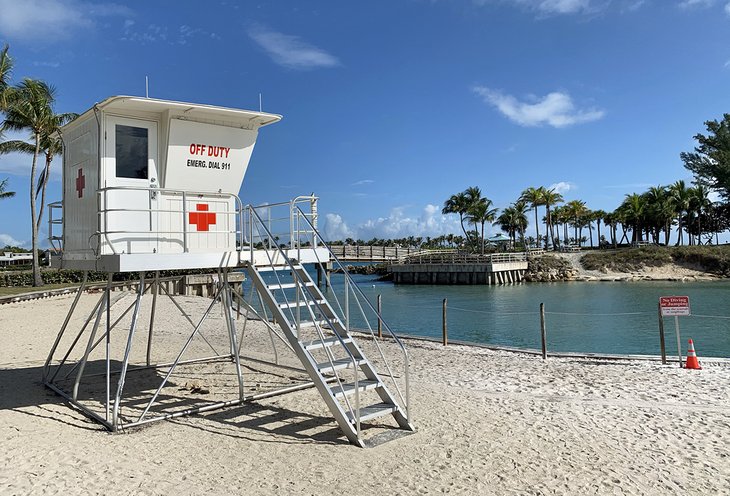 Dubois Park is a picturesque gem lying at the mouth of Jupiter Inlet, across from the southern tip of swanky Jupiter Island. From here, visitors are treated to lovely views of the Jupiter Inlet Lighthouse as they lounge on the sandy beach backed by tall, waving palm trees.
This is by far one of the best places to visit with kids. A protected swimming area is a hot spot for families, offering little ones a safe place to splash about without the worry of giant waves and undertows. More like a lagoon, this pretty spot boasts its own sheltered beach. Its calm, clear water is primed for snorkeling and close to the playground.
A wooden bridge over the sparkling water adds to the innate charm of this adorable park while picnic tables, grills, and pavilions make it easy to spend an entire day relishing your well-deserved time out.
Boat slips, a boat ramp, and canoe and kayak launch are available, as is a fishing pier. Just don't fish in the swimming area.
Restrooms and an outdoor shower are on-site, and lifeguards are on duty every day from Memorial Day until the first day of school. After that, the beach is guarded only on weekends.
The park is also home to the historic DuBois Pioneer Home, one of the last historic homesteads in the area.
Address: 19075 DuBois Road, Jupiter, Florida
4. Watch Nature's Best Show at Blowing Rocks Preserve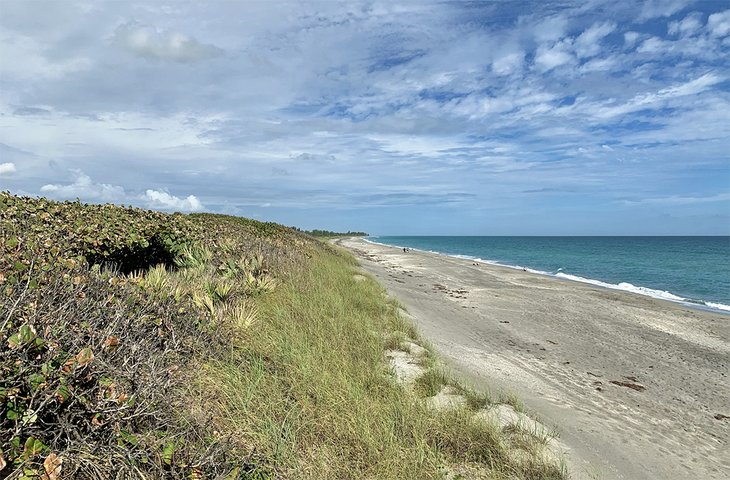 Blowing Rocks Preserve is located on Jupiter Island, a barrier isle just off the coast of Jupiter. Visitors can spend hours wandering trails through numerous ecosystems or learning about the area's wildlife (including the endangered turtles) in the Hawley Education Center at this idyllic sanctuary run by the Nature Conservancy.
On a sunny day, the pristine sandy beach at this preserve provides a wonderful place to visit where you can park your beach chair and enjoy a quiet trip to the shore. Lined by dunes on one side and the dramatic blue Atlantic surf on the other, it is picture perfect.
The walk to the beach from the parking lot is spectacular. Visitors are transported through tropical hardwood hammock so lovely and fantastical, it is akin to being inside a Tolkien tale.
When the surf is particularly volatile, visitors will easily understand how the preserve attained its strange moniker. A remarkable show occurs at hightide on rough days when large waves force water through blowholes in the Anastasia limestone rocks lining the shore. Winter is the best season to visit if you're hoping to catch sight of this phenomenon.
Insider's tip: Since this is a nature preserve, no pets or food are allowed. Also, it's open daily from 9am to 4:30pm.
Address: 600 State Road 707, 574 S Beach Road, Hobe Sound, Jupiter Island, Florida
Official site: https://www.nature.org/en-us/get-involved/how-to-help/places-we-protect/blowing-rocks-preserve/
5. Spot Manatees at Jupiter Inlet Lighthouse Outstanding Natural Area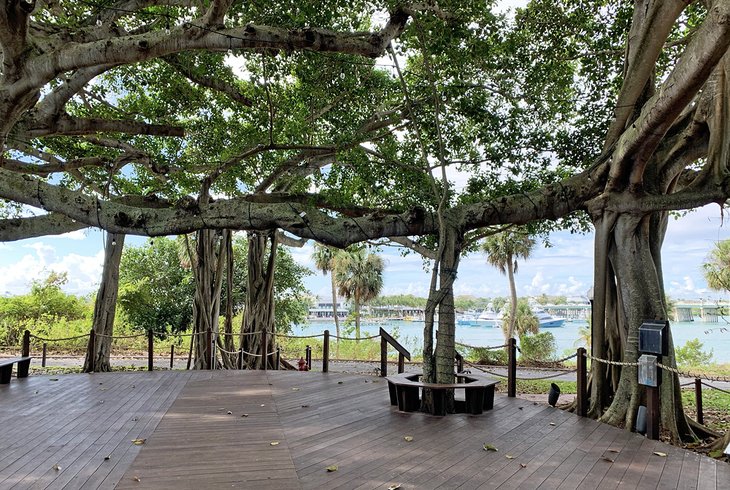 The Jupiter Inlet Lighthouse Outstanding Natural Area is one of only three of its kind in the country. While many believe its highlight to be the shining red beacon (a.k.a. the Jupiter Inlet Lighthouse) that stands high on a hill, there is much more to this beautiful natural habitat than its token icon.
Quiet trails wind their way through a variety of Florida's unique ecosystems in this 120-acre preserve nestled at the confluence of the Indian and Loxahatchee Rivers. Hikers will encounter everything from lush tropical hammock to Florida scrub to a mangrove swamp.
Make your way along the hiking trail on the north side of the preserve to the observation tower. The view over the lagoon offers visitors an optimal chance to spot manatees in their natural habitat.
Kids will enjoy using the playground at Lighthouse Park, as well as fishing and paddleboarding behind the Jupiter Inlet Lighthouse Museum.
Address: 600 State Road, Jupiter, Florida
Official site: https://www.jupiterlighthouse.org/explore/outstanding-natural-area/
6. Soak Up the Rays at Ocean Cay Park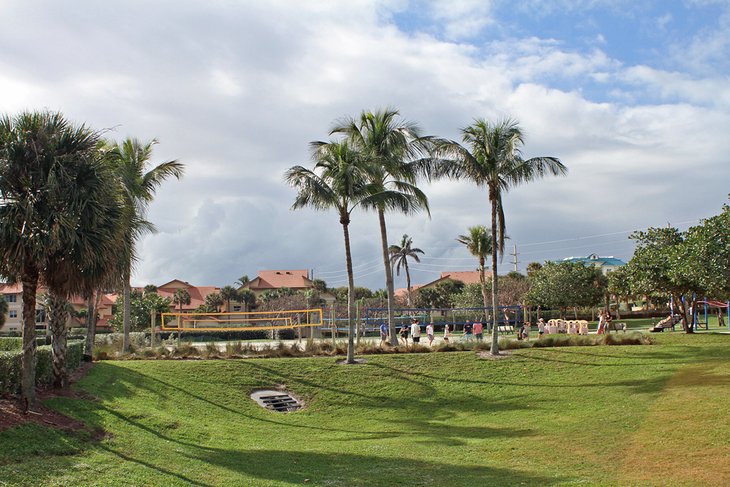 Ocean Cay Park is a family-friendly spot chock full of fun for kids of all ages. Covering 13.4 acres, this vast, open space boasts enough grass for multiple games of tag and has many amenities to entice families to spend hours at this popular local.
A playground, beach volleyball courts, grills, and plenty of picnic pavilions are on offer, making it easy to hunker down for a full day of activities. The outdoor showers, restrooms, and ample parking are also helpful.
Hoping to catch some rays on the beach? You're in luck. Ocean Cay Park sits just across the A1A from Jupiter Beach on Marcinski Road. You'll find easy access points to Jupiter Beach, which is watched by lifeguards in this section. This is also the start of the dog-friendly area of the beach, which extends north to Carlin Park.
Boasting a ton of parking spaces, an outdoor shower, and restrooms, Ocean Cay Park takes the eek out of planning a day at the beach.
Address: 2188 Marcinski Road, Jupiter, Florida
Official site: https://www.jupiter.fl.us/Facilities/Facility/Details/Ocean-Cay-Park-67
7. Play at Carlin Park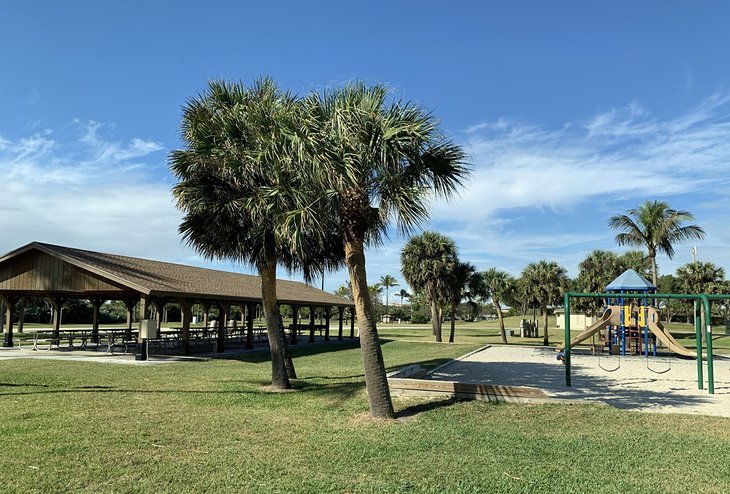 It's easy to have fun at Carlin Park. With more than 3,000 feet of sandy beach and multiple amenities (we're talking playgrounds, tennis and volleyball courts, a softball diamond, and a bocce ball court), you'll never get bored.
Located just off the A1A, this pretty park boasts the most gorgeous ocean views, as well as plenty of space to spread out around its two large, sparkling ponds. No wonder this has become such a popular place for picnics.
Charcoal grills are available on-site, as are picnic tables and shaded pavilions, so be sure to pack lunch. Not in the mood to cook? Grab a bite at the on-site Lazy Loggerhead Café.
Looking to tone your bathing suit bod? Use the 1.25-mile exercise course, which features 20 stations of routines to help you tone those flabby bits. Want to be entertained? The Seabreeze Amphitheater plays host to concerts, plays, and films. This is also home to the annual Palm Beach Shakespeare Festival.
Address: 400 South State Route A1A, Jupiter, Florida
8. Stay All Day at Jupiter Beach Park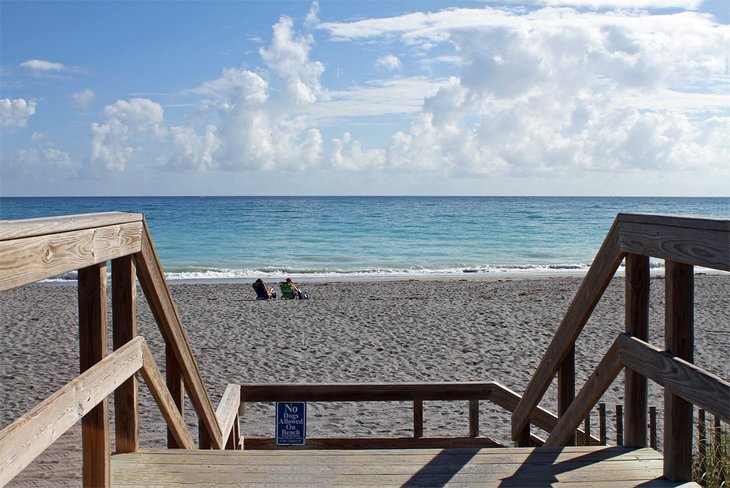 Jupiter Beach Park lies three minutes east of the Jupiter Dunes Golf Course, an affordable 18-hole course said to be the "tropical version of the short course at Augusta." The park is also positioned directly across from the lovely Dubois Park.
Set on the southern side of the Jupiter Inlet, this attractive space is a mere five minutes north of Carlin park. It's so close, in fact, that it's easy to walk on the sand between the two beaches. Speaking of beaches, Jupiter Beach Park's eastern side boasts soft golden sand and Atlantic surf.
Its western side is much quieter and more sheltered. A dream spot for families toting young kids, this area shares the lagoon-like inlet found at DuBois Park. As for amenities, visitors will find all they need in this 46-acre park, including lifeguards, a volleyball court, picnic areas, grills, restrooms, and outdoor showers.
No matter where you plonk yourself, take one of the provided trash buckets along. Fill it with your garbage and dump the contents in the facilities provided to help keep the beach clean. Then return it for the next guest to use.
Insider's tip: Pack a fishing rod. You can fish in the inlet from the rocky pier at the north end of the beach.
Address: 1375 Jupiter Beach Road, Jupiter, Florida
9. Soak Up the History at DuBois Pioneer Home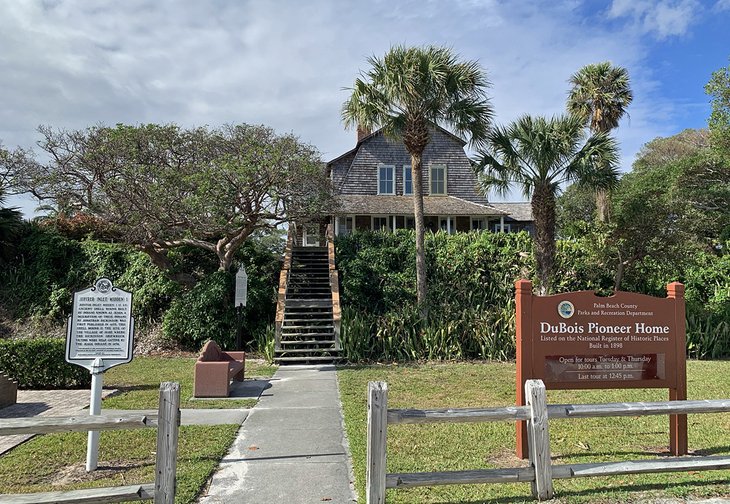 The picturesque DuBois Pioneer Home lies quietly in DuBois Park. Set back from the beach atop a hill, it's easy to miss if you're focused on the main reason people visit this area - the water. Take time from your sunbathing to walk over and admire the Victorian Shingled home; you'll be more than happy you did.
Built by pioneers Harry and Susan DuBois in 1898, this lovely historic building is one of the oldest surviving homes in Palm Beach County. Known locally as "House on the Hill," it is listed on the National Register of Historic Places and is an attraction worth visiting.
The home was built upon the Jupiter Inlet Midden I, an ancient shell mound built by Native Americans known as the Jeaga. It was once the village of Hobe and began as a one-story house before being enlarged to account for the expanding family.
Insider's tip: Docent-guided tours are offered Wednesdays and Thursdays from 10am to 1pm.
Address: DuBois Park, 19075 DuBois Road, Jupiter, Florida
10. Destress at Jonathan Dickinson State Park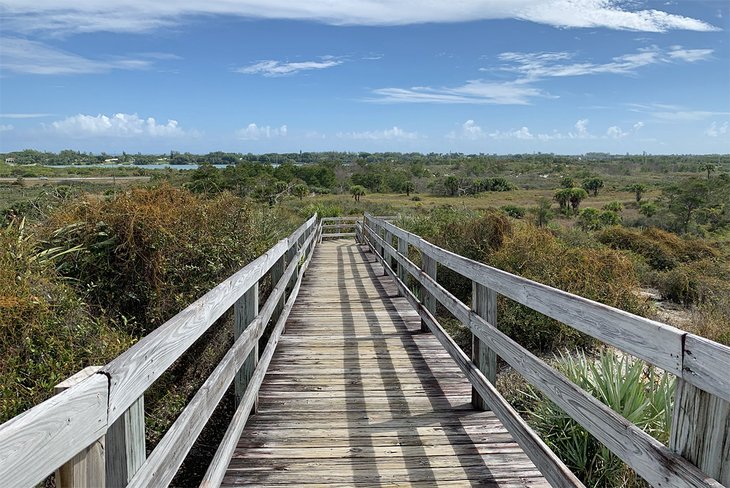 For a small fee, visitors to Jonathan Dickinson State Park gain access to nearly 11,500 acres of natural wonderland. Once home to Camp Murphy, an army base that hosted secret radar training during World War II, this expansive park now boasts a bevy of fun activities on both land and water.
Jonathan Dickinson State Park offers camping; horse-drawn buggy rides; guided trail rides; boat tours; and rentals of motorized boats, bikes, canoes, and kayaks.
Just minutes from Jupiter, the park lies in Hobe Sound and is peppered with ecological wonders like pine flatwoods, cypress swamps, mangrove estuaries, and coastal sand pine scrub. Walk, bike, or ride horseback on the multiple trails to experience the incredible flora and fauna up close. Don't miss climbing to the top of the Hobe Mountain Observation Tower for impressive views.
When it's time to eat, head to Palmettos on the Loxahatchee, the park's food and beverage garden serving up fresh, local grub in a spectacular outdoor setting. The view includes picturesque vistas of the Loxahatchee River.
Address: 16450 South East Federal Highway, Hobe Sound, Florida
Official site: https://www.jdstatepark.com/
11. Catch a Ball at Roger Dean Chevrolet Stadium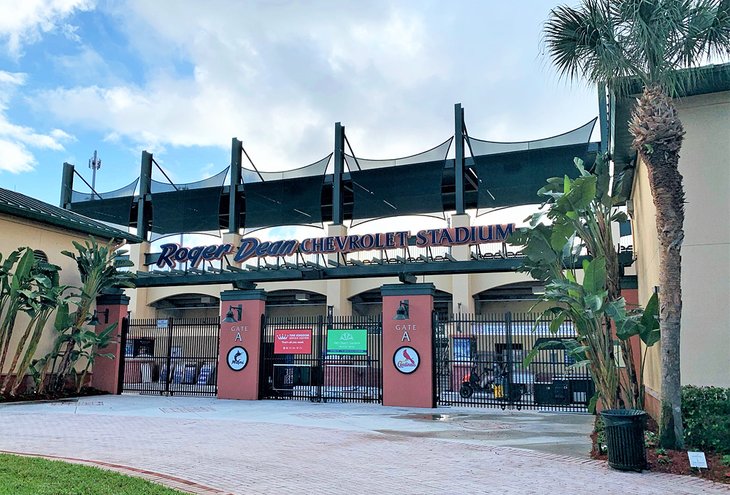 Even if you aren't a fan of baseball, you'll enjoy watching a game at Roger Dean Chevrolet Stadium. The raucous cheers from the crowd, the scent of popcorn and hot dogs in the air, and the exciting "smack" that reverberates when bat meets ball are enough to make fans out of pretty much anyone.
The spring-training base for the Miami Marlins and St. Louis Cardinals, this epic stadium boasts four minor league teams throughout the year (including the Jupiter Hammerheads). While they share the main playing field, each team has its own practice fields, conditioning rooms, pitching mounds, and batting cages.
Ever caught a fly ball? Trust us, it's exciting. So, pack a glove and head over for a game you won't forget.
Address: 4751 Main Street, Jupiter, Florida
Official site: https://rogerdeanchevroletstadium.com/
12. Bring Fido to Jupiter's Dog-friendly Beach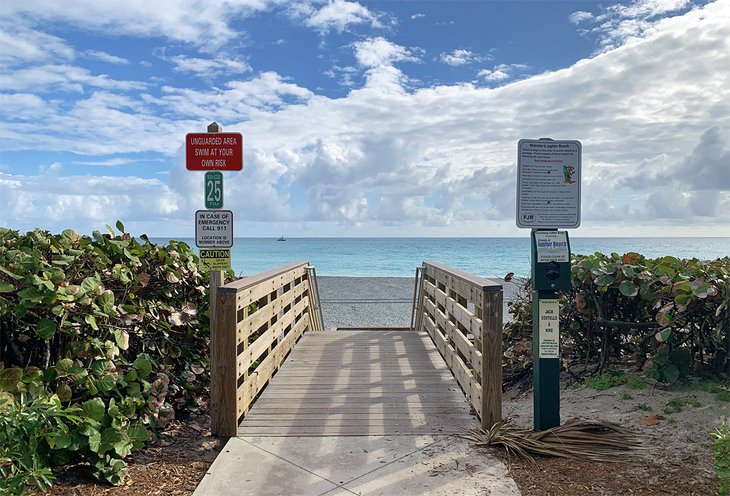 Why should humans have all the fun on vacation? Head to Ocean Cay Park, leave your car in the huge lot, and cross the A1A to the beach. Here, you'll find a large area of beach open to dogs at all times of the year.
Four-legged friends must remain leashed or "under full voice control" while on the dog-friendly sections of Jupiter Beach, and their owners must be sure to pick up after them. Poop bags are provided for those who have forgotten to bring one.
Be sure to look for signs at the beach entry points to be sure your dog is allowed to roam the sand in each area. In general, it extends from the beach in front of Ocean Cay park (beach marker 25) north to Carlin Park (beach marker 57).
Insider's tip: Arrive early in the morning or late in the afternoon to enjoy cooler temperatures and less crowds. Also, dogs must be leashed while walking from the car to the beach.
13. Loxahatchee River Battlefield Park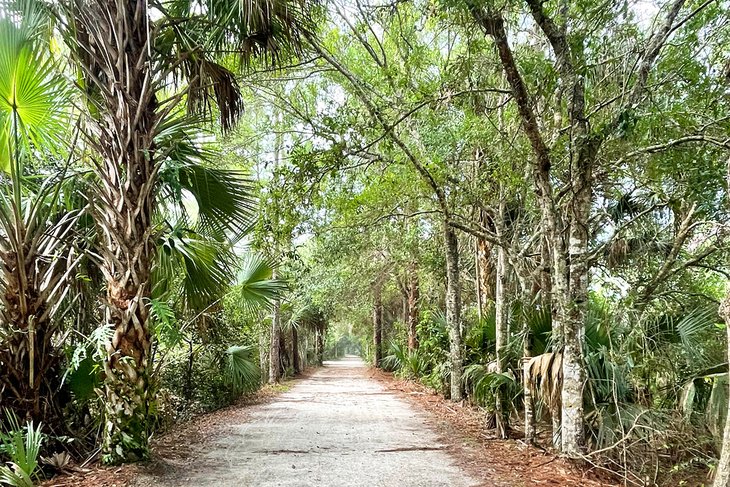 More than 61 acres greet visitors to the Loxahatchee River Battlefield Park. Famed for its role in the Second Seminole War Battles (Powell's and Jesup's Battles in January of 1838), this stunning park is also home to a natural wonderland teeming with life.
Wander the area's nature trails, explore the citrus groves, and visit the recreated Seminole Village and Cracker Farmstead. Don't miss Old River Run, the site of a former military bridge.
Battlefield walk and the Battlefield Trails help visitors get a feel for what it might have felt like to fight the enemy in such verdant land.
If you're looking for more adventure, head next door to Riverbend Park, which boasts canoeing, horseback riding trails, and biking paths.
Address: 9060 Indiantown Road, Jupiter, Florida
Official Site: https://discover.pbcgov.org/parks/Riverbend/LoxahatcheePark.aspx
14. Go Kayaking in Riverbend Park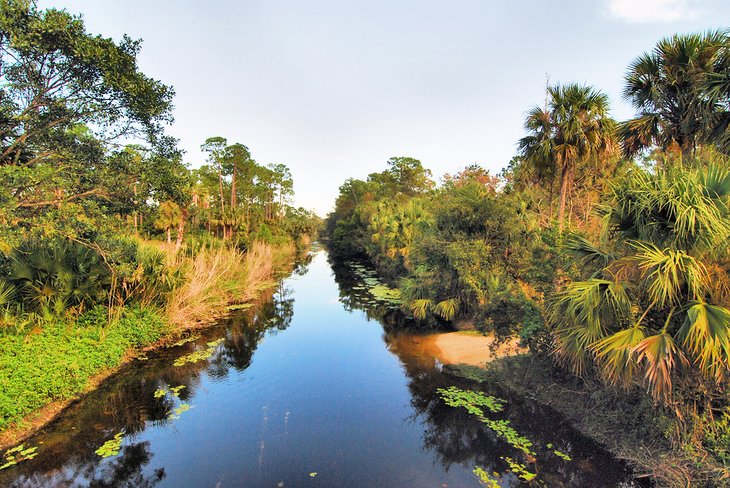 There are so many ways to stay active in Riverbend Park. Close to 10 miles of hiking and biking trails attract tourists looking for free things to do with the family. Have a horse? No problem. This park boasts seven miles of equestrian trails as well.
Perhaps the most beloved activity in this park is to hit the water. Whether you're a fan of canoes or kayaks, the five miles of water trails make it easy to explore the park's natural side, getting up close and personal with fish, waterfowl, and other intriguing creatures.
Want to spend the day here? Great idea. There are three picnic areas on-site, as well as a picnic pavilion to make it easy to make and enjoy a meal.
Address: 9060 Indiantown Road, Jupiter, Florida
15. Nathaniel P. Reed Hobe Sound National Wildlife Refuge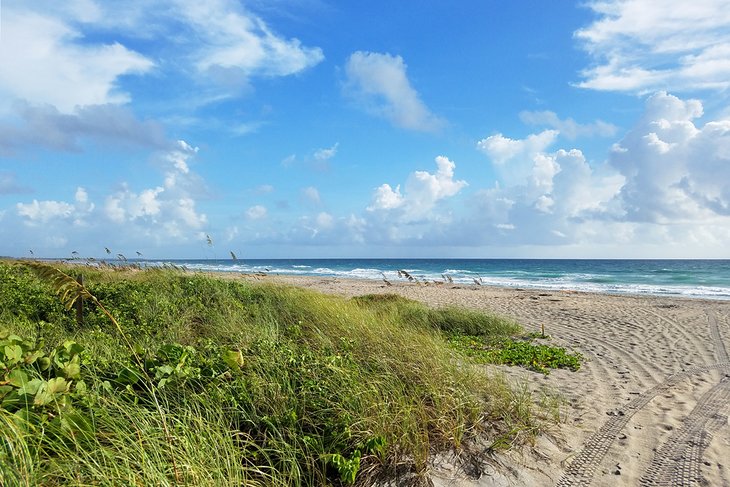 There's little to dislike about the Nathaniel P. Reed Hobe Sound National Wildlife Refuge. This is a haven for nature lovers and a sanctuary to almost 40 threatened or endangered species. It lies just 10 miles north of Jupiter.
At over 1,000 acres, this tranquil spot is a perfect place to spend a quiet morning or afternoon.
Here, you'll spy not only impressive wildlife, but a slew of interesting plants like pine scrub and mangroves.
The Indian River Lagoon cuts the refuge in two, with the Jupiter Island section containing an undeveloped beach. This is home to the "most productive sea turtle nesting areas in the Southeastern United States." If you time your visit right, you may be able to see the babies hatch.
The Mainland section is where you'll find a collection of publicly-owned pine scrubs. Within this verdant area lie many of the most interesting wild residents.
In the refuge, tourists are encouraged to watch and photograph the wildlife, hike the 2,100 miles of trails and boardwalks, and fish either in the Intracoastal waterway, or from shore at North Beach.
Address: 13640 US Highway 1, Hobe Sound, Florida
Official site: https://www.fws.gov/refuge/nathaniel-p-reed-hobe-sound
Map of Things to Do in Jupiter, FL
Jupiter, FL - Climate Chart
Average minimum and maximum temperatures for Jupiter, FL in °C
J
F
M
A
M
J
J
A
S
O
N
D

24

14

24

14

26

17

28

18

30

21

32

23

32

24

32

24

32

24

29

22

27

19

24

16

PlanetWare.com
Average monthly precipitation totals for Jupiter, FL in mm.

95

65

94

91

137

193

152

169

206

139

141

80