16 Top Attractions & Things to Do in Delray Beach, FL
You'll love the artsy vibe in Delray Beach. A lively East Coast hot spot, this fun resort town seeps creativity and oozes charm. Funky music slithers over the red-brick sidewalks on popular Atlantic Avenue, guiding shoppers along a palm-tree-lined route stretching from the I95 to a silky-soft sandy shore.
When you're not shopping, eating, swimming, or soaking up the sun's hot rays, there are plenty of ways to stay busy. From eclectic art galleries to open-air concerts to vast nature preserves, Delray serves up a fully loaded plate of entertainment. Once a mecca for pineapple farmers, this quirky, upscale town has become one of the best places to visit in South Florida.
Not sure what to see first? Our list of the top things to do in Delray Beach will help you decide.
1. Wakodahatchee Wetlands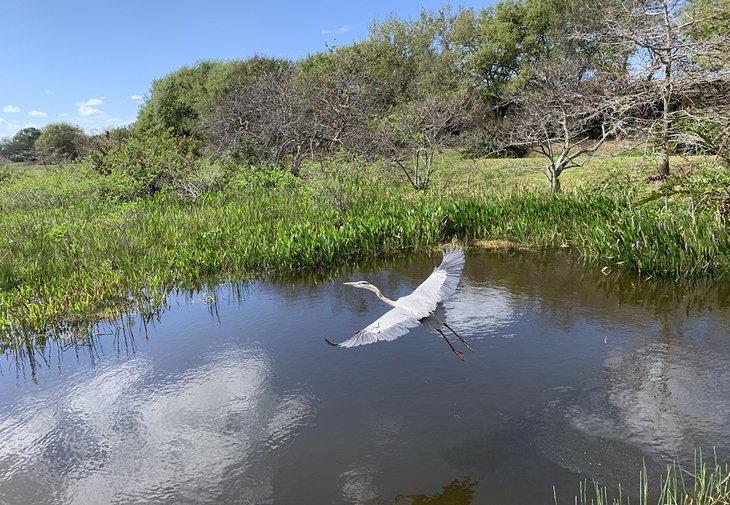 Want to forget about all those niggly stresses in your life? Visit the Wakodahatchee Wetlands. A serene wonderland where mangroves thrive, the wetlands serve as home to more than 178 species of birds, as well as animals like turtles, marsh rabbits, frogs, and alligators.
The site also comprises the southern part of the Great Florida Birding Trail. A 3/4-mile boardwalk provides guests easy passage across the pond. It also allows for a more intimate peek at the habitat islands, which play host to many of the area's creatures. Keep your eyes peeled for a purple gallinule. His bright red and yellow beak and vibrant yellow legs are easy to spot among the lush green vegetation.
Set within 50 acres of property created and operated by the Palm Beach County Water Utilities Department, the wasteland serves an important purpose for humans as well. Every day, nearly two million gallons of "highly treated wastewater" is pumped into the area by the Southern Region Water Reclamation Facility. It's then percolated within the pond and returned to the water table as fresh water.
Insider's tip: No biking, running, pets, or speed walking is allowed on the boardwalk.
Address: 13270 Jog Road, Delray Beach, Florida
2. Atlantic Avenue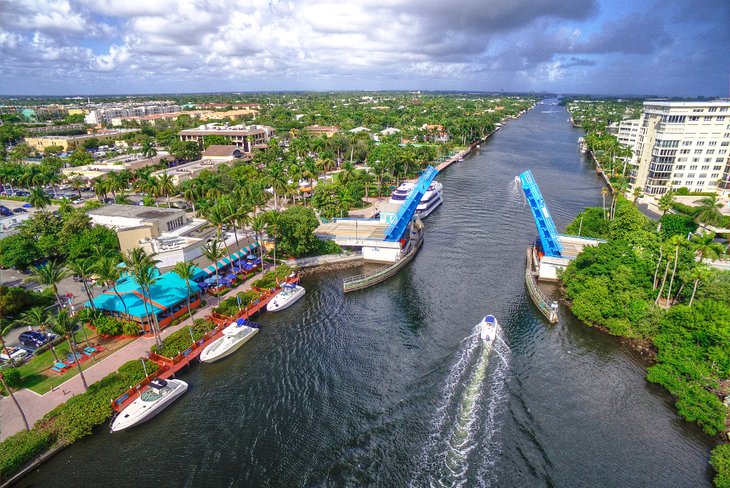 It's easy to flex your shopping muscles on Delray's hippest main street -Atlantic Avenue. A lively retail area, this long and lovely street is filled with people at all times of the day. Whether they're dining at one of the street's many popular restaurants (L'ACQUA is fab!), lightening their wallets in high-end boutiques, or admiring art in local galleries, there's no chance to get bored on this popular strip.
Multiple times a year, music spills onto the sidewalks, and the street itself is transformed into a tent-filled shopping area, open-air concert and dance venue, or massive outdoor dining experience (i.e. during the gastronomic fest, Savor the Avenue).
Atlantic Avenue is the place to see and be seen. While out and about, you'll notice multiple cars (including gorgeous antiques) and motorcycles driving uber slowly as they soak up the scene.
3. Morikami Museum and Japanese Gardens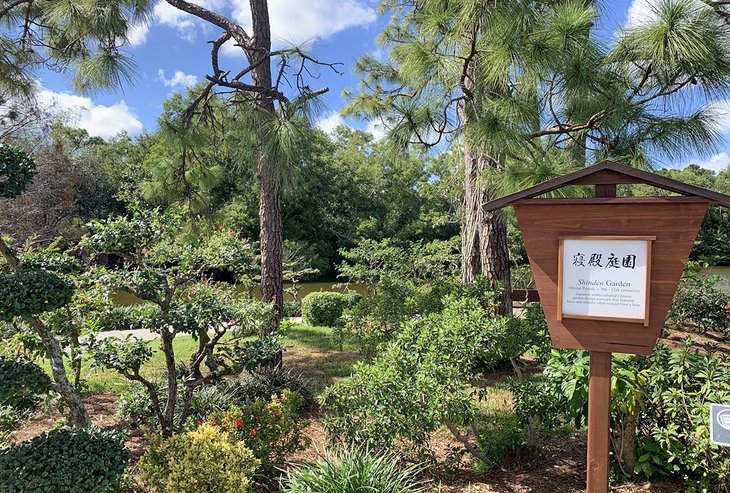 The Morikami Museum and Japanese Gardens exude tranquility. From the moment you enter this stunning respite, you're transported to a quiet land ruled by beauty. The 16 acres of gardens are immaculate and represent designs popular in Japan from the ninth to 20th centuries. Within the grounds, you'll find traditional bonsai trees, a koi pond, turtle island, and a sparkling lake. Another 200 acres of parkland is also primed for exploring.
The grounds are also home to Yamato-Kan, a museum housed on its own island. They feature a selection of rotating exhibits and a large collection of items highlighting Japanese culture throughout the years. It's fashioned after a traditional Japanese villa, adding even further to the area's charm.
Don't miss out on lunch at the Cornell Café, where you can enjoy delicious pan-Asian fare with a fantastic garden view. Insider's tip: Visit during a traditional Japanese tea ceremony, which is held at the Seishin-an tea house on certain Saturdays.
Address: 400 Morikami Park Road, Delray Beach
Official site: https://morikami.org
4. Old School Square
Old School Square has been dubbed the "beating heart" of Delray Beach, a perfect moniker for this lively hub. Serving as the main venue for Delray's music and arts scene, this thriving center acts as a gathering space for the community. Town hall meetings are held here, as are free concerts (including the popular Blues on the Square from March through May), a holiday tree lighting ceremony, and multiple classes and events. Also in March is the annual Art on the Square festival.
Old School Square's main attractions include: the historic Cornell Art Museum, Crest Theatre, Fieldhouse, The Pavilion (an outdoor concert venue) and a Creative Arts School (located above the Crest Theatre). This is the place to be for those craving entertainment.
Address: 51 North Swinton Avenue, Delray Beach, Florida
5. Cornell Art Museum
The shining star of Old School Square, this lovely museum served as the Delray Elementary School in the early 1900s. Today, the newly renovated space includes multiple galleries featuring exhibits from contemporary artists from across the state, country, and globe. Although small, it offers a wide variety of unique and interesting creations and provides visitors with a refreshing break from the buzz on nearby Atlantic Avenue.
The museum's building itself is a priceless work of art. Built in the Masonry Vernacular style, this is a remnant of the area's history and still maintains its original, preserved Dade County Pine floors. Insider's tip: The museum is closed on Mondays and Tuesdays, so plan your visit accordingly.
Address: 51 North Swinton Avenue, Delray Beach, Florida
Official site: https://www.cornellartmuseum.org/
6. Atlantic Dunes Park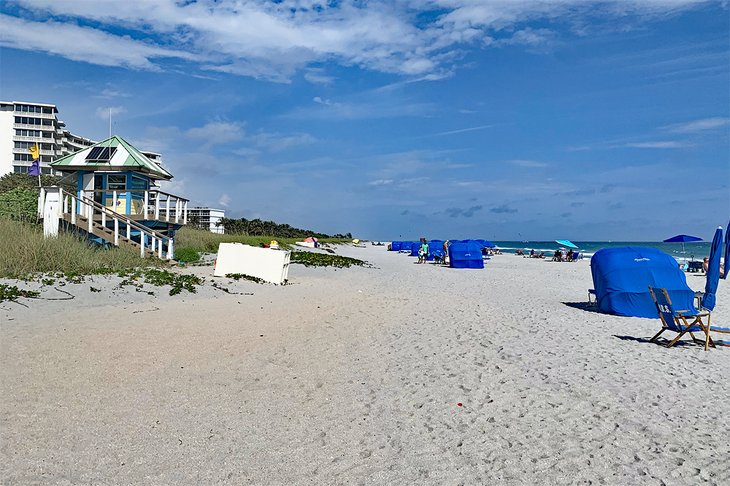 Most people visit Florida for its glorious beaches. Not surprisingly, Delray Beach offers plenty of luxurious strands to enjoy. If you're looking for a more laid-back, tranquil day spent on a sandy shore, head to Atlantic Dunes Park. Less crowded than nearby Fort Lauderdale Beach, this pretty stretch of coast welcomes visitors to kick back and enjoy their time spent frolicking in the sun.
Whether you choose to swim, sunbathe, play volleyball, run on the sand or SUP, you're guaranteed a relaxing experience at this beautiful oceanfront park.
When you're stick of sitting in the sand, head for a shady walk along the nature trail, or wander along the boardwalk for excellent views.
Address: 1605 South Ocean Boulevard, Delray Beach, Florida
7. Lake Ida West Park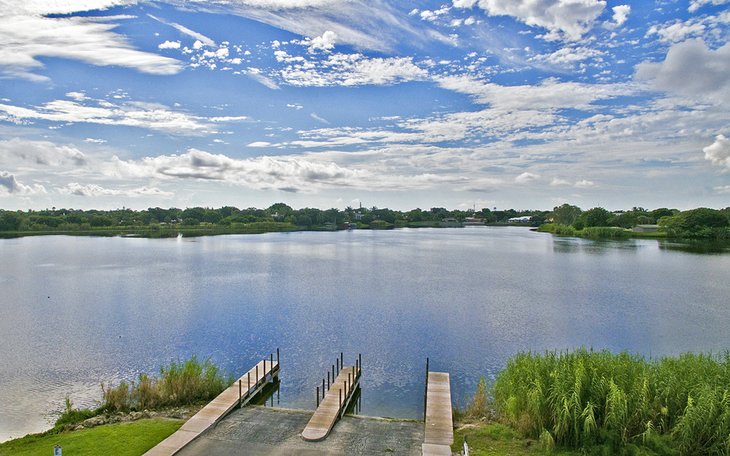 It's hard to get bored at Lake Ida West Park. Set within nearly 190 acres along the western border of the beautiful lake of the same name, this vast park features almost 10,000 feet of lake frontage. It's also home to two miles of biking paths, two miles of walking trails, two boat launch ramps, access for canoeing and kayaking, and multiple playgrounds for kids. Told you there was a lot to do here.
When it's time to relax, throw some food on one of the on-site grills and enjoy your picnic under a covered pavilion or shelter. Then, take to the water for a swim or set out on a boat to try your hand (or in this case, fishing rod) at reeling in a big one.
Insider's tip: Don't leave Fido at home! Lake Ida Dog Park is a fantastic place for your four-legged family members to run wild and make new fluffy friends. There are two dog-friendly sections of the park, each open alternately to give the other a rest (and clean).
Address: 1455 Lake Ida Road, Delray Beach, Florida
8. Arts Garage
The beach by day, a concert by night - not bad, especially if said concert is held at the uber funky Arts Garage. This awesome venue consists of the Stuart & Shelby Theatre and Grassroots Gallery, both situated in a parking garage in the heart of downtown Delray Beach. This is the place to visit for couples looking to dance the night away to all types of music (it's best known for blues and jazz), watch a theater production, or stroll through a visual arts exhibit.
Insider's tip: The venue allows guests to bring in food, so grab some takeout and enjoy being mesmerized by a fantastic performance. Just remember to bring cutlery as well.
Address: Box office: 94 North East 2nd Avenue. The Arts Garage: Bottom floor of the parking garage, Pineapple Arts District (north of Atlantic Avenue)
Official site: https://artsgarage.org/
9. Gulfstream Park
Set beside the shores of the Atlantic Ocean, this park is a godsend for families. A fun playground will keep kids entertained for hours, and it's only a short walk from the sandy beach. Within the nearly seven-acre park, you'll find a swimming area and plenty of greenspace for ball playing, picnicking, or lounging. Snorkeling is a must, as there are plenty of interesting sea creatures that enjoy swimming around the coral reefs just offshore.
The beach is stationed by a lifeguard, and the park itself features picnic tables, grills, and facilities. It's the perfect place to spend a day. Just remember to bring sunblock. Bonus: Parking is free!
Address: 4489 North Ocean Boulevard, Delray Beach, Florida
10. Pineapple Grove Arts District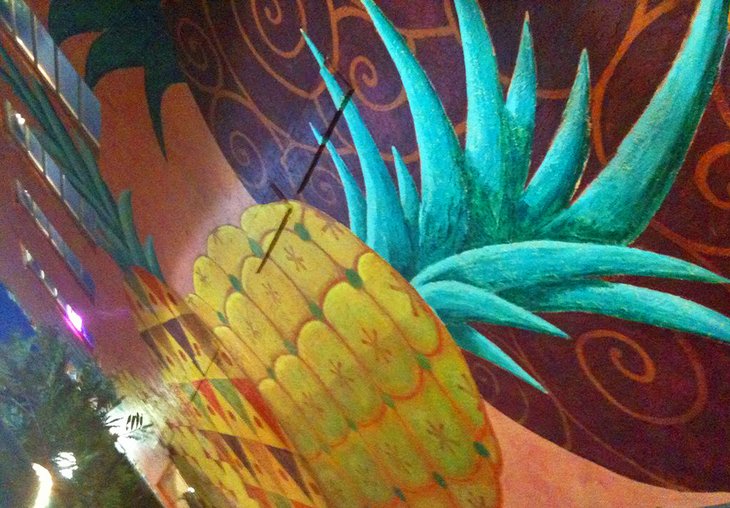 Art comes alive in this fun section of town. Home to multiple galleries, unique sculptures, and eclectic shops (including the super cool Murder on The Beach Mystery Book Store), the Pineapple Grove Arts District pulsates with creativity. See works by sculptor Cherie Saleeby at the Arts Warehouse, ogle some of John Spec's pieces at the Gallery at Studio Five, or get inspired at the Addison Gallery.
With so much to explore, it's easy to spend hours in this trendy district. When your stomach starts rumbling, grab a treat at one of the charming cafés or tuck into a more substantial meal at one of the area's fantastic restaurants.
Address: North East 2nd and 4th Avenues(off Atlantic Avenue)
11. Sandoway Discovery Center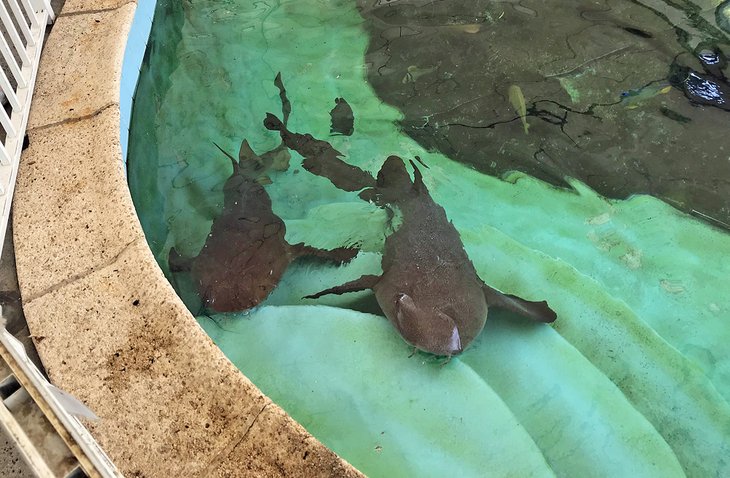 From the outside, the Sandoway Discovery Center doesn't look like much more than a lovely historic home. Once you get closer, its incredible features surface. Dedicated to educating visitors about Florida's unique ecosystems and marine and wildlife, this inconspicuous center boasts a variety of hands-on experiences.
In addition to a coral reef pool serving as a home for sharks, rays, and other marine animals, the center features aquariums, a large shell collection, plant and butterfly garden, and a library filled with resources to help visitors learn more about the environment. Upstairs is an observation deck, complete with binoculars to offer guests a closer look at the surrounding community.
Insider's tip: If you become inspired to help some of the animals you've seen (trust us, this is easy to do) you can "adopt" one for a year to cover some of his or her care and feeding expenses. Oh, and don't miss the shark feeding, especially if you're traveling with kids.
Address: 142 South Ocean Boulevard, Delray Beach, Florida
Official site: https://sandoway.org/
12. The Girls Strawberry U-Pick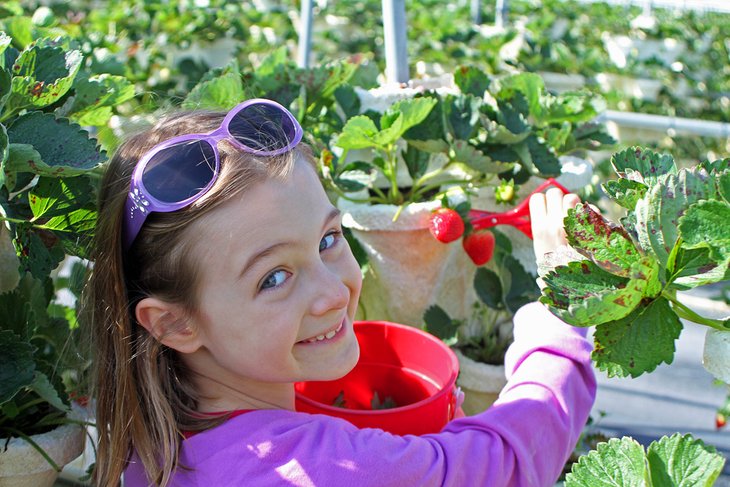 It's easy to miss The Girls Strawberry U-Pick. Set back from the street, it appears as a small shop in a tiny strip mall, but its door transports visitors to a veritable wonderland of treats. Kids will drool over the old-fashioned candies and ice-cream you're forced to walk by on your way in and out of the zoo. Yes, you read that right, this pick-your-own hydroponic strawberry "farm" also houses a good-sized zoo (and serves up some delicious pizza).
Feed some money into the food machines, and you'll receive a handful of goodies fit for feeding the farm's goats and ducks. Wander around the cages to see brightly colored exotic birds, reptiles, and a few furry friends, some of which you can pet. If you're lucky, you'll get a chance to touch a lizard or hold a snake.
Insider's tip: Call before you go to be sure they have strawberries available for picking. Also, be sure to visit The Boys Farmer's Market (basically next door, at 14378 South Military Trail) for delicious fresh foods to take home.
Address: 14466 South Military Trail, Delray Beach, Florida
Official site: http://thegirlsstrawberryupick.com/index.html
13. Veterans Park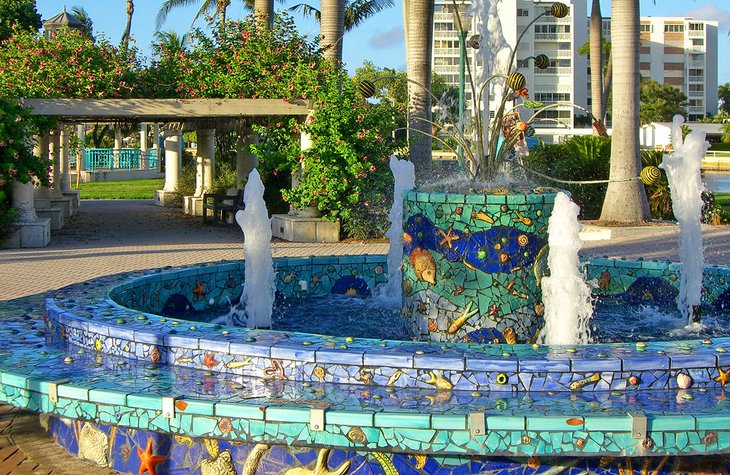 A family favorite, Veterans Park offers kids a ton of fun things to do in Delray Beach. From here, you can watch the bridge raise and lower every half hour to let boats cross the Intracoastal.
The park also boasts a newly renovated playground with plenty of fun places to duck into during a game of hide and seek. Cook dinner on a grill, picnic on the grass (or at a table) or practice your lawn bowling and shuffleboard skills. The possibilities are endless!
While here, take a few moments to give thanks to those who have fallen while you pass the various memorials.
Address: 802 North East 1st Street, Delray Beach, Florida
14. West Delray Regional Park
Kids won't get bored at the West Delray Regional Park. There are a ton of activities to partake in and even more to simply watch and admire. Fans of radio-controlled devices will love it here. The park has its own mini airfield, perfect for those flying an RC plane. Watch skilled pilots thread their aircrafts through the sky or try your hand at flying your own. There are also spots devoted to RC car and boat racing.
Not really into the whole RC thing? No worries. You can also try your hand at archery or head out on the lake to fish. The park also boasts equestrian trails, bike paths, and plenty of great places to grill and enjoy a picnic.
Insider's tip: Registration is required before racing your own RC device, and if you're hoping to use a bow and arrow, you'll need to do so through the Gold Coast Archery Club.
15. Putt 'n Around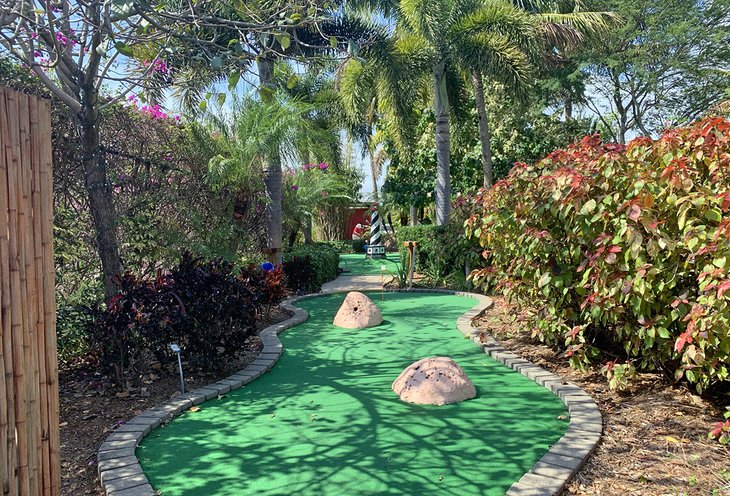 Looking for a way to occupy the kids that doesn't involve getting sand in your swimsuit? Check out Putt 'n Around. Boasting two 18-hole mini putt courses (The Everglades and The Ocean), this tacky, yet awesome spot oozes fun. Its waterfalls, lagoons, and bridges will capture your kids' attention and keep it. In fact, little ones will love their time here so much, they'll beg to play again once they've finished.
Insider's tip: Close to the restaurants peppering Atlantic Avenue, this is a great spot to spend time pre- or post-dinner. Plus, evening golf offers the bonus of a more romantic and fun ambience featuring lights and upbeat music to guide players through the courses.
Address: 350 North East 5th Avenue
16. Green Cay Wetlands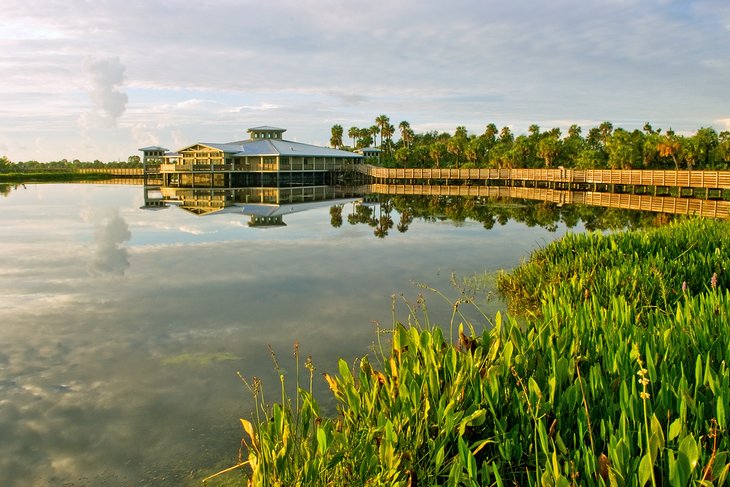 Technically not in Delray, the Green Cay Wetlands are only a short, seven-mile drive away in Boynton Beach. In addition to its over 100 acres of wetland, this lovely, tranquil spot boasts a Nature Center and plenty of opportunities to see Florida's captivating wildlife in action.
The boardwalk offers a modern take on the self-guided tour. It uses signs adorned with QR codes guests can scan with their smartphones to discover in-depth information about each specific zone. Inside the Nature Center, you'll find multiple exhibits focused on the area's natural environment, as well as live animals, a theater, and gift shop.
The 1.5-mile boardwalk takes visitors on an elevated tour through the wetlands' unique ecosystems. You'll pass cypress swampland, as well as three types of habitats: cabbage palm, wetland, and tropical hardwood.
Address: 12800 Hagen Ranch Road, Boynton Beach
Official site: http://discover.pbcgov.org/parks/Pages/GreenCay.aspx
More on Florida