12 Top-Rated Beaches in Florida
We may earn a commission from affiliate links ()
Florida's beaches are one of its top attractions, popular for the soft sand, warm weather, and vacation-mode atmosphere that pervades the coastal towns.
Western Florida's beaches are famous for their incredible sunsets over the Gulf of Mexico, and those in the southern regions are favorites of nature-lovers, who come to see the hatching sea turtles and look for dolphins playing just offshore.
Beaches along the Atlantic coast are more popular with surfers and water sports enthusiasts but tend to be slightly less crowded than their gulf counterparts.
You can find every type of beach environment in Florida, from palm-lined, activity-filled boardwalks to secluded state parks with diverse plant and animal life. Find out more about the state's sun-splashed coast with our list of the best beaches in Florida.
Note: Some businesses may be temporarily closed due to recent global health and safety issues.
1. Miami Beach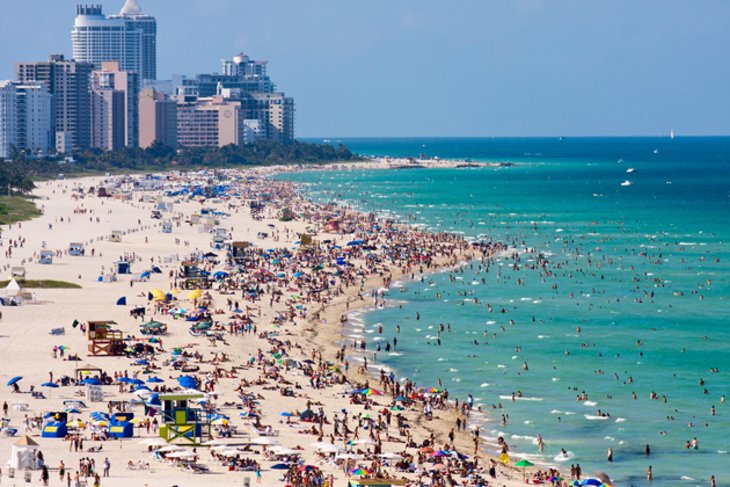 Miami Beach may be one of the more crowded areas, but for those looking for a complete city beach scene, this is the place to be. Miami Beach covers more than seven miles of shoreline, and on hot days, the sand is packed with sunbathers, and onlookers cruise slowly past in their cars to see what's happening.
South Beach is home to the city's Art Deco district, a trendy space adjacent to the pedestrian mall that runs parallel to the beach. Along here, you will find numerous restaurants and things to do, as well as plenty of entertainment day and night.
Accommodation: Top-Rated Resorts in Miami
2. Beaches around Naples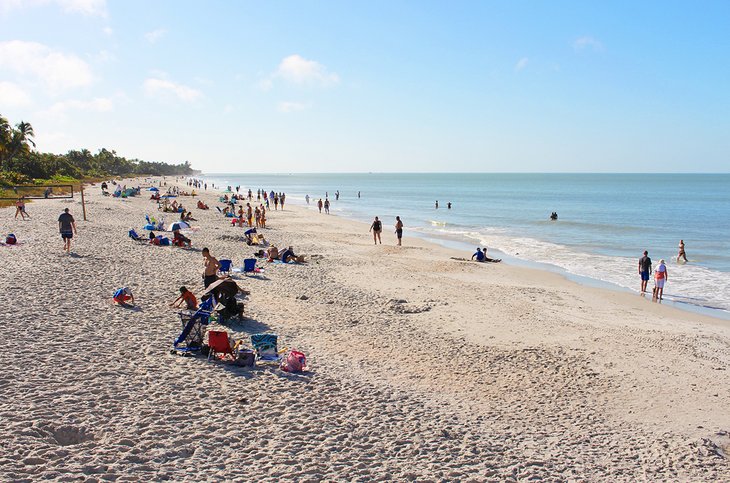 On Southern Florida's Gulf Coast, the beaches around Naples are spectacular. Powdery white sand and calm water line the shores around this lovely small city.
You can walk from downtown Naples to a beautiful and seemingly endless stretch of soft sand stretching out in both directions. If this is your first visit to Naples or if you want an easy outing from town, head to the historic Naples Pier and find a patch of sand to set up. Depending on the day, you may even be able to join in on a game of beach volleyball.
For something a little more nature oriented, try one of the nearby parks, like Lowdermilk Park, Delnor-Wiggins Pass State Park, or Vanderbilt Beach Park. Parks have facilities for visitors and are often backed by lush natural areas.
If you want to stay in Naples, you can find an assortment of beach resorts and hotels in the area. This is a great destination for a winter beach vacation.
3. Fort DeSoto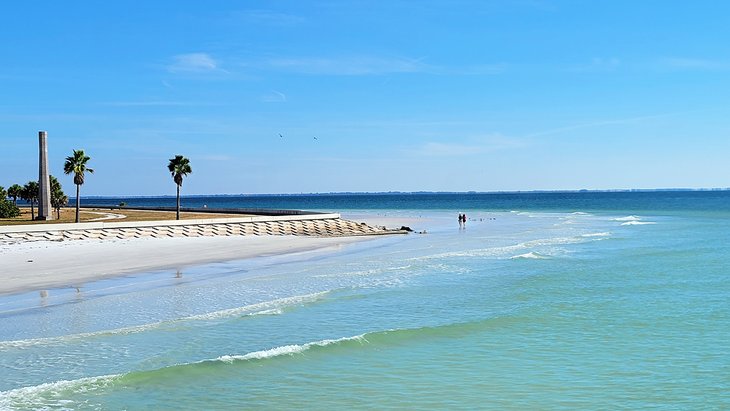 A naturalist's favorite, Fort DeSoto State Park offers an exceptional stretch of beach, which has been preserved as a county park. The park consists of five keys (islands), which total more than 1,100 acres, home to not only white-sand beaches but also a myriad of vital ecological zones, including delicate mangrove swamps.
This is also an important habitat for wildlife, with its beaches the nesting ground for loggerhead turtles from April through September and more than 300 species of birds living among the native plants.
Beach areas offer amenities, including lifeguards, picnic shelters, playgrounds, concessions, and restrooms, while the park is also home to miles of walking trails, two fishing piers, and a historic fort.
Accommodation: Where to Stay near Fort DeSoto
4. Clearwater Beach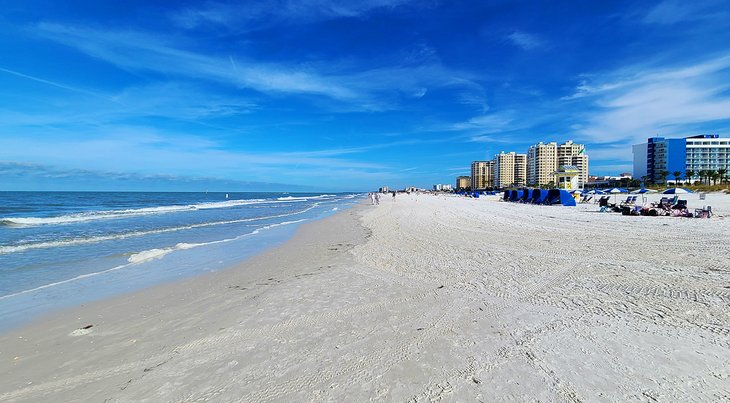 On the Gulf Coast, Clearwater Beach offers an excellent escape from the city rush of nearby Tampa and is one of the best beaches along the western shores of Florida. This wide band of soft sand is excellent for walking, parking a beach chair, and swimming.
The most popular thing to do in this area is a visit to Clearwater Marine Aquarium, home to Winter, a dolphin with a prosthetic tail who became famous as the star of the film Dolphin Tale. Clearwater is also home to the Philadelphia Phillies' spring training, as well as the annual Clearwater Jazz Festival.
Accommodation: Top-Rated Resorts in Clearwater
5. Cocoa Beach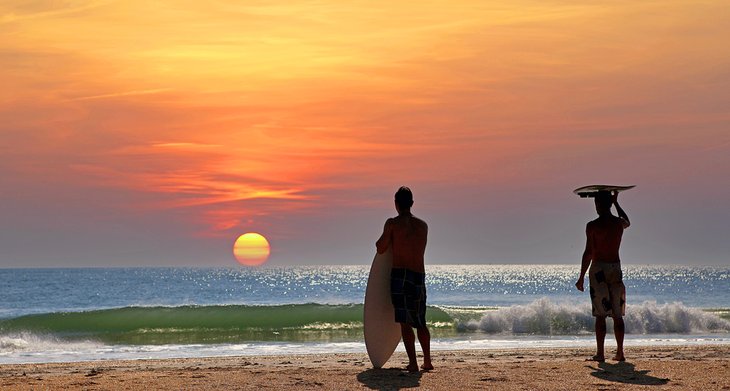 Cocoa Beach sits on Florida's Atlantic shore just south of Cape Canaveral, nicknamed the "space coast." Just an hour drive from the theme park capital of the state and the closest beach, Cocoa Beach is a popular day trip for families staying in one of Orlando's many resorts.
It is also known for its waves, attracting those who want to take advantage of great surfing, kiteboarding, and parasailing conditions.
Other attractions nearby include the Kennedy Space Center and several museums, including some that are air- and space-themed, as well as others focused on art, natural sciences, and more.
6. Fort Lauderdale Beach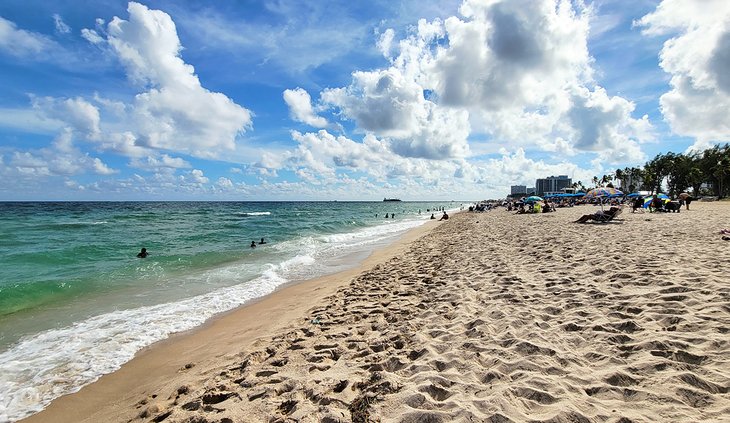 Fort Lauderdale Beach in some ways resembles Miami Beach, backed by a boardwalk lined with hotels and restaurants. The beach is the center of the tourist area in Fort Lauderdale, where people come to soak up the sun, walk or rollerblade along the boardwalk, play games, and enjoy the view.
The beach and boardwalk are also host to various events and entertainment, from street performances to concerts. Two of the beach's seven miles is heavily staffed with lifeguards, which are on duty year-round.
Other activities are available to tourists, including scuba diving, snorkeling, and jet-skiing. This area is also home to several top resorts, which are particularly popular with families.
Accommodation: Where to Stay in Fort Lauderdale: Best Areas & Hotels
7. Venice Beach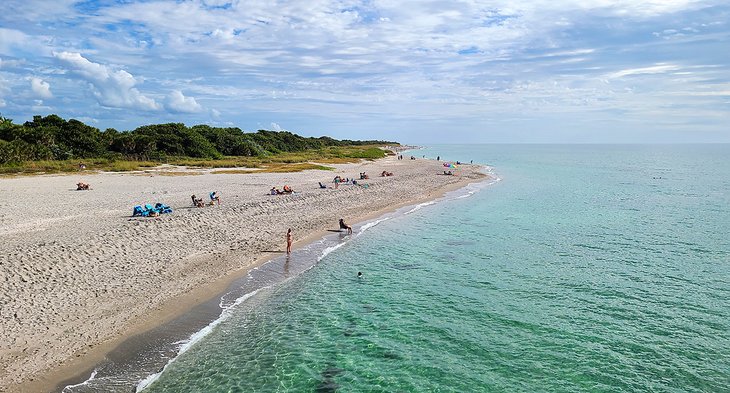 Venice Beach is well-known for small prehistoric sharks' teeth that can be found in the fine sand. Many people come here to search for these teeth, which come from ancient sharks and have decomposed on the seafloor. Beachgoers can also catch sight of wildlife here, including dolphins, turtles, and various shorebirds.
Beach amenities include concessions and a picnic area, volleyball courts, and boardwalks, as well as conveniences like free parking. Venice Beach is also a popular family beach, and Venice Public Fishing Pier is a great place to stroll out over the water for fantastic views up and down the coast.
Accommodation: Where to stay in Venice Beach
8. Fort Myers Beach
Fort Myers Beach is for people who are looking for a true beach town atmosphere. It is located on the shores of Estero island, which is connected to the mainland by bridges.
Fort Myers beach is full of excellent resorts, which are popular with couples and families alike, and it is known for being one of the best beaches in Florida for dolphin-watching.
The soft sand stretches on for miles, but the most popular area is by the pier, where beachgoers sit under umbrellas or enjoy a game of beach volleyball. At the top of the beach are casual restaurants, ice-cream places, and beach apparel stores.
9. Dr. Julian G. Bruce St. George Island State Park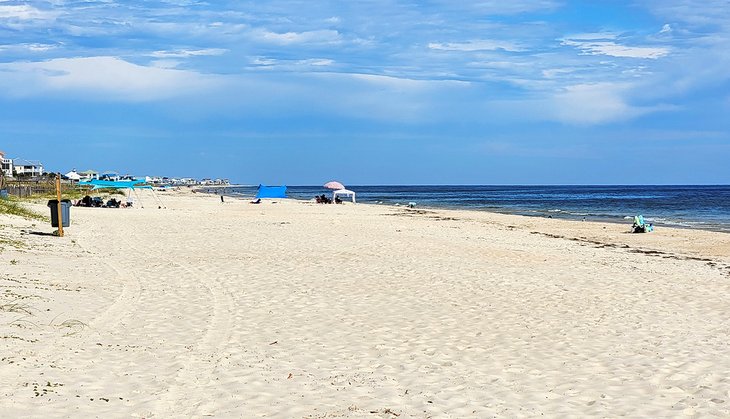 Like all Florida state parks, St. George Island is left undisturbed and undeveloped. This long stretch of white-sand beach offers a stunning location for sunbathing and swimming, as well as miles of pristine beach for shelling and beachcombing.
The park also has camping facilities, boat ramps, and picnicking areas. Facing Apalachicola Bay, this is also a fantastic place for dolphin-spotting, as well as enjoying the wildlife that nests in the sand, including sea turtles and birds like the black skimmer, least tern, and snowy plover.
Located in northern Florida, a short distance from Panama City, this beach is a summertime favorite.
Official site: www.floridastateparks.org/park/St-George-Island
Accommodation: Where to Stay near St George Island
10. Panama City Beach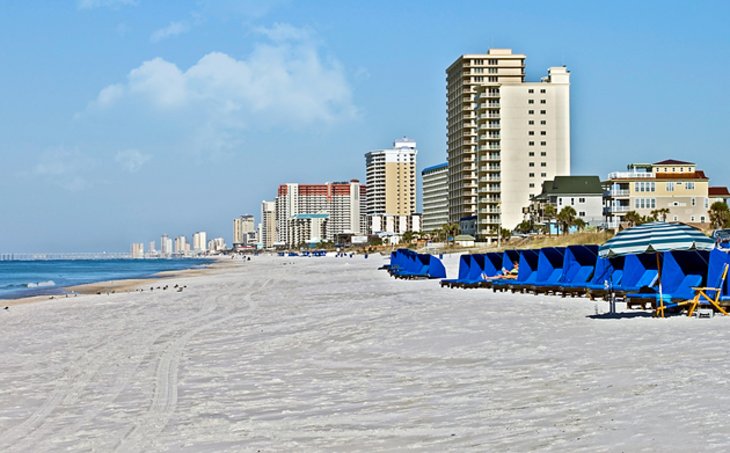 Located in the Florida Panhandle, Panama City Beach is a popular destination during the warmer months. The incredible white-sand beach runs on for 27 miles, providing a playground for all kinds of activities.
Many local businesses offer exciting things to do, including Jet Ski and boat rentals, paddleboarding, diving, fishing charters, and sightseeing cruises. There are also many family-friendly attractions like a water park, marine park, and other activities near the beach.
Aaron Bessant Park Amphitheater hosts free weekly concerts each summer, and there are many annual events, including a pirate festival and even a Florida-style Mardi Gras. For those traveling with four-legged friends, there are dog-friendly areas including a designated doggie beach.
Accommodation: Top-Rated Resorts in Panama City Beach
11. Daytona Beach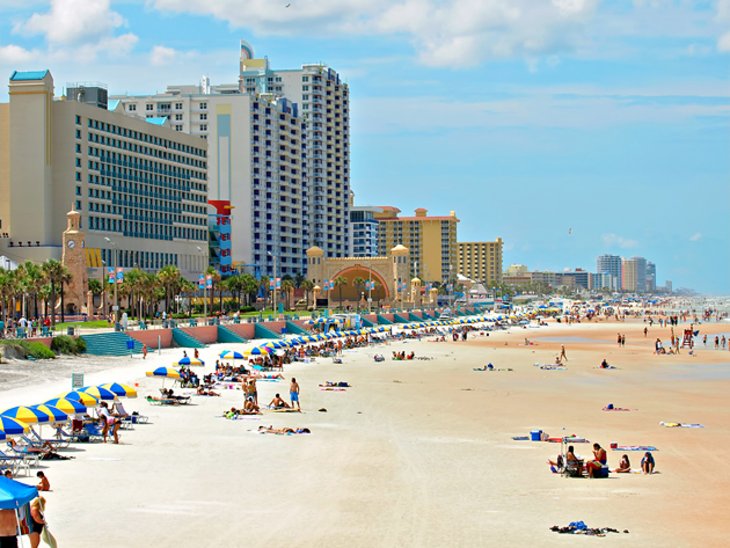 Daytona Beach is a wide stretch of sand with some areas so hard-packed that driving is permitted along the top of the beach. The town itself has long had a reputation associated with spring break, but that has passed, and it now draws a more sedate group of visitors.
The boardwalk and pier are filled with amusements, rides, games, and concessions, which are open all year-round. Some of the many things to do in the surrounding area include historic attractions like the Ponce Inlet Lighthouse and the Mary McLeod Bethune Foundation Home. For those with an interest in high-speed excitement, be sure to visit the Daytona International Speedway.
Accommodation: Top-Rated Hotels in Daytona Beach
12. Bahia Honda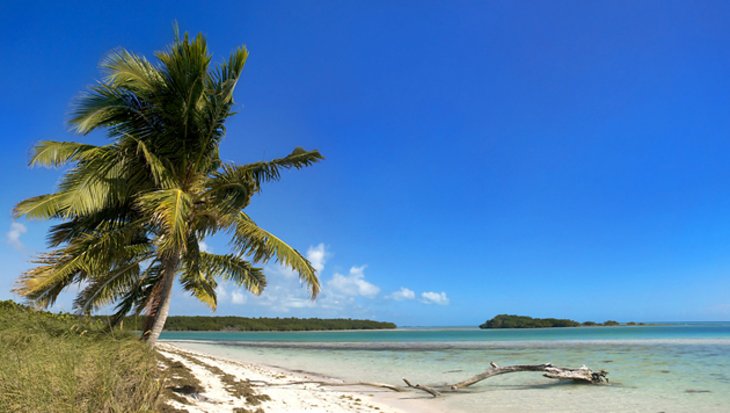 Bahia Honda State Park is located at mile marker 37 in the Florida Keys, near Marathon. This park offers one of Florida's most spectacular beaches and, since it is in a state park, it is left in a natural state. The park actually has two beach areas, each facing opposite directions so there is almost always one beach that is not affected by waves and wind.
The most beautiful section is on the outer shore, where the beach seems to stretch on endlessly, with plenty of area for walking. Unfortunately, this section of beach was badly damaged by hurricane Irma in 2017 and is closed. The park service has not set a firm reopening date.
The water in many areas is shallow for a great distance. The beach is best visited during times of lower tide. The smaller beach on the inside offers great views of the old railroad bridge.
Official site: https://www.floridastateparks.org/BahiaHonda
Accommodation: Where to Stay near Bahia Honda
More Related Articles on PlanetWare.com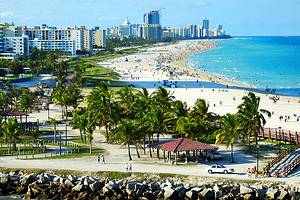 Florida's East Coast: Of its nearly 1,200 miles of coastline, more than 650 miles of Florida's shores are dedicated beaches, both public and private. On Florida's east coast, St. Augustine has many fascinating attractions in addition to its beaches, including several historic buildings and even a museum about pirates.
West Palm Beach features 47 miles of beaches and plenty of other things to do, from entertainment to museums to wildlife experiences. Around an hour south of here and about 20 miles north of Miami, is Fort Lauderdale.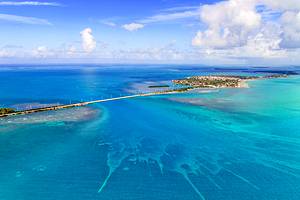 South Florida: At the southern tip of Florida are the Florida Keys, one of the state's most relaxed and enjoyable areas. One of the most popular tourist destinations in this string of islands is Key West, a laid-back town with a Caribbean feel and an interesting past, once home to Ernest Hemingway. Key West is also known for its numerous top-rated resorts, which range from high-end luxury to family-friendly vacation centers.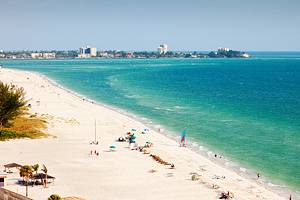 Gulf Coast: On the Gulf Coast, north of Fort Myers, Sarasota is packed with great attractions, like Siesta Key Beach, the Ringling Museums, and a living history museum.
To the north via the scenic Sunshine Skyway Bridge, St. Petersburg sits on the Pinellas Peninsula, which creates Tampa Bay. The city and major tourist destination of Tampa are just across the bay, featuring big family attractions like Busch Gardens, as well as several major wildlife attractions like the Big Cat Sanctuary, an aquarium, and a manatee-viewing area open to the public.