10 Best Beaches in Florida
1 Bahia Honda
Bahia Honda State Park is located at mile marker 37 in the Florida Keys, near Marathon. This park offers one of Florida's most spectacular beaches and, since it is in a state park, it is left in a natural state. The park actually has two beach areas, each facing opposite directions so there is almost always one beach that is not affected by waves and wind. The most beautiful section is on the outer shore, where the beach seems to stretch on endlessly, with plenty of area for walking. The water in many areas is shallow for a great distance. The beach is best visited during times of lower tide. The smaller beach on the inside offers great views of the old railroad bridge.
2 Miami Beach
Miami Beach may not be everyone's first choice for best beach, but for those looking for a complete city beach scene, this is the place to be. On hot days the sand is packed with sunbathers, and onlookers cruise slowly past in their cars to see what's happening.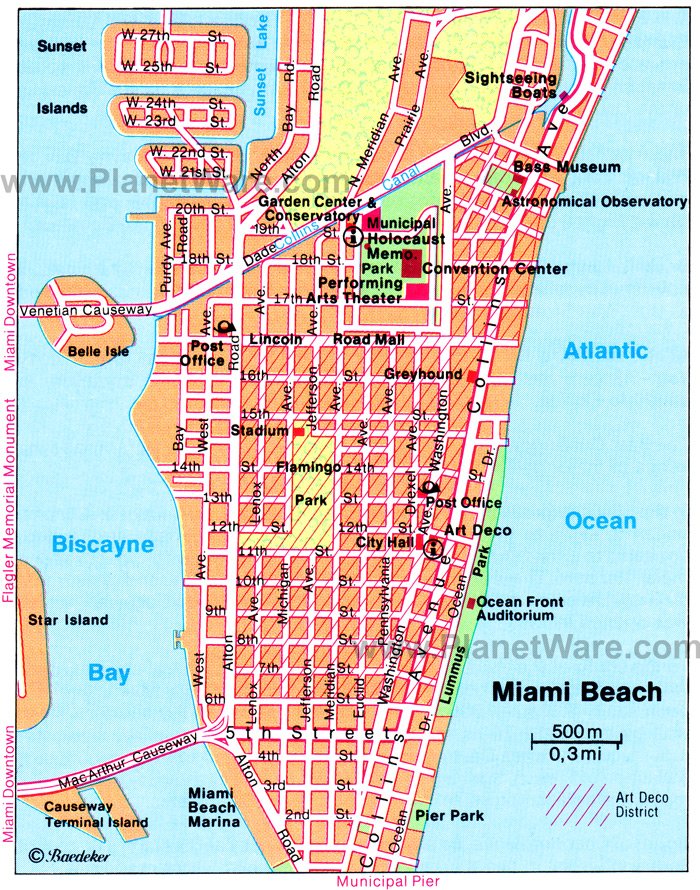 Miami Beach Map - Attractions
Want to use this map on your web site?
Copy and Paste the code below:
3 Fort DeSoto
A naturalists favorite, Fort DeSoto State Park offers an exceptional stretch of beach, left in a natural condition. As a result this is not only a great place for swimming and walking, it is also a good opportunity to see birds and other wildlife.
4 Clearwater Beach
On the Gulf Coast, Clearwater Beach offers an excellent escape from the city rush of nearby Tampa, and is one of the best beaches along the western shores of Florida. This wide band of soft sand is excellent for walking, parking a beach chair, and swimming.
5 Fort Lauderdale Beach
Fort Lauderdale Beach in some ways resembles Miami Beach. Backed by a boardwalk and located in front of hotels, the beach is the center of the tourist area in Fort Lauderdale. People come here to soak up the sun, walk or rollerblade along the walk, play games, and enjoy the view. The beach is also the scene of various events and entertainment.
6 Venice Beach
Venice Beach has a very unique feature. It is well known for small prehistoric sharks teeth that can be found in the fine sand. Many people come here to search for the teeth and those who know what they are looking for can leave with many in their possession. The teeth come from ancient sharks that have decomposed on the seafloor.
7
Editor's Pick

Fort Myers Beach

Fort Myers Beach is for people who are looking for a true beach town and a wonderful beach. The soft sand stretches on for miles but the most popular area is by the pier, where beach goers sit under umbrellas or enjoy a game of beach volleyball. At the top of the beach are casual restaurants, ice cream places, and beach apparel stores.
8 St George Island State Park
Like all Florida state parks St George Island is left undisturbed and undeveloped. This long stretch of white sand beach offers a stunning location for sunbathing and swimming. There are also camping facilities, boat ramps, and picnicking areas. Located in northern Florida, a short distance from Panama City, this beach is a summertime favorite.
9 Panama City Beach
Located in the Florida Panhandle, Panama City Beach is a popular destination during the warmer months. The incredible white sand beach runs on for 27 miles, providing a playground for all kinds of activities.
10 Daytona Beach
Daytona Beach is a wide stretch of sand with some areas so hard packed that driving is permitted along the top of the beach. The town itself has long had a reputation associated with spring break, but that has passed and it now draws a more sedate group of visitors. Due to it's northern location it is most popular from spring until fall.
More on Florida