17 Top-Rated Beaches in Miami, FL
Miami is one of Florida's top tourist destinations. While its Art Deco glam, high-end shopping, and buzzing nightlife are major draws, most visitors flock to this holiday hot spot for its beaches.
Everyone's heard of Miami Beach. Home to bikini-clad models, toned skateboarders, wealthy shoppers, and eccentric artists, this is the place to see and be seen. It's the spot where you can walk the boardwalk, play a pickup game of beach volleyball, or flex your wallet at luxurious oceanfront shops.
While this may be the most famous beach in Miami, it isn't the only (or best) strand on offer. In fact, this bustling South Florida city boasts a slew of diverse strands offering soft sand, translucent water, and a charm all their own.
Whether you enjoy people-watching, windsurfing, or lying quietly on a secluded stretch of sand, Miami offers the perfect place to enjoy your vacation. Choose the best spot to lay down your towel with our list of the best beaches in Miami.
1. Lummus Park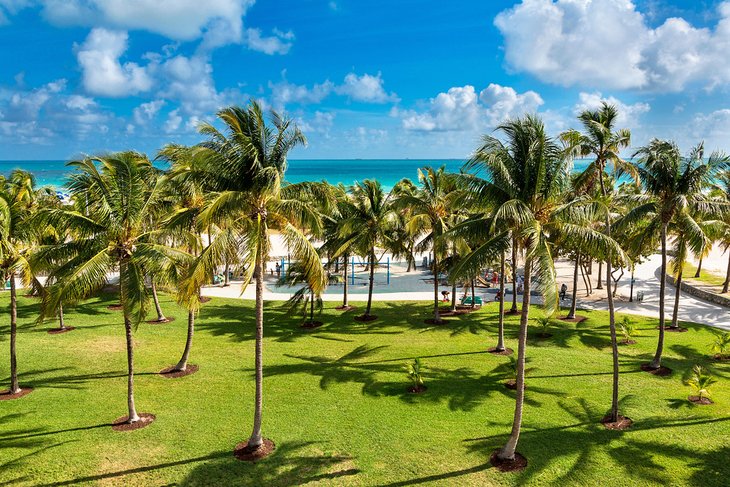 A picture-perfect strand, Lummus Park is located in Miami's South Beach neighborhood, within the city's vibrant Art Deco District. Nestled between 5th and 14th Streets, along Ocean Drive, it's here that you'll find the most postcard-worthy vistas.
This is also the place to find the stereotypes most often associated with this area: perfectly proportioned models pose for the camera, celebrities run along the pristine tan sand, and rollerbladers wind their way along the paved beachside path. People-watching is as popular a pastime at this fun and beautiful locale as swimming, sunbathing, and bodyboarding.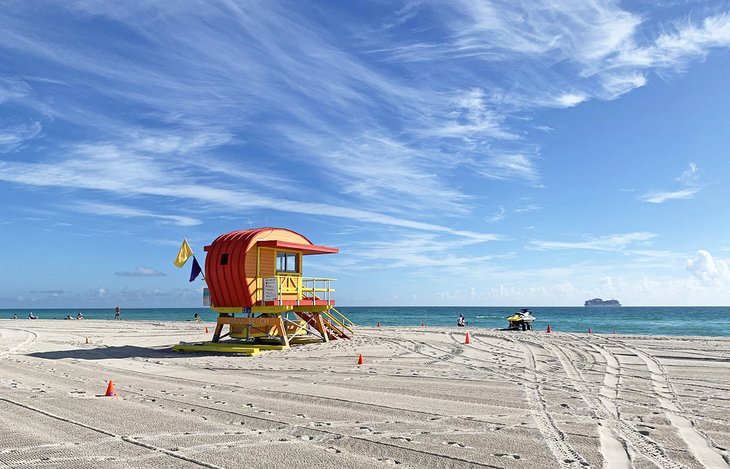 Join a pickup game of volleyball in the park's sand courts, wander the tree-lined promenade, or grab a bite at one of the numerous beachfront restaurants across the street.
This is a popular spot for film shoots (including Miami Vice), so be prepared to run into a movie set or two.
When you're feeling overheated, grab an ice cream from one of the trucks located directly on the sand or, better yet, rent a beach chair and umbrella from one of the numerous companies set up on the beach. Hop in the water to cool off, knowing that multiple lifeguards are on duty to keep you safe.
Insider's Tip: Aim to visit on a weekend, when locals sell their wares (including everything from tasty treats to freshly painted watercolors) at beachfront market stands.
2. Bal Harbour Beach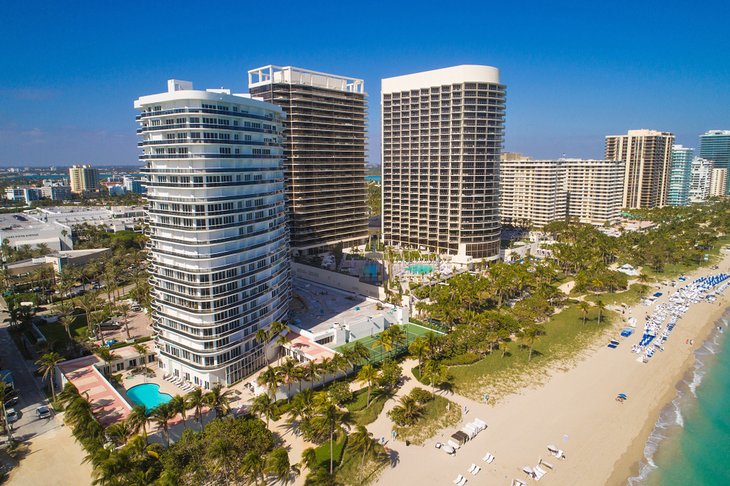 Want to rub elbows with the uber rich? Head to Bal Harbour beach. Sandwiched between Sunny Isles Beach (to the north) and Surfside (to the south), Bal Harbour is a small stretch of strand backed by the most luxurious beachfront hotels in Miami (The Ritz-Carlton and The St. Regis Bal Harbour Resort) and high-end residences.
Want to feel poor? Head to Bal Harbor Village. It's here that you'll find top restaurants and a bevy of chic and pricey shops known conveniently as Bal Harbour Shops. Luckily you don't need a gold card to window shop. You will need to wear shoes and cover up your bathing suit, however.
The beach itself, which is roughly three miles north of North Beach, is as luxurious as you'd expect from such an exclusive neighborhood. Plus, it boasts the softest, whitest sand.
3. South Beach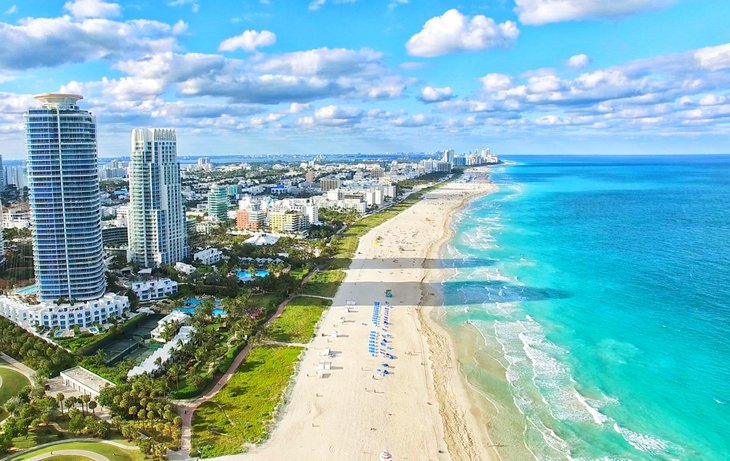 You can't visit Miami without spending time at South Beach. Known by locals as SoBe, this iconic strand is the place to see and be seen. It's the spot where Art Deco architecture meets high-end modern design. It's the site of some of the city's best restaurants, coolest galleries, and most vibrant nightlife.
More importantly, South Beach is the beach that all other Miami strands are compared to. After all, it's the most famous beach in Miami. Offering miles of plush sand, a happening boardwalk, and plenty of things to do (like swim, shop, sunbathe, dine, and play volleyball), it's not hard to see why South Beach is so popular.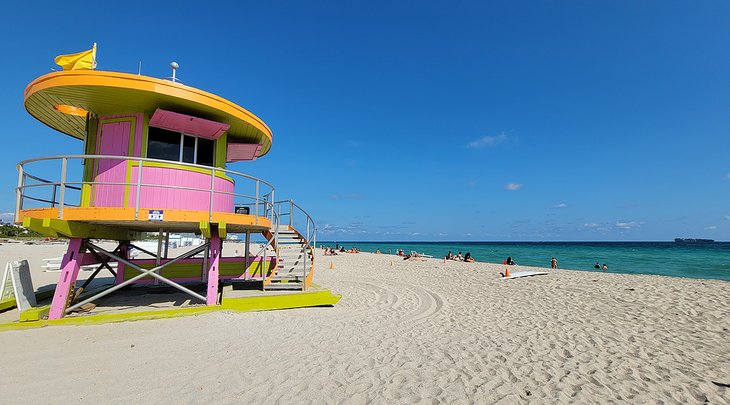 Add in the adorable and uber colorful lifeguard towers spotted across the sand and you've got yourself a picturesque setting worthy of a zillion selfies. Another bonus, you can get pretty much everything you need right from your chair. Want to rent an umbrella? There are plenty of companies set up right on the sand. Looking for ice cream? Trailers are parked on the beach. Hoping for a refreshing drink? You can find those in beach trailers as well.
Looking for a sliver of peace and tranquility? You won't find it here, unless you go early. If you're hoping to don rollerblades while clad in a bathing suit, dodging the city's fittest folks, however, this is the place for you.
South Beach lies on the southern edge of a barrier island located just east of downtown Miami. This is where all of Miami's beaches are found. South Beach begins at South Pointe Park and ends where Lummus Park begins. It is sandwiched between the Atlantic Ocean and Biscayne Bay.
Accommodation: Best Resorts in Miami
4. Crandon Park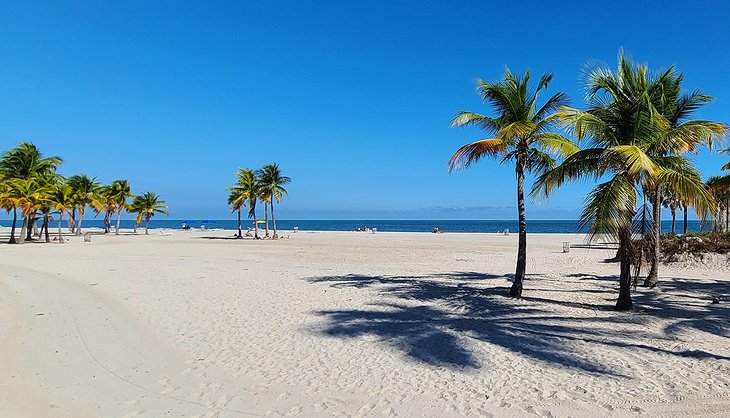 If you're looking for a beautiful escape from overcrowded South Beach, you'll find it at Crandon Park. Boasting over 800 acres, this quiet, laid-back, and photo-worthy gem runs into Key Biscayne. To get here, you'll have to cross the Rickenbacker Causeway, which connects this majestic spot to the mainland.
The turquoise waters are translucent, calm, and shallow, making them a perfect spot for families to splash about. Kids and adults will love the tennis, nature, and golf centers. There are plenty of things to do on this Miami beach - it's also home to a winding, picturesque boardwalk.
Insider's tip: On-site grills are popular, especially in the evening, so be sure to stake your claim on one early. Also, bring food with you as there's not a lot to purchase nearby.
5. 21st to 45th Street Beach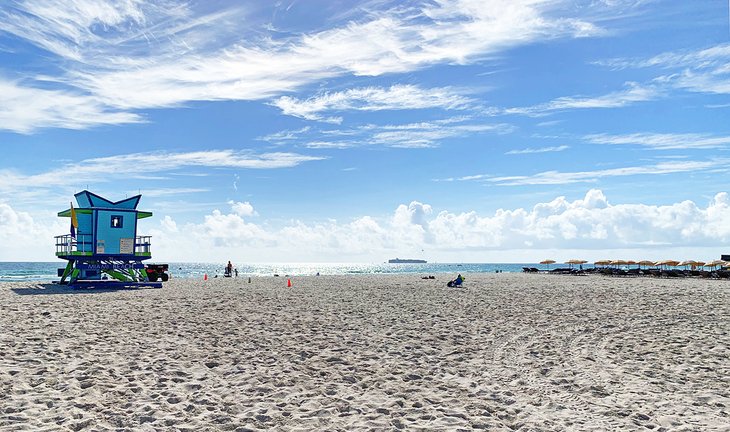 At first glance, the 21st to 45th Street Beach isn't all that impressive. Yes, it has clean, soft sand. Yes, it's fronted by translucent azure water. And yes, it boasts a sweet fishing pier, but you won't find the snack shops, concession stands, or lifeguard huts that pepper South Beach.
What you will find at this chilled-out beauty is jog-worthy sand, calm water, and luxurious oceanfront hotels and beach clubs. This lengthy beach also features a long section of the Miami Beach boardwalk, a perfect place to take a walk and partake in one of the most popular things to do in Miami beaches - people-watch.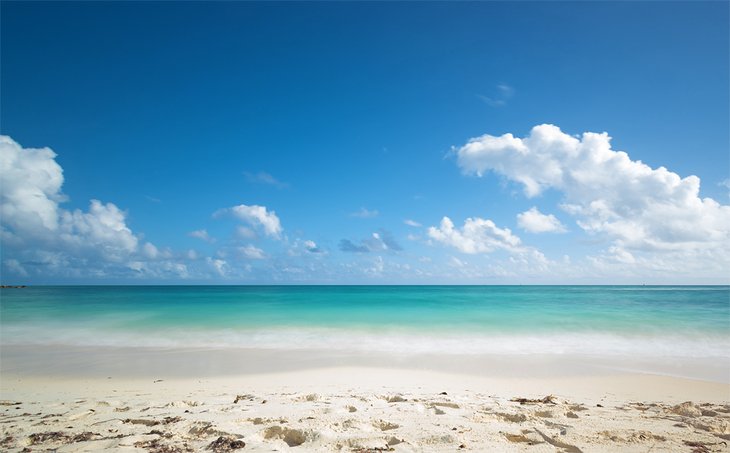 Speaking of people-watching, this is the place to be for those hoping to see a celebrity. Celebs the likes of Beyonce, Jay-Z, John Legend, and Leonardo DiCaprio have all been spotted sunning themselves on this strand.
When you really must quell those hunger pangs, head a couple blocks east, across 21st street to Collins Avenue, where you'll find Joe & the Juice. There's nothing more refreshing than freshly squeezed juice, and their sandwiches are worth salivating over. Seriously, their bread is unbeatable, and you can bring it back to your towel.
6. Haulover Beach Park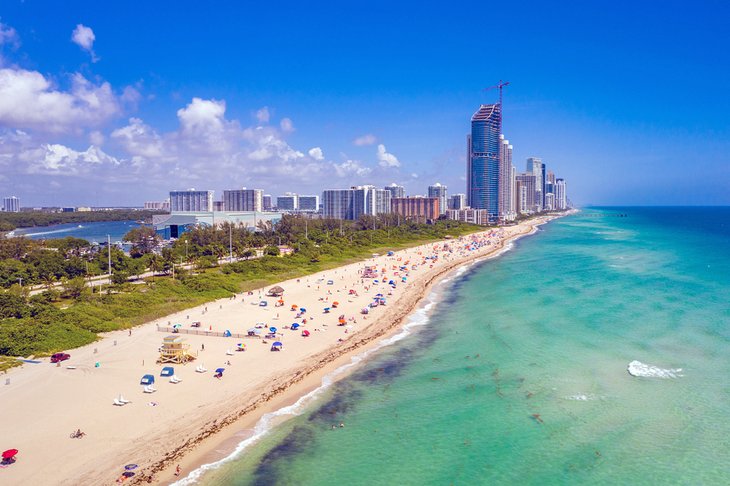 Dog lovers and families abound at this famous beach in Miami. Backed by picturesque rolling dunes, Haulover Beach Park lies between Sunny Isles and Bal Harbour. It's sandwiched between the Atlantic Ocean and Intracoastal Waterway.
In addition to its dog-friendly section, situated between lifeguard towers two and three, the area also boasts Bark Park, a sweet playground that's perfect for your four-legged companions.
Human visitors are rewarded with stunning vistas, pristine white sand, warm turquoise water, plus all the necessary amenities, including concession stands, bathrooms, picnic tables, and water sport rentals. Don't miss lunch at the food trucks. It's delish.
A popular spot to spend a day, Haulover Beach can get busy, so head out early. The good news: there's plenty of parking (for a small fee).
7. South Pointe Park Pier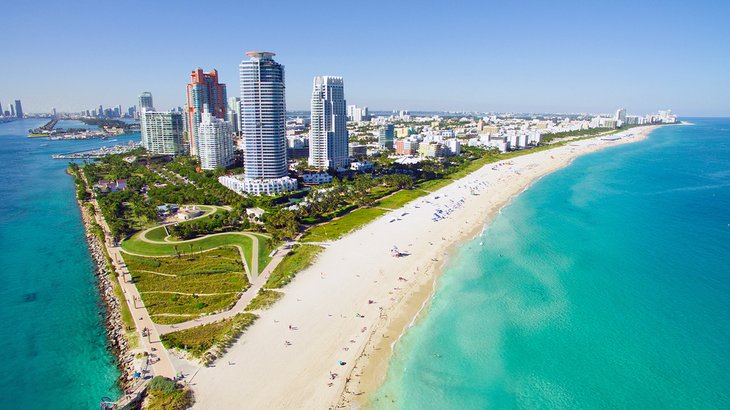 Visiting South Pointe Park Pier is one of the best things to do in Miami beach. Perhaps the greenest of the area's strands, this lush spot boasts 17 acres of a natural wonderland begging to be explored.
South Pointe features the requisite white, sandy beach you've been dreaming of. It's the well-tended walking trails and stunning views of the Atlantic Ocean, though, that make this beach stand out from the others.
Renovated in 2014, the 450-foot-long pier is a haven for anglers. It comes complete with special stations for cutting bait and washing fish. Traveling with kids? They'll love the fun playground, refreshing water features, and dog park.
Insider's tip: Sick of crunching sand while eating a picnic lunch? Settle in on one of the park's many grassy knolls for a sand-free place to eat.
8. Surfside Beach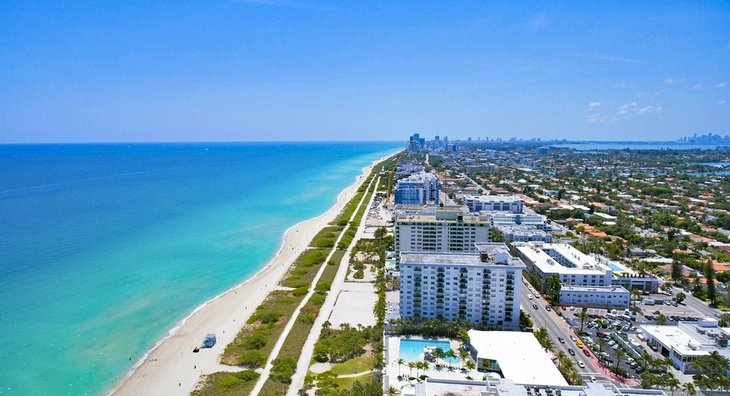 A mile-long stretch of sand greets visitors to this tempting refuge just north of North Beach. One of its best features is the paved walking and bike path, which separates the sand from the nearby roads and buildings.
Locals flock to this area, which they refer to as Miami's "uptown beach town" for its quieter, more natural vibe, although it is still backed by low-rise condos and hotels. If the locals choose to spend their time here, you know it must be good!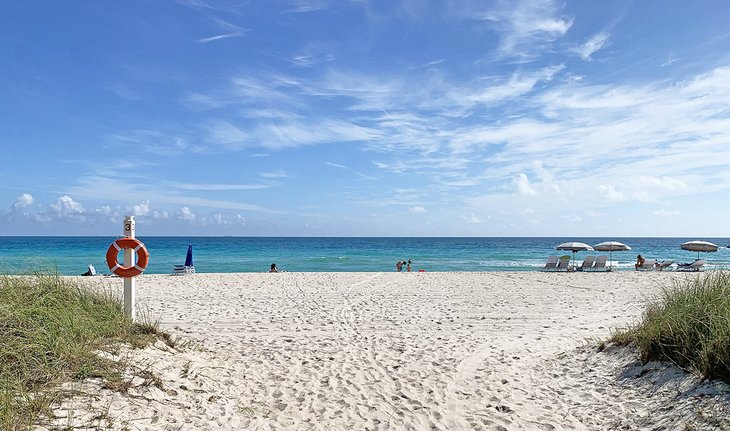 The beach is backed by Surfside, a quaint beach town that beckons travelers to enjoy a tasty meal, shop in an eclectic boutique, or soak up sun rays while wandering through its walkable downtown. Literally everything is reachable by foot from the beach - from a grocery store to a high-end clothing shop.
Insider's tip: When the kids get bored of skateboarding, surfing, and swimming, keep them occupied at the Surfside Community Center. It's home to an impressive water park.
9. Matheson Hammock Park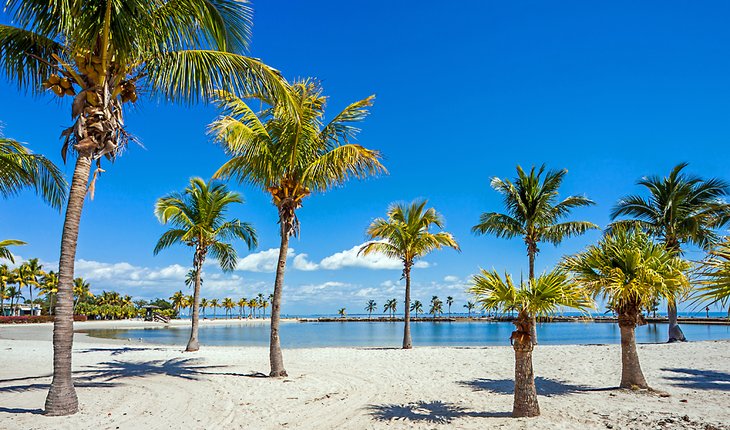 Bet you've never seen a round beach before! Matheson Hammock Park boasts just that. Golden sand surrounds a man-made atoll pool. Similar to a sandbar, the pool is surrounded by a ring-shaped coral reef, which allows the water from Biscayne Bay to enter and exit with the tide.
Talk about a dreamy place to swim. There's no need to fear a shark invasion or giant, kid-toppling waves. This calm and beautiful spot is perfect for those traveling with little ones.
Matheson Hammock Park is a palatable size, with all the facilities you'd hope for, including picnic areas, lifeguards, and a tree-lined walking trail. Plus, it boasts an impressive view of the Miami skyline.
Insider's tip: Flotation devices are banned from this beach, so if you're hoping to boogie board or lounge on a pool float, you'll have to head elsewhere.
10. Sunny Isles Beach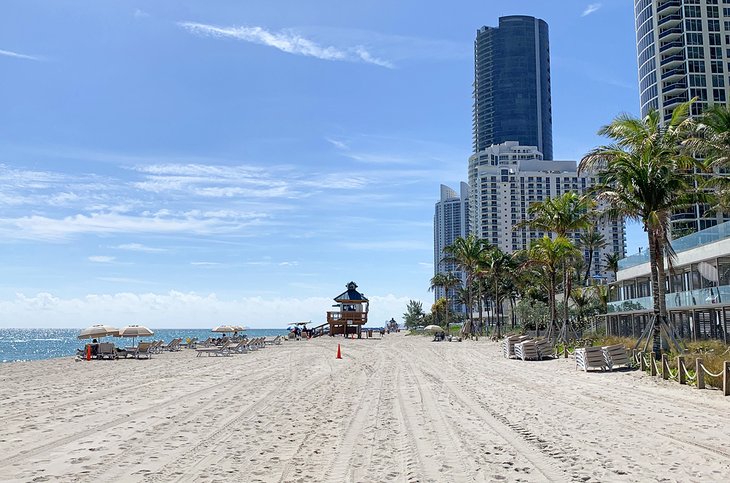 Who wouldn't want to visit a beach named Sunny Isles? It's clean; the water is the most inviting shade of turquoise; and its long, beautiful pier (The Newport Fishing Pier) is a wonderful spot to cast a line.
A barrier island located halfway between Miami and Fort Lauderdale, this beautiful getaway boasts two miles of luxuriously soft sand. There's no shortage of things to do in this lovely spot. From swimming to sunbathing to diving to kitesurfing to playing tennis, it's impossible to get bored. Plus, lifeguards are on site to keep little (and big) people safe.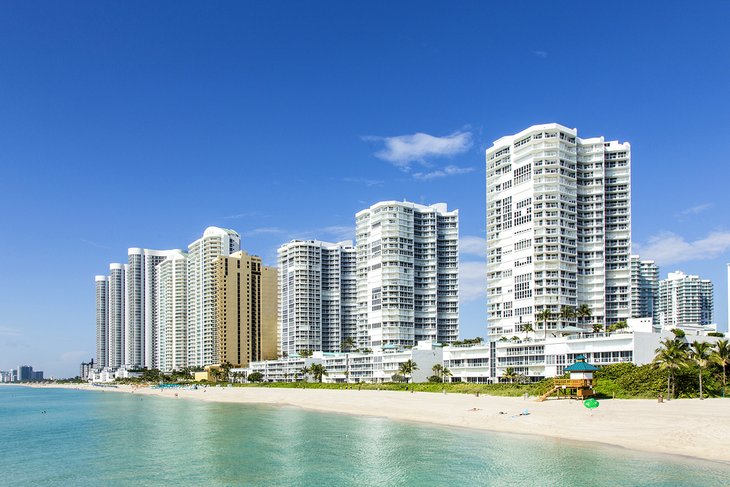 Did we mention that Sunny Isles beach is uber close to luxury hotels, award-winning restaurants, impeccable golf courses, and eclectic museums? It's also home to a bunch of impressive stores. Told you there's a ton to do!
While you can't miss the giant high-rises looming behind the soft sand, they fade into the background when you're soaking in the bliss that comes from feeling salty breezes tickle your skin and warm waves lap at your toes.
Insider's tip: Hit the sand for an early morning yoga session. It's free on Wednesdays by Samson Oceanfront Park.
11. Oleta River State Park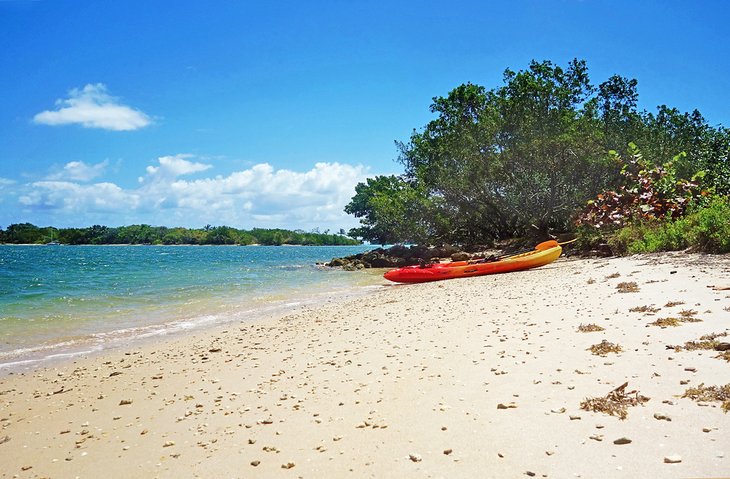 It's easy to forget you're in Miami when traipsing through the over 1,000 acres that make up Oleta River State Park. The largest urban park in Florida, this nirvana sits on Biscayne Bay and offers a multitude of secluded beaches to enjoy. It's become a haven for big city folk looking for a little peace and tranquility.
When you're bored of beachin', there are plenty of opportunities to move your muscles. Whether you choose to rent a kayak, cycle along the 15 miles of bike trails, or hike through the shady mangrove forest, there's a ton to keep visitors active.
As for swimming, this is a safe spot for families. The area features a sandbar close to shore, with shallow water that's both clear and calm.
Also popular with anglers, this beautiful spot is known to have good fishing, especially off the pier.
12. North Beach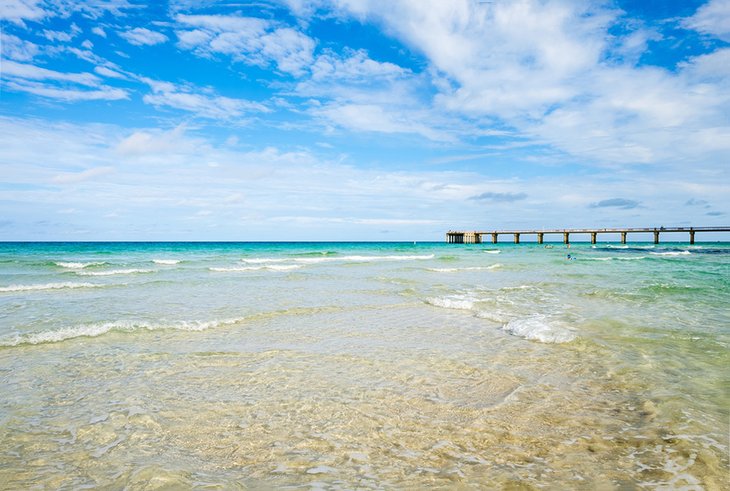 North Beach is SoBe's quieter, more reserved yet widely beautiful sibling. Located to the north of its more popular counterpart (obviously), North Beach also features a boardwalk frequented by runners, rollerbladers, bikers, and dog walkers. It, too, offers great people-watching opportunities.
North Beach features all the things a great beach should: soft sand, clean water, restrooms, showers, and concessions. It's also close to many shops and restaurants.
Plus, it's home to North Beach Oceanside Park, which consists of 28 acres lying between 78th and 87th streets. Peppered with tall trees and pavilions, this is a fun place to hide from the sun's hot rays and enjoy a BBQ (there are grills on hand) or let kids run around the playground.
Insider's tip: As is the case on most Florida beaches, seaweed can pile up at certain times, so be prepared to step (and swim) around it.
13. Hobie Beach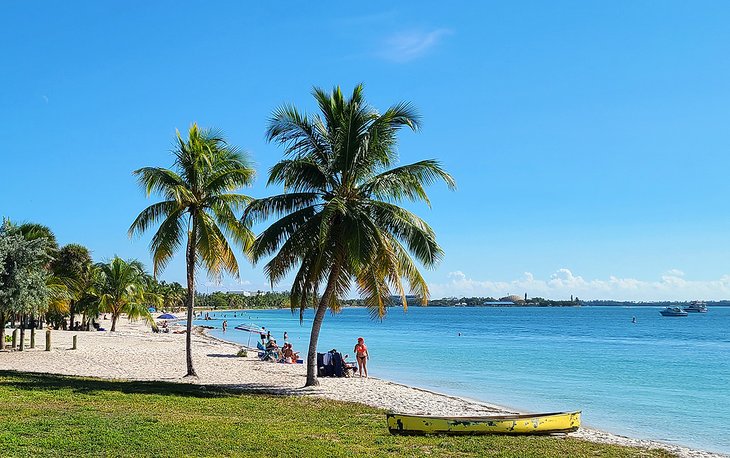 Dog lovers unite! Hobie Beach is one of the best dog-friendly beaches in Miami. It's also a hot spot for water sports enthusiasts. From surfing to jet skiing to boating to windsurfing, there's a bevy of sports on offer at this exciting locale. In fact, it's also known locally as Windsurfer Beach in honor of the fast-paced fun you can have on the water. Not enough action for you? No worries. You can even rent a catamaran and schedule a lesson to learn how to sail it.
The water (which is often murky) is quite shallow, which makes it ideal for those traveling with kids – including the four-legged kind. While out on the water, whether you're in a kayak or on a windsurfer, take time to appreciate the impressive views, ranging from Miami's looming skyscrapers to the natural mangrove estuaries.
Insider's tip: The beach is quite rocky here. If you're hoping to spend the day lazing about on soft sand, you may want to choose another beach. Also, if you're looking for the wider, softer section of Hobie Beach, head to the south end. This is also where you'll find plenty of parking and a welcoming row of waving palm trees backing the sand.
14. Bill Baggs Cape Florida State Park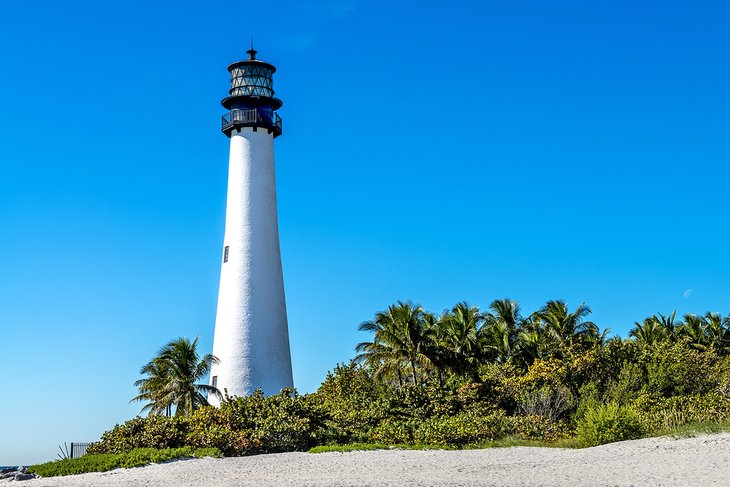 Technically located just outside Miami, Bill Baggs Cape Florida State Park sits on the southern edge of Key Biscayne and is one of the most popular beaches near Miami. Getting here is easy: it's only a few minutes' drive from downtown, across the Key Biscayne Bridge.
A popular destination for those looking for a more low-key beach experience, this rustic beauty proffers visitors a welcome respite from the excitement found at Miami's bigger beaches. This tranquility helps boost the area's ranking as one of the best beaches in Miami for families. Don't worry, that doesn't mean you'll be bored. There are plenty of activities on offer, from cycling to windsurfing to kayaking to fishing.
Feeling peckish? Grab a bite at the adorable Lighthouse Café, which offers truly delicious fare.
Insider's tip: No Name Harbor boasts boat launches and allows guests to drop anchor and camp in their boats overnight (for a small fee).
15. 12th Street Beach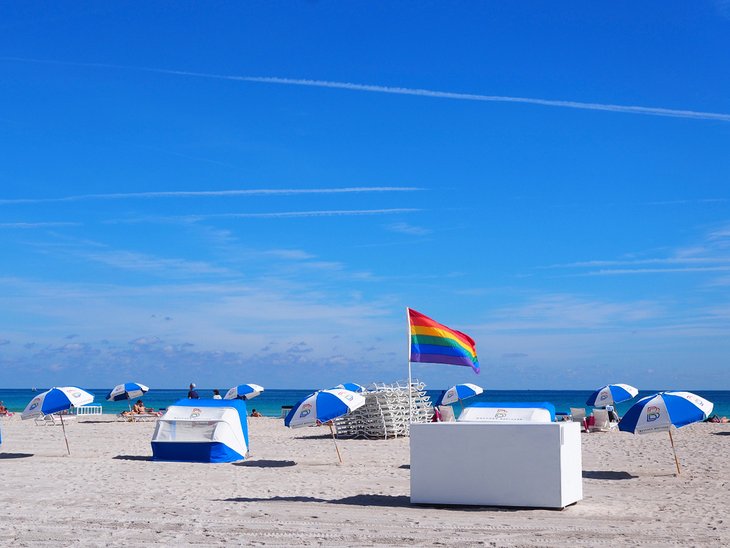 The 12th Street Beach has everything you'd look for in one of Miami's best beaches: clean, soft sand; cerulean waves; a boardwalk; lifeguards; and many nearby shops and restaurants. What makes this section of beach different, is its most popular clientele. At this beachy haven for the LGBTQ+ crowd, you'll find inclusivity at its best.
Rainbow flags fly near the lifeguard towers; fab events, like the White Party and Winter Party Festival, are held on the sand; and the Pride Festival (part of Miami Beach Pride) is hosted in nearby Lummus Park.
Everyone is welcome to spread their towel on the vast expanse of sand, dip their toes in the ocean, or play a game of pickup volleyball. If you'd like to rent a cabana or chairs, that's available here, too–be prepared to pay a hefty fee for the luxury.
16. Hollywood Beach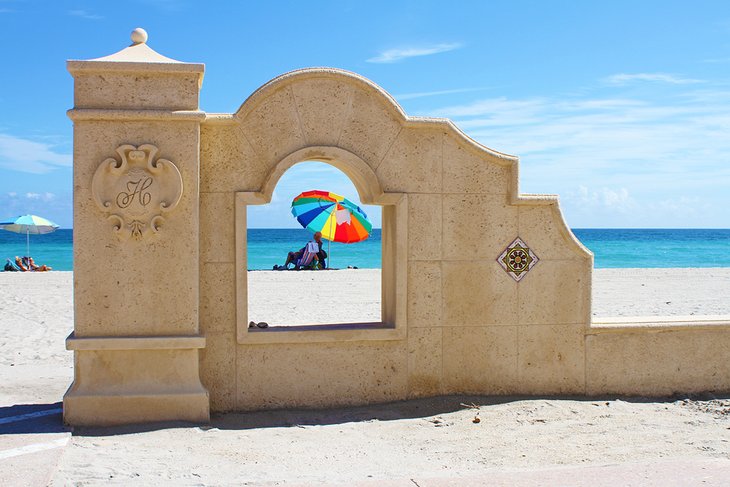 A quick, 15-minute drive north of Sunny Isles Beach, this oasis of soft, white sand is one of the best attractions in Hollywood for many reasons. Although technically not in the Miami city limits, Hollywood Beach is still considered by many to be one of the best beaches in Fort Lauderdale and Miami.
If you're expecting to spot A-list celebs sunning themselves by the bright, turquoise waves, you'll be disappointed. This Hollywood is much less famous, and glitzy, than its Californian cousin.
Those hoping for a crowd-pleasing, people-watching retreat filled with fun activities (like SUPing, swimming, and kayaking), and a wide expanse of sand, however, are in for a treat.
Another perk: Hollywood Beach is lined by quaint cafés, restaurants, and shops, so you won't be at a loss when it comes time to quench your thirst or fill your belly.
17. Historic Virginia Key Beach Park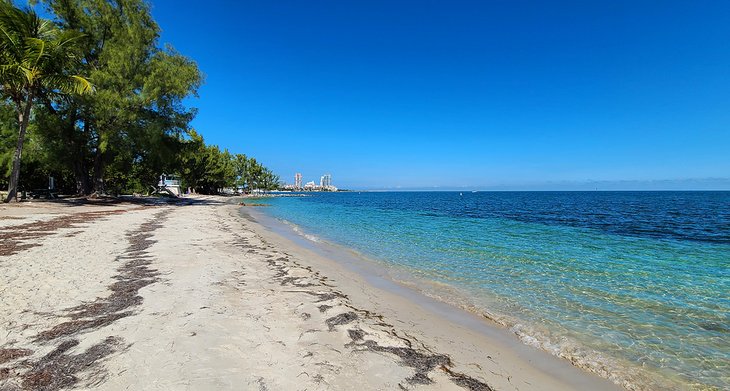 This mile-long, palm-tree-lined oasis sits just off the Rickenbacker Causeway, south of Lummus Park. Housed on its own island, Virginia Key Beach Park is a breath of fresh air compared to other, more popular Miami beaches. It's also one of the most serene beaches in Miami, although you'll have to pay an admission fee for access to this Biscayne Bay beach.
It's hard not to fall in love with this region's old-time charm. An antique carousel and miniature train (which you can ride around the area) harken back to days when we spent more time admiring the incredible vistas than the screens of our phones.
The beach also boasts two big playgrounds to help keep the littles entertained and a museum dedicated to teaching visitors about the history of African American Floridians. In 1945, this beach served as Miami's "colored-only" beach and holds an important place in the town's history.
If you're hoping to spend the day swimming, this isn't the beach for you. Wading is permitted, but swimming and fishing are not.
Insider's tip: Pack water shoes. The ocean floor is a bit rocky here, so you'll want added protection, especially if you're planning to hang out for a while.
Map of Beaches in Miami, FL
Miami, FL - Climate Chart
Average minimum and maximum temperatures for Miami, FL in °C
J
F
M
A
M
J
J
A
S
O
N
D

24

16

26

16

27

18

29

20

31

22

32

24

33

25

33

24

32

24

29

22

27

20

26

17

PlanetWare.com
Average monthly precipitation totals for Miami, FL in mm.

48

53

65

85

140

217

147

219

213

157

87

55
More Related Articles on PlanetWare.com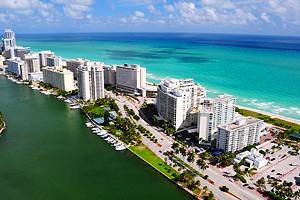 Other Things to Do in Miami: Hoping to spend some time away from the sand and surf? We don't blame you - that sun can get pretty draining. Check out Miami's top tourist attractions or head a bit further afield on one of these fun day trips.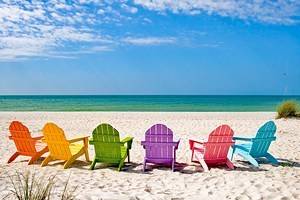 More of Florida's Best Beaches: Florida's not very big. In fact, you can drive from one coast to the other in about two hours, or from Miami to Orlando in just under four. That makes it super easy to explore some of the state's best beaches. Whether you're looking for a beach that's perfect for kids or want to explore the best beaches in Key West, you're bound to find something you love.