14 Best Honeymoon Destinations in Florida
We may earn a commission from affiliate links ()
The venue's reserved, the caterers are booked, and you've found someone to officiate your wedding. Now it's time to focus on the most relaxing part of your nuptials — the honeymoon. Whether you're hoping to soak up your newly married bliss beachside or want to snorkel in tandem with your new spouse, a honeymoon is literally a once-in-a-lifetime trip (well, hopefully).
Choosing where to go for such a special occasion can be uber-stressful. After all, this is your first trip as a married couple. No matter where you go, you'll want your honeymoon destination to be as flawless as your sparkling wedding rings. That's likely why you're considering the Sunshine State. There's so much to love in Florida, and we're not just talking about your new spouse.
Florida has everything you'd ever want in a romantic destination: luxury resorts, pristine beaches, amusement parks, award-winning dining, and eclectic artist havens. Oh, and don't forget the sun. Florida has lots and lots of sun.
Decide where to go with our list of the best honeymoon destinations in Florida.
Note: Some businesses may be temporarily closed due to recent global health and safety issues.
1. Miami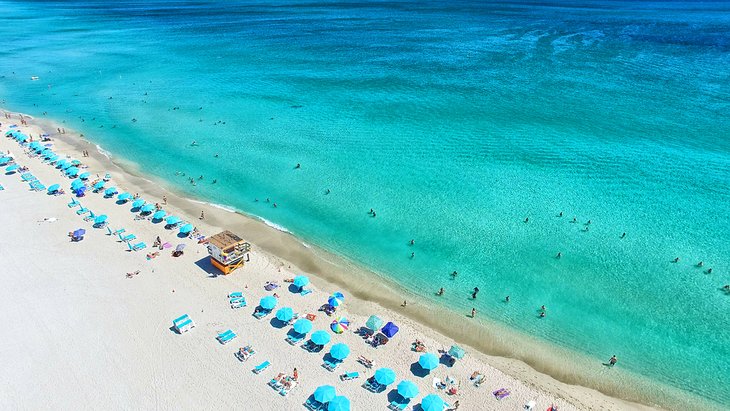 Miami is a place to see and be seen. It's a spot for hipsters to hang out, ogling at the Art Deco buildings. It's where the high-heeled elite totter along the boardwalk, weighed down by shopping bags. This south Florida hot spot is also a fabulous place for a honeymoon.
You're pretty much guaranteed good weather in Miami. Comfortably warm temps in the high 70s to 80s Fahrenheit and little rain enshroud the area between November and May. That said, January can get a bit cool.
One of Maimi's main attractions for pretty much everyone (including honeymooners) is the infamous South Beach, found on the south end of Miami Beach. It's here that you'll find romantic hotels, exciting nightlife, non-stop entertainment, and oodles of tasty restaurants. The beach is clean, expansive, and worthy of a day spent beachin' with your true love.
Accommodation: Top-Rated Resorts in Miami
2. Key West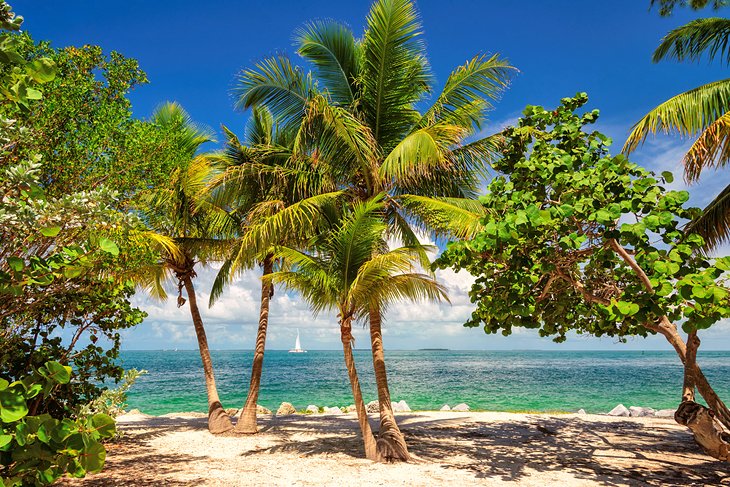 Key West feels and smells like the Caribbean. Even its funky center boasts a Bohemian vibe, making you feel as if you've traveled even farther south than the Sunshine State.
As the southernmost point of the US, this most popular of the Florida Keys is your best bet for warm temperatures and boatloads of sun. Just don't visit during hurricane season (June through November).
One of the most romantic things to do in Key West is cozy up together on the soft, silky sand at one of the beaches and watch the sun set over the vibrant azure water. Then, head into the always happening town (don't miss Mallory Square) for live music, delicious food, and entertaining street performances. There's plenty to do, see, and buy in this popular vacation spot.
Accommodation: Top-Rated Resorts in Key West
3. Destin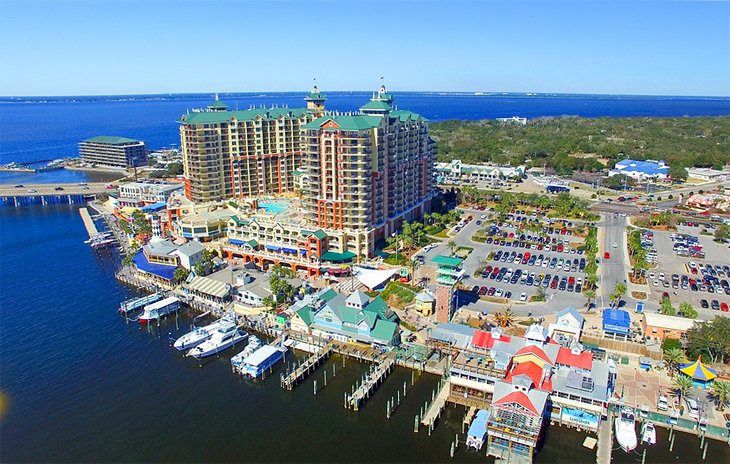 Destin is a city with heart — and miles of pristine sandy beaches lapped by emerald green waters. A northwest Florida gem, this pretty spot is located on the Emerald Coast.
Destin is known by locals as "the world's luckiest fishing village," so if either of you is an angler, hitch a ride out to the deep, and you'll be guaranteed a good catch.
Located on the Florida Panhandle, Destin boasts ideal weather (we're talking highs in the mid 70s to high 80s Fahrenheit) from late March through October. May and October are the region's driest months. A word of warning, though: hurricane season, which lasts from June through November, peaks in September.
Destin's remarkable beaches are its main draw, coaxing honeymooners to relax on their pristine shores. Hugging the Gulf of Mexico, just two and a half hours west of Tallahassee, this idyllic spot offers plenty of opportunities for water sports, beach walks, and bird-watching.
When you're sick of the sand, head into town for food, entertainment, and a chance to practice a little retail therapy.
Accommodation: Top-Rated Resorts in Destin
4. Captiva Island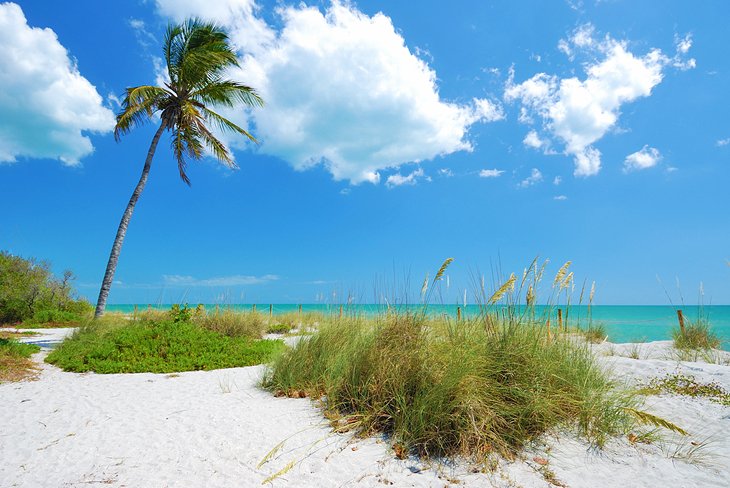 Legend has it that Captiva Island was once used to imprison women kidnapped by the pirate José Gaspar (a.k.a. Gasparilla) until their ransoms had been paid. Today, there's no trace of the island's supposedly dark past. Instead, we'd rather say that "Captiva" came from "captivating." That's not true, but it should be, considering its immense beauty.
This idyllic spot lies just over a small bridge from its larger sister island, Sanibel Island. You really can't visit one without seeing the other. Captiva is compact and quaint, with just one main road (Andy Ross Lane) that features more traffic from bicycles than cars.
Located on the southwest Gulf Coast, Captiva Island boasts a ton of sun and a pretty warm climate year-round. Things cool off a bit (lows of mid 50s and highs in the low 70s) between late November and March. The summer months can be insanely hot, especially July and August.
While you're here, stay at the South Seas Island Resort, a romantic retreat where you can swim, kayak, golf, or get hitched on the beach.
5. Clearwater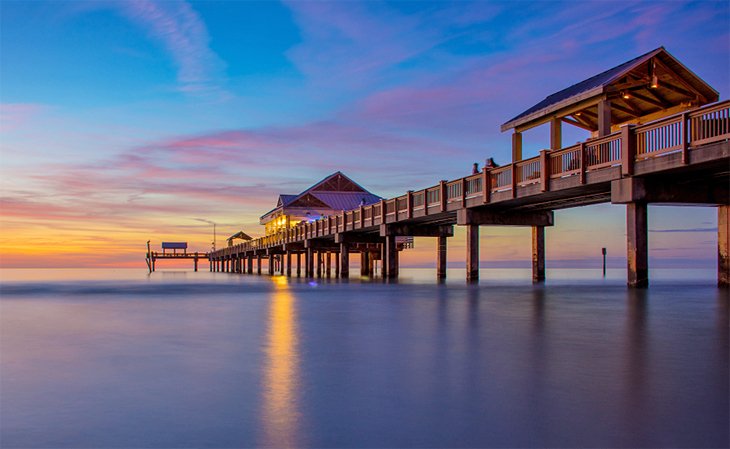 Honeymooners flock to this beautiful northwest town for its beaches. Situated just west of Tampa, Clearwater boasts beautiful, white sandy strands that beg lovers to while away a day on their shores. Like most Floridian beaches, the sand is white and luscious, and the shallow water is clear and bright. Rent a sailboat, try your hand at boogie boarding, or splash in the waves offshore.
Romantic sunsets are made even more enjoyable when witnessed from Pier 60, where lovestruck travelers can enjoy live music, street performances, treats, and an impressively dreamy view.
The Clearwater Aquarium is worth a visit, especially to see Winter, the rescued dolphin whose story was made famous in the Dolphin Tale film. And you won't get bored while touring the streets of downtown. There are plenty of shops to explore, as well as a bevy of restaurants to try. The impressive Clearwater Harbor and Marina offer concerts and other exhibits year-round.
Accommodation: Top-Rated Resorts in Clearwater
6. Santa Rosa Beach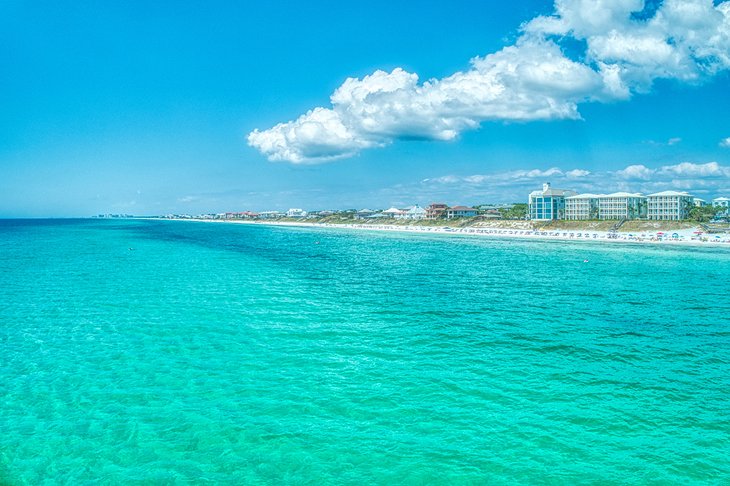 Another north Florida superstar, Santa Rosa Beach sits quietly along the Emerald Coast. It has everything lovebirds look for in the perfect honeymoon: inviting turquoise waters; sugar white-sand beaches; remarkable sunsets; and a wide array of luxurious places to eat, stay, and shop.
Here, too, you'll find Point Washington State Forest, which offers over 27 miles of trails to explore through a variety of terrain, including swampland, pine forest, and coastal scrub. Up the romance factor by organizing a horseback ride through this 15,000-acre natural wonderland.
As for the weather, your best bet is to hit this Panhandle beauty from March through October. You'll experience the lovely high 70s and 80s from March to May, heading to the 90s and above through the summer months. September and October see a cool down to more pleasant temps. Remember to beware of hurricane season. They're likely to hit any time between June and late November, often peaking in September.
7. Palm Beach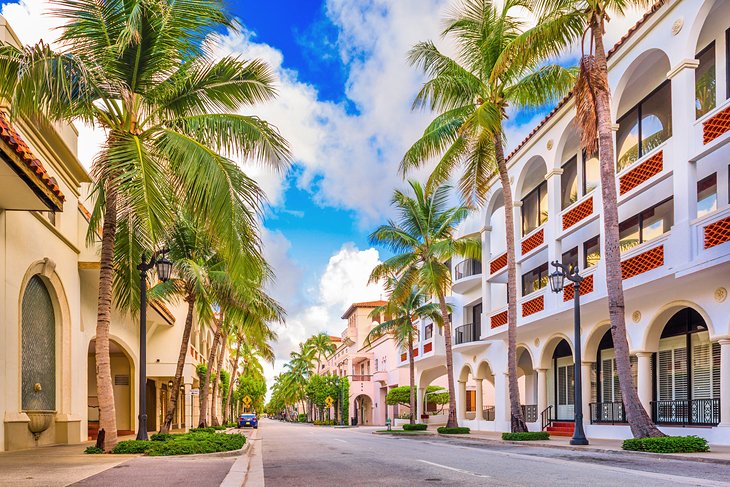 What better way to celebrate your new coupledom than by rubbing shoulders with the rich and famous in Palm Beach? Sure, you may not be able to compete with the billionaires' opulent mansions, and shopping along Worth Ave may give your wallet indigestion, but you'll surely have fun ogling the ornate affluence on display. It was deemed the "Rodeo Drive of the East Coast" for a reason. A word of warning: your shiny new wedding jewels may pale in comparison to some of the bling on display in this designer town.
Even the palm trees look swanky at this golden metropolis. You won't find any scraggly branches or dirty coconuts ready to fall from their branches. Drive along the A1A to see the mega mansions up close. You'll be in great company, with Porches and McLarens fighting for space on the road. Better yet, hire a boat to take you cruising past the luxurious coastline, then head to the perfect, golden beach.
Accommodation: Top-Rated Resorts in West Palm Beach
8. Orlando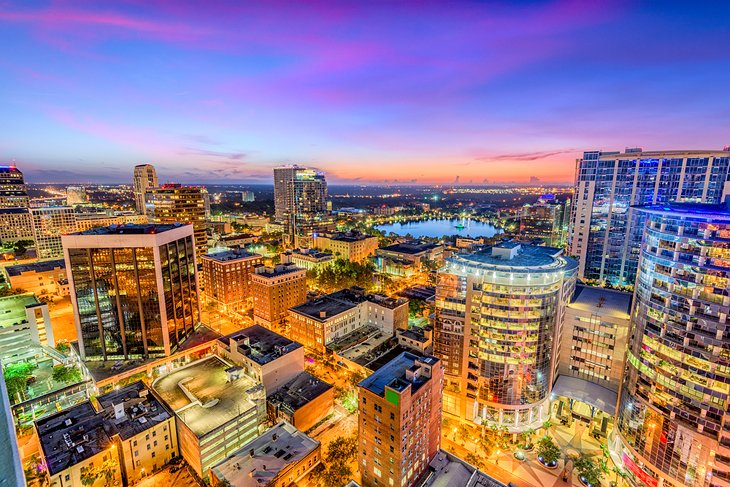 Known mainly as a hub for families, Orlando is home to massive theme parks like Walt Disney World and Universal Studios. While some would detest the idea of visiting such an attraction-heavy hub for their Florida honeymoon, Orlando is a perfect romantic getaway.
You'll never lack entertainment, and if you choose to hit up the amusement parks, you won't have to do so with whiny kids in tow!
The Four Seasons Resort Orlando at Walt Disney World® is about as luxurious as hotels come. A lovely honeymoon resort, this beautiful retreat makes sure its couples are well taken care of. From an adults-only pool to a resort spa featuring couples' massages, a golf course, and a restaurant boasting amazing views of Disney's fireworks, there's a lot to love.
Accommodation: Top-Rated Resorts in Orlando
9. Honeymoon Island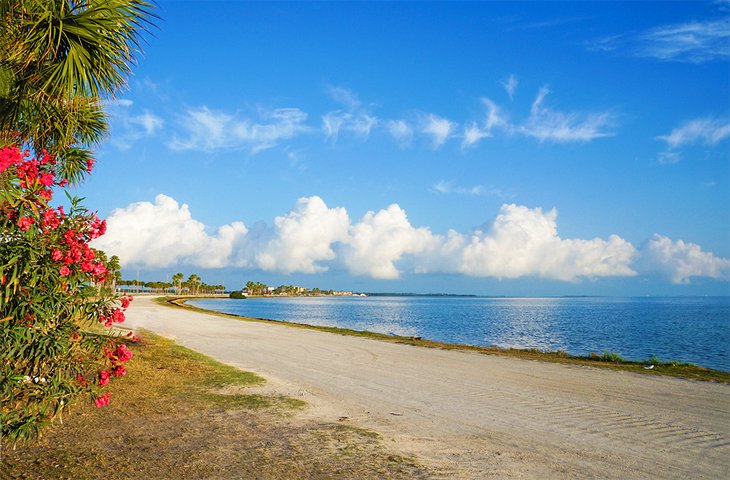 Charge your phone and get ready to find the perfect backdrop for your newlywed selfies. Honeymoon Island is a picturesque little love nest located just north of Clearwater, not too far from Tampa. A short drive along the Dunedin Causeway leads visitors to this lovely isle on the Gulf of Mexico.
Here, you'll find plenty of places to cuddle on over four miles of soft sand. Or, hop on the ferry that transports beach lovers to the unspoiled Caladesi Island.
Honeymoon Island is taken up by Honeymoon Island State Park, where you can hold hands through the last virgin slash pine forest and share binoculars while bird-watching along the route. Ospreys, eagles, and great horned owls are a few of the gorgeous birds that call this place home.
Rent a bike, head out on a hike, swim, shell, or cast your fishing rod — there are plenty of things to do on this beautiful isle.
10. Lover's Key State Park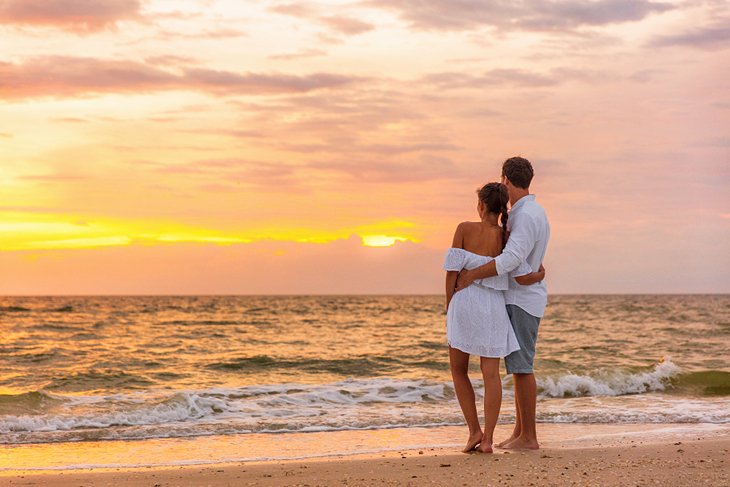 The aptly named Lover's Key State Park is a perfect place for newlywed canoodling. If the romantic sunsets aren't enough to set your heart aflutter, the vast and impressive ocean views are sure to do the trick.
This Southwest Florida oasis sits about 20 miles south of Fort Myers on the Gulf of Mexico. Its spectacular background has become a symbol of everything romantic, making it a popular destination for beachfront weddings.
Since you'll have already tied the knot, you can relax and soak up all the other amazing things Lover's Key has on offer. Rent a Jet Ski, snorkel in the clear water, kayak along the lagoons, or hike through the mangrove forests. Enjoy the sights and attractions of nearby Fort Myers or Naples. Then, snuggle up on the beach and set your gaze to sea — if you're lucky you'll catch sight of a turtle, manatee, or dolphin.
11. Amelia Island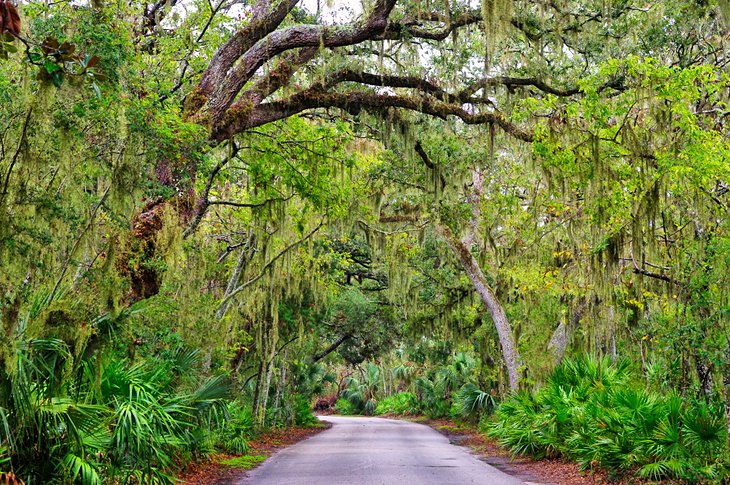 The lovely Amelia Island offers a quiet respite from more vibrant and popular cities like Miami. Locals call October and November their "secret season." It's during these months that visitors can experience the warmth they've come for, as well as low humidity and few crowds.
This northern isle lies just over 30 miles north of Jacksonville, near the Georgia border. A tranquil gem, it offers easy access to a rugged, untouched beauty that screams romance. Miles of verdant nature trails and sandy beaches line the coast, beckoning you to wander along their luscious paths.
For a truly luxurious experience, stay at The Ritz-Carlton Amelia Island — a spectacular honeymoon resort.
12. Siesta Key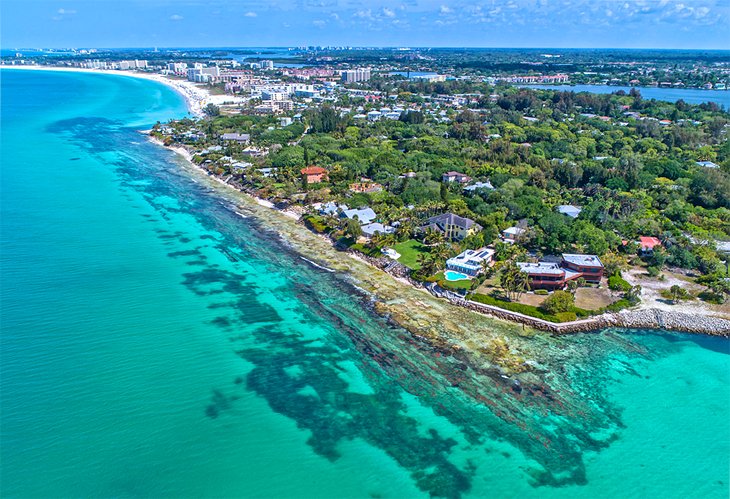 A mere seven miles southwest of Sarasota is the vibrant Siesta Key, a barrier island on Florida's southwest coast. A paradise for lovers, this gorgeous isle is a must-visit. Offering eight miles of soft, white sandy beaches; high-end resorts; restaurants; and shops, there's a lot to love about this quaint and very quirky locale.
Head to the beach for a day spent shelling, swim in the sparkling waters of the Gulf of Mexico, build your dreamhouse out of sand, or enjoy one of the region's beautiful sunsets while gazing into each other's eyes. No matter what you do on Siesta Key, you'll enjoy it.
13. St. Augustine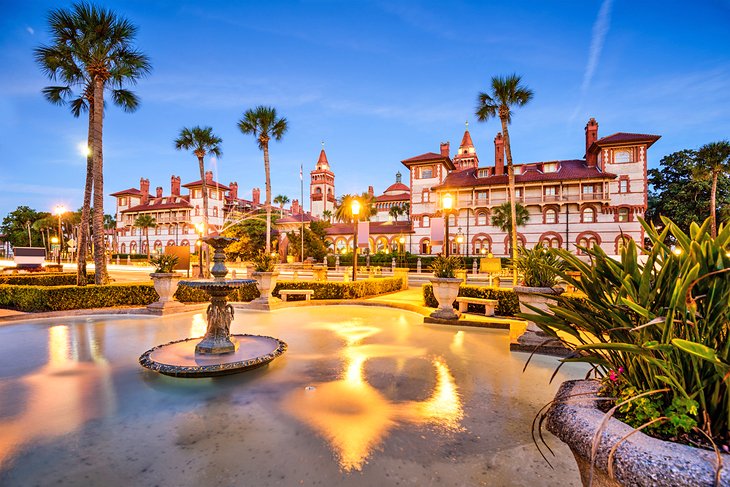 Soak up the old-world charm of this historic city, sometimes referred to as the "Nation's Oldest City." European charm seeps through the quaint, narrow cobblestone lanes; unique Spanish-influenced architecture; and historic landmarks (like Castillo de San Marcos and Ponce de Leon's Fountain of Youth).
Where else can you spend time at the oldest wooden schoolhouse, set sail on the azure sea, and sit arm in arm in a horse-drawn carriage? Yes, parts of this place can seem a bit kitschy (you'll find numerous locals wandering around in historic costumes) but you definitely won't be short on romantic ways to spend your time. Plus, this is a warm, sunny, and easy place to enjoy a true European feel.
Reminisce about your wedding over a steaming cup of coffee at one of the town's quaint cafés, hit the eclectic shops, or tuck into a deliciously upscale meal at one of the local restaurants.
Accommodation: Top-Rated Resorts in St. Augustine
14. Playa Largo Resort & Spa, Autograph Collection in Key Largo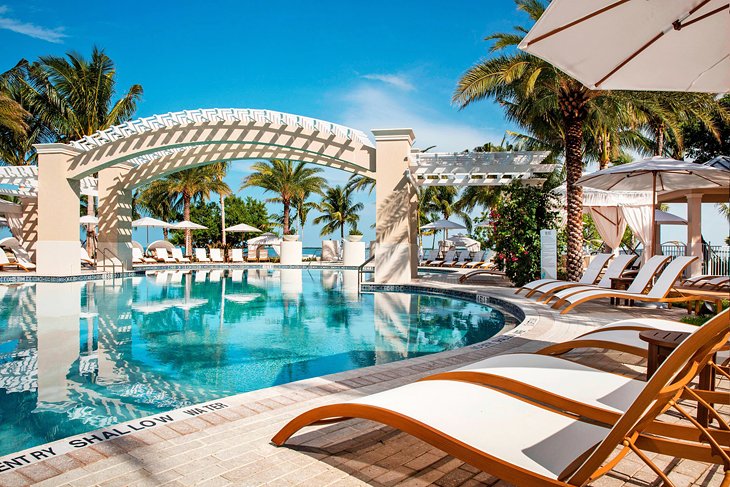 This spectacular honeymoon resort pumps new life and a whole lot of romance into Key Largo. Lounge above the softest sand on the world's comfiest hammock; cuddle up in the shade of a poolside cabana; or get sweaty while challenging each other to a basketball, tennis, or volleyball match.
Not a fan of court sports? Spend more time on the pristine beach, head out on a SUP, kayak, or snorkel through the clear turquoise waters. Did we mention that the beach is private?
If you're looking to really up your honeymoon game, book one of the 10 private bungalows at the Playa Largo Resort & Spa, Autograph Collection, where you'll learn the true meaning of "lap of luxury." Each comes complete with a secluded back porch surrounded by the lushest foliage and sweetest smelling plants. When you're hungry, settle in for a romantic meal at one of the multiple on-site restaurants.
Tips on Choosing When and Where to Honeymoon in Florida
Before picking your blissful retreat, we suggest thinking about your timing. While the best time to visit Florida is during the spring or late fall, that doesn't mean you have to stick to those seasons.
What you should consider when planning your honeymoon is what you're hoping for in terms of climate. Winter weddings are beautiful, but northern Florida is cold at this time of year (we're talking possible snow flurries cold). If you're hoping for warmth, head south. That's where you'll find the best weather (i.e. warm and dry).
Summer brides and grooms should escape to the northern region (i.e. the Panhandle) to experience warmer temperatures that won't make you melt into your fancy new swimsuit. South Florida gets intensely hot and monsoon rainy during these months.
More Related Articles on PlanetWare.com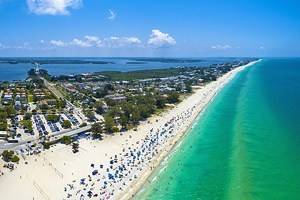 More Places to Visit in Florida: While you're in the Sunshine State, you might as well make the most of it. Visit super fun tourist attractions in Florida, check out quaint small towns, or head to one (or more) of these best places to visit in Florida. Whatever you do, enjoy yourselves. This is your honeymoon, after all.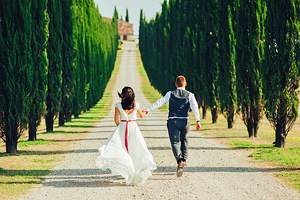 Up the Romance Level Worldwide: Florida certainly boasts romantic locales, but so do many other phenomenal spots. Up the romance level by booking a visit to one of these most romantic places in the world. Or stay stateside with a romantic getaway in California, South Carolina, or Wisconsin. Still in the planning stages of your nuptials? Perhaps a destination wedding is something you'd both enjoy. Check out these best places to get married for help deciding.