12 Top-Rated Romantic Weekend Getaways in South Carolina
Warm hospitality and charm abound when you head below the Mason-Dixon line. Nowhere is it more prevalent than in South Carolina. From the pristine beaches of the coast to the rugged landscape of the Blue Ridge Mountains, South Carolina sets the perfect backdrop for a romantic weekend getaway.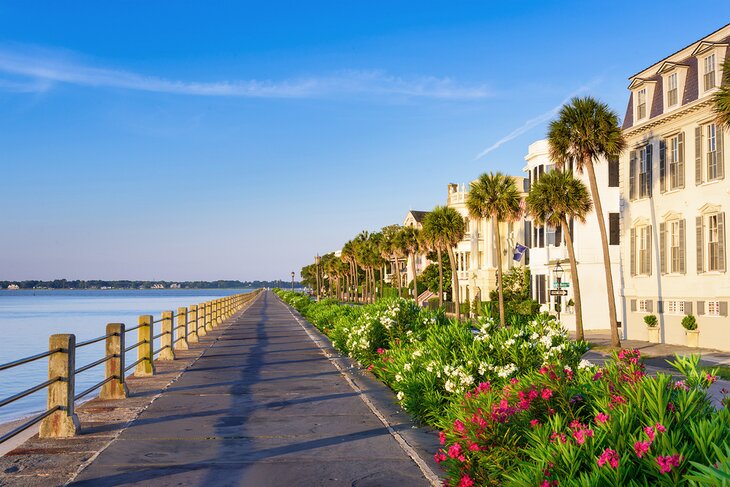 Rich in history and genteel charm, tourists agree that the state provides the perfect combination for a romantic escape with your loved one. Bonus points for its temperate climate, allowing visitors to enjoy the Palmetto State year-round.
Adventurers, foodies, history buffs, sun worshipers, and sports enthusiasts rejoice — this is a state that checks all the boxes, and offers something for everyone. Check out our list of the top romantic getaways in South Carolina.
1. Charleston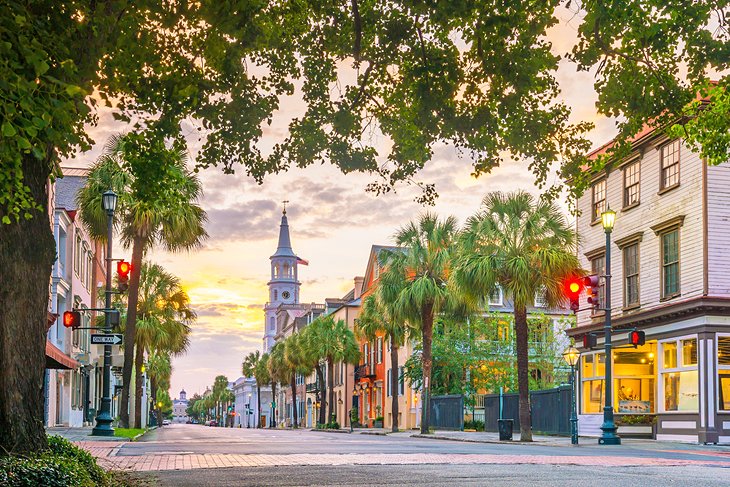 Highlights: Historic mansions, horse carriage tours, and great food
There are many good reasons Charleston is voted year after year as the number one destination in the United States. Immaculately manicured, secret gardens lie hidden behind decorative iron gates. Colonial-era, restored mansions line the streets, and horse-drawn carriages offer tours along the cobbled stones.
This is a city made for walking, and tourists can spend hours exploring on foot. Combine that with low-country cooking from award-winning chefs, unique shopping experiences, historical museums, and a gorgeous beach within a short drive, and you've hit a winning formula for a destination that all but guarantees a romantic escape.
Charleston has been steadily raising the bar on low country cooking. Many award-winning chefs are opening new restaurants and garnering national accolades. You don't have to venture very far to find tasty menus featuring fresh and local ingredients. The food scene is outstanding. Biscuits and pimento cheese are part of the Charleston experience, and you'll find some of the freshest seafood in the country.
Perfectly located, the HarbourView Inn is one of the best resorts in Charleston and an excellent choice for your romantic getaway. Many candle-lit dinners are within walking distance. A free city trolley (in case of rain) stops right outside the hotel's door. Make sure to indulge in the quintessential Charlestown experience and catch a sunset from their outdoor rooftop space, which often has music in the evening.
Traveling with your pooch? A variety of pet-friendly hotels are also available.
2. Beaufort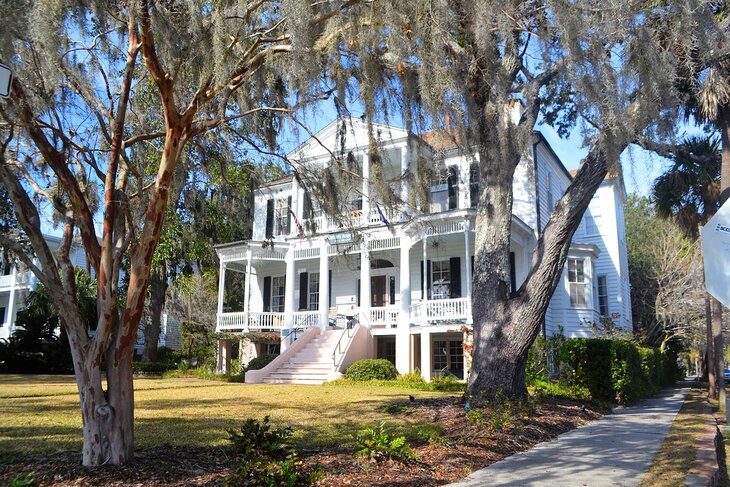 Highlights: Charming small town with historic homes, waterfront promenade, hotels, and inns
This laid-back southern town is a great setting for a romantic getaway for the couple that likes to spend time exploring a centuries-old city. It's located on Port Royal Island and is an architecture-lover's dream. The scenery is picture-perfect in this historic town, where you will see an impressive display of antebellum architecture.
Take a stroll around town, and you will find a ton of unique eateries and shops to pass your time. After fueling up at a local café, you can take a romantic stroll down along the waterfront; walk on the boardwalk at the Sands in Port Royal; or walk across the Woods Memorial Bridge, made famous for its cameo in the movie Forrest Gump.
We recommend staying in a romantic bed-and-breakfast, and in this town, there are plenty of them, but none as special as the seaside B&B Anchorage 1770 Inn. This award-winning boutique property is made for relaxation and taking in the breezes from a perch on the beautiful front porch.
3. Myrtle Beach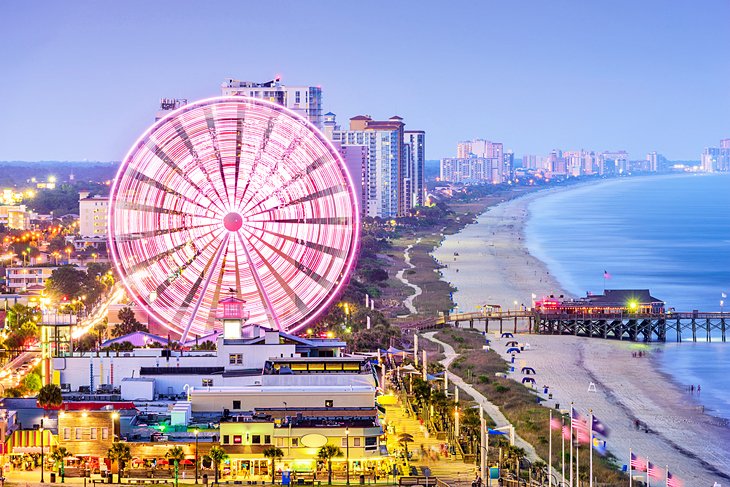 Highlights: Beautiful 60-mile-long beach with attractions, entertainment, dining, and a promenade
Although many families return to Myrtle Beach for their family vacations each summer, in the off-season, couples head to the area for a completely different environment.
From October through April, the laid-back Myrtle Beach comes alive, and twosomes have discovered a great destination for a romantic getaway. In the fall, many attractions, shops, and eateries are still open to enjoy, but without the many tourists and families that summer brings.
There are a few resorts where you can enjoy the beach, world-class dining, and entertainment without leaving the grounds. Try North Beach Resort & Villas, where you can indulge in the luxurious spa; heated pools, both indoors and out; and many other amenities.
Dine at the resort's excellent restaurants, and for the couple who loves to golf, Myrtle Beach doesn't disappoint. Grab a couples' tee time at one of the many golf clubs, like Arrowhead Country Club or Beachwood Golf Club.
Accommodation: Top Resorts in North Myrtle Beach
4. Pawleys Island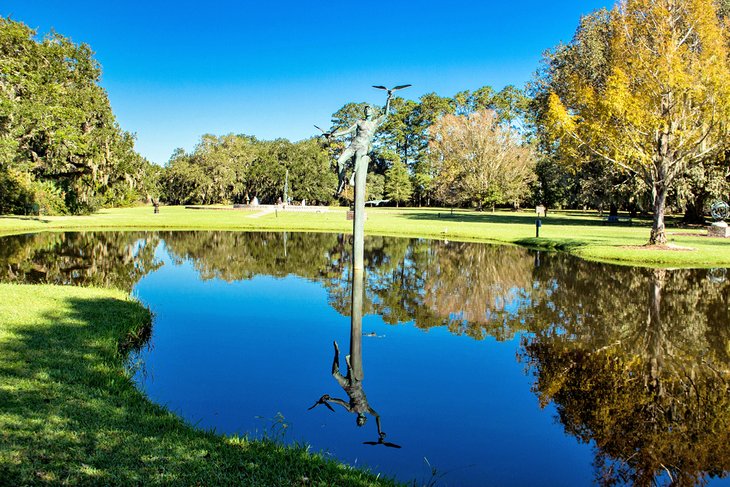 Highlights: Low-key small-town charm with romantic inns, historic B&Bs, and salt marshes
The town of Pawleys Island takes great pride in its laid-back and peaceful atmosphere, and it's been this way since it first became a resort destination in the late 18th century. One of the most charming aspects of the town is its intentional absence of huge resorts and commercial establishments, and several of the town's first homes can be found in the historic district.
This barrier island off the coast of South Carolina is only four miles long and just wide enough for one road, accessible only by causeway or boat. There are three launches on the island, as well as plenty of opportunities to kayak the salt marshes. Despite its size, Pawleys Island is home to numerous restaurants, all of which are locally owned and operated.
Built in 1858, the Pelican Inn has been a favorite spot for couples looking for a secluded getaway. This B&B-style inn serves a home-cooked breakfast and lunch every day, both included in room rates, and guests can enjoy direct access to the beach via a boardwalk.
5. Hilton Head Island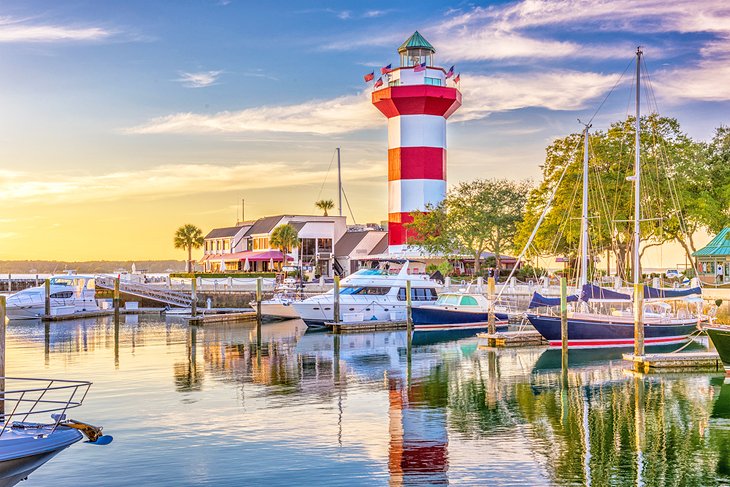 Highlights: Endless sandy beaches with nature trails, beach biking, and inland bike paths
With its miles of sandy beaches, a laid-back coastal vibe, panoramic sunsets, and plenty of couples-friendly things to do, any twosome will find a welcome retreat here. Natural beauty is a highlight.
Walk along the beach or take a guided tour in one of the many estuaries, where you can see magnificent wildlife like shorebirds, dolphins, and river otters. If cruising is more your speed, take a trip through Calibogue Sound, where the sunset lends the perfect backdrop for romance.
Visitors can rent a villa and enjoy ultimate privacy or stay at one of the two dozen hotels on the island, like the luxurious Inn & Club at Harbour Town. Here, you will find a relaxing retreat brimming with five-star amenities. The 60 deluxe rooms are located within The Sea Pines Resort's 5,000-acre property.
Accommodations: Top-Rated Beach Resorts in Hilton Head, SC
Read More: Top-Rated Attractions & Things to Do in Hilton Head
6. The Blue Ridge Mountains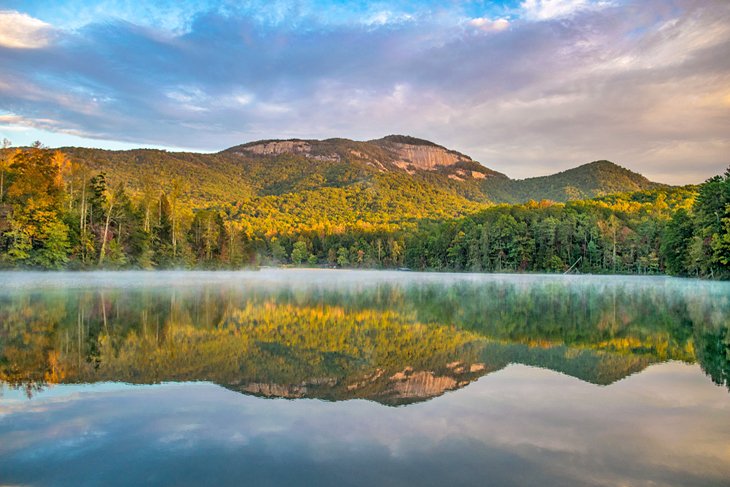 Highlights: Beautiful mountain setting with state parks, nature trails, hiking, and biking
If the mountains are more your travel profile, there is nothing more romantic than a stay outside Salem, in the Carolina's Blue Ridge Mountains. The beautiful and peaceful scenery sets the mood for a restful, relaxing stay with your partner.
Vacation at one of the most beautiful resorts nestled in the mountains, some of the best of which are located in Salem itself. Here you'll be located close to Lake Keowee and Devils Fort State Park, as well as have proximity to the best things to do in this attractive small town.
The Blue Ridge also offers a plethora of activities to choose from for the active couple. You can hike in Table Rock State Park or pack a romantic picnic lunch to enjoy in one of the many green spaces for which the area is known.
7. Kiawah Island Golf Resort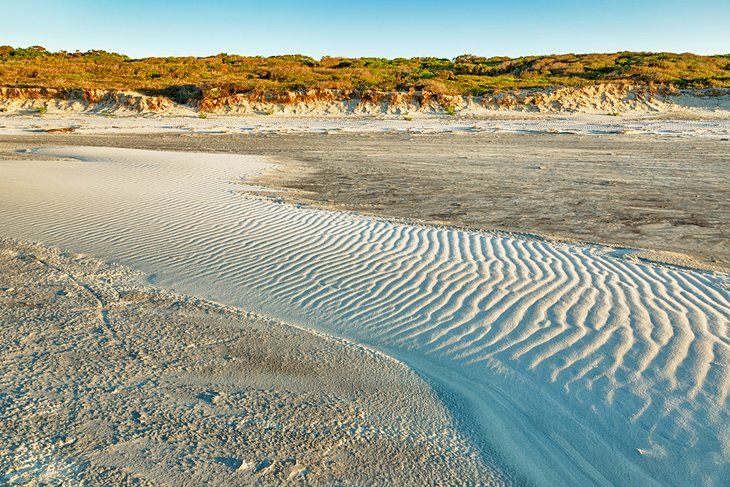 Highlights: Huge oceanfront beach resort with five golf courses, tennis, and outdoor adventures
This pristine resort offers the perfect backdrop for an active couples' romantic getaway. With five golf courses to choose from, you can spend your days teeing off and spend your nights relaxing in luxury at the Kiawah Island Golf Resort.
This is also the best tennis resorts in the world, so even if you never picked up a racket, you can enjoy some couples time learning a new sport.
There are also tons of other activities like kayaking, nature tours, beaches, and resort events that let you have fun while spending time together. It's also close to Charleston, where you can head for the day to explore.
8. Folly Beach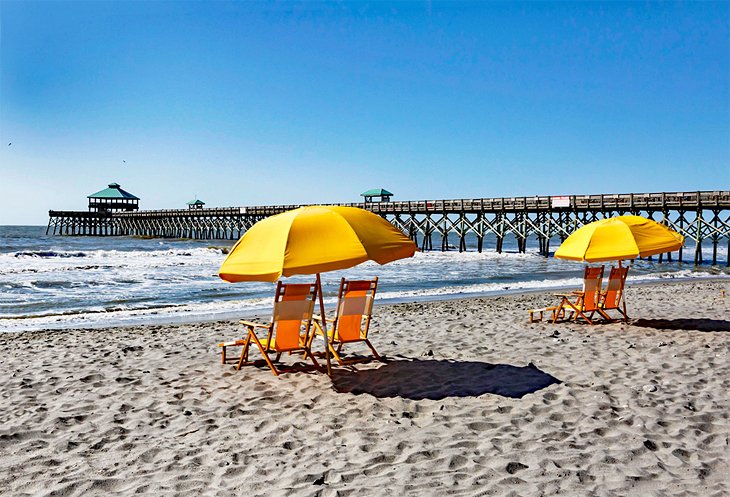 Highlights: Romantic beach setting with fishing pier, promenade, and water activities
Couples who share a love of the water and a lot of action will love Charleston's Folly Beach. One of the best beaches in South Carolina, here you can enjoy fishing off the Folly Beach Fishing Pier and walking along the beautiful shoreline. Finding romance here won't be difficult, especially if you enjoy a stroll along the water, the perfect time to steal a kiss.
Active couples can rent paddleboards and kayaks, or even learn how to surf, and there's a good chance you'll see dolphins during water activities. For a unique date night take a sunset cruise to the famous Morris Island Lighthouse.
9. Greenville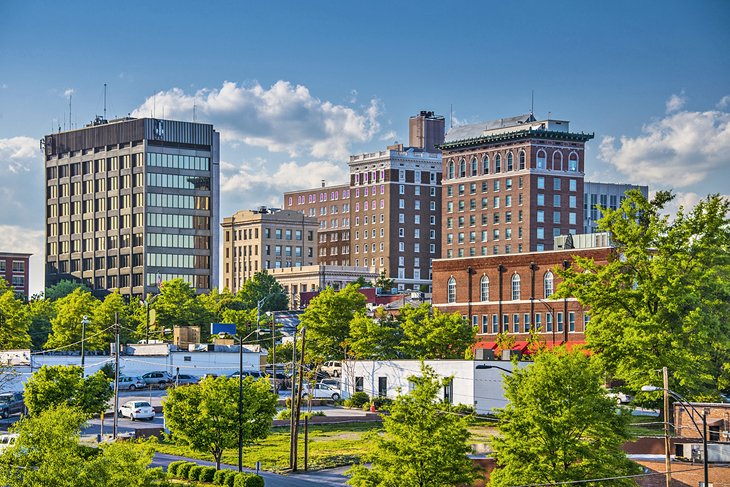 Highlights: Historic downtown area with shopping, dining, and romantic accommodations
Halfway between Charlotte, North Carolina, and Atlanta, Georgia, lies the charming, romantic getaway of Greenville. As the city slowly reveals its charms, visitors discover a destination that offers everything a couple in need of a romantic retreat could ask for. There are delightful shops, couples-friendly activities, and so much more to enjoy year-round.
Walk the quaint downtown, where you can rent a bike at Reedy Ride and take a leisurely spin through Greenville and along the Swamp Rabbit Trail. After you work up an appetite, you can get a sampling of different restaurants with a foodie tour, always a great way to spend time with your partner and learn the inside secrets of a new vacation spot.
Centrally located in the heart of downtown Greenville, The Westin Poinsett, Greenville offers the ultimate in luxury for a perfect romantic getaway. This elegant historic hotel is stunning from the moment you enter, with marble floors and staircases and ornate décor, and guest suites are equipped with everything you need, from cozy robes to fireplaces. This pet-friendly hotel's amenities include valet parking, a shuttle and car hire service, on-site coffee shop, and electric vehicle charging.
10. Columbia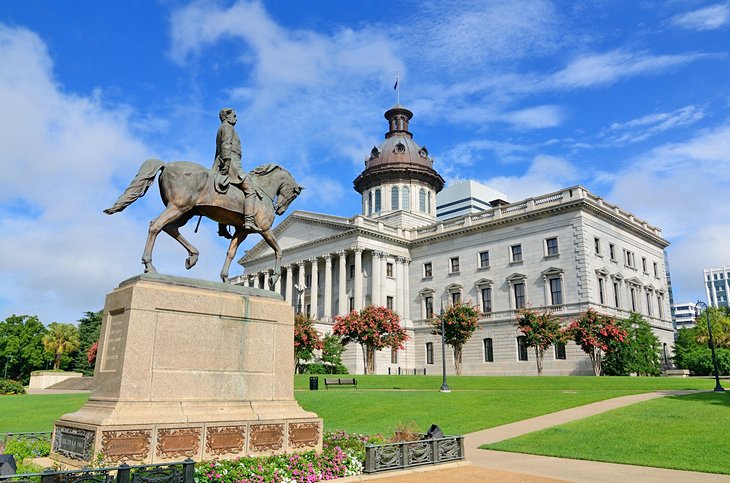 Highlights: State capital with parks, riverfront, museums, and great places to stay
Columbia is not only the capital city of South Carolina, it's also filled with romance, history, and charm. It's a great place to visit for active couples. Here, you can take a canoe ride on the Columbia Canal, walk the trails of Saluda Shoals Park, or kayak in Riverfront Park with your partner.
Visitors looking for history can stop by the South Carolina State Museum and learn more about life in South Carolina through the ages. You can also proclaim your love to each other by carving your initials in the "Love Tree" in Guignard Park in Cayce.
There are plenty of spots to choose from for a romantic dinner for two after a day of exploring, including a plethora of dining and entertainment choices in "the Vista," a historic district with many restaurants and surely a menu for every palate and taste. For a stay in the hip, downtown area, choose Aloft Columbia Downtown.
11. The Red Horse Inn, Landrum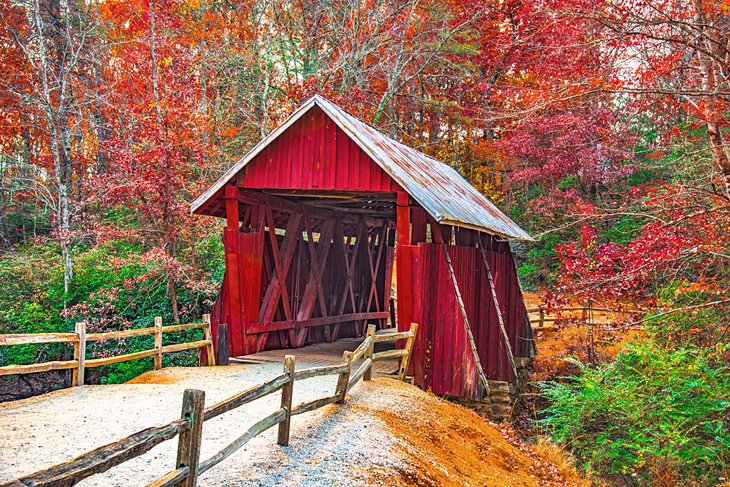 Highlights: On-site couples' massage, horseback riding, private cottages, romantic extras
If your idea of an escape is visiting a property that offers all the bells and whistles, consider the Red Horse Inn in Landrum. This destination, at the foothills of the Blue Ridge Mountains, is made for couples looking to get away and recharge. Romance is practically guaranteed at The Red Horse Inn, one of America's Most Romantic Inns.
In addition to numerous awards and accolades, for the last twelve years, it has received the coveted AAA Four Diamond Award. It is easy to see why. Between the extensive dramatic views and the couples-friendly activities, like horseback riding or in-house couples massages, you might never want to leave the grounds.
Many of the six freestanding cottages and six additional rooms include fireplaces, so you can get cozy with your love. Some even have private decks with hot tubs. Turn up the romance. Set the mood by ordering roses or chocolate-covered strawberries to be waiting for you on your arrival.
12. Edisto Beach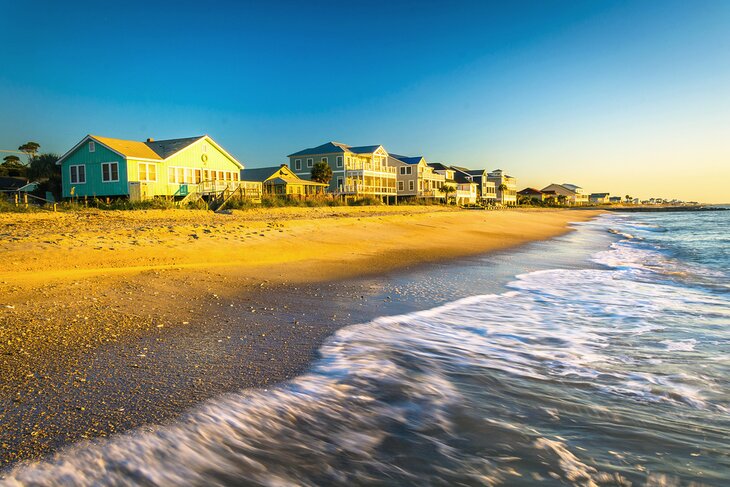 Highlights: Close to Charleston, fewer tourists, state park with hiking, water sports
If you enjoy your seaside getaways a little less busy, you'll want to include Edisto Beach on your list of potential destinations for a romantic weekend break in South Carolina.
Although only an hour's drive southwest of Charleston, the small town of Edisto Beach remains relatively undeveloped and built-up compared to many other similar beach destinations on the Carolinian coast. For couples, that's a good thing.
Adventurous types can indulge in water-based activities including sea swimming off the shallow shore as well as canoeing, kayaking, paddleboarding, and fishing. Great hiking and nature trails are located at the north end of the town in Edisto Beach State Park, which also includes some excellent stretches of sand to stretch out on and explore.
In addition to some fun shopping and dining experiences, you'll find some great places to stay in Edisto Beach, too, from quaint bed and breakfasts to larger resorts and hotels.
Map of Romantic Weekend Getaways in South Carolina