15 Top-Rated Small Towns in South Carolina
South Carolina is well known for its charm and Southern hospitality. Nowhere is it more prevalent than in the small towns tucked into scenic pockets of the state. From the Blue Ridge Mountains to the coastal waters of the Atlantic, the varied landscape insures something for every type of traveler.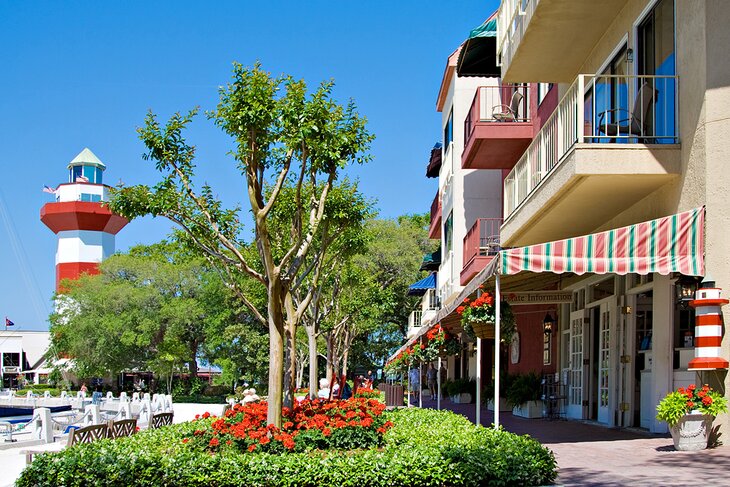 The diverse settings, coated with genteel warmth, form a perfect backdrop for a host of rewarding places to visit, each offering their own unique tourist attractions. Adventure, scenic vistas, historical museums, and vintage boutiques are all on offer depending on your interests. Award-winning fresh ingredients are combined with delicious Southern flavor.
The temperate climate south of the Mason Dixon line makes these destinations worth a visit any time of the year. Plan your travels with our list of the best small towns in South Carolina.
1. Hartsville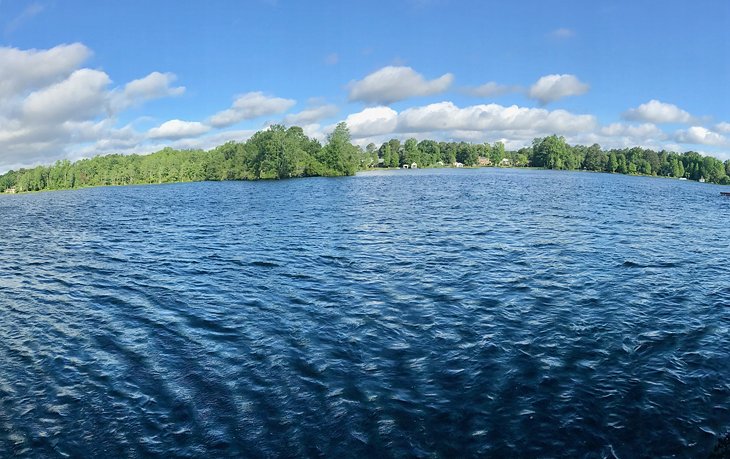 As the largest city in Darlington County, Hartsville is known as a hidden treasure among locals. It was originally founded by Native Americans, after settlers arrived from Europe, but the diseases they brought wiped out the original population over time.
The town is well known for the beautiful Kalmia Gardens, 35 acres of floral display and trails, open to the public for free. During azalea season, it is particularly showy. Museums and galleries put the focus on Southern art. Antique stores delight shoppers with vintage finds. Lakes and outdoor trails provide numerous opportunity to enjoy the scenery.
Where to Stay: The town now brings tourists who are looking for historical charm. Bed-and-breakfast lodging is the norm here. The Mantissa Hotel is an all-suite B&B-style accommodation located in the center of Hartsville next to Centennial Park and within a few minutes' walk to numerous restaurants. Suites include full kitchens and separate living areas, and hotel amenities include a rooftop terrace with a fireplace and comfortable furniture.
2. York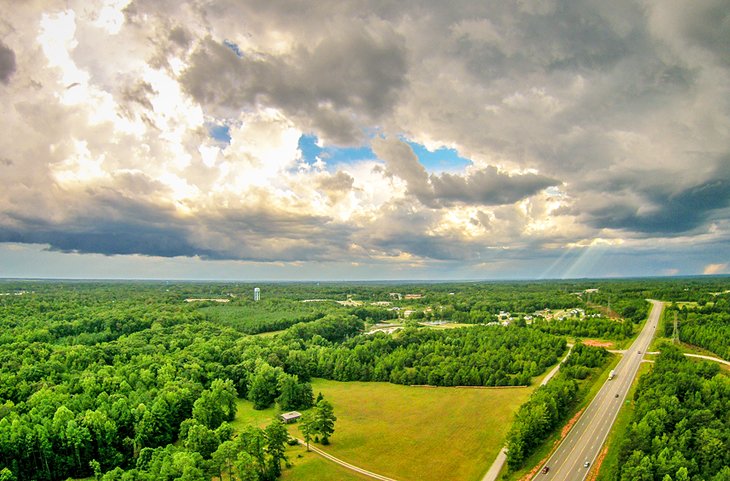 History runs deep in York. Located in the northeast corner of the state, not far from Charlotte, North Carolina, the town was founded in the 1750s by English settlers. Two infamous Revolutionary War battles took place in the surrounding area: The Battle of King's Mountain and the Battle of Williamson's Plantation.
Much of the town center remains traditionally authentic. With over 180 properties represented in the historic district, visitors won't be criticized for thinking they've stepped back in time. Bricks used as ballast in merchant ships traveling to Charleston were used for some of the construction. Look for the old town clock keeping watch over the downtown district.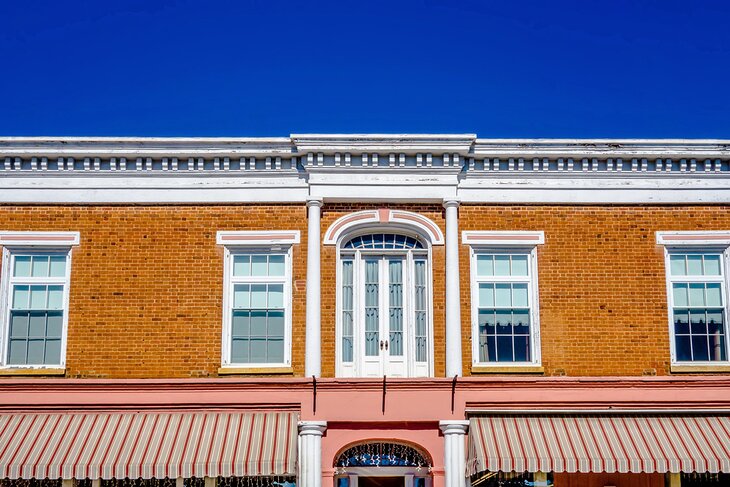 As the only county in the state not defeated in the Revolutionary War, the entire area places a high priority on heritage preservation. The surrounding area is full of museums and sites providing a cultural connection to days gone by.
Area B&Bs offer hospitality for overnight visitors, and guests will find orchards and cider well represented in the area. Pie lovers should keep their eyes peeled for a slice to recharge after all that history.
3. Edisto Island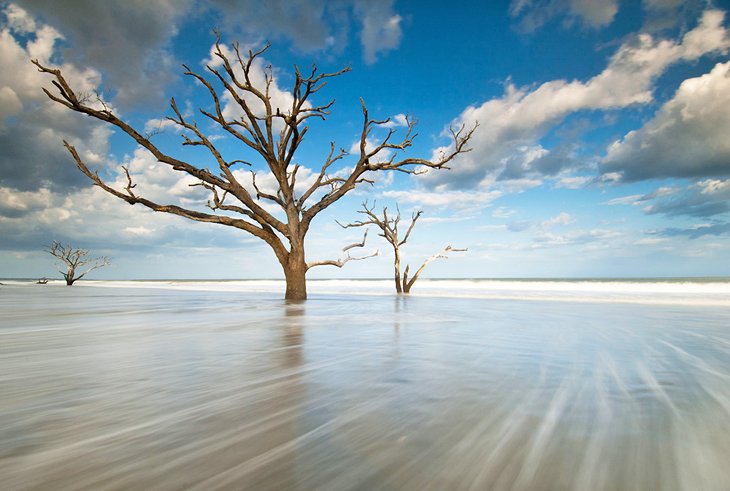 Located in one of South Carolina's Sea Islands, Edisto Island is the quintessential laid-back beach town. With a population of just over 2000, this is the place where nature and beach lovers can come to relax and soak up the sun without the crowds.
While you are sightseeing on this quiet island, be sure to stop at one of its many natural wonders such as the Botany Bay Plantation Heritage Preserve and Wildlife Management Area, where you can take a walking or driving tour.
Edisto Beach State Park is an excellent spot for shelling, but fills up quickly, so get there early. Take in a snake or gator show at the Edisto Island Serpentarium if you dare. For a less adventurous excursion, browse the fresh and local made goods at the Kings Farmers Market.
Where to Stay: If you're looking for resort-style lodgings on Edisto Island, Club Wyndham Ocean Ridge will not disappoint. Guest suites include fully equipped kitchens, private balconies, and a second bathroom. There is an 18-hole golf course next door, The Plantation Course at Edisto, and on-site amenities include a pool, tennis courts, and free Wi-Fi.
4. Clemson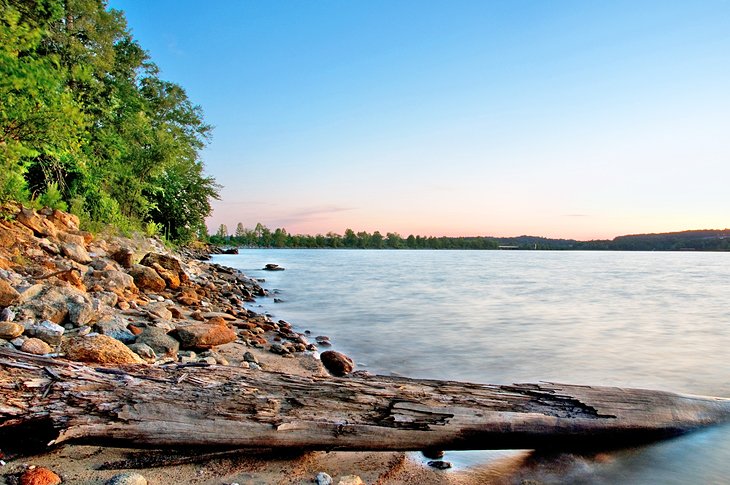 This college town is filled with restaurants, friendly locals, and lots of Appalachian charm. Visitors will find it conveniently located near the foothills of the Blue Ridge Mountains. It's easy to see why the Princeton Review named Clemson as one of their top college towns.
While you are here, visit the South Carolina Botanical Garden, located on the campus of Clemson University. This free attraction includes a treehouse for kids and a 295-acre sanctuary. While here, you can learn about the plants and animals native to this area. Wander around the campus and surrounding areas for your fill of unique shops and restaurants.
This area is also surrounded with history. Take a tour of Fort Hill Plantation or the Hanover House to learn what life was like in Clemson over the past few centuries.
Where to Stay: If you are looking for a place to stay in Clemson, The Abernathy is an excellent choice located only one block from Memorial Stadium and two blocks from Fort Hill Plantation. This pet-friendly hotel offers spacious rooms featuring kitchenettes and fireplaces, and on-site dining.
5. Beaufort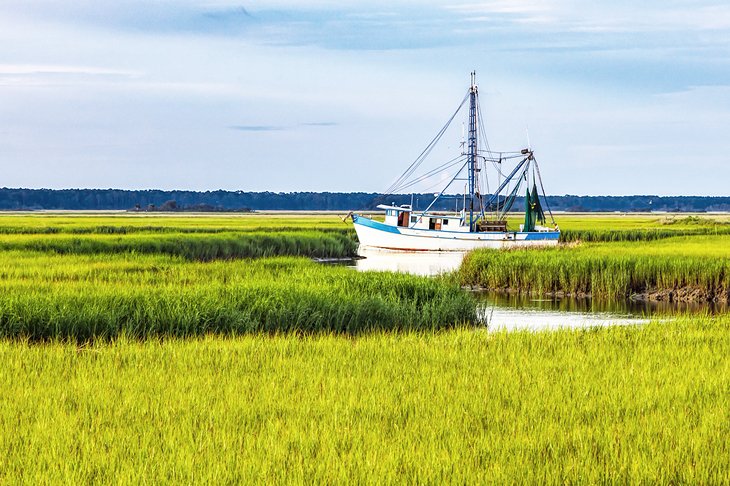 For a laid-back Southern town oozing with Southern appeal, Beaufort is a great setting for a getaway. This centuries-old city is a delight for architecture lovers. The streets are laid with fantastic examples of antebellum buildings.
Located on Port Royal Island, the scenery is picture perfect and taken straight from a postcard of the historic South. Historic inns and B&Bs provide plenty of options for a stay, especially if rocking on a front porch is part of your "to do" list.
Enjoy kayaking on the unique waterways or time exploring the many historic museums and sites. Take a stroll around town, and you will find a selection of unique eateries and shops. After fueling up at a local café, don't miss a stroll along the waterfront-walk on the boardwalk at the Sands in Port Royal. If you find yourself with a familiar feeling on Woods Memorial Bridge, you might have a memory of its cameo in the movie Forrest Gump.
Where to Stay: Located in the Historic District, The Beaufort Inn offers a wide range of options, from standard rooms to suites and private cottages. Guests can enjoy the property's gardens and verandas, with plenty of outdoor seating to relax and enjoy the surroundings. The inn offers a wide range of amenities, including a full suite of spa services, fitness and yoga classes, car service, and free parking.
6. Hilton Head Island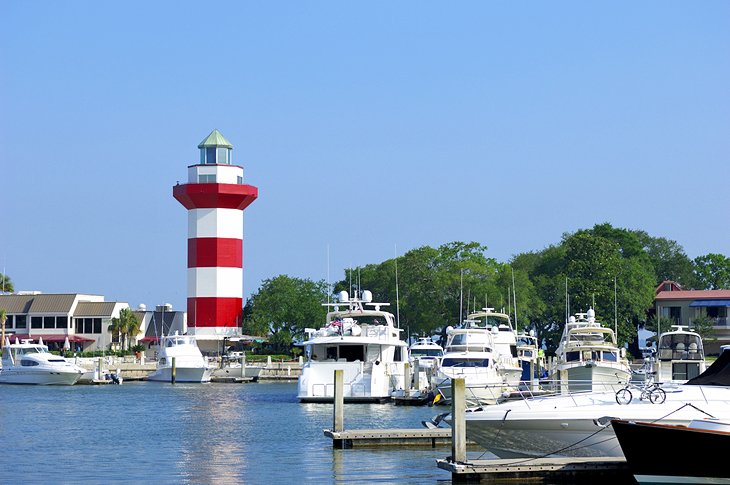 One of the most popular places to visit in South Carolina is the island of Hilton Head. Beautiful beaches, golf courses, tennis, and an incredible ecosystem for adventure are all part of the landscape. There are over 12 miles of beach total, leaving plenty of room for visitors to spread out for sunbathing and beach-biking, a popular pastime here.
One of the most popular areas is Coligny Beach Park, which is filled with amenities and right next to Coligny Plaza's shopping and dining.
Tourists will find festivals throughout the year, making this coastal spot so much more than just a beach vacation and one of the many reasons families return annually. The Arts Center has a varied schedule of performances; music is often on tap in town as well.
A wide variety of hotels, resorts, and B&B stays ensure that whatever type of vacation you are looking for can be found at this popular island destination.
Luxury travelers will adore Montage Palmetto Bluff, a five-star resort that offers rooms, suites, cottages, and full homes so that even the biggest families can join in the fun. The resort has an astounding number of things to do right on-site, including an 18-hole Jack Nicklaus golf course, several pools, horseback riding, kayaking and boating, and an assortment of complimentary fitness classes. There are also six on-site restaurants to choose from.
7. Travelers Rest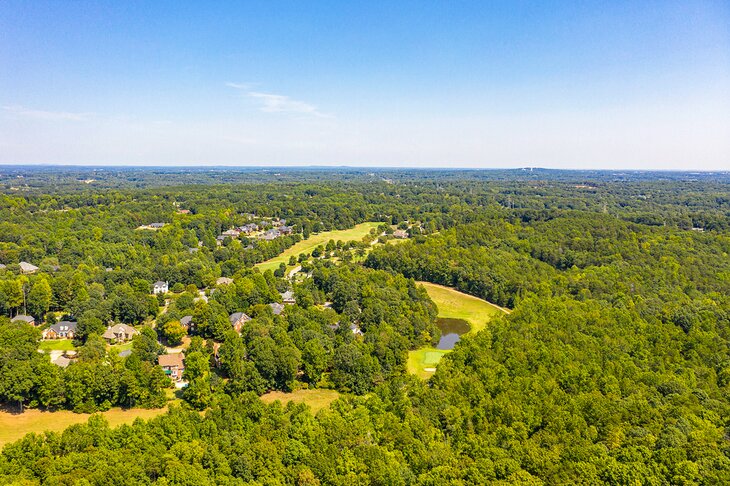 Located between Greenville and the Blue Ridge mountains, Travelers Rest is well known to locals as a hiking and outdoor adventure spot. The small city gets its name honestly as a rest stop between the mountains and neighboring areas. Traveling by horse and buggy in days gone by, it presented the perfect location for a reprieve.
The fact it continues to have fewer than 5,000 residents insures a small- town feel. Don't miss the Wildcat Wayside Mountain area for waterfalls and great hiking. It's especially beautiful in spring, when the falls are full and the mountain laurel is in bloom. Trailblazer Park is another option, featuring an open air theater, cultural center, and farmers market all experienced while taking in scenic views of the mountains.
The Travelers Rest area is big with cyclists, who can access the multi-use trail that runs along the Reedy River and connects for miles of scenic pedaling. The town is also home to the Carolina Bee Company, buzzing with all things related to honey and beekeeping.
Where to Stay: Hotel Domestique offers the perfect boutique stay after a day of hiking and scenic overlooks. This four-star hotel occupies a beautiful estate at the foot of the Blue Ridge Mountains, and provides a range of activities for guests both on-site and nearby. This is a family-friendly, resort-style hotel that features multiple pools (including a saltwater pool), fine dining on-site, bicycle rentals and tours, spa services, and room service catering to special diets.
8. McClellanville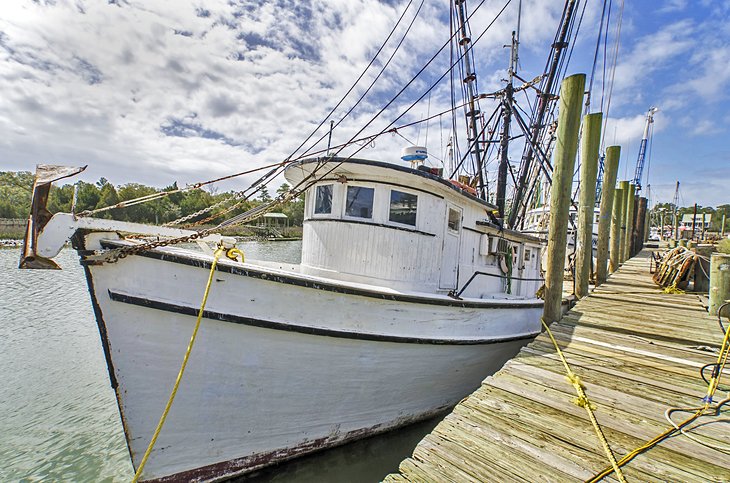 McClellanville is your archetypal small Southern fishing town. With only about a thousand residents, McClellanville is located close enough to Charleston to enjoy everything the big city has to offer, while at the same time offering a low-key vibe, where it feels like you are a thousand miles away. Fishing is a big part of the economy. Don't miss sampling a fresh selection in a local restaurant.
If you want to get a true experience on the water, be sure to book a fishing trip or canoeing adventure with Nature Adventures Outfitters Adventure Center. For those of you who prefer to stay on dry land and are fortunate enough to be there while they are offering their quarterly tour, enjoy your day at the Cape Romain Lighthouse.
If you missed the lighthouse tour, you can take a walk by the boat docks, stopping by the Village Museum to get a guided tour and a history of this unique hamlet, founded in the late 1860s. Many of the buildings are listed on the National Register of historic places.
The surrounding Francis Marion National Forest is a big hit with hikers and bikers, who enjoy the many trails filled with the scent of pine and fresh air.
9. Georgetown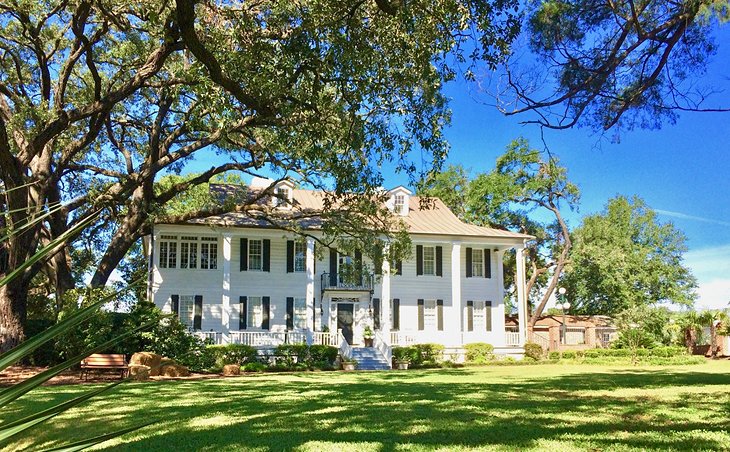 Georgetown is considered part of low-country South Carolina and is the third oldest community in the state. It is believed to have been founded in 1526 by Spanish explorer Lucas Vazquez de Ayllón. After the failure of that establishment, English settlers arrived in the 1730s. In addition, the location on Winyah Bay has made Georgetown an important port and the third largest in the state.
The historic old town allows visitors to walk along the cobblestones, where some of the United States founding fathers have made their mark. Many historic homes remain and offer a window into the colonial past of the area.
The Milldam Rice Mill, also known as Kinloch Plantation, is part of the National Historic Register. A boat tour with one of the popular charter sailing companies is another option for getting the lay of the land from the water.
10. Isle of Palms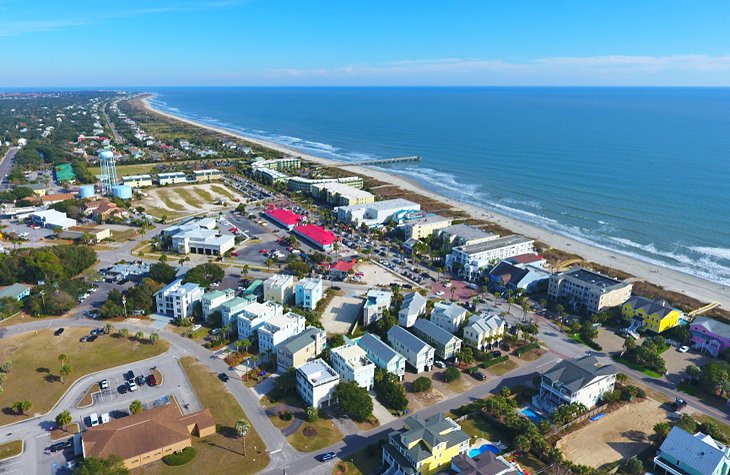 The small barrier island, Isle of Palms, is home to South Carolina's affluent families' summer and year-round homes. This narrow strip of sand hugs the beach and is a favorite of those who want to just enjoy the sun and surf.
If you love beach volleyball and water sports, you are in the right place. Check out the Windjammer Club to see if they are hosting one of their famous beach volleyball tournaments.
Book a parasailing or jet-skiing adventure if you dare, or if you are craving the nightlife of the big city, you can drive across the bridge and over the Intracoastal Waterway to the attractions of Charleston and take advantage of all the city has to offer.
Where to Stay: If you're looking for a place to stay right on the island, Wild Dunes Resort is an excellent full-service resort that offers a range of room types and activity packages, so that you can get the most out of your stay. The resort is home to two 18-hole golf courses, once of which features a top golf school, and there is also a large tennis center. Guests can also rent bikes, kayaks, and other equipment to make the most of their stay.
11. Aiken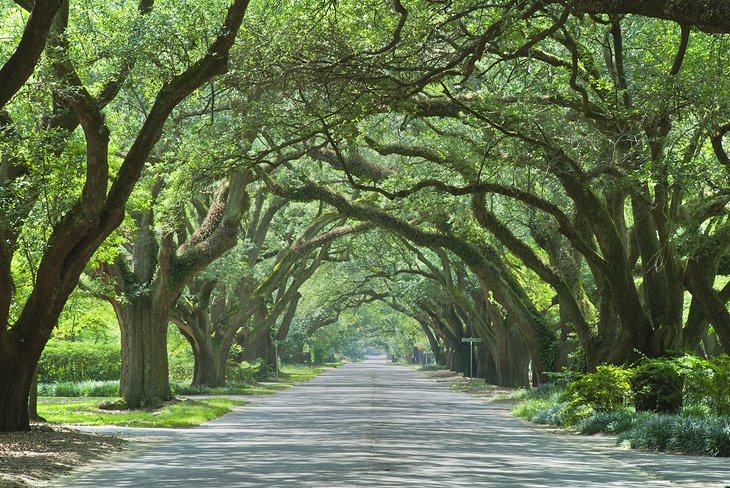 In Western South Carolina, near the Georgia border, lies Aiken, a delightful Southern town complete with a rich history.
This large "small town" is filled with things to do for travelers of all interests. For nature lovers visiting Aiken, take a walk at Boyd Pond Park. This park is off the beaten path, but is filled with trails and abundant local wildlife. Visitors can also take a horseback ride through Hitchcock Park, a favorite of equestrians.
If hiking isn't your thing, take a leisurely walk through Hopeland Gardens or visit the Aiken Train Museum at the visitor center. On a clear night, don't miss the Dupont Planetarium for a spectacular view of the night sky.
12. Mt. Pleasant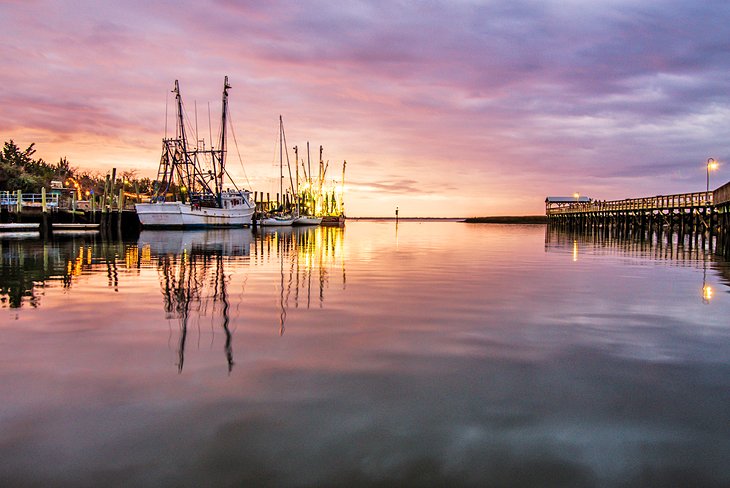 Just outside Charleston is Mount Pleasant, one of South Carolina's fastest growing towns but still steeped in Southern traditions and history. While here, visit Patriots Point Naval and Maritime Museum, home to the USS Yorktown. You don't have to be a military buff to enjoy the sights on this aircraft carrier, and kids will especially love the interactive attraction.
There is even an opportunity for an overnight "camping" experience in the sailors' quarters. Often, retired military are available to answer questions and share valuable insight into their assignment and duties onboard. In addition, a docked submarine is a tour not to miss. Visitors will gain a new appreciation for life in the small quarters of the vessel.
Another alternative is Shem Creek Park. Local wildlife is abundant, and an epic sunrise over the water is well worth an early rise. History lovers will want to walk around Mount Pleasant's historic district or stop by the Charles Pinckney National Historic Site.
For those craving adventure, stop by Splash Island Waterpark or take a sailing lesson with the Ocean Sailing Academy. Visitors wishing to stay dry, will find many antique shops to fill their days searching for Southern treasures.
13. Folly Beach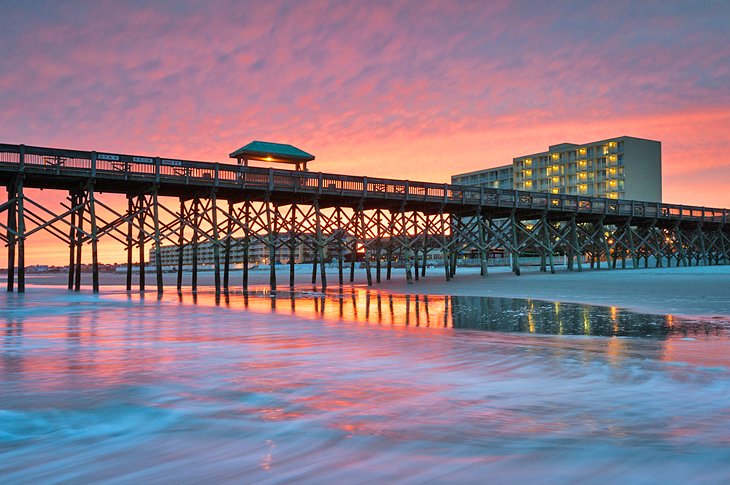 Folly Beach is popular with visitors who love an active beach scene. Just an hour from Charleston, it makes for a great day trip for those looking for a taste of the Atlantic.
From fishing off the town's 1000-foot pier to enjoying a beach just made for fat bikes, it seems as though there is always lots of goings-on in this holiday spot. Family-friendly and very laid-back, Folly Beach embraces an easygoing atmosphere that signals vacation mode to all who visit.
Active travelers can rent paddleboards, kayaks, or even learn to surf. Often playful dolphins frolic just off shore. A cruise to the Morris Island Lighthouse is especially nice at sunset. While there's plenty of fast food available on the strip that runs along the ocean, visitors who dig a bit deeper will be rewarded with delicious seafood for which the area is well known.
14. Kiawah Island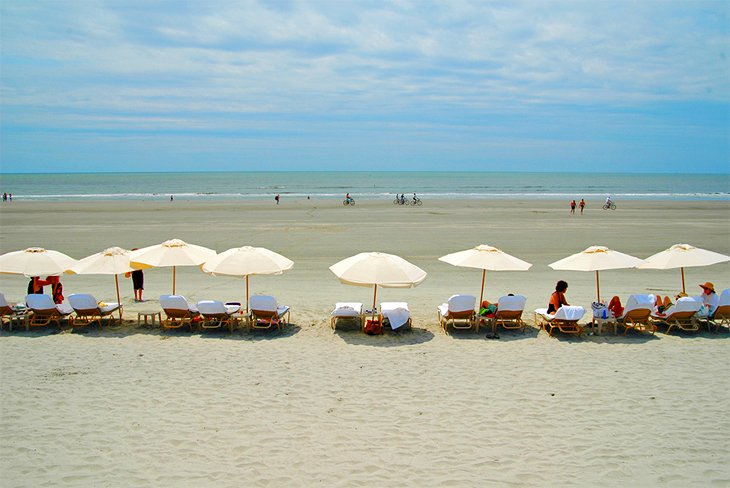 This barrier island is all about golf and the environment. Exclusive access is granted to visitors via The Sanctuary at Kiawah Island Golf Resort. The resort features play on five courses, each designed by a different legendary golf pro. All are environmentally friendly, a hard-to-find characteristic of the game.
Not a golfer? Not a problem. There is also award-winning tennis and plenty of outdoor adventure. Kayak, take a nature tour, try stand up paddleboarding (SUP), or enjoy relaxing at the beach. Maritime forests, sand dunes, and marshes dot the landscape. Deer, sea turtles, marine birds, and other creatures call this well-preserved area home.
Last, but certainly not least, the Sanctuary Spa offers a multitude of pampering treatments guaranteed to recharge and restore on the road to wellness. Kiawah Island is located on 10 miles of pristine oceanfront habitat with million-dollar views. Charleston, the seat of Southern hospitality, is less than an hour away.
15. Pendleton
Those seeking a true Southern small town experience will appreciate Pendleton. This tiny town consists of a historic district filled with centuries-old buildings. Walk the district and town square, and stop by the Farmer's Hall or Hunter's Store.
Because of its rich agricultural history, many attractions in and around the town pay homage to its roots. Stop by the Bart Garrison Agricultural Museum of South Carolina or take a drive just outside of town and explore one of the many plantations like Ashtabula and Woodburn. This is a spot to get a taste of the early farming experience in the United States.
More Related Articles on PlanetWare.com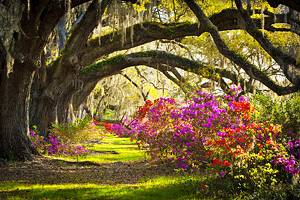 Explore More of South Carolina: Beyond the small towns, many travelers enjoy the historic city of Charleston. Families will find plenty of things to do in Myrtle Beach, as well as some wonderful family-friendly resorts. For more ideas to help plan your trip, see our article, Top-Rated Attractions in South Carolina.