12 Top-Rated Beaches in South Carolina
South Carolina is not only a wonderful place to visit for its rich history and tourist attractions, it's also home to magnificent beaches. Stretching for 187 miles along the Atlantic, South Carolina's coastline boasts some of the most beautiful and unspoiled beaches in the USA.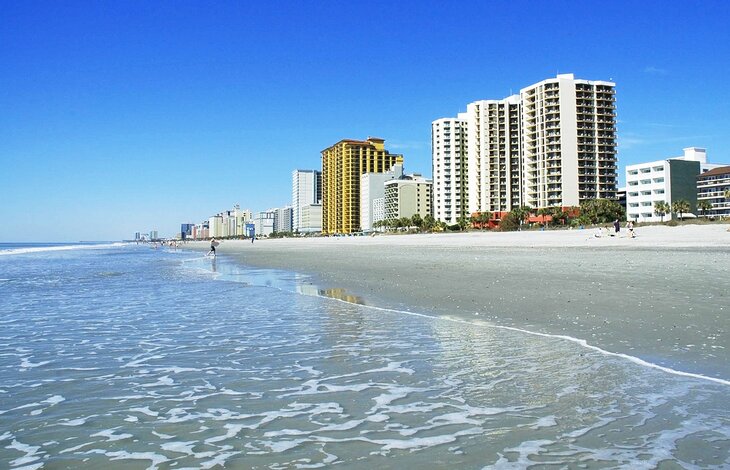 Some of the most popular beaches for tourists are located on the Grand Strand, a 60-mile stretch of perfect sandy shores located between Georgetown and the Little River area that includes the beaches at Litchfield; Murrells Inlet; Surfside; and Myrtle Beach, the latter alone attracting around 20 million visitors a year. Add to this the beaches of Hilton Head Island, and it's easy to see what all the fuss is about.
Whether you're visiting for a day or are planning on an extended beachfront resort vacation, read our list of the best beaches in South Carolina to ensure you get the most from your time in this beautiful state.
1. Myrtle Beach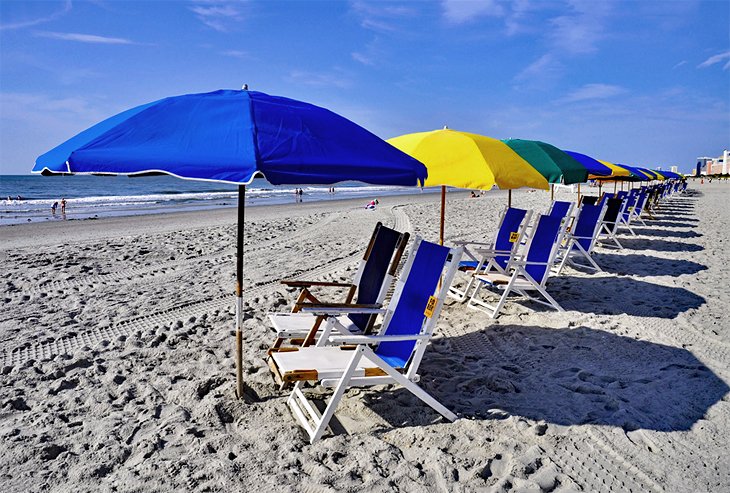 In terms of the volume of visits, Myrtle Beach is by far the most popular beach destination in South Carolina. While much of the draw is due to its many family-friendly beachfront resorts and tourist attractions, as well as its many fun entertainment opportunities, the destination's magnificent white-sand beaches are what keeps them coming back.
Stretching for 60 miles to the north and south of the main beachfront area with its fun fairs and theme-park-style attractions, Myrtle Beach certainly seems endless... as do the opportunities for fun. Walk the beach or its very long boardwalk and you'll see people enjoying activities as diverse as surfing and scuba diving, as well as simpler pursuits such as collecting shells and building sandcastle, or just pulling up a sun lounger and relaxing.
For those wanting something a little less hectic, head a little farther up the coast to North Myrtle Beach. While the beaches are just as nice, they're generally quieter the farther away you travel from the busy tourist attractions of the main beach area to the south. There's plenty of room to spread out here, whether you're wanting to hit the water and swim, parasail, sea kayak, or just hang out and enjoy the sunshine.
Bringing Fido with you? Myrtle Beach does allow dogs to visit the beach, but between May 1st and Labor Day, only before 10am and after 5pm; the remainder of the year they can visit at any time.
Accommodation: Best Resorts in Myrtle Beach
2. Coligny Beach Park, Hilton Head Island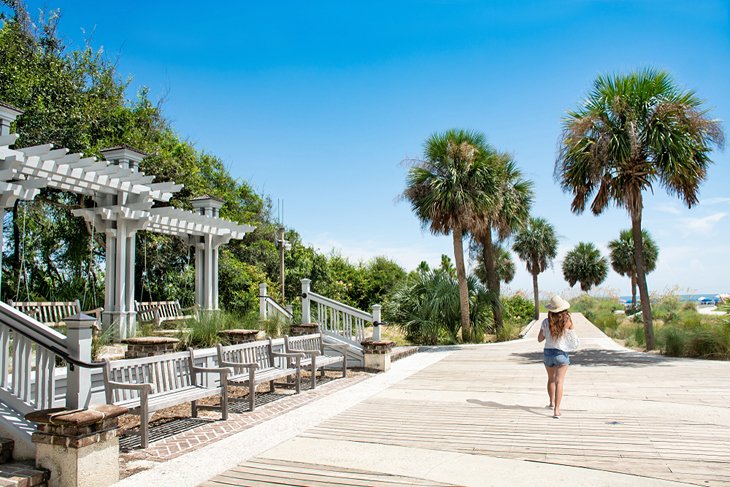 While Hilton Head Island is, in essence, really one very big beach boasting 12 miles of beautiful sandy shoreline, there are a number of distinct areas that stand out.
For those seeking a wonderful family beach experience, head to Coligny Beach Park. The beach is reached through an attractive public garden with great facilities, including change areas and comfortable swing seats large enough to hold a family. There's even free Wi-Fi, and ample parking is also available.
From here, follow the path to the matting that extends all the way to the water, enabling access for those in wheelchairs or using other assistive devices. After renting a beach chair and umbrella or setting up your own, it's time to enjoy the water, secure in the knowledge that it's safe for kids, thanks to the presence of lifeguards.
Afterwards, take time away from the water for a stroll around Coligny Plaza. Just steps from the beach. Here, you can enjoy a meal or a snack, get in some souvenir shopping, buy beach accessories and clothing, or enjoy a movie or live entertainment.
While parking is at a premium during the busy summer season, the island does provide a great shuttle bus service for those willing to park a little farther away. Alternatively, park the car and rent a bike, which you can even use to ride directly on the beach at low tide; many of the beach resorts in Hilton Head offer affordable bike rentals.
3. Kiawah Beachwalker Park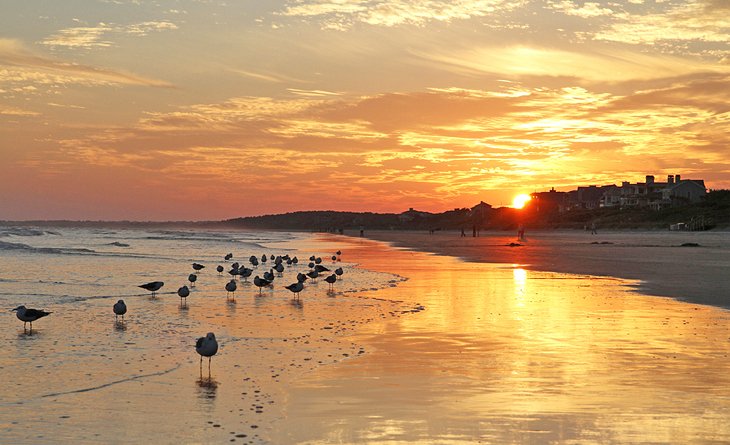 Located just a short drive away from the beautiful city of Charleston, Kiawah Island boasts an impressive 10 miles of unspoiled sandy beaches. Flanked on one side by the Atlantic and on the other by a vast 10,000-acre tract of woodlands, Kiawah Beachwalker Park is easily accessible from the mainland by bridge and is a great spot for couples and families alike.
Public amenities available include washrooms and change rooms, outdoor showers, and picnic areas with barbecues. There's also pleasant boardwalk that's perfect for a water-side stroll, as well as an easy-access ramp for those with mobility issues. Ample public parking is also available.
Beach gear, such as umbrellas and chairs, is also available for rent. If traveling with kids, make for the well-marked designated swim areas, as these include lifeguards on duty during the peak season.
Planning on making an overnight stay of it? Among the many great resorts in and around the Charleston area are a few standouts to consider. Favorites include The Sanctuary Hotel at Kiawah Island Golf Resort, Wild Dunes Resort, and Andell Inn, all of which offer high-quality vacation experiences.
Read More: Top-Rated Resorts in Charleston
4. Folly Beach, Charleston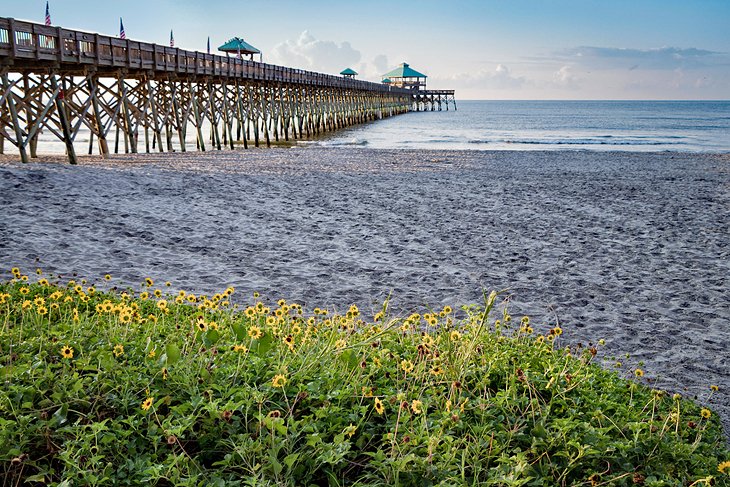 Folly Beach is another great sun spot within easy reach of Charleston. Just 20 minutes' drive from downtown and you're on Folly Island, home to Folly Beach. Here, you'll find an excellent fishing pier, so don't forget to pack your rod. The pier also makes the perfect backdrop for a romantic selfie.
Other fun things to do at Folly Beach include outdoor adventures such as sea kayaking and paddleboarding, with plenty of rental locations located nearby; surfing, with lessons available; and dolphin spotting cruises, to name but a few. It's also a pleasant beach to simply stroll along while enjoying the ocean views.
For a truly unique experience, rent a kayak and paddle around the inland shore of Folly Beach Country Park. Along the way, you'll likely see some marine wildlife, including dolphins, stingrays, and even bonnethead sharks.
Accommodation: Top-Rated Resorts in Charleston, SC
Read More: Top-Rated Small Towns in South Carolina
5. Edisto Beach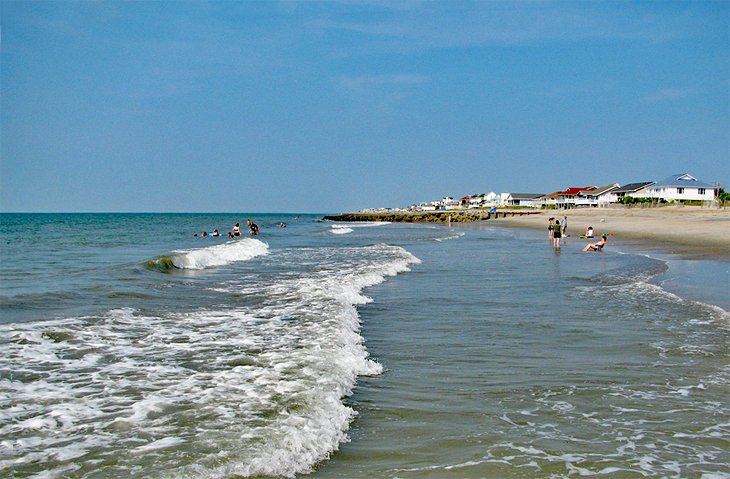 Regarded as one of the last uncommercialized beach areas in South Carolina, Edisto Beach has a unique charm that makes it particularly attractive for those who like a quieter beach experience.
The town of Edisto Beach, located on Edisto Island, is itself worth the hour-long journey from Charleston and is as popular for its restaurants as it is for its shops, galleries, quaint bed-and-breakfasts, and relatively laid-back vibe.
In addition to its excellent swimming (without lifeguards, so keep an eye on the kids), adventurous types can explore the unspoiled northern section of the beach, belonging to Edisto Beach State Park, on kayaks or paddleboards.
Other fun things to do include beach-side camping, fishing, and, come nightfall, a delightful dolphin-watching or sunset cruise. The park also offers a number of great trails to follow, which in turn can lead to some very quiet places to visit, where you can stop and relax on the beach.
6. Front Beach, Isle of Palms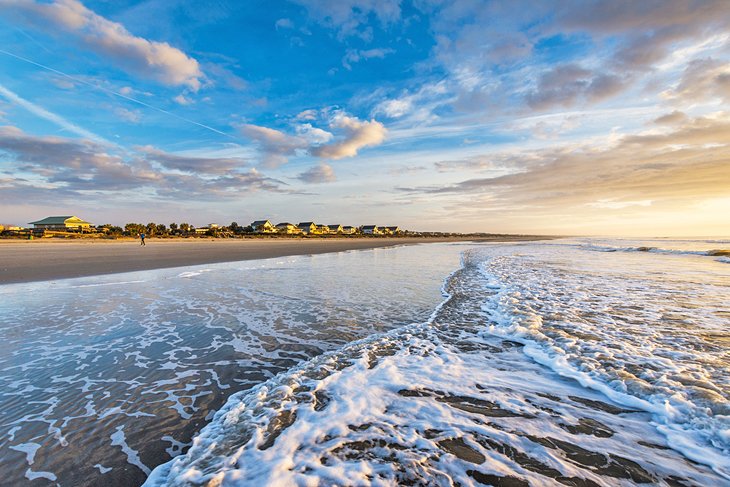 A pleasant 40-minute drive east of Charleston will find you on the Isle of Palms, an attractive beachside destination that is as popular with locals as it is with visitors to the region. It's to Front Beach that most people head, noted for its good public parking and easy beach access; all told, there are some 50 or more public access points.
In addition to the usual human beach activities, the beach is an important stopover for sea turtles, who visit to nest and lay their eggs in the dunes; watch out for the warning signs, and be sure to stay clear of these areas. Popular activities include sea kayak tours, sunset cruises, fishing, surfing, and paddleboarding.
7. Family Beach, Surfside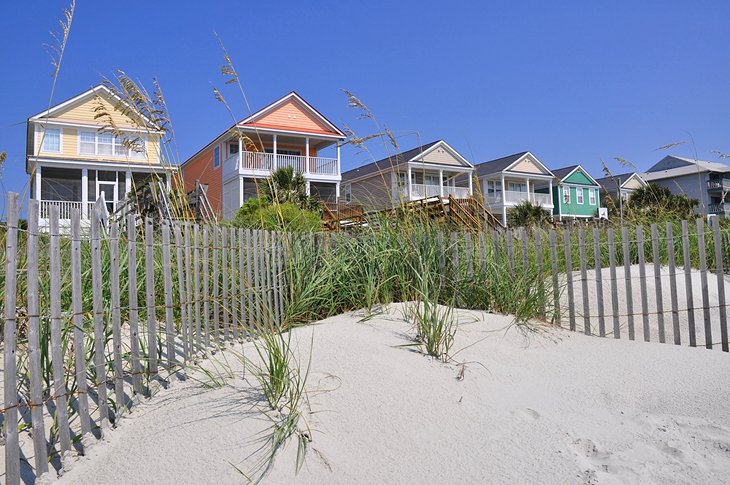 Located a short distance south of Myrtle Beach, Surfside is a pleasant getaway for those seeking a great beach holiday.
Often referred to simply as Family Beach by locals and those in-the-know, this two-mile stretch of sandy beach is, perhaps unsurprisingly, particularly popular for those traveling with children in tow. Not only is the beach attended by lifeguards, the swimming is safe, with a very gentle slope, ensuring plenty of shallow water for the wee ones to splash about.
In addition to fun do-it-yourself activities like kite flying and building sandcastles, the community offers a number of beachside activities for all ages to enjoy, from music concerts and a water park, to great dining and shopping. Adventure seekers are also well catered to with surfboard rentals and instruction.
8. Sullivan's Island Beach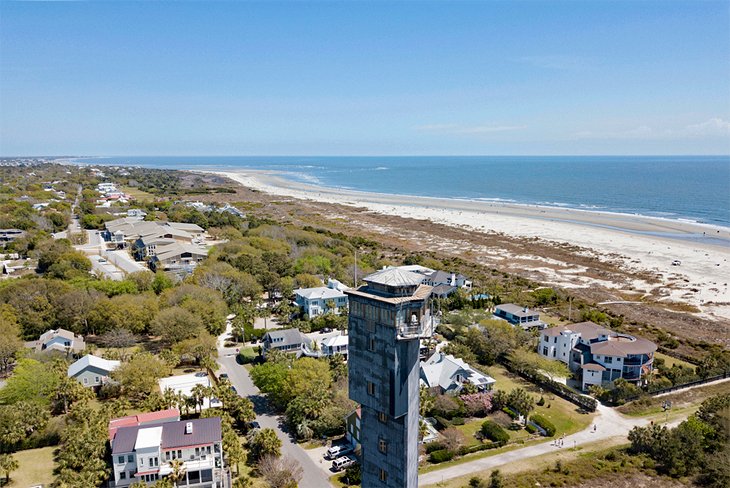 Just 20 minutes away from downtown Charleston and located on the city's harbor mouth is Sullivan's Island. This largely unspoiled, resort-free area is popular with day trippers for its natural setting.
While the lack of public facilities may mean the beach isn't perfect for those traveling with younger children, it's perfect for those with teens into swimming and water sports. It's also great for couples who will appreciate the fact that there's plenty of room to spread out on this attractive beach. There's also the fun quotient, thanks to the availability of water sports rental services, including everything from Jet Skis to surfboards.
As one of the smallest inhabited islands on the South Carolina coast, there's also a very pleasant community feel. This is further enhanced by the pleasant local dining options, shops, and B&Bs.
9. Seabrook Island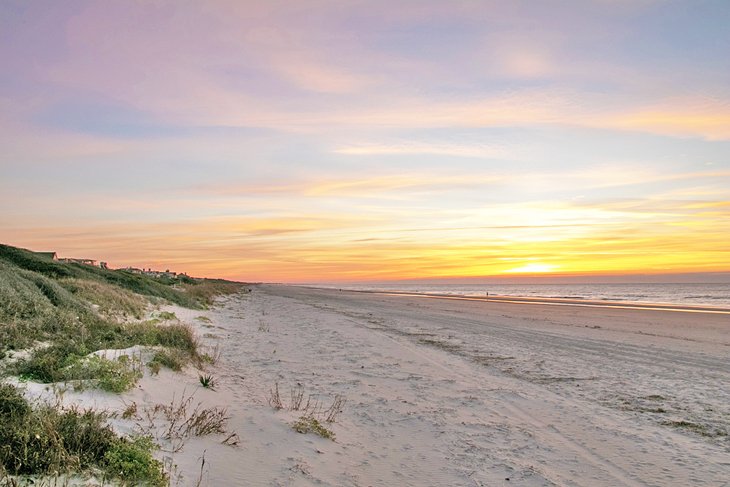 Located to the south of Kiawah Island and accessed along the same parkway from Charleston, Seabrook Island actually consists of a number of very pleasant beaches. Occupying four miles of pristine Atlantic shoreline, the two main beaches, Pelican Beach and North Beach, are often considered hidden gems for their relatively peaceful and uncrowded feel.
If traveling with kids, you'll want to focus your attention on Pelican Beach, also known as "Sunset Beach" for, you guessed it, its amazing sunsets. The gentler current here makes it ideal for swimming.
And while North Beach is great for early risers due to its magnificent sunrises, it's a great spot for nature lovers for its abundant birdlife, as well as pods of dolphins that feed off shore. There's even a section here for dog owners to let their pets off leash.
10. Hunting Island State Park, Beaufort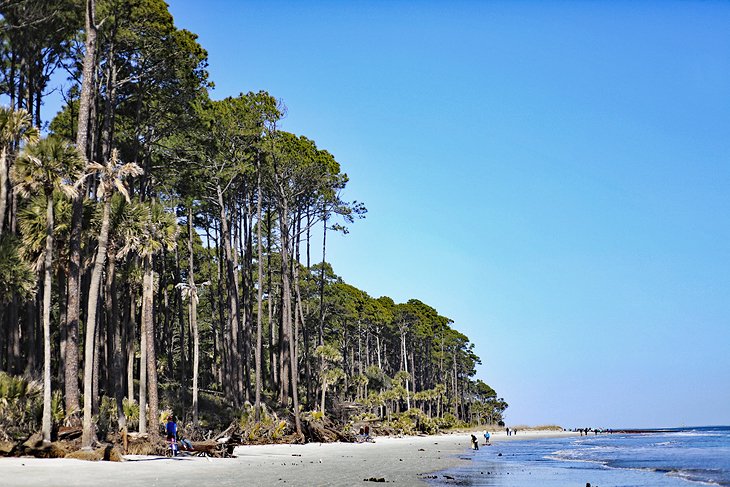 Not only does Hunting Island State Park offer a superlative beach experience, it also offers plenty of other fun things to do for visitors to this lovely corner of South Carolina. Drawing upwards of a million visitors each year, it's also one of the most popular attractions in the state not just for the sea, sand, and sun, but for things like its diverse wildlife, some of which can be experienced at the informative nature center.
The park's landmark, the 130-foot-tall Hunting Island Lighthouse can and should be climbed for its spectacular views. The beach itself is stunning and unspoiled, comprising five miles of white sand, flanked on one side by the Atlantic and on the other by 5,000 acres of marsh and woodland habitats. It's also an ideal spot for those wanting to enjoy a great camping experience, offering numerous campsites to choose from, most with easy beach access.
If you can, try to allow enough time in your itinerary to explore the nearby town of Beaufort itself. Just 25 minutes away by car, you'll find no end of fun things to do here.
11. Litchfield Beach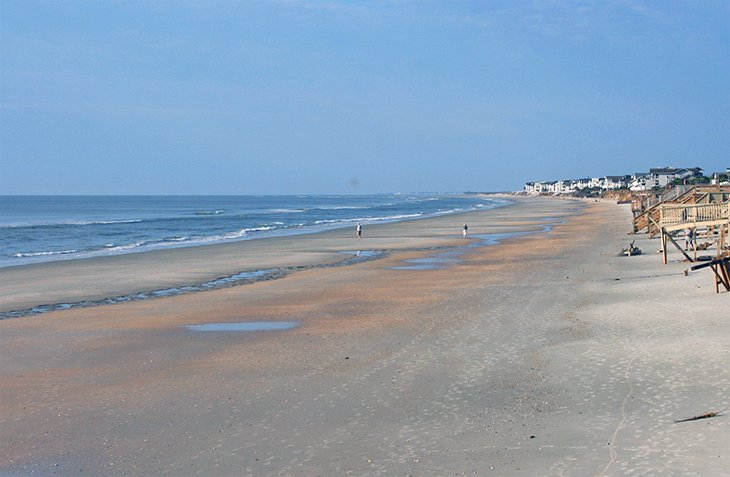 Another great spot close to Myrtle Beach is Litchfield Beach. An easy 30-minute drive south, and you'll think you're on a different planet: there are no crowds, no big resorts flanking the beach, just plenty of attractive cottages and a lovely 1.5-mile stretch of beach to enjoy.
In addition to the great sunbathing and swimming, those seeking water activities can enjoy everything from sea kayaking to Jet Skis, as well as fishing, with charters are available from local marinas. While parking is tight unless you arrive early, this, along with the fact there are only two beach access points, all but guarantees a quiet beach experience.
12. Huntington Beach State Park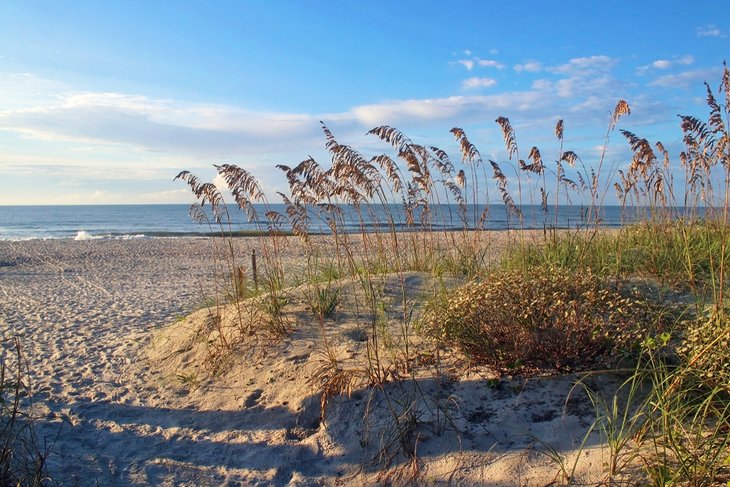 Here's a South Carolina beach that appeals as much to sunseekers as it does nature lovers and bird-watchers: Huntington Beach State Park. Located just 30 minutes' drive south along the coast from Myrtle Beach, Huntington Beach is an oasis of calm compared to many of the much busier city and big town beaches in the Palmetto State.
Covering an area of some 2,500 acres of nature preserve, the park features a pristine three-mile stretch of beach that's as much fun for those traveling with toddlers as it is for teens and young adults. The sandy, shallow waters adjacent to the shore are perfect for small children to play in, while those who want more excitement don't have to go too far out to sea to enjoy excellent surfing. It's also a popular spot for fishing, as well as camping and picnics.
Head inland, and you'll be rewarded with an abundance of wildlife spotting opportunities. More than 300 migratory and permanent bird species make their home here, with many great viewing opportunities being enjoyed from a level, well-marked hiking trail that's accessible from the beach's boardwalk and parking area. Biking is also permitted.
History buffs will want to check out Atalaya Castle, a unique 1930s-era mansion that can be visited. A gift shop is located on-site, too, and sells everything you'll need to ensure a safe and enjoyable family day or two at the beach.
Address: 16148 Ocean Hwy, Murrells Inlet, South Carolina
Map of Beaches in South Carolina
More Related Articles on PlanetWare.com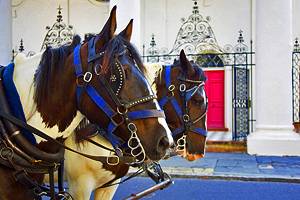 Cha-Cha-Charleston: Assuming you can pull yourself away from the other attractions in South Carolina, the historic city of Charleston is a must visit destination. Highlights of a visit to this remarkably well-preserved gem of a city include exploring its famous Historic District on foot or, if you can, by horse-drawn buggy, as well as enjoying its museums, including Fort Sumter and the huge USS Yorktown aircraft carrier.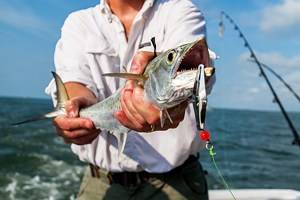 Something Fishy: South Carolina is well-known for its excellent fishing opportunities. Whether you're based in Myrtle Beach, Charleston, or Hilton Head, there are numerous charter excursions available offering incredible deep sea fishing, along with inland waterways in which to fish.