16 Top-Rated Attractions & Things to Do on Hilton Head Island, SC
We may earn a commission from affiliate links ()
Hilton Head Island in beautiful South Carolina is not only one of the newest vacation destinations in the US – it was only connected to the mainland by bridge in 1956 – it's also one of the fastest growing. In fact, in addition to seeing its population almost double in the past decade, largely due to an influx of seasonal residents, this unique destination on the southernmost tip of South Carolina's Atlantic coast is now experienced by some 2.5 million tourists each year.
The big draw? In addition to the many fun things to do here for families, its top tourist attractions, and its great hotels and resorts, Hilton Head Island - usually simply referred to as Hilton Head, or HHI to those in the know - is a heaven on earth for beach lovers and outdoor enthusiasts.
All told, HHI boasts over 12 miles of beautiful beaches, all of them wide with attractive dunes providing a natural barrier to the fun activities found inland. Add to this its many acres of protected wildlife and nature preserves, fun water adventures like dolphin tours and fishing charters, and endless paved bike trails, and you'll never be bored. And with superlative golf and countless great restaurants, there's no end of great reasons to linger and explore this beautiful Low Country paradise.
You'll find the best places to visit on the island with our list of the top tourist attractions and fun things to do on Hilton Head Island, South Carolina.
1. Enjoy the Endless Beaches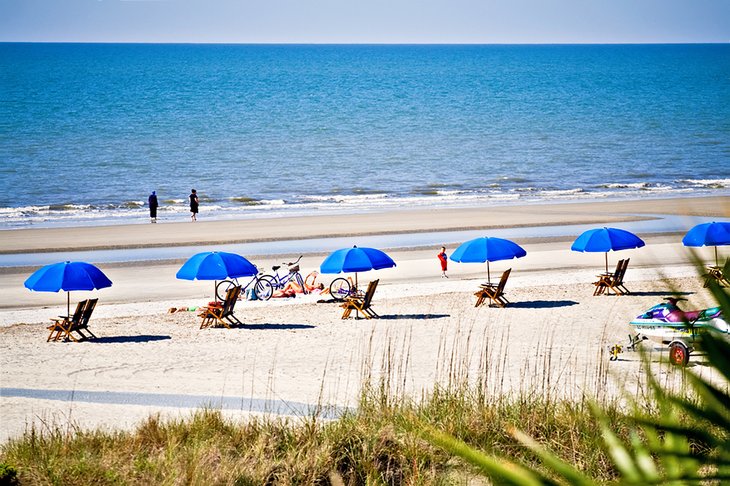 However much fun there is to be had elsewhere on Hilton Head Island, it's to the beaches you'll want to go first. Beach access points are everywhere, generally consisting of (usually) free public parking and a wood boardwalk or sandy path leading through the dunes to the water. That first glimpse of the Atlantic is always a treat, followed by the fact you don't have to go far in any direction to get away from any crowds that may have set up chairs or beach blankets.
If walking the beach is more your thing, knock yourself out. HHI boasts over 12 miles of pristine sand to explore on foot or by bike (yes, beach biking is encouraged, easy, and fun). While sunrise is a good time to walk, be sure to head home once dusk arrives; the island has a strict policy preventing lights on its beaches due to their important habitats for nesting sea turtles.
For those traveling with kids who want to swim, you may want to choose a beach location that offers lifeguards (at least during the prime beach season). These include Coligny, Islander, Driessen, and Folly Field Beaches. The other top beaches to explore include Burkes Beach (great for biking), Fish Haul Creek Beach (one of the quieter spots), and the lovely tree-lined Mitchelville Beach (the quietest and best for couples).
2. Relax in Coligny Beach Park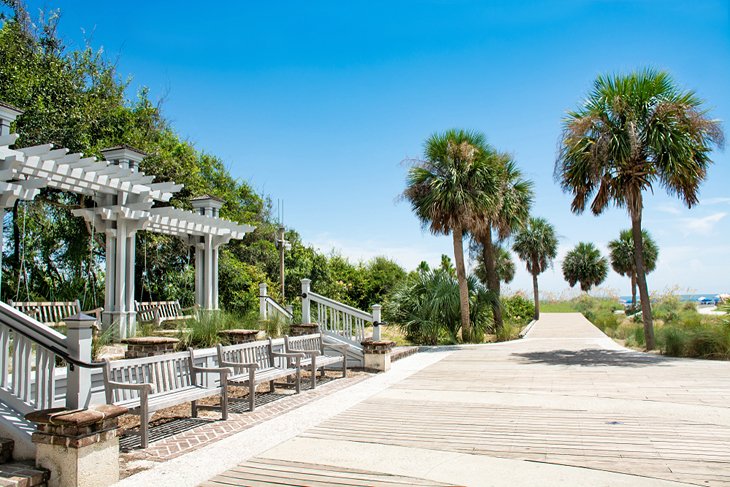 The busiest of Hilton Head Island's top beaches is adjacent to lovely Coligny Beach Park. Although it's the nearest the island has to a typical seaside scene - nearby Coligny Plaza boasts many shops and dining establishments - it's tastefully done.
Whether you arrive on foot, by bike, by car (parking can be tight), or on one of the handy trolley buses that connect the nearest car parks to the water, you enter the beach through a pleasant park area, which offers amenities such as change rooms and outdoor showers, as well as restrooms. There are also a number of great seating areas, including shady gazebos with rockers, as well as sturdy swing chairs. And yes, there's even free Wi-Fi here.
Beach access is made easy for those with mobility issues thanks to rubber matting laid across the sand. It leads directly to the ocean, where beach chairs can be rented.
Address: 1 Coligny Circle, Hilton Head Island, South Carolina
Official site: www.hiltonhead.com/coligny-beach-park/
3. Explore the Bike Trails and Do Some Beach Biking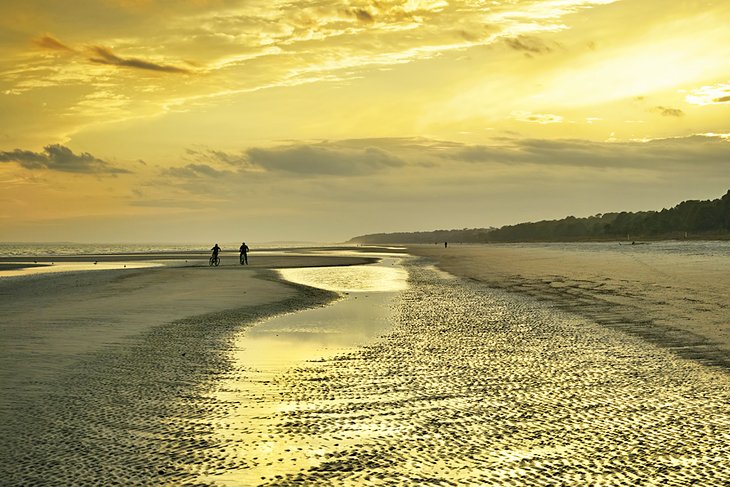 In a world overrun by automobiles, a vacation to Hilton Head Island is a refreshing change. Not only does its 12-mile stretch of Atlantic-facing beaches encourage you to get out and walk, but this very forward-looking holiday destination is home to one of the most extensive bike path networks in the US. In fact, it's the perfect opportunity to park and forget about the car for the duration of a stay, instead opting for pedal power. You can bring your own, or rent one from your hotel, resort, or any one of the numerous bike rental locations that have sprung up.
Pretty much everywhere you turn there are bike paths, either lining the roads leading into and around the island, or setting off into the trees or toward the beach, making it easy to escape the congestion, noise, and fumes of regular traffic, and instead explore at your leisure. And given its flat topography, it's extremely easy to pedal here.
HHI is one of only 21 destinations in the US to be awarded the League of American Bicyclists' Gold Level Bicycle Friendly Community Award. Bicycle traffic flows peacefully along some 117 miles of pathways shared with walkers ("On your left!" is a frequently heard greeting bikers call out to pedestrians), plus another six miles dedicated solely to bikes.
Plus, of course, there's an additional 12 miles for beach biking, a wonderful experience that has you riding leisurely along the hard-packed sand surface at low tide on bikes with special wider-than-normal tires. While it's generally easy to make up your route as you go, bike path maps are everywhere to find, whether in shops and restaurants, hotels and resorts, or at convenient pathway kiosks or bike rental locations.
4. Take a Dolphin Tour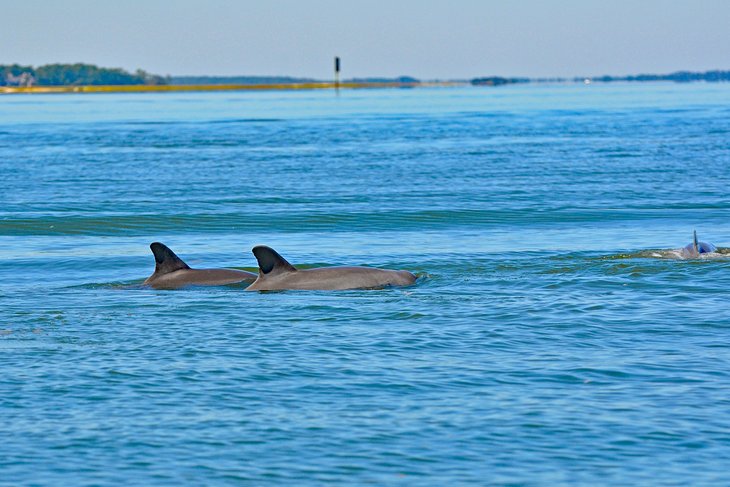 The waters surrounding Hilton Head Island are teeming with marine life. A must-do while visiting the island is to partake in a fun dolphin-watching experience, one of the best being the Hilton Head Island Dolphin Watching Nature Cruise.
This 90-minute cruise departs from Harbour Town Yacht Basin (just look for the lighthouse to guide you) and, in addition to dolphins, provides opportunities to catch sightings of the island's abundant birdlife. Other highlights include commentary as you cruise past landmarks, including Bull Island and Haig Point Lighthouse.
For an added dose of fun, consider joining a sunset dolphin cruise. Also 90 minutes long, the cruise also features dolphins, but this time with the addition of a spectacular sunset as a backdrop. It also departs from Harbour Town, a great place for a meal or a stroll afterwards.
5. Have Fun in Coligny Plaza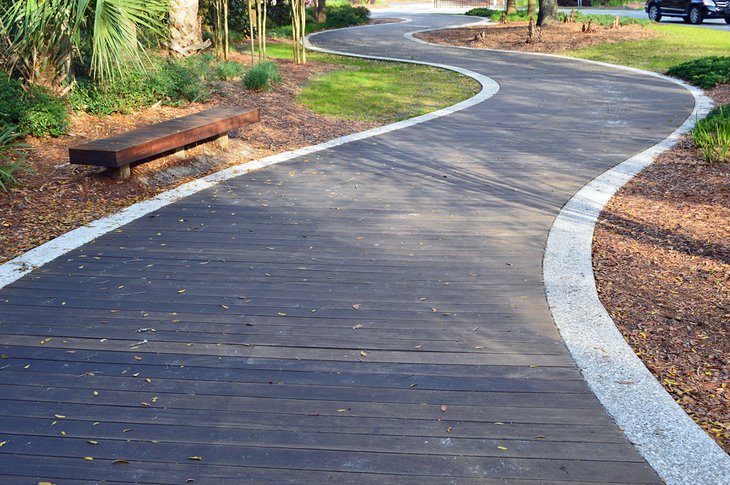 Hilton Head is well-known for its many bike paths and pedestrian boardwalks. One of the nicest stretches of footpaths leads from Coligny Beach Park and the car parks around Coligny Circle to the shops, eateries, and entertainment opportunities at Coligny Plaza.
This always bustling plaza is fun to explore. In addition to the usual souvenir gift shops and eateries, there are a number of unusual places to visit worth checking out that sell high-end fashions and accessories, and less-traditional foodstuffs.
A favorite among the 30 or more shops and restaurants located here is the wonderful Sweet Carolina Cupcakes (be sure to buy some to take home with you, too). Coligny Plaza is also home to a movie theater, and during the busier months, free live music can be enjoyed outdoors as you partake in an al fresco snack or meal.
Address: 1 N Forest Beach Drive, Hilton Head Island, South Carolina
Official site: http://colignyplaza.com
6. Climb the Harbour Town Lighthouse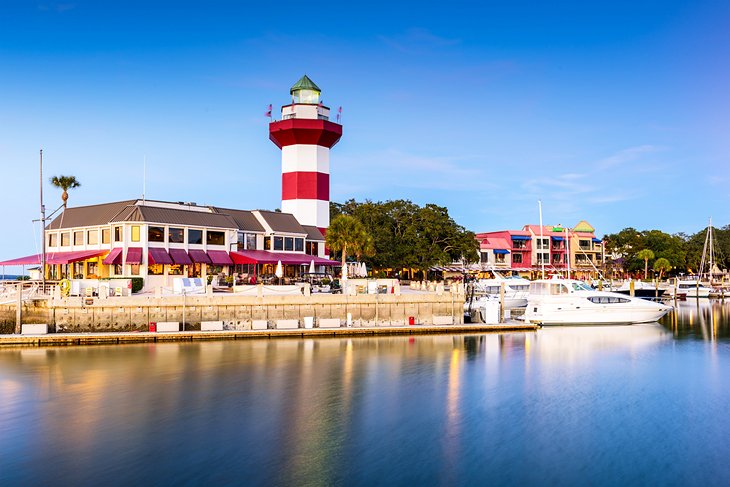 Undoubtedly Hilton Head's most recognizable landmark, the Harbour Town Lighthouse is a must-visit. Located in the heart of Harbour Town in the ritzy Sea Pines Resort district at the Island's south end, this iconic red and white striped lighthouse serves not only as a navigation aid to boat traffic using the Harbour Town Marina and the Intracoastal Waterway, it's also a first-rate museum.
The lighthouse was erected in 1970 and stands 90 feet tall. A visit will lead you past a number of interesting exhibits as you climb the building's interior upwards toward the viewing platform. Highlights include displays of historic photos and artifacts related to the island's history (it has been inhabited some 10,000 years) and a special exhibit showcasing the role of the Coast Guard over the decades.
The views from the top of the lighthouse are spectacular. From here, you can see over a large part of the island, as well as nearby Daufuskie Island, and even to Tybee Island in the neighboring state of Georgia. There are also two gift shops on-site, and events and functions such as weddings can make use of the building with prior booking.
Address: 149 Lighthouse Road, Hilton Head Island, South Carolina
Official site: https://harbourtownlighthouse.com
7. Visit Harbour Town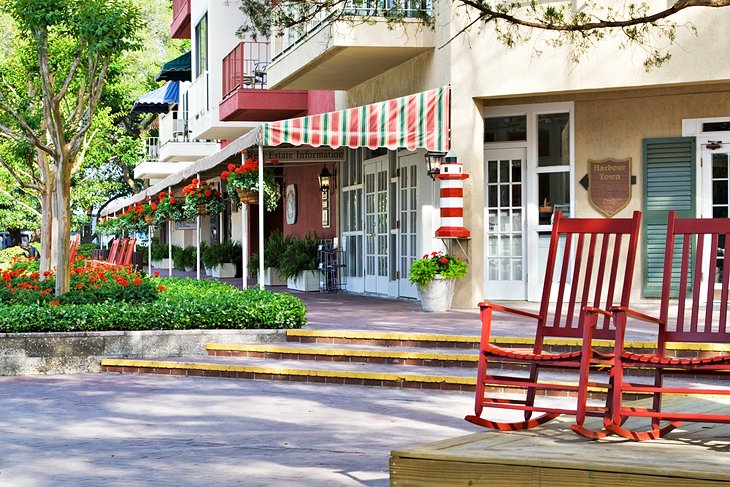 Harbour Town itself is also well worth exploring. Considered the commercial hub of the high-end (and huge) Sea Pines Resort, it's a great place to shop. Shopping highlights include a number of fine boutique stores selling chic clothing, home décor, and furnishings, as well as a great selection of crafts, gifts, jewelry, and art.
There are also plenty of great dining options, including casual fare at the Harbour Town Bakery & Café, which serves great baked goods, sandwiches, espresso coffees, and teas, all served al fresco.
Harbour Town is also a hub of sporting activity. Much of the action centers around the marina. Here, you can pick up a sailing excursion aboard a famous racing yacht, hop aboard a dolphin watching cruise, send the kids on a pirate ship adventure on the Black Dagger, rent a Jet Ski, or embark on a kayak eco tour.
Golfers are also well-catered to at the famous Harbour Town Golf Links, well-known for its iconic 18th hole (just aim for Harbour Town Lighthouse). There's also a tennis club with world-class courts, along with a large adventure playground for the kids. (Editor's Note: while parking is free, there's a small admission to pay when entering this ritzy resort and residential area, even if entering by bike or on foot.)
Address: 149 Lighthouse Road, Hilton Head Island, South Carolina
Official site: www.seapines.com/recreation/harbour-town/
8. Get Back to Nature at the Coastal Discovery Museum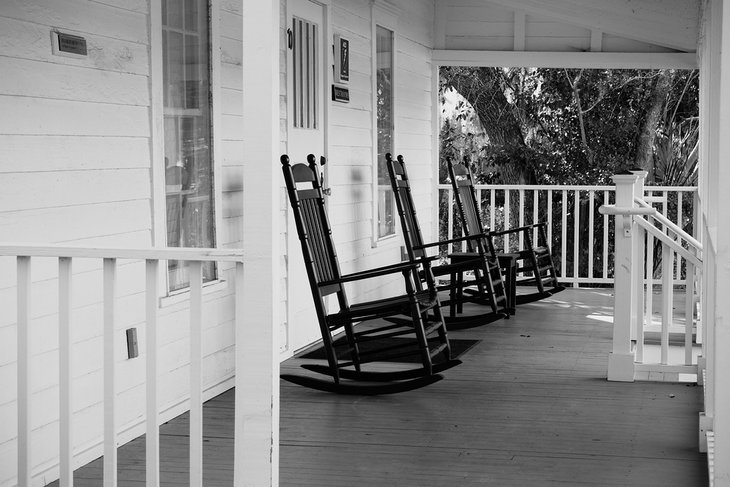 A must-visit while on Hilton Head Island – especially for nature lovers of all ages – is the Coastal Discovery Museum. This popular educational center is set on 68 acres of land, some of it abutting the coast, and makes for a fun half-day excursion. You'll enjoy learning about such native tree species as the magnificent live oak, so-named as they never completely lose their foliage, as well as a nearly 500-year-old southern red cedar.
There's plenty of wildlife, too, including many species of birds and butterflies. Best of all, much of the property can be explored simply by following its network of well-marked nature trails, including three fun marsh boardwalks along the tidal Jarvis Creek.
Other notable features are the Bird's-Eye View Theater, an outdoor theater staging regular events and shows, and a replica shell ring made of local shellfish in a style known to have been used for over 4,000 years. The Coastal Discovery Museum is also the site of a popular weekly farmers market, plus a large annual art show.
Address: 70 Honey Horn Drive, Hilton Head Island, South Carolina
Official site: www.coastaldiscovery.org
9. Walk the Trails at Sea Pines Forest Preserve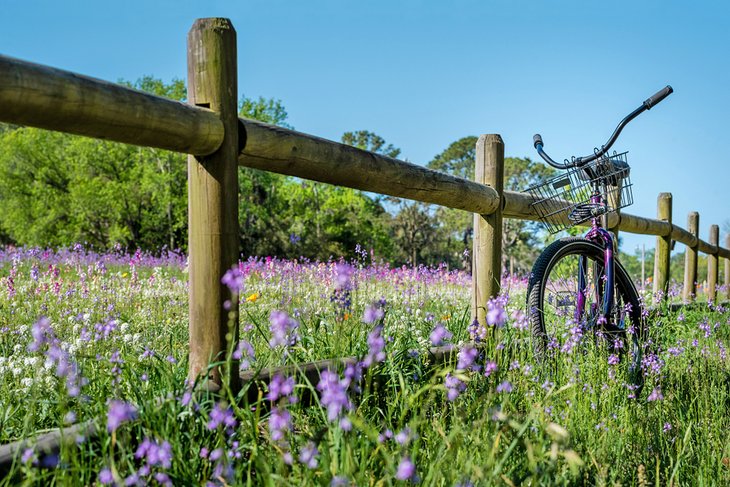 Also worth a visit for nature lovers is Sea Pines Forest Preserve. Located in the Sea Pines Resort area, it's a delightful area to explore on foot (and easy to get to by bike).
Established in 1970, highlights of this important nature reserve include a network of walking trails and wetland boardwalks, an ancient original shell ring (it's reputedly 40,000 years old), and plenty of wildlife (including alligators). Other fun things to do here include wagon rides, horseback riding, guided boat tours, and fishing. It's a great spot for a family picnic, too.
10. Enjoy a Sea Kayaking Tour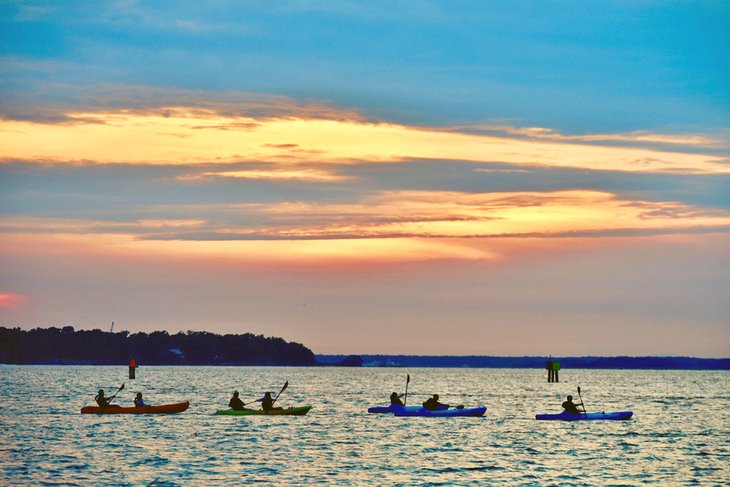 Nothing says "I've been to Hilton Head Island" quite like grabbing a selfie before you hit the water in a kayak. For casual kayakers (or more experienced paddlers traveling without their own vessel), a great way to sample this must-do experience is by joining a guided kayak nature tour of Hilton Head.
These fun, safe two-hour adventures include the services of a professional naturalist who will guide you through the salt marshes of Broad Creek Wildlife Area, a nature preserve that's brimming with wildlife. In addition to numerous native and migrating bird species, you'll likely spot some dolphins along the way, too. Suitable for older children, the tour also includes a safety talk, as well as life jackets.
11. Explore the Ruins of Stoney-Baynard Plantation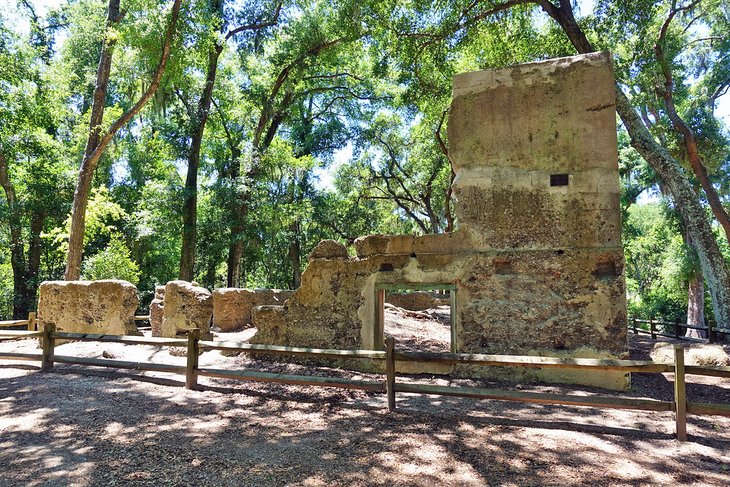 After exploring Sea Pines Nature Preserve, head over to the nearby Stoney-Baynard Plantation historic site to explore the remains of one of the former plantations that once dotted the island. Also known locally as the Baynard Ruins, this fascinating historic archeological site dates back to 1790 and was destroyed at the end of the Civil War (it's also said to be haunted!).
You can certainly get a good sense of the scale of the plantation, with notable remains including a portion of the original two-story house, as well as evidence of the encampment made by occupying Union troops during the Civil War.
Address: Plantation Drive, Hilton Head Island, South Carolina
12. Take a Boat to Daufuskie Island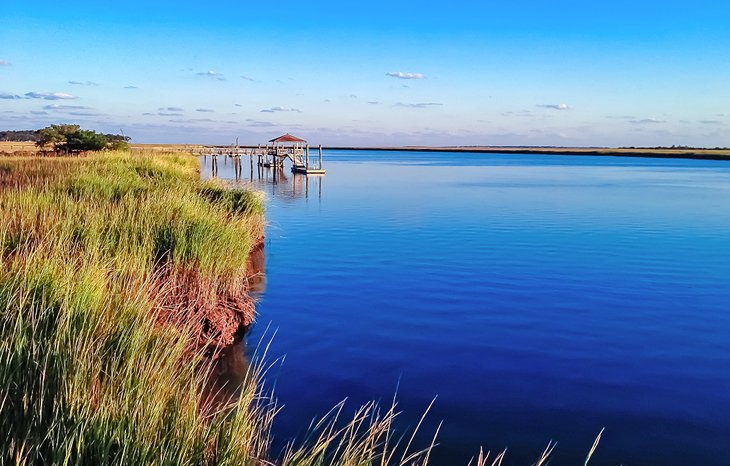 Sandwiched between Hilton Head Island and the northern shoreline of Georgia, the much smaller Daufuskie Island - population 400 (plus or minus musician John Mellancamp, depending on the season) - is well worth taking the time to visit.
Getting here is certainly fun and consists of a 45-minute ferry ride along the Intracoastal Waterway. Regular scheduled ferry services are provided by Daufuskie Island Ferry, while private operators offer a variety of services, including water taxis, during the busy season.
A great way to enjoy this unique destination is to book a Daufuskie Island Guided History Tour from Hilton Head, a fun outing that takes in the main sightseeing opportunities. Whichever you take, a dolphin sighting is all but guaranteed.
If you're not taking a bike with you, be sure to make arrangements in advance for a golf cart to await your arrival. Better still, take part in an organized tour by companies like Tour Daufuskie. Not only will they arrange transportation, they'll whisk you around the highlights and, if required, will rent you a golf cart to explore some more.
Just five miles from tip to tip (and half that in width), Daufuskie, too, is known for its beaches, boasting some three miles of sand all told. It's also a cultural destination – the whole island is on the US National Registry – with many of its residents making a living as artists, writers, musicians, or chefs (or sometimes a combination of these skills).
Be sure to include a visit to the historic Mary Fields School, famous as the place where author Pat Conroy once taught, and a great place for a coffee or to shop for traditional indigo-dyed clothing.
The First Union African Baptist Church is another must visit, and offers a fascinating insight into the lives of those sold into slavery through the separate "sheds" that served as their place of worship. There are also two lighthouses on the island, one of which - at infamous Bloody Point - was built in 1883, while that at Haig Point (now a high-end real estate development) was constructed in 1873.
Address: Daufuskie Island, South Carolina
13. Take a Drive to Bluffton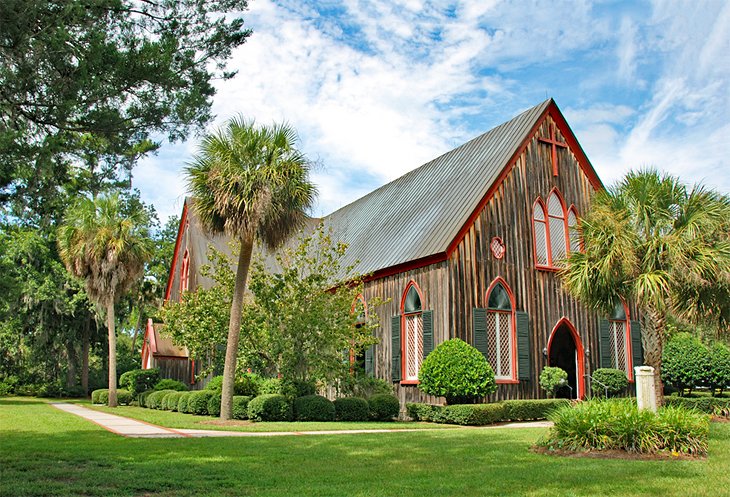 While not strictly speaking on the island, the town of Bluffton is considered by locals and visitors alike to be a part of Hilton Head. Start your visit in the Old Town, a delightful area with great restaurants (including the superb fine-dining establishment, The Bluffton Room), chic boutique shops, and a pleasant public square.
It was near here that the seeds of the secession and the Civil War were sown, when members of the Bluffton Movement in 1844 protested against high federal taxes. This history, and much more besides, can be reviewed at the excellent Heyward House Museum. Built in 1841, it's now home to the town's visitor center (guided tours are available).
Other fun things to do in Bluffton include visiting the Church of the Cross, dating from 1857, and participating in cultural events such as the popular Bluffton Village Festival each May and the Historic Bluffton Arts & Seafood Festival in the Fall.
Address: 70 Boundary Street, Bluffton, South Carolina
14. Pinckney Island National Wildlife Refuge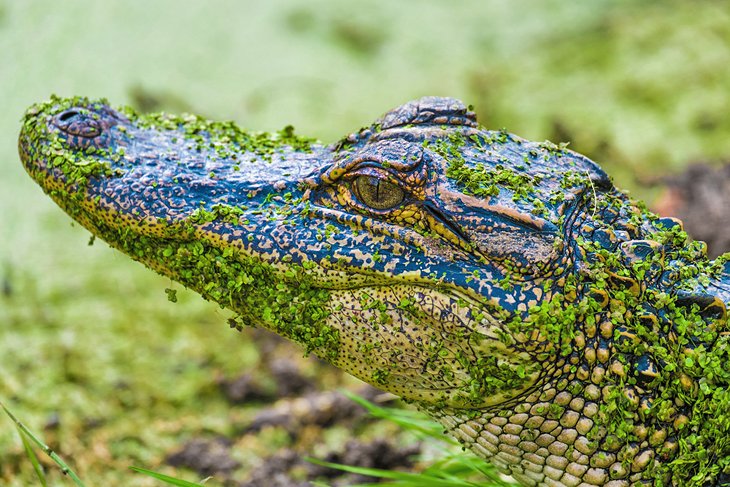 The sprawling Pinckney Island National Wildlife Refuge was established in 1975 and covers an area of more than 4,000 acres. Sandwiched between Hilton Head Island and the mainland, it shares the same bridges and highway network that connect the two larger landmasses.
It was established by the Pinckney family, who built a plantation here in the mid-18th century and lived on the island for over 200 years. It's considered one of the most important archaeological sites in South Carolina for its more than 115 historic sites, some showing evidence of human habitation over 10,000 years ago.
It's a wildlife spotters' paradise and is home to numerous species of waterfowl and shorebirds, including white ibis, egrets, and herons, as well as bald eagles. Also likely to be spotted are deer, alligators, and armadillos. Guided nature tours are available on an electric shuttle, or by bike (advance booking required).
It's also a great place for hiking and cycling enthusiasts and boasts over 10 miles of well-marked trails. Of interest to Civil War enthusiasts are the headstones of black soldiers, possibly former Pinckney Island slaves, who served with Union forces.
Official site: /www.fws.gov/refuge/pinckney_island/
15. Take the Kids to The Sandbox Children's Museum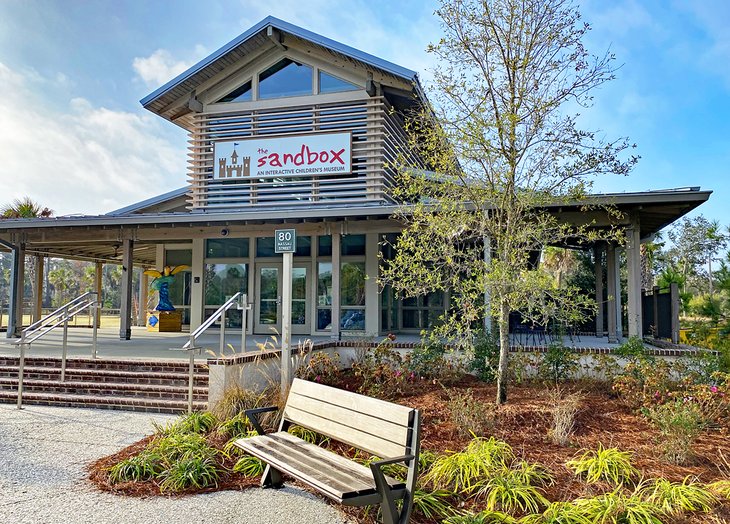 If the kids ever get tired of playing on the beach (or even if they don't), consider taking them for a visit to the Sandbox Children's Museum. Handily located near Coligny Beach Park, the museum has been around since 2005 and provides plenty of fun, hands-on activities that encourage children to explore and learn about the world around them.
The focus is very much on playing while they learn, with interactive exhibits covering everything from nature to big machines. Highlights include kid-sized stores and banks, an aircraft flight deck, as well as a regular program of events and activities guaranteed to entertain and challenge.
A second "satellite" museum is located in the Tanger 2 shopping outlet in Bluffton.
Address: 80 Nassau Street, Hilton Head Island, South Carolina
Official site: www.thesandbox.org
16. Bird-Watching at Audubon Newhall Preserve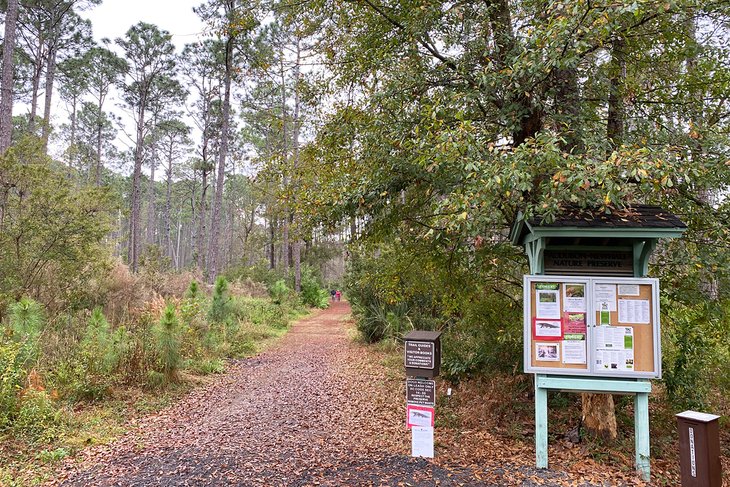 While there's no shortage of great places to visit for bird-watching on Hilton Head Island, one of the best can be found at the Audubon Newhall Preserve. Set on 50 acres of land in the south end of the island, the preserve features a number of easy-to-walk (and wheelchair accessible) trails through a forested area that houses numerous bird species.
While the trails only extend a total of a mile, be prepared to stop often, hoist the binoculars, and try to identify who's behind the birdsong you're hearing (handy guides and displays are provided in the small information kiosk near the car park). Be sure to visit the observation platform that overlooks the property's pond; it's a great place to spot various waterfowl looking busy.
Where to Stay on Hilton Head Island for Sightseeing
Luxury Hotels:
Leading the pack when it comes to luxury accommodations in and around Hilton Head Island is the exquisite Montage Palmetto

Bluff

. Located just a short drive from Bluffton, this elegant plantation-style hotel offers chic rooms and suites overlooking the river, along with eight restaurants and plenty of property to explore.
The five-star Inn & Club at Harbour

Town

is another good choice in the luxury hotel category. It's located in the posh Sea Pines Resort area, and a stay here comes with a choice of spacious suite sizes, plus access to a beach shuttle and private club.
Budget Hotels:
Reputable budget-priced hotel options in Hilton Head include the Simple Rewards

Inn

, a no-frills location within easy reach of the beach and attractions (it also includes breakfast).
The Holiday Inn Express Hilton Head

Island

offers a pleasant, leafy setting just a short walk from Coligny Beach Park, and the Best Western Ocean Breeze

Inn

is popular for its clean, comfortable rooms, free breakfast, and its location adjacent to Coligny Park Plaza.
More Related Articles on PlanetWare.com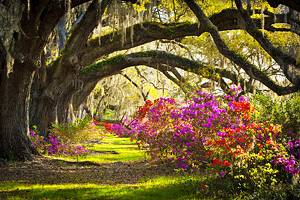 Easy Day Trips: Hilton Head Island's location at the southern tip of South Carolina makes it the perfect jumping-off point for some fun Low Country day trips. A favorite is to hit the historic district of Savannah, Georgia, one of the best-preserved - and most picturesque - old town centers in the US. Savannah is an easy one-hour drive from HHI; better still, take a ferry or pleasure cruise, which run regularly throughout the year.
Equally pretty is Charleston, a wonderful example of "Old South" architecture with numerous fine parks and gardens to explore. South Carolina's capital city of Columbia is also within reach, with highlights such as the State House and the Historic Waverly Neighborhood.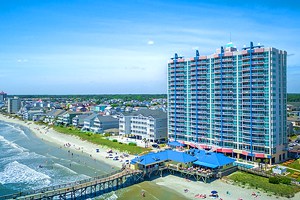 Coastal Towns: Other great vacation destinations on the East Coast include Myrtle Beach at the top end of South Carolina, popular for its endless beaches, countless hotel options, and fun family attractions.
Farther north, the city of Wilmington offers plenty of great attractions to explore, including the huge Battleship North Carolina.
Virginia Beach also boasts long stretches of lovely beaches to explore, as well as one of the longest boardwalks in the US.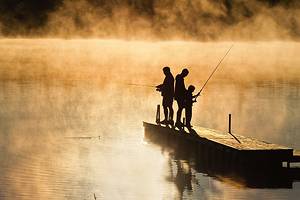 Something Fishy: The US boasts some of the top fishing vacation destinations anywhere in the world. For a look at some destinations for fishing in the area, see our articles on Deep Sea Fishing in South Carolina, or, for something a little different check out Trout Fishing in North Carolina.