11 Best Things to Do in Amelia Island, FL
Technically a part of Florida, but another world away, Amelia Island feels like its own little corner of the universe. And in many ways, it truly is. The 13-mile barrier island sits just off the coast of northern Florida, near the border of Georgia. The vibe here swings beyond tranquil, with plenty of wide-open spaces, windswept beaches, charming coastal communities, and miles upon miles of meandering rivers.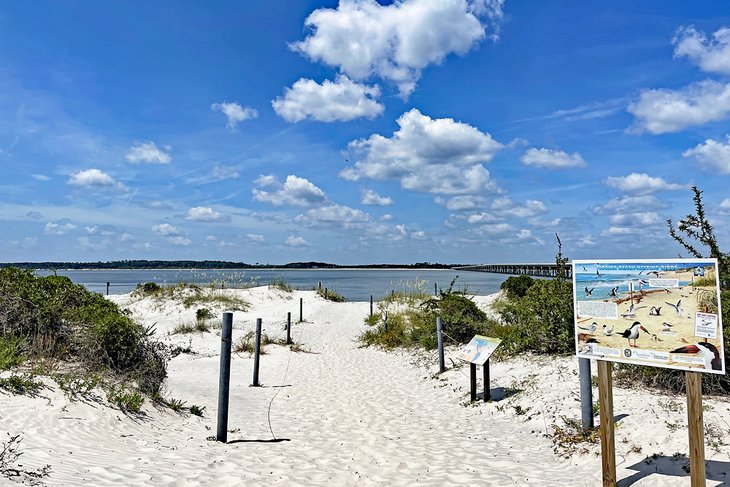 Protected parks and sun-bleached beaches are also a vital part of the landscape on Amelia Island, providing plenty of things to do outdoors. Thirteen miles of beaches stretch from north to south. In the interior of the island are marshlands, rivers, and lovely lakes.
The original settlement of Amelia Island is modern day Fernandina Beach, and you can still visit the historic Fort Clinch, which retains so much of the military history of the island.
The way of life on the island is completely laid-back, with casual restaurants, spots for live music, culture, and shopping. Historic homes with stately moss-draped oak trees flank charming streets. Every corner of Amelia Island practically drips with Southern charm.
If you're ready to explore what makes this part of Florida so great, read on to discover the best things to do in Amelia Island.
1. Fernandina Beach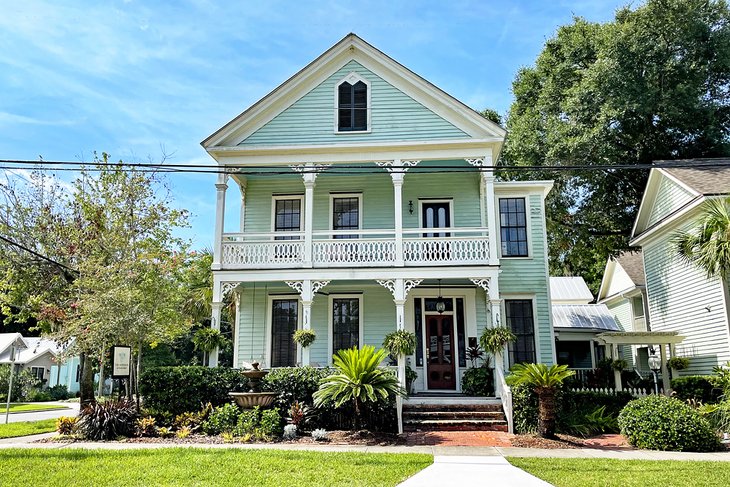 The first stop on any trip to Amelia Island should be the historic Victorian village of Fernandina Beach. It's the northernmost city on the coast of Florida and one that is rooted in history. First inhabited by the Timucua tribe, Fernandina was later an important village for France, England, Spain, Mexico, and eventually the United States. In fact, it's common knowledge that the town has flown under eight flags in its existence.
Fernandina was settled by the Spanish Franciscans in 1685. The original site is where the current Old Town sits, but that site was razed by the British in 1702. During the 19th century, when the U.S. took the territory back from Spain, Fernandina became a thriving seaport city, until it fell to the Confederates during the Civil War. After the Civil War, Fernandina rose back to its splendor as a seaside town.
Fernandina Beach of today is known for its charming historic downtown that is packed with great shopping, dining, and entertainment. A calendar of festivals keeps the city full of fun year-round.
Visitors love exploring the historic attractions around town, as well as the beaches. In 1988, parts of The New Adventures of Pippi Longstocking were filmed in Fernandina Beach.
2. Fort Clinch State Park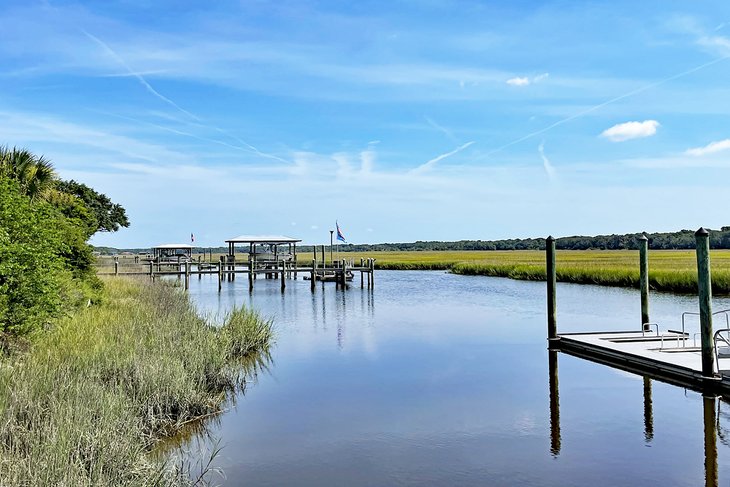 Within minutes of bustling downtown, visitors to Amelia Island can be whisked away instantly into quiet, serene nature. Fort Clinch State Park is a 1,400-acre park filled with beautiful tropical nature, and quite a bit of history, as well.
Fort Clinch, located within the park, was an important landmark during the Civil War. The fort was actually held by Confederate troops during the Civil War, though it fell to Robert E. Lee in 1862. The fort was also used in 1898 at the beginning of the Spanish-American War.
Today, visitors to the park can explore the fort and its grounds, as well as learn about what life was like at the fort during the Civil War. You can still see the cannons lined up pointing across the St. Mary's River into Georgia.
Surrounding the fort is an endless swath of lush, thick jungle, complete with meandering rivers and creeks, ancient oak trees, webs of trails and bike paths, and tons of wildlife, including gopher tortoises.
3. Amelia Island State Park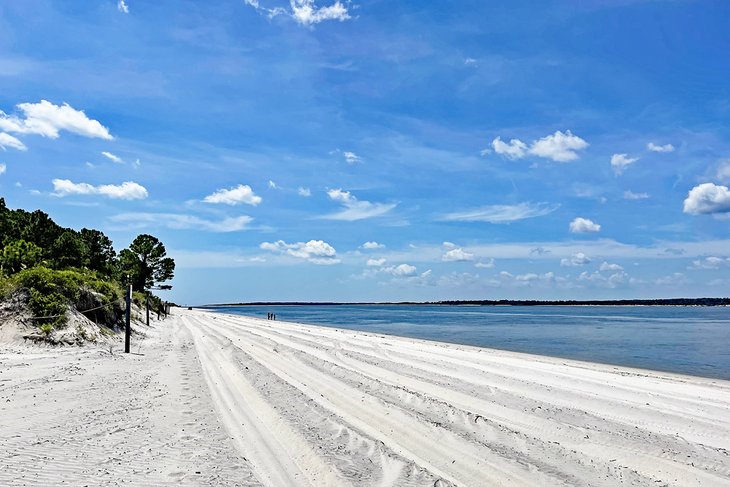 Covering the southern tip of Amelia Island is one of the loveliest beachfront parks in Florida. Amelia Island State Park is an expansive 200 acres of untouched beach and maritime forest. Stroll along the powdery white sand, or, even better, hop up on a horse, and take a ride. Amelia Island's state park is the only one that offers beachfront horseback riding in Florida. To ride horseback on the beach in Amelia Island State Park, visit Kelly Seahorse Ranch.
Of course, Amelia Island State Park has many other things to do. Cyclists can bike the paved Timucuan Trail Pathway, which is part of the 3,000-mile East Coast Greenway. The Greenway stretches all the way from the Florida Keys up to Maine.
Birding is big in the park, as well. Amelia Island State Park is part of the Great Florida Birding and Wildlife Trail, so keep those binoculars ready to spot piping plovers, black skimmers, pelicans, and osprey.
Anglers love to cast a line off of the George Crady Bridge Fishing Pier State Park, which is right next to Amelia Island State Park. You can also cast a line from the shore of Amelia Island State Park. What you'll be catching are redfish, flounder, and speckled sea trout, among others.
Many visitors to Amelia Island State Park come for the shelling. Among the many species you'll find washed up ashore are scallop, oyster, and periwinkle. The best time to shell is at low tide – you will undoubtedly find a few gems to take home with you.
4. American Beach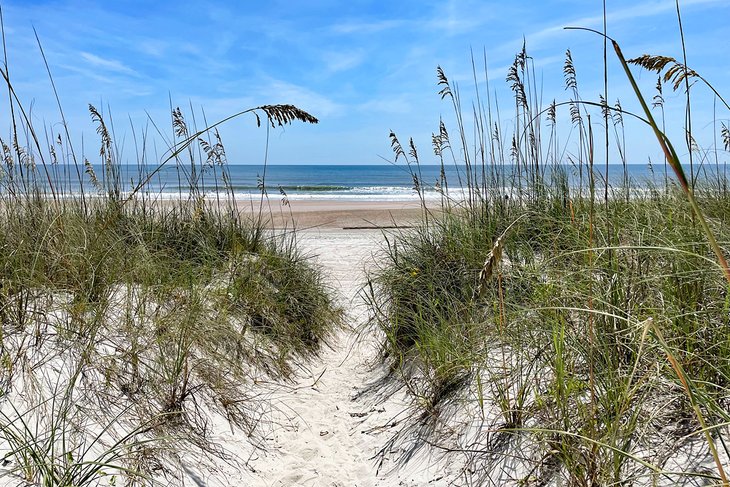 American Beach is not only a beautiful beachfront community in Amelia Island, it also happens to be one of its most historic and has held an important part in Black history in the United States.
It was founded in the 1930s by Abraham Lincoln Lewis, who was president of the Afro American Insurance Company. He purchased the piece of land as a place for Black employees to enjoy the beach without fear of discrimination. During this time in the United States, most beaches and facilities were segregated, and this beachfront community on the island became a safe haven for Blacks of Amelia Island.
Today it is still one of the best beaches on Amelia Island, though it has become much more of a major spot and is lined with beachfront mansions and luxury condos. You'll also find the impressive NaNa Dune here, which is the largest sand dune in Florida.
5. Amelia Musical Playhouse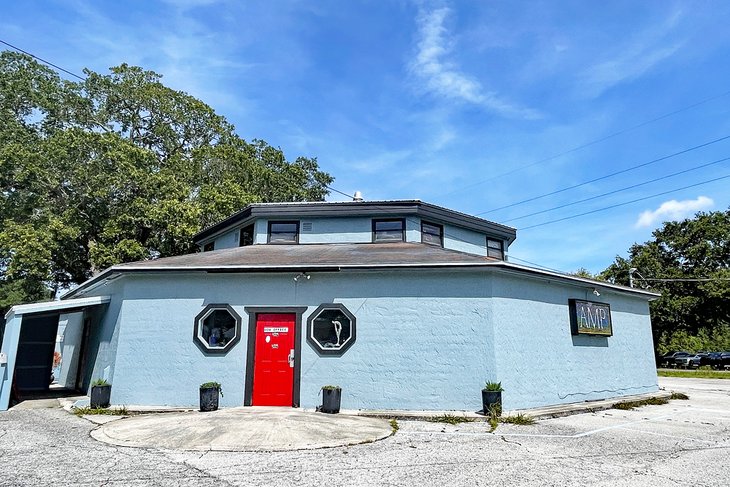 In the mood for a little musical theater? Look no further than the Amelia Musical Playhouse. This local theater is known for its calendar of musicals, plays, and revues that it hosts year-round.
The iconic octagon-shaped theater has been running for more than 10 seasons and is entirely based on volunteer support. Since 2013 it has put on more than 140 shows, with more than 60 of them with full live music.
Address: 1955 Island Walkway, Fernandina Beach, Florida
Official site: https://ameliamusicalplayhouse.com/
6. Seaside Park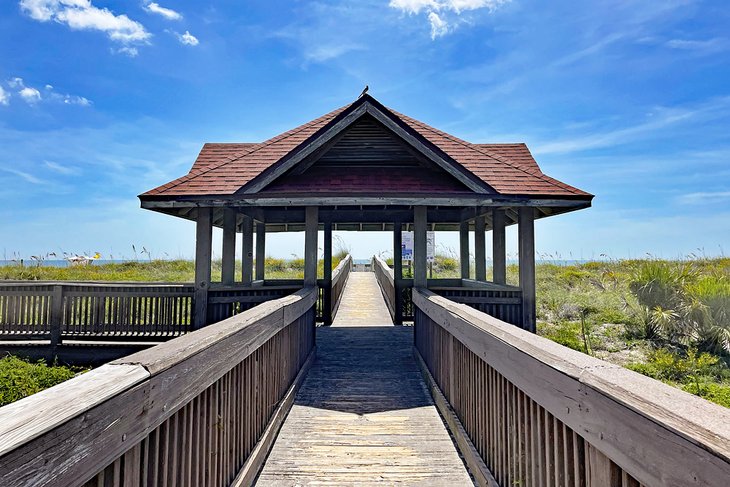 Yet another beautiful, spacious beach on Amelia Island is the lengthy Seaside Park. The beach is certainly popular among locals and tourists, but because of its lengthy reach, it's not difficult to find a corner to carve out for yourself.
What's interesting about this beach is that you can drive onto it, but to do so, it is always best to have a car with four-wheel drive.
Like the other beaches on Amelia Island, this beach has nearby concessions and covered boardwalks, as well as picnic tables. It's just another top-notch option of a beautiful beach to camp out at for the day when visiting Amelia Island.
7. Main Beach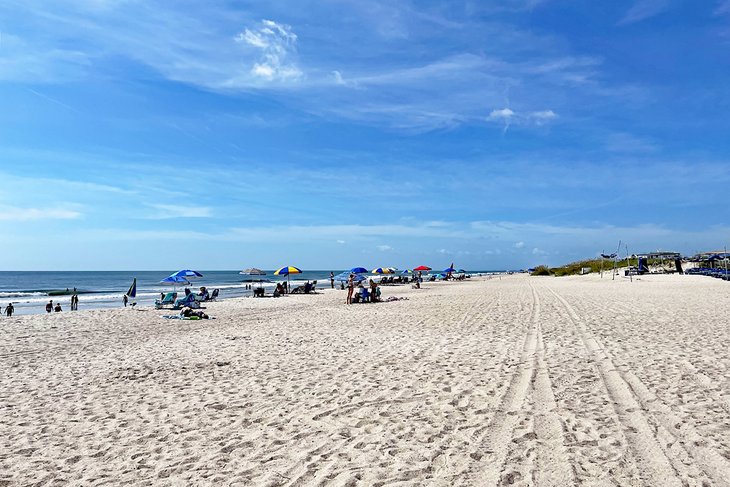 The name says it all. Amelia Island's Main Beach is just that – the island's main and most well-known beachfront park. Home to two volleyball courts, a playground, picnic shelters, outdoor showers, a skate park, and, of course, a sweeping swath of sand, Main Beach is one of the very best beaches on Amelia Island.
Visitors love coming to Main Beach, particularly for searching for seashells. It is said to be one of the best beaches on the island for discovering these colorful sea jewels.
Main Beach is where you'll find many of the resorts on Amelia Island, too. Many of these are within walking distance to the beach.
Main Beach has a mini-golf area, as well as biking and walking trails. Rent a bike at Bike Amelia, and hit the paths on two wheels.
8. NaNa Dune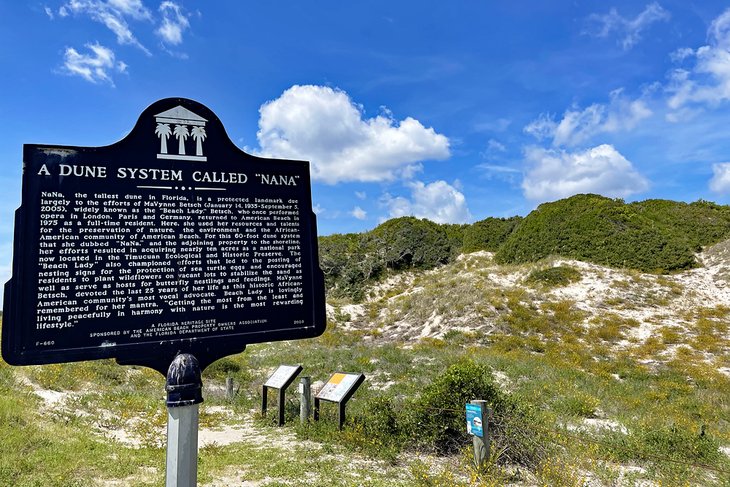 Florida may not have a reputation as an international sand dune hot spot, but the state does have quite a few impressive dunes, especially along the Atlantic Coast. And if you're visiting Amelia Island, you'll have the opportunity to see the largest sand dune in Florida – the NaNa Dune.
Located in the sleepy and historic American Beach community, NaNa is a protected landmark. The 60-foot dune system is now part of the Timucuan Ecological and Historic Preserve.
Protection of the dune system is credited to MaVynne Betsch, who was locally known as the "Beach Lady." A former opera singer, she moved to American Beach in the 1970s to live full-time and became a champion of the community and of natural preservation.
Part of her efforts also included the protection of sea turtles, wildflowers, butterflies, and the landscape.
9. Amelia Island Museum of History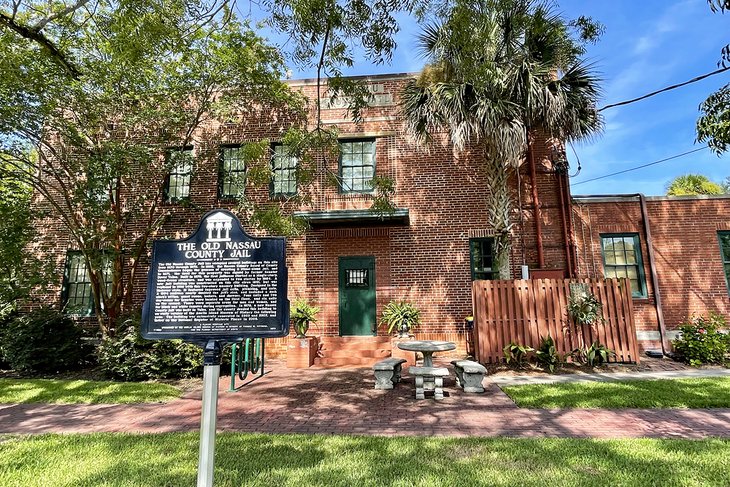 The Amelia Island Museum of History takes visitors through 4,000 years of Amelia Island history. The journey starts with the Timucua tribe and follows the Spanish and French explorers all the way through to the settlement of Florida and Amelia Island in the present day.
The building is a piece of living history, as well, as it's housed in the old Nassau County jail. It opened as a museum in the 1980s. Today the museum is one of the first "spoken history" museums in the state.
The museum thrives on a tradition of storytelling and offers many tours, from docent-led museum tours to walking tours around the area. The Ghost Tour is particularly thrilling and leaves at 6pm every Friday from St. Peter's Episcopal Church.
Address: 233 S. Third Street, Fernandina Beach, Florida
Official site: ameliamuseum.org
10. Bosque Bello Cemetery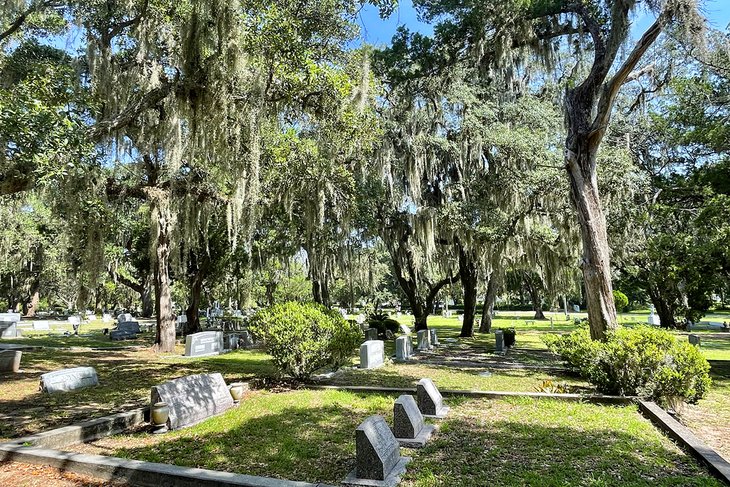 Historic cemeteries are always fascinating because they tell so much about the history of a place. The Bosque Bello Cemetery in Fernandina Beach is no exception. Allegedly the cemetery was built by the Spanish at the end of the 18th century, though the earliest recorded grave dates from 1813. It belongs to a French soldier named Peter Bouissou de Nicar.
Its residents help tell the story of Amelia Island's history. The Sisters of Saint Joseph, for example, were Catholic nuns from France who built schools after the Civil War. Sollecito Salvador was a Sicilian immigrant who later became a major player in local industry. And Amos Lathom was a patriot of the Revolutionary War and the first Keeper of the Amelia Island lighthouse in 1838.
Today the cemetery retains much of its somberly beautiful Southern charm, with massive oak trees and Spanish moss, winding paths, and quiet corners.
Address: 1320 N 14th Street, Fernandina Beach, Florida
11. Little Talbot Island State Park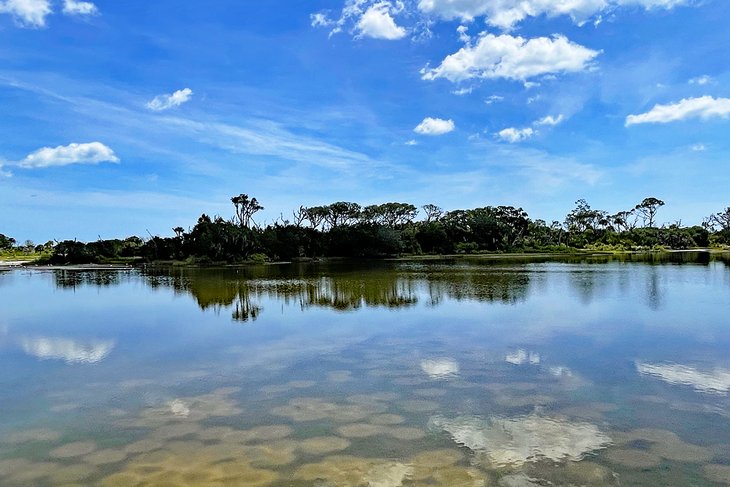 Wild and windswept, Little Talbot Island State Park is one of the last remaining undeveloped barrier islands in Florida. If you want a look at what Florida looked like before development, this five-mile beach island is a perfect glimpse into the past.
The island was said to be formed roughly 11,000 years ago and is today one of the many barrier islands that protect the coast from Florida up to Virginia. First inhabited by the Timucua tribe 10,000 years ago, today it is protected as a state park.
It happens to be one of the most minimal in terms of development, so chances are you're looking at a landscape that has not changed much in many millennia.
Among the pristine beaches and rolling dunes are miles of bike trails, campgrounds, canoe launches, surfing, and plenty of wildlife viewing.
Little Talbot Island State Park is also one of the top places to visit on the Atlantic coast for seeing shorebirds. Fishing is very popular here, as well.
Address: 12157 Heckscher Drive, Jacksonville, Florida
Map of Things to Do in Amelia Island, FL