11 Best Things to Do in Ocala, FL
Ocala is one of the beating hearts of Central Florida. Surrounded by lush, tropical nature, the city is a thriving, vibrant community that is never very far from the coasts in either direction. Easy to get to from Orlando and packed with things to do, Ocala is known for its horse culture, natural beauty, historic downtown, culture, and so much more.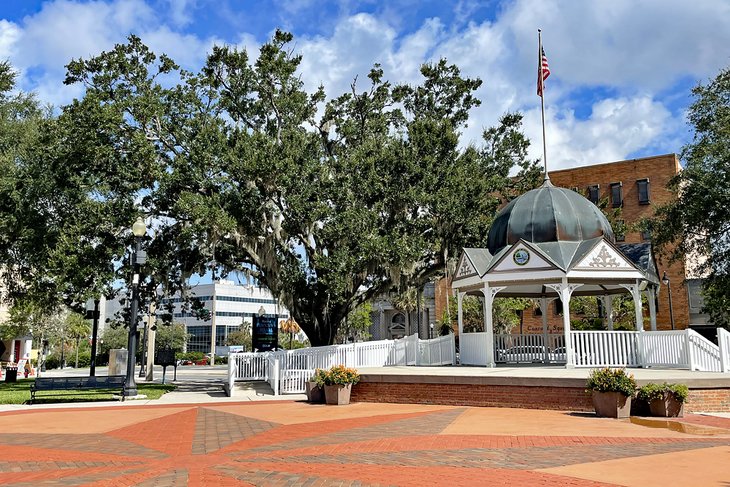 Affectionately called the "Horse Capital of the World," Ocala is known for its thoroughbred horses. Ocala, and Marion County overall, is home to more horses than anywhere else in the country. As such, it has produced some of the biggest names in horse racing. But even if you're not interested in horses on a professional level, Ocala has plenty of leisure riding trails and experiences to discover.
Ocala is also home to the Ocala National Forest, which has hundreds of miles of hiking trails, hundreds of lakes, and rivers. It's also one of the best spots in Florida to try to spot manatees.
Historic downtown Ocala is known for its town square, restaurants, shopping, and historic theaters. Speaking of theater, the Ocala Civic Theatre is one of the largest community theaters in Florida. Nearby, the Appleton Museum of Art has 24,000 art pieces on display.
Whatever your style of travel, you are bound to find something to enjoy in Ocala. Keep reading to discover the best things to do in Ocala, FL.
1. Gypsy Gold Horse Farm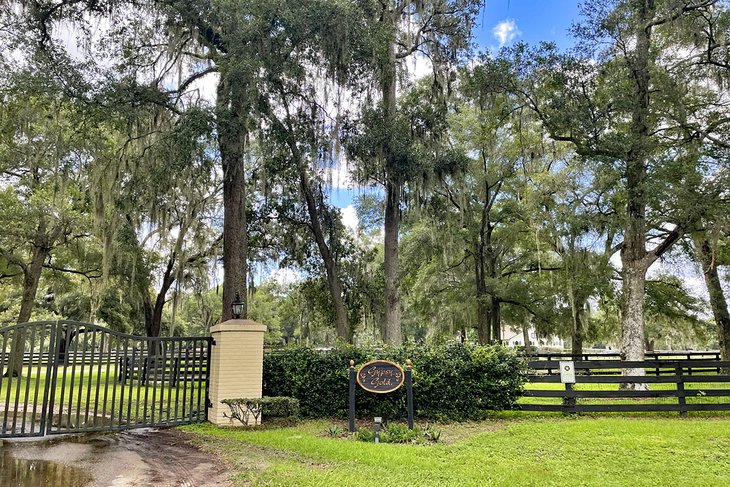 Any equestrian's first stop in Central Florida has to be the city of Ocala. Ocala is the veritable horse country of Florida. The city is one of only a handful of thoroughbred centers in the entire world, with 600 thoroughbred horse farms that have produced six Horses of the Year, among horses that have won many other awards.
You'll have your pick of horse farms in Ocala, but one of the best is Gypsy Gold Horse Farm, home to the first Gypsy Vanner Horses in the United States. These are among the most beautiful horses in the world, known for their majestic manes, free-flowing tails, and shaggy "boots" that flow down from their knees.
A visit to the farm is not complete without a tour, which will teach visitors all about the traits and history of this beautiful breed of horses. The grounds of the farm are strikingly beautiful, as well, with ancient trees that are draped with Spanish moss.
Address: 12501 8th Ave, Ocala, Florida
Official site: https://gypsygold.com/
2. Sholom Park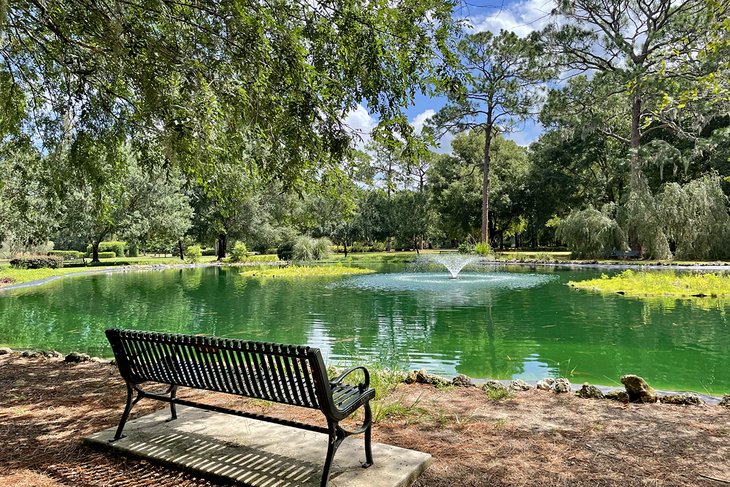 Sholom Park is a sprawling 44-acre botanical garden in Ocala. The privately owned park was designed after its owners made a visit to the Boston Gardens and were so impressed, they had to bring a sanctuary back down to Florida. Today it is a center of reflection and natural immersion. Its name, after all, is the Hebrew word for "peace."
Within the park are more than two miles of paved trails, and a habitat that fosters more than 250 species of plants and trees. Also in the park are beautifully landscaped gardens, including a butterfly garden. A Ginger Garden features several types of ginger plants that bloom throughout the year.
One of the highlights of Sholom Park is its Enchanted Forest, a 0.18-mile paved trail that unfolds underneath an arch of beautiful trees. The path leads to a delightful, babbling koi pond. Best to bring your binoculars on a trip to the park, as Sholom Park brings dozens of bird species year-round.
Address: 7110 SW 80th Ave, Ocala, Florida
3. Don Garlits Museum of Drag Racing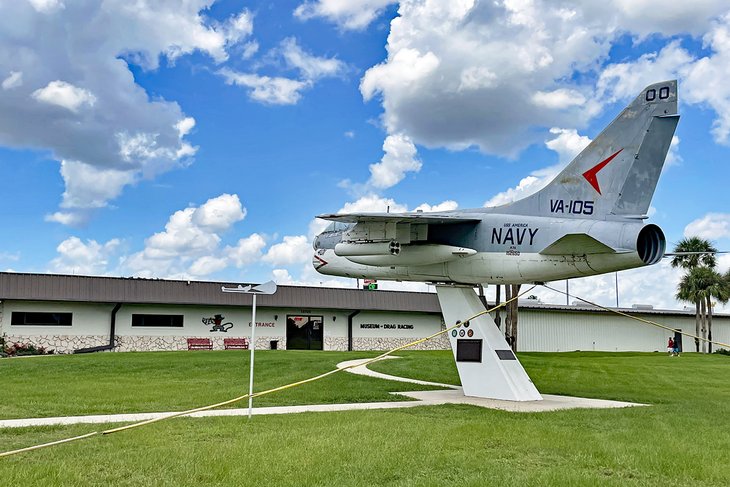 Drag racing fans will want to carve out some time to visit the Don Garlits Museum of Drag Racing. Opened in 1984, this tourist attraction takes visitors through the history of the sport, through its collection of 90 racing cars.
Beyond that, the museum has an additional 50 cars in its Antique Car section. More than a museum, the space is actually the site of the Drag Racing Hall of Fame.
So what exactly is drag racing and who is Don Garlits? Excellent questions. Drag racing is a style of auto racing in which two cars or motorcycles compete two at a time to see who finishes first. Unlike other racetracks, the course is usually straight, and vehicles go from a standing start.
Don Garlits is an American race car driver and is actually considered to be the founder of drag racing. He developed the Swamp Rat vehicle, which would go on to revolutionize the drag racing sport.
Address: 13700 SW 16th Ave, Ocala, Florida
4. Silver Springs State Park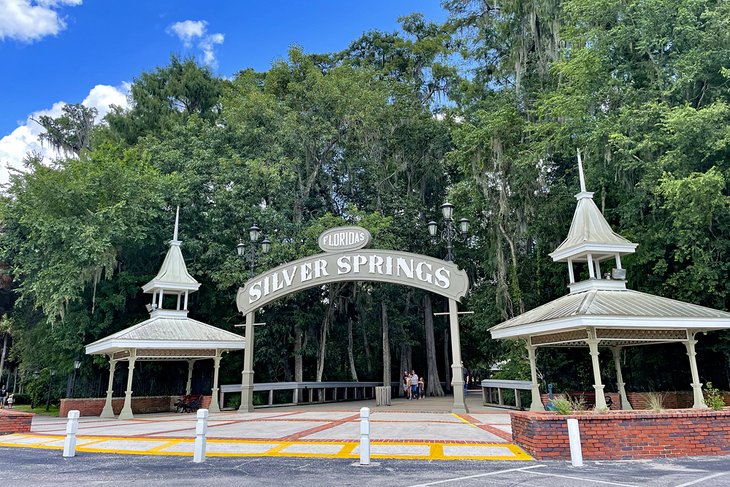 One of the largest springs in the country flows just outside Ocala. The Silver River has been a source of life for Florida dating back more than 10,000 years. But the springs became one of the top destinations in Florida in the early 19th century.
Today the state park and the Silver River continue to be among the top places to visit in Central Florida, particularly thanks to the famous glass-bottom boats that allow travelers to get an up-close peek at the wildlife underneath the water's surface.
Cruise the crystalline river by boat or kayak, under the heavy drayage of the Spanish moss-draped trees. The park extends nearly 5,000 acres and is teeming with species like armadillos, deer, turkeys, and foxes. The forests are home to bobcat and black bears, while the river hums with alligators, turtles, and manatees. Birding is popular here, too, and the park is a part of the Great Florida Birding & Wildlife Trail.
Among other things to do at the park are hiking, biking, camping, and horseback riding.
5. Santos Trailhead & Campground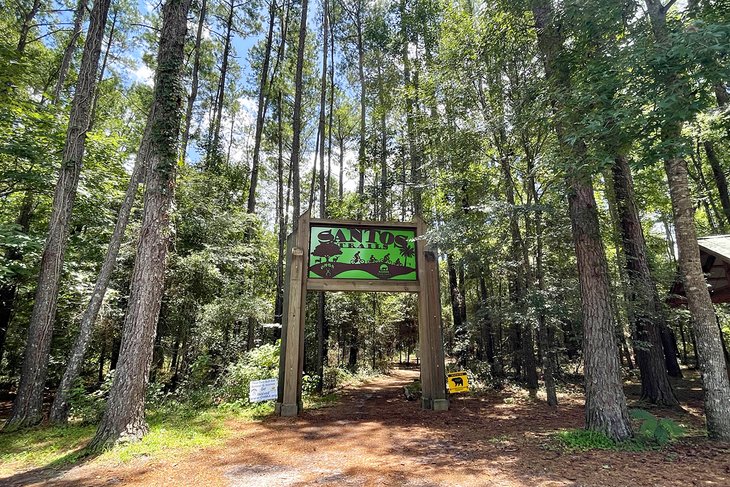 The flatlands of Florida aren't exactly known for their mountain biking terrain, but Ocala may be the exception. Santos Trailhead & Campground has some of the most famous mountain biking in Florida.
Home to more than 80 miles of single-track trails, the park has a course for everyone, from beginners to the most expert. The course is located in a lime rock quarry, along with plenty of wooden features, which amps up the terrain in an otherwise flat destination.
But you don't have to be interested in mountain biking to have fun at Santos. The Trailhead also has campgrounds and more than 60 miles of equestrian trails.
Part of the Florida National Scenic Trail courses through, as well, running toward the Ocala National Forest. The trail is one of only 11 National Scenic Trails in the nation. The entirety of the trail runs 1,300 miles from the Gulf National Seashore to the Fakahatchee Strand, traversing nearly the entire state.
6. Historic Downtown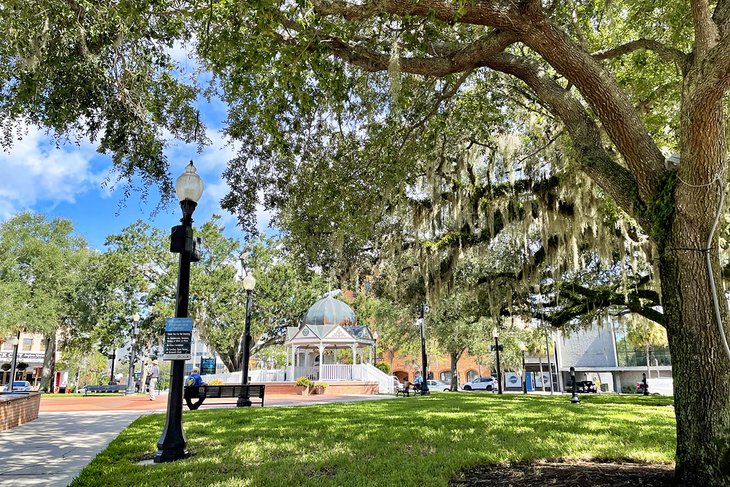 At the heart of Florida's horse country is the thriving, charming core of Historic Downtown Ocala. Marked by the beautiful downtown square at its center, the historic district is the prime place in the city for shopping, dining, and entertainment. And much of it happens right here around the square and its lovely gazebo, which often acts as a venue for live music.
The walkable downtown is packed with great restaurants and lovely boutique shopping. In fact, Magnolia Avenue has some of the best locally owned boutiques. Magnolia Avenue is also where you can see the Marion Theatre, which dates back more than seven decades and is done up in Floridian Art Deco style.
Downtown Ocala is home to the Tuscawilla Art Park, too, which has beautiful sculptures. If you're interested in art, Ocala hosts a monthly First Friday Art Walk. Gather at the main square before heading off into downtown to explore the many works of art and galleries.
7. Appleton Museum of Art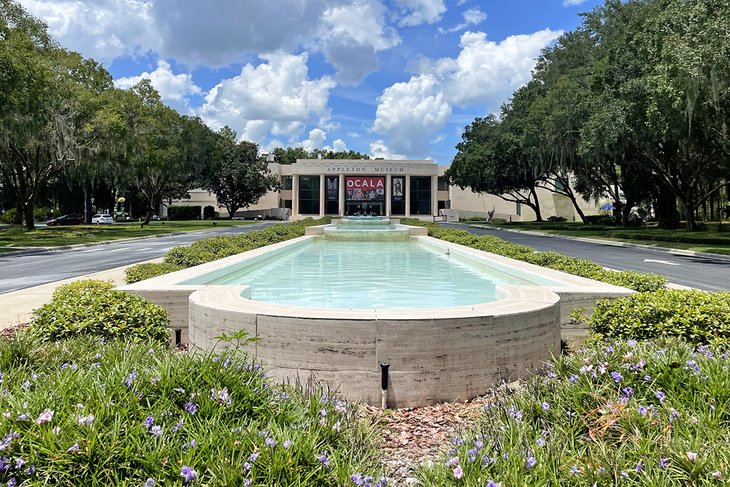 The sprawling Appleton Museum of Art is a jewel of Central Florida. Packed with more than 24,000 objects, the 81,000-square-foot museum is brimming with masterpieces from the past and present. The gleaming white marble museum is also home to an outdoor sculpture garden, a beautiful courtyard, and fountain.
An impressive permanent collection has art by native Florida artists, as well as those with a focus on equine art, which is fitting given Ocala's position as one of the main horse capitals in the world. Appleton Museum of Art also has a European collection, Asian, Pre-Columbian, African, and modern art.
Throughout the year, visitors can expect a rotating series of temporary exhibitions, as well. The museum also has themed tours and a calendar of musical events throughout the year. The art museum is part of a cultural complex that also includes the Ocala Civic Theatre.
Address: 4333 E Silver Springs Blvd, Ocala, Florida
Official site: www.appletonmuseum.org
8. Reilly Arts Center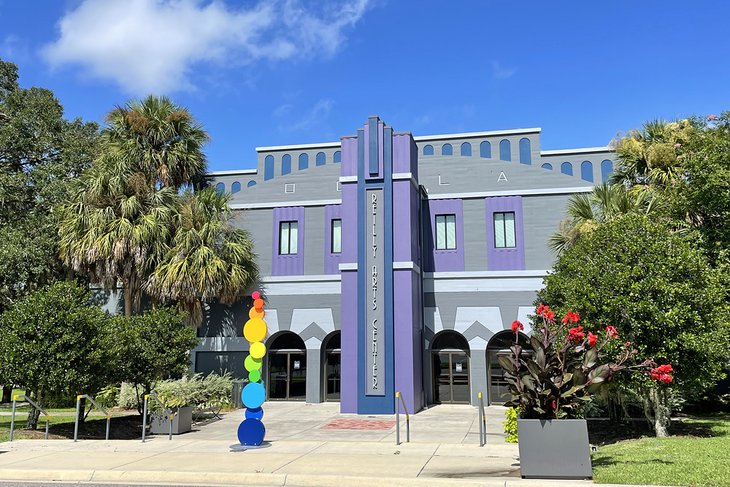 Part of Ocala's Historic Downtown is the vibrant Reilly Arts Center, a house of culture, theater, and community. The lavender-colored Art Deco venue has more than 700 seats and is known for its calendar of concerts, events, and other tributes to the arts.
The Reilly Arts Center is home to the Ocala Symphony Orchestra. Its other performances have included everything from Dueling Pianos to dance performances, Billy Joel, Judy Collins, and many other world-renowned acts.
Part of the theater is The Marion, a historic film house that screens foreign films, documentaries, and Hollywood classics. It also puts on concerts that range from blues and classical to rock and jazz.
A perfect evening in Historic Downtown Ocala would start at the main square and head to one of the many dynamic restaurants in town before taking in a movie or a live music performance at The Reilly Arts Center.
Address: 500 NE 9th St, Ocala, Florida
Official site: https://www.reillyartscenter.com/
9. Ocala National Forest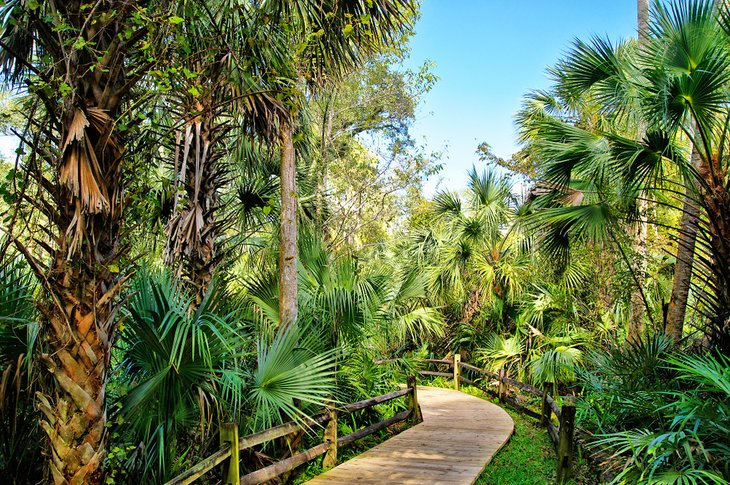 The Ocala National Forest is part of a trio of national forests that together make up nearly 1.2 million acres. Translation? If you want to see some serious Floridian wilderness, a visit to the Ocala National Forest is a must. Within the combined parks are 500,000 acres of wetlands and more than 85,000 acres of federal wilderness. Trails abound, with more than 1,400 miles of them, as well.
The closest one to Ocala is the Ocala National Forest. Brace yourself for turquoise-colored springs and lakes, winding rivers, lush plants, and hundreds of animals. Within Ocala National Forest are more than 600 lakes and rivers, where visitors can swim, snorkel, canoe, and even spot a manatee or two.
Camping in Ocala National Forest is a treat. The park has 14 campgrounds scattered throughout. Other things to do include biking, horseback riding, fishing, and even scenic driving. The forest has 100 miles of paved roads, which means you're never very far from an iconic viewpoint or photo opportunity.
10. Fort King National Historic Landmark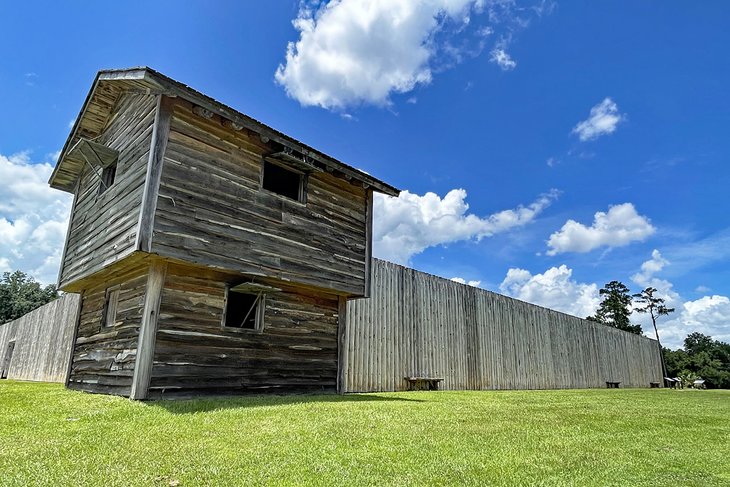 Florida is oozing with history, and not all of it is particularly good. The 40-acre Fort King Historic Landmark sits at the original site of Fort King, which was a military post during the Second Seminole War.
The native inhabitants of this part of Florida were opposed to U.S. occupation, and thus resulted in one of the longest and most expensive wars against the native residents of the land.
The U.S. won the war, and Fort King was given to what then became Marion County. It was the county seat and the first county courthouse. Today it operates as a living history park to teach visitors about life in this part of Florida in the 19th century.
Address: 3925 E Fort King Street, Ocala, Florida
11. Ocala Civic Theatre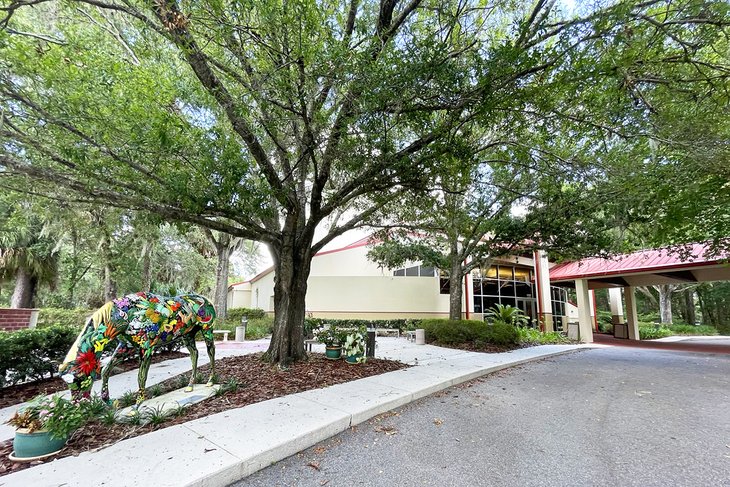 The Ocala Civic Theatre has been a community institution for more than 70 years. Part of the Appleton Cultural Center, which includes the Appleton Museum, the theater is one of the largest community theaters in the state of Florida.
The theater produces more than 12 productions each season, each of which runs for three weeks. Touring companies are also hosted at the theater. Beyond performances, the Ocala Civic Theatre hosts a year-round education program teaching on-site classes for people as young as age five.
Address: 4337 E Silver Springs Blvd, Ocala, Florida
Map of Things to Do in Ocala, FL
Ocala, FL - Climate Chart
Average minimum and maximum temperatures for Ocala, FL in °C
J
F
M
A
M
J
J
A
S
O
N
D

21

8

23

8

26

11

28

13

31

17

33

21

33

22

33

22

32

21

29

16

25

12

22

8

PlanetWare.com
Average monthly precipitation totals for Ocala, FL in mm.

90

79

102

71

90

183

158

148

142

69

63

67