11 Top-Rated Things to Do in Gainesville, FL
When we think of vacationing in the "Sunshine State," most of us picture long, sandy beaches and thrilling theme parks. But as any visitor to the city of Gainesville in North Florida can attest, the northern part of the USA's second most-visited state certainly has much to offer.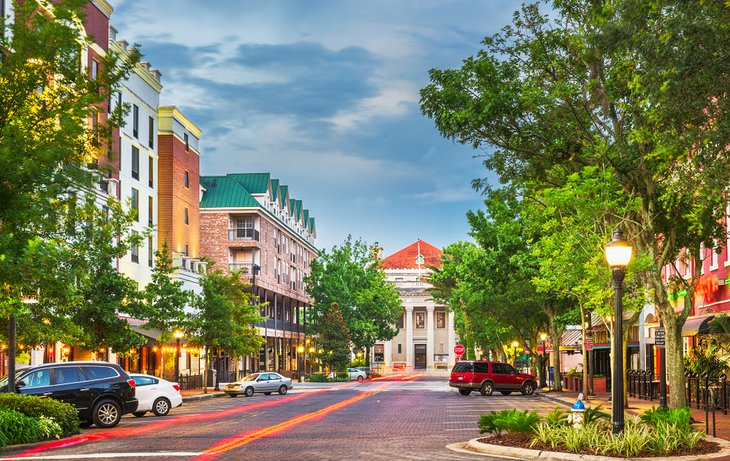 Situated 110 miles north of Orlando and just minutes from the I75, Gainesville is certainly well-known in academic circles, as it's home to the University of Florida, one of the country's top public research universities. UF's very positive impact on the city can be seen everywhere, from its world-class cultural attractions, educational and sporting amenities, to the vibrant entertainment and food scenes that cater to the more than 52,000-plus students who enroll here every year.
Gainesville also makes a great getaway destination for those who enjoy outdoor activities, with plenty of great hiking and biking trails available in the city and surrounding municipal and state parks. Those who enjoy gentler outdoor activities are also spoiled for choice, with ample opportunities to enjoy a pleasant stroll through the city's parks and gardens, as well as its historic neighborhoods.
To learn more about the best places to visit in this university city, be sure to read through our list of the top things to do in Gainesville, Florida.
1. Visit the Butterfly Rainforest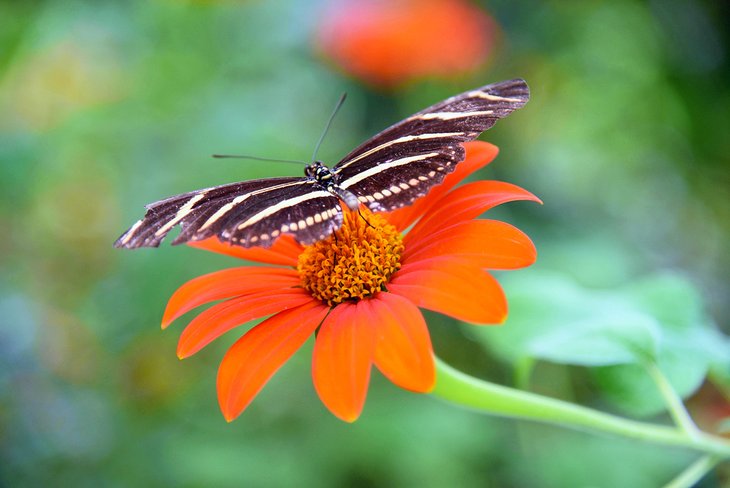 Whether you're traveling with kids, as a couple, or even solo, a visit to the Butterfly Rainforest at the Florida Museum of Natural History should definitely be at the top of your must-do list. Located within the University of Florida Cultural Plaza, which conveniently houses a number of other important Gainesville tourist attractions, this enthralling attraction can be visited separately from the main museum and can take a few hours to explore fully.
The stars here are, of course, the thousand or more butterflies and moths that inhabit the 6,400-square-foot rainforest. During your visit, you'll witness first-hand these amazing creatures free flying, fluttering, feeding, and, if you're lucky, settling on you for a few moments. In addition to the butterflies, numerous species of birds can also be seen flying about, while turtles and fish can also be viewed.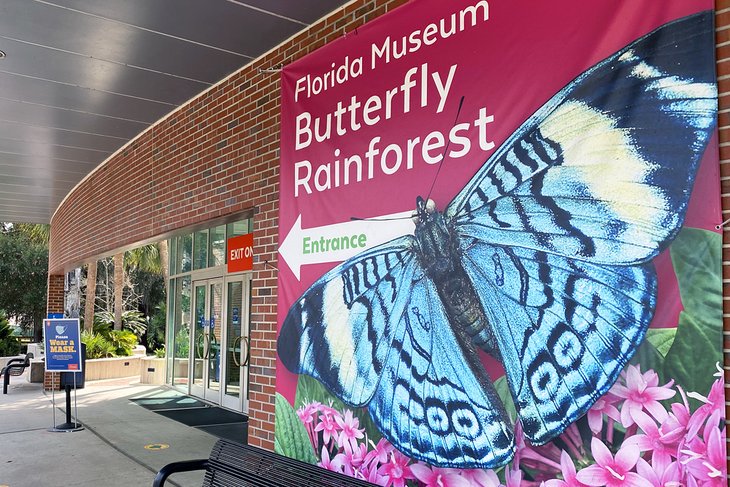 In the rearing lab, you can learn about a butterfly's life cycle, and even catch a glimpse of one or more emerging from their pupae. Other highlights include the aptly named Wall of Wings, a three-story-tall display of preserved specimens, as well as the research lab, home to a vast collection of 20 million butterfly and moth specimens.
Address: 3215 Hull Road, Gainesville, Florida
Official site: www.floridamuseum.ufl.edu/exhibits/butterfly-rainforest/
2. Explore the Florida Museum of Natural History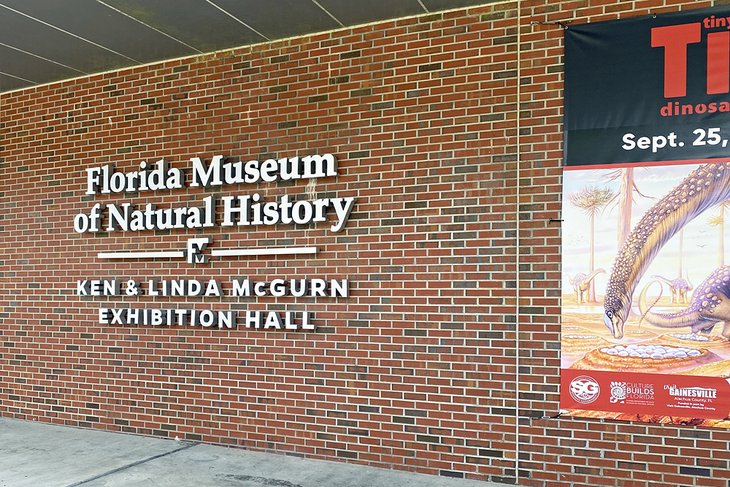 While it's also home to the Butterfly Rainforest, it's worth noting that the Florida Museum of Natural History hosts many other exhibits that can be visited separately and at no cost. Considered one of the top natural history museums in the USA, FLMNH was established in 1906 and can easily consume the best part of a day if you plan on seeing everything.
Must-sees in the Powell Hall, the museum's main space in the University of Florida Cultural Plaza, are its many permanent displays relating to Florida's rich fauna and flora. There's also an impressive array of fossils collected within the state. The exhibits relating to the evolution of life and land in Florida are also worth seeing, and include fascinating displays relating to sharks, dioramas of what the land would have looked like 65 million years ago, and a local fossil dig.
The museum also offers a look into the lives of Florida's Indigenous peoples, and follows the path of human settlement right up to the present day. Be sure to also visit the Fossil Plant Garden, which features contemporary plant species along with fossils of ancient plants. There's also a pleasant Florida wildflower garden.
Address: 3215 Hull Road, Gainesville, Florida
Official site: www.floridamuseum.ufl.edu
3. Spend Time at Kanapaha Botanical Gardens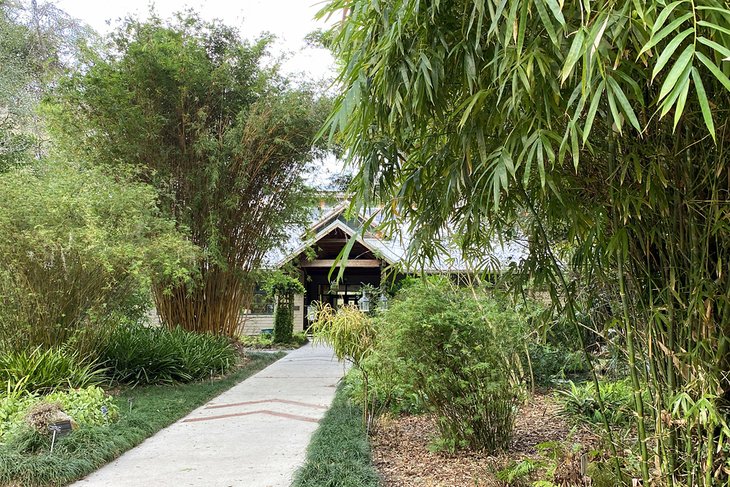 The lengthy bamboo-lined route that leads to Kanapaha Botanical Gardens must surely rank as one of the country's most impressive driveways. A cluster of these amazing trees also stands guard outside the ticket office and main entranceway, clacking and creaking in even the slightest of breezes.
Founded in 1978 by the North Florida Botanical Society and named after nearby Lake Kanapaha, the garden covers 68 acres and is broken down into 24 major collections. A level and easy-to-traverse 1.5-mile paved pathway allows easy access to the garden, as well as to the largest public display of bamboo trees in Florida.
Other notable must-sees include the Southeast's largest herb garden and giant Victoria water lilies. Dogs are permitted if leashed, and picnickers are welcome to make use of the dedicated picnic area, or bring a blanket and enjoy sitting on the lawns. There's also an on-site gift shop, and guided tours are available.
Address: 4700 SW 58th Drive, Gainesville, Florida
Official site: https://kanapaha.org
4. See the Bison Roam at Paynes Prairie Preserve State Park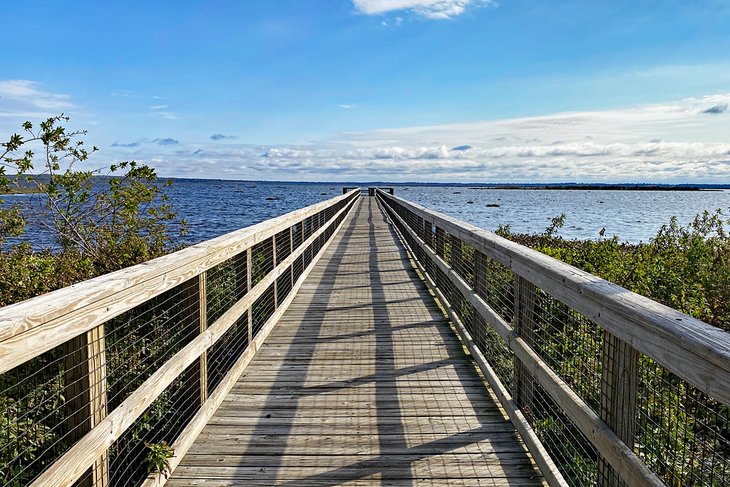 You'll find Paynes Prairie Preserve State Park just to the south of Gainesville between it and the tiny community of Micanopy. Notable for being Florida's first state park, it was established in 1971 and covers 21,000 acres of savannah in the center of Paynes Prairie Basin.
The fact the park is unique geologically is very evident the moment you see it: it simply doesn't look like you're in Florida. It's also notable for its unusual (for Florida) wildlife. If you're lucky, you'll spot everything from bison to wild horses, both of which are found in substantial herds here. Add to this the 300 different bird species, along with deer and alligators, and it's a wildlife spotter's dream.
Thanks to the park's impressive trail network, it's easy to spend the best part of a day sightseeing. Much of the network is also suitable for biking. A favorite is the Gainesville Hawthorne State Trail, which consists of 16 miles of level, paved pathways. There's also a 50-foot-tall observation tower offering superb views over this remarkable landscape.
Address: 100 Savannah Blvd, Micanopy, Florida
Official site: www.floridastateparks.org/parks-and-trails/paynes-prairie-preserve-state-park
5. Take a Hike at Sweetwater Wetlands Park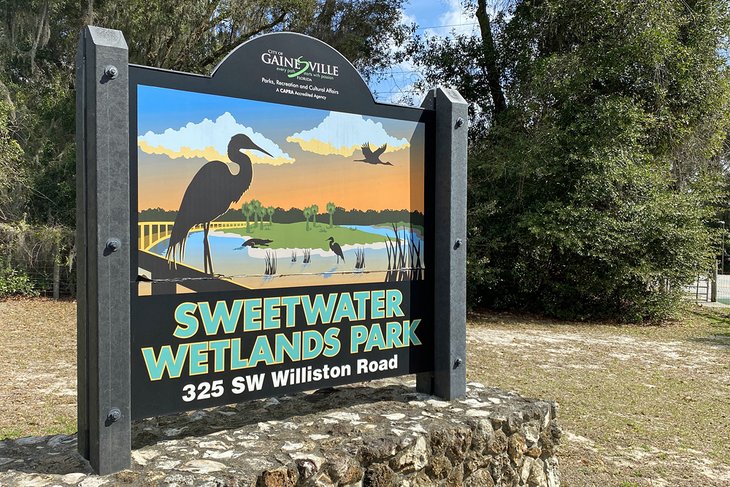 Another great nature area to visit is Sweetwater Wetlands Park. Located on the north side of Paynes Prairie Basin, this much smaller park consists of 125 acres of ponds and wetlands and was created specifically to improve the water quality of the surrounding area.
There's a great 3.5-mile-long trail network that takes you deep into the park along gravel paths and boardwalks. A number of well-placed viewing platforms feature information stations and provide a great opportunity to get up close to numerous plant species – and not so close (but within sight) of animals such as alligators and Florida cracker horses.
The park is especially popular with birders thanks to the over 250 different species who live here or pass through on their migratory route. Numerous butterfly species also call the park home. Picnic facilities and washrooms are provided.
Address: 325 SW Williston Road, Gainesville, Florida
Official site: www.sweetwaterwetlands.org
6. Explore Pleasant Street Historic District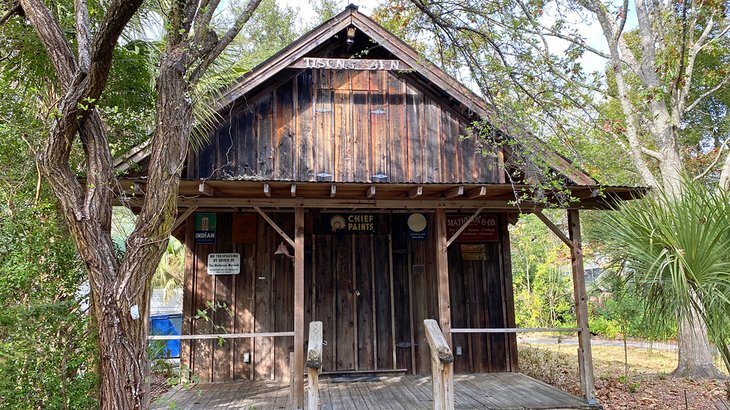 Many visitors to Florida's smaller cities are often surprised to find they've done an excellent job of preserving many of their historic buildings. Gainesville is certainly no exception.
Head to Gainesville's Pleasant Street Historic District, and you'll find yourself wandering through an impressive collection of old homes and other buildings spread across a neighborhood that's 770 acres in size. It's also known as the Northwest 5th Avenue Historic District. All told, 259 historic buildings line the streets of the area, all just waiting to be enjoyed as you stroll by.
The area is of particular historical importance, as it was the city's first black residential neighborhood and was established soon after the Civil War and the abolition of slavery. Most of the houses you see will be modest bungalow homes dating from the late 1800s and early 1900s, set along leafy streets offering pleasant, shaded walks.
Address: 598-500 NW 4th Street, Gainesville, Florida
7. Meet the Animals at Santa Fe College Teaching Zoo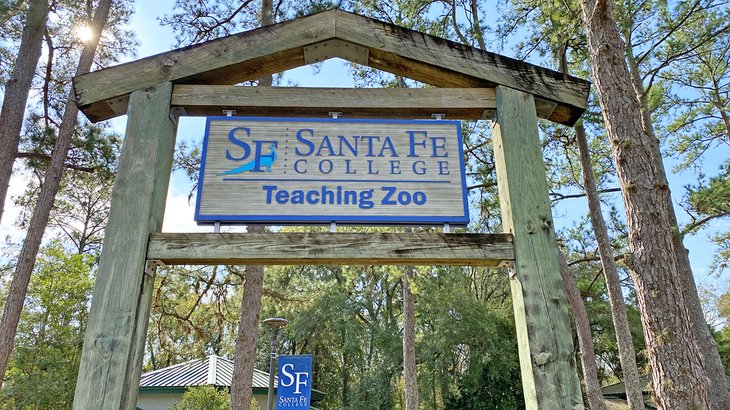 While one of the smaller zoos in Florida, the Santa Fe College Teaching Zoo certainly offers a great diversion for those interested in wildlife, regardless of age. Covering 10 acres and notable as the world's only accredited college campus zoo, it's home to more than 70 species and is unique in that it's maintained almost entirely by students.
Pay a visit, and these up-and-coming zookeepers will share their knowledge of species ranging from bald eagles to alligators and kangaroos to otters. A variety of reptiles and other amphibians are also on hand, with cages and displays easy to access along a level, shady quarter-mile trail.
If you're able, opt to participate in one of the fun zoo experiences on offer. In addition to opportunities to handle and even feed the animals, the top tier VIP Experience package offers a unique behind-the-scenes look at the care that's provided to the zoo's inhabitants, including the chance to interact with huge Galapagos tortoises. Also worth checking out are the immersive "Zookeeper for a Day" programs.
Address: 3000 NW 83 St Building Z, Gainesville, Florida
Official site: www.sfcollege.edu/zoo/
8. Let Off Steam in Depot Park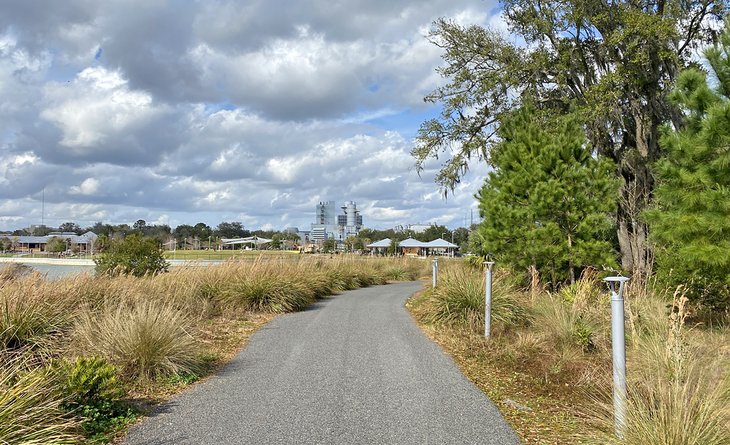 Spending time in Depot Park, set in what was once an industrial wasteland, is today one of the top free things to do in Gainesville. What is now an unspoiled area of ponds, conservation and wetland areas, and a major leisure hub was once the city's old rail yard. Today, it has been cleaned up and given new life as a focal point for the city's residents.
With the old train station at its center, the park offers plenty of fun for young and old alike. Take a pleasant stroll or bike ride along the paved lakeside pathways leading through a dense coverage of wildflowers and native plant species, then take a break on one of the park benches, or enjoy a picnic in the pavilion. For the kids, there's a fun playground and splash zone, as well as a regular roster of family-friendly events and programs.
If you're visiting in winter, the park is illuminated with a festive display of lights in the lead up to Christmas, and on New Year's, an all-ages celebration is hosted that includes fireworks. A variety of fast food and snack options are also available year-round in the Depot Station.
Address: 874 SE 4th St, Gainesville, Florida
Official site: www.depotpark.org
9. Get Cultured at Samuel P. Harn Museum of Art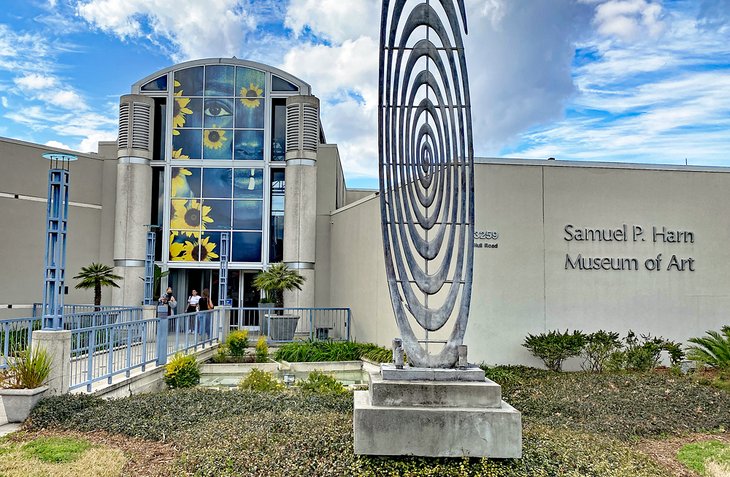 Art fans and culture buffs are well-catered to at Gainesville's Samuel P. Harn Museum of Art. Another of the world-class attractions situated in the University of Florida's Cultural Plaza, it's a big place, encompassing some 112,800 square feet of galleries, event space, an auditorium, and learning facilities.
The museum boasts a large permanent collection of over 11,300 objects of art, with a special emphasis on African and Asian artists, as well as modern and contemporary art, and photography.
Also located on the premises are five restful gardens, a museum shop, and a café.
Address: 3259 Hull Road, Gainesville, Florida
Official site: https://harn.ufl.edu
10. Get Creative at Cade Museum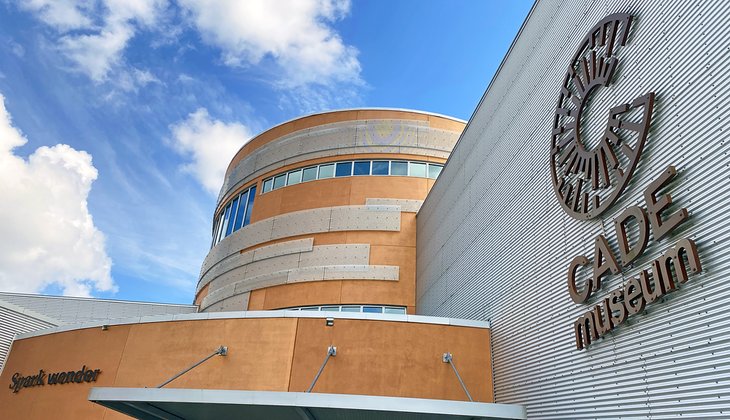 Backing onto Depot Park, the architecturally pleasing Cade Museum for Creativity and Invention is a must visit in Gainesville. Named after the creator of the iconic Gatorade brand of soft drinks, the museum opened in 2018 with the goal of "inspiring and equipping future inventors, entrepreneurs, and visionaries." Pay a visit, and you'll agree they've succeeded.
Encompassing some 26,000 square feet, the building's chock-full of exhibits and information relating to ground-breaking technology and inventions that first saw the light of day at the University of Florida. There is, of course, a section related to the founder's own invention, Gatorade, a historic printing press, and fascinating insights into the inventing process.
A museum shop, the "Loot Lab," offers a variety of fun souvenirs.
Address: 811 S Main Street, Gainesville, Florida
Official site: www.cademuseum.org
11. Take a Drive to Historic Micanopy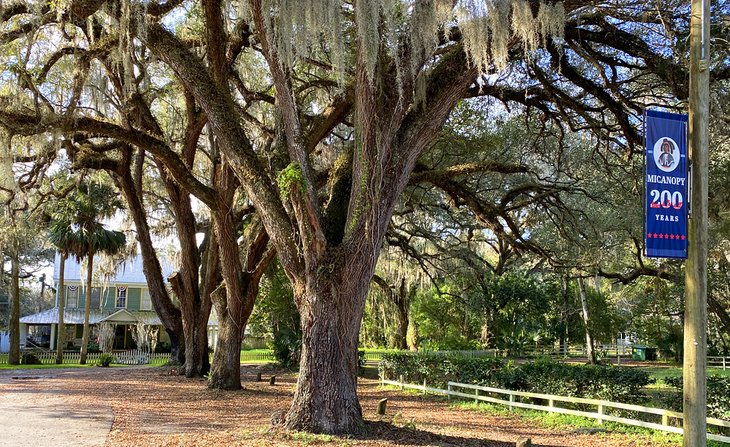 Take a drive to the small town of Micanopy. Dubbed "The Town that Time Forgot," it's an easy 15 minutes' drive south from Gainesville. Visiting Micanopy is what visiting a small rural town would have been like decades ago.
Lining the short main street are a sprinkling of well-preserved old stores and warehouses that now house everything from fashion boutiques to arts, crafts, antiques, and home décor shops. In fact, it's so special, that the whole of Micanopy's downtown area has been placed on the National Register of Historic Places. A number of great little eateries can also be enjoyed in Micanopy, too, one of the best being Antonio's Made in Italy, just a short five-minute drive from downtown.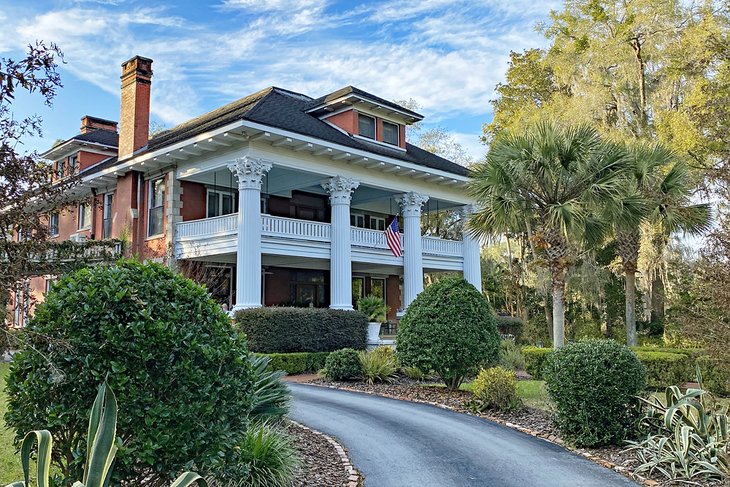 Micanopy also happens to be where you'll find one of the best B&Bs in Florida: Herlong Mansion. It was originally built in "cracker style" in 1845, and subsequent wealthy owners added the grander columned style you now see. Even if you don't stay here (but you should), Herlong Mansion is one of the most picturesque old homes you'll see in North Florida, so have your camera at the ready.
Gainesville, FL - Climate Chart
Average minimum and maximum temperatures for Gainesville, FL in °C
J
F
M
A
M
J
J
A
S
O
N
D

19

7

21

8

24

11

27

13

31

17

33

21

33

22

33

22

32

21

28

16

24

12

21

8

PlanetWare.com
Average monthly precipitation totals for Gainesville, FL in mm.

105

99

100

77

94

149

136

170

135

48

66

78