From Orlando to Daytona Beach: 4 Best Ways to Get There
Orlando's star attractions are its award-winning theme parks. This family-friendly city is also home to shops, restaurants, and museums. What it lacks is a beach, an essential element of a Floridian vacation. Many tourists flock from Orlando to Daytona Beach in search of a beautiful sandy beach.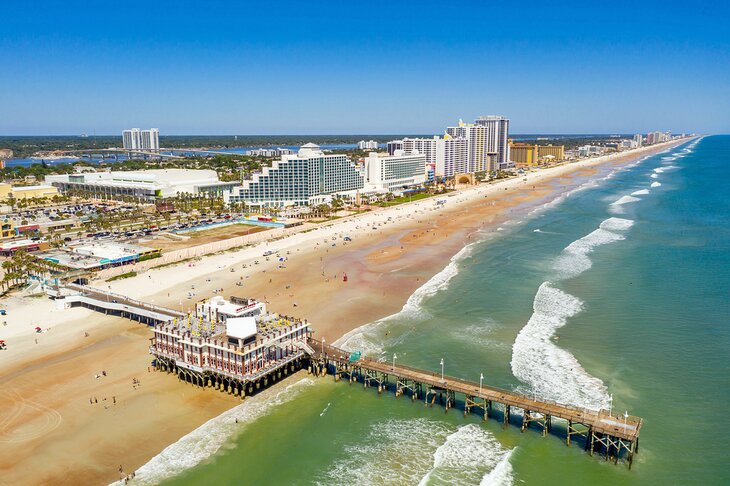 Daytona also boasts the iconic Daytona International Speedway, a lovely state park, and a science center, which make it easy to spend a long weekend, here.
Deciding how to travel to Daytona Beach can be tough, as there are multiple easy ways to get there. The cheapest route is via bus, but the easiest way to get from Orlando to Daytona Beach is by car. Other methods involve booking a transfer or chartering a plane if you're flush with cash.
Not sure which way to choose? Use our list of the best ways to get from Orlando to Daytona Beach.
1. From Orlando to Daytona Beach by Car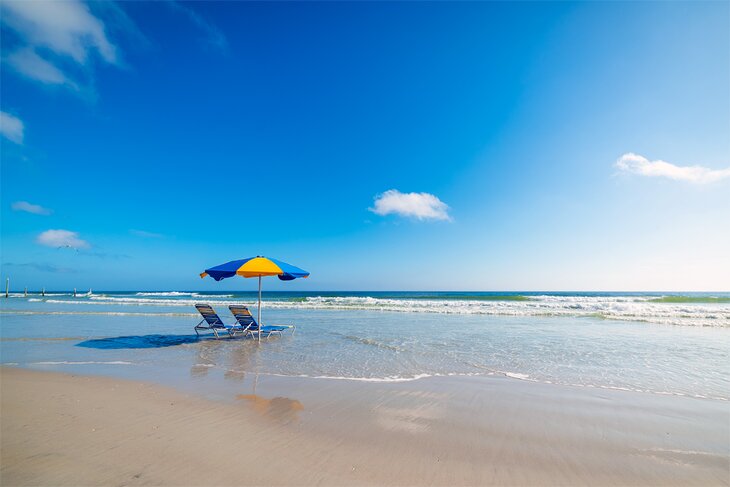 It's so easy to get from Orlando to Daytona Beach by car that it has become one of the most popular day trip destinations from the theme park mecca. An easy hour-long drive transports tourists along the 60-mile journey to the east coast.
Those looking to enjoy a bit of scenery on the route should set out on the I-4 East towards Winter Park. This adorable small town lies a mere 15 minutes northwest of Orlando and boasts a lovely, lush central park and the impressive Albin Polasek Museum and Sculpture Garden.
New Smyrna Beach sits on the coast, just over an hour northeast. The best route involves taking I-4 and then the Florida State Road 44 E. If you're hoping to add another fabulous Florida beach to your list of places to visit, this is a must-see. From here, brush off the sand and head a half hour north along the US-1 to Daytona Beach.
With so many fun things to do in Daytona Beach, no one will blame you for wanting to stay the night. The city's ample selection of resorts will ensure a good night's rest, along with some oceanside pampering. Many of the best accommodations include parking in the nightly rate.
Need a car? Rent one at the airport. The most popular car rental companies in Orlando include Enterprise, Hertz, Dollar, and Sixt. Be sure to check with them about their policy on toll roads, as you'll be traveling on a few of them during your journey. Sometimes, it's cheaper to buy a Sun Pass than pay the additional fees charged by the rental company.
2. From Orlando to Daytona Beach by Transfer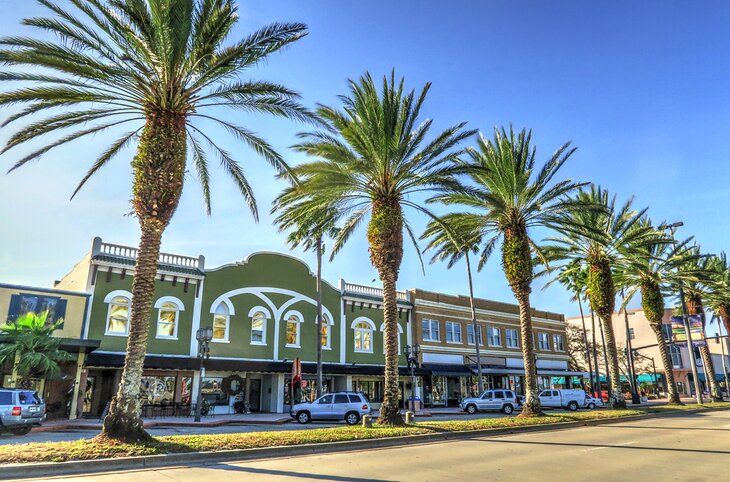 Those hoping to leave the driving to someone else can ride in style on a transfer from Orlando to Daytona Beach.
An air-conditioned sedan or SUV picks up visitors from multiple locations, which mainly include hotels and the airport. Up to seven guests can ride in one transfer, and the costs are reasonable, starting at $139 for a group of three.
The ride will be comfortable and easy and will take one to two hours, depending on traffic. The vehicle will arrive 15 minutes prior to the pickup time, and all guests need to do is sit back, relax, and enjoy the ride.
This transfer can also be booked for the return trip.
3. From Orlando to Daytona Beach by Bus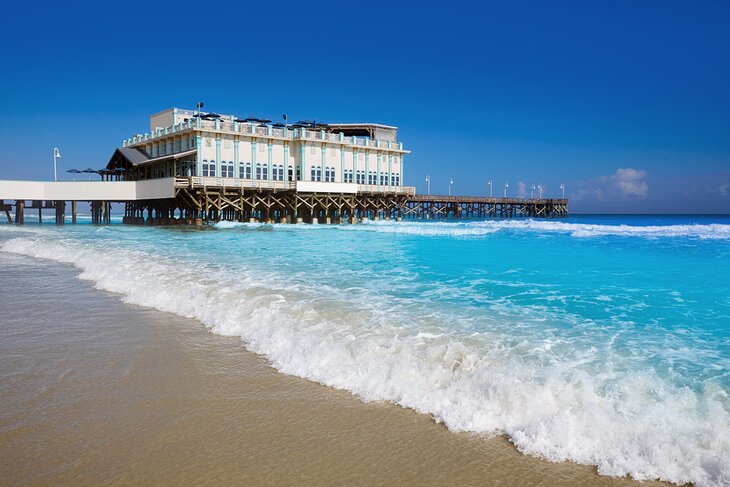 The cheapest way to get from Orlando to Daytona Beach is by bus. Fees for taking this journey with Greyhound range from $18 to $65 depending on the fare chosen, as well as the time and route. Expect to be on the bus for an hour for a direct journey and over three hours for rides that include a transfer or travel during rush hour.
Free Wi-Fi, power outlets, and extra legroom are available on board, and fares include one carry-on and one under-the-bus bag. Buses depart multiple times a day, beginning as early as 4am, and they leave from the Orlando Bus Station at 555 North John Young Parkway. Buses arrive at the Daytona Beach Bus Station at 138 South Ridgewood Avenue.
Flixbus is another popular bus company in Florida. It travels from Orlando to Daytona Beach many times a day, and their buses depart from both Kissimmee North (3086-3070 Lions Court) and Orlando International Drive. They arrive at Daytona Beach at 1429 Cornerstone Boulevard. The cheapest tickets are $12.99, and they jump to $19.99 on certain dates.
Megabus offers trips for between $22.50 and $24.99. There is one direct daily bus at 10:30am. It leaves from Florida Mall (8001 South Orange Blossom Trail) and arrives at the Tanger Mall in Daytona Beach.
4. From Orlando to Daytona Beach by Plane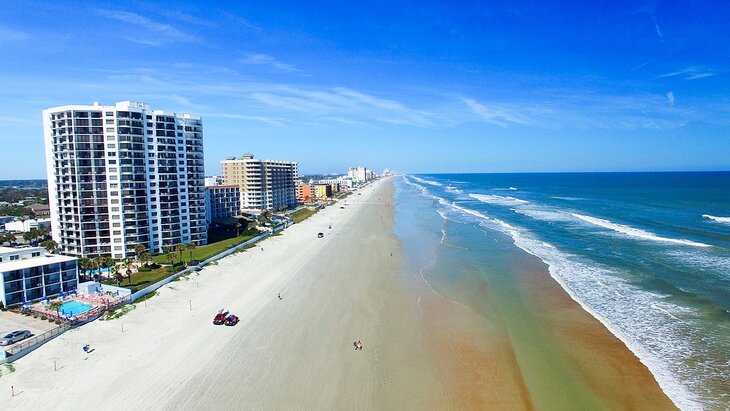 Those who'd rather fly than drive will be disappointed when they realize there are no good commercial airline options. Flights can take well over eight hours and involve multiple stops. One flight operated by American Airlines takes almost 17 hours to get to Daytona Beach. You could walk there in 19 hours!
Still hoping to take to the skies? No worries, there is a better option out there, but it is going to cost you. Charter airlines like evoJets offer multiple options for travelers with deep pockets. If you're traveling with a group, the rates become more affordable. That said, chartering a plane is the most expensive way to get from Orlando to Daytona Beach.
The cheapest charter flight they offer is found aboard an "executive turboprop," and will cost between $5,800 and $7,800 one way. The flight seats up to nine people and takes only 16 minutes to reach its destination.
Those hoping to fly in the lap of luxury can upgrade to a "super midsize jet," which seats up to 10 and rings in somewhere between $15,000 and $20,300 for an 11-minute flight.
If you have a larger group, consider booking a "heavy jet." These seat between 10 and 16 passengers and take 11 minutes to get to Daytona Beach. The price is steep, ranging between $20,800 and $28,100, but can you really put a price on traveling in style?