10 Top-Rated Day Trips from Orlando
Even die-hard theme park fans need a break from Mickey and Minnie, and luckily, Orlando offers plenty of other fun diversions a short hop from all the Disney hype. Kennedy Space Center is one of the top day trip destinations, with its popular shuttle launch experience and impressive rocket and space-related exhibits. If you're a history buff or foodie, St. Augustine is a must-see. The oldest European-settled town in the US features cobbled streets, old forts, museums, and excellent restaurants. Nature lovers will also find plenty of thrills - especially on the Gulf Coast, where you can swim with wild manatees or visit a popular wildlife park, and you don't have to venture far from the city for an adrenaline-fueled airboat ride through the headwaters of the Florida Everglades. Beach day trips from Orlando are also popular. In less than an hour, you can bask on the sand, surf some waves, and swim in the cool sea. Explore the region with our list of the best day trips from Orlando:
1 Kennedy Space Center Visitor Complex
About an hour's drive east of Orlando, the Kennedy Space Center is one of the most popular day trips from the city. You don't have to be a budding astronaut to appreciate the excellent attractions at this famous NASA facility, from rocket exhibits and launch pads to astronaut encounters, 3D IMAX films, and a poignant memorial to NASA's fallen heroes. Favorite exhibits include the Space Shuttle Atlantis, with a two-hour Shuttle Launch Experience; the 30-minute Rocket Garden tour; and the two-hour bus tour of the Kennedy Space Center and Apollo/Saturn V Center. Fun upgrades include up-close tours and astronaut training experiences. Arrive at the center as early as you can, as there's enough here to keep you busy for at least a full day. Pint-sized astronauts can burn off energy at the children's Playdome.
To see all the Kennedy Space Center highlights in one visit, sign up for the Kennedy Space Center Day Trip from Orlando. Take part in a simulated shuttle launch, see inspiring IMAX films, meet an experienced astronaut, and upgrade your pass to see the Vehicle Assembly Building or chat one-on-one with an astronaut over lunch. If you want to soak up some nature while you're visiting the Space Coast, the Kennedy Space Center and Everglades Airboat Safari includes an exhilarating 30-minute airboat ride through the wildlife-rich Central Florida Everglades, with the chance to spot alligators and birds. You'll also have more than six-hours to explore the Kennedy Space Center.
Address: SR 405, Titusville, Florida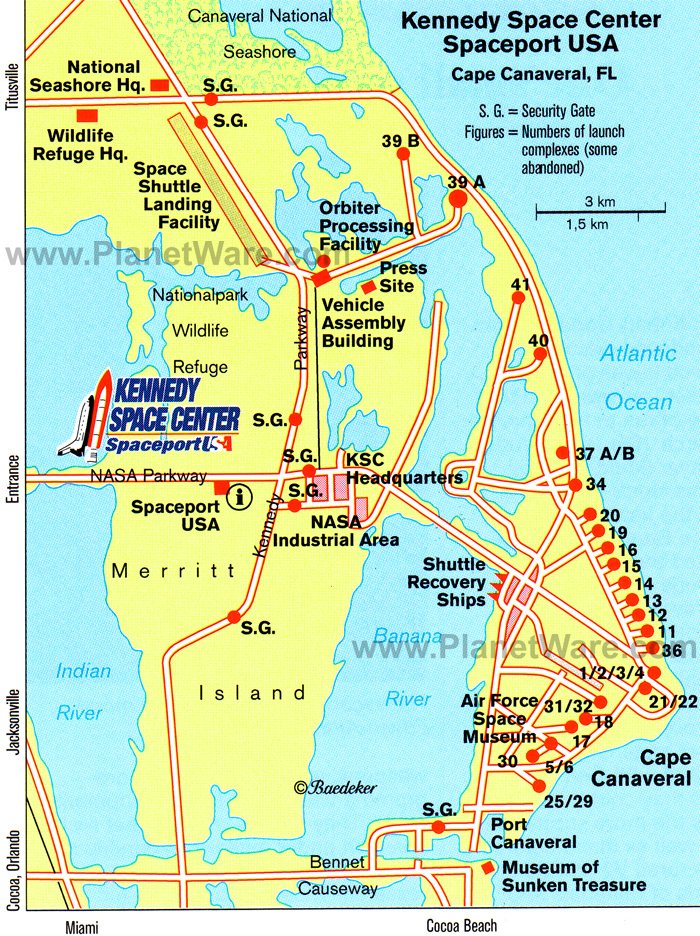 Kennedy Space Center - Spaceport USA Map
Want to use this map on your web site?
Copy and Paste the code below:
2 The Manatees of Crystal River
If you're a wildlife lover, few experiences are more thrilling than a face-to-face underwater encounter with an endangered 1,500-pound West Indian manatee. These gentle giants, sometimes called sea cows, swim in the warm waters of the Crystal River, about 90 minutes by car northwest of Orlando. Tours led by wildlife experts include a chance to swim and snorkel with the animals in their natural habitat. You can usually spot them at any time of year, but November through March is the prime time, when they come here to escape cooling sea temperatures. Those who prefer to stay dry can view the manatees during winter from the Three Sisters Springs boardwalk in the Crystal River Wildlife Refuge. Another popular place to see manatees in winter is beautiful Blue Spring State Park, about 50 minutes north of Orlando.
If you really want to get up close to these fascinating creatures and learn all about them, the Crystal River Manatee Snorkeling and Everglades Airboat Tour is an unforgettable experience. Led by professional guides, this full-day tour from Orlando includes a 1.5-hour cruise on the Crystal River, a chance to swim and snorkel with the manatees; a thrilling airboat ride on the Homosassa River; and a visit to the Homosassa Springs Wildlife State Park, where you can see more manatees, as well as alligators, panthers, and bears. Snorkel equipment, meals, entrance fees, and select hotel pickup and drop-off are included.
3 Ellie Schiller Homosassa Springs Wildlife State Park
About a ten-minute drive from the Crystal Springs National Wildlife Refuge, the 210-acre Ellie Schiller Homosassa Springs Wildlife State Park is a fun place to see and learn about the region's wildlife, both in the water and on land. Florida panthers, bobcats, black bears, white-tailed deer, and birds such as blue herons and flamingos are just some of the resident species here, and you can view other wildlife from the special underwater observatory at the main spring. Aquatic species include manatees (best viewed in the winter), river otters, crocodiles, and alligators. The park is even home to a rescued hippo. Walking trails wind through the lush riverine habitat, and little ones can learn about Florida ecosystems at the children's education center, with interactive exhibits. Access to the park from the visitor center is by tram or a fun boat ride along the river, with the chance to spot wildlife along the way.
Address: 4150 S Suncoast Blvd, Homosassa, Florida
4 St. Augustine
About a two-hour drive from the tourist attractions of Orlando, St. Augustine is the oldest European-settled town in the US, founded in 1565. If you're a history buff, this is a must-do day trip, but everyone will enjoy strolling along the cobblestone streets in the National Historic Landmark District, browsing the local museums, and soaking up the Spanish colonial charm. Top things to see and do here include Castillo de San Marcos National Monument, the 17th-century fortress built to protect St. Augustinians from invading British troops; Fort Matanzas; Flagler College; Lightner Museum; the tranquil Mission of Nombre de Dios; and the St. Augustine Lighthouse and Maritime Museum, with breathtaking city views. The hop-on hop-off trolley is a great way to explore the town and learn about its history. You can also hop aboard a cruise around Matanzas Bay to visit some of the top sites. Shopping is another popular pastime here, and you'll find plenty of cute boutiques and gift shops, as well as some superb restaurants. After a busy day of sightseeing, relax with a cool dip at one of the town's white-sand beaches. The convenient Saint Augustine Day Trip from Orlando covers most of these top attractions in one day and includes transportation and select hotel pickup and drop-off. See historic landmarks and Spanish Colonial architecture, explore the cobbled streets, and add on a narrated trolley tour or sightseeing cruise to learn more about the history of this old Florida town.
5 Airboat Rides
Zipping at high speed through Florida's swampland habitats is an exhilarating way to get a taste of nature. About 25 miles south of Orlando, Spirit of the Swamp Airboat Tours is one of the closest to the city and offers rides through the headwaters of the Florida Everglades on six-seater boats that are small enough to venture into the narrow backwaters. The captain provides a fascinating narration as you look for wildlife such as birds and alligators. High-tech headsets are provided, and tour lengths vary from 60 minutes to two hours. Boggy Creek Airboat Rides is also close to the city and only 25 minutes from Orlando attractions. About 45 minutes by car from the theme parks, Wild Florida Airboat Rides also offers thrilling rides around the swamps and marshes. Afterwards, you can visit the Gator and Wildlife Park to see lemurs, wild boars, sloths, zebras, and other charismatic creatures from around the world. Ranch buggy tours around the working cattle operation add to all the fun.
6 Daytona Beach
If you're looking for some beachside biker and motorsports action, Daytona Beach is an ideal day trip. Home of the famous Daytona 500 and the birthplace of NASCAR racing, this lively beach town is also a hot spot for spring breakers, who come here to bask and hoon along 23 miles of hard-packed blonde-sand beaches - it's one of the few places in the country where you're allowed to drive along a public beach. High-rise apartment blocks loom along some areas of the coast here, so you'll find plenty of accommodation within a stone's throw of the sand. In addition to the season opening of the Daytona 500 in February, Bike Week in March and Biketoberfest in October are popular events here, when leather-clad bikers descend on the town. If you can't make it to the famous Daytona 500, you can join a tour of the Daytona International Speedway or sign up to drive a race car along the track. The Daytona Beach Boardwalk provides family-friendly diversions, with carnival rides, games, shops, and restaurants.
7 New Smyrna Beach
About a one-hour drive from Orlando, New Smyrna Beach is a popular coastal escape for Orlando locals. The biggest draw here are the dozen or so miles of broad soft-sand beaches lined by vacation cottages and apartment buildings. Fishing, surfing, and swimming are popular activities along the coast, and vehicles and bicycles are also allowed on the hard-packed sand along the beach. At night, from May through November, you have the chance to see baby sea turtles hatch and scuttle down to the water at the Canaveral National Seashore, about 30 minutes drive from New Smyrna. The Marine Discovery Center is another popular attraction, with guided kayak and dolphin-spotting boat tours around the Indian River Lagoon.
8 Clearwater Beach
Frequently voted one of Florida's best beaches, Clearwater Beach, on the Gulf of Mexico, is a popular coastal escape with a relaxed vibe. About 2.5 hours' drive from Orlando, this glamorous strip of soft, sugary sand, lapped by jade waters and backed by resorts and residential areas, stretches for about 2.5 miles along the outer edge of a barrier island. Most visitors come here to plonk down on the soft white sand and swim in the calm waters, but if you're looking for a little more action, the Clearwater Sea Screamer offers an adrenaline-packed one-hour speedboat ride around the bay. Deep-sea anglers can also embark on a trip from here to catch species such as tarpon, sea bass, snapper, and grouper. At one end of the beach, Pier 60 is a popular fishing spot, with souvenir shops, restaurants, street performers, and live music at sunset. Nearby Sand Key Park is another beautiful stretch of sand, and if you're still seeking some theme park action, head to Busch Gardens Tampa for fun rides and roller coasters, garden exhibits, animals, and live shows.
9 Legoland Florida
Just when you think you've done the theme parks, Legoland beckons, about an hour southwest of downtown Orlando. Kids two through 12 years will love this 150-acre ode to all things LEGO, with more than 50 rides (many suitable for younger kids), live shows, and even a botanical garden. And of course, LEGO is everywhere. The park includes LEGO building activities and a DUPLO-themed area for toddlers. In season, you can also keep cool at the water park, with a wave pool, water slides, and Build-A-Raft lazy river.
Address: 1 Legoland Way, Winter Haven, Florida
10 Miami
Although it's one of the longer road trips from Orlando (about a 3.5-hour drive), Miami makes a glitzy and glamorous day trip. Head to legendary Miami Beach, a separate island separated by bridges, to see the Art Deco Historic District along Ocean Drive and the hip scene at famous South Beach. Shoppers should head to Bayside Marketplace, a huge open-air mall with more than 150 stores. Other top things to do include visiting the Miami Zoo and Jungle Island or one of the many museums, such as the Miami Children's Museum or the Miami Science Museum.
You can enjoy a taste of all this tropical city's top spots on the Miami Day Trip from Orlando. Sit back and relax while an experienced driver and guide show you around. Cruise past multimillion-dollar homes on Biscayne Bay, see South Beach and the Art Deco Historic District, and stroll around Bayside Marketplace. This 15-hour excursion also includes a fast-paced airboat ride through Everglades National Park, where you can spot some of the park's wildlife.
More on Florida