15 Top-Rated Beaches near Orlando, FL
We may earn a commission from affiliate links ()
Bet we know why you were drawn to Orlando. And we're sure it has something to do with roller coasters and carousels. We're also confident that you're going to need a break from days spent eating chicken fingers, standing in line for hours, whizzing upside down, and listening to It's a Small World on repeat.
What better place to enjoy a real "vacation" than on a beach? Unfortunately, Orlando is a concrete jungle with no ocean in sight. That doesn't mean you're out of luck on the beach front, though! If you plan it well, a trip to Orlando can include a day or more spent frolicking in warm ocean waves far from the crowded parks.
Luckily, Orlando is centrally located, meaning you can reach a magnificent beach quite easily on either the Atlantic or Gulf coast. Whether you're looking for a secluded beach that's more popular with turtles than humans or a thriving strand pulsing with energy, there are plenty of nearby options to choose from.
Not willing to drive too far? Pick a beach that's an hour or less away. If you're up for a sun-kissed day trip, choose one that's a bit further afield i.e. (two hours or more). Before heading out, study our list of the best beaches near Orlando.
Note: Some businesses may be temporarily closed due to recent global health and safety issues.
Beaches One Hour or Less from Orlando
1. Cocoa Beach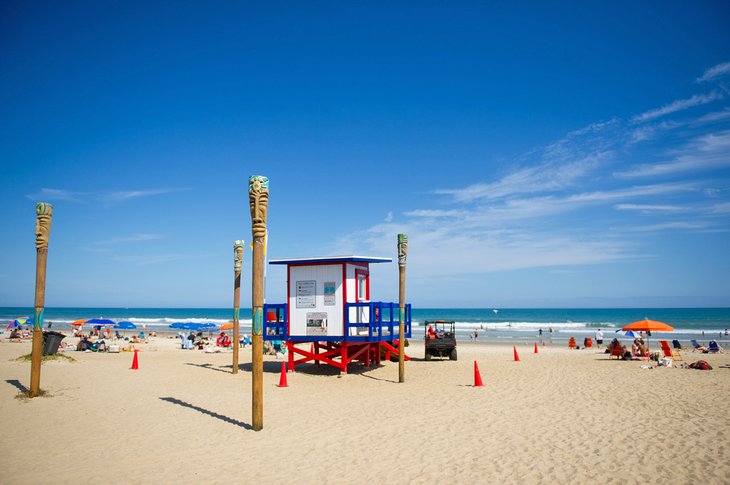 Cocoa Beach is the nearest beach to Orlando. Drive an hour east, and you'll reach this beautiful spot on the magnificent Space Coast, so named for its proximity to the Kennedy Space Center and Cape Canaveral Air Force Station.
A hot spot for surfers, the waves here are epic. Few visitors sit still for long on this luxurious strand. With bikes to rent, boogie boards to ride, and sandcastles to build, there's plenty to keep the entire family entertained.
You can't miss the iconic Cocoa Beach Pier. A wooden gem that oozes charm, this 800-foot masterpiece offers shops, live music, fun restaurants, and spectacular views. Save time for a visit to Ron Jon's Surf School. It's the perfect place to learn how to surf.
Accommodation: Best Resorts in Cocoa Beach
2. Daytona Beach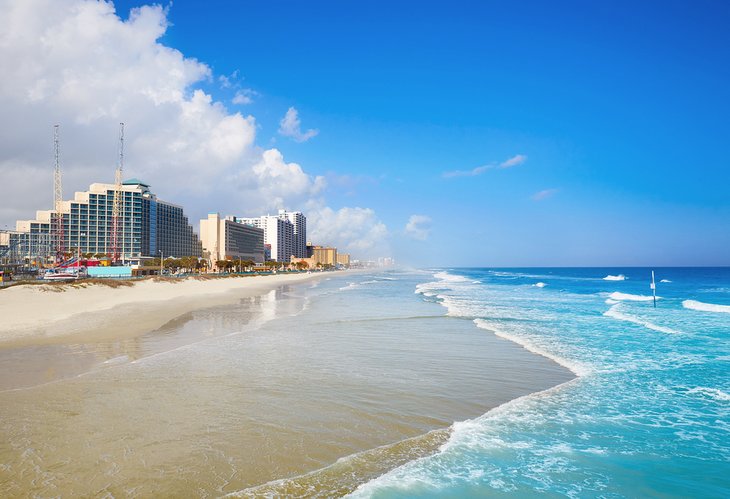 If you're like most people, the words "Daytona Beach" conjure images of boatloads of college students wreaking havoc on Spring Break. While you're partly right, there's a lot more to this beach than the seasonal parties it's famous for.
Yes, Daytona Beach is lively and fun. No, you won't love this place if you favor secluded spots and tranquility. That said, it's known as one of the best beaches near Orlando for families.
Featuring a whopping 23 miles of lush sand that's bordered by water so turquoise it screams "vacation," this beautiful east coast strand is home to a vast boardwalk boasting lovely views, an arcade, and fun amusements every kid will enjoy.
This is the beach to come to for fun and festivities at any time of year and it's close to a ton of great hotels and resorts.
3. New Smyrna Beach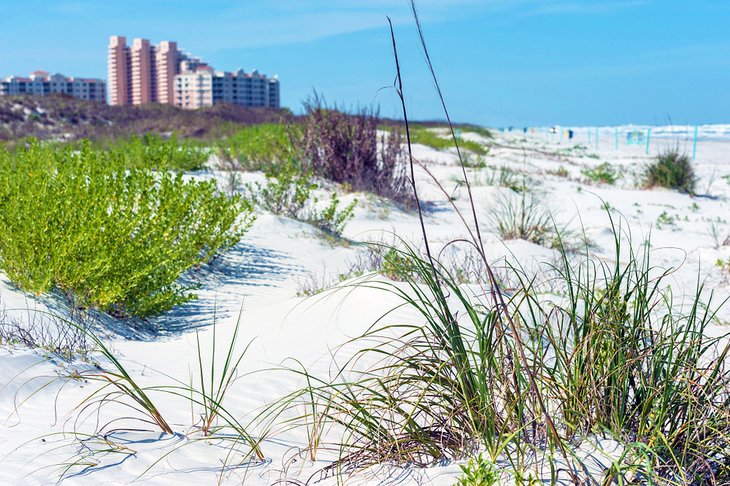 New Smyrna Beach occupies 13 miles of Florida's Atlantic coast. Close to Orlando, this lovely strand has become known as the amusement park haven's "locals beach." It's a go-to for both visitors and locals looking for an easy day trip to the shore.
The surf here is large, making it a popular destination for those looking to hang 10. And everyone loves the walkable sand. It's fine and well-packed, making it hard enough for cars to park on the strand. The sand also provides a good environment for beach cycling. You can even bike into the waves.
Every good beach should be bordered by an adorable beach town. New Symrna offers charm in spades. Walk along historic Flagler Avenue to find quirky boutiques and a variety of restaurants, all with a laid-back vibe.
4. Ormond Beach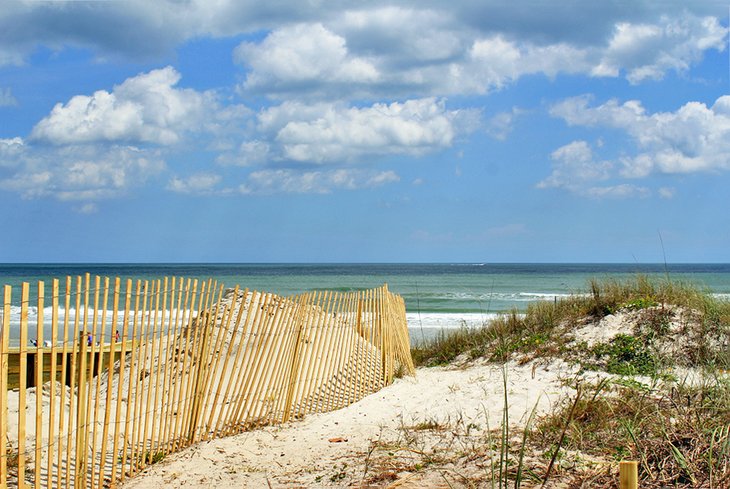 Lying just north of Daytona Beach, Ormond Beach is one of the best family beaches near Orlando. A mere 60 miles northeast of the city, just north of Daytona Beach, this dune-backed strand is more natural and rustic than other nearby beaches. It's also quieter and more tranquil, which is a definite bonus for those looking to relax.
Set between the Tomoka River and Atlantic Ocean, there's plenty of fun to be had on the water at this oasis. When not lying on the sand (which is a bit coarse), head into the charming beach town peppered with historical landmarks, lavish homes, and immaculate gardens. Granada Boulevard is where you'll find the best restaurants to whet your appetite.
Beaches Over an Hour from Orlando
5. Canaveral National Seashore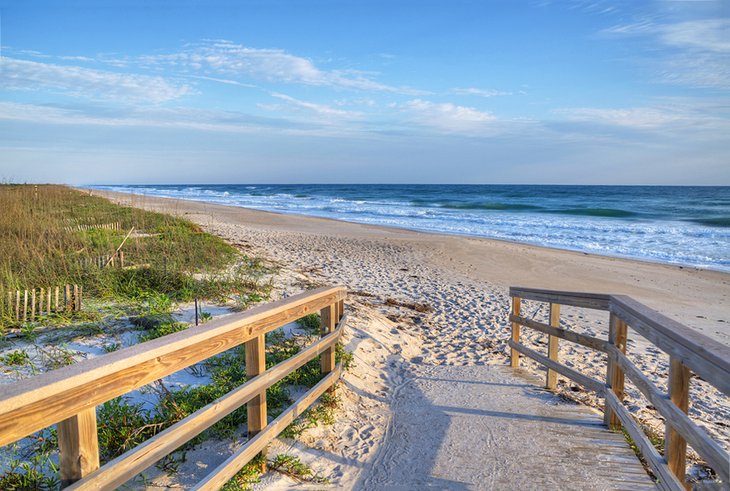 Canaveral National Seashore is a natural wonderland an hour and a half northeast of Orlando. It's here that you can come face to shell with a sea turtle, spot a bald eagle, or see a manatee in real life. You can also watch a NASA shuttle rocket into space from the comfort of your beach towel. The Kennedy Space Center and Cape Canaveral are both close by.
A barrier island just south of New Smyrna Beach, this protected seashore spans 25 miles of the most tranquil, secluded, and pristine Atlantic Ocean coast you'll find in the region. It features 14 species of animals that are either threatened or endangered. Popular activities include horseback riding, kayaking, canoeing, fishing, swimming, SUPing, and boating.
6. Flagler Beach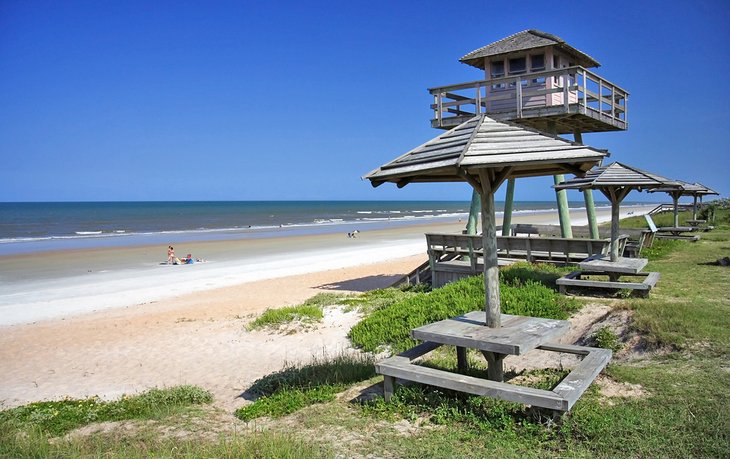 It will take about an hour and a half to get to this quiet beach, nearly 80 miles from Orlando, in between Daytona Beach and St. Augustine. This strand is the highlight of the small beach town of the same name.
Its clean golden sand and warm surf invites those who like to swim, sunbathe, and surf without having to fight through crowds to reach the water. You won't have to wade through touristy kitsch on your way to the sand, either. Instead, the charming town is peppered with adorable shops and restaurants.
Flagler Beach boasts a well-loved fishing pier offering beautiful views and an optimal place to cast a rod. Expect to pay a minimal fee (about $1.50 to walk on the wooden deck, a bit more if you're planning to fish).
7. Vero Beach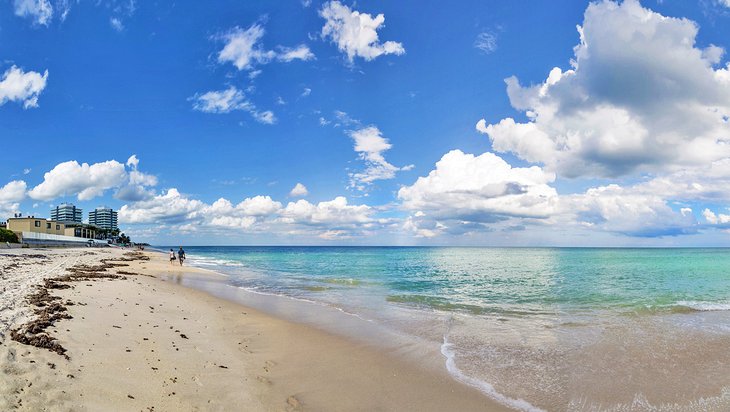 A bit further afield lies Vero Beach, which sits on a barrier island between the Indian River and Atlantic Ocean. It will take just under two hours to reach this southeastern coastal gem, and you'll be glad you made the trek.
Vero Beach is located on Florida's Treasure Coast, which is comprised of three counties: Indian River, St. Lucie, and Martin. It got its name over 300 years ago, after treasure-carrying Spanish ships wrecked off the shore in this region. Keep your eyes peeled as these treasures sometimes wash up on shore.
While you're here, lounge beachside, head in for a swim, or book a kayaking trip on the Indian River Lagoon. Don't miss the posh stores and restaurants that pepper the resort town's downtown core. Don't worry, the area also boasts quaint local cafés that provide a more laid-back break from the sun.
8. Melbourne Beach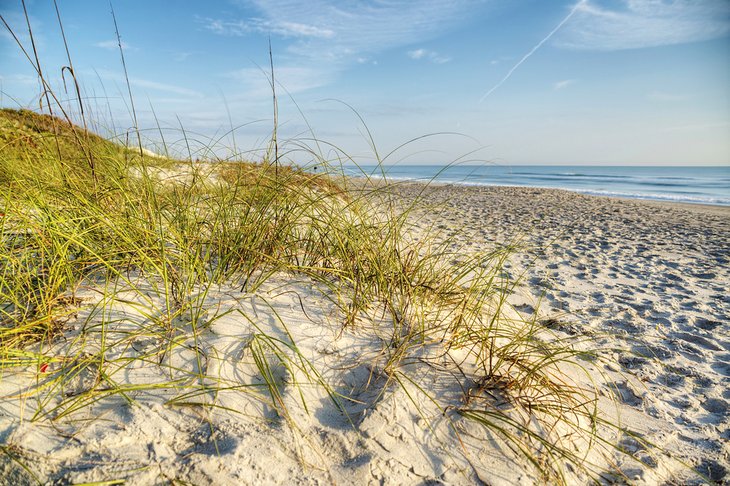 It will take about an hour and a half to reach Melbourne Beach on Florida's Atlantic coast. An oasis situated on a barrier island sandwiched between the Atlantic Ocean and Indian River, this is the place to come if you're looking for a slice of serenity.
No crowds will bother you here, and you won't face the inflated prices found at shops and restaurants bordering more popular beaches. It features a beautiful wooden pier, extending over the water to provide visitors with an optimal fishing destination, as well as a perfect sunset-watching venue.
The water here is clear enough to spot some of the area's vast marine life swimming by. Keep your eyes peeled; you may be lucky enough to spot a stingray or manatee.
9. Sebastian Inlet State Park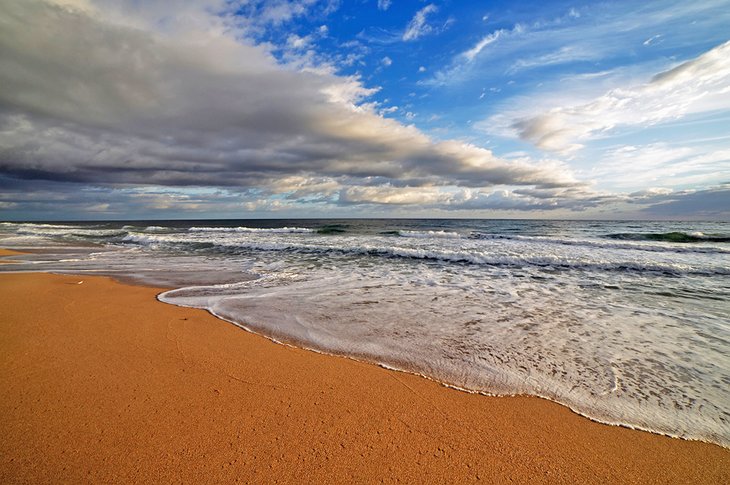 A dream destination for anglers, Sebastian Inlet State Park has been deemed the "premier saltwater fishing spot on Florida's east coast." When you're not trying your luck at catching dinner, head to the gloriously fine sandy beaches (all three miles of them) that hug the coast. This park has also been touted to have "some of the best surfing on the Eastern Seaboard." That's a lot of bests!
Whether you plan to spend your time beachin', sunbathing, scuba diving, swimming, surfing, kayaking, or shell hunting, there's plenty to keep you entertained on this barrier island, and all of it is top rate. A great day trip from Orlando, the drive southeast will take you just under two hours.
Insider's tip: Traveling with kids? The azure water is especially clear in this park, which makes it a great spot to teach little ones to snorkel.
Beaches Two Hours from Orlando
10. Clearwater Beach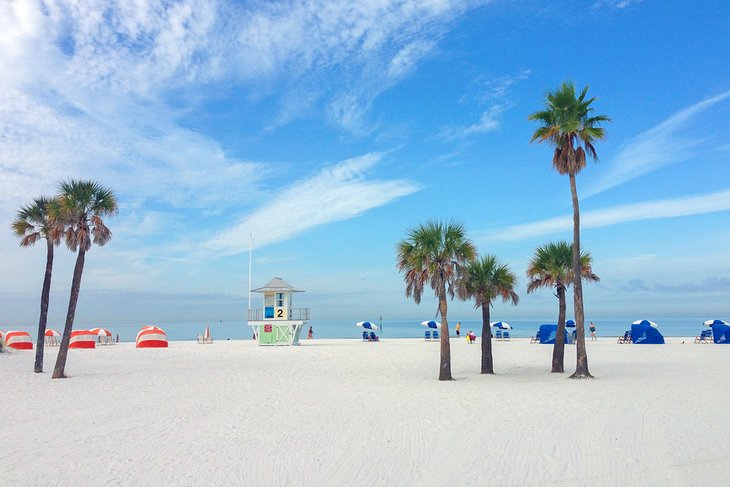 Repeatedly voted one of the top beaches in the United States, Clearwater is by far one of the best gulf beaches near Orlando. It will take about two hours to drive the over 100 miles southwest to this lovely spot on the Gulf Coast.
The sand here is sugar white and soft enough to laze upon for hours. As can be expected from the Gulf of Mexico, the water here is perfectly clear and calm. Guess we know how the beach got its name!
Flanked by a few high-rises, this pristine beach doesn't feel as urban as, say Miami Beach, but is conveniently located near great shops and eateries. Due to its award-winning beauty, Clearwater has become a hot spot for tourists, which makes parking a bit of a challenge. Aim to arrive early and set a timer to remember to feed the meter before it runs out.
Insider's tip: Take the kids to the nearby Clearwater Marine Aquarium to meet Winter, the dolphin made famous by the movie Dolphin Tale.
Accommodation: Top Resorts in Clearwater
11. Caladesi Island State Park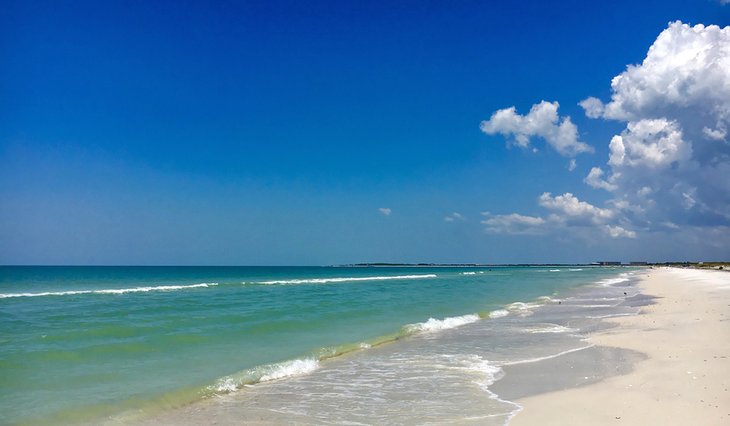 A 20-minute ferry ride from Clearwater Beach, Caladesi Island State Park is one of the prettiest, most natural beaches you'll find stateside. Since you can only reach it by boat, this lovely strand is uncrowded and virtually untouched.
Rent a kayak to explore the mangrove forest, grab a treat at the tiny snack bar, splash in the calm water, or go shelling along the sandy expanse. Another fun option? Follow the island's interior nature trail towards the historic Scharrer Homestead. There's so much to enjoy at this quiet, sun-kissed wonderland.
Insider's tip: Plan to rent chairs and beach umbrellas on site. It's a bit of a walk from the ferry to the beach, so the less stuff you have to lug with you, the better. That said, if you're planning to spend a whole day, pack lots of water and a picnic lunch.
12. St. Augustine Beach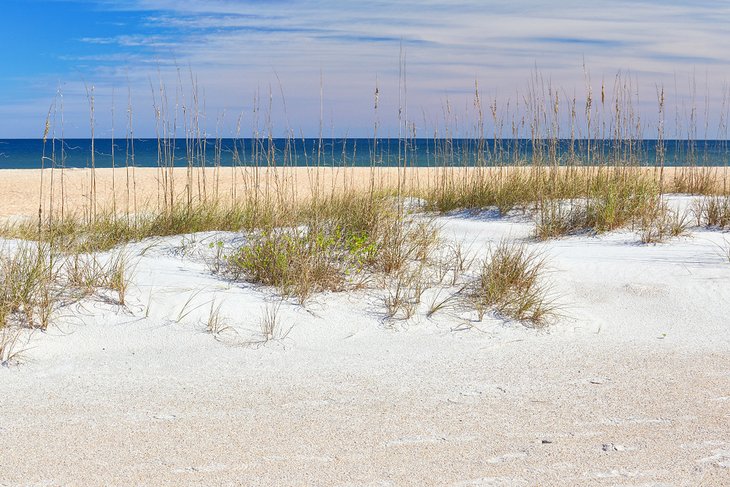 St. Augustine's beautiful shores are covered by 42 miles of swim-worthy beaches. One of the best is St. Augustine Beach. Just over 100 miles northwest of Orlando, this is the beach to visit if you're looking for a family-friendly spot to enjoy body boarding, fishing (it boasts a great pier), bike riding, swimming, or running on white sand.
This spot is also home to enough shells to make any collector exuberant. Plus, the sand here is firm enough for cars to drive on but soft enough for kids to scoop while building their latest creations.
Insider's tip: Climb to the top of the St. Augustine Lighthouse (it's 219 steps up) for unbeatable views of the historic city and sparkling ocean beyond.
Accommodation: Best Resorts in St. Augustine
13. St. Pete Beach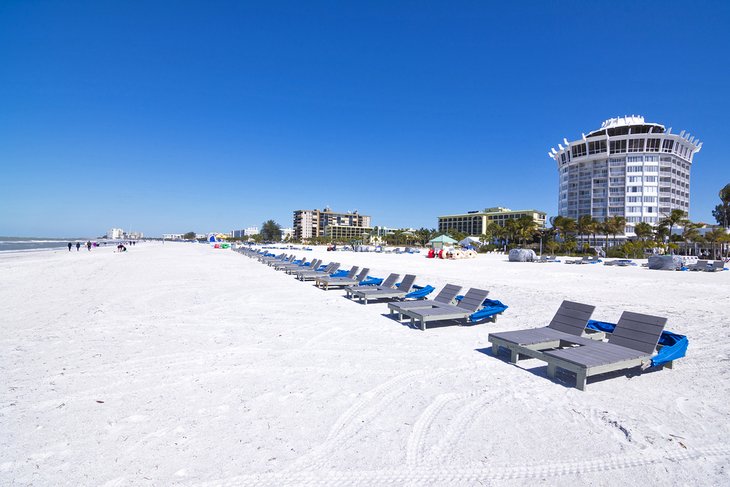 Fantastic St. Pete Beach sits over 110 miles southwest of Orlando, on the Gulf Coast. It features a vast expanse of soft, clean sand; warm azure water; and plenty of amenities at your fingertips.
A family-friendly strand, there's plenty to keep kids occupied. Swimming, kayaking, SUPing, boogie boarding, sandcastle-building — you name it, they have it! Keep your eyes peeled, and you may just see a pod of dolphins swimming along the horizon.
Insider's tip: It's impossible to miss The Don CeSar, an iconic grand pink masterpiece jutting out from the lush landscape, built in the late 1920s. We recommend stopping in for a meal to soak up the unique, Gatsby-era vibe.
Accommodation: Top-Rated Resorts in St. Petersburg, FL
14. Treasure Island Beach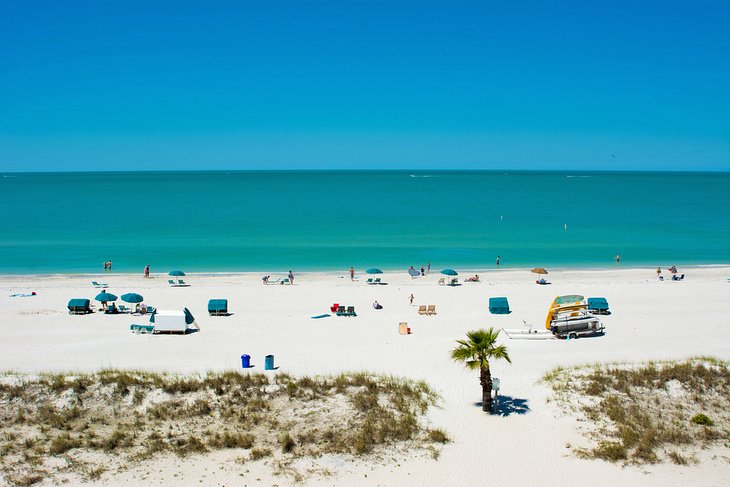 Slightly over two hours from Orlando, this Gulf Coast haven is located on Treasure Island, a barrier island just north of St. Pete Beach. A paved boardwalk lines the well-groomed strand, enticing visitors to bike, run, rollerblade, or relax on one of the many benches.
It's easy to access this public beach, and parking is a cinch since this isn't as popular a destination as other beaches on the Gulf of Mexico (like St. Pete and Clearwater).
Treasure Island Beach is wide enough to present visitors with a bit of a walk (about a few hundred meters) to the water, as well as a variety of places to sprawl on the sand. Lined by sand dunes, peppered with shells, and featuring soft white sand, this pretty locale makes a day at the beach feel more organic.
15. Fort de Soto Beach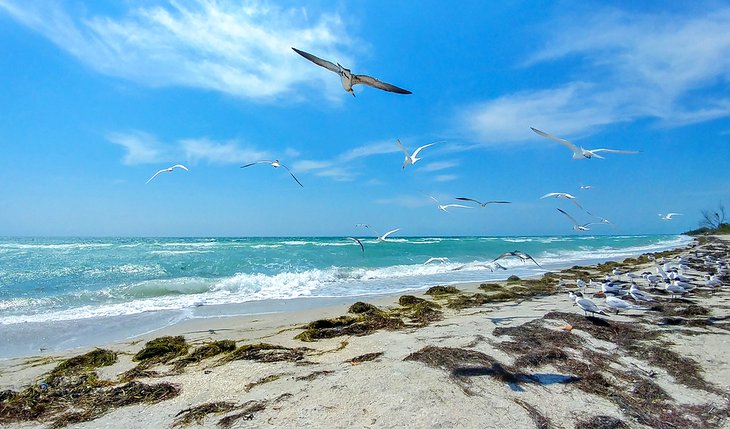 Fort de Soto Park boasts 1,136 acres of a natural wonderland featuring mangrove forests, wetlands, and keys. It's also home to one of the area's most idyllic, untouched beaches — Fort de Soto Beach. Located near St. Petersburg, the drive will take about two hours from Orlando.
You'll never be alone when visiting this remarkable strand. Whether you come face to face with a loggerhead turtle, get divebombed by a gull, or catch sight of a dolphin, wildlife love this beach even more than humans do.
Insider's tip: Bring Fido along for a beach day. Fort de Soto Beach is dog-friendly, with an area of the sand designated just for our four-legged friends. Plus, it boasts two fenced-in sections with water stations.
More Related Articles on PlanetWare.com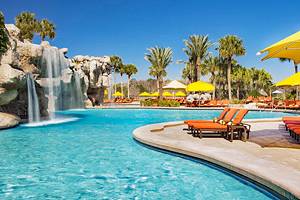 Where to Stay in Orlando: While the major theme parks boast multiple hotels of their own, there are plenty of other options to rest your head. These awesome resorts top our list of faves. Still not sure where to sleep? Check out this detailed list of where to stay in Orlando.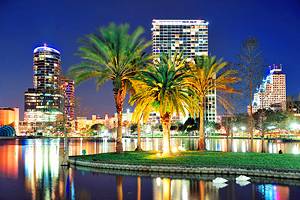 What to See in Orlando: We know you're going to visit Mickey and Minnie, but we suggest venturing outside the magic gates to get a real feel for Orlando. Check out these tourist attractions or better yet, head outside the city limits on one of these fun day trips.