14 Best Christmas Towns in Florida
We may earn a commission from affiliate links ()
'Tis the season to overindulge in decadent treats, shop for gifts in holiday markets, and canoodle under the mistletoe. If you're hoping to do these things while traipsing along a sun-drenched beach, you'll find a bevy of festive Christmas towns to visit in Florida.
Jingling with bells and twinkling with lights, Florida boasts a slew of holly jolly towns that will have you feeling festive in no time. Watch Santa skydive and surf in Pensacola, visit the world's largest sand Christmas Tree in West Palm Beach, or tube down a "snow" slide in Sarasota.
Be sure to check in advance to see if local events and festivals are still running or have made changes due to health and safety issues.
Whether you're hoping to immerse yourselves in the magic of the season or want to pepper your beachy visit with a few holiday events, our list of the best Christmas towns in Florida will help you jingle all the way to a fantastic holiday.
1. St. Augustine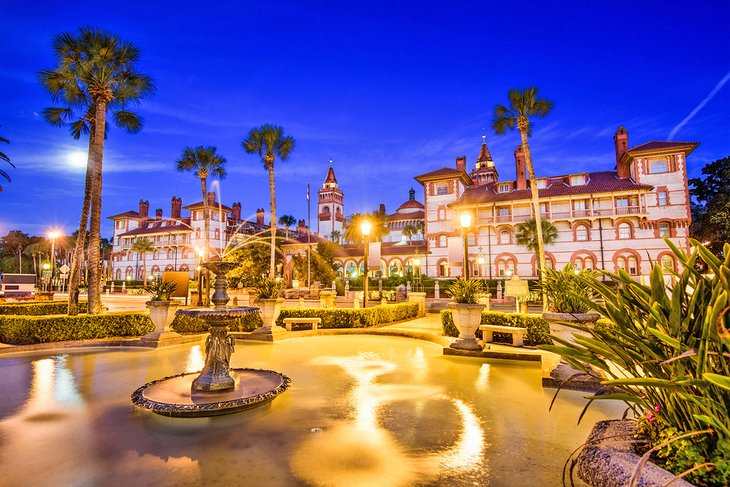 A wonderland of twinkling lights descends upon St. Augustine's streets (and many of its homes) from mid-November through January. During this annual Night of Lights Festival, you'll find more than three million lights draped on historic buildings, swirling around palm trees, and lining adorable brick-lined roads.
See them up close by booking an Old Town Trolley Tour for a magical ride around town. Or hit the waves on an evening boat cruise like the Nights of Lights Tour offered by Florida Water Tours. Everything looks more radiant from the bay.
Better yet, visit during the second Saturday of December to catch the annual Regatta of Lights, a picturesque event featuring colorfully lighted boats of all sizes parading along Matanzas Bay.
The most festive town in Florida, St. Augustine also boasts one of the largest Christmas parades in northeast Florida. It begins at the Shrine of Our Lady of La Leche and ends at the visitor center. Afterwards, guests are invited to visit with Santa at the Plaza de la Constitución.
Accommodation: Top-Rated Resorts in St. Augustine, FL
2. Orlando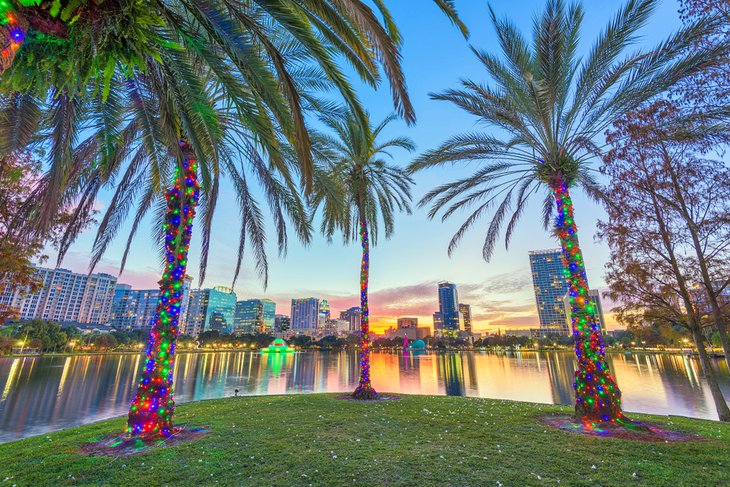 Orlando takes fun to a whole new, super enjoyable level. We're talking giant theme parks (we're looking at you, Walt Disney World and Universal Studios), massive aquariums (hello, SeaWorld), and mammoth waterslides (what's up, Volcano Bay). It's no surprise, then, that they go all out at Christmastime.
Mickey's Very Merry Christmas Party at Disney World is the biggest holiday gala in town. It boasts a Christmastime Parade with everyone's favorite characters, a Fireworks Show, concerts, and holiday-themed shows starring the likes of Anna and Elsa from the movie Frozen.
If you're missing snow, head to the Snow Factory at Gaylord Palms. Guests can whizz down ice slides on tubes and visit Snowball Build and Blast to make and throw a real snowball.
LEGOLAND features a giant LEGO brick Christmas tree, as well as festive shows and lights galore. SeaWorld boasts tasty treats and shopping opportunities in addition to their holiday performances.
Accommodation: Top-Rated Resorts in Orlando
3. Miami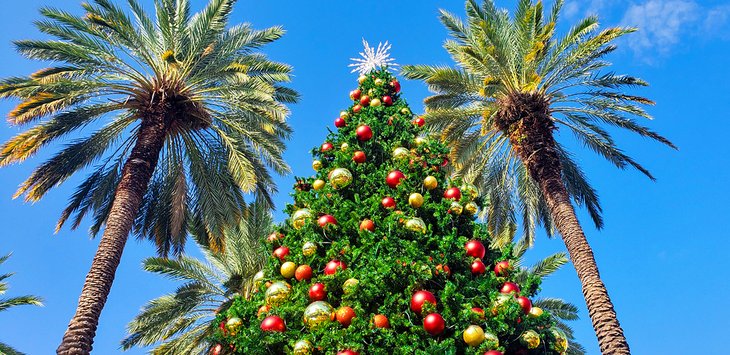 Miami is one of the most popular places to visit in South Florida, especially for the holidays. It boasts one of the best beaches in Florida and some of the most impressive shopping and dining options in the state.
When it comes to Christmasifying, Miami goes all out. We're talking light-wrapped palms, festive sand sculptures, and a holiday theme park. If you're looking for tasty Christmas treats, you'll find plenty throughout town, and you'll be hard-pressed to discover a better spot to shop for last-minute gifts.
Santa's Enchanted Forest transforms Tropical Park into a winter wonderland. It's deemed the largest Christmas-themed amusement park in the world. Your kids will love you forever for taking them here. Between Christmas carol karaoke, over 100 rides, a petting zoo, and a Santa sighting (of course), there is a ton of fun to be had.
Bayfront Park is where you'll find a giant 52-foot Christmas tree adorned with flowers and sparkling lights. Don't miss the Miami Zoo. Its impressive Zoo Lights are on show from November through December and feature animal-shaped lights, carol sing-a-longs, carousel rides, and a visit with Santa himself.
Accommodation: Top-Rated Resorts in Miami, FL
4. West Palm Beach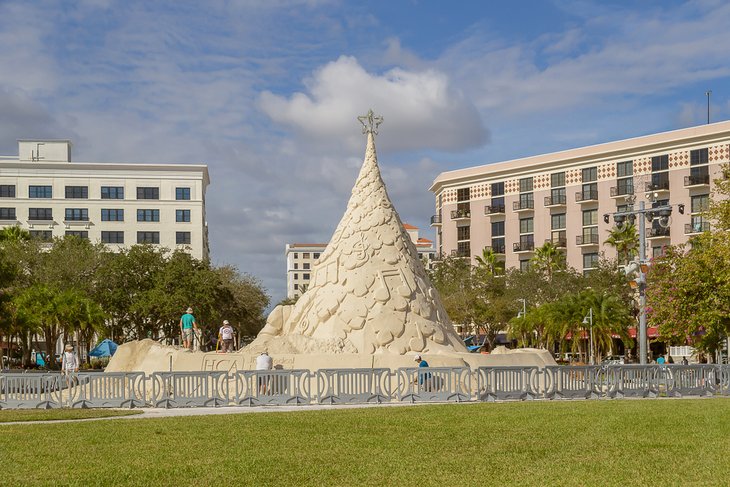 Bet you've never seen a Christmas tree made out of sand! Head to West Palm Beach in December and you can change that. Marvel at Sandi, a 35-foot, 700-ton sand tree topped with a giant star and ringed with more than 5,000 lights. A music and light show can be seen every 15 minutes each night from December 5th though the 31st.
Rosemary Square is home to the only snow you'll find in West Palm. From November 30th through the end of December, visitors can be snowed upon each night while they roam the plaza's shops and restaurants.
A sparkling Palm Beach Holiday Boat Parade is held annually in early December. It begins on the water off the coast of North Palm Beach (a seven-mile drive north) at 6pm and ends in Jupiter about two hours later.
Accommodation: Top-Rated Hotels in West Palm Beach
5. Pensacola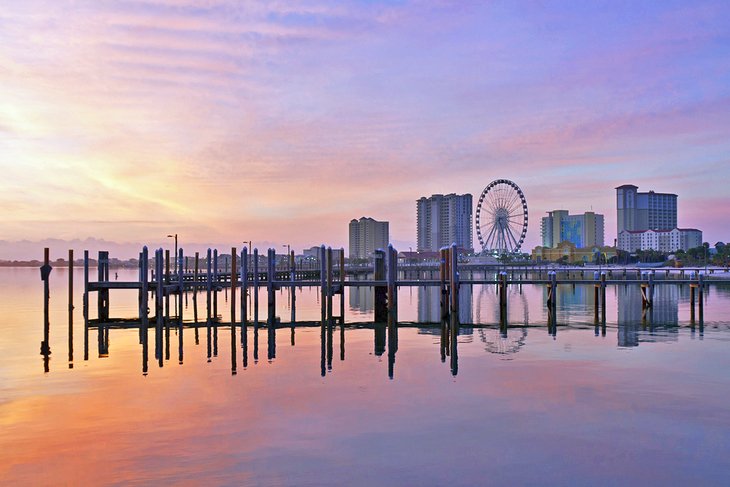 A visit to Pensacola Winterfest is the ultimate way for families to celebrate Christmas in Florida's Panhandle. Festive lights adorn the area, which is flanked by sandy beaches. You can watch holiday shows, drink hot chocolate, and be "snowed" upon while enjoying this fun event.
Book a ride on the Polar Express, a 20-minute train ride complete with hot chocolate, festive performances, and a requisite Santa visit. Prizes are awarded for the person wearing the most festive jammies, so this is one event you don't have to dress up for.
The Winterfest Express Electric Train is another fun-riding adventure that takes small visitors (the seats are kid-sized) past all the sparkling streets to downtown. Papa Noel (a.k.a. the Cajun Santa) awaits visitors at the Cajun Christmas Experience, which involves a trolley ride, performance, and dancing.
At this truly Floridian holiday experience, Santa Drop and the Surfing Santa Beach Parade are unmissable. You'll watch Santa dive from a plane in the former and witness festively costume-clad surfers hang 10 in the latter. Don't miss the Pensacola Lighted Boat Parade, a sparkling event best seen from the Pensacola Beach Boardwalk.
Accommodation: Top-Rated Resorts in Pensacola, FL
6. Captiva Island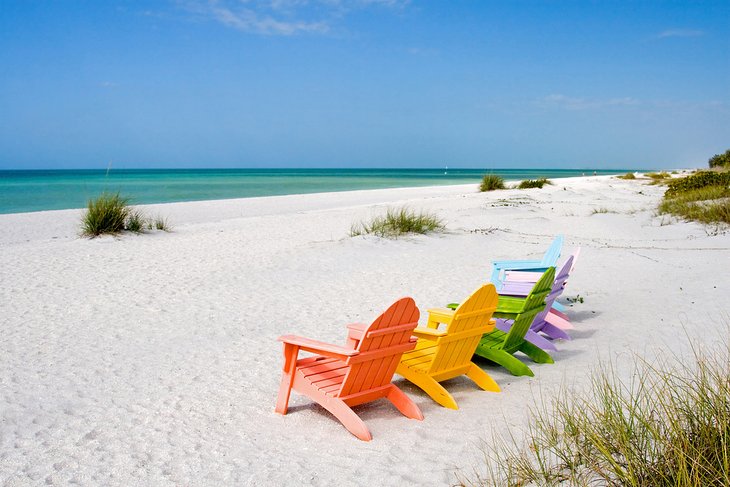 Get into the holiday spirit early on Captiva Island. One of the best small towns in Florida, Captiva is charming at the best of times. Sprinkle it with lights and add festive cheer, and you'll never want to leave.
The uber popular (and equally adorable) Captiva Holiday Village begins with a tree-lighting ceremony and fireworks at Tween Waters Inn on the weekend after Thanksgiving. It continues through December with a schedule jam-packed with festive joy.
Tween Inn also hosts the village's Sunset Arias. Where else can you dig your feet into soft sand while being lulled by crashing waves and washed in nature's beautiful pink, yellow, and orange hues?
Captiva offers a Santa Claus Parade in true Florida style. In place of trucks and cars, the floats in this jolly procession are decked out golf carts. Aptly named the Golf Cart Parade, this fun event begins at the South Seas Resort on the second Saturday in December.
While you're here, wander along streets lined with lights at the South Seas Island Resort Holiday Stroll. And don't miss the Christmas Boat Parade, which treats guests to a majestic sight along Roosevelt's Channel.
7. Sarasota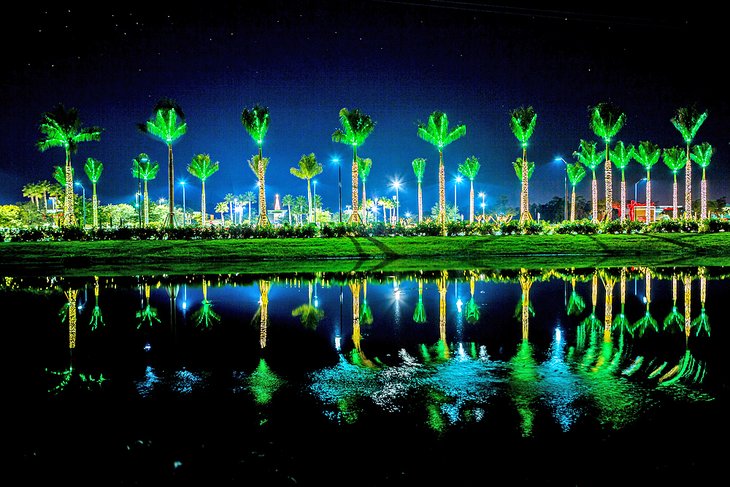 One of the best places to visit on Florida's Gulf Coast, Sarasota offers holiday travelers more than just white sandy beaches, warm emerald waters, and swaying palms. It also gives them a chance to play in the snow when it's 80 degrees outside.
Shop 'til you drop at University Town Center, which features over four million lights in shapes ranging from reindeer to Christmas trees. This is also where you'll find Holidays on the Green, an event that boasts ice-skating, carousel rides, horse-drawn carriage rides, and "snow" tubing.
Hop on a Sarasota Trolley for a Holiday Lights Tour or book a ride on SRQ Trolley's Holiday Tour of Lights for a festive ride.
Snow Fest Sarasota is held at nearby Lakewood Ranch. This awesome event offers family-friendly amusement you won't want to miss. Step into a giant snow globe, build a snowman, tube down a snow slide, and boogie to DJ Grinch. Did we mention the Candy Cane Hula Hoopers?
Accommodation: Top-Rated Resorts in Sarasota, FL
8. St. Petersburg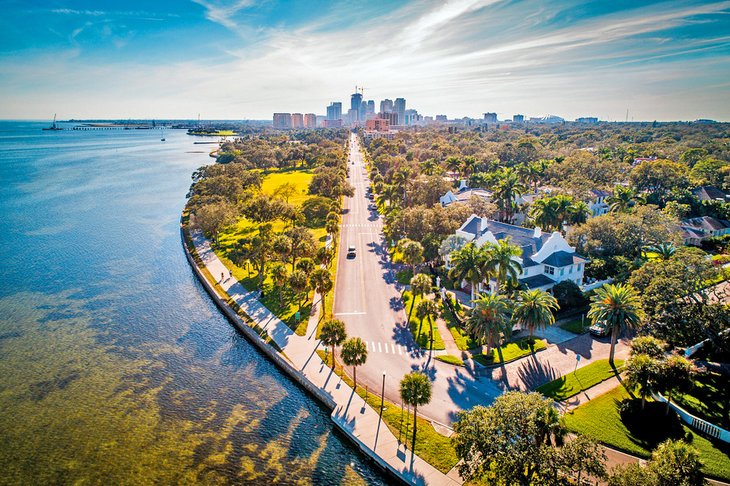 Come on down to Christmas town at St. Petersburg. You'll find all you need to have a holly jolly time in St. Pete's. It's home to Enchant, which has been dubbed "The World's Largest Christmas Light Maze and Market."
Enchant's Christmas Market boasts more than 40 local artisans selling wares that range from tasty treats to unique jewelry. These vendors rotate, with nearly two dozen appearing at one time, so your next visit will feel like a totally new experience.
Kids will go loopy over the incredible Christmas Light Maze Adventure. You'll weave through a delight of lights and sculptures in this "living storybook," which follows the journey to find Santa's missing reindeer.
Accommodation: Best Hotels in St. Petersburg
9. Jacksonville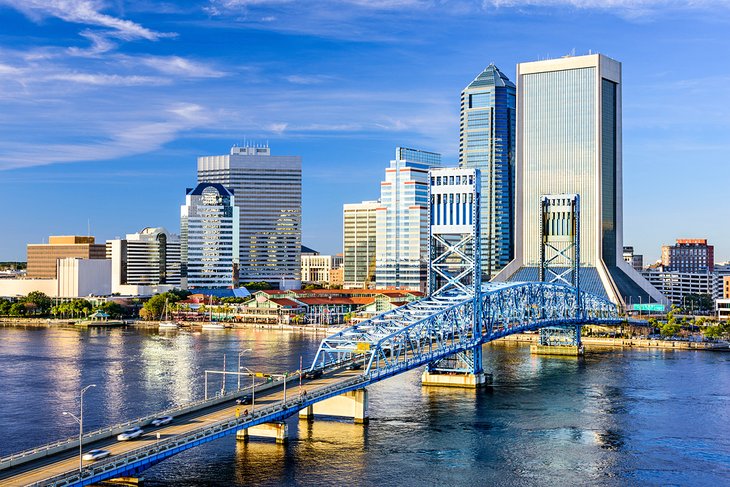 If you're dreaming of a bright Christmas, you'll find it in Jacksonville. Gather the fam, buckle up, and head to the Morocco Shrine Center for a glitzy display of holiday lights so bright you'll wish you brought shades.
Known as Jax Illuminations, this annual luminous event takes visitors on a mile-long ride through a magical Christmas journey complete with a 300-foot light tunnel, resplendent Christmas scenes, and giant shining trees.
Hoping to catch the city's main tree lighting ceremony? You'll have to visit in early December. Over 78,000 bulbs and 100 ornaments cover a 56-foot tree in Hemming Park.
Deck the Chairs is another jovial Floridian event. Over 40 American Red Cross lifeguard chairs become the focus of downtown's Jacksonville Beach. They are decorated from late November through January 1st, bringing extra joy to the shore.
The Jacksonville Light Boat Parade is another shimmering affair that takes place along the north and south banks of the St. Johns River. At the end, there's a fireworks show.
Accommodation: Where to Stay in Jacksonville
10. Fort Lauderdale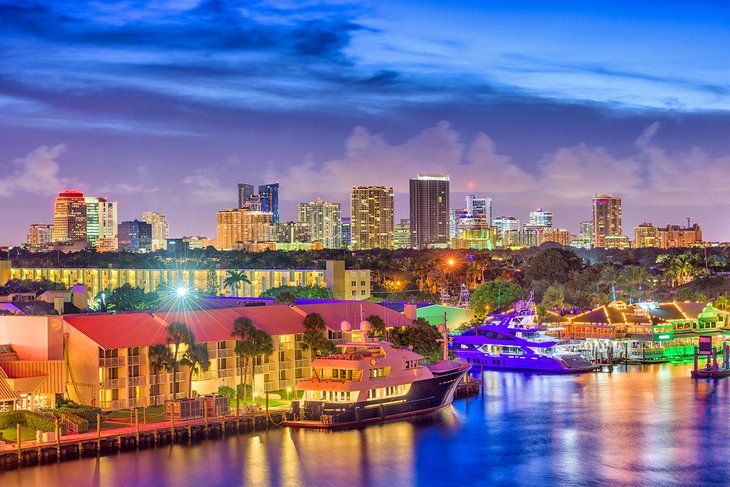 Fort Lauderdale is a beautiful spot to spend the holidays. It's hard to get stressed in this oceanfront locale, which is snaked with Venice-style waterways and lined with pristine beaches.
During the holidays, Las Olas Boulevard hosts a Winter Wonderland known as Christmas on Las Olas. Running from S.E. 6th Avenue through S.E. 11th Avenue, this free event boasts a two-story ice-covered "mountain" to sled down, multiple choirs to sing carols with, and holiday shows to watch.
The highlight of Fort Lauderdale's Christmas entertainment is the Seminole Hard Rock Winterfest Boat Parade. Boats of all sizes (we're talking tiny sailboats bobbing alongside giant super yachts) get all decked out for this annual holiday event. Dubbed the "Greatest Show on H2O," this parade offers fun for the whole family.
Accommodation: Best Hotels in Fort Lauderdale
11. Celebration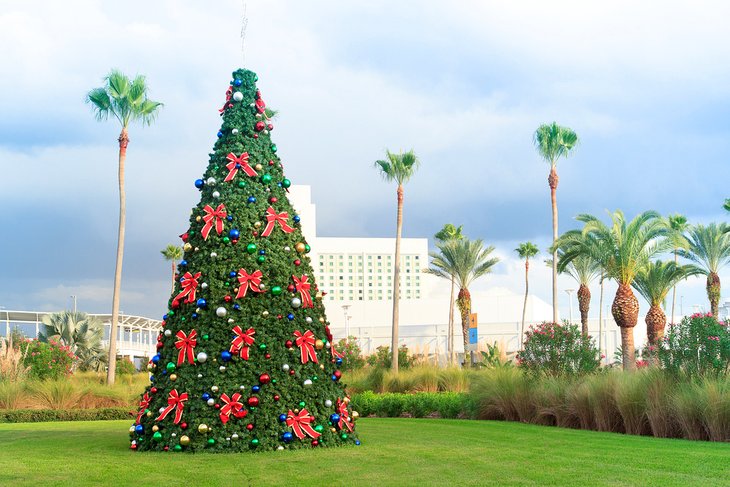 Celebration is the place to go if you're hoping to find a white Christmas in sunny Florida. A truly unique destination, this picturesque spot was created by the Walt Disney Company and based on multiple small American towns. Its streets are lined with beautiful buildings of various architectural styles.
Join in the fun at the Holiday Light Parade & Teddy Bear Toss. Donate a new, plush toy by tossing it into a decorated holiday truck during this festive event.
"Snow" can be found at Holiday Fest, where Lakeside Park is transformed into a winter wonderland filled with festive entertainment. Tube down the snow slide or glide across the "ice" rink as you enjoy your time here.
Don't miss the annual Holiday Home Tour & Winter Wonderland, where homeowners pull out all the stops to dress up their houses for the holidays. Winter Wonderland is a stop on the tour. It shows off beautifully decorated trees and tablescapes available for purchase.
Accommodation: Where to Stay in Celebration
12. Tallahassee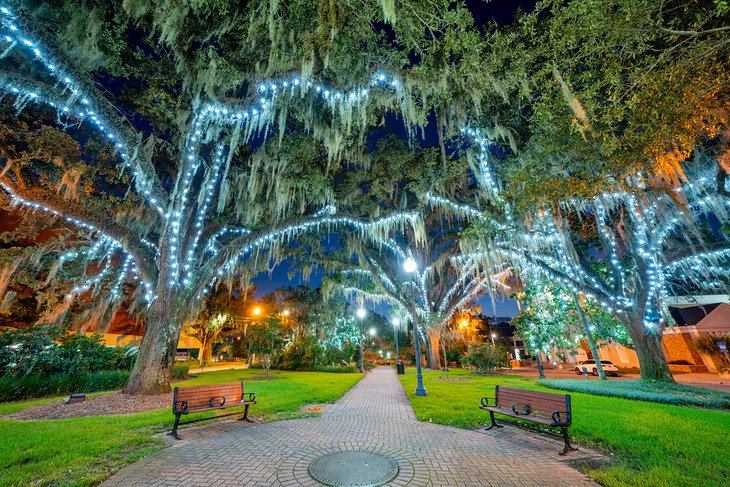 Tallahassee is blanketed by twinkling lights during the festive season. One of the best cities in Florida, this pretty spot comes to life with a festive Christmas glow. Whether you're wandering the neighborhood streets or shopping in the city's heart, you'll feel a sense of merriment.
The annual Holiday Stroll Through Cascades Park is another amusing way to spend an evening. More than 20 performances take place, including Christmas carol singing. Even the water has been trained to dance to festive tunes – you'll have to see it to believe it! Another bonus: there's complimentary hot chocolate.
The annual Winter Festival has been deemed a "celebration of lights, music, & the arts." This popular one-day event elevates the town's holiday charm to a level even Mr. Claus would commend.
Watch the tree lighting ceremony before strolling along Candy Cane Lane (a.k.a. McCarty Park). You'll be lulled by holiday music as you walk. Perhaps join in the Jingle Bell Run, the proceeds from which support the Tallahassee Friends of Our Park Foundation. The festival ends with the Nighttime Holiday Parade.
Accommodation: Where to Stay in Tallahassee
13. Melbourne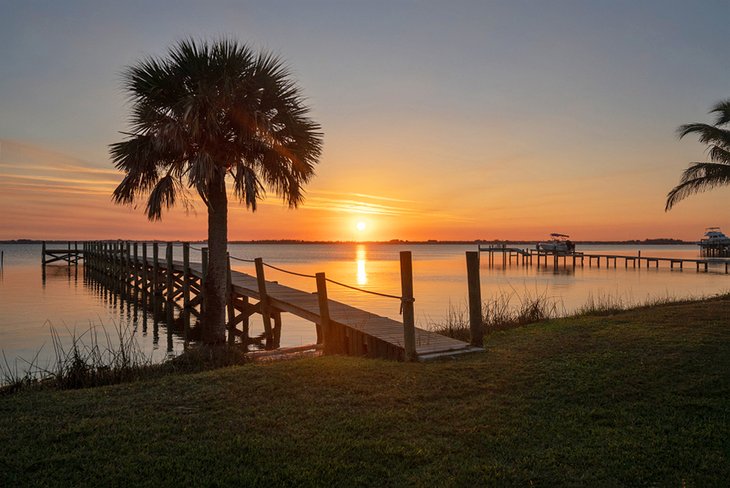 The annual Melbourne Light Parade is a sight to behold. Local floats (some designed by girl and boy scouts) make their way along the festive route. Dancers of all types take to the streets to entertain visitors. Finally, Mr. and Mrs. Claus and their reindeer arrive to massive cheers.
Space Coast Lightfest is another beloved holiday event. Held in Wickham Park, this "light spectacular" boasts more than three million lights lining over one mile and includes a 200-foot light tunnel. It's open from late November through early January (including holidays).
Brevard Zoo is the place to be if you love animals as much as you love Santa. Meet the Clauses and a bunch of furry friends during their Holiday Happenings.
Accommodation: Where to Stay in Melbourne
14. Christmas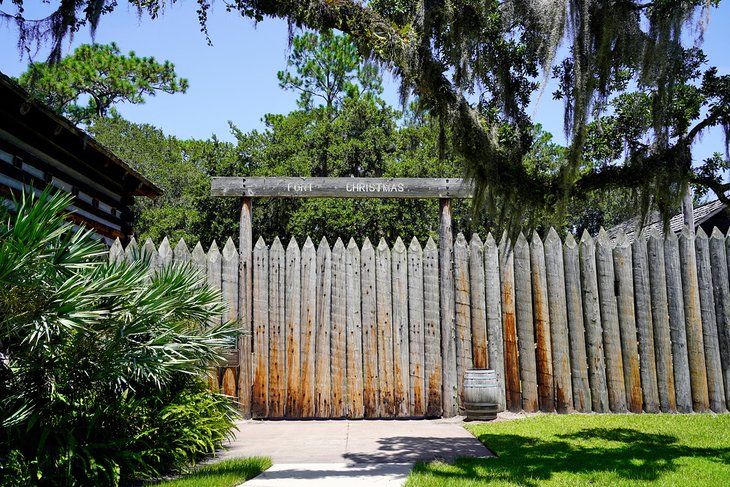 What better place to spend a festive holiday than a town called Christmas? Speaking of monikers, this cute town shares its name with Fort Christmas, which was established on December 25, 1837 during the third Seminole War.
This small town lies about 25 miles east of Orlando and is home to the world's largest alligator-shaped building. Okay, so this isn't festive, but it is super interesting. We're talking 200 feet of a structure that looks like a reptile!
With streets named after Santa's reindeer and a post office ready and willing to send letters to Santa stamped with the name Christmas, this is about as close as Florida gets to the North Pole.
Step back in time at the Fort Christmas Cracker Christmas (held during early December), which boasts a large craft fair and tasty food, as well as quilting, wood carving, and blacksmith demonstrations.
More Related Articles on PlanetWare.com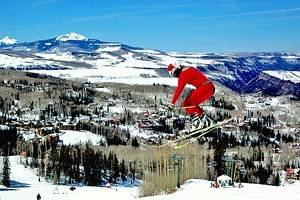 More Places to Enjoy Christmas in the US: Floridian cities aren't the only American superstars when it comes to decking the halls. These best Christmas towns in Colorado do a stellar job at radiating the joy of the season. If you're hoping for some of the white stuff to help the holidays feel more authentic, try one of these awesome winter holidays with snow.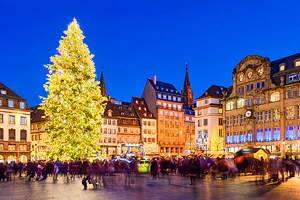 Europe's Best Christmas Spots: When it comes to Christmas, there's nothing quite like wandering through a cobblestone laneway sprinkled with snow and lined with festively lighted medieval buildings. Whether you're hoping to visit the best Christmas Markets in Germany or find an incredibly joyful European town to visit for the holidays, there are plenty of awesome options to get you Fa La La La Laing in Europe.