16 Best Christmas Towns in the US
We may earn a commission from affiliate links ()
Towns and cities everywhere deck the halls during the Christmas season, but some always stand out from the rest for their consistent ability to deliver a truly magical holiday experience. Some are nestled among snowy mountains that offer the picture-perfect white Christmas; some are communities that keep old-world cultural traditions alive; some are special for their elegance and grandeur; others are unique for capturing the Christmas spirit in unexpected settings.
From New Hampshire to Florida and Pennsylvania to California, discover these holiday havens with our list of the best Christmas towns in the United States.
1. Bethlehem, PA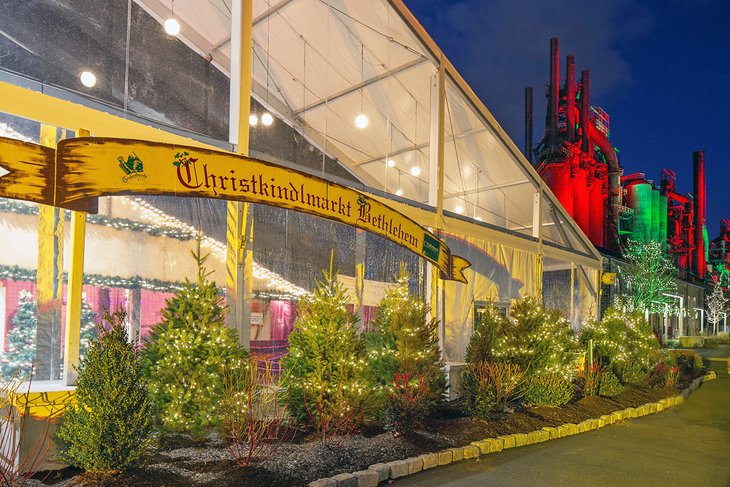 Nicknamed "Christmas City," Bethlehem was settled by a group of Moravian immigrants in the mid-18th century. Its historic downtown is adorned with lights and holiday cheer, and visitors can get a guided walking tour exploring the entire historic area to get a better understanding of the city's cultural heritage.
While Christmas shopping in downtown's local shops and boutiques, be sure to stop by the Moravian Book Shop, an independent shop that was first established in 1745. Today, it is considered the oldest book store in the world that has been in continuous operation.
Bethlehem is also home to two of the best Christmas Markets in the US: For authentic and festive, European outdoor Christmas shopping, visitors should head straight for Christmas City Village in downtown. Fridays, Saturdays, and Sundays in December, craftspeople sell their wares from quaint wooden shops that resemble mangers.
The Bethlehem Christkindlmarkt, which is open Fridays through Sundays from Mid-November until Christmas, is held indoors, and features vendors of all types; an admission fee is charged for this event.
2. Stockbridge, MA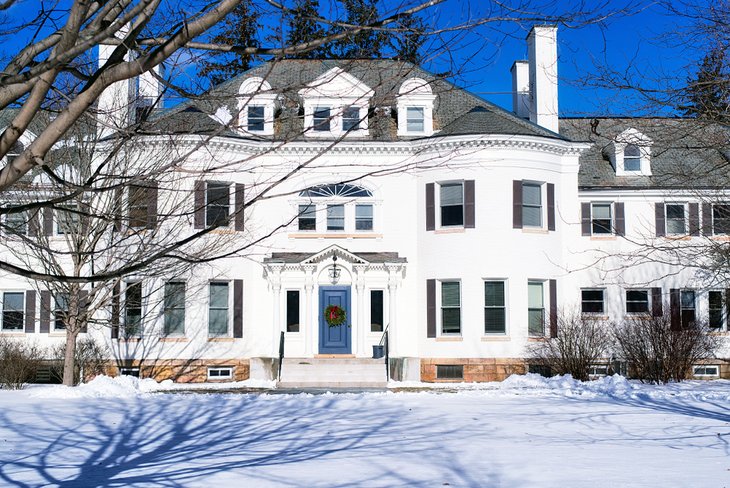 The town of Stockbridge turns into an idyllic Christmas village every year starting the first weekend of December when a stretch of Main Street is turned into a living re-creation of Norman Rockwell's Home for Christmas, which was painted in the very same spot.
The street is filled with antique cars. The picture window in Rockwell's former studio is lit with a tree, and carolers' songs fill the air. The rest of town is alive with horse-drawn carriage rides, visits with Santa, and craft workshops. Visitors can enjoy a variety of holiday activities, including holiday sing-alongs, tours of local historic homes decked to their fullest, and a procession of more than 100 carolers through town.
While in Stockbridge, be sure to visit the Norman Rockwell Museum, one of the top tourist attractions in Massachusetts. Here, you can see the original Home for Christmas painting, as well as a miniature scene of the town in winter and, of course, many more of the artist's original works.
3. Newport, Rhode Island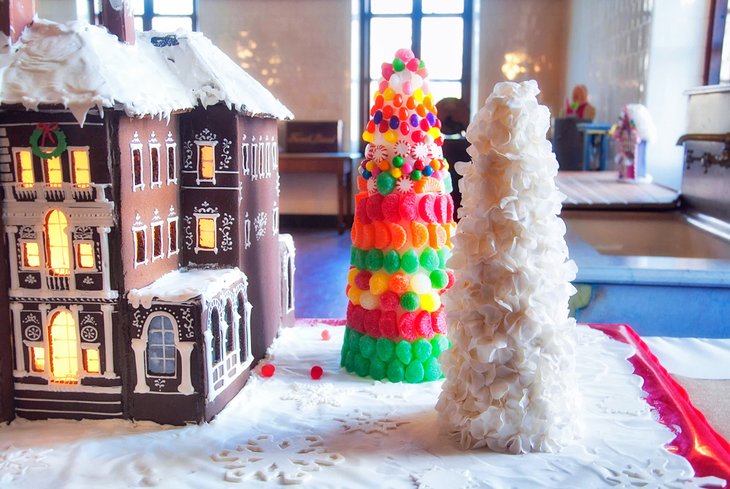 Newport is best known for its stunning Gilded Age mansions, once serving as summer homes to the Vanderbilts and other high-society families. As lovely as they are the rest of the year, Newport's mansions are truly breathtaking once they have been lavishly adorned with Christmas décor that is as tasteful and elegant as one could imagine.
Visitors can tour the grounds and interiors of landmarks like The Elms and The Breakers, as well as the stunning Blithewold Mansion. Blitheworld's gardens and arboretum include tasteful light displays, and those who appreciate tree-lighting ceremonies will want to watch the 30-foot Norway spruce come to life at Bowen's Wharf.
Another top place to visit in Newport is Rough Point, the former estate of Doris Duke, which is decked out from late November through the New Year following the traditions of the heiress.
4. Prescott, Arizona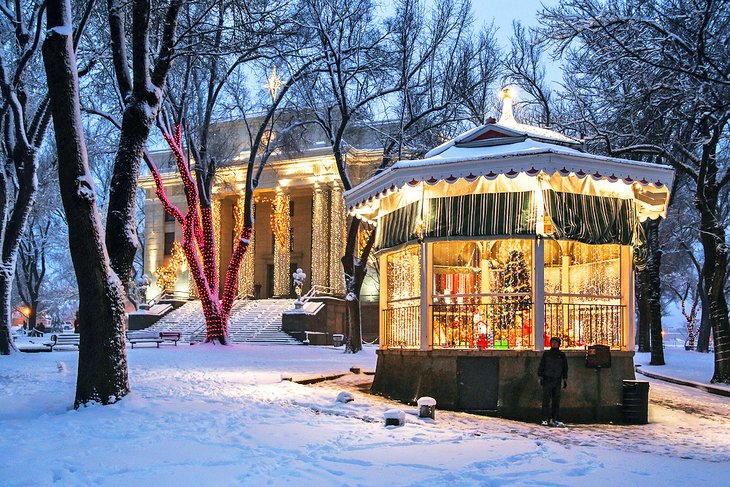 Nicknamed Arizona's Christmas City, Prescott goes all-out every year to make sure locals and visitors alike get in the holiday spirit. Festivities kick off in early December at the Prescott Civic Center with the Light Parade, followed by the Festival of Lights as the displays come to life. This free event features an impressive Christmas tree display that is heralded by choirs from local schools and a reading of The Night Before Christmas.
Prescott's main Christmas parade is held the first weekend of December and is followed by the lighting of even more displays at Courthouse Plaza. Later in the month, Courthouse Plaza also hosts Acker Night, an evening of food, music, and celebration.
Those interested in pioneering history will want to head to the Sharlot Hall Museum for their "Frontier Christmas." At this special annual event, living history interpreters tell guests about holiday traditions in early Prescott as everyone enjoys cider, cocoa, cookies, and Christmas carols.
During the month of December, be sure to stop by the Prescott Resort and Conference Center to see the "World's Largest Gingerbread Village." This display includes over a thousand structures, each made with fresh-baked gingerbread and hand decorated in a lovely holiday scene.
The city also offers several light displays, including the drive-through Valley of Lights in Fain Park and the indoor Enchanted Christmas at Prescott Gateway Mall. These operate from Thanksgiving weekend through the end of December, and on Friday and Saturday nights, you can also admire spectacular decorations and light displays at Heritage Park Zoological Sanctuary.
Read More: Top-Rated Things to Do in Prescott, AZ
5. Portsmouth, New Hampshire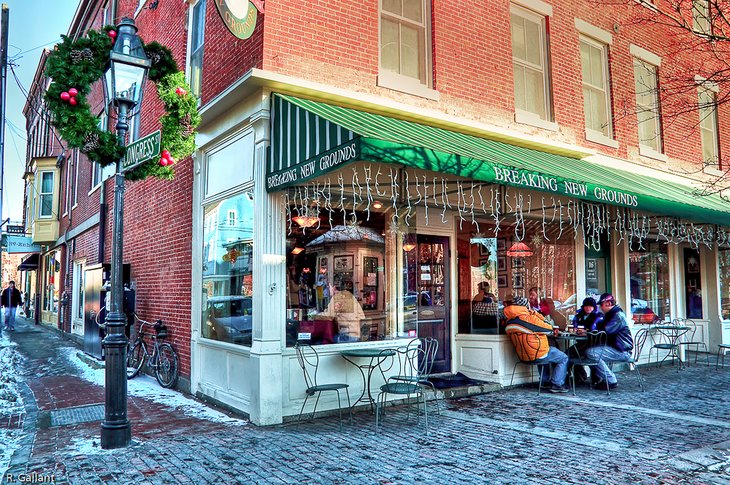 For a truly lovely Christmas experience in an old-fashioned setting, visit Portsmouth's Strawberry Banke Museum for the Candlelight Stroll Under the Stars, held every weekend in December. Visitors can stroll among the historic buildings of the Puddle Duck neighborhood, which is lit by candle lanterns and decorated with evergreens. Costumed interpreters interact with visitors as they go about traditional festivities, including caroling, ice-skating, and more. Visitors will also find beautiful decorations and plenty of shopping in downtown Portsmouth.
Families with younger kids will want to consider a Christmas visit to North Conway, home to Santa's Holiday Express. This magical train ride operated by Conway Scenic Railroad lasts over an hour as it travels through the snowy mountain passes of the north country. Parents will love this town, too, with plenty of unique local shops all within the cozy village.
6. Asheville, NC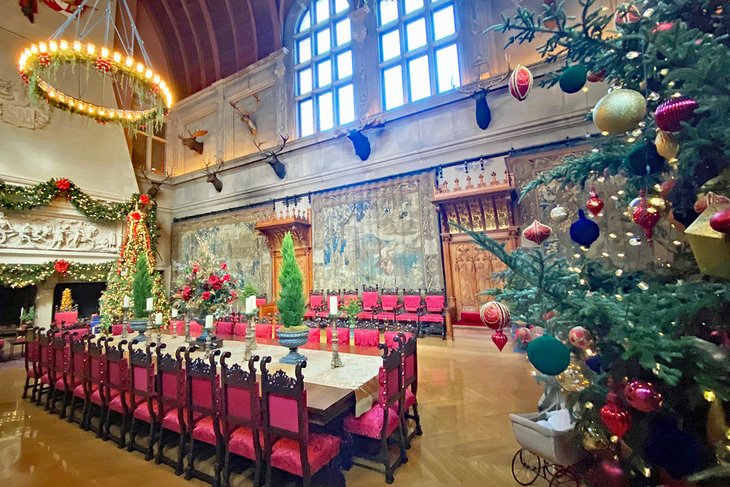 Each year from the first weekend in September through early January, the iconic Biltmore Estate becomes a Christmas wonderland, hosting holiday celebrations in serious style. Impressive any time of year, the Vanderbilt mansion's grandeur and beauty is highlighted by twinkling lights and elaborate decorations, including over a hundred Christmas trees decorated with 100,000 lights and 25,000 ornaments. Be sure to spend some time here at night for the Candlelight Evenings.
During the holiday season, the North Carolina Arboretum hosts a stunning light display among its gardens, with over one million bulbs highlighting its winter landscape plus hot cocoa and live music.
7. Williamsburg, VA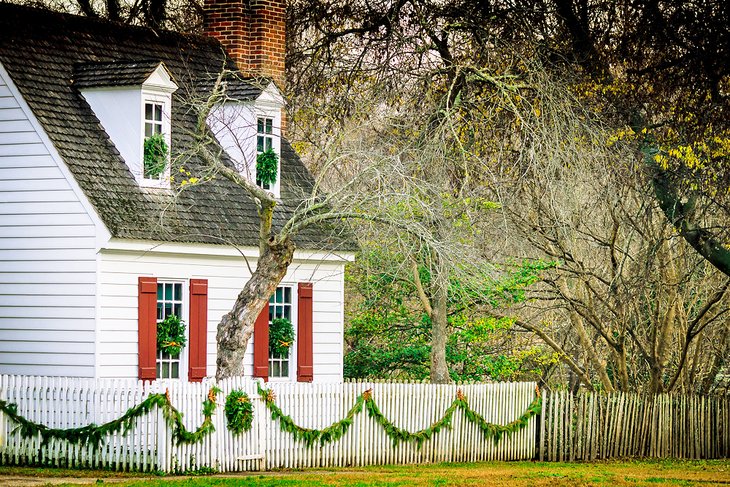 Christmas time at Colonial Williamsburg is an experience like no other, giving visitors the opportunity to see and feel the charm of a traditional 18th-century Christmas. In addition to enjoying the traditional decorations, visitors can listen to costumed interpreters explain the period's Christmas traditions, and watch demonstrations of traditional Christmas crafts and foods. Live music fills the central square, and there are regular holiday-themed performances.
Another great place to experience Christmas-past is at the Jamestown Settlement, and the American Revolution Museum, which also has special Christmas programs.
For more contemporary holiday activities, the Liberty Ice Pavilion offers public ice-skating in a festive setting, complete with hot cocoa. Downtown Williamsburg is also home to a good Christmas Market, which features the work of two dozen craftspeople.
8. Solvang, CA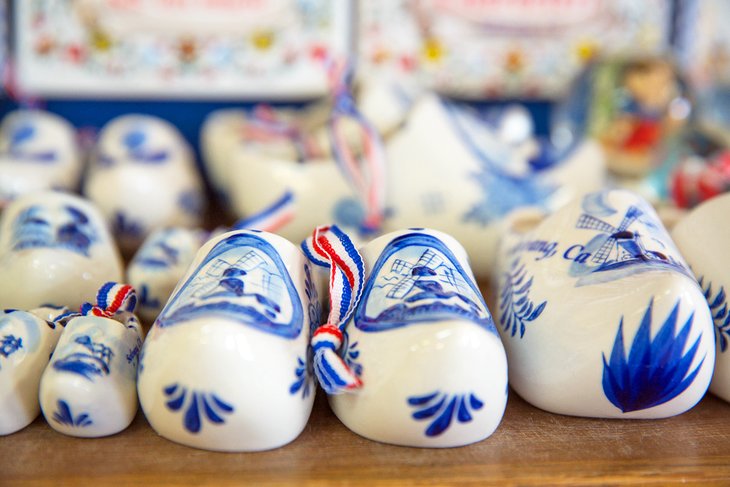 This adorable California town was founded in 1911 by a group of Danes looking for more pleasant weather. The Solvang Windmill is its most prominent landmark, and the rest of town keeps with the traditional Danish architectural style, making you feel like you have stepped into a different world.
"Downtown" consists of several blocks between the Windmill and Solvang Park along Copenhagen Drive, which are brightly decorated with lights, garlands, and Christmas Trees.
This lovely area is filled with shops that are open late during December, and hosts choreographed light shows after dark, offering several shows each night. The first weekend of December, there is a tree lighting ceremony in the park, followed by the Julefest Parade the following day.
All ages will love the Nisse Adventure, a scavenger hunt for Nisse (gnomes) around town, and little ones will love the Santa's Village and Winter Lade (Winter Barn), set up in the park, where they can meet Santa, play with real snow, and meet farm animals.
While visiting Solvang, be sure to sample something from each of its five excellent Danish bakeries.
9. Branson, Missouri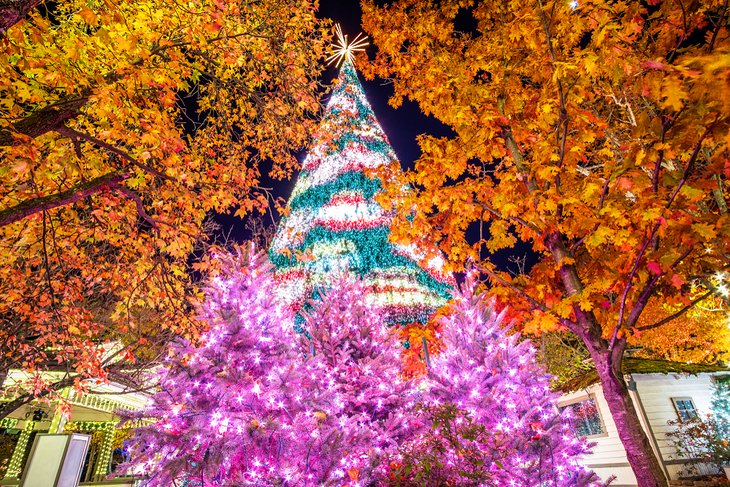 Branson doesn't wait for December to start its Christmas season – here, the holidays spring to life at the start of November, giving way to two full months of celebrations. The city boasts more than 1,500 Christmas trees, including a stunning 39-foot-tall community tree decorated with thousands of Austrian crystals and over 20,000 bulbs. Nearby, visitors can enjoy holiday ice-skating at the seasonal rink and views from the Branson Ferris Wheel.
Another top Christmas attraction is Silver Dollar City, a theme park set in the 1880s, which features a stunning holiday light display, live entertainment, nightly parades led by Rudolph, and a Christmas steam train ride. Branson is also home to several drive-through Christmas light displays, including the 1.25-mile Lights of Joy, The Trail of Lights at Shepherd of the Hills, and two miles of lights at the Promised Land Zoo.
Accommodation: Top-Rated Resorts in Branson, Missouri
Read More: Top-Rated Attractions & Things to Do in Branson, MO
10. Grapevine, Texas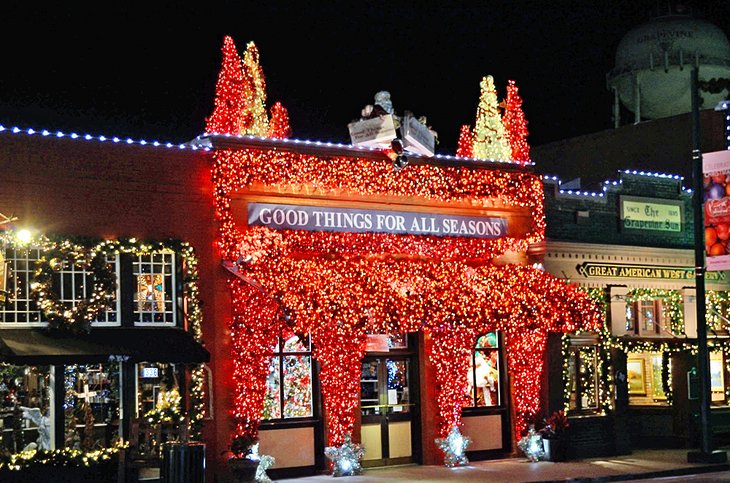 Grapevine has certainly earned the nickname of the Christmas Capital of Texas, offering a myriad of events from mid-November through December. The city's historic downtown area goes beyond lights and garlands, featuring animated displays and costumed actors that create a warm and nostalgic holiday setting. Within this festive atmosphere, visitors will find parades, Christmas markets featuring locally made gifts, and live entertainment.
Tourists will also find plenty of holiday activities, including a floating light festival on Lake Grapevine, a selection of holiday performances, and the family-favorite North Pole Express. This 45-minute train ride features hot chocolate, cookies, and, of course, bells to show Santa.
Read More: Top-Rated Things to Do in Texas in Winter
11. Park City, Utah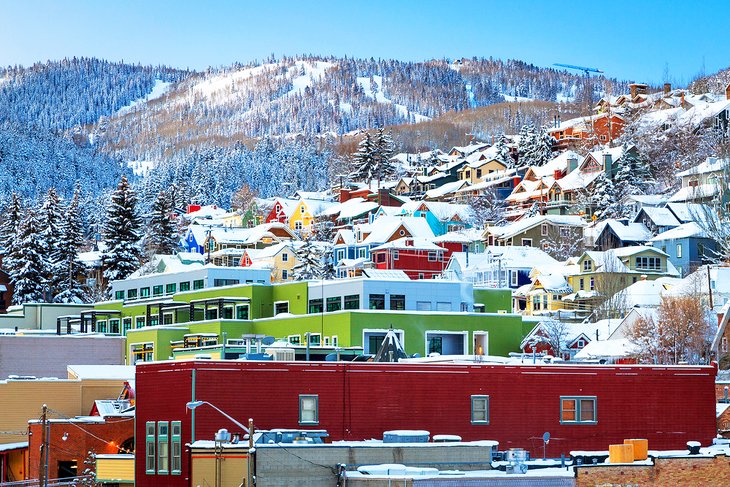 Nestled in the mountains, this former mining town is now a top US ski resort with one of the most festive Christmas seasons. It kicks off the last weekend of November with the tree lighting ceremony at Canyons Village, the centerpiece of a festive day of music, food, and shopping with local craftspeople that finishes with fireworks after the tree is lit.
Park City also hosts a spectacular holiday parade down Main Street, which features Santa and plenty of music. The parade ends with another tree lighting at Miner's Park, followed by the downtown Christmas lights and caroling into the evening. Downtown is also full of great shopping, with plenty of boutiques and small shops to find the perfect unique gift.
Several local performance venues also offer holiday shows, including the "Christmas with the Celts" shows at the Egyptian Theater and performances of The Nutcracker at The Eccles Center for Performing Arts.
12. St. Augustine, Florida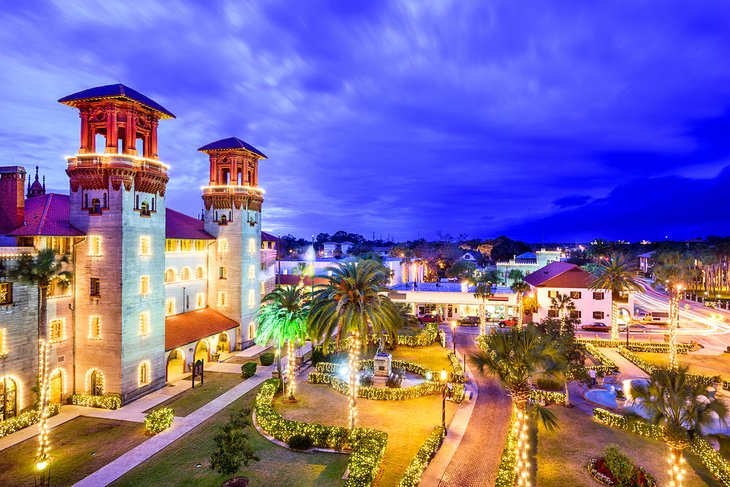 From mid-November through December, St. Augustine lights up with holiday cheer with the Night of Lights Festival, when the historic buildings and plentiful pedestrian areas are adorned with millions of bulbs. The best way to admire the full spectacle is via a ride on the Old Town Trolley, and an after-dark cruise offered by Florida Water Tours offers visitors the chance to appreciate the scene from a different perspective.
Visitors lucky enough to be in town the second Saturday of December won't want to miss the Regatta of Lights on Matanzas Bay, a stunning parade of sparkling boats. The biggest parade, however, begins at the Shrine of Our Lady of La Leche and ends at the visitor center near the Castillo de San Marcos National Monument.
Accommodation: Top-Rated Resorts in St. Augustine, FL
Read More: Best Christmas Towns in Florida
13. Duluth, Minnesota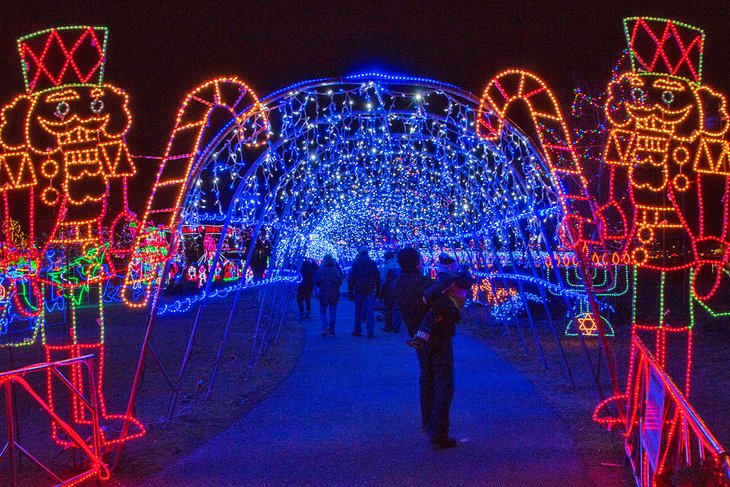 The Christmas season in Duluth begins with a twinkling after-dark parade, held each year the weekend before Thanksgiving, featuring local bands, floats, and, of course, a visit from Santa. Nightly after this, visitors can watch the lights go on at the Bentleyville Tour of Lights, a display of over four million lights that depicts classic Christmas scenes.
A real treat for all ages is the Christmas City Express, a holiday-themed train excursion along Lake Superior that features music, hot cocoa, and cookies. The trip takes off from the Lake Superior Railroad Museum.
Tours of Glensheen are another seasonal must-see, where tourists can admire the grand Victorian estate decorated in full splendor. Those looking for Christmas shopping will want to check out the Duluth Winter Village, an open-air Christmas market held in early December.
Read More: Top-Rated Tourist Attractions in Duluth, MN
14. Durango, Colorado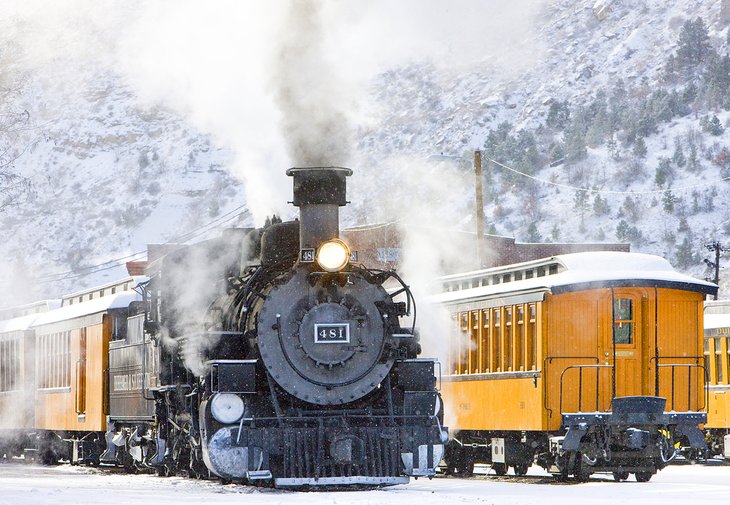 Tucked away in southwest Colorado, this small mountain town is the perfect place for a cozy Christmas getaway. One of the best places to visit in Colorado any time of year, the intimate historic downtown is especially beautiful during the holiday season.
Durango is filled with excellent shops, boutiques, and attractions, as well as great restaurants. During December there is also the Winter Solstice Artisan's Market, where you can find unique gifts made by local artisans.
Families will want to hop aboard the Polar Express for a magical train ride that includes hot cocoa and storytelling. It's more than just a ride; kids get to stop at Santa's workshop and meet the jolly old elf and his helpers, then get a surprise present.
Read More: Best Christmas Towns in Colorado
15. Santa Claus, Indiana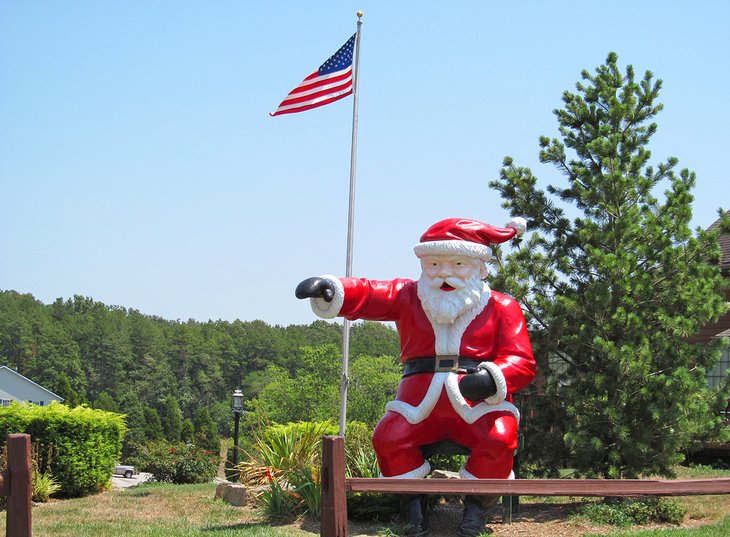 The town's name is already a good hint that it has a connection with the holiday season, and visitors will not be disappointed. At the Santa Claus Museum and Village, children can meet Santa and his elves, leave a letter to get a note back from father Christmas, fill up on sweets at Santa's Candy Castle, and meet the reindeer.
Visitors will also find over a dozen Santa Claus statues, a huge Christmas tree with dazzling light patterns, and a drive-through holiday light display that depicts the story of Rudolph, everyone's favorite ruddy-snouted reindeer.
16. Franklin, Tennessee
Since 1985, Franklin has hosted the Dickens of a Christmas festival, organized by the Heritage Foundation of Williamson County. The city's charming downtown is transformed into 18th-century London as it was in Dickens' day, full of characters from A Christmas Carol, Oliver, and other classic tales.
Visitors will find plenty of food and holiday shopping amid an atmosphere of cheer and music, with streets filled with musicians and dancers. There is also a lovely Victorian Christmas Village, where you can find horse-drawn carriage rides.