15 Top-Rated Hiking Trails in Pennsylvania
Hiking trails in Pennsylvania range from recreational rail trails that can be done in segments to wilderness backpacking. The appeal of hiking in Pennsylvania is the lush forest landscape that surrounds you, with boundless natural beauty on the trails, including the mountain laurel state flower.
With 121 state parks, 181 rail trails, and sections of three National Scenic Trails in Pennsylvania, all you need is a map, a pair of sturdy shoes, and a sense of adventure. Pennsylvania hiking, while it could be intimidating due to the vast area of forest and parks, is actually not that complicated.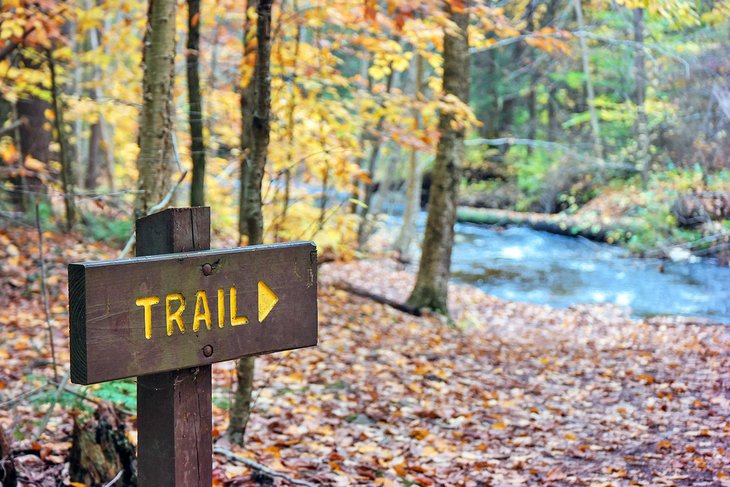 Most trails have plenty of signage or are marked with blazes. For day-trip hiking, you can tackle just a section of a traditional backpacking trail, like the Appalachian Trail or North Country Trail in the Allegheny National Forest. For rail trails, you can follow the mile signs and turn around when needed.

For many hikers, day trips are preferred, and there are ample opportunities in almost all hiking locations to take on shorter segments. Ohiopyle State Park in the Laurel Highlands offers some of the best hiking near Pittsburgh (only 68 miles away) and in the entire state. With 79 miles of segmented trails through the park, it is a great option for day hikes.
Lace up your boots and head into the wilderness with our list of the top hiking trails in Pennsylvania.
1. Appalachian Trail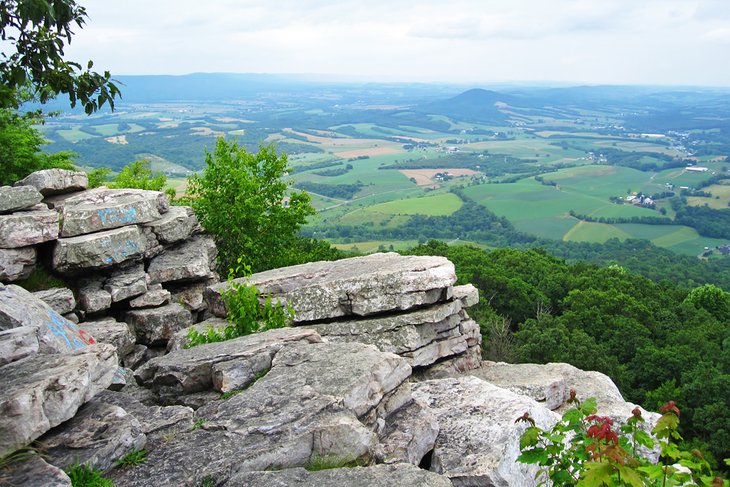 The Appalachian Trail is the granddaddy of trails to conquer, and nearly 230 miles of it pass through Pennsylvania. The entire 2,190-mile trail traverses through 14 states, from Georgia to Maine. The Pennsylvania section has stunning views and varied terrain, with a 1,760-foot elevation change.
It is easy to tackle a small section of the Appalachian Trail for a day trip or plan a multi-day trek. The truly inspired can take on the entire section that goes from Waynesboro northeast to the Delaware Water Gap.
Much of the terrain is rocky through Pennsylvania, but the Cumberland Valley has a 13-mile section that is flatter with a lower elevation, making it a less strenuous segment.
One of the perks of hiking this trail is the many historic landmarks that you will enjoy along the way. It is best to avoid hiking the Appalachian Trail in the fall during hunting season since sections pass through managed game lands, and in the early spring, when heavy rainfall makes the steep terrain muddy.
2. Montour Trail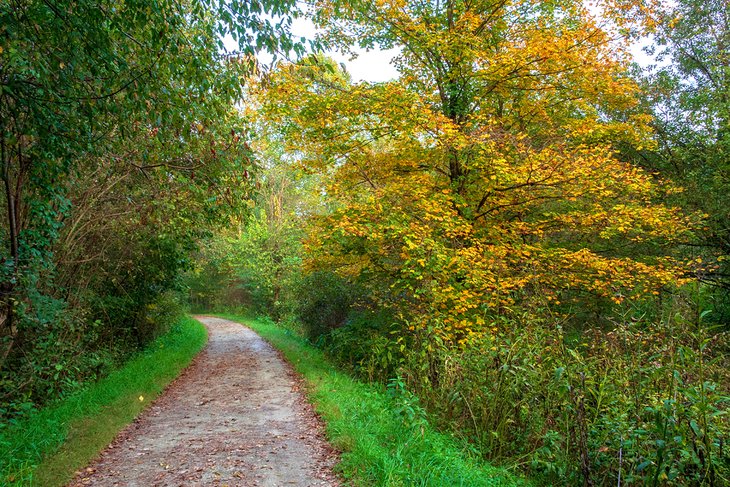 The Montour Trail, which goes through Allegheny County and Washington County Pennsylvania, is the state's 2017 Trail of the Year. The 63-mile recreational trail is one of the most extensive non-motorized rail trails in the United States. The trail is a flat, easy hike for those who are more interested in taking in the surroundings than a strenuous workout.
The full trail stretches 330 miles from Pittsburgh to Washington, D.C. connecting to several other trails, but there are many sections that hikers use for simple day trips. A 6.3-mile section connects to the Pittsburgh airport.
You might look for Montour Trail events that take place occasionally in the towns that are connected by the trail.
Official site: http://montourtrail.org/
3. Ferncliff Peninsula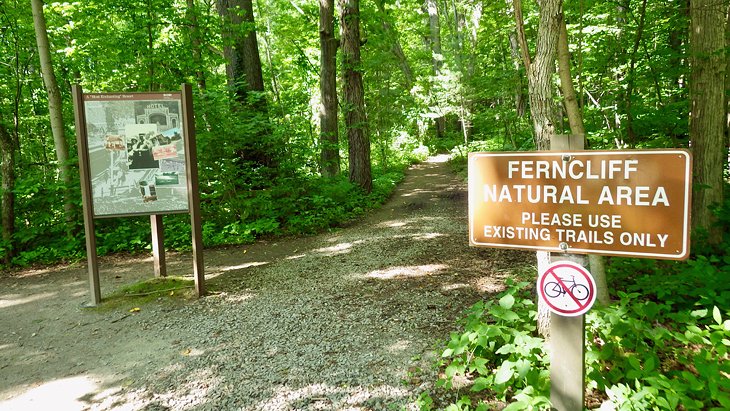 The Ferncliff Peninsula trails are concentrated in a small section of Ohiopyle State Park and make for easy day-trip hiking. There are three miles of four interconnected trails marked by black blazes. The trails, which range from the 0.1-mile Buffalo Nut Trail to the 1.7-mile Ferncliff trail, are all easy to moderate hiking.
The entire peninsula is a unique ecosystem, and since it is surrounded by water, it is home to flora that you will not see anywhere else in the region. Be sure to stop by the educational Ohiopyle Visitor Center before your hike for the best sense of your surroundings. The center has detailed information on the trails and even a topographic map of the peninsula that will help orient you before you head out into the 20,000-acre state park.
If you plan to hike in one of the larger parks, like Ohiopyle, it is best to stay for several days and base yourself out of a central location, like Nemacolin Woodlands Resort in Farmington, a few miles away.
4. Standing Stone Trail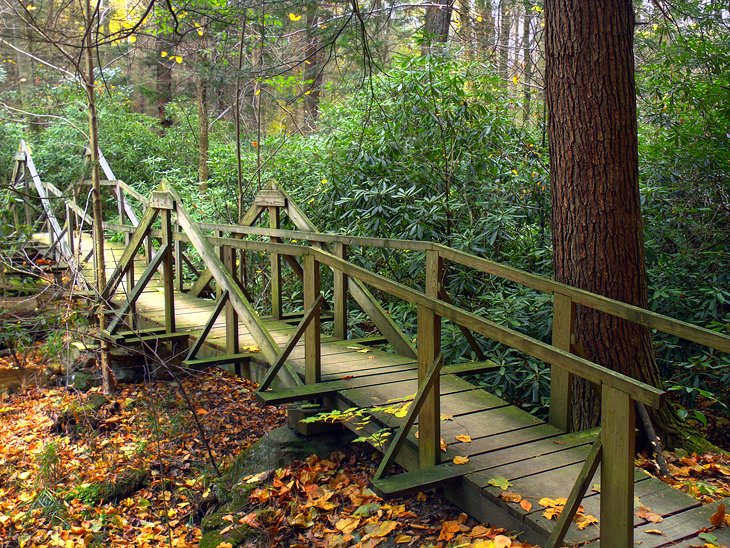 The Standing Stone Trail is a rugged trail that taps into your adventurous spirit as you trek among the steep elevations and valleys in central Pennsylvania. This 2016 Pennsylvania Trail of the Year is an 84-mile trail that is part of the 1,600-mile Great Eastern Trail, which starts in Alabama and ends in New York.
Fortunately, there are shorter sections that give you a taste of the difficult hike, minus the time it would take you to backpack the entire length. The trails are clearly marked with orange blazes but they are recommended for experienced hikers. The 4.4-mile Stone Valley Vista Loop near Greenwood Furnace State Park is recommended for both the strenuous hike and the view.
Official site: https://www.standingstonetrail.org/
5. Heritage Rail Trail County Park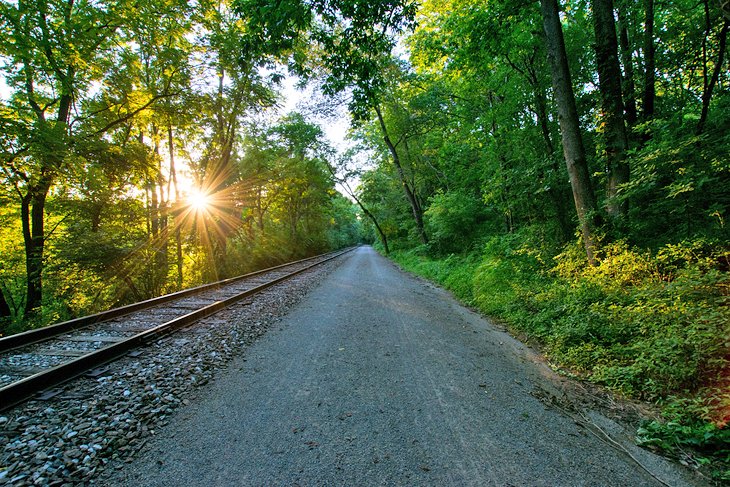 The 21-mile Heritage Rail Trail County Park is one of the most historically scenic trails in Pennsylvania. It runs from York to the border of Maryland. This family-friendly, recreational hiking trail takes you past seven historical railroad structures and runs alongside an operating track.
There are 24 sections that are parceled by distance, so you can choose where and when to start and stop. You can pick up "The Trailblazer" brochure from the York County Department of Parks and Recreation for a few dollars to help plan your hike. If time permits, hop aboard the tourism train that operates on a 10-mile section of track.
6. Quehanna Trail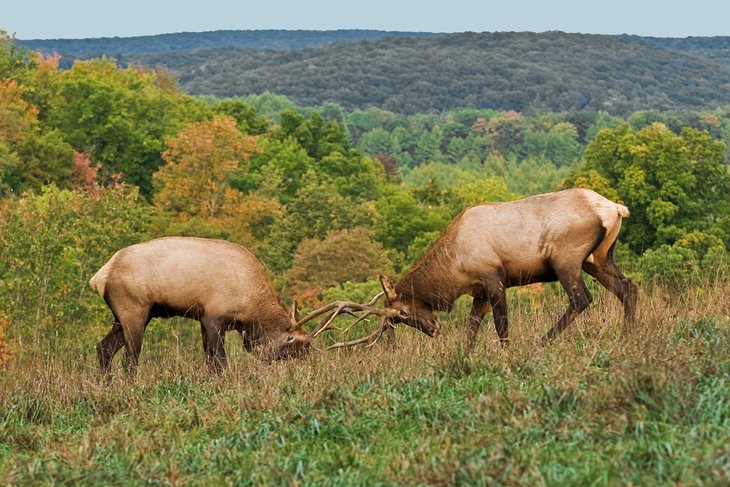 The Quehanna Trail System, which runs through north-central Pennsylvania, is a wild and primitive landscape with stunningly scenic hikes. The full trail loop is 75 miles through Moshannon and Elk State Forests. Day hikers can start at Parker Dam State Park on the western end of the trail and trek several miles before turning around.
Trails are marked with orange blazes but they are strenuous, so you will want to allow ample time to hike and double-back if you are only planning a few hours. This hike is one of the best for getting a taste of outdoor Pennsylvania in its most primitive form.
7. Great Allegheny Passage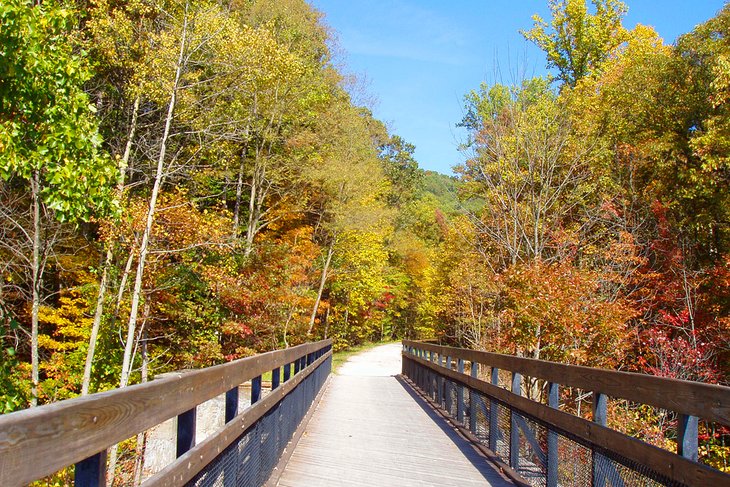 While its name seems intimidating, hiking along the Great Allegheny Passage provides many opportunities to customize and plan your distance, especially if you are new to hiking in Pennsylvania. The entire trail runs 156 miles from Pittsburgh to Cumberland, Maryland taking you past rivers, railroad tunnels, and linking up with the C&O Canal.
Like other rail trails in the state, it is easy to section the trail along connecting towns and make day hikes out of it. The multi-use trail is clearly marked, letting you know the distance to the next town. There are many trailheads to hop on and off along the way. In Ohiopyle State Park, you can hop on the trail, hike for several miles and turn around, never leaving the state park.
Official site: https://gaptrail.org/
8. Kinzua Skywalk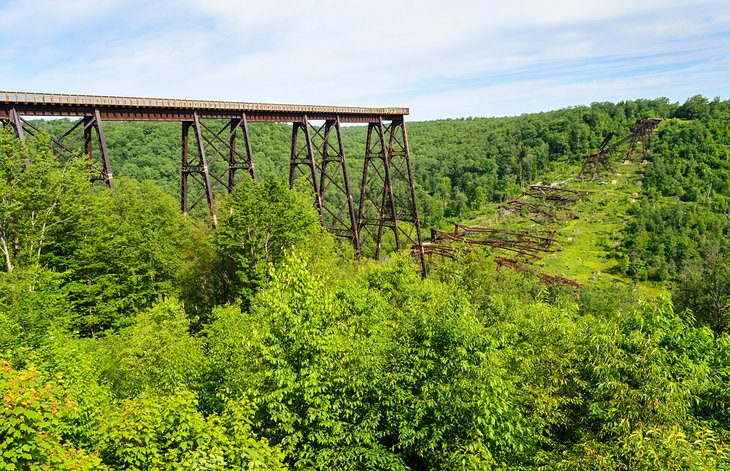 Pennsylvania trail systems do not disappoint when it comes to epic views of valleys, mountains, railroads, wildlife, and historic landmarks. The views along the trail to the Kinzua Bridge Skywalk in northwestern Pennsylvania offers all of that and more.
The 301-foot-tall Kinzua Bridge is a broken railroad bridge that is now a pedestrian walkway complete with a glass-bottom section at the end. It provides an epic view of the region and a comfortable day hike. If heights are not your thing, there are a number of hiking trails below in the Kinzua Bridge State Park that enable you to view the bridge from a lower perspective.
Official site: http://www.dcnr.state.pa.us/stateparks/findapark/kinzuabridge/
9. Thunder Swamp Trail System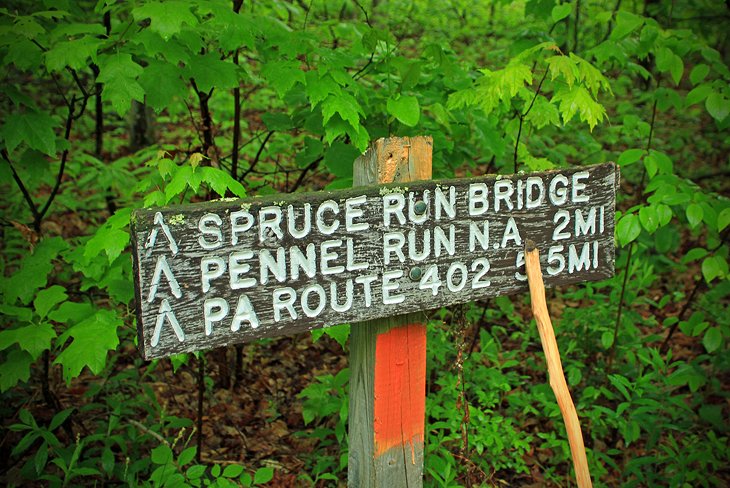 You will find that many parks and trail systems in Pennsylvania have interconnected networks of trails. Thunder Swamp Trail in the Delaware State Forest is one of them. There are 45 miles of trails that run through natural areas where you get the best taste of the Poconos while being surrounded by mature hemlocks and thick forest cover.
The trails require moderate skill, as you are hiking along ridges and streams. Trails are marked with orange blazes, but it is wise to consult a map before heading out to confirm your route, especially where the trails intersect.
10. Turkey Path Trail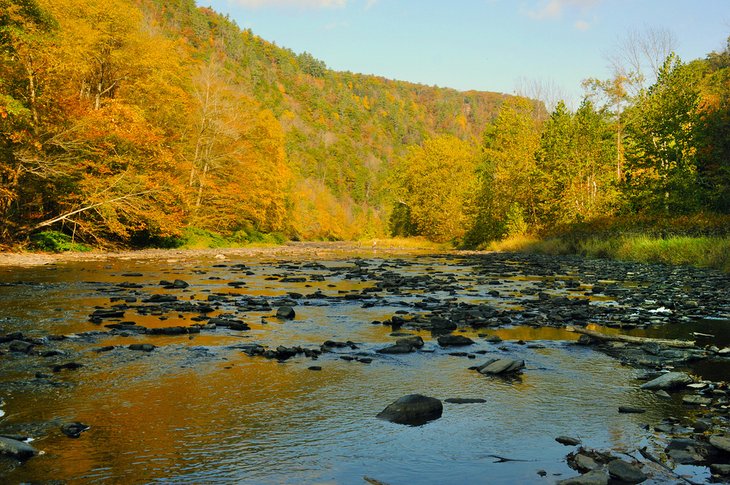 The Turkey Path Trail in Leonard Harrison State Park is a short and rugged trail that gives you the most dramatic view of what is known as Pennsylvania's Grand Canyon. The two-mile trail is strenuous, as it takes you a mile down into Pine Creek Gorge and a mile straight back up.
Along the way, you will encounter a beautiful vista, wooden walkways, bridges, and stunning waterfalls. This day hike lets you explore the state park natural area, which is a National Natural Landmark. There are 4.6 miles of trails throughout the area.
It is a good idea to stop at the visitor center before you start to get hiking conditions for the day, as you will be walking in preserved natural areas that could be slippery.
11. Cook Forest State Park Trail Network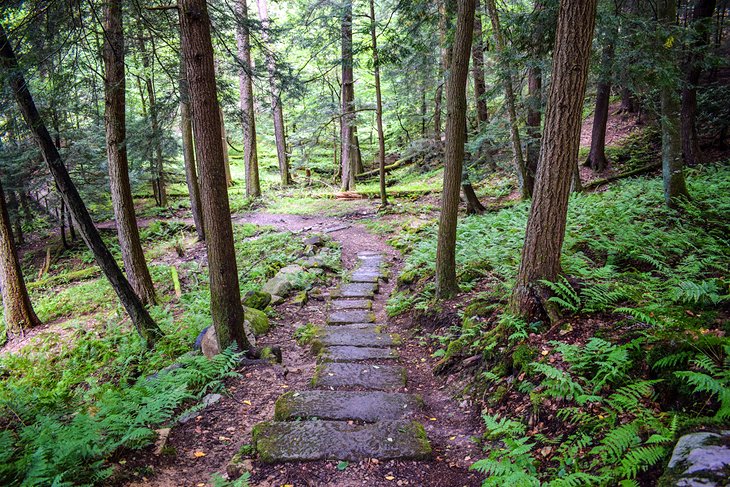 A day hike in the Cook Forest State Park Trail Network will get you up close to some of the most impressive old growth forest and wildlife in the state. The 47-mile trail network includes sections of multi-use trails.
Some of the scenic trails, while offering stunning outlooks onto the Clarion River Valley from the ledges, are dangerous, so extreme caution is advised when on these trails. For the truly adventurous, you can climb up the 80-foot-tall Fire Tower for a panoramic view that lets you see for 20 miles each direction.
First-timers to this trail system should pick up a trail guide from the park office to get detailed descriptions of the routes and terrains before venturing out.
Official site: http://www.dcnr.state.pa.us/stateparks/findapark/cookforest/index.htm
12. Balanced Rock Trail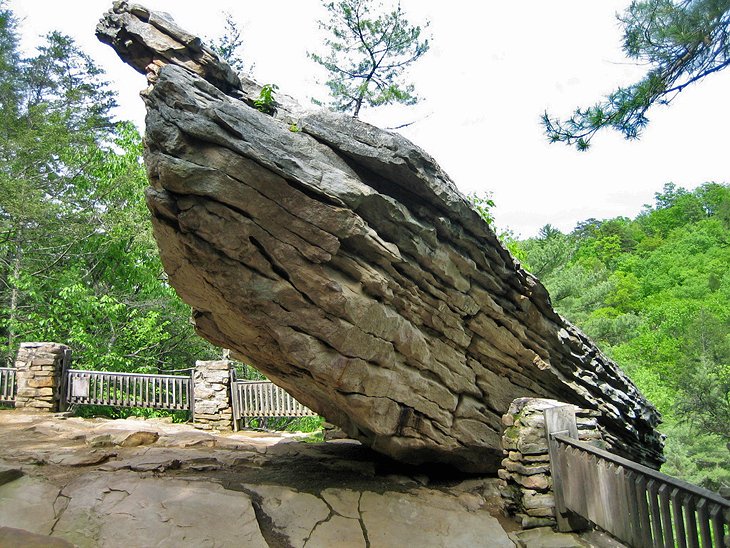 The Balanced Rock Trail at Trough Creek State Park is a difficult and steep hiking trail that caters to the experienced hiker. Your trek on Balanced Rock Trail will take you 0.12 miles to the unusual geological formation of Balanced Rock. You can then follow other trails through the park that take you to a scenic gorge, Rainbow Falls, and along narrow ledges and cliffs.
Some of the other impressive trails to explore in the park are the Rhododendron Trail, which takes you to the valley floor where you can see the rhododendrons in bloom in July, and the Cemetery Trail that leads you to a remote 17th-century cemetery.
While the natural rock and landscape along these trails are part of the allure to hikers, it is important to be mindful of path conditions and your gear.
13. Marilla Trail System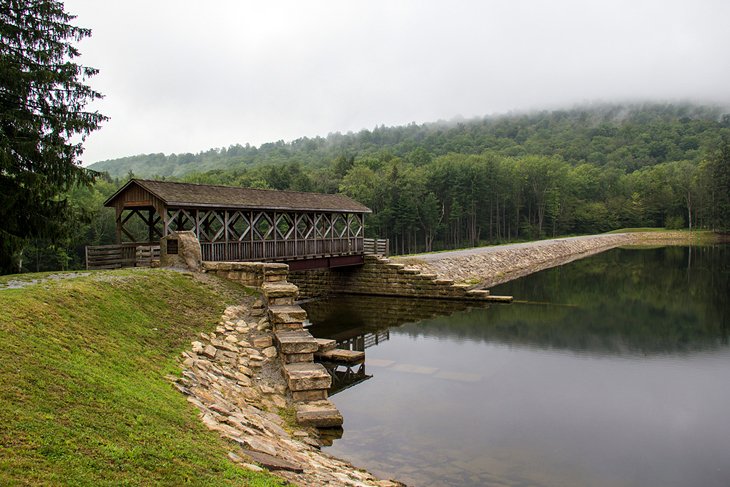 The Marilla Trail System is a network of short trails that range from one to eight miles in length. This is an excellent hiking system for birders or photographers due to the vast variety of wildlife species and vistas along the trails. The hiking trails range in required skill level, so there is something for everyone, but you should review a map to determine the most suitable trail for you.
Some of the popular trails in this network include the one-mile Marilla Bridges Trail, the two-mile Marilla Rock Trail loop that features unusual rock formations, and the 2.4-mile Cornelius Connection trail. The trail system can be accessed from Bradford, which is close to the Pennsylvania/New York border.
14. Hawk Mountain Lookout Trail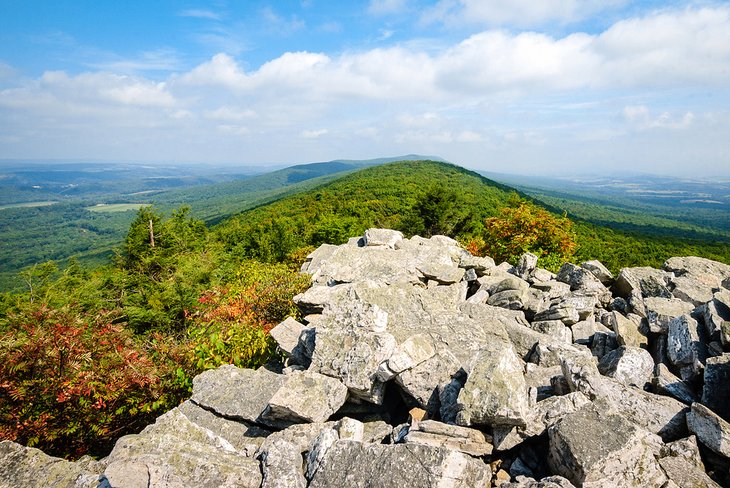 The protected forest that surrounds the Hawk Mountain Lookout Trail in Kempton, Pennsylvania is one of the best hikes near Philadelphia, only 74 miles away. The area is home to a raptor sanctuary, so it is one of the best places to catch a glimpse of the magnificent birds.
The Hawk Mountain Lookout Trail is a 4.5-mile loop with panoramic views of the valleys and mountains that define the area, and it is the best spot to see the protected birds of prey. There are a few other trails on the mountain that you can try through the forests, where you can observe a wide variety of Pennsylvania wildflowers.
15. Great Shamokin Path
If you are the kind of hiker that likes a history lesson to go along with your day outdoors then the Shamokin Path in western Pennsylvania is a good fit. The path was originally used by Native Americans that inhabited the region as a connector between the Susquehanna River and the Allegheny River.
Today, a four-mile trail takes you along a portion of the Shamokin Path that follows Cowanshannock Creek, between NuMine and Rose Valley. The dirt and gravel terrain is easy to walk. You can access the trailheads from Yatesboro along State Route 85 and in NuMine close to the White Lake Picnic Area.
Map of Hiking Trails in Pennsylvania
More Ways to Explore Pennsylvania's Outdoors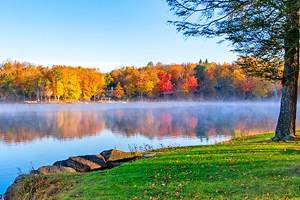 Pennsylvania is a mecca when it comes to outdoor adventure, with plenty of state and national parks, extensive biking trails, white water rafting and kayaking, off-roading, and rock climbing.
Staying in a main city like Pittsburgh and planning short day trips to scenic parks is a convenient way to pack several stops and activities into one visit. There are enough varied outdoor activities in the state to warrant planning a weekend getaway or staying for a full week.
You can also opt to stay in one of the small towns in Pennsylvania that can take you past some nice lakes to enjoy for a day or past some of the 15,000 miles of designated trout fisheries in the top fly-fishing regions in the state. If you are looking for lodging near some of the trails that you plan to hike, you might want to review our picks for the top resorts in Pennsylvania and the best resorts in the Poconos region.