16 Best Lakes in Pennsylvania
Pennsylvania has beautiful natural landscapes, from the Allegheny and Pocono mountains to the Dutch countryside, and the lakes are an important part of that memorable scenery. More than 2,500 lakes throughout Pennsylvania mean the state is primed for boating, swimming, fishing, kayaking, and relaxing shoreside to take in the abundant beauty.
Lake Erie is the largest lake in Pennsylvania by size, but as part of the Great Lakes, it is not located entirely within the state. While most of the lakes in the state are man-made, there are 50 that were created by glaciers.
You will find the most lakes located within the Pennsylvania State Park system, which makes them easy to find, but there are a few top lakes located out of the way for those who are looking for a more primitive experience.
Plan your adventures by the water with our list of the best lakes in Pennsylvania.
1. Lake Erie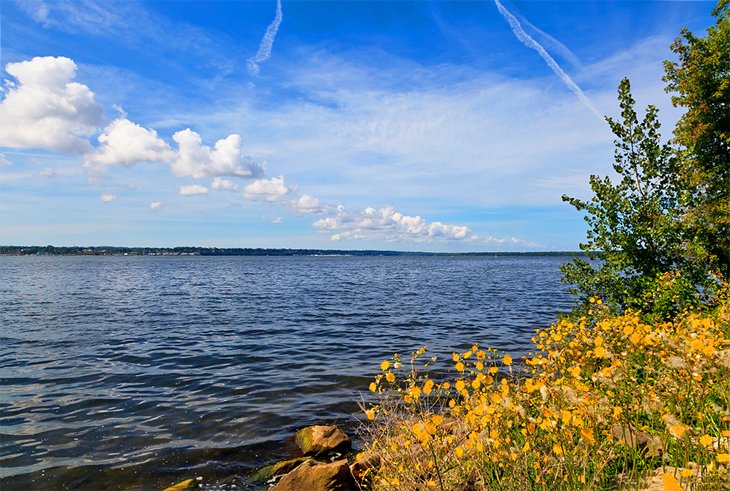 The Lake Erie shoreline in Pennsylvania looks more like an ocean beach than a freshwater basin which is why it is one of the best vacation lakes to visit in the state. The easiest access to Lake Erie is from Erie, Pennsylvania on the northwest tip of the state.
Relax on some of the 11 miles of sandy beaches at Presque Isle State Park and take a dip in some of the warmest waters you'll find among the five Great Lakes.
Lake Erie has some of the best swimming opportunities, which is one of the top reasons people hit this waterway, but you will find plenty of other water recreation availability for kayaking, fishing, boating, and canoeing. It is easy to find water sports rental locations in Erie or hire a guide for a water excursion.
You can also take a sightseeing cruise to catch a great Lake Erie sunset, or hire a fishing charter to target walleye, perch, and steelhead in what is one of the top angling spots in the state.
2. Lake Wallenpaupack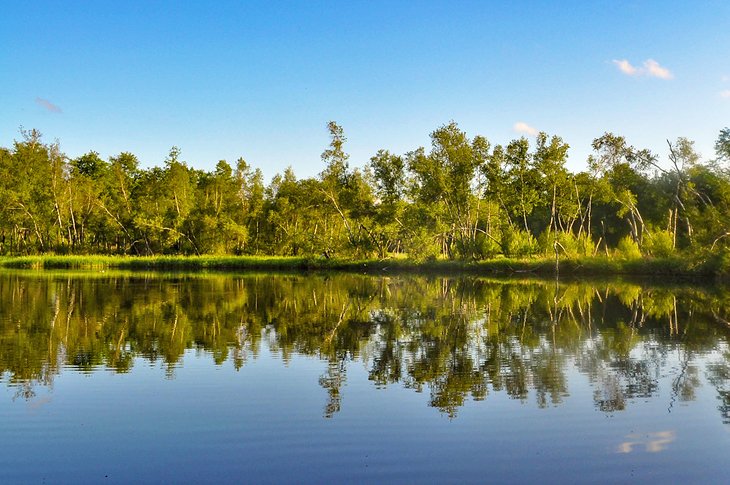 The second largest inland, man-made lake in Pennsylvania is Lake Wallenpaupack, located in the Pocono Mountains in northeast Pennsylvania near the town of Hawley. The expansive 5,700-acre lake has 52 miles of shoreline, so there is plenty of space for boating activities or shore-based recreation.
It is one of the best lake communities in the state, so there is always something festive happening, from festivals to fireworks. Lake Wallenpaupack has four boat launches around the lake, and boat rentals are available.
There are public beaches located at Tobyhanna State Park, Wilsonville Recreation Area, Promised Land State Park, and at the Palmyra Township public beach in Hawley.
Water sports and fishing are popular things to do on the lake, with several rental companies in the area. You can also hike on the many trails surrounding the lake or stop into the town of Hawley for indoor activities like museums, small boutique shops, and restaurants.
3. Raystown Lake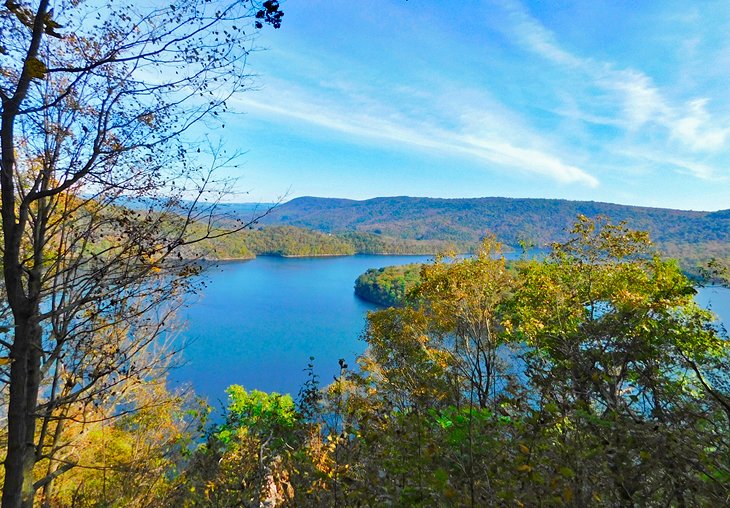 One of the best lakes in Pennsylvania, and the largest inland lake, is Raystown Lake because with more than 8,300 acres of water, you can actually reside in a houseboat for your entire stay. Raystown Lake is in Hesston in south-central Pennsylvania.
The lake has 12 public access spots for boaters, swimmers, and those who just come for a picnic and the scenery. The man-made Raystown Lake has a number of public beaches and a popular campground (Susquehannock Campground).
It is easy to rent a houseboat for the week, or a vacation home in nearby communities like Martinsburg and Huntington. The entire Raystown Lake region is known for its outdoor activities, so you will have no problem filling several days with activities like hiking, biking, and fishing at the lake.
4. Lake Harmony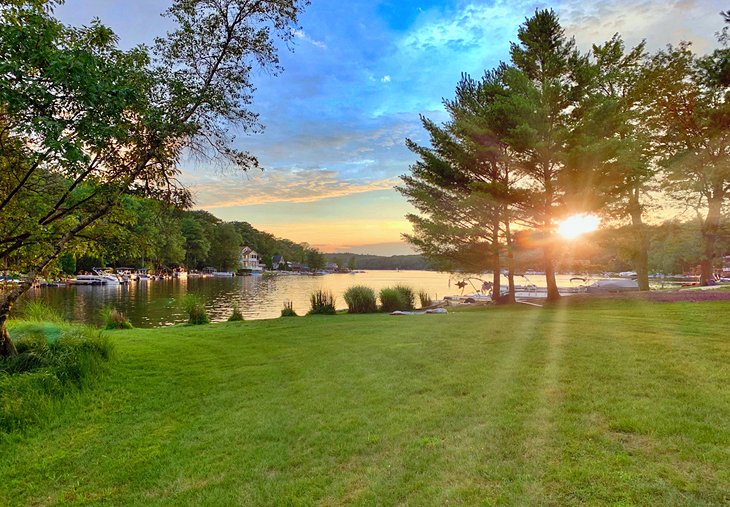 The beautiful Lake Harmony in the Pocono Mountains is one of the pristine and cleanest natural glacial lakes in the state. The clear water coming from the mountains is one of its main draws.
The lake is located near the resort community of Lake Harmony, where you will see many cottages and waterfront homes. It is a popular lake for boating and jet skiing. The fishing is prime, too, due to the natural waters, so you will see many anglers reeling in bass, trout, and perch.
Lake Harmony is 2.5 miles long, and it is privately owned, but you can access it if you plan to stay in one of the vacation rentals or at Split Rock Resort. The lake has a beach for swimming and a marina and boat launch area. There are other activities nearby in the area, like Hickory Run State Park, which is popular for hiking, golf courses, the Pocono Raceway, and an indoor water park.
5. Conneaut Lake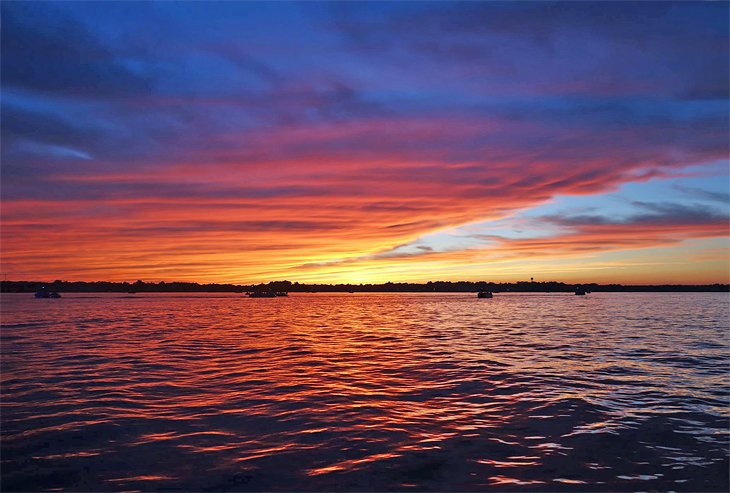 Northwest Pennsylvania is home to Conneaut Lake, the state's largest natural lake in the state. It is located in the town of Conneaut Lake, which is a cottage region and popular for vacation homes.
The 929-acre lake is popular for vacationers who want to enjoy boating, water skiing, swimming, and fishing. It is also a nice lakefront location for those who do not want to be on the water but prefer to relax next to it.
One of the big draws to Conneaut Lake is the Conneaut Lake amusement park. The park opened in 1892 and is still reminiscent of its family summer vacation roots. The midway has games and rides, including the Blue Streak roller coaster which is the 17th oldest wooden coaster in the United States. The park's waterfront location on Conneaut Lake adds an extra flare and nostalgia to a vacation.
6. Canadohta Lake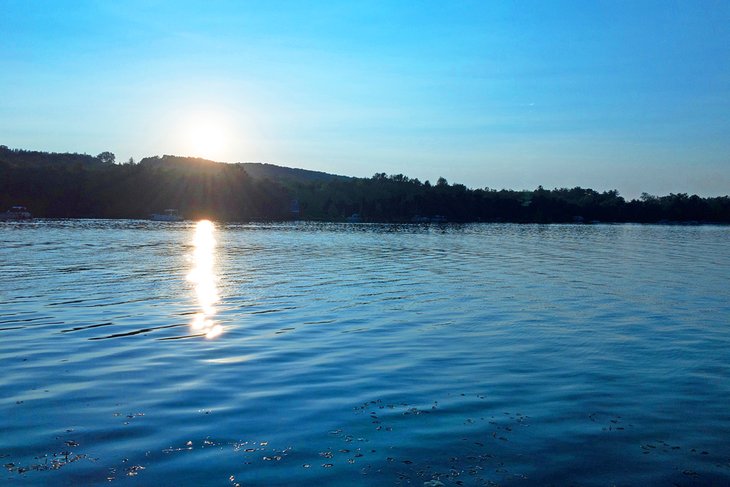 The second-largest natural lake in Pennsylvania next to Conneaut Lake is the 168-acre Canadohta Lake, which is located in the northwestern part of the state in the town of the same name.
Canadohta Lake is known as a family-friendly lake and a popular spot for summer vacations. It is a nice lake for boating and fishing. There is a popular annual ice fishing tournament in the winter.
While the main draw to Canadohta Lake is its spring-fed waters and the water sports activities, there is much to do in the area. From golf and miniature golf to hiking, biking, and roller skating, the region around the lake is nice, too. Cottages, cabins, and campsites are available for rent around the lake.
7. Edinboro Lake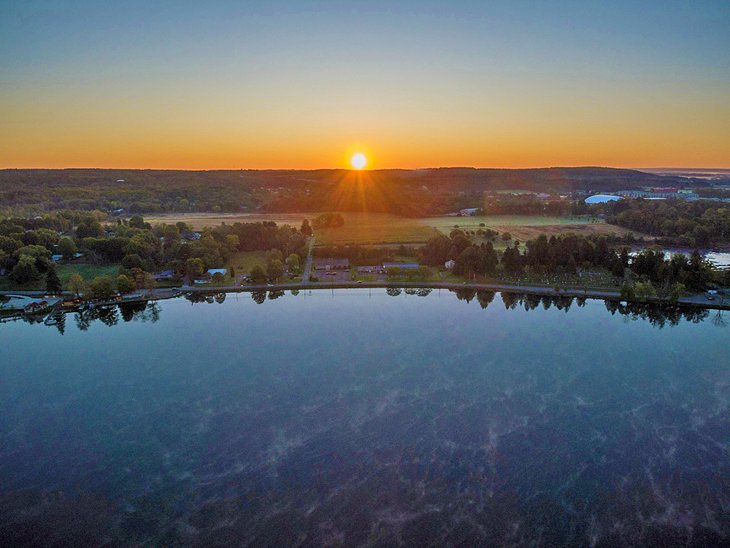 Edinboro Lake in Erie County in northwestern Pennsylvania is a smaller lake compared to others in the state but it is a great lake to visit, especially for fishing and swimming in a more intimate waterway.
The lake is just 245 acres but has two beaches and diverse fish populations of bass, musky, crappie, and panfish, which is why anglers like it. Boating and kayaking are also common activities on Edinboro Lake.
If you are looking for other activities in the area while staying at Edinboro Lake, you are just a short drive from the Erie Zoo; the Hurry Hill Farm Maple Museum; and Presque Isle State Park, where you can spend a full day swimming or hiking. There are many cottages, vacation homes, and cabin rentals near Edinboro Lake that you can rent for vacation.
8. Lake Nockamixon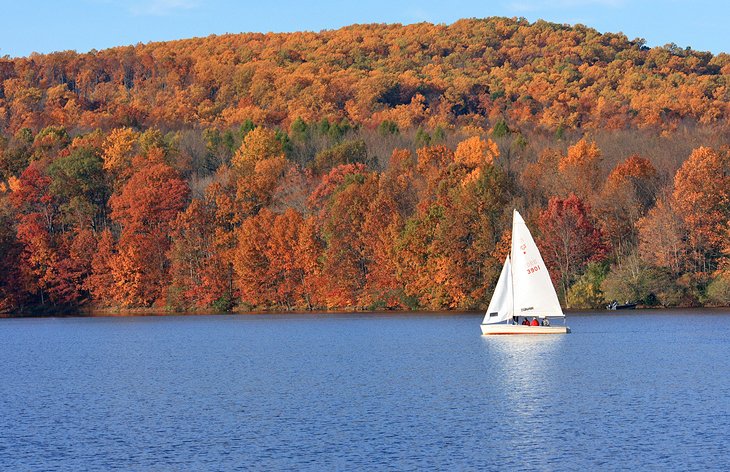 One of the most enjoyable lakes in Pennsylvania is Lake Nockamixon, located in the scenic hills of Buck County on the eastern side of the state near Quakertown. The 1,450-acre lake is the jewel of Nockamixon State Park.
On a summer day, you will see many pontoon boats, windsurfers, people canoeing and fishing, and lots of leisure lake-goers enjoying a waterside picnic beneath one of the shady spots along the shore. Swimming is not allowed in the lake, but there is a public pool within the state park.
There are four boat ramps around Lake Nockamixon, where you can launch for the day or spend the night in designated boat anchor areas. Surrounding the lake are many miles of trails in the state park, which are great for hiking and biking.
The park sits along a migratory path for waterfowl, so bird-watching is a common activity around the lake.
After you spend a day at the lake be sure to drive past the nearby Knecht's Covered Bridge that is has been a mainstay in the area since 1873 and is a nice place to catch the sunset.
9. Kinzua Lake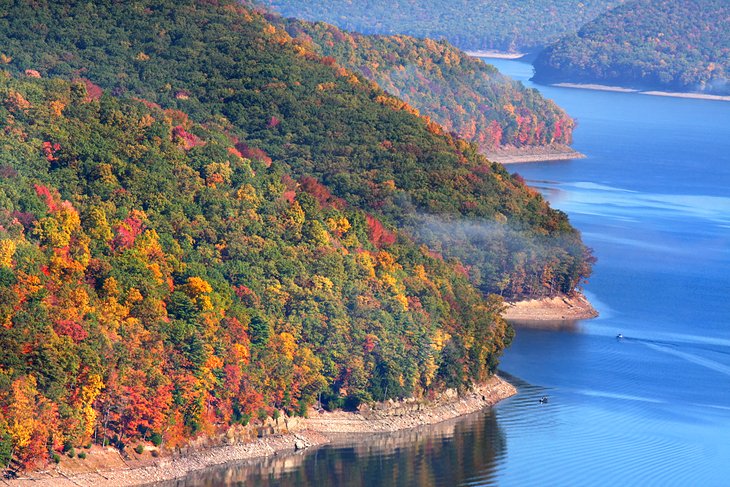 Kinzua Lake, also known as the Allegheny Reservoir, is a top spot for water recreation and one of the most scenic destinations in the entire state. The man-made reservoir is surrounded by 513,000 acres of the Allegheny National Forest in northern Pennsylvania near Warren on the border with New York.
There are six boat launches around the lake and a marina for provisions and boat rentals. Popular water activities on Kinzua Lake are boating, fishing, and swimming.
There are two public beaches within the park and a number of picnic areas with stunning scenic views of the forest and lake. Off the water there are recreational opportunities like hiking with 600 miles of trails available, biking, ATVing, horseback riding, bird-watching, and backwoods camping.
10. Dutch Springs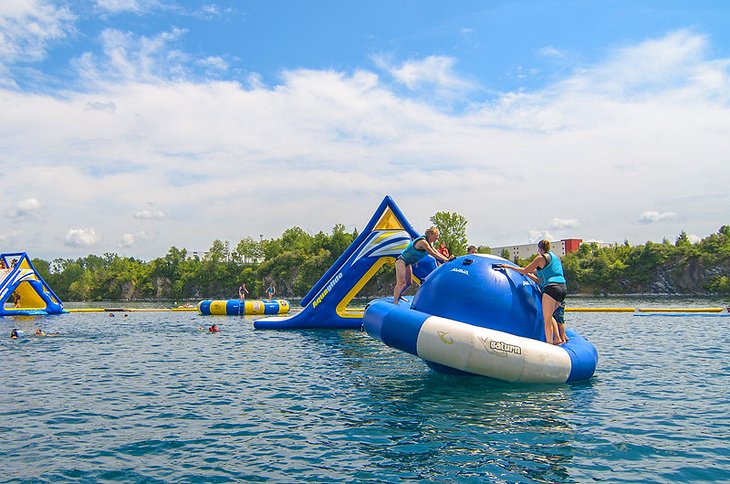 The spring-fed waters of Dutch Springs are a popular gathering spot for water sports and diving. The lake is great for boating and swimming, and boat rentals are available, but it is probably most known for its family-friendly Aqua Park.
The Aqua Park is a fun way to enjoy the lake, with water inflatables that range from slides to trampolines to balancing structures.
Dutch Springs is a 50-acre lake that was once used for mining limestone, so it drops to depths of 100 feet, making it a perfect spot for scuba diving. Divers can explore submerged vehicles and airplanes.
Dutch Springs is also a top fishing spot because of its habitat that supports a variety of species, including perch, largemouth bass, and bluegill.
11. Gouldsboro Lake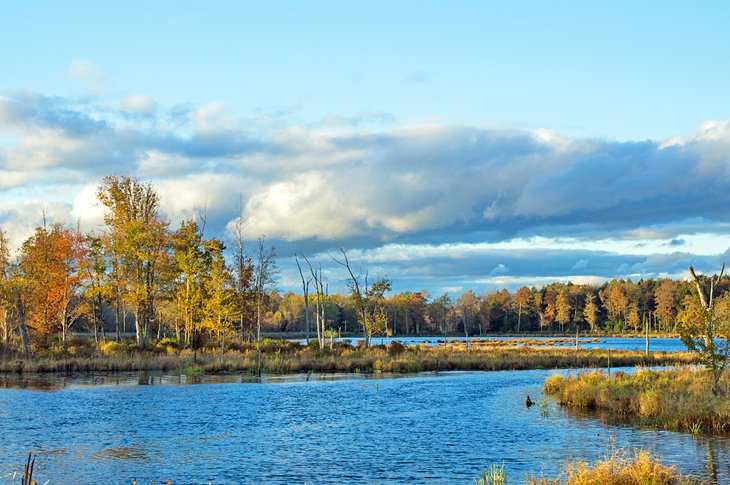 The man-made Gouldsboro Lake in northeastern Pennsylvania is a nice lake for swimming and boating. The 250-acre lake also attracts anglers throughout the year, as it is open for ice fishing in the winter months.
The lake is located inside Gouldsboro State Park, so the surrounding parkland has many hiking and mountain biking trails, and picnic areas. The public beach at Gouldsboro is open during the summer and has restroom facilities.
Since the lake and state park are part of the Pocono Plateau, you will find plants and wildlife unique to this area. Stop by the park office to find out more about the plants and animals found in the area.
12. Pymatuning Lake
The Pymatuning Lake is large, spanning nearly 17,000 acres and shares part of its waterway with Ohio. The lake is located in Jamestown and inside Pymatuning State Park. It is one of the most frequented state parks in Pennsylvania, so the lake is often quite popular for swimmers, boaters, and anglers.
There is also a great campground available if you want to make a full outdoor weekend out of your trip. Pymatuning Lake has three public beaches that are open during the summer season. Boating is easy on the lake, with three marinas available and several concession areas.
There is a great water trail for kayakers and canoers. The Shenango River Water Trail covers nine miles, starting just below the dam, and goes to Greenville. The state park covers more than 21,000 acres of land, so you can supplement your water recreation with some land-based activities, like hiking on some of the seven miles of trails.
13. Fairview Lake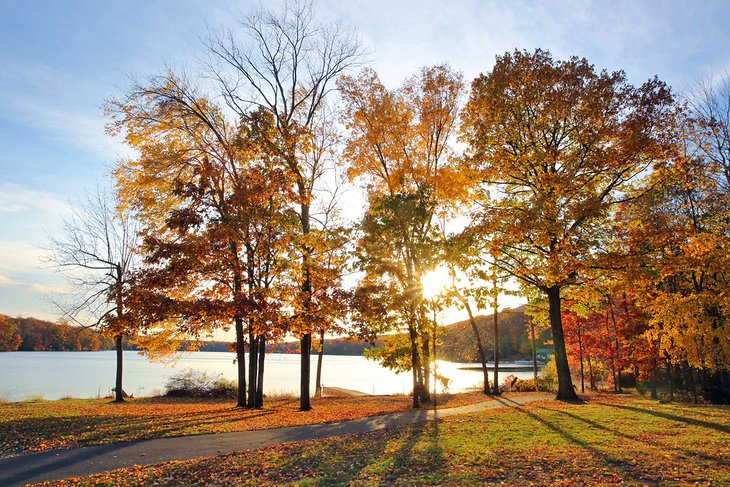 The shallow waters of Fairview Lake in eastern Pennsylvania in Palmyra Township is what makes it one of the top fishing lakes in the entire state. It has several unique natural elements that make it a prime habitat for a variety of fish species.
It is a natural lake that is only 169 acres. Its maximum depth is 48 feet, but it has a unique geological feature of a ridge that runs through it, where the depth shrinks to only about three feet. Fairview Lake has a bit of fishing fame tied to it as well, which is why bass anglers come here for a little fishing luck.
The locals claim that Bassmaster Classic Champion Mike Iaconelli caught his first bass in Fairview Lake as a little boy. Aside from the angling legends and fish in Fairview Lake, it is a family-oriented lake, with many vacation homes available and boating opportunities.
14. Antietam Lake Reservoir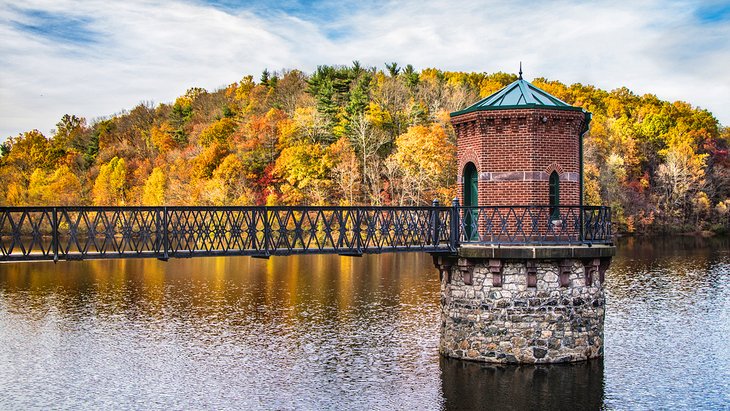 One of the most beautiful lakes in Reading, Pennsylvania is Antietam Lake Reservoir. The lake and park are on 643 acres of dedicated green space that is a naturally scenic backdrop for picnics and hiking.
You can walk on the interconnecting trails at the park that cover 12 miles. The park represents an effort to protect the state's natural resources, so there are environmental programs offered year-round at the Angora Fruit Farm, which makes up 22 acres in the center of the park.
The most picturesque spot on the lake is the restored stone house and wooden bridge, which date back to the mid-1800s and add a historic ambience. If you walk around the park, you can see the original caretaker's home that still stands on the property and dates back to 1880.
Address: 230 Angora Road Reading, Pennsylvania
15. Beltzville Lake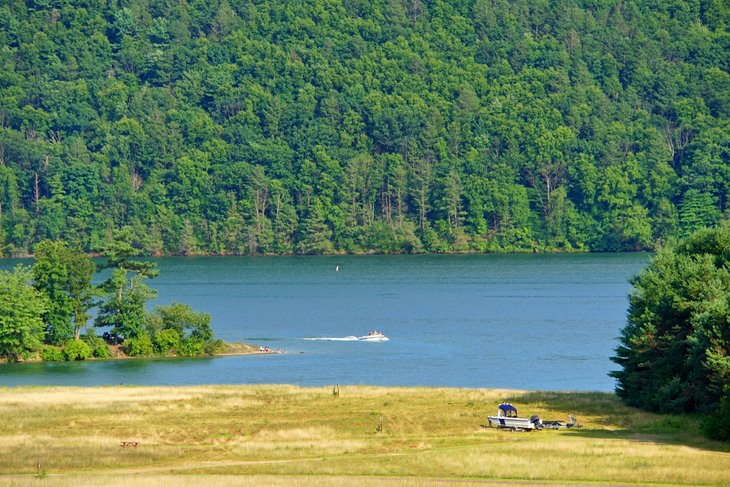 The scenic Beltzville Lake is a nice 949-acre lake near Beltzville State Park in Lehighton, Pennsylvania. The park and lake sit in the foothills of the Pocono Mountains and are popular with both visitors and locals.
The lake has a 525-foot beach open for public use from May through mid-September. There is a bathhouse for changing, and concessions. There are 15 miles of trails to hike around the lake, including the Saw Mill Trail, which offers a historical view into the region's past as it passes by what was once the gristmill raceway, a quarry from the 1700s, and some wetlands.
Beltzville Lake is a great lake to visit for boating, fishing, and wildlife viewing, especially for birds. The lake sits on the migration path for waterfowl and warblers, so springtime is one of the best times of year to look for them.
Address: 2950 Pohopoco Drive, Lehighton, Pennsylvania
16. Blue Marsh Lake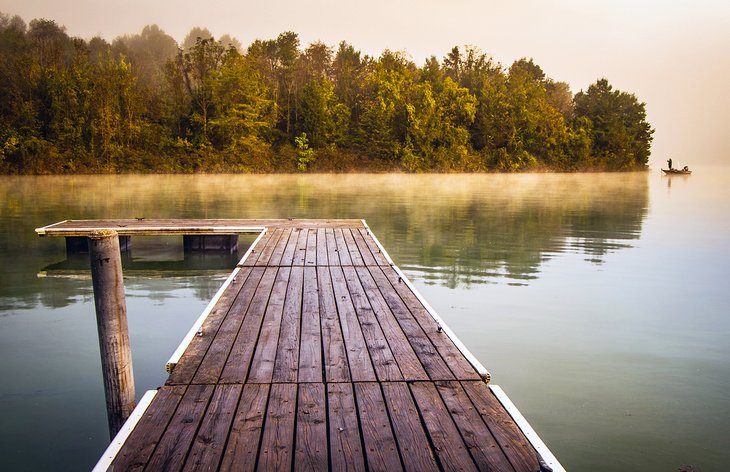 Blue Marsh Lake is located in Leesport and is a good option if you are looking for an all-around recreational lake with nearby amenities and multiple options for activities. The lake has a small beach and a boat launch for those who want to spend time on the water.
There are more than 5,000 acres of land surrounding the lake, so you can enjoy biking, horseback riding, or hiking on sections of the 36 miles of trails that stretch through the area. There are picnic shelters and tables available and some with grills for cookouts.
Blue Marsh Lake has a visitor center that might be a good first stop if you are unfamiliar with the area and looking for things to do. There are also concessions and restrooms available, so you can easily make a full day of your visit to the lake.
Address: 1268 Palisades Drive, Leesport, Pennsylvania
More Related Articles on PlanetWare.com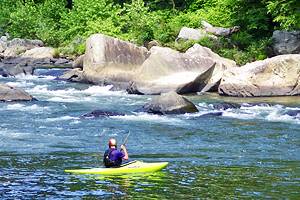 Pennsylvania Outdoor Adventures: To round out your Pennsylvania itinerary, you may want to plan a day just to visit some of the national and state parks, like the Delaware Water Gap National Recreation Area or Ohiopyle State Park, some of which have fantastic white water rafting, hiking, and fly fishing opportunities. There are many lodging options in Pennsylvania that range from rustic campsites in the state parks to top resorts that can wrap up your day with a spa treatment.