15 Top-Rated White Water Rafting & Kayaking Destinations in Pennsylvania
Anietra Hamper is an avid outdoor enthusiast who has rafted some of the most aggressive white water rapids in the United States and enjoyed discovering the top rafting and kayaking waterways in Pennsylvania.
The abundance of natural waterways in Pennsylvania makes it an attractive destination for white water rafting and kayaking. Whether you raft the rapids on one of the many raging river sections of the Lehigh River, or kayak The Loop on the quieter section of the Youghiogheny, it's easy for both beginner and advanced outdoor paddlers to find suitable outings in Pennsylvania.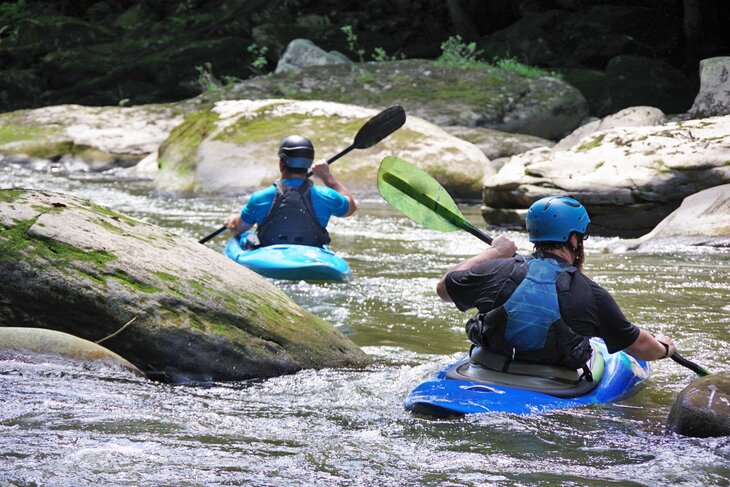 Many outfitters along most waterways offer guiding services, whether you want a guide in the boat with you or a guide that just shows you where to go on the water.
Kayaking, both in calm water and white water rapids, is popular across the state due to the vast number of natural streams and rivers running through hundreds of national and state parks in Pennsylvania.
Keep in mind that non-powered boats launched within a state park must have proper permits from the Pennsylvania State Parks Department. You can find out what you need and obtain permits from most state park offices.
Discover the best places to visit for water-based fun with our list of the top white water rafting and kayaking destinations in Pennsylvania.
1. Youghiogheny River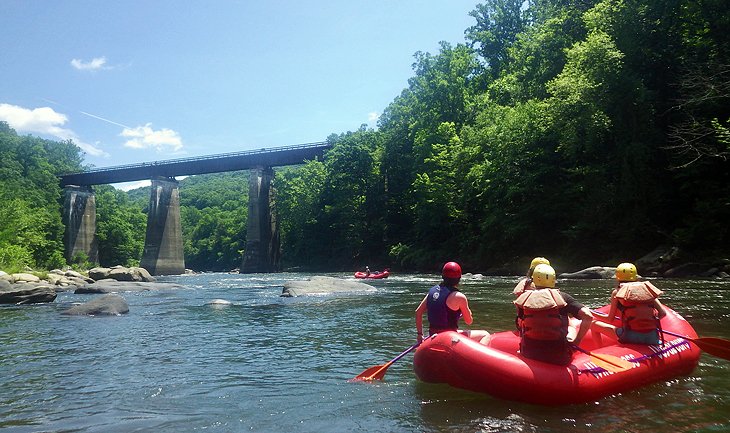 The Youghiogheny River flows through one of Pennsylvania's largest state parks, Ohiopyle, in the Laurel Highlands region in southwestern Pennsylvania. Locals call it the Yough (pronounced "yawk"). The river is popular for white water rafting and kayaking, especially in "The Loop," which is a mile-and-a-half section of the Lower Yough.
The loop is perfect for kayakers since they do not need a transport vehicle. The river offers the best in white water rafting because each section caters to a different kind of experience. The Lower Yough is 7.5 miles of class III and IV rapids. It is ideal for beginners to intermediate rafters.
The Middle Yough is a nine-mile family-friendly stretch, perfect for first-timers or for those who prefer light rafting. The Upper Yough is reserved for adrenaline junkies who are looking for aggressive class IV and V rapids.
There are four experienced outfitters on the river: Wilderness Voyageurs, White Water Adventurers, Laurel Highlands River Tours, and Ohiopyle Trading Post.
2. Lehigh River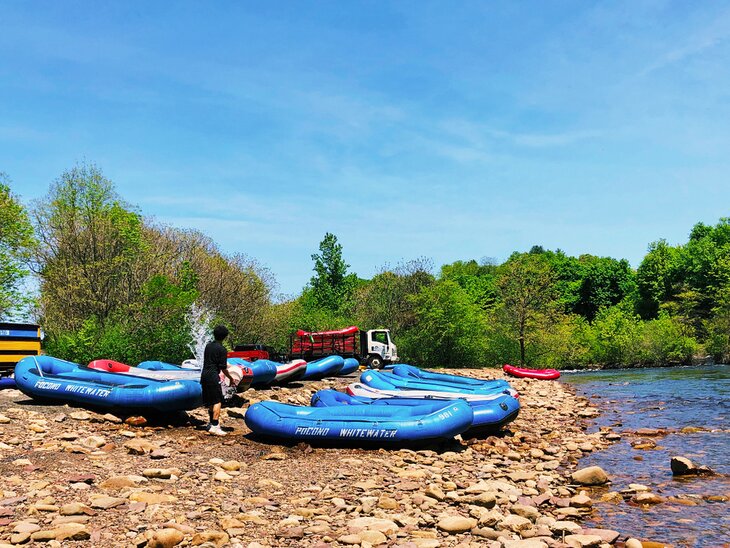 The Lehigh River in the Pocono Mountains of northeastern Pennsylvania is one of the best places to tackle rafting on the state's white water. This river flows between the Poconos and the Appalachian Mountains, with Class I, II, and III rapids pushing through the valleys.
These calm-to-mild rapids mean you can take a family-friendly float trip or test your paddle skills on intermediate waters. If you are looking for a little extra adventure, tackle the rapids on dam release days that enhance the currents and water swells. The Lehigh River is appealing to kayakers because of waters that flow through the designated Pennsylvania Scenic River section.
This is a preserved wilderness area. The section of White Haven is a popular area to start this 32-mile section of calmer water.
Accommodation: Top-Rated Resorts in the Poconos, PA
3. Three Rivers Water Trail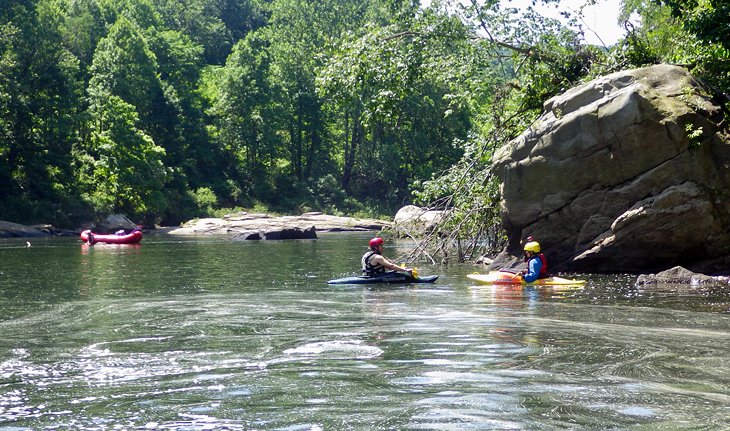 The Three Rivers Water Trail in Point State Park in Pittsburgh is an urban waterway popular with kayakers. Convenient launch sites and parking lots are available.
The Three Rivers Water Trail runs for 75 miles and takes boaters through the Allegheny, Monongahela, Youghiogheny, and Ohio Rivers.
It is considered a National Recreation Trail, with 90 riverfront towns and access points. The trail is adequately marked, so that even kayakers new to the area know where to find launch and exit points and other amenities like food and lodging.
You do not need permits to launch from the access points.
4. Schuylkill River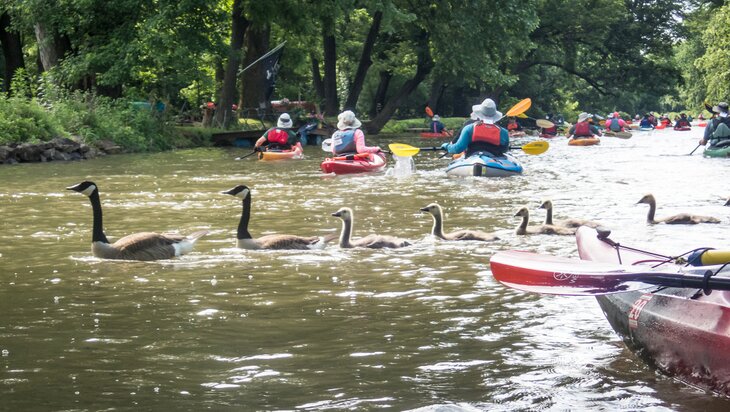 The Schuylkill River is a scenic trip and offers something different for kayakers. This 128-mile river is a State and National Heritage Area, so you can experience a diversity of sights along the way that range from historical and cultural landmarks to wildlife.
Kayaking past old river towns along the Schuylkill River Trail is a unique way to take in some of the most significant history of the United States.
Guided kayak tours are available along the river if you want to combine sightseeing with outdoor recreation.
Avid kayakers may want to visit during one of the Pennsylvania Sojourn events in the spring, when you can join dozens of other boaters for water treks that promote outdoor recreation and conservation along the waterway.
The entire trip that many kayakers do over several days is 115 miles, but plenty of participants just join for a day.
5. Allegheny River Water Trail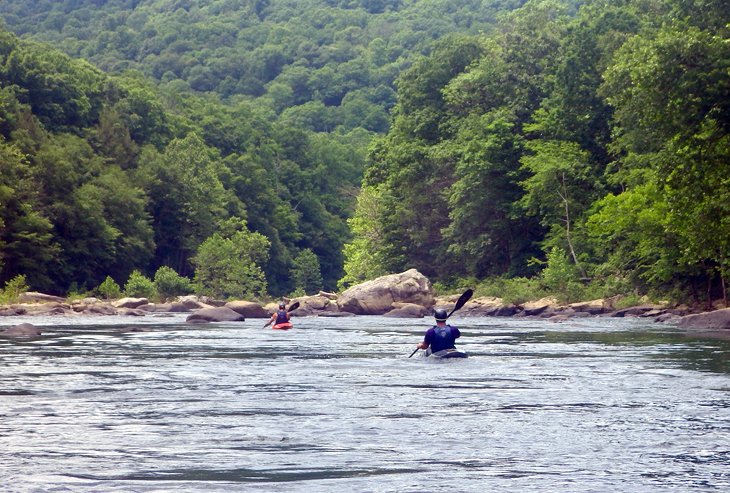 Crowned as Pennsylvania's 2017 River of the Year, the Allegheny River Water Trail is a favorite for both white water rafting and kayaking. The trail is 85 miles long, but you will want to target a section based on your interests and skill level.
Those who are after some of Pennsylvania's rushing white water rapids should target the area near Oil City. Not only are there intense rapids, but you will appreciate some primitive natural scenery. Water outside of the Oil City section is ideal for kayakers.
The river is designated as a National Wild and Scenic Recreation River, so a slow paddle in the kayak will get you up close to some of Pennsylvania's most impressive wildlife, including bald eagles.
6. Presque Isle State Park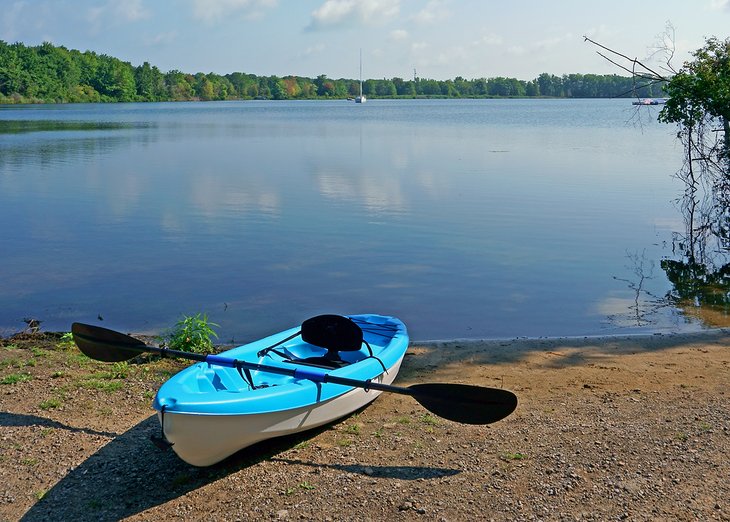 Presque Isle State Park in Erie is a kayaker's paradise. It is a seven-mile peninsula that stretches into Lake Erie, one of Pennsylvania's top lakes. The Lake Erie waters surrounding the park provide more experienced kayakers a challenge plus the picturesque scenery of northern Pennsylvania.
For more novice kayakers, there are smaller lagoons within the park that have calmer and more predictable waters.
There are several outfitters in the vicinity of Presque Isle State Park, so it is easy to rent kayaks and canoes for the day. You can find a number of boat launch ramps, grills, and picnic tables around the park.
7. Delaware River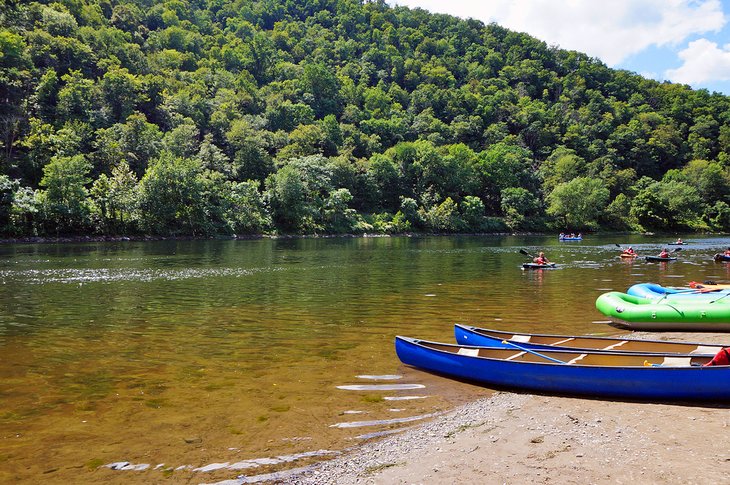 The Delaware River in the Pocono Mountains is a great river to target for all skill levels for rafting and kayaking, including first-timers. Five reservoirs release water into the river, meaning there are consistent rapids throughout the year, and the water conditions are somewhat more predictable than other rivers.
The scenery along the Delaware River ranges from cliffs to clear water. Since there is not extreme white water in this river, it is a great option for those who enjoy taking in the surroundings.
Kayakers enjoy the Delaware River Gap, where they can opt for calm water or light rapids.
Guided kayak trips offered by outfitters are easy to find if you are not ready to tackle the river on your own.
8. Slippery Rock Creek Gorge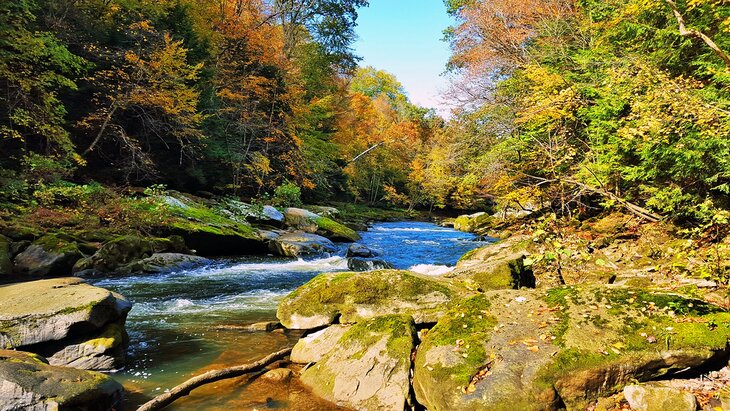 Avid rafters will mention Slippery Rock Creek Gorge in their list of favorite places to visit because it can offer an intense white water experience. The gorge, located in McConnells Mill State Park in northwest Pennsylvania, was carved out many years ago as glacial lakes drained through the area.
You can reach the gorge in Portersville, which is about 40 miles north of Pittsburgh.
The gorge has unforgettable steep cliffs and large boulders throughout the valley, which are now part of the white water excitement. The rapids range from Class II to IV, depending on the time of year and water conditions.
Due to the landscape of the gorge, this waterway is not recommended for kayakers.
After your day on the water, make a stop at the Old Mill, located inside the park, which was built in the 1800s.
9. Lake Nockamixon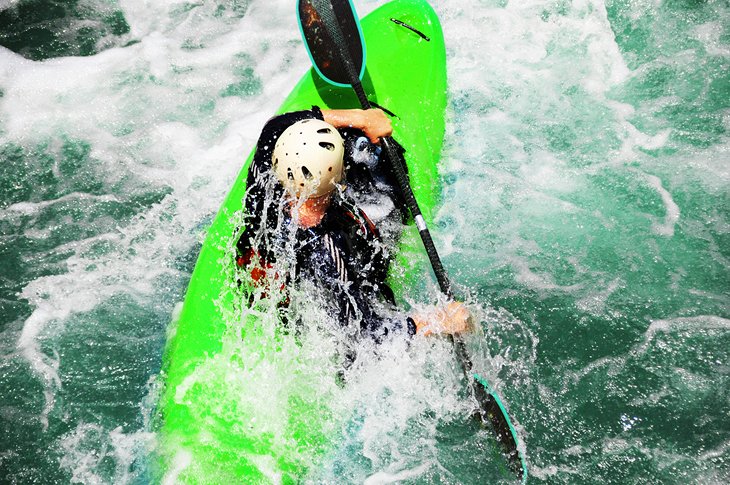 Lake Nockamixon is known for its white water releases from the dam in the spring and fall, creating a thrill ride for rafting enthusiasts on the three waterways that feed into it. The prized run is on Tohickon Creek that takes you to the Delaware River on Class II to IV rapids.
There are six aggressive rapids during a 3.9-mile stretch that are enhanced in March and November during the dam water releases. Tohickon Creek, while prime for white water rafting, has many obstacles and drop-offs, so it can be quite dangerous for kayaking.
If you plan on kayaking these waters, be mindful of the dangers downstream of the High Rocks cliffs, and do not paddle alone.
The other two waterways that feed into the Nockamixon, Three Mile Run and Haycock Run, are more suitable for kayaking.
If you are looking for a day trip from Philadelphia, Lake Nockamixon is a little more than an hour outside of the city, or you can stay in cabins in the region.
10. Swatara Creek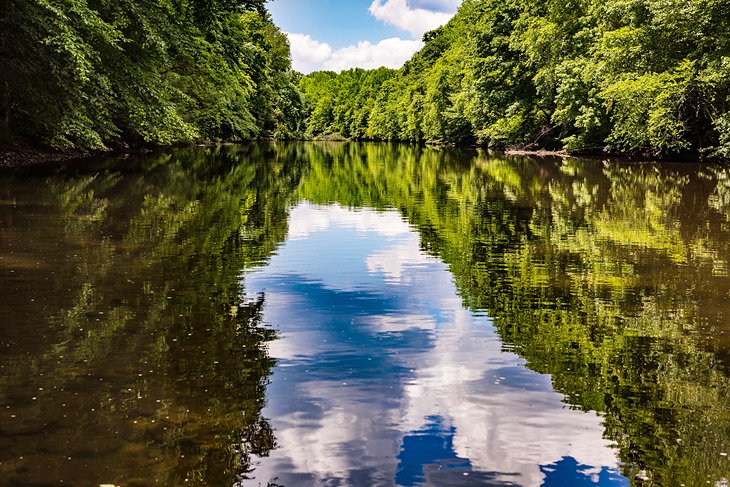 The Swatara Creek in Swatara State Park is a calm waterway suitable for kayaking and tubing. This eight-mile creek is mostly Class I and II rapids, allowing for a relaxing float and giving you time to appreciate the natural surroundings.
The state park is only 14 miles north of the city of Lebanon.
Access points are located at the north and south ends with designated launch sites. Launch permits are required. The best times to kayak Swatara Creek is in the spring and fall. Water conditions for summer paddling are sometimes too low.
One of the best access points for this waterway is in Middletown, where you can get onto the Swatara Creek Water Trail. The trail is a 42-mile stretch that takes you past scenic farmland, abandoned railroad bridges, and old canal locks.
11. Loyalsock Creek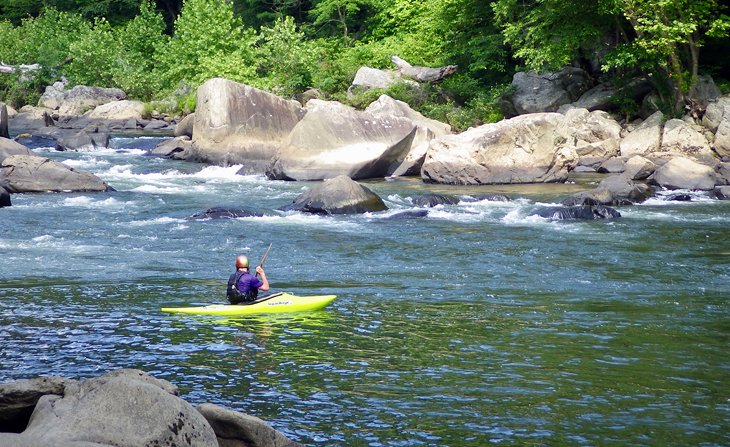 With a creek located in a place called the Worlds End State Park, you know an exciting journey awaits. Loyalsock Creek is in the valley of the park giving you a winding 13-mile trip surrounded by a scenic forest. White water rapids range from Class I to IV.
Some Class V rapids occur during high water. Large boulders and steep drop-offs make this white water experience epic, but it can be dangerous and is best for experienced paddlers.
Loyalsock can have swift changes in water conditions, so kayakers should review them before taking to the water.
Worlds End State Park is only 14 miles from Dushore, so it makes for a nice day trip.
12. Pine Creek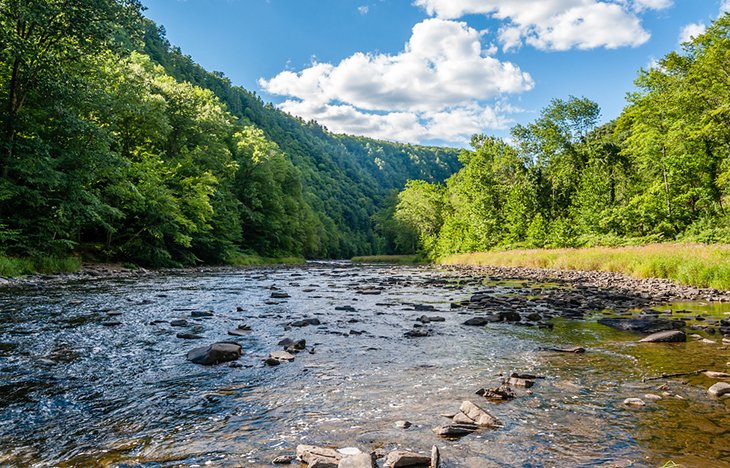 Pine Creek is located in Pennsylvania's Grand Canyon, with stunning scenery as you float through the rapids.
Most of the rapids are Class II and III, meaning a more relaxed ride on the 17-mile trip. Plan a full day to navigate Pine Creek.
Most trips on this waterway are offered March through May, as water levels are too low in the summer for rafting trips.
Kayakers prefer the Class I and II rapids on the Upper Pine. Guided kayak trips are easy to find. The scenery in the canyon is memorable and one of the reasons people enjoy rafting Pine Creek.
13. Stonycreek Whitewater Park
The Stonycreek Whitewater Park is a man-made white water experience near Johnstown, designed specifically for paddlers. The park offers manufactured rapids on the Stonycreek River along a section near Greenhouse Park. This is an excellent place to learn the basic mechanics of white water rafting and practice your techniques.
Most rapids are Class II, which gives you just enough of a challenge to learn how to take on more aggressive natural rapids.
Scheduled releases of rushing water from Stonycreek Canyon enable you to plan your outing around the water conditions. The water park is great for kayakers as well.
14. Cheat River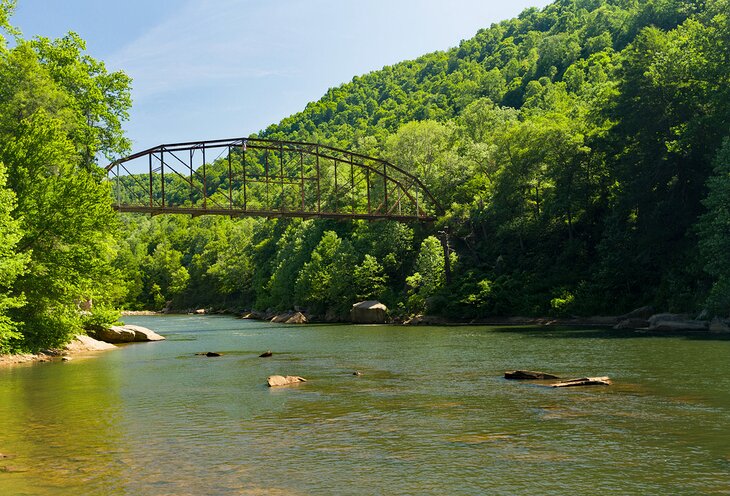 The Cheat River runs through southwest Pennsylvania into eastern West Virginia.
While many of the white water rafting trips depart from the West Virginia section of the Cheat River, there are a number of outfitters in Pennsylvania as well. This is a more challenging white water trip suitable for intermediate and experienced rafters.
Many of the 30-plus rapids are Class III and V, as the water flows through a narrow canyon making for an exciting trip.
One of the best times to go is late March through May, when spring rains add to the volume and intensity of the rapids.
15. Susquehanna River Water Trail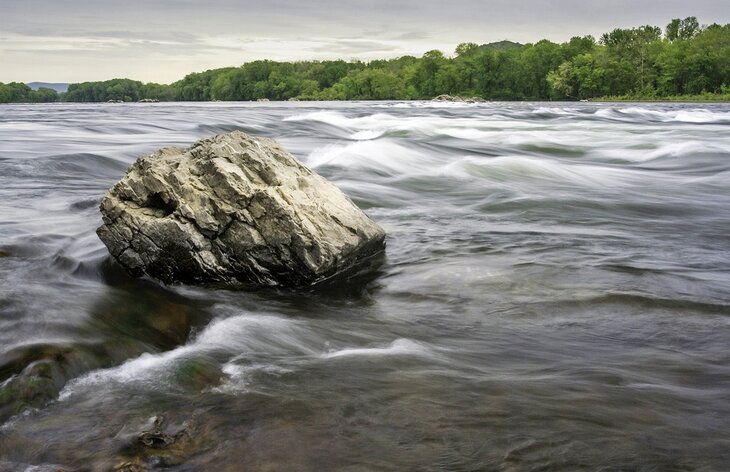 The Susquehanna River, and its West Branch, provides over 650 miles of recreational paddling across three states (New York, Pennsylvania, and Maryland), with some fantastic kayaking options in Pennsylvania.
The calm waters and network of access points provide a great environment for beginner and intermediate kayakers looking to explore new paddling routes and hone their skills. A nice section suitable for beginners is between Watsontown and Milton State Park along the West Branch. This 4.5-mile stretch has calm waters and easy access sites, and kayak rentals are available from nearby outfitters.
Within Pennsylvania, the Susquehanna River Water Trail is split into four distinct sections: the North Branch, West Branch, Middle Section, and Lower Section. Each section offers its own unique paddling experiences and network of launch ramps, river access points, day use locations, and overnight camping sites.
Paddlers interested in learning more about each section should contact the section's water trail manager or the Susquehanna Greenway Partnership. Kayak rentals are available from nearby outfitters.
Map of White Water Rafting & Kayaking Destinations in Pennsylvania
More Ways to Explore Pennsylvania's Outdoors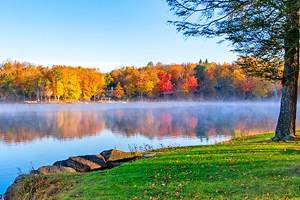 The scenic vistas, valleys, and waterways located throughout Pennsylvania make outdoor adventure accessible no matter where you stay in the state. You can base yourself out of a main city and enjoy attractions in Pittsburgh or Philadelphia and still be just a short distance from some of the state's best hiking trails and the best state and national parks.
Rail-trails throughout the state are another popular way to get outdoors. They connect small historical towns and larger cities, like the capitol of Harrisburg, with regular entrance and exit points. You will find some excellent fly fishing regions in Pennsylvania, with thousands of miles of designated trout streams.
Some of the best places to visit in Pennsylvania are in the countryside, where you can experience the rolling hills, Amish Country, and charming small towns. Whether you plan to extend your current trip or are looking for a nice weekend getaway the diverse regions of Pennsylvania offer up a wide range of experiences, from urban activity to remote wilderness.