12 Top-Rated Things to Do in Watkins Glen, NY
New York's Finger Lakes region spans 14 counties across 11 glacially formed lakes in Upstate New York. It is one of the most naturally beautiful regions in the entire country, known for its rolling mountains, thick forests, seemingly bottomless lakes, and charming small-town life. Watkins Glen, New York sits perched at the southernmost point of Seneca Lake, which is the second largest lake in the region.
The historic town was settled at the end of the 18th century, and has always been known for the spectacular gorge that slices through the center of the village. Today that gorge sits within Watkins Glen State Park, one of the most beautiful and beloved sites in the Finger Lakes.
Watkins Glen is heralded for its natural beauty and plethora of outdoor activities. Not only is Watkins Glen all about lake life, it is also home to Watkins Glen State Park, offering 19 waterfalls, plunging gorges, babbling brooks, and thick forest.
Watkins Glen is a paradise for hikers, cyclists, and equestrians. But it is also one of the largest capitals for car-racing fans, home to Watkins Glen International, a world-renowned race course, as well as farm-to-table dining, local markets, and fishing adventures.
Watkins Glen is a perfect town in the Finger Lakes from which to explore other places to visit in the region, like Keuka Lake, Cayuga Lake, and towns like Elmira and Ithaca.
If you're ready to experience the best of the Finger Lakes, read our list of the top things to do in Watkins Glen, NY.
1. Cruise Seneca Lake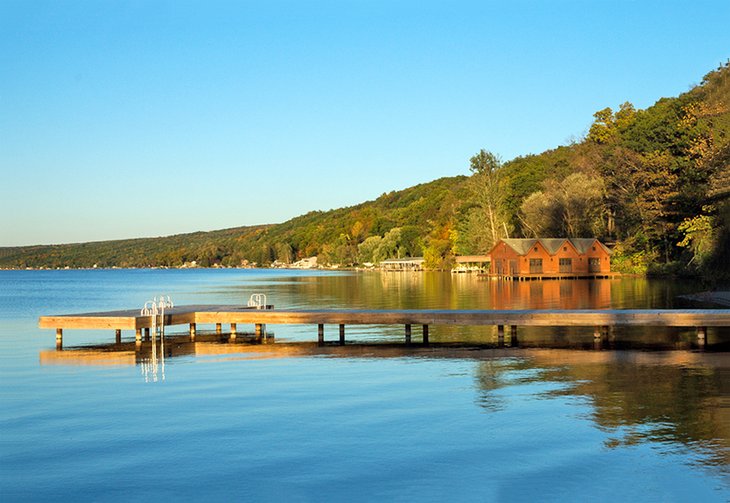 Watkins Glen is perched at the southernmost point of the stunning Seneca Lake, the second largest of the Finger Lakes. Seneca Lake spans more than 43,000 acres, with 75 miles of shoreline and depths that sometimes reach more than 600 feet. It is an impressive body of water.
Needless to say, one of the best ways to enjoy Watkins Glen is to visit Seneca Lake. Summer months are a flurry of excitement, as boats of all kinds are seen zipping back and forth. Visitors are welcome to launch their own boats at a number of parks around the lake, or they can rent from local boat places like Fuzzy Guppies or Stivers Seneca Marine.
But one of the most favorite ways to experience the lake is to take a boat tour. Captain Bill's Lake Cruises is a local must. This dining cruise has dinner, lunch, and afternoon sailings, which are always delightful. Or you can opt for a sightseeing cruise aboard the Captain's vintage 49-passenger vessel. For something a little more romantic, hop aboard Schooner Excursions for one of their signature sunset sails.
2. Hike Watkins Glen State Park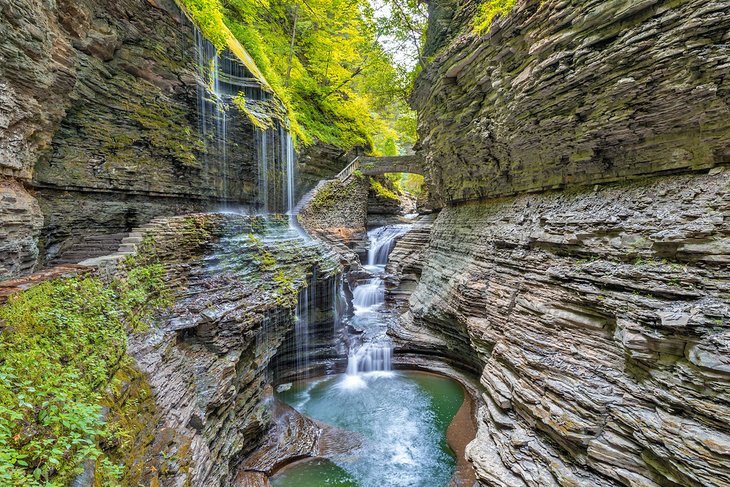 Many Finger Lakes State Parks exist in Upstate New York, but Watkins Glen State Park is probably the most well-known, and certainly one of the most beautiful. It's packed with waterfalls, gorges, rim trails, and tent and trailer campsites.
The reason most people come to the park is to hike the Gorge Trail, a two-mile trail that runs along the iconic gorge, dropping 400 feet past vertical 200-foot cliffs. It's a dream for photographers. The trail also crosses 19 of the region's most epic waterfalls.
The area was purchased in 1906. The park today has 778 acres, with the centerpiece being the 400-foot-deep gorge, which is cut by Glen Creek. The park has been sculpted by erosion over 12 millennia, creating the cascades, pools, and waterfalls within the park. It's essentially a staircase of waterfalls.
Address: 1009 N Franklin Street, Watkins Glen, New York
3. Get Your Adrenaline Fix at Watkins Glen International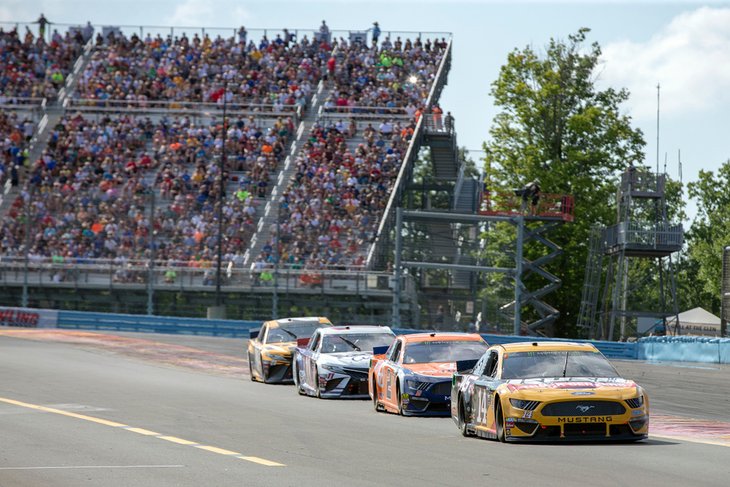 Despite its rural setting and tranquil vibe, Watkins Glen is home to one of the most high-octane events in the world. The Watkins Glen International is a world-famous car race track, known for the Formula One United States Grand Prix, which it has hosted for more than 20 years.
Other class races are held on the track, as well, from the IndyCar Series to the World Sportscar Championship, Can-Am, Monster Energy NASCAR Cup Series, and others. The track was constructed in the 1950s, but prior to this, competitions used the public roads for the world-famous races.
In addition to racing, the venue hosts music concerts, and Watkins Glen International helps to put on several of the annual events around town. Past performers have included The Allman Brothers Band, the Grateful Dead, and The Band.
Address: 2790 County Route 16, Watkins Glen, New York
4. Meet the Animals at Farm Sanctuary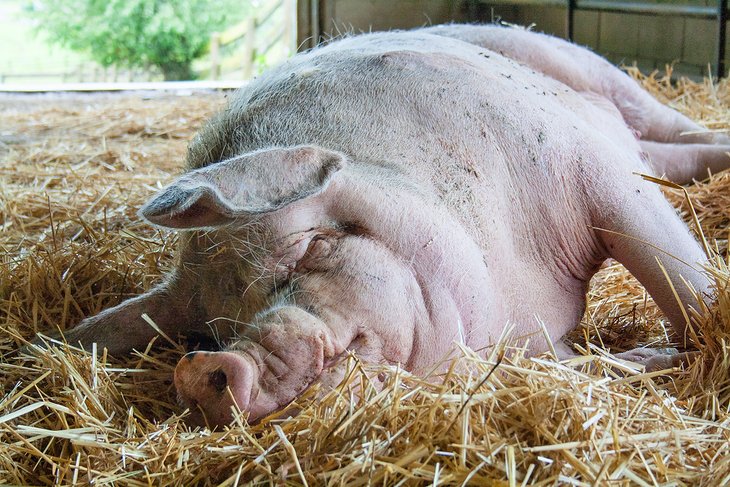 Farm Sanctuary will certainly tug on the heartstrings of animal lovers. The sanctuary sits on a sprawling 271 acres of stunning Finger Lakes territory, providing shelter to more than 800 rescued farm animals that have been saved from abusive farm factory conditions.
Today, pigs, turkeys, cows, and many other animals call the bucolic, green-rolling pastures a safe, vegan-friendly home, and visitors can come learn about responsible farming and see some cute animals in the process. Tours are available May through October.
Visitors can even extend their stay at the Farm Sanctuary with their on-site tiny house accommodations. The tiny houses available at the sanctuary are 384 square feet in space and offer a small kitchenette, TV, bathroom with shower, small outdoor porch, Wi-Fi, and air-conditioning. Sipping that cup of morning coffee watching sheep frolic in the distance is certainly one of the more unique ways to experience Watkins Glen.
Address: 3100 Aikens Road, Watkins Glen, New York
5. Snack at the Glen Mountain Market Bakery & Deli
Beloved by locals and visitors alike, the Glen Mountain Market Bakery & Deli is the best spot in town to grab a hot cup of coffee and a delicious pastry or Finger Lakes-famous sandwich.
Perched on the north end of town, the store serves a large selection of fair trade coffees, daily fresh-baked breads, and pastries. Vegan sweets are available, as well. And the New York-style deli has everything from piled-high sandwiches to chef salads, deli salads, local cheeses, and homemade condiments.
A stop at the Glen Mountain Market is an absolute must for stocking up on picnic essentials before heading out to enjoy one of the many outdoor activities to experience in Watkins Glen. The market is located on the north end of town, walking distance to Seneca Lake.
Address: 200 N. Franklin Street, Watkins Glen, New York
6. Mount a Steed at Painted Bar Stables
Just outside of Watkins Glen, Painted Bar Stables is a veritable playground for equestrians of all levels. The stables offer year-round guided trails that follow some of the more lush and awe-inspiring scenic areas of the Finger Lakes. Keep your eyes peeled for waterfalls, lakes, and hills that have been carved from thousands of years of glacial activity.
Painted Bar Stables offers lessons, horse leasing, and boarding of horses, as well. Each trail ride is tailored to riders, as the stable staff prides itself on matching horses with riders.
Rides are available for anyone eight and older, and groups are kept to around four people, so personalized riding instruction can be a part of the experience if you so choose.
Address: 4093 Lake Street, Burdett, New York
7. Discover the Waterfalls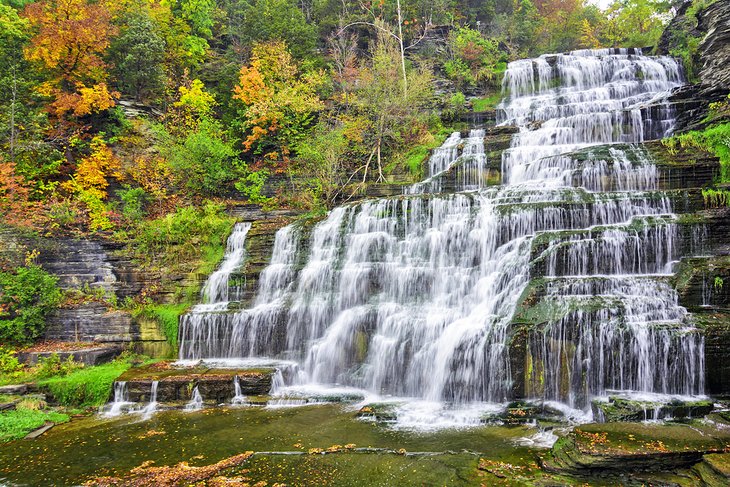 Watkins Glen truly is a land of incredible nature. As we mentioned, 19 waterfalls exist along the Gorge Trail within Watkins Glen State Park, the most beautiful of which is Rainbow Falls.
Rainbow Falls is easily reached when you hike the Gorge Trail, and is one of four named falls in the park, located near the Cavern Cascade - another scenic fall. Both of these falls have a passage behind them, which make for great photo ops.
Then there is Hector Falls, which doesn't require any hiking. It's the third tallest waterfall in New York State (after Taughannock Falls and Niagara Falls). This roadside tourist attraction is located on Route 414, a quick drive north out of Watkins Glen.
Excelsior Glen is yet another cascading jewel. Just outside Watkins Glen, this waterfall requires a short - but challenging - hike up a trail off Route 414. The 170-foot waterfall gushes down a sloping bed of stratified rock, plunging into a pool at the base. It may be a difficult climb to reach the Glen, but it will be worth it for the magic moment you'll likely have to yourself.
Finally, discover Montour Falls, which is three miles south of Watkins Glen. The town of Montour Falls was the seat of the Seneca Nation. Today the 165-foot waterfall can be viewed from the village's Main Street.
8. Journey with Summit to Stream Adventures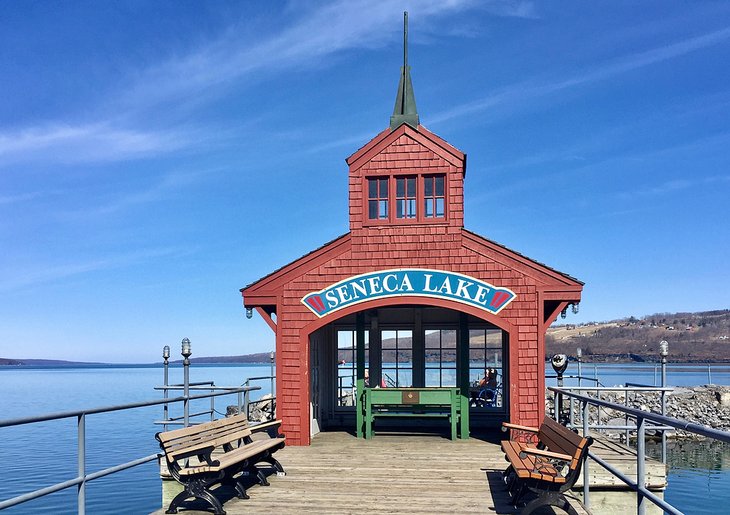 There's no better way to get to the heart and soul of Watkins Glen and the Finger Lakes region than under the guidance of Summit to Stream Adventures. The locally owned business takes exploration seriously, whether it's charter fishing, kayaking, or fly fishing.
The full-service outdoor outfitter knows the ins and outs of the 11 glacial lakes in the region, which are chock-full of fish. Not only that, the region has Lake Ontario tributaries known for the fall runs of steelhead, king, and coho salmon, along with brown trout. Anglers of all levels will feel right at home on a fishing expedition with Summit to Stream.
Kayaks and stand up paddleboards can be rented daily or for guided tours and lessons.
Address: 2 Seneca Harbor, Watkins Glen, New York
9. Forage at the Farmers Markets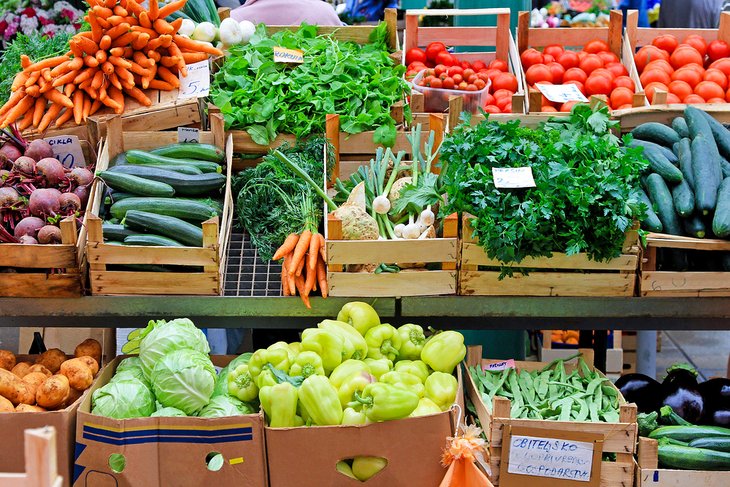 New York State is nothing if not a cornucopia of vibrant farmers markets. At any given time there are thousands of stalls and tables being set up across the state for local farmers and artisanal purveyors to distribute the fruits of their labors. Watkins Glen is no different, with not one, but three farmers markets in the area to choose from.
The most famous is the Watkins Glen Farmers Market, which is open Friday evenings from the end of May through the end of October. The seasonal market showcases everything from fresh produce and meats to soaps, toiletries, crafts, and more.
On Wednesdays in July and August travelers can discover the Clute Park Market, held in Clute Park. The evening outdoor market focuses on artisanal goods, crafts, and produce. Food trucks are a staple of this farmers' market, so be sure to come with an appetite.
Finally, head over to Montour Falls to visit the Montour Falls Farmers' Market, held Thursday evenings from May to October. The market is stocked with everything from produce and meats to honey, cheese, bread, and more.
Watkins Glen Farmers Market
Address: Corner of 4th and Decatur Streets, Watkins Glen, New York
Clute Park Market
Address: 155 S. Clute Park Drive, Watkins Glen, New York
Montour Falls Farmers' Market
Address: 300 W Main Street, Montour Falls, New York
10. Get Lost in the Finger Lakes National Forest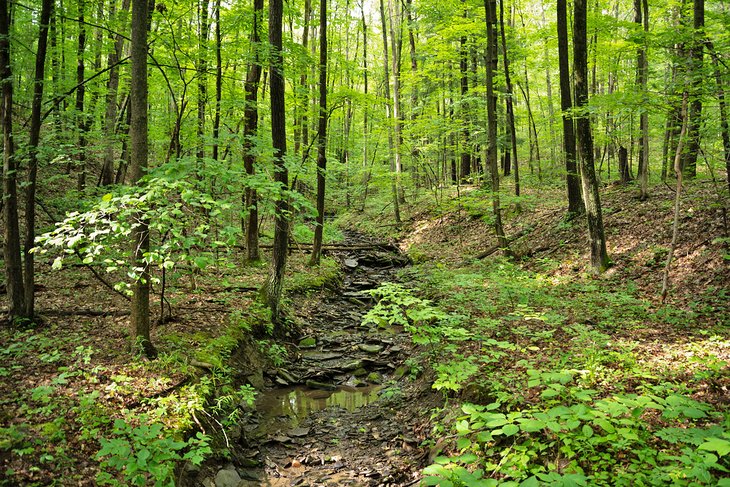 About 20 miles north of Watkins Glen sits the sprawling Finger Lakes National Forest, New York State's only national forest. The preserved area spans the ridge between Seneca and Cayuga Lakes.
The expansive forest preserve has more than 30 miles of trails that plunge through gorges and ravines, scale ridges, and breeze through meadows and forested areas. It's also home to a variety of wildlife, like the rare Henslow's sparrow, white-tailed deer, beavers, red foxes, and even bobcats.
The park is packed with outdoor activities, from hiking and fishing to cross-country skiing and snowmobiling. The Finger Lakes National Forest spans more than 16,000 acres between Seneca and Cayuga Lakes. Camping is abundant throughout, whether it's front country or backcountry camping.
11. Wander Franklin Street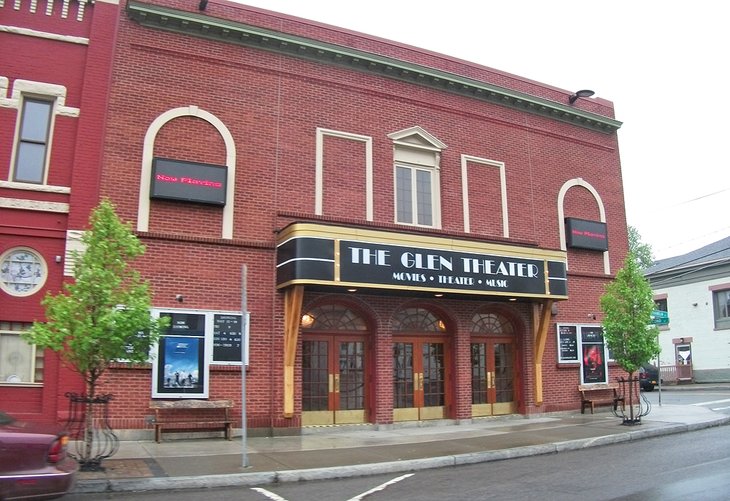 The main artery of Watkins Glen is Franklin Street, which is sliced in two by Glen Creek. Franklin is the heart of the commercial action of Watkins Glen, lined on either side with shops and restaurants. Here is where you'll find everything from the Seneca Cheese Company to Famous Brands Outlet, which is stocked to the brim with outdoor gear and clothing.
On the first Fridays of the summer months, Watkins Glen hosts tastings of local products all along Franklin Street. Rain or shine, and for a small fee, locals and visitors can take a closer look at the mom-and-pop establishments on Franklin Street that give Watkins Glen its distinctive character and charm.
12. Take a Trip to Ithaca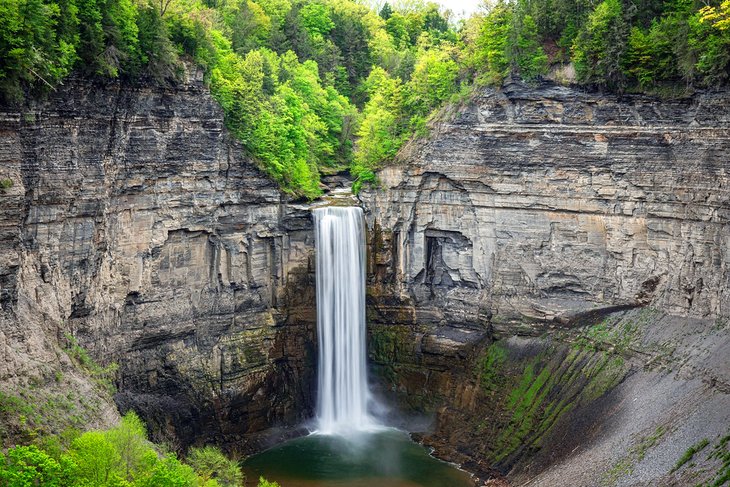 About a half hour from Watkins Glen, you'll find the city of Ithaca, the largest of the cities in the Finger Lakes region. One of the city's claims to fame is that it is the home of Cornell University and Ithaca College. As such, it's a funky, energetic, lively young city brimming with great restaurants, shops, cafés, and things to do.
But it is also known for its stunning nature offerings, from Cayuga Lake to the more than 150 waterfalls in the surrounding region. It's a short trip to Taughannock Falls State Park, which has the highest single-drop waterfall in the eastern United States. It plummets from a lofty 85 feet. Residents and visitors love hiking the Cascadilla Gorge Trail, which follows a creek past six different waterfalls.
Downtown Ithaca is packed with historic architecture. The liveliest part of Downtown is called the Commons, a pedestrian-only area that is overflowing with beautiful buildings, charming shops, and exciting things to do. In the warmer months, the streets of Downtown come alive with festivals, live performances, events, and art displays.
Ithaca is worthy of a visit all on its own, but if you're visiting Watkins Glen, it makes the perfect opportunity to get a taste of everything offered nearby.