16 Best Lakes in New York
We may earn a commission from affiliate links ()
New York State boasts some of the most beautiful and varied topography in the United States. Stretching from the Atlantic Ocean to the Great Lakes, this East Coast gem is chock full of rugged mountains, verdant forests, crashing coastline, and winding rivers. The state's shining stars, though, are its vast, sparkling lakes.
From giant, watery wonders spanning two countries (Lake Erie runs well past the U.S. and Canadian borders) to mountain-fringed showstoppers like Avalanche Lake, New York hosts a marvel of lovely lakes begging to be explored.
Whether you're hoping to swim, fish, paddleboard, kayak, ice-skate, or master water-skiing, New York is home to some of the best lakes on the East Coast.
Not sure where to start your journey? Check out our list of the best lakes in New York. We guarantee you'll find one (or likely many more) to love.
Note: Some businesses may be temporarily closed due to recent global health and safety issues.
1. Chautauqua Lake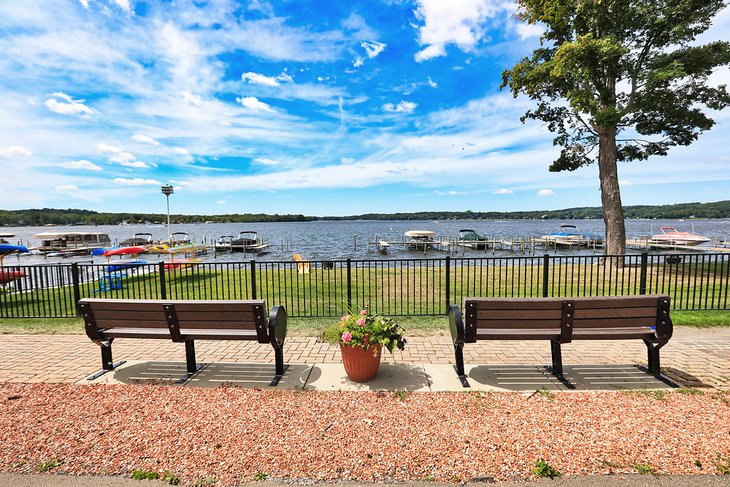 Lying 1,308 feet above sea level, Chautauqua Lake is one of North America's highest navigable lakes. Running 17 miles in length, this lake offers visitors a ton of space to explore its watery depths. With four public swimming beaches, there are also plenty of sandy spots to spend your day.
If you love to fish, you've come to the right place. Chautauqua Lake is known for its great bass, muskellunge, and walleye fishing, with angling tournaments held here annually. Rent a boat (motorized or not) at one of the nearby marinas. You can launch boats from public launches at Prendergast Point, Bemus Point, and Long Point State Park, as well as Mayville Lakeside Park and Lakewood.
The area's most popular attraction is Chautauqua Institution, a not-for-profit educational center that becomes abuzz in the summer months. Study courses in the arts, religion, and recreation. Or attend one of the numerous performances ranging from opera to dance to theater.
2. Lake George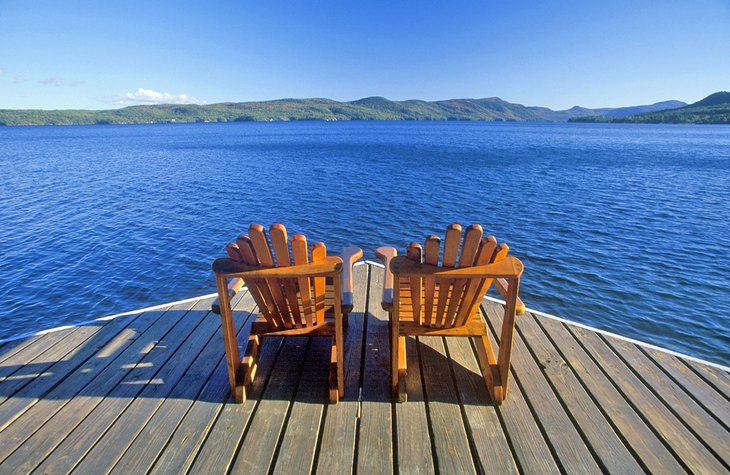 Lake George wasn't nicknamed the "Queen of American Lakes" for nothing. A magnificent beauty spanning 44 square miles, this sparkling expanse highlights the towering Adirondack Mountains. Talk about a gorgeous backdrop for photos.
Outdoor enthusiasts will be happy here year-round since there are so many activities to choose from. Boating, biking, fishing, swimming, and water sports help make this the best lake in New York for summer fun. During the cooler months, white water rafting tops the list, as do horseback riding, hiking, cross-country skiing, snowshoeing, snowmobiling, and skating.
Hop in a boat (a canoe or sailboat will do) to gawk at Millionaire's Row, the incredible stretch of shoreline spotted by magnificent mansions.
Insider's tip: Aim to visit Lake George during one of the region's popular festivals. The Lower Adirondack Regional Arts Council (LARAC) Arts Festival is usually held in June in nearby Glens Falls. In August, you can catch the annual Lake George Music Festival, while the Lake George Winter Carnival Festival is another, much colder draw.
Accommodation: Top-Rated Resorts in the Adirondacks
3. Lake Champlain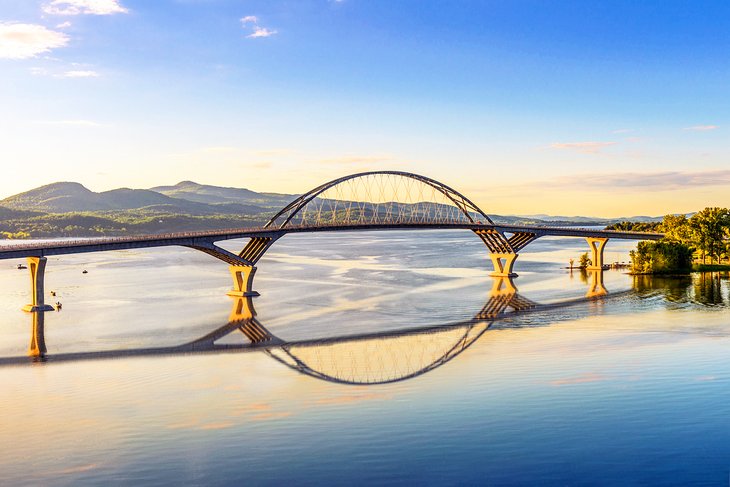 Nestled serenely between Vermont's Green Mountains and the Adirondacks, Lake Champlain is a must-see for those traveling to upstate New York. In addition to being a scenic masterpiece, this lovely spot is filled with fish. We're talking over 80 species in a lake that is up to 400 feet deep. You're welcome anglers!
Hugging over 500 miles of shoreline, this vast lake offers visitors an endless number of activities to keep them happy and occupied. Hike some of the over 40 miles of Champlain Area Trails, set up camp at a local campground, clamber through the impressive Ausable Chasm, or splash about in the cool lake water.
This is one of the cleanest lakes in the region and one of the best lakes in New York for swimming.
4. Avalanche Lake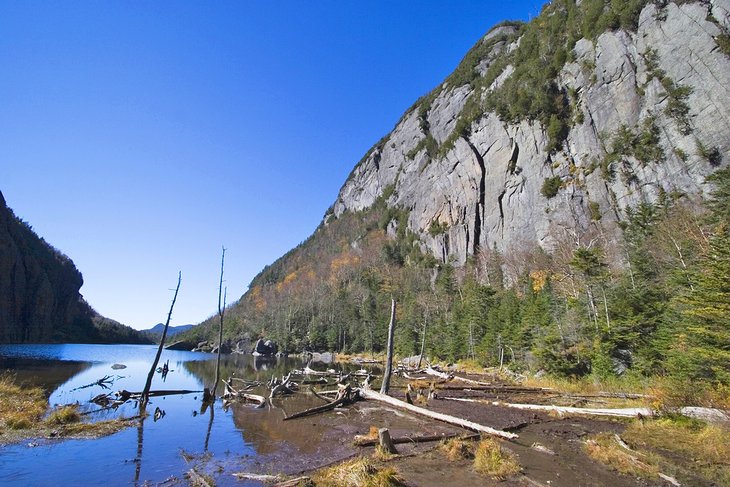 If you're looking for rugged beauty, you'll find it at Avalanche Lake. Another stunning spot in the Adirondacks, this lake was named after the area was hit by an avalanche in the 1800s. It sits rather high up in the Adirondack High Peaks, at an elevation of over 2,880 feet, between towering Mount Colden and Avalanche Mountain.
You'll have to hike to Avalanche Lake, which makes the camera-ready view even more amazing. Adventurous types choose the trails from nearby Lake Placid. They can cover anywhere from 10 to 12 miles there and back. The Trail of the Cedars is particularly captivating. Expect to see (and possibly climb over) giant boulders and verdant forest along the route. Marcy Dam is a highlight.
Insider's tip: If you're hoping to spend the night, book your campsite early, as the spots fill up quickly during the summer.
5. Cayuga Lake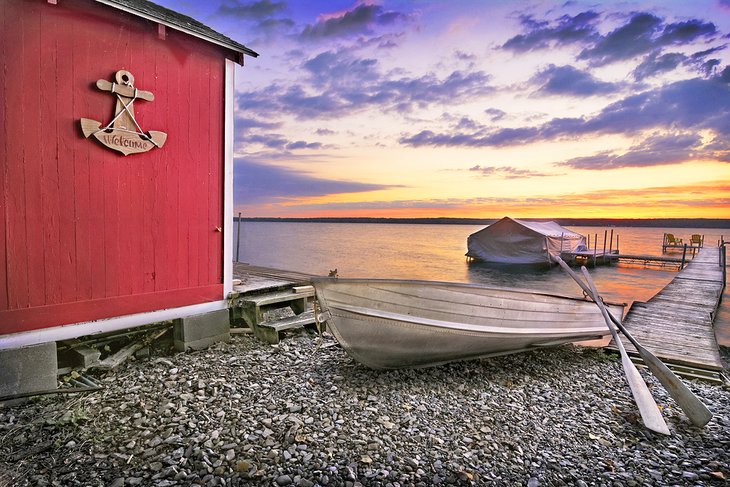 Long, long ago, glaciers formed yet another beautiful water source. This one was named Cayuga Lake, and it lay in the lovely Finger Lakes region. The longest Finger Lake, Cayuga is also the second deepest. It is famed for hosting activities such as boating, sailing, swimming, and fishing, but it's also well known as the lake that wades into Ithaca's shores.
This long lake measures nearly 40 miles, presenting visitors with an ample amount of space to get lost in. Don't worry, there are a ton of access points along the shore.
Not comfortable boating? Book a fishing charter or boat cruise in Allan H Treman State Marine Park or Ithaca. Or rent a pedal boat, SUP, canoe, or kayak. Whatever you do, don't miss the sunset. It's glorious!
6. Oneida Lake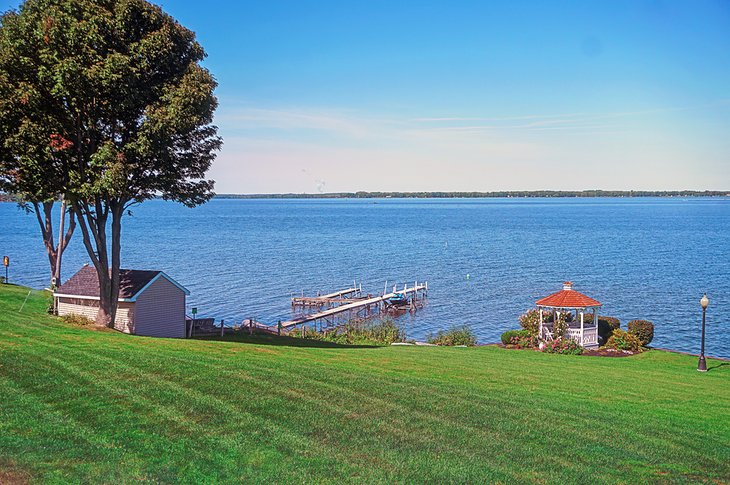 Oneida Lake has an edge over the other, larger beauties in New York. At 21 miles long, it is the largest lake to lie entirely within New York State's boundaries. A mere 30-minute drive from Syracuse, one of the best cities in New York State, Oneida Lake is a great day trip destination.
The lake provides everything you'd expect, like swimming, fishing, skating, and boating. Plus, its shallow depth makes it a hot spot (literally) for families visiting during the summer.
When it's time to eat, or take a break from the sun's intense rays, head to nearby Sylvan Beach. Here, you'll find a wide selection of shops and restaurants, not to mention an amusement park.
7. Skaneateles Lake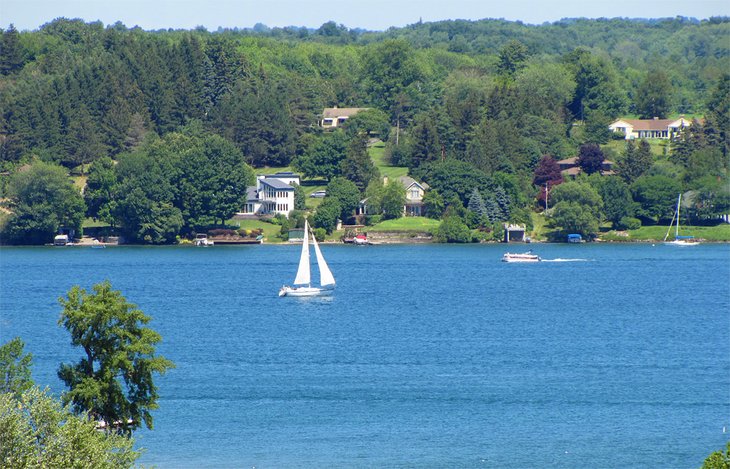 One of the cleanest lakes in New York state, Skaneateles Lake supplies the drinking water for nearby Syracuse. A sparkling gem surrounded by historic homes and larger mansions with sprawling lawns, Skaneateles will give your camera a real workout. And its main village, Skaneateles will provide the small-town charm you never knew you'd been craving.
Pronounced "skinny-atlas" or "skanny-atlas," this pristine lake is known scientifically as an oligotrophic. That means the lake has low levels of nutrients, which helps prevent overgrowth of algae and other vegetation.
As clean as it is, Skaneateles Lake is one of the best lakes for swimming in New York. It's also a great place to canoe, fish, or do any of the other fun water sports you love.
Insider's tip: Treat yourself to a night (or three) of luxury at the Mirbeau Inn & Spa Skaneateles.
8. Lake Erie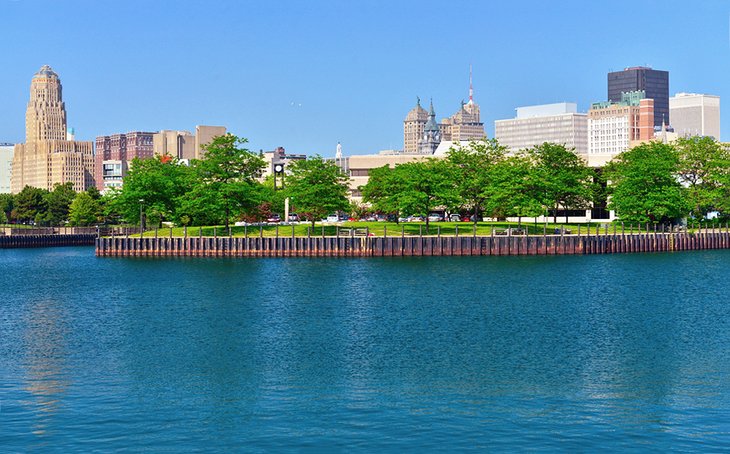 Did you know that Lake Erie is the 11th biggest lake in the world? Measuring more than 9,900 square miles in surface area with another 30,000 square miles below ground in a drainage basin, this whopper is the fourth largest of the Great Lakes.
Multiple ships have sunk in these waters over its 4,000-year-old history, making Lake Erie one of the best diving destinations in New York State. Above the surface, visitors enjoy the regular water activities, like boating, fishing, swimming, and kayaking. In the winter months, skating, cross-country skiing, ice fishing, and snowmobiling take the place of summer hobbies.
Looking for a fun spot to spend the day? Check out Lake Erie State Park. It boasts campsites, a sandy beach, playground, disc golf course, and multiple trails.
9. Canandaigua Lake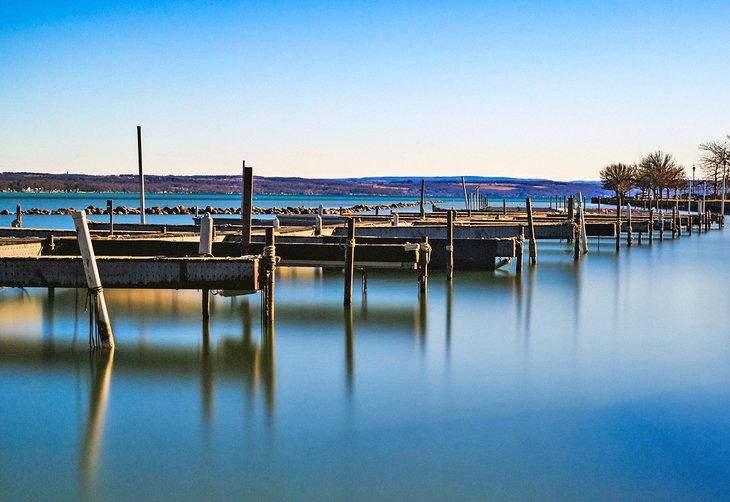 Visit beautiful Canandaigua Lake in the height of fall, and you'll find it extra hard to leave. Vibrant red, yellow, and orange hues brighten the already dazzling region, which is expertly highlighted by the lake's vivid blue water. No wonder its name translates to "The Chosen Spot."
Covering 16 miles in length and one mile widthwise, this lovely lake is a source of drinking water for nearly 70,000 residents of the nearby city, Canandaigua. The lake also boasts one island, named Squaw, which is one of only two isles in the Finger lakes region. Rent a canoe, kayak, or water cycle for a closer look at this pretty little spot.
Along the lake's northern shore, you'll find impressive homes and cottages, many as grandiose as those found on Lake George's Millionaire's Row. At the south end lies Naples, a village bursting with natural beauty (including hidden waterfalls and steep, craggy hills).
Insider's tip: Take a ride on the Canandaigua Lady, a replica of a 19th-century paddleboat.
10. Great Sacandaga Lake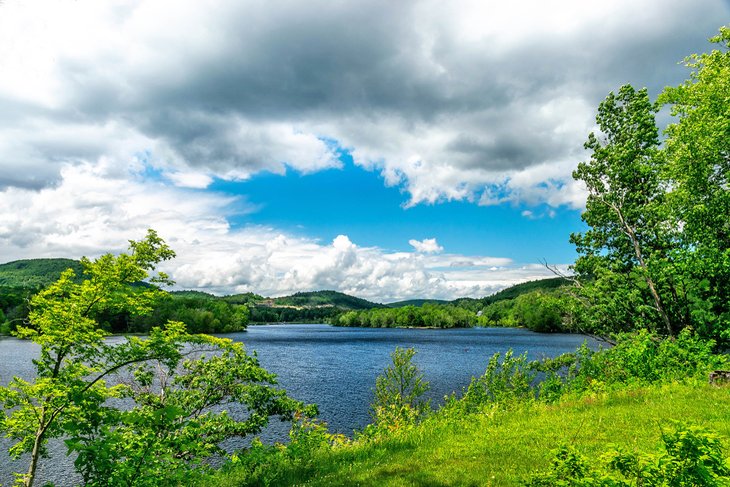 Technically a reservoir, Great Sacandaga Lake is less popular than its larger, more showy counterparts, and the locals would like to keep it that way. A hidden gem filled with exquisitely clean, clear water and surrounded by tall reaching forests, this 29-mile-long haven is a tranquil utopia.
That doesn't mean you can't enjoy the peaceful water. Boating, fishing, swimming, water sports (and in the winter, skiing, skating, and snowmobiling) are practiced often. There are even four on-site boat ramps. But you should do so without telling too many people, so it doesn't get too crowded. So, shh!
When you've finished with the lake, head into town for a bite to eat and a wander down the adorable streets filled with boutique shops and small museums.
11. Canadice Lake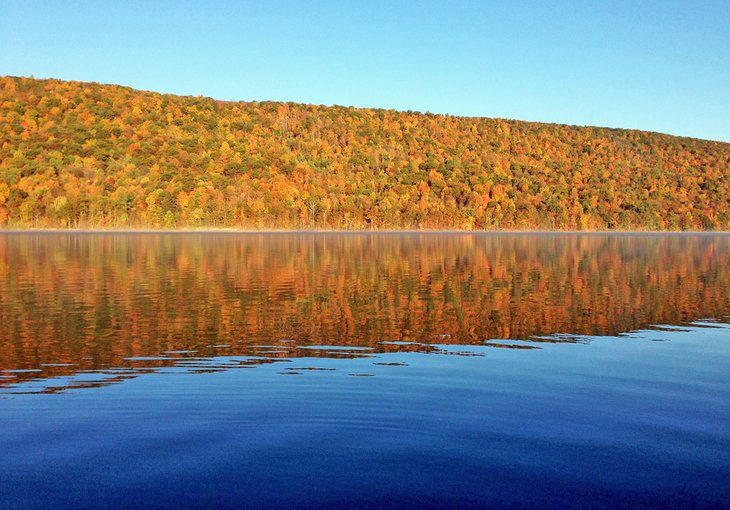 If you're hoping for a swim, you'll have to look further afield than Canadice Lake. It's a protected area (mainly due to its use as a supplier of drinking water for nearby Rochester), so swimming and camping are prohibited at this Finger Lake. You won't find homes along its shores, either.
A tiny lake (it measures just under 1.8 miles), Canadice Lake is a welcome respite for those hoping to while away a day fishing in silence. The lake is surrounded by nothing but trees and wilderness, a perfect combination for anglers.
There are so many trout swimming about that you're bound to get lucky — the New York State Department of Environmental Conservation restocks them each year. More good news: boating and hiking are also permitted here.
12. Seneca Lake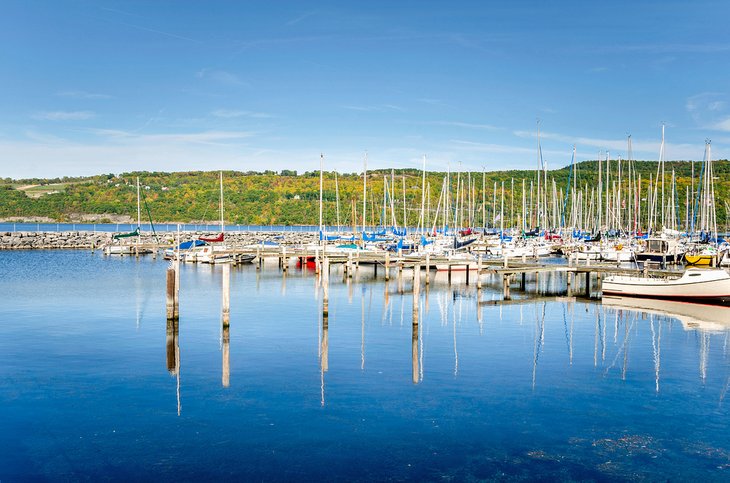 Holy trout! This massive lake, the largest of the Finger Lakes and the deepest lake (it reaches over 600 feet) in New York State, is literally jumping with fish. While trout are the golden ticket for those hoping to reel one in, you'll also find yellow perch and smallmouth bass in these clear waters.
Speaking of water, the best way to explore Seneca Lake is to get above its surface. Rent a kayak, canoe, or paddleboard. Head out in a motorized boat or sail your way across its sparkling waves. No matter how you choose to experience this lovely lake, you'll be happy you did.
Take time to enjoy a meal in quaint Geneva (in the north) or adorable Watkins Glen (in the south). You'll find shops galore, as well as friendly locals willing to point you in the direction of their favorite eateries.
13. Owasco Lake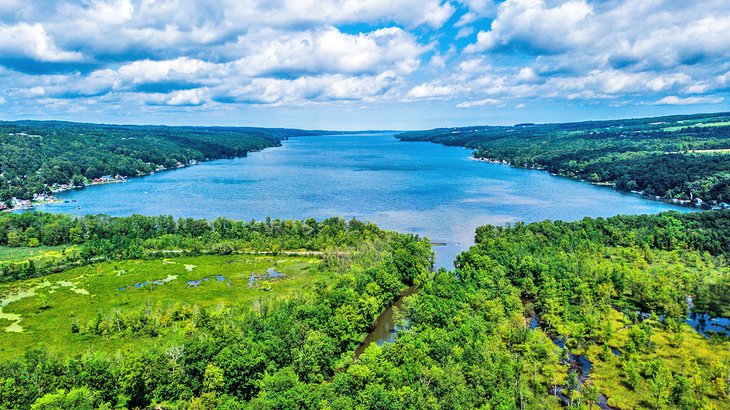 Sick of jumping into cold water? Head to Owasco Lake. Shallower than other lakes on this list, Owasco offers warmer waters to tempt your toes. In fact, it's been deemed one of the warmest lakes in New York state, making it a perfect place to partake in water-based activities. Its temperate conditions have attracted visitors from across the globe for almost 200 years.
At 11 square miles, Owasco Lake is the smallest of the main Finger Lakes, and the nearest city is Auburn, where you'll find homes that once belonged to William Seward and Harriet Tubman.
Filmore Glen State Park lies at the lake's south end, offering hiking trails around rushing waterfalls, a stream-fed swimming pool, and campsites. At the north end, you'll find Emerson Park, where visitors love to swim and catch a performance at the Merry-Go-Round Theater.
14. Lake Placid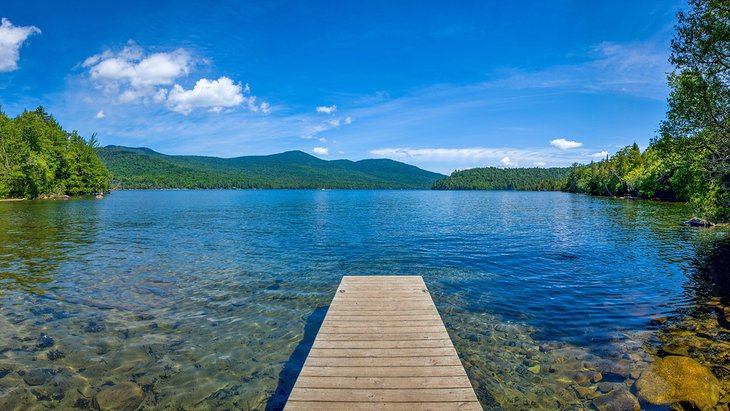 You'll never forget the first time you see Lake Placid, especially if you were lucky enough to visit during the colorful autumn months. A luminous lake nestled in the Adirondacks, this natural wonderland will make your worries vanish. Swim, fish, boat, cross-country ski, or skate across its vast expanse and the proverbial "all" will be right with the world.
You can't escape Lake Placid's Olympic connection, no matter how hard you may try. The town is a living museum to its role as two-time host to the famous games — in 1932 and 1980. You'll find an Olympic Jumping Complex, the Olympic Center, and an Olympic Sports Complex within the city's borders.
15. Black Lake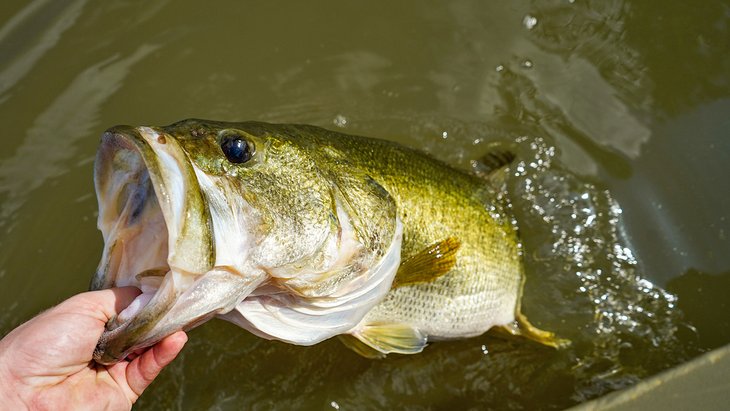 You won't be alone on Black Lake — it's one of the best fishing lakes in New York state. Anglers head to this quiet spot in all types of weather, hoping to hook a perch, crappie, bass, or bluegill. Let's be honest, they'd be happy to catch just about anything!
Located in upstate New York, about two hours north of Syracuse, Black Lake is a freshwater lake formed by glaciers many, many years ago.
Not an angler? No worries. The area surrounding the lake boasts plenty of other entertainment options. Shop in the local stores, grab a bite at a local restaurant, or jump in for a swim. You can even book a round of mini golf with the kids.
16. Greenwood Lake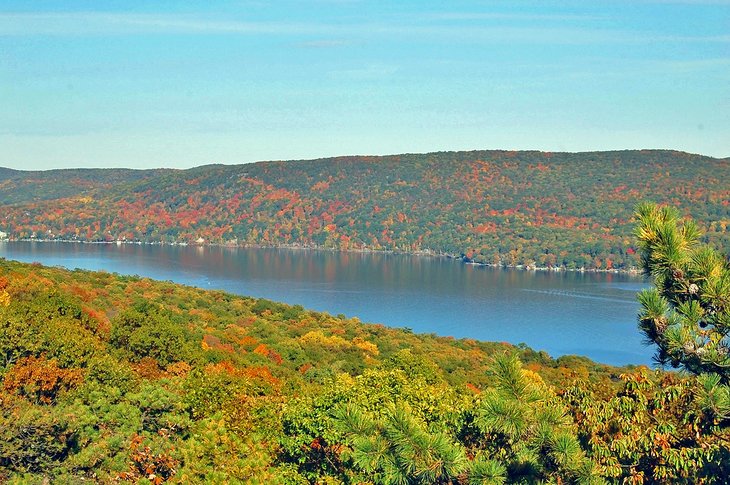 Half of this freshwater lake lies in Orange County, New York while the other half resides in New Jersey. Boasting clean, clear water, Greenwood Lake is fed by springs and brooks. Along its shores lie shops, restaurants, and marinas, with a small town, also called Greenwood Lake, resting upon its northeastern edge.
Popular summer sports include swimming, water-skiing, SUPing, kayaking, canoeing, jet skiing, boating, and fishing. Greenwood Lake Public Beach and Sand Beach are two of the lake's best strands, perfect for a full day out.
Insider's tip: Head to Thomas P. Morahan Waterfront Park to enjoy disc golf, a playground, and walking trails, among other fun things to do. When the weather turns cold, lake visitors spend time skating, sledding, ice fishing, and trying not to slip while walking across its bumpy, frozen surface.
More Related Articles on PlanetWare.com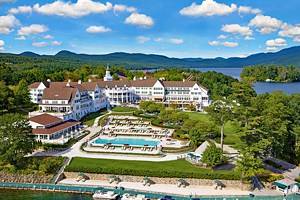 Where to Stay in New York: With so many options, it can be tough to decide where to stay in New York. We've helped narrow your search with these top resorts in New York State. Heading farther north? Check out these incredible resorts in Upstate New York, or you can choose to stay at one of these popular (and comfy) hotels located in the Adirondacks and Catskills.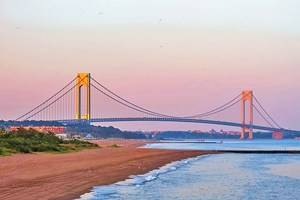 More Things to Do in New York: The best place to visit in New York is Manhattan, hands down. It's here that you'll find insane shopping options, delectable food, and awe-inspiring museums. Limiting your trip to New York City, though, would be a mistake. Check out these amazing (and gorgeous) cities in New York State, and while you're at it, why not hit the beaches near NYC?