7 Best Places to Go for Christmas
We may earn a commission from affiliate links ()
The Christmas season is the perfect time to explore new places and create new holiday memories that will last a lifetime. It's an exciting time of year filled with cheer, goodwill, and an extra helping of effort to make everyone feel special. Cities and towns around the world string up lights and spruce up the loveliest spots they have to offer, leaving each destination looking its very best.
Christmastime is also the best time of year to do some serious shopping, and the tradition of open-air Christmas markets is not limited to Europe. From Germany to New Mexico, artists, craftsmen, and purveyors of the unique and special present their goods for Christmas shoppers looking for gifts for family, friends, and even themselves.
Whether you are looking for a peaceful holiday getaway or an activity-packed Christmas experience, there is something for everyone in our list of the best places to go for Christmas.
1. New York City, USA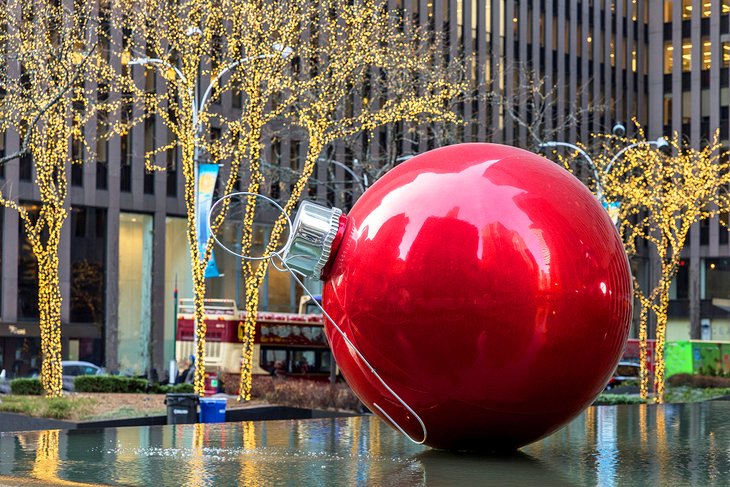 For a larger-than-life Christmas getaway, New York City is the place to be. The Macy's Thanksgiving Day Parade kicks off the season every year, prompting residents, businesses, and the city to deck the halls and the streets with holiday cheer.
The city's most iconic Christmas time landmark is the Rockefeller Center Christmas Tree, decorated with thousands of lights and ornaments. It has been a tradition since its first lighting in 1931 and is now one of the most photographed holiday landmarks in the world. As important a tradition as the tree itself is the skating rink below, the setting for many a romantic Christmas scene. Just around the corner, tourists can visit Radio City Music Hall and see the Rockettes Christmas show.
The shops within the Rockefeller Center are a great starting place for viewing some of the city's most elaborate window scenes, with plenty of high-end stores along 5th Ave, Madison Ave, and Park Ave. Among the most impressive are displays at Saks Fifth Avenue, Louis Vuitton, and Burberry.
While in the neighborhood, be sure to visit St. Bartholomew's Church and St. Patrick's Cathedral. Just a couple of blocks in the other direction is Times Square, where the giant screens and wide streets are alive with festive images.
Bryant Park is another famous landmark during the holidays, home to the Bank of America Winter Village, which also has a skating rink, as well as Christmas markets. The rink is free to enter, and skates can be rented on-site. Some residential neighborhoods also get in the holiday spirit to the extreme, and Brooklyn's Dyker Heights residents decorate the neighborhood so beautifully each year that there are tour buses dedicated to seeing the lights.
Accommodation: Where to Stay in New York City
Read More:
2. Prague, Czech Republic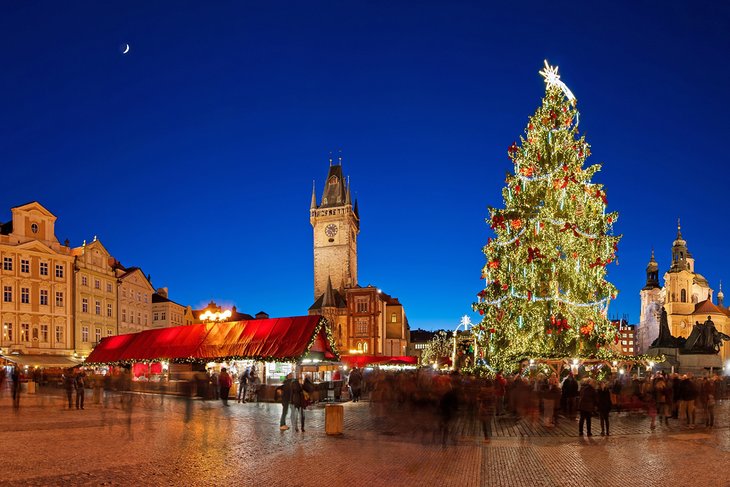 One of the world's most beautiful cities any time of the year, Prague lights up with a warm holiday glow like no other European city as the old Christmas traditions come alive. The city is best known for its Christmas markets (Vánocni trhy), which are among the best in Europe, but community events are held throughout the city, and the spirit of the season is in every corner.
Prague's Christmas markets are known for both their size and their long season, typically opening for the last full week of November (before the U.S. Thanksgiving holiday) and operating through the first full week of January. The biggest of the markets sets up in the Old Town (Staré Město) square, presided over by a massive tree that is lit each evening. This market is home to hundreds of stalls filled with handcrafted items like carved trinkets and toys, glass ornaments, clothing, and decorative items.
The market is also home to plenty of food vendors, too, and this is the best place to find fresh-made Czech favorites like spiced gingerbread (pernicky) and trdelnik, a sweet and nutty grilled pastry. While Prague is quite chilly this time of year, tourists can keep warm with a variety of warm beverages while watching the carolers and performers throughout the market.
Travelers who prefer smaller crowds and less expensive lodgings can wait to visit in the first week of January, when the markets are still open but the bulk of the tourists have gone home. In addition to the main market, there are smaller but equally fun markets set up in Wenceslas Square, as well as the Stables Yard and St. George's Square, which are both located at Prague Castle.
The markets are a great place to hear choruses of carolers, but the city's old churches are also a wonderful place to visit at Christmas time. Within the dramatic setting of old Gothic cathedrals, tourists can enjoy concerts during Advent from the beginning of December through Christmas day. Perhaps the most picturesque Christmas concert venue of all is the stunning Klementinum, home to a stunning Baroque library.
Accommodation: Where to Stay in Prague: Best Areas & Hotels
Read More:
3. Nuremberg, Germany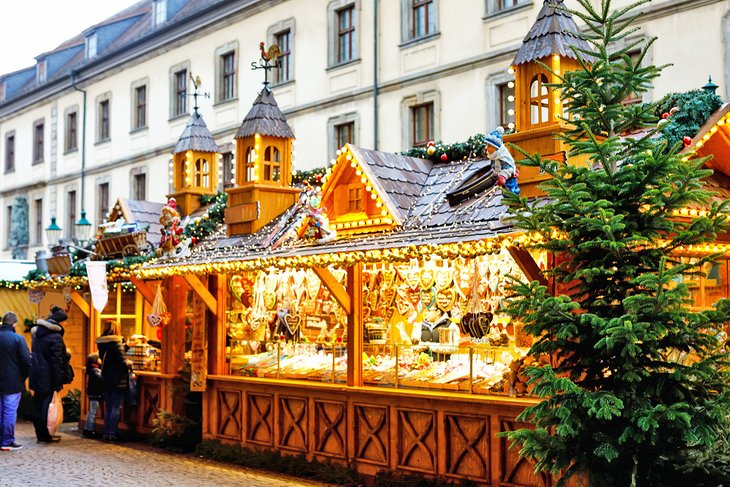 This huge event in the Bavarian city of Nuremberg sets the bar high for Germany's Christmas markets, and is filled with not only shopping but activities for young and old. Operating since the 1500s, this is one of the oldest holiday markets and certainly one of the very best in Europe.
The Christkindlesmarkt (Christmas Market) takes place in the Hauptmarkt, a huge square flanked by medieval buildings, including the 14th-century Frauenkirche, a stunning and imposing Gothic cathedral. The market's opening ceremonies take place on the Friday before the first Sunday of Advent, commencing with a visit from the Nuremberg Christkind, the angel who brings children gifts at Christmas.
Tourists will find a huge variety of gifts among the two hundred or so stalls that set up here, including classic Christmas staples like hand-carved nutcrackers, hand-knit mittens, and a myriad of fragile ornaments.
In addition to arts and crafts, there are vendors with artisanal foods, as well as traditional German Christmas treats. Although you will find it in other markets throughout Germany, this is the home of the most authentic Nürnberger Lebkuchen, a traditional gingerbread that embodies the Christmas season.
The festive atmosphere is made even more special by the ornate and brightly lit two-tiered carousel that delights both children and adults. Part of the kinderweihnnacht (Children's Market), it is the centerpiece of a special section made just for kids, which also has a kiddie train and craft stations where kids can make their own gifts. There is also a kid's cultural program that includes events for English-speaking kids.
Accommodation: Where to Stay in Nuremberg
Read More: Top Attractions & Things to Do in Nuremberg
4. Quebec City, Canada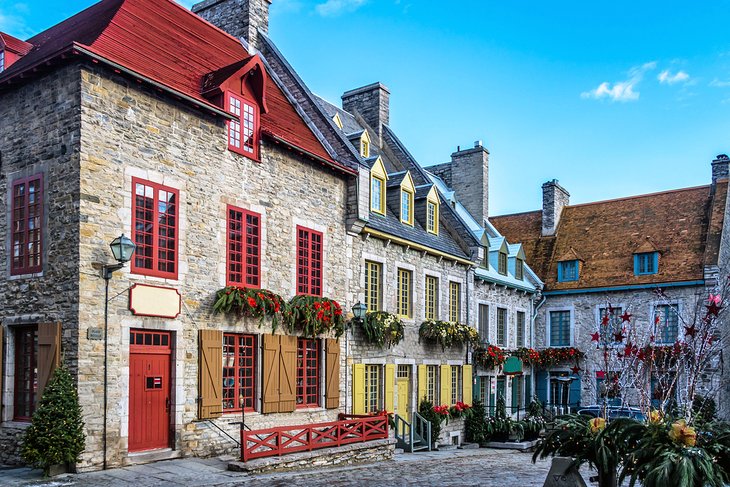 Quebec City's picturesque Vieux-Québec (Old Quebec) is the perfect setting for an idyllic white Christmas. Evergreens and twinkling lights cheerfully adorn window sills and rooflines, and a generous dusting of snow makes it just a bit brighter on an evening stroll through the narrow streets. Each December, this historic part of the city is transformed into a Christmas village dotted with nativity scenes and cheerful decorations.
Despite the city's French Heritage, Old Quebec hosts a traditional German Christmas Market, with almost 100 vendors selling handmade gifts, artisanal specialty foods, and lots of goodies to keep you full and warm, from Bratwurst to gingerbread. The market is also full of free entertainment, including carolers and street performances. There is plenty for kids, too, including a visit from Santa and a Kindermarkt, the children's market that has activities and interactive entertainment.
Those who are looking for a little old-fashioned adventure can visit the Château Frontenac, a beautiful historic hotel that overlooks the city. In addition to its stunning Christmas decorations, the hotel has a toboggan run that allows the wooden sleds to reach over 70 kilometers per hour. If you can take your eyes off the path ahead, there are excellent views of the city below from the track. There is also ice-skating at the Place D'Youville, and snowshoeing and skiing at Sentier des Caps de Charlevoix.
Accommodation: Where to Stay in Quebec City: Best Areas & Hotels
Read More: Top-Rated Tourist Attractions in Québec City
5. Vienna, Austria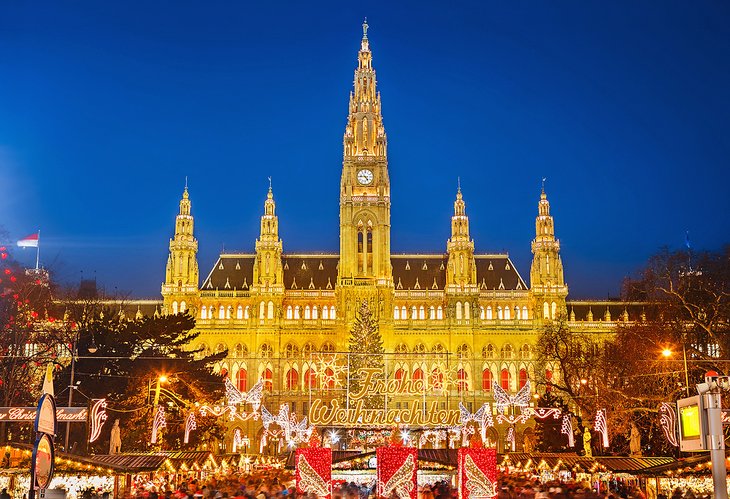 Vienna hosts some of the best Christmas markets in Europe, popular for their size, variety, quality, and picturesque settings in front of the city's most recognizable landmarks. Tourists visiting Vienna at Christmas will bring home plenty of stunning photos in addition to the fine handcrafted gifts and warm memories.
Rathauspark is home to the best family Christmas market, occupying the square in front of the Rathaus (City Hall). The façade of the Gothic building is lit with shimmering lights, and a giant 30-meter evergreen stands in the square looking over the bustling festivities below. In addition to the many vendors offering handmade gifts, food, and warm beverages, there is also a skating rink and a carousel. There are also areas set up for younger visitors to try their hand at making traditional crafts to bring home as gifts.
The area around Karlskirche is known for its living nativity scene and local crafts vendors, while the market at Maria-Theresien-Platz is set up to look like a small village with "cabins" for each. The market at the foot of Belvedere Palace is small but unforgettably beautiful. All the markets feature live music, from small bands of carolers to larger choruses and performances. Vienna's many fine churches also host regular choral performances throughout the season
Accommodation: Where to Stay in Vienna: Best Areas & Hotels
Read More: Top Things to Do in Winter in Austria
6. Stowe, Vermont, USA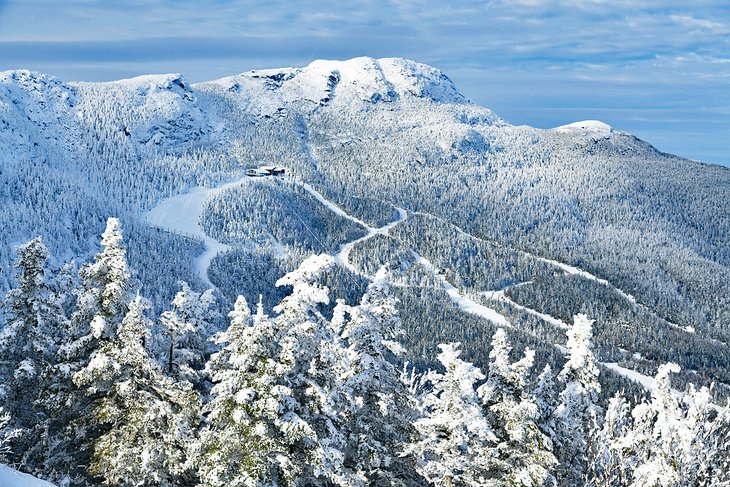 If you are craving a picturesque New England white Christmas, the cozy town of Stowe is the ideal place to savor some down time at the holidays. This small Vermont town puts every effort into decorating Main Street with festive window dressings, holiday lights, and fresh evergreen boughs galore. This holiday spirit just enhances the already photogenic town, which is home to a spired white church and a lovely covered bridge.
Throughout the Christmas season, there are special activities planned for all ages, including visits with a jolly Santa and even public caroling. The downtown area is a lovely place to wander, with several local eateries to sample, shops to peruse, and galleries to admire. Visitors can also have a more active holiday at Stowe Mountain Resort, one of the best ski resorts on the East Coast. The resort at Mt. Mansfield offers not only downhill skiing but also cross-country, snowshoeing, tubing, and ice-skating.
Couples looking for an adults-only romantic Christmas getaway in Stowe will love the Stone Hill Inn, a luxury B&B that offers a fresh-cooked three-course breakfast every day and services including in-room massage.
Families and those looking for a more down-to-earth B&B experience will love the Brass Lantern Inn, which is housed in a brick farmhouse that was built in 1810. Both lodgings offer in-room fireplaces, whirlpool tubs, and the idyllic setting for a traditional New England Christmas.
Read More: Top-Rated Tourist Attractions in Vermont
7. Taos, New Mexico, USA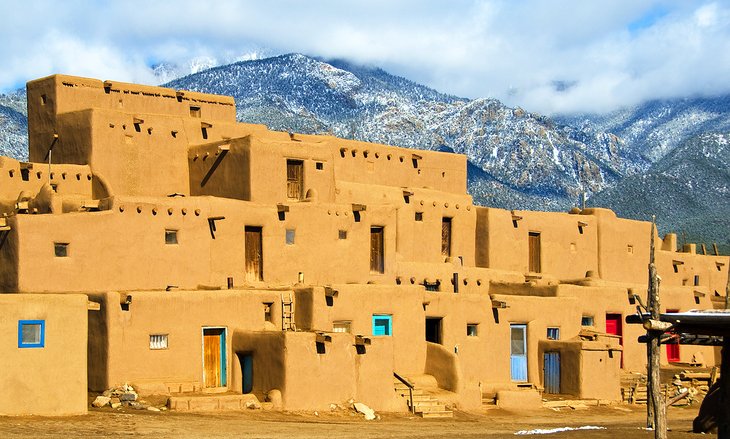 New Mexico is certainly not the first place that typically comes to mind when you think of a Christmas holiday getaway, but it is the unique setting that makes Christmas in Taos so very special. A celebration of the diverse blend of cultural heritage within Taos, holiday activities here combine the traditions of all with classic Christmas staples like Santa Claus and hot cocoa by the fire.
Festivities kick off with the tree lighting ceremony in Taos Plaza, typically held the first Friday night of December. After the lighting, families can enjoy yuletide caroling and visits from Mr. & Mrs. Claus, along with endless cookies and hot chocolate.
The following night is the Lighting of Ledoux, a street fair of sorts held on Taos' historic Ledoux Street. Local shops and galleries are open late, and participants congregate around warm fires. Later in the month, Bonfires on Bent Street keeps the holiday spirit warm with more bonfires, farolitos (luminarias), and dancing, as well as caroling and lots of food.
Kids get their own Christmas season kickoff, too, at the Holiday Fiesta, hosted by the Millicent Rogers Museum. Santa visits again for photo ops, and there are craft activities, face painting, and performances for young audiences.
Twirl Play and Discovery Space also host a kids' night, when Santa brings his elves and lots of goodies, and the community center also hosts kids' craft nights, where they can make gifts to bring home for family members.
Music lovers will not want to miss performances by the Taos Chamber Music Group. Held at the Harwood Museum of Art, the Return to Russia Holiday Concerts highlight the heritage of the Russian community in Taos.
Christmas Eve has its own set of special events, starting with a procession at Taos Pueblo. Within the setting of the thousand-year-old native buildings, the Procession of the Virgin is lit by bonfires and announced by rifle salutes.