From New York City to Washington, D.C.: 5 Best Ways to Get There
We may earn a commission from affiliate links ()
Travelers have a plethora of options for traveling from New York City to Washington D.C. From a quick flight or a leisurely train or bus ride to an organized tour, you have your pick of choices. The nation's capital is located 230 miles southwest of the Big Apple, and it's worth adding a weekend trip to your New York City vacation to explore D.C.'s monuments, museums, and capital buildings.
Various transportation methods between the cities have both pros and cons. To help you figure out the best way to travel from New York City to Washington D.C., we've put together five ways, with advice on the most affordable, the quickest, and the best tour.
Note: Some businesses may be temporarily closed due to recent global health and safety issues.
1. From New York to Washington D.C. on a Day Trip Tour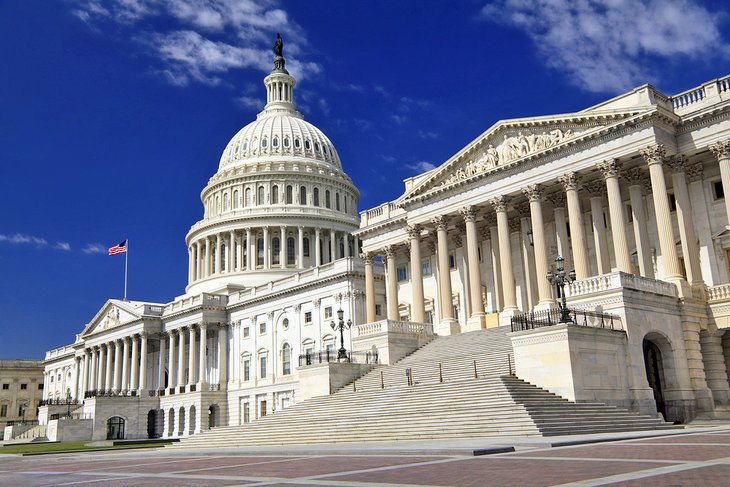 An organized tour is one of the best ways to explore the country's capital, giving you peace of mind if you are traveling alone, want a guided experience, or you want to see the sights without the hassle of planning everything on your own. Best of all, you can do it all in just a day. The Washington D.C. Day Trip from New York City tour from Viator takes care of all the logistics, so you can relax and enjoy the vibrant city with a group.
The trip brings participants in a minivan or bus and passes by landmarks such as the White House and the Capitol Building. It makes stops at Arlington Cemetery (where JFK is buried) and the Smithsonian National Air and Space Museum, one of D.C.'s top attractions. Stop by the Vietnam War Memorial, Korean War Veterans Memorial, Washington Monument, and the Lincoln Memorial before making your way back to New York. Enjoy Wi-Fi onboard the vehicle. Depart New York City from 8th Avenue, between 47th and 48th streets, and return to the same spot.
2. From New York to Washington D.C. by Train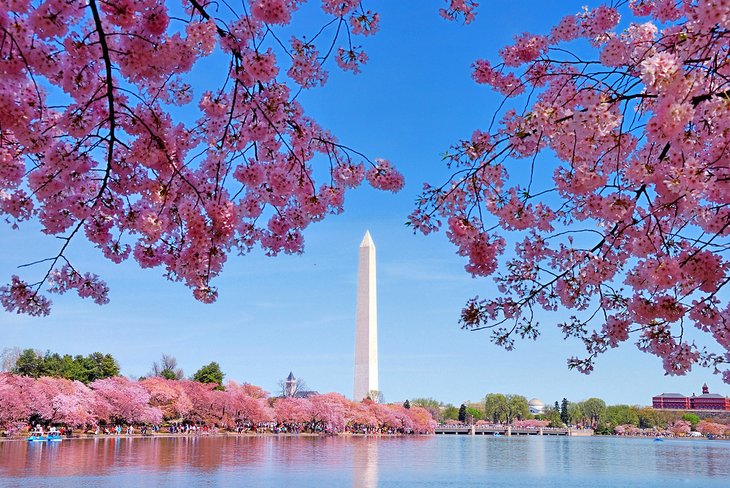 Clocking in just around three hours, the high-speed Acela Express train by Amtrak brings you to D.C. in one of the most efficient ways, so you can have more time to enjoy the capital city. Catch the train at New York City's Pennsylvania Station, known as Penn Station, located in Midtown, to D.C's centrally located Union Station. Trains operate regularly from early morning to 10pm. Amtrak recently introduced the Acela Nonstop to D.C., so you can make your way faster than ever on the train.
The Acela train offers Business and First Class options, and passengers can take advantage of Wi-Fi, large tray tables, power outlets, and conference tables during the trip. The train has a Cafe Car, and First Class passengers get an at-seat meal, complimentary beverages, hot towel service, and a chance to board early and access the station lounges.
The Amtrak Regional Service trains add just a half hour more to the commute, and you can reserve your reclinable seat ahead of time in a Wi-Fi-equipped, air-conditioned car. Upon arrival, you can take the Metro, or an Uber or Lyft car to get to your hotel.
3. From New York to Washington D.C. by Car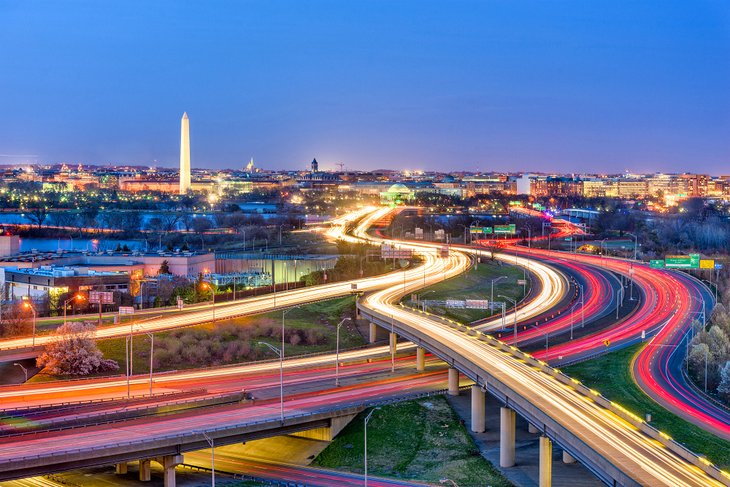 Whether you are renting a car or have your own, driving to D.C. from New York can be accomplished in just around four hours, longer during weekends and the winter months.
Take the New Jersey Turnpike South and Interstate 95 South through New Jersey, Pennsylvania, Delaware, and Maryland to get to the capital city. To reach the New Jersey Turnpike, either take the Holland or Lincoln Tunnels or the George Washington Bridge. Avoid rush hour for a quicker ride and use apps like Google Maps or Waze for the best route.
Closer to the city, you will catch the Baltimore-Washington Pkwy, which tends to experience slow downs. Avoid congestion on the Baltimore Washington Parkway by setting your GPS to avoid highways, so you can use side streets to reach your destination sooner.
While driving gives you more freedom to get around, keep in mind that parking can be hard to find in the city. However, if your hotel is located in the suburbs of D.C., driving will give you more flexibility and a chance to leave the car behind and catch the Metro to see the sights. If you are renting a car, best to do so at the Newark International Airport to avoid tolls to get out of NYC.
4. From New York to Washington D.C. by Plane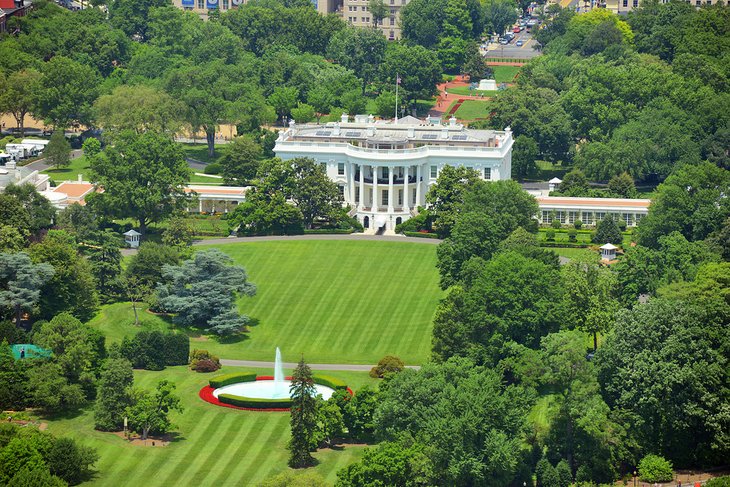 Flying from New York City to D.C. is the fastest way to travel between the cities, with an estimated flying time of just under an hour. Plane fares also tend to be lower than train tickets, making flying a more affordable and efficient way to get to Washington D.C.; although keep in mind that money spent on cab rides to and from airports outside of the cities could add to the cost.
All three of the New York City Airports – John F. Kennedy International Airport, LaGuardia, and Newark International Airport – have regular non-stop shuttle flights to DC airports starting from as early as 6am. United, Delta, and American Airlines have the most direct flights to D.C.
Customers can book flights to either Reagan National, Dulles International Airport in Virginia, or Baltimore/Washington International Airport (BWI) in Maryland. While Reagan National is a short Metro or cab ride from Downtown Washington, plane passengers to Dulles and BWI, both of which are over 25 miles from the city center, can take a shuttle service, cab, or a hired service.
BWI has connections to Maryland's MARC commuter and Amtrak's Regional lines, with free shuttles bringing passengers from the terminals to the train station. It takes approximately 30 to 35 minutes on the train to reach D.C. from BWI.
5. From New York to Washington D.C. by Bus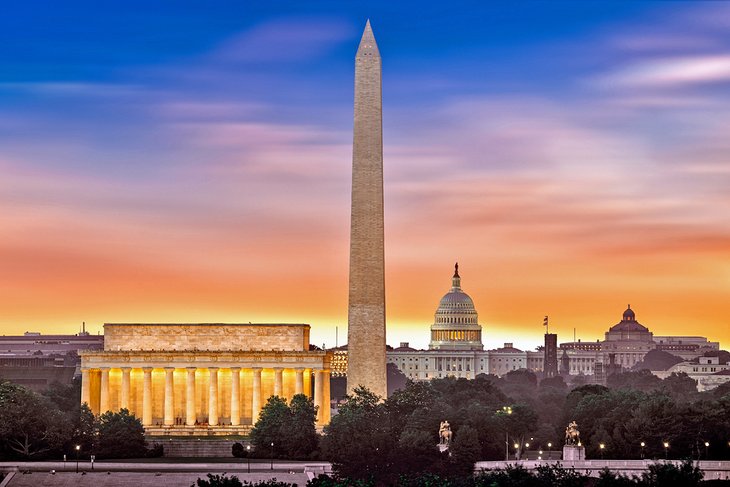 If you've got the time to spare and don't mind a more leisurely way to get to Washington D.C. from New York City, there are a number of bus companies offering competitive prices. Fares are usually the lowest when compared to flying or riding the train.
Popular companies like Greyhound, Megabus, BoltBus, BestBus, and Peter Pan are some companies that offer rides, with the trip taking anywhere from five to six hours as you make your way through Northeastern states to the country's capital.
Greyhound buses depart from Port Authority Bus Terminal, while other busses leave curbside from various locations in New York City to D.C.'s Union Station. BestBus gives customers a free bottle of water upon boarding, and has Wi-Fi, restrooms, and power outlets onboard. MegaBus has reserved recliner seating, free Wi-Fi, and onboard entertainment with Megabus RIDE.
Both Greyhound and BoltBus buses are known to have extra legroom, Wi-Fi, and individual power outlets. Amenities on the PeterPan buses include toilets, standard seating, Wi-Fi, and power outlets.