14 Top-Rated Weekend Getaways from New York City
We may earn a commission from affiliate links ()
The Big Apple is one of the best places to visit in the United States. Overflowing with iconic sights and things to do, New York attracts millions of vacationers. Sometimes, though, the concrete jungle can get to be a bit much – all that noise and hustle and bustle can become draining – causing people to search for a relaxing weekend getaway from New York City.
Luckily, the city that never sleeps is surrounded by picturesque areas offering a more laid-back, natural feel – we're talking soft, sandy beaches; mountain vistas; and sparkling lakes – that make it easy to decompress. Whether you choose to take a bus, train, or drive your own car, most of these gorgeous spots are within easy reach of New York City.
Decide which place to visit first with our list of the top weekend getaways from New York City.
1. The Hamptons, New York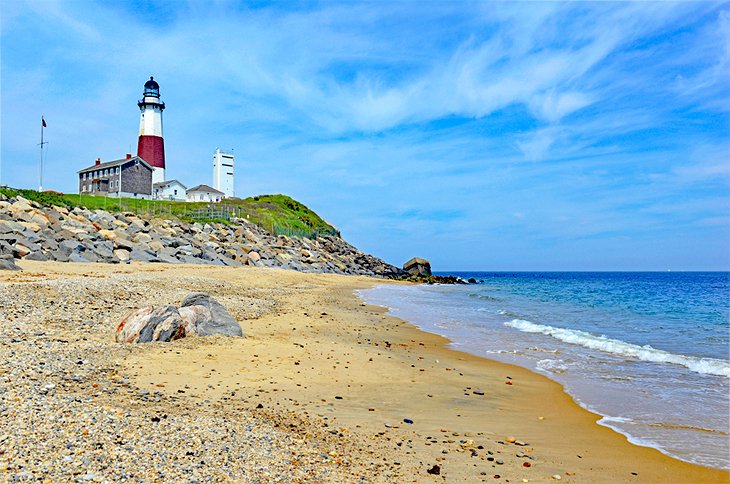 The southern tip of Long Island has a lengthy history as a favorite vacation spot for those wanting to escape the Big Apple and get some quality beach time. This is also a hot spot for celebs looking to improve their tans and chase their kids on the soft sand. This glitzy area offers countless activities in quaint villages, which make up what is known as The Hamptons.
Each hamlet has its own unique personality (and price tag), including Bridgehampton, Montauk, Sag Harbor, Amagansett, and Sagaponack. From quiet retreats and artsy enclaves, to mini versions of a social scene of Manhattan on the Beach, the Hamptons offer something for everyone.
During the busy summer season be prepared for what can be crippling traffic that can turn the short distance into a three-hour drive (or more), especially if you choose to commute from the city on a Friday. However, few will argue that it's not worth the effort.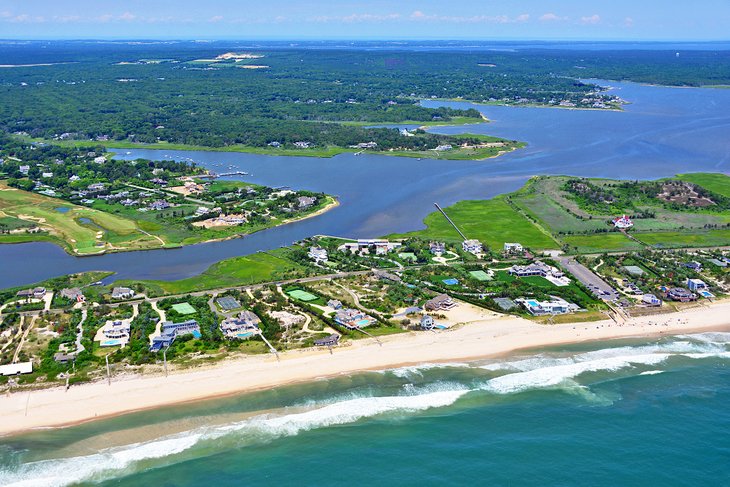 Those with deep pockets can hire a helicopter service to transport them straight to the Hamptons in anywhere from 25 to 65 minutes. Other options include taking a bus or driving yourself. No matter how you choose to get there, a sandy paradise awaits, immediately transporting visitors from the manic pace of New York City.
While in the region, be sure to stop by a local seafood shack like the Dock House in Sag Harbor, where you can catch sweeping views of the marina while eating some fresh, local catch, a specialty in the Hamptons. Miles of beaches invite visitors for long walks, swimming, sand-castle building, and boogie boarding.
Less than 100 steps to the sandy shores of the Atlantic, The Ocean Resort Inn provides a welcome respite from the busy Hamptons. Appreciated amenities include bikes, beach towels, umbrellas, chairs, and passes. Take advantage of a chaise lounge by the pool for additional fun in the sun. Or, do as the wealthy do and rent a vacation home. Many cost over $200,000 for the summer season, which usually runs from Memorial Day through Labor Day.
2. Hudson, New York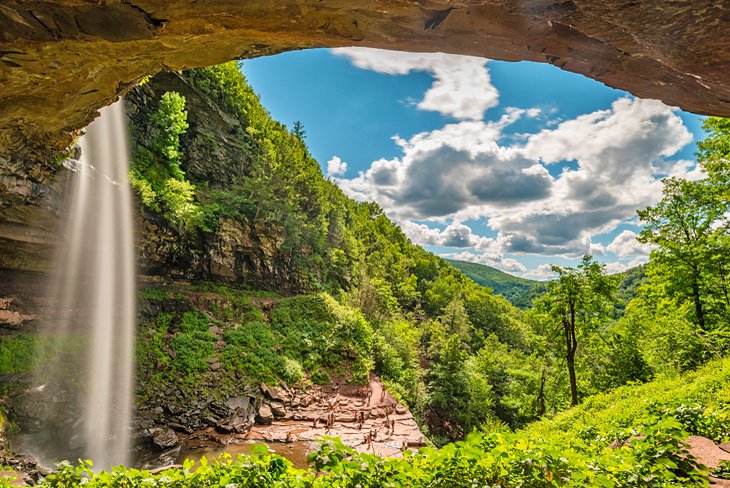 Located on the east side of the Hudson River, Hudson, NY is about a 2.5-hour drive from the city. Visitors might be surprised to hear that Hudson was a former whaling port with ties to Nantucket in the 1800s. The town is filled with 19th-century charm and gorgeous historic buildings.
Hudson is also known for its up-and-coming culinary scene, complete with notable New York chefs. You'll want to arrive hungry! Take some time to stroll the streets, which are peppered with antique stores, one-of-a-kind shops, and art galleries like Art House Hudson or the Carrie Haddad Gallery. Make sure to get in some hiking at one of the scenic trails nearby.
3. Philadelphia, Pennsylvania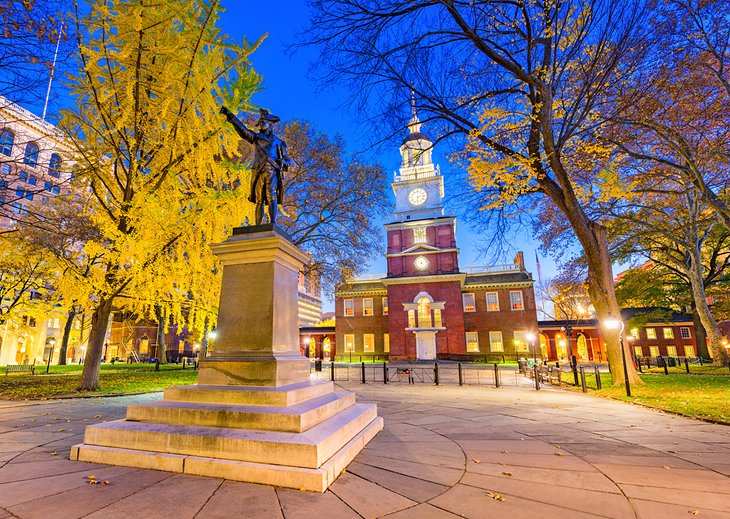 Despite being one of the largest cities in this country, Philadelphia can feel like a small town, especially if you wander through some of its older neighborhoods, like Old City or Northern Liberties. If you are a history buff, Philadelphia is a wonderful weekend getaway from New York City. Stop by the Reading Terminal Market, the oldest public market, and grab a bite to eat. Their Pennsylvania Dutch pretzels are legendary as is the ice-cream at Bassetts.
After you've refueled, visit Elfreth's Alley to see the oldest street in America or stop by and ogle a copy of the constitution, as well as more of our nation's history at the National Constitution Center. Art lovers should make sure to visit the Magic Garden, a wonderful environment of mosaic creativity. The Philadelphia Zoo is also a must-see, especially for those traveling with kids.
No trip to Philly is complete without enjoying one of their world-famous cheesesteaks. Although there are hundreds to choose from, most tourists go for Geno's or Pat's located across the street from one another in South Philadelphia.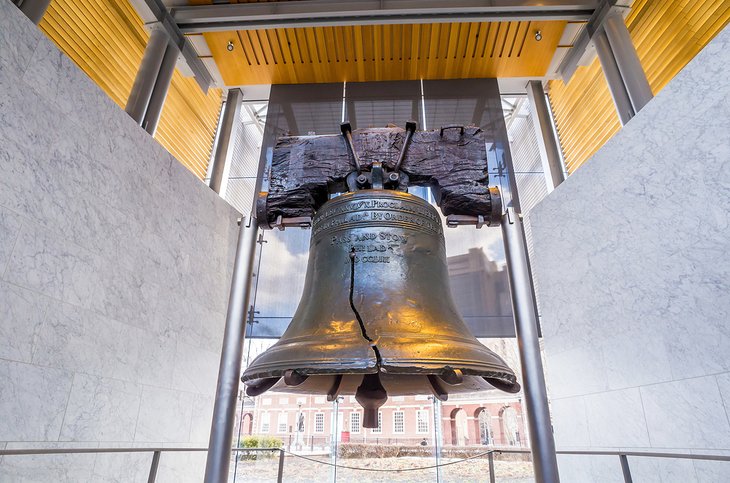 The easiest way to beat the traffic on your way to Philadelphia from New York is by Amtrak. They offer a high-speed Acela train, as well as the standard Northeast Corridor Line, and depending on which you take, you can make it from point to point in about an hour and a half.
Looking for a sense of place during your Philadelphia stay? The eco-friendly Kimpton Hotel Palomar Philadelphia has incorporated local décor and artwork into their centrally located property. This Art Deco gem is part of the Kimpton brand and has a wonderful on-site restaurant featuring the best of local ingredients on the menu. If the spirit moves you, take advantage of their loaner bikes to spin around this neighborhood, with a stop in one of the many green spaces for which the city is well known.
Accommodation: Where to Stay in Philadelphia: Best Areas & Hotels
4. Harriman State Park, New York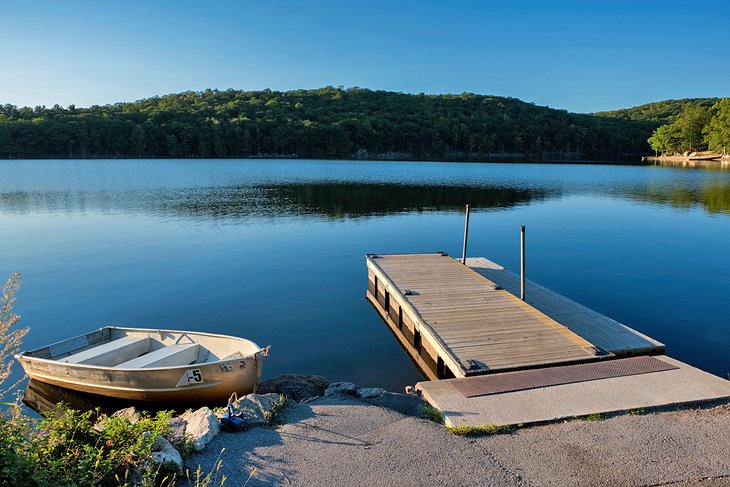 A trip to Harriman State Park is a must for those looking to escape the city's rat race in favor of immersing themselves in the glory of mother nature. Worthy of more than a day trip from New York City, the park has 200 miles of hiking trails, beaches, camping areas, lakes, and a seemingly endless array of wildlife, offering the perfect respite from busy city life.
Head over to Lake Sebago, one of the largest lakes in the park, where you can enjoy swimming, boating, or camping. You can even hike the 18-mile portion of the famous Appalachian Trail that runs through Harriman.
Getting here from the city is easy; it's only a 35-mile drive. The historic Bear Mountain Inn lies a 14-minute drive from Harriman. Built in 1915, it is set on a plateau above Hessian Lake, offering guests lovely views and plenty of charm. The 15 rooms and suites are rustic and comfortable and there is a restaurant on-site, as well as a gift shop and grab-and-go café.
5. The Catskills, New York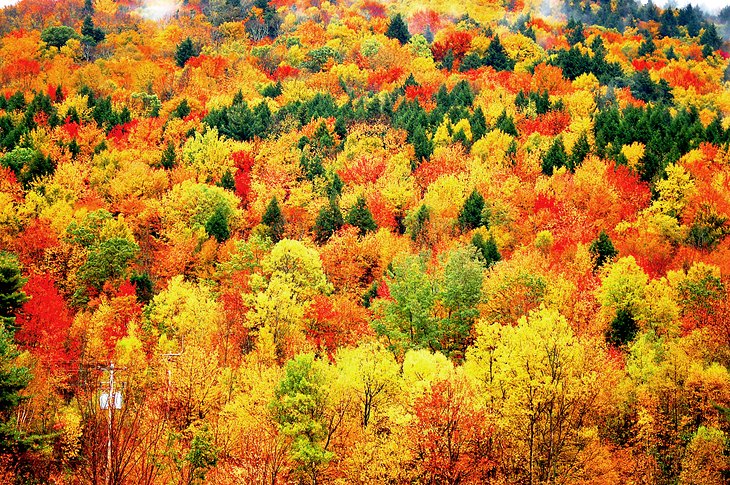 A visit to the Catskills is a New Yorker's rite of passage. Located in the Appalachian Mountain range in southeastern New York, the Catskills are the perfect setting for a relaxing girlfriends' getaway, a romantic couples' weekend, or even a family trip.
The best way to get here is to hop in the car for a 150-mile drive, which, depending on the traffic and time of year, can take anywhere from two-and-a-half to four hours. The trip is richly rewarding, especially in fall, when the autumn leaves light up the mountains with their rich colors.
If you are looking for scenic views, head to Overlook Mountain in Woodstock or the Minnewaska State Park Preserve in Kerhonkson. Here, you can hike or just relax and convene with nature. For those searching for a little more adventure, you can do the fastest and highest zipline tour at Hunter Mountain, or paddle out to the Hudson-Athens Lighthouse.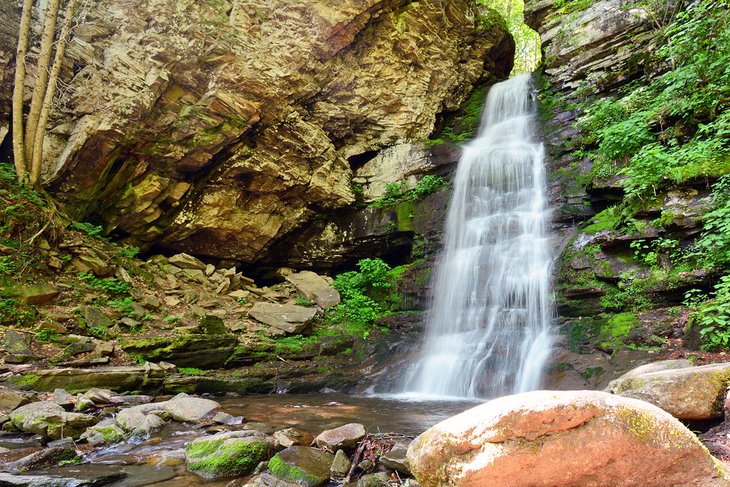 The Catskills are also filled with great places to eat, which is a good thing seeing as you'll spend much of your time here working up an appetite by adventuring. Depending on your mood, you can get everything from classic diner food at places like the Ambrosia Diner or enjoy fine dining with a French bistro twist at Bistro Brie and Bordeaux.
As for a place to rest your weary head, there is a wide variety of properties available to fit all needs, from bed-and-breakfasts to high-end resorts. A property that combines the best of both worlds is the Melour Resort in Tannersville. At this friendly and luxurious resort, you'll find a wide variety of modern amenities mixed with the charm of a small-town retreat. An indoor pool and Jacuzzi are a hit with kids and adults of all ages, and the sauna is a perfect way to decompress after a long day spent hiking, biking, or skiing. There's also a 24-hour tea room and fitness center on-site.
Accommodation: Top-Rated Resorts in the Catskills, NY
Read More: Top-Rated Things to Do in the Catskills, NY
6. Beacon, New York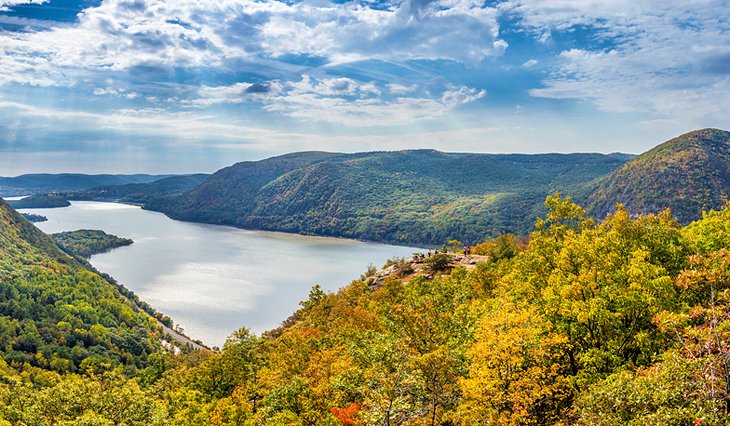 Located on the banks of the Hudson River and close to New York City, Beacon makes a great getaway for those who don't want to suffer through sitting in long lines of traffic or hours in the car. If you take the Metro North train line, you can get here in about an hour and a half.
In Beacon, you will find your fill of Victorian-era architecture and small-town charm. Be sure to stop into one of the many cafés to grab a bite to eat and a coffee before heading down the main street and visiting the unique antique stores, collectible shops, and art galleries.
If you just want to relax and enjoy the river views, take a stroll to the waterfront, where you can enjoy biking and walking paths and plenty of greenery to get that concrete out of your brain. You can also drive to the top of Mount Beacon by taking the incline road. This hour ride will give you breathtaking views, especially in the fall.
Overlooking Fishkill Creek and the Beacon Falls, the Roundhouse is a historic property reimagined into a modern hotel. Several buildings offer 41 guest rooms and an award-winning restaurant filled with tasty offerings.
Read More: Top-Rated Things to Do in Beacon, NY
7. Mohonk Mountain House-New Paltz, New York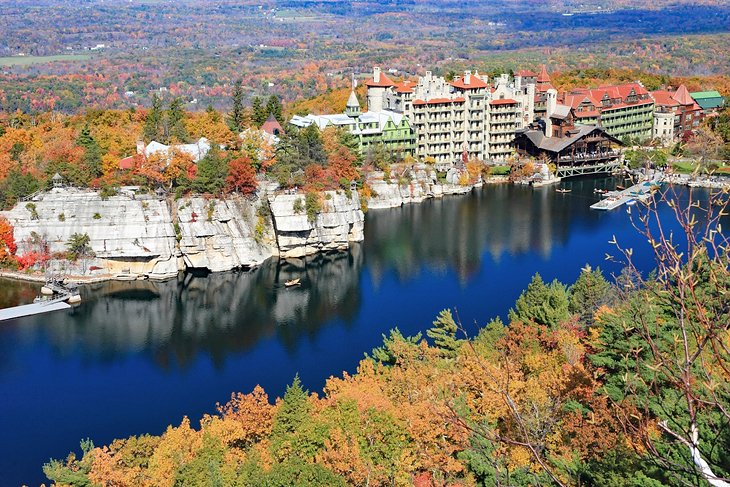 The Mohonk Mountain House in New Paltz, New York is a destination in itself. Architecturally, it looks like a Victorian castle sitting on the banks of the majestic Mohonk Lake. The sprawling house grounds and amenities make for a stay so all-encompassing you won't ever have to leave the property.
Boat rides on the lake, hiking, and "forest bathing" are all part of the experience. Doesn't everyone appreciate a walk in the woods to renew their mind? This now trendy experience originated many years ago in Japan. The premise of shinrin-yoku (as it's known in Japan) is to immerse yourself in the sights, sounds, and feelings of the forest as you wander through, focusing on these senses, which will, in turn, heighten your physical and emotional health.
The fall is an especially beautiful time for a visit, and all visitors will find it hard to resist the many offerings from the award-winning spa menu. Several restaurants on the property offer extensive menus of delicious dishes featuring seasonal ingredients. Concerts, festivals, and cultural offerings keep the calendar busy all year long.
Read More: Top-Rated Things to Do in New Paltz, NY
8. Cape May, New Jersey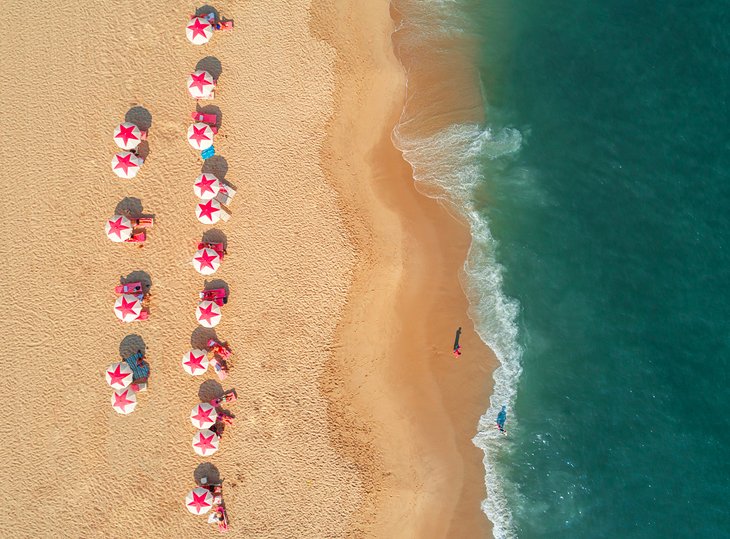 Cape May is one of the most enchanting destinations along the Jersey Shore beaches. Dotted with Victorian houses and quaint bed and breakfasts, along with a pristine coastline, Cape May is not only a great spot for a couples' getaway, but for families as well. No wonder it's been deemed one of the best weekend getaways in New Jersey.
The beach is the main draw, as the area is known as the nation's oldest seaside resort. That said, if you want to beat the heat or enjoy a rainy day indoors, pick one of Cape May's many things to do – like the Cape May County Park and Zoo, Fireman's Museum, or the iconic Cape May Lighthouse. We won't blame you if you'd like to relax in one of the area's many spas.
9. Mystic, Connecticut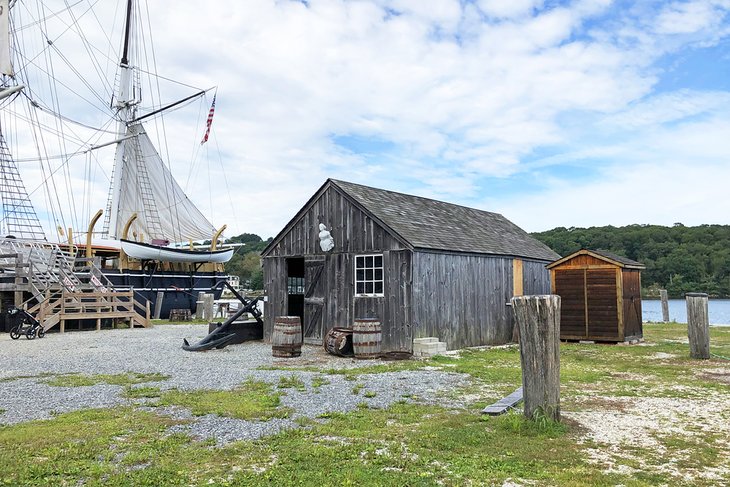 Mystic is one of Connecticut's most charming maritime towns. Steeped in history and abundant in New England charm, this sweet spot is a lovely place to visit, especially during the summer and fall. It's chock-full of fun activities for the whole family.
The Mystic Seaport Museum tops the list of things to do in Mystic, with its re-created 19th-century seafaring village, children's museum, and the Charles W. Morgan wooden whaling ship. Next, you'll have to see the Mystic Aquarium, one of the best attractions in Connecticut.
Don't leave town without grabbing a few sweet samples from the food shops located in the adorable shopping village across from the aquarium. Called the Olde Mistick Village, this picturesque spot will take you back in time, and it offers a slew of unique wares in addition to tasty fare.
A 2.5-hour drive east will get you from New York City to Mystic, passing the opulent town of Greenwich along the way. Break up the journey with a stop here to enjoy the pristine streets, upscale shops, and fabulous restaurants.
The Whaler's Inn on downtown's Main Street is a relaxing place to spend your weekend getaway from New York City. At this boutique hotel that's served the area for over 60 years, you'll find great service along with free breakfast and family-friendly suites within its five newly renovated buildings.
Spicer Mansion is another fab place to stay in Mystic. It boasts a luxury-hotel price tag but offers white-glove service along with its stunning river and town views.
10. Hunter, New York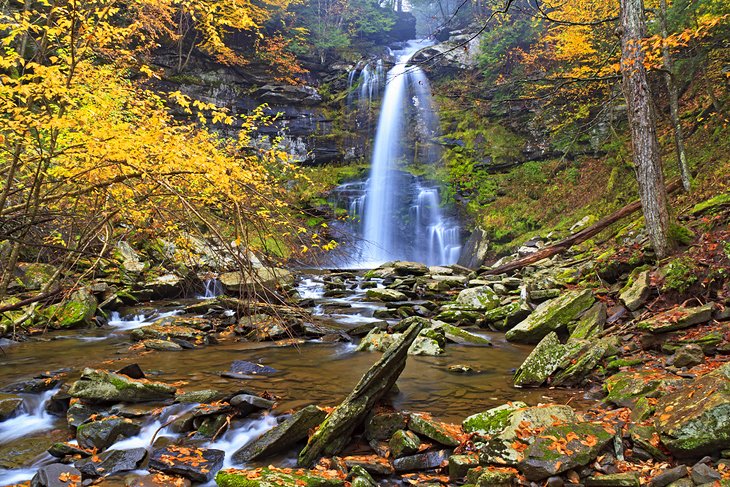 This sleepy town in New York state actually consists of two villages: Tannersville and Hunter. Its Catskill location makes it a great spot for a weekend getaway from New York City for outdoor and adventure enthusiasts.
About a two-hour drive (without traffic), Hunter offers skiing, ziplining, hiking, and other outdoor activities, making it a great place to visit in New York State year-round. That said, fall and winter are favored times to visit, as they offer tons of fun activities and events.
Visitors can head out to enjoy the spectacular fall foliage with a side of live music at Oktoberfest in autumn or go skiing at Hunter Mountain, a popular ski resort that has been drawing families, who return year after year, in winter.
The Kaatskill Mountain Club offers full kitchens in its rooms, which can be a great money saver for families. Steam and hot tub facilities are popular with skiers after a day spent on the slopes at Hunter Mountain.
11. Sleepy Hollow, New York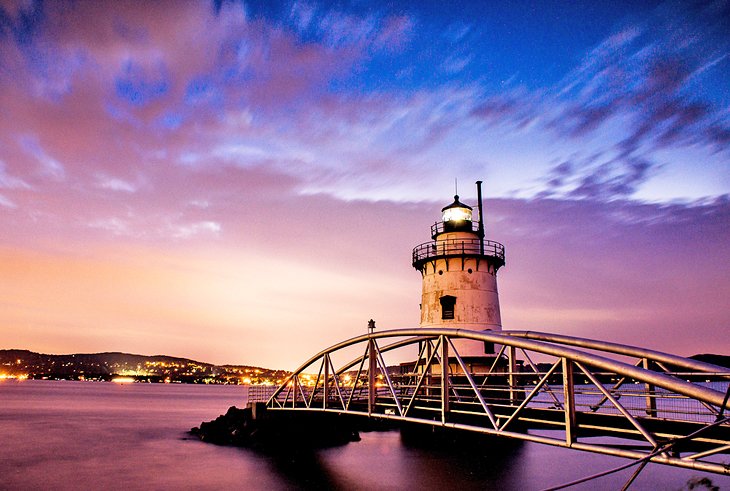 Sleepy Hollow received fame from its folklore tale of the headless horseman, but it stays a popular weekend getaway from New York City because of its appeal to those interested in the supernatural and macabre. Washington Irving might have made it famous, but Tim Burton put it on the map for a whole new generation. Located in the town of Mount Pleasant, the village boasts plenty of hiking, art, and views into the past.
If you are lucky enough to get away in the fall, you can take part in spooky Oktoberfest or head out on the Haunted Hayride. All other times of the year, you can just enjoy all the rest of the ghostly things this unique village has to offer, like the Sleepy Hollow Cemetery. In addition, Kykuit, the Rockefeller family's hilltop estate has beautiful gardens, outdoor sculpture, and a gallery.
Getting to Sleepy Hollow is easy – you can either make the 90-minute drive from the city, or jump on the light rail and arrive in about the same time with no risk of traffic.
12. Princeton, New Jersey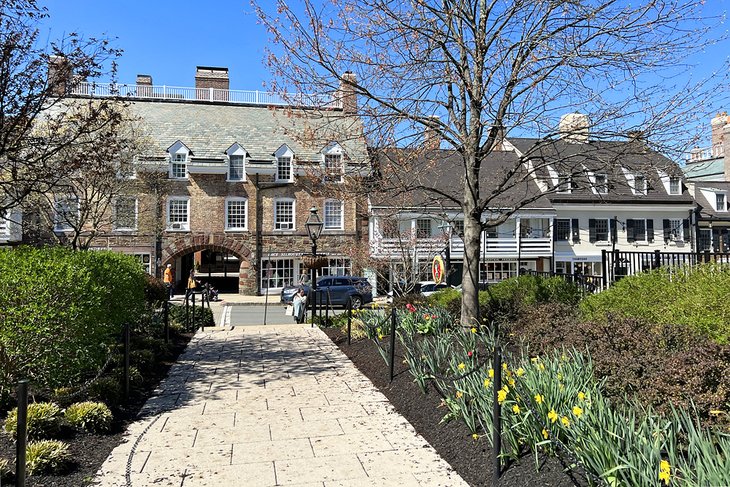 Best known as home to one of America's best Ivy League schools, Princeton boasts much more than its impressive academia. That said, Princeton University's grand buildings are hard to miss and even more difficult to dislike. The historic architecture is enough to make your jaw drop, while the inside of places like the Princeton University Art Museum and Nassau Hall are so lovely, you'll want to stay longer.
Palmer Square serves as the heart of this pretty New Jersey town. You can shop, eat, and sit for a while soaking up the vibe at one of the central picnic tables. Save room for dessert, as the square is lined with chocolate and ice-cream shops
There's plenty of entertainment on offer to keep you occupied all weekend long. From performances at the McCarter Theater Center to plays at the Princeton Garden Theatre, you won't be at a loss for things to see. History lovers will enjoy a trip to Princeton Battlefield State Park and the Morven Museum and Garden.
The Nassau Inn is the top place to stay in Princeton. A charming retreat located in Palmer Square, this sweet inn may look small and historic from the outside, but it's been updated to a level of modernity all current guests will enjoy. If you'd rather experience a quaint B&B, then The Peacock Inn will be more your style. Luxurious and elegant, this 16-room boutique hotel boasts a convenient, central location and a restaurant so good, it attracts guests from all over.
Read More: Top-Rated Attractions & Things to Do in Princeton, NJ
13. Ocean City, New Jersey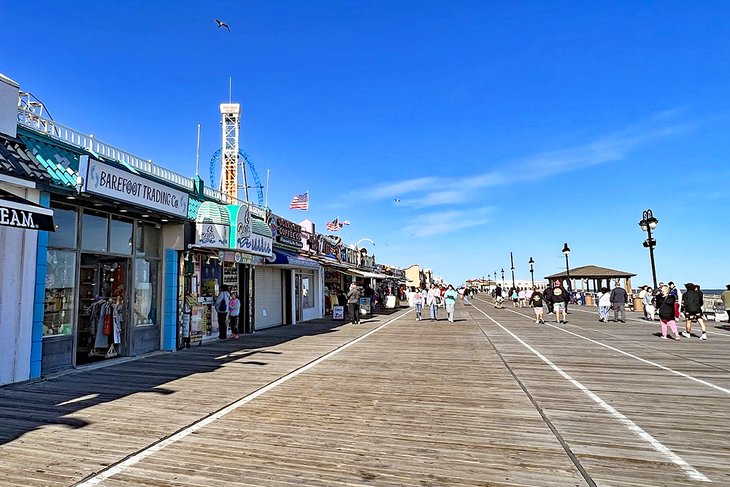 Ocean City offers one of the best New Jersey beaches for families. At this dry town, you don't have to worry about obnoxious revelers loudly strolling the 2.5-mile boardwalk or jostling for space on the miles of soft, sandy beach. Also, lifeguards are on duty between Memorial Day and Sunfest Weekend (usually the third weekend after Labor Day) to ensure your kids are safe.
When you aren't digging your toes in the sand, make good use of the area's best attractions. The boardwalk is the heart of Ocean City. It boasts two mini golf courses, the super fun Gillian's Wonderland Pier amusement park (complete with a Ferris wheel), and enough sweet shops to keep your dentist in business.
A two-hour drive from New York City, this top beach town is one of the best places to enjoy a weekend getaway filled with sun, sand, and surf. If you're hoping to make the most of your quick getaway, plan to visit during the warm, summer months–winter gets pretty bleak around here.
Scarborough Inn is by far the best place to stay in Ocean City. You'll be hard-pressed to find something with more charm and friendlier staff. Smooth jazz guides you through the historic doors of the oldest hotel in Ocean City, but when you enter the newly renovated, modern chic rooms, and eat the delicious homemade breakfast, you'll never want to leave.
14. Washington, Connecticut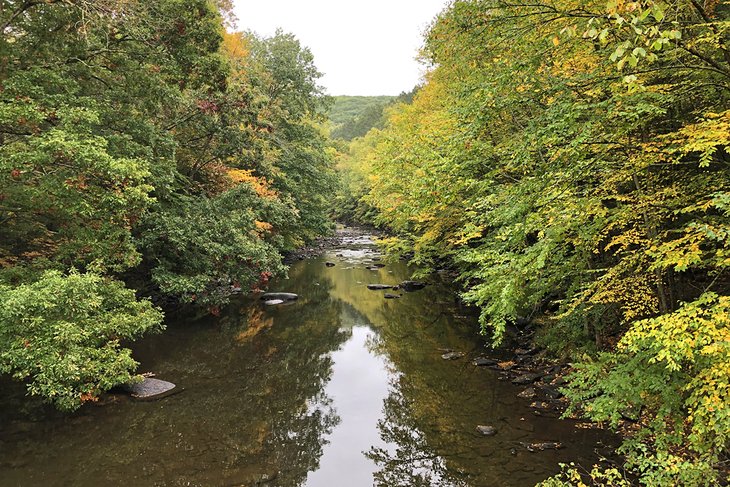 Washington is a haven for outdoorsy travelers. One of the best small towns in Connecticut, this rural gem is everything New York City is not: quiet, clean, and filled with natural wonders like thundering waterfalls and deep forests. It's located two and a half hours northeast of New York.
You'll be spoiled for ways to enjoy the fresh air. Hike across the Henry David Thoreau suspension bridge, which is tucked into the majestic Hidden Valley Preserve in Washington Depot. Or explore the 998-acre Steep Rock Preserve. Climb the 776 feet to Steep Rock Summit for the best views.
The Washington Art Association and Gallery is also worthy of a look, as is the Gunn Historical Museum.
The Mayflower Inn & Spa, Auberge Resorts Collection is one of the best resorts in Connecticut for multiple reasons. First, it is gorgeous, elegant, and well-serviced. Next, it boasts incredibly luxurious amenities like a gourmet restaurant, two pools, and a spa.