11 Top-Rated Things to Do in Hudson, NY
Author Meagan Drillinger spent much of her youth and her 20s in the Hudson Valley, and visits the area now when she returns to New York.
Hudson, New York is often referred to as "the Brooklyn" of the Hudson Valley. Whether or not the city takes that as a compliment is another story. But what it means is that Hudson, N.Y. is the cultural, artisanal, artistic capital of the Hudson Valley, where historic architecture and words like "craft" and "small batch" are always tossed around. Hudson has become a cultural haven many miles north of New York City.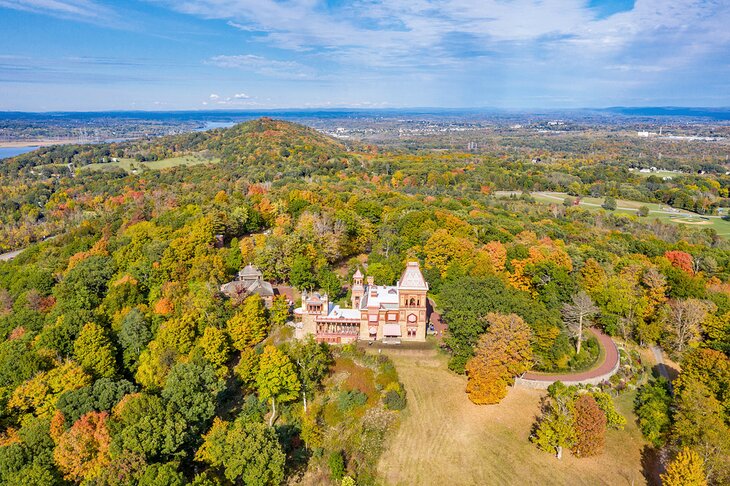 This stunning jewel of a city is packed with things to do, from award-nominated restaurants to boutiques, galleries, and coffee shops. Architecture dates back to the town's foundation, and the Hudson River provides views for days.
The Hudson Valley is also veined with hundreds of miles of epic hiking trails, and Hudson provides a home base from which to explore it all. The town also happens to be a hot spot for musicians, so you can bet that there is always a performance to catch any night of the week.
For New Yorkers, there is no better place to explore the Hudson Valley than Hudson. Figure out the top attractions and best places to visit with our list of the top things to do in Hudson, NY.
1. Step into a Masterpiece at Olana State Historic Site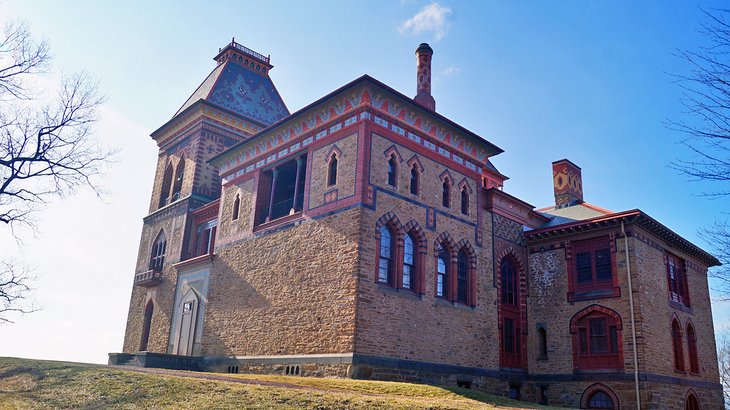 The Hudson River was the inspiration for a mid-19th-century American art movement of landscape painters known as the Hudson River School. One of the most famous of these landscape artists was Frederic Church. His former home is in Hudson, NY, and today, it is possible to take a tour of the stunning building and its grounds.
The Olana State Historic Site was once the home of Frederic Church, his wife Isabel, and their four children. He purchased 126 acres of land in 1860 just south of Hudson—a former sketching spot he used to frequent. Originally he and his wife built what they called a "Cosy Cottage," where they lived until 1866 when they purchased an additional 18 acres and designed Olana.
The main house at Olana is perched atop a hill, mixing Victorian design with Middle Eastern decorative themes. Inside viewers will find the numerous paintings, sculptures, and furnishings that Frederic and Isabel collected throughout their lives and travels.
The now-250-acre estate is lined with carriage roads, blanketed with forest, and has an artificial lake, all of which are primed for exploring. It's a wonderful introduction to Hudson, and the artistic movement that was inspired by the surrounding region.
Address: Cosy Cottage 5720, NY-9G, Hudson, New York
Read More: Top-Rated Things to Do in Upstate New York
2. Wander Warren Street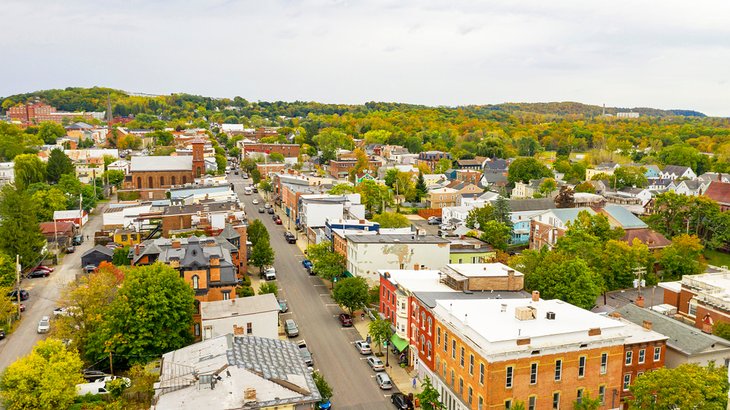 The main artery of Hudson is its picturesque Warren Street, which runs for a mile, flanked with colorful, historic buildings. It has been the main commercial avenue since the 18th century. Today Warren Street is known for its vibrant mom-and-pop storefronts, charming restaurants, dozens of art galleries, and antique stores.
Warren Street is also the heart and soul of Hudson's historic district. The district branches off to Union and Allen streets, and traces the historic arch of Hudson's architecture from century to century. The earliest buildings can be found along Warren, as well as Lower Union and Front streets, which go as far back as the city's founding in the 18th century.
And speaking of antique stores, Warren Street is a paradise for treasure hunters. There are more than 60 antique stores throughout the city, but the highest concentration is certainly along Warren Street. Start at Finch, which is known for its vintage furniture. There is also Tom Swope Gallery, among others.
Accommodation: Top-Rated Resorts in the Hudson Valley, NY
3. Catch a Live Performance
The residents of Hudson, NY love their live music, with venues around town playing everything from classical and opera to rock, indie, and funk.
Start at Hudson Hall, built in 1855 as City Hall. Today, it is a 21,000-square-foot theater and performance hall, as well as a gallery. The official name is Hudson Hall at the Hudson Opera House.
Hudson also hosts the annual Hudson Jazz Festival, which has run for more than three years. The event spans several days and hosts many performances at Hudson Hall.
Fun fact: Rocker Melissa Au Der Maur (of Hole and Smashing Pumpkins) has Basilica Hudson, a multidisciplinary arts center that lives within an industrial factory dating to the 1880s.
Hudson Hall
Address: 327 Warren St, Hudson, New York
Basilica Hudson
Address: 110 S Front Street, Hudson, New York
4. Tour the Art Galleries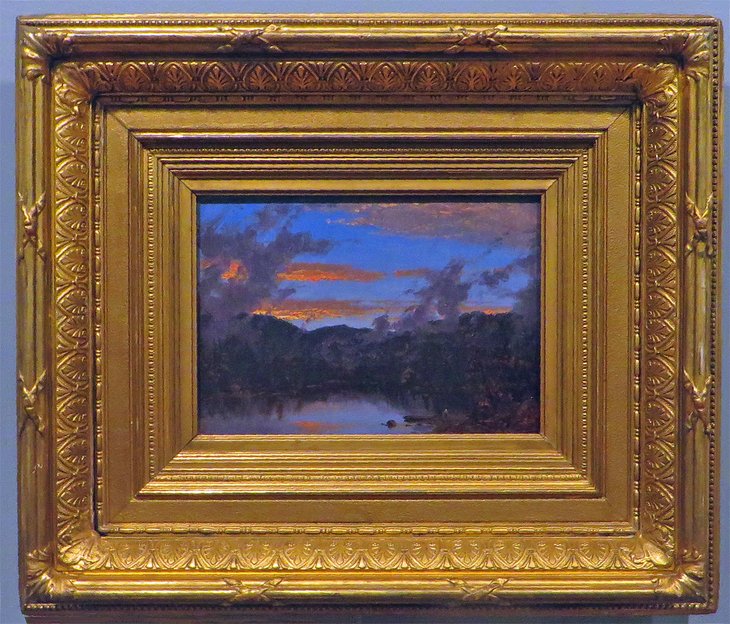 As one of the original outposts for out-priced Brooklyn hipsters, you can imagine the gallery game in Hudson is on point. But its art history, as you now know, dates back to the founding of the Hudson River School. Today there are more than 35 art galleries in Hudson, continuing its reputation as a haven for the arts.
Start with the Carrie Haddad Gallery, which opened in 1991. Today, it showcases mid-career and emerging artists from all over the Hudson Valley. Check out paintings, sculptures, mixed media, and photography.
Another to know is the Stair Galleries, which has a reputation for its live art auctions.
Kristen Dodge founded SEPTEMBER in 2016 as a rotating platform for artists across a variety of disciplines but mostly highlights women-identified an LGBT artists. It features artists mostly from Upstate New York, Brooklyn, and Boston.
Carrie Haddad Gallery
Address: 622 Warren St, Hudson, New York
SEPTEMBER
Address: 449 Warren St #3, Hudson, New York
5. Cruise the Hudson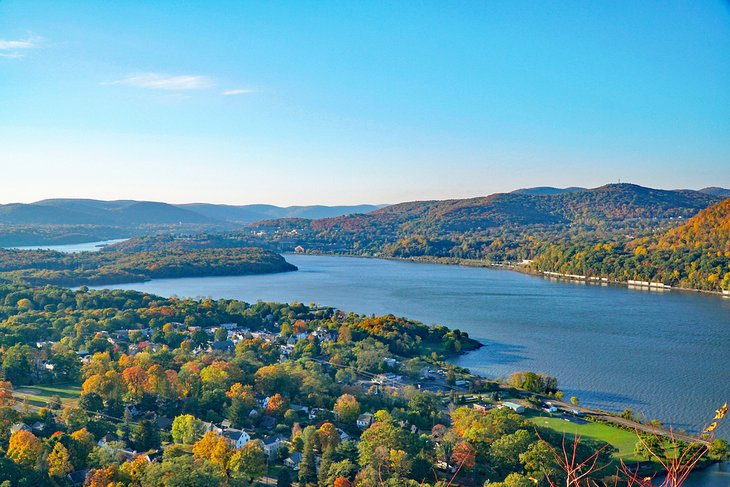 One of Hudson's biggest tourist attractions is the Hudson River itself, and getting out on the water is one of the top things to do to soak up the stunning natural surroundings. Hudson Cruises is a local favorite for sailing out on the river.
Hudson Cruises has more than 15 years of experience taking visitors out onto the water for sightseeing trips and river tours. The fleet of three ships offers several different types of experiences. The Marika yacht, for example, is perfect for luxury dinner cruises, while The Spirit riverboat is known for lively sightseeing cruises.
Lil' Spirit is the pontoon boat that ferries between Hudson and Athens, NY across the river. It is also the boat that does the historic lighthouse cruises out to the Hudson-Athens Lighthouse, which is a historic treasure in this part of New York State.
Every Friday, Hudson Cruises hosts a Murder Mystery cruise, which brings professional actors on board for a "whodunnit" skit that brings guests in on the action to uncover clues.
Address: 196-498 Water Street, Hudson, New York
6. Visit the FASNY Museum of Firefighting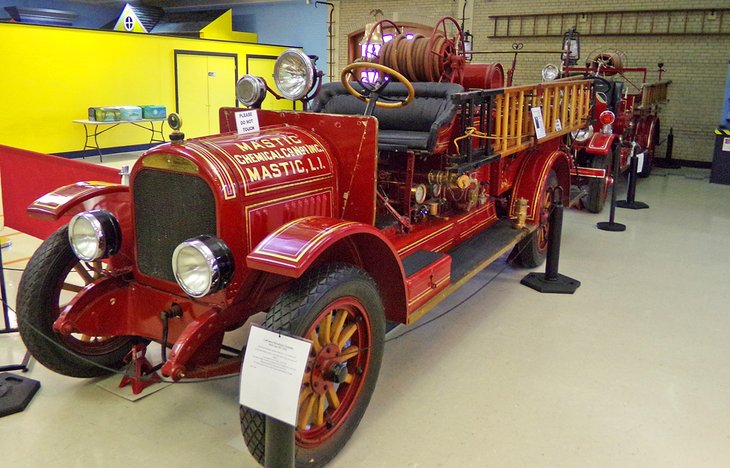 You'll never learn as much about the history of firefighting as you will in Hudson. The town's interactive FASNY Museum of Firefighting pays homage to all things firefighting related, and is a great way to spend a few hours with the family.
The museum, established in 1925, has one of the world's best collections of American firefighting artifacts. The space spans more than 50,000 square feet and has 90 vintage and rare fire engines, some that date back to 1731. One particular exhibit details firehouses of the 19th century, and includes a look at fire apparatus and equipment from the 1800s.
In addition, visitors will find thousands of pieces of equipment, photographs, art, and a massive library. Many of the exhibits are hands-on, which is great for kids. Kids also love the Jr. Firefighter Challenge Course, which has poles to slide down and ladders to climb.
Address: 117 Harry Howard Ave, Hudson, New York
7. Sail to the Hudson-Athens Lighthouse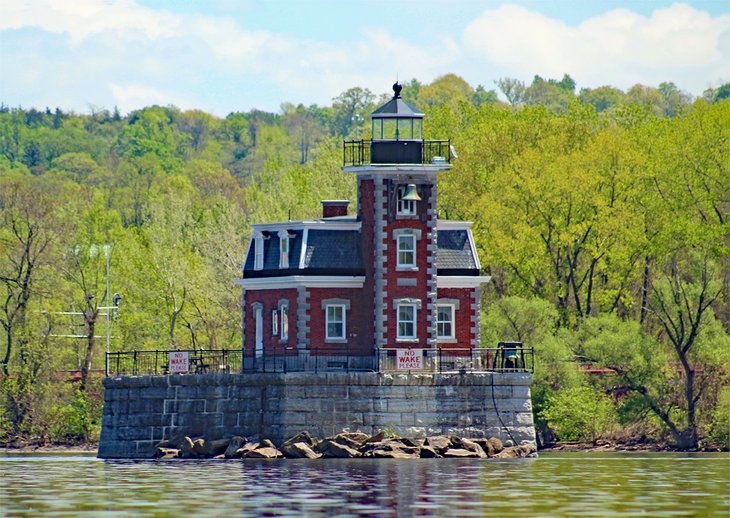 A beacon of the Hudson River, the Hudson-Athens Lighthouse dates back to 1846 and is the northernmost lighthouse on the Hudson River. This still-operational structure sits on a small island halfway between Hudson and the town of Athens across the river. Midstream between Hudson and Athens is a large mud flat, which is submerged at high tide. The lighthouse was constructed to warn ships about the danger.
Seasonal boat tours run to the lighthouse, in partnership with the Hudson-Athens Lighthouse Preservation Society and Hudson Cruises. These sailings run the second Saturday of the month between July and October.
If you'd rather see the lighthouse from land, Henry Hudson Riverfront Park has one of the best vantage points. The small green space right on the banks of the Hudson River is a popular spot for residents to spend some time with a book or a picnic soaking up the views.
8. Browse the Hudson Farmers' Market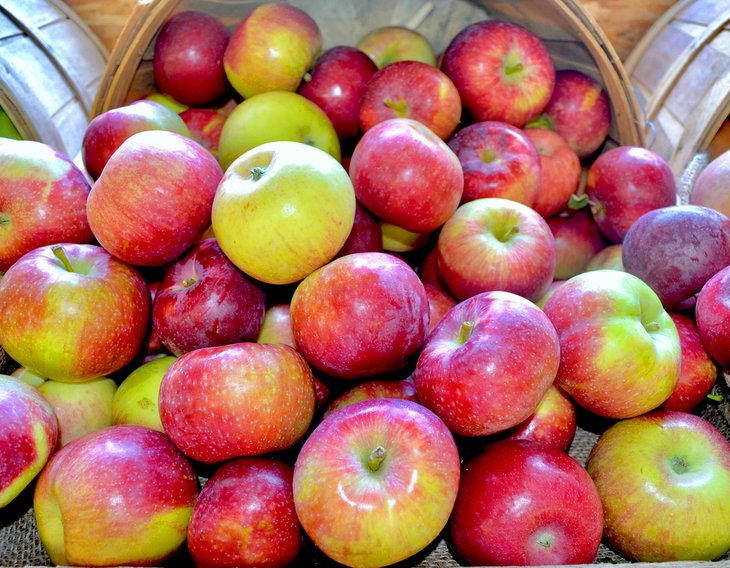 Like any good Hudson River town worth its organic produce, Hudson offers a sensational farmers market. The Hudson Farmers Market is open on Saturdays in two locations through the fall and indoors through December.
The Hudson Farmers' Market is the largest farmers market in Columbia County, bringing together more than 30 local vendors to sell produce, herbs, eggs, meat, baked goods and breads, honey, pickles, flowers, and more.
In addition to delicious munchies, the Hudson Farmers' Market has a music tent that shows off weekly live music from local artists. A community tent is also set up to pass on information about certain community projects around the Hudson Valley.
Address: N 6th Street, Hudson, New York
9. Get Lost in the Greenport Conservation Area
Walking distance from downtown Hudson sits the Greenport Conservation Area, a 736-acre site with seven miles of trails. The protected area is a wonderful place to visit for locals and visitors to weave back and forth on the trails that open up to stunning views of the Hudson River and the Catskill Mountains.
Come winter, the trails are perfect for cross-country skiing, making it a perfect year-round spot.
All types of trails exist at Greenport, from mowed grass and packed earth to a 1.5-mile accessible trail. Keep a lookout for bald eagles and ospreys.
The site was originally land that belonged to the Mahican Indians in the 17th century. The Dutch purchased the land in 1661 and used it for farming. In 1992, the Open Space Institute purchased the land with the intention of transforming it to the conservation area that we know it as today.
Address: 319 Joslen Blvd, Hudson, New York
10. Take Note of the Historic Architecture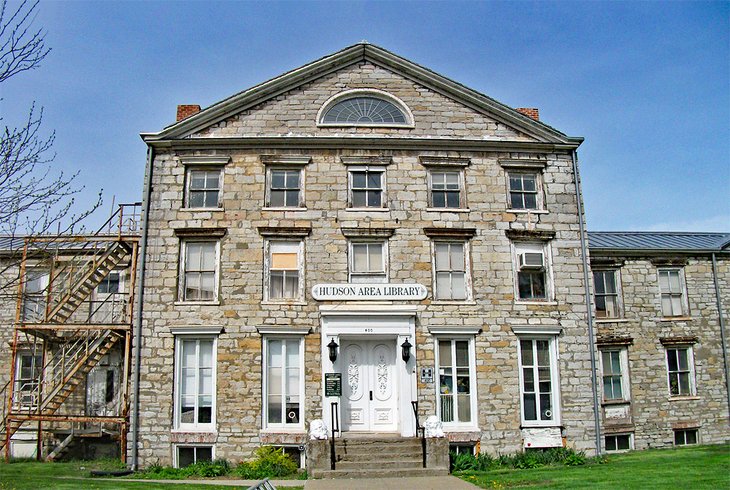 The original settlers of Hudson were the Quakers. They were responsible for the city's grid layout. While the Quakers are simple and modest, the town's wealthy merchants constructed lavish mansions and townhomes. Wandering downtown is the best way to take a step back in time to discover the historic architecture.
Hudson has everything from Georgian-style estates to Queen Anne homes with sweeping wraparound porches. The highest concentration of historic buildings are closest to the waterfront and continue up the hill on Union, Allen, and East Allen streets.
The Seth Jenkins House at 115 Warren Street was the home of the first mayor of Hudson and was built in the Federal Style around 1795. The First Presbyterian Church, built in 1837, is a principal landmark, as well.
11. Cross the Hudson River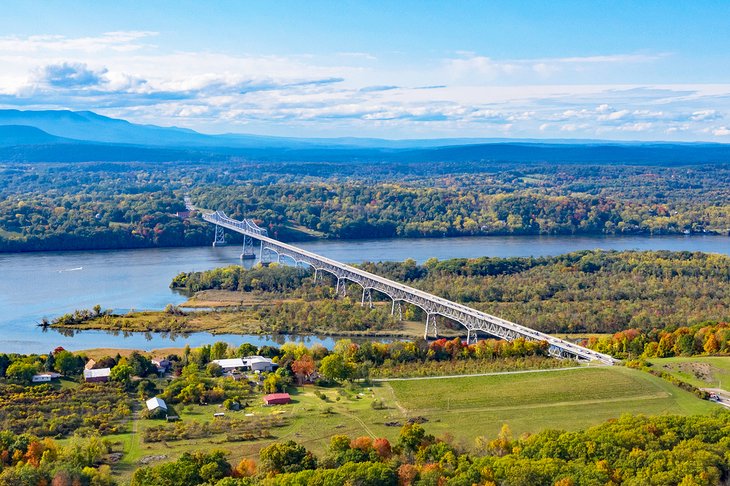 A short drive over the Rip Van Winkle Bridge will take you from Hudson into Athens, NY. Athens is a historic river village, and a really adorable town to explore for an afternoon if your home base is Hudson.
Athens was incorporated in 1805, with much of its history that can be traced to the 17th century. In fact, Athens has some of the best-preserved architecture in the Hudson Valley, with roughly 300 structures within two historic districts.
The scene in Athens is much quieter than over in Hudson, but you will find a charming riverfront village scene, complete with Victorian, Greek Revival, and Federal architecture; cozy restaurants and cafés; and the Athens Cultural Center, which is an exhibition and performance space.
Not far from Athens is the small town of Catskill, NY. This bustling river town has its own collection of shops, antiques, historic architecture, and easy access to the rolling Catskill Mountains.
Catskill is also where you can discover the Thomas Cole National Historic Site, which is another former home of a Hudson River School artist, much like the Olana State Historic Site over in Hudson. The house is called Cedar Grove, and both it and Cole's former studio are open for tours and workshops.
Hudson, NY - Climate Chart
Average minimum and maximum temperatures for Hudson, NY in °C
J
F
M
A
M
J
J
A
S
O
N
D

1

-9

3

-8

9

-2

16

3

23

9

27

14

29

17

28

16

23

12

17

5

10

1

3

-6

PlanetWare.com
Average monthly precipitation totals for Hudson, NY in mm.

78

63

84

91

111

96

98

98

98

88

85

77