15 Top-Rated Things to Do in the Catskills, NY
New Yorkers have escaped to nature in the Catskills for decades. It's no wonder, with all that this bucolic region has to offer: quaint country towns, wide-open spaces, pristine freshwater streams, and inspiring mountains.
From the 1920s through the 1970s, the Catskills region was a top summertime destination for city dwellers seeking fresh air, cooler temperatures, and recreational activities. During the Catskills heyday in the 1950s, the region had over 500 hotels.
Because of the abundance of Jewish family resorts, the area became known as the "Borscht Belt," and memories of its heyday still trigger nostalgia for New Yorkers of a certain generation.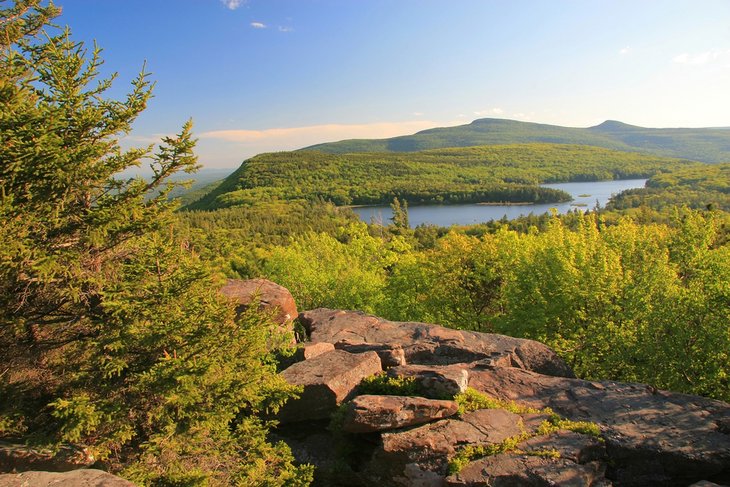 The Catskills appear to be making a comeback. With a renaissance in tourism over the past number of years, fancy new lodgings have been built, and some of the small rural towns have become trendy.
Recently opened or reopened hotels, bungalow colonies, and resorts cater to modern visitors. Some old-time resorts still offer the classic Catskills all-inclusive vacation experience, as pictured in The Marvelous Mrs. Maisel Netflix series.
Nowadays, visitors come to the Catskills for a summer vacation, a relaxing weekend getaway, or for outdoor adventures: hiking, biking, camping, boating, bird-watching, and fly-fishing as well as skiing during wintertime. Other things to do include visiting the farmers' markets, sampling the local cuisine at farm-to-table restaurants, and taking scenic drives.
Where to base your stay in the Catskills depends on your interests. The Northern Catskills boast dramatic natural scenery and some of the most scenic hiking trails, while the Western Catskills near Route 17 is a premier fly-fishing destination.
At the heart of the Catskills is Phoenicia, a charming village with hippie vibes, as well as easy access to hiking trails and other outdoor adventures. Famed for the 1960s music festival, Woodstock is the Catskills' most touristy and developed town, brimming with artisan boutiques, gourmet restaurants, and inviting cafés.
Tips: If visiting outside of summer, keep in mind that shops, cafés, and restaurants are usually only open on Saturdays and Sundays in the Catskills' small towns. In the larger towns, the local businesses might be open for long weekends, from Thursday through Monday or Tuesday.
Learn about the best places to visit and things to do in this beautiful countryside, just a two-hour drive from New York City. Whether for a weekend getaway or a week-long vacation, plan a fabulous visit with our list of the top things to do in the Catskills.
1. Hit the Hiking Trails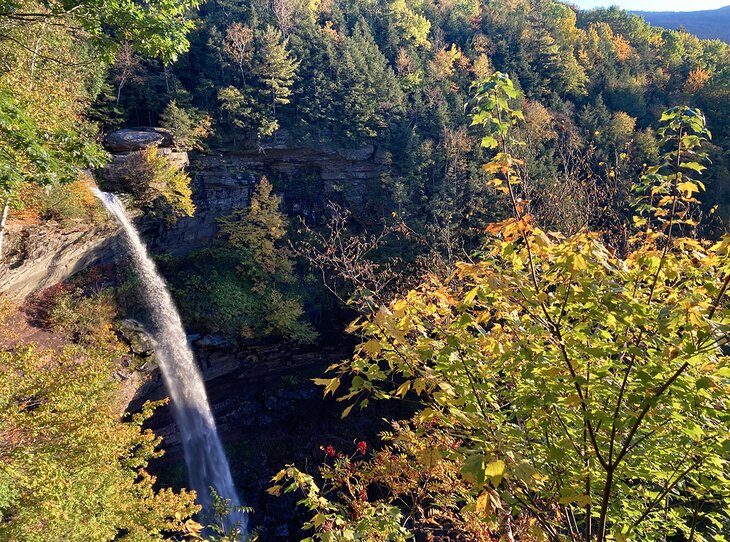 The Catskills region centers around the state-owned and protected Catskill Park, an unspoiled 700,000-acre wilderness and recreation area.
With around 2,000 miles of hiking trails in the Catskills region, the area offers outdoor enthusiasts plenty of variety. The region boasts a wide variety of terrain and some of the most beautiful landscapes in the Northeast, from verdant valleys and gurgling creeks to soaring mountain peaks and thrilling waterfalls.
The Great Northern Catskills boasts the Catskills' highest peaks and legendary hiking trails. The most famous natural sight in the Great Northern Catskills region is the 260-foot Kaaterskill Falls, painted by the Hudson River School's founding father Thomas Cole. You can choose a gentle half-mile walk to a viewpoint or a challenging hike (300 feet in elevation) down a steep flight of steps.
Tips: Please note that the hike down the steps to Kaaterskill Falls can be dangerous when slippery. It is also dangerous to venture off the path. Please note: Fatalities have occurred at Kaaterskill Falls. Wear sturdy shoes and stay on the trails. Do not wear flip-flops or sandals. Keep at least six feet of distance from cliff edges.
Parking at Kaaterskill Falls: This is a very popular hike that attracts many visitors; the parking lots (on Laurel House Road and Scutt Road) fill up early on weekends and in the high season.
Another landscape scene painted by the Hudson River School artists is found at the North-South Lake Campground. An easy half-mile hike leads to the Artist's Rock, a cliffside overlook that affords sweeping views of the Hudson Valley. This hike has little elevation gain and is not very challenging, except for a few granite rock scrambles.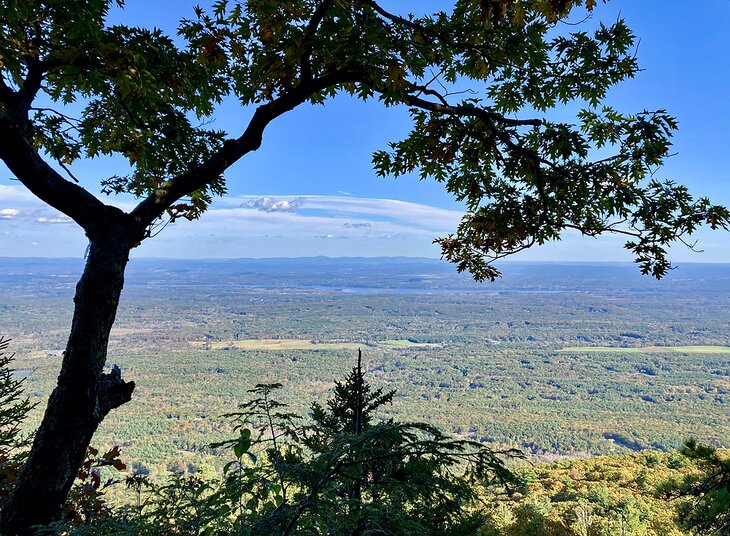 From Artist's Rock, you can continue for about one more mile on the Escarpment Trail until reaching the Sunset Rock overlook, where the Hudson River School artists were inspired by the Hudson Valley views. The trail is generally easy, but there are narrow sections that run alongside cliffs with sheer drops, which can feel scary if you have a fear of heights.
A hike to the Kaaterskill Clove Lookout (on the list of Hudson River School painting sites) begins in Palenville. This moderate 1.8-mile round-trip hike leads to a lookout onto Kaaterskill Clove, which was painted by Thomas Cole and other Hudson River School artists Asher B. Durand and Sanford Robinson Gifford.
Only serious hikers will want to attempt the most challenging hike in the Great Northern Catskills, which has a name that serves as a warning. Devil's Path is the most strenuous and dangerous hiking trail in the Eastern United States.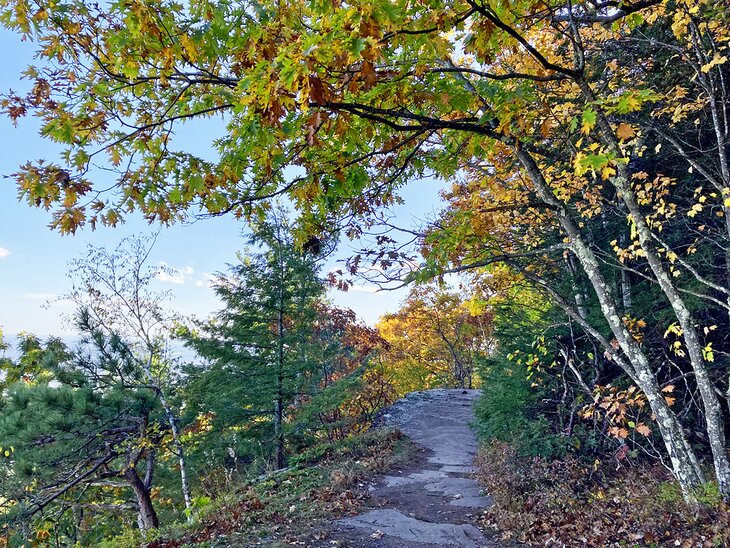 Other legendary hikes in the Catskills include the trail to the Slide Mountain summit, the Catskills' highest peak, and the Giant Ledge trail in Shandaken's Slide Mountain Wilderness. This area is about a 20-minute drive from Big Indian, which has affordable accommodations.
Easy Hikes: Easy, breezy hikes can be found at Frick Pond in Willowemoc Wild Forest, the Catskill Scenic Trail in the Upper Catskills, the 2.3-mile Huckleberry Multi-Use Trail near Tannersville, and the Tanbark Trail in Phoenicia.
For a gentle walk, head to the RamsHorn-Livingston Audubon Sanctuary, a nature preserve of tidal marshland. You can hike the trails or glide through the creek by boat. The chance to spot Great Blue Herons or even Bald Eagles makes it a great place for bird-watching.
You can learn about the natural environment of the Catskills region's Upper Delaware Valley at the Outside Institute in Livingston Manor. This nature center offers nature walks, guided foraging excursions, and forest meditation walks.
2. Enjoy a Relaxing Summer Vacation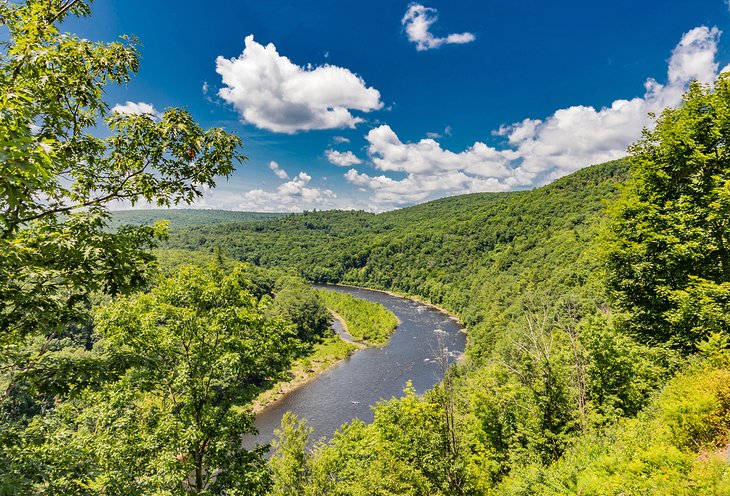 For generations of New York families, the Catskills are synonymous with carefree summer vacations. By the 1940s, the Catskills also became well known for the "Borscht Belt" resorts that attracted famous Jewish comedians and entertainers.
During the Catskills heyday, legendary hotels like The Concord, Grossinger's, and the Nevele Grande Resort treated middle- and upper-middle-class Jewish families to fabulous all-inclusive accommodations, complete with meals, entertainment, and recreational activities.
The movie Dirty Dancing and episodes 3, 4, and 5 of Season Two in the Netflix series The Marvelous Mrs. Maisel capture the vibrant Catskills summer vacation scene that thrived in the 1950s and 1960s.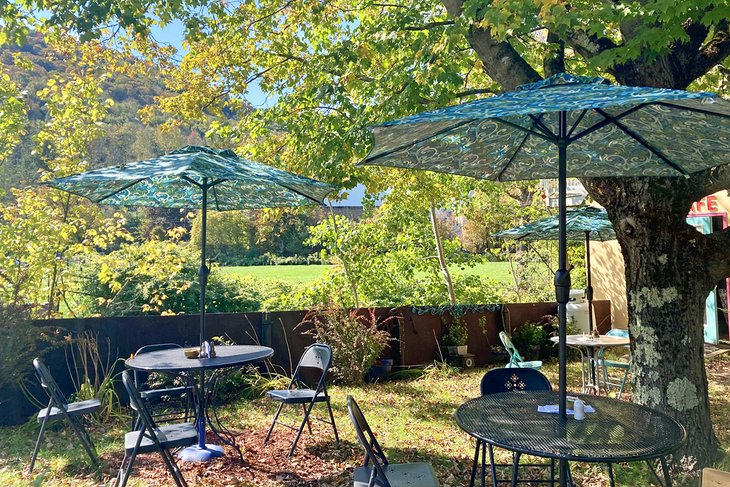 Today, the Catskills resort life still delights visitors at the Hanah Mountain Resort & Country Club. Inspired by the movie Dirty Dancing, the hotel's owner purchased the resort in 1989 and renovated the property over the next decade. You'll find fabulous amenities: a restaurant, indoor pool, outdoor hot tub, sauna, game room, gym, hiking trails, and an 18-hole championship golf course.
Many other resorts in the Catskills have continued the tradition of all-inclusive accommodations with half-board or full-board meal options.
3. Go Fishing on the Delaware River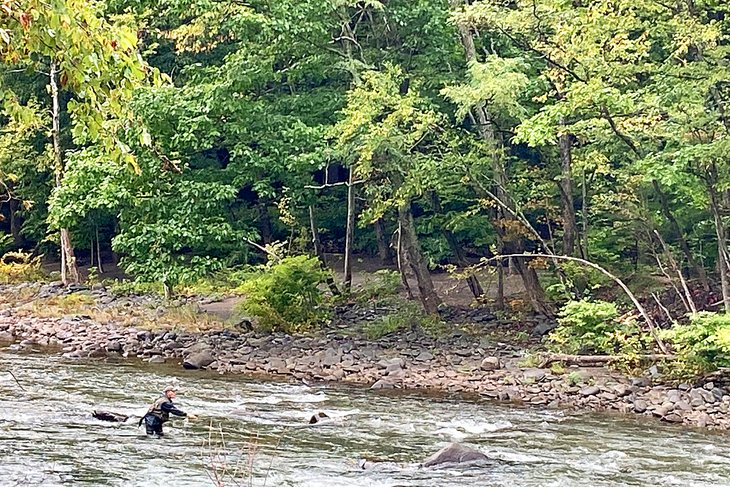 The Delaware River in the Catskills is a premier destination for fly-fishing in the Northeast. The world-class trout fishing of the Catskills draws visitors from New York, New Jersey, Pennsylvania, and other states in the region, as well as fly-fishing enthusiasts from abroad.
The main fly-fishing destinations in the Catskills include Roscoe, Livingston Manor, and Deposit. Some areas of the Delaware River (and on other rivers in the Catskills) only allow catch-and-release fishing.
The community of Roscoe, which bills itself as "Trout Town USA," is proud of its fly-fishing heritage. This small historic town has a handful of restaurants and cafés, as well as several shops that sell fly-fishing gear.
The birthplace of American fly-fishing, Livingston Manor is home to a famous fly shop, Dette Flies, which was established in 1928, as well as the Catskill Fly Fishing Center & Museum on Route 17. Livingston Manor is also a foodie destination in its own right, with many gourmet food stores, cafés, and local eateries.
You will find a wide range of good restaurants and hotel accommodations in Roscoe and especially in Livingston Manor.
There are also opportunities for fly-fishing on other streams that wind through the Catskills: the Beaverkill River, Neversink River, Willowemoc Creek, and Esopus Creek.
4. Visit Farmers' Markets and Farmstands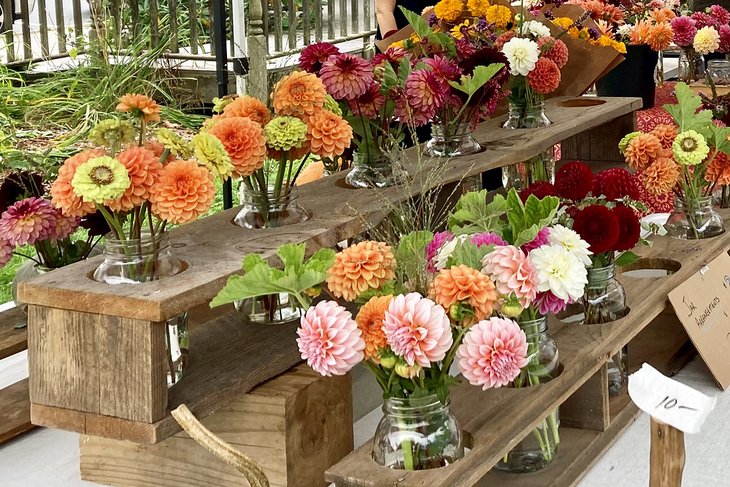 The Catskills region is prized for its magnificent pastoral landscapes, which captivated the Hudson River School artists. This picture-perfect countryside is dotted with rural villages and blanketed with a patchwork of small farms.
Since 1885, New York State has protected over 700,000 acres of land, the Catskill Park. This "Forever Wild" land is the heart of the Catskills region.
One of the most farmers' markets in the Catskills, the Callicoon Farmers' Market is held outdoors every Sunday year-round from 11 am until 2 pm. You can buy fresh produce, flowers, artisanal products, baked goods, and handcrafted items sold by local producers. After shopping at the market, enjoy a picnic at the nearby meadow overlooking Callicoon Creek.
From late spring through early fall, outdoor farmers' markets are held in Deposit, Livingston Manor, Roscoe, Lexington, Franklin, Hobart, Hancock, Delhi, Pakatakan, and Windham.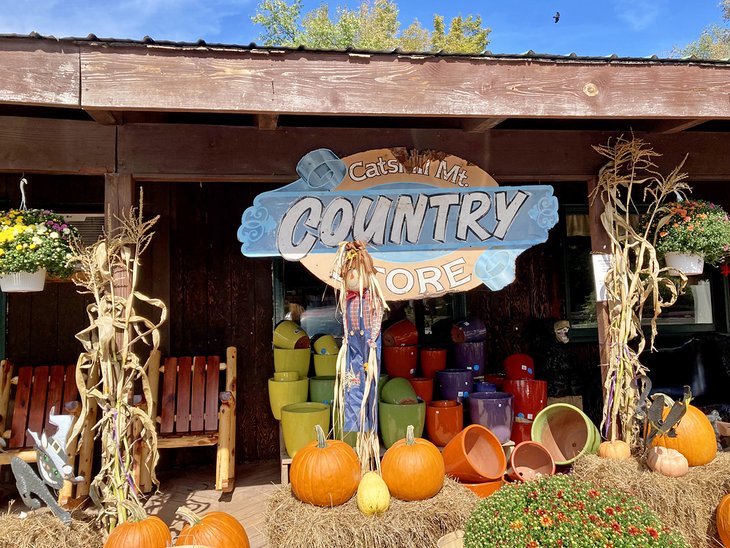 The Delhi Farmers' Market (every Wednesday from June through September) presents a diverse array of local products including fresh fruits, vegetables, cheese, meat, mushrooms, and flowers, as well as handcrafted jewelry, pottery, and wooden craft items.
The Hobart Farmers' Market (every Friday afternoon from June through September) gives local vendors a chance to sell their seasonal fruits and vegetables. This farmers' market also includes a flea market, music, games, and street food.
Individual farmstands also offer a chance to purchase items directly from local producers. Farmstands are found at Burnett Farms, which sells sustainably produced fruits, berries, and vegetables, and at East Durham Farms, Foxtail Community Farm in Greenville, RSK Farm, and Story Farms in Catskill.
Country Stores: Are you planning a picnic? Pick up gourmet sandwiches and snacks at country stores such as the Delaware Pantry in Delhi, the Main Street Farm grocer in Livingston Manor, the Catskill Mountain Country Store in Windham, the Bear & Fox Provisions on the Main Street in Tannersville, Marty's Mercantile in West Shokan, and Circle W Market in Palenville.
5. Dine at Farm-to-Table Restaurants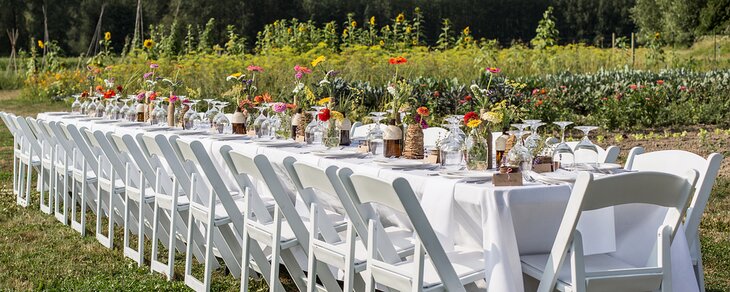 The Catskill Mountains shelter an expanse of wide-open plains and fertile valleys, ideal for farming. Taking advantage of the local bounty, farm-to-table restaurants are a trend in the Catskills these days. The cuisine makes use of regional ingredients sourced from local farms and sometimes from the surrounding fields.
Listed on the National Register of Historic Places, the Beaverkill Valley Inn in Livingston Manor is renowned for its farm-to-table restaurant. The hotel has an organic vegetable garden that supplies ingredients for its restaurant. The chef also uses fresh fruits, vegetables, eggs, and meat from local farms; all the breads and pastries are made from scratch.
For Italian farm-to-table cuisine, try Northern Farmhouse Pasta in Roscoe. This family-owned restaurant specializes in handmade pasta, fresh local trout, and Italian dishes prepared from farm-sourced ingredients. The menu changes seasonally and includes classic dishes like Amalfi Coast Fish Stew and Chicken Parmigiana.
Other farm-to-table restaurants include the James Beard award-winning restaurant at The DeBruce in Livingston Manor; Peekamoose in Big Indian; Silvia, an organic restaurant in Woodstock; and the restaurant at Union + Post in Windham. These restaurants serve seasonal cuisine prepared from local ingredients.
6. Stay at a Spa Resort or on a Working Farm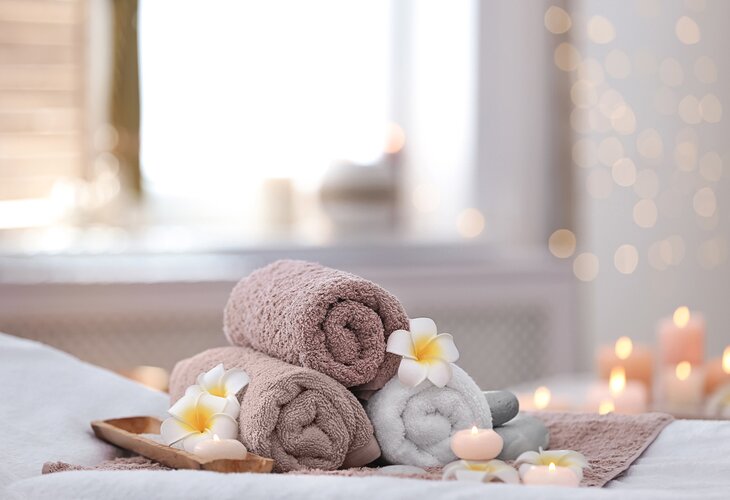 Several spa resorts have taken advantage of the Catskills' peaceful scenery. Staying at one of these luxurious resorts allows you to relax in a pampering environment. It's the ultimate way to enjoy nature without "roughin' it" at a campsite.
The Emerson Resort & Spa in Mount Tremper offers soothing contemporary-style accommodations and pampering wellness treatments. You can get a relaxation massage, a facial, a body scrub, or a mud wrap. The resort also has spiritual rejuvenation programs such as "chakra renewal" and crystal reiki therapy.
The YO1 Longevity & Health Resort is a wellness retreat with a full-service spa, set beside a lake and surrounded by lush rolling hills. At the spa, you may take yoga classes and participate in meditation sessions. Spa services also include naturopathic and Ayurvedic therapies, as well as acupuncture and Reiki healing therapy.
Discover the pastoral lifestyle of the Catskills by spending some time at a working farm. Weathered Hill Farms in South Kortright lets you pitch a tent on their property (or you can stay at a renovated one-room schoolhouse down the road). You can even help with the farm chores for an authentic experience.
If you are traveling with the family, you can book a cabin at Stonycreek Farmstead's beautiful property. The rustic tent cabins (that sleep six people) include running water and a wood-burning stove. There are also community pizza nights; kids' art, cooking, and other workshops; and a farmstand that sells organic farm products and pasture-raised hens' eggs.
7. Admire the Mountain Views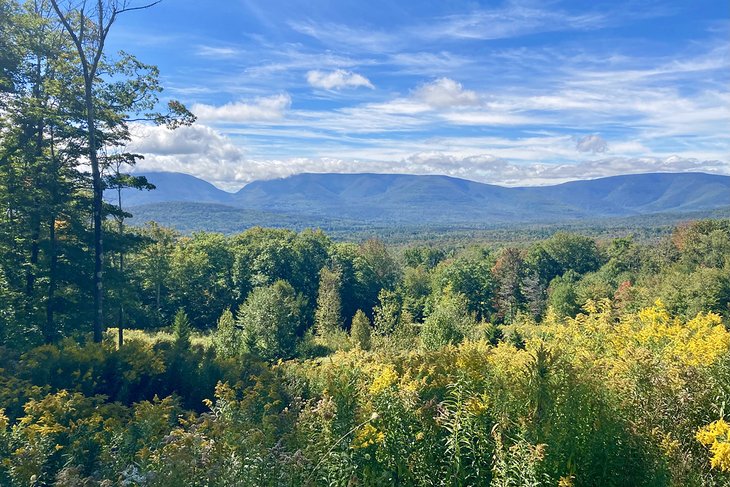 The Catskill Mountains include 35 high peaks soaring up to 4,180 feet in elevation. Wooded rolling hills, forested mountains, granite overlooks, narrow valleys, and winding streams make for inspiring scenery.
If you are in excellent physical fitness and are up for the challenge, you can hike to the iconic summits of the Catskills. The hiking trails up to the summits of Indian Head Mountain, the legendary Slide Mountain, and Hunter Mountain (the Hunter Mountain Fire Tower) lead to splendid views of the Catskill Mountains.
Hiking to Windham High Peak affords panoramas of both the Catskills and the Hudson Valley.
It's possible to admire the scenery without hiking. The Five State Lookout in East Windham commands panoramic views of the mountain ranges in five states: the White Mountains of New Hampshire, the Green Mountains of Vermont, the Berkshire Mountains of Massachusetts, the Helderberg Mountains of New York, and the Connecticut Valley.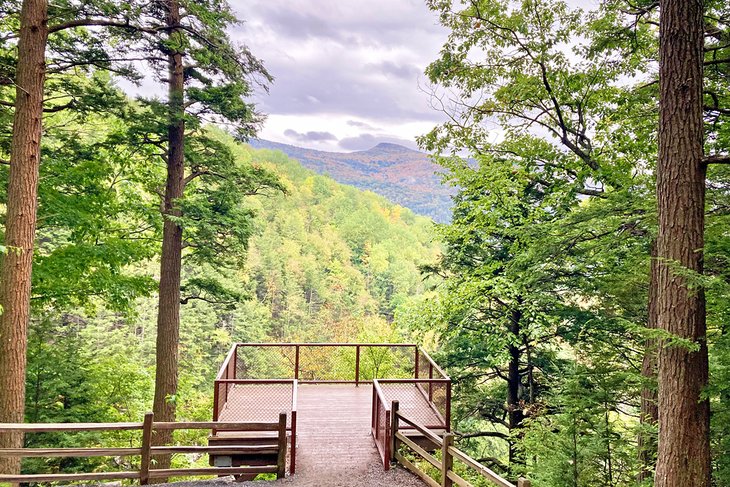 You can take a short, easy walk to reach a spectacular vista point at the Kaaterskill Falls viewing platform. It's about a half-mile on a dirt path through the forest to reach the viewing platform.
At Mount Utsayantha near the village of Stamford, you can hike or drive one mile to the summit (a 680-foot elevation gain). It's a moderately difficult hike or a very short drive.
8. Pitch a Tent at Gorgeous Campgrounds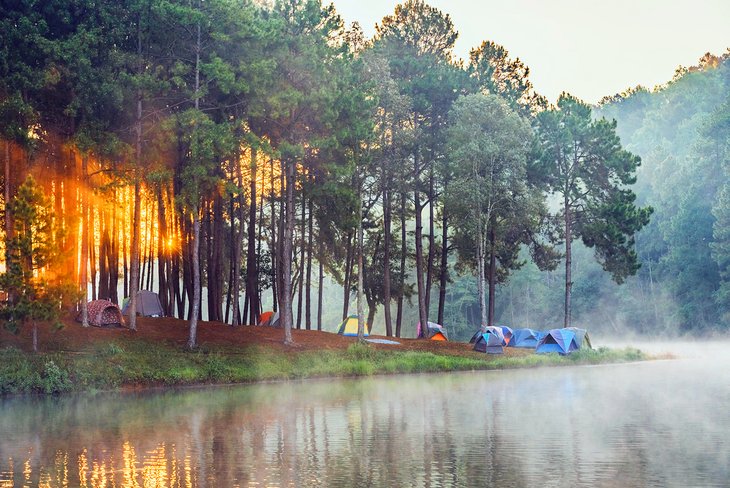 Sleep beneath starry skies in the fresh mountain air, and wake up to the golden glow of sunlight on the horizon. Camping in the Catskills brings you closer to nature, whether the campsite is next to a babbling brook or a serene lake. It's a chance to unwind in the unspoiled natural environment.
The largest and most popular campground in the region, North-South Lake Campground in Haines Falls is home to famous hiking trails, such as the Escarpment Trail. The facilities include seven camping areas with over 200 tent sites, water access, hot showers, and flush toilets. Other features are the two lakes, two beaches, a picnic pavilion, boat rentals, a fishing platform, volleyball courts, a playground, and two picnic areas with tables and charcoal grills.
Another top place to visit, Devil's Tombstone Campground is one of the oldest campgrounds in the Catskill Forest Preserve. The campground is found in a secluded clove, protected by some of the Catskills' highest peaks. Devil's Tombstone Campground has 22 primitive campsites, a playground, a picnic area, firepits, water access, and hiking trails.
For those seeking an outdoorsy overnight experience without roughing it, glamping sites provide a good alternative. Purling Waters at Tumblin' Falls in Purling is a well-outfitted glamping site nestled in a densely wooded glen near Shinglekill Creek.
The Old Game Farm in Catskill offers luxurious glamping sites with queen beds, private grills, and Adirondack chairs. The Willowemoc Wild Forest Yurt campground resort in Livingston Manor delivers a rustic-chic glamping experience.
9. Check Out the Charming Small Towns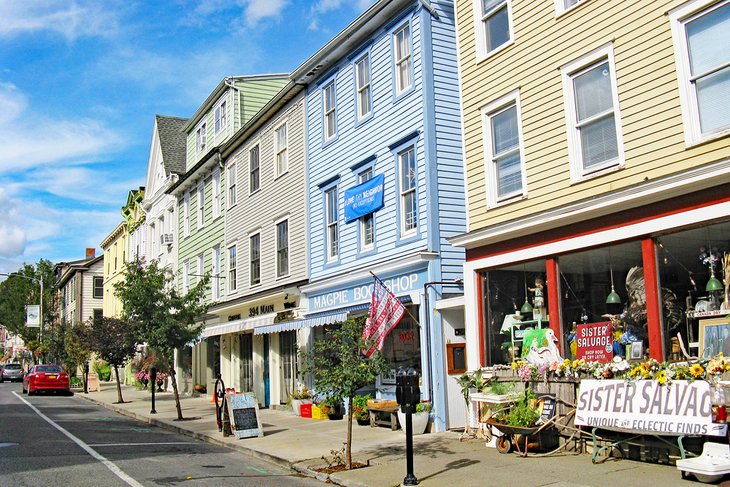 Quaint country towns dot the wooded hillsides and valleys of the Catskills region. There are tiny villages with two-block main streets and faded half-abandoned towns that experienced their heyday decades ago. At the same time, many communities have been revived during the recent renaissance in tourism.
The pint-sized town of Phoenicia in the central Catskills has a lot to offer visitors on its inviting main street, lined with several restaurants and small locally owned shops. At the heart of the Catskills, the town enjoys a peaceful setting by the Esopus River and is a good place for outdoor activities like hiking, camping, and fly fishing. The Phoenicia Diner is famous for its classic "diner" menu prepared from seasonal ingredients.
Detour-worthy towns in the Western Catskills include Callicoon, an atmospheric 19th-century town with many restaurants, cafés, and a year-round farmers market; and trendy Livingston Manor, known for its gourmet food scene and famous fly shop.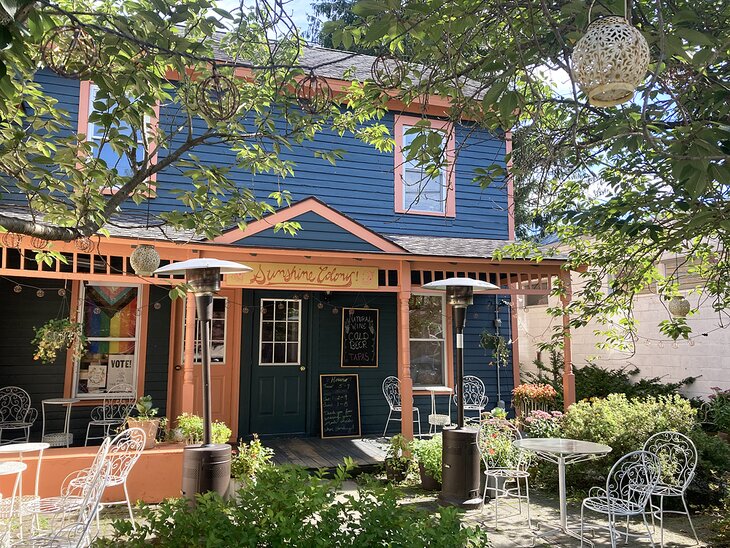 In the Great Northern Catskills, Tannersville is larger than most Catskills towns, with three blocks of shops, cafés, and restaurants on its Main Street. The Bear & Fox Provisions gourmet grocer is a good place to pick up sandwiches before or after a hike.
In an idyllic setting a bit farther out of the way in the Upper Catskills, the village of Fleischmanns has a small "downtown" area with a country store and a surprisingly authentic Moroccan café, Bebert's Condiments Cafe. There's also a well-known barbecue restaurant & pizzeria, Goatie Whites, near the highway.
You'll love the village of Woodstock for its historic New England charm and more recent hippie heritage. Full of tourist attractions, this adorable town has many artisan craft stores and locally-owned boutiques, as well as a wide selection of excellent restaurants. One of the best restaurants, Cucina, serves authentic Italian dishes prepared from high-quality ingredients.
The town of Catskill on the Hudson River is known for its art scene and eclectic small-town vibe. The main street features cafés, a variety of casual restaurants, locally-owned shops, and art galleries. Be sure to visit the Thomas Cole National Historic Site.
10. Leaf-Peeping in the Fall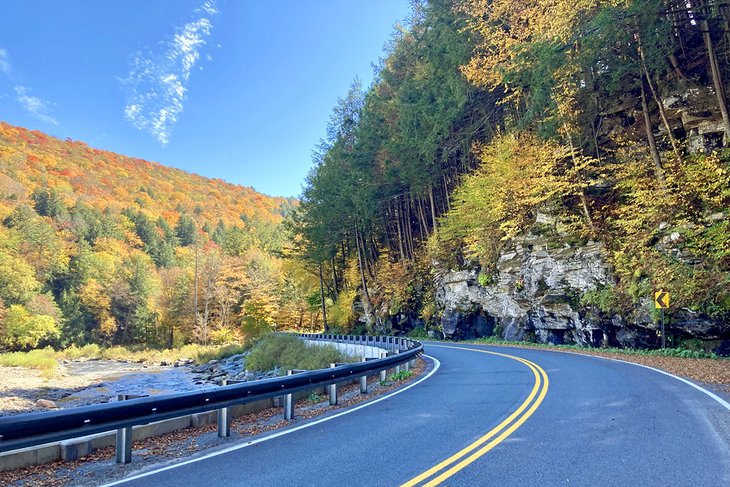 Nothing compares to the beauty of a sunny autumn day in the Catskills. The trick is to get the timing right. The leaves usually begin changing color in late September or early October, and fall foliage typically peaks around mid-October.
Take a leaf-peeping excursion along the Catskills' two-lane country roads. The Catskill Mountains Scenic Byway along Route 28 showcases the beauty of the Catskills region. The route begins in Shokan and continues for 52 miles through rolling hills, along gurgling creeks, and past small country villages, concluding in the town of Andes. Highlights include the towns of Phoenicia, Fleishmanns, and Margaretville.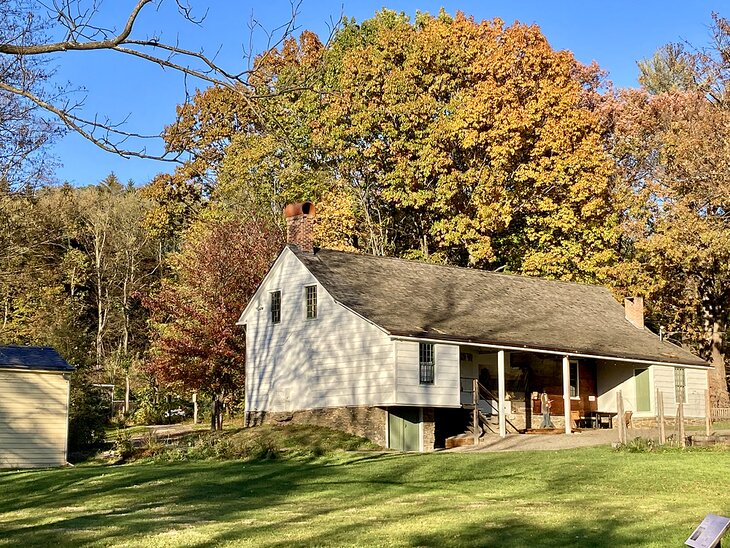 If you prefer sightseeing to driving, a short excursion to the Thomas Cole National Historic Site in the town of Catskill is perfect on a fall day. The founding father of the Hudson River School art movement lived here. One glimpse from his wraparound porch and you'll understand why he was inspired by the Catskill Mountains. You must purchase a ticket to see the interior of the house where Thomas Cole's paintings are displayed and to visit his art studio.
For an enjoyable autumn activity, try apple picking at one of the local farms. Several apple orchards in Accord, Stone Ridge, and Kerhonkson allow you to pick your own apples.
11. Try Canoeing or Kayaking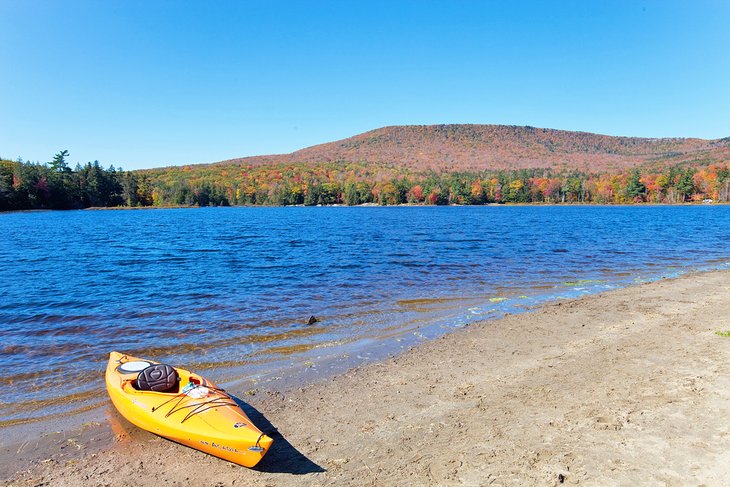 The gurgling clear-water streams of the Catskills are legendary for fly-fishing, and during summertime also become a destination for water sports. Popular water sports activities include rafting, tubing, canoeing, kayaking, and paddleboarding.
You can go boating on the Pepacton Reservoir and the Cannonsville Reservoir in Delaware County. In the town of Halcottsville, a great place for a carefree day of boating is the Susan Pleasant Pheasant Farm, which has a launch site on Lake Wawaka, and rents out canoes, kayaks, and paddleboards.
The North-South Lake Campground is another great place for boating. The campground's boating site offers rentals of rowboats, canoes, paddleboats, paddleboards, and kayaks.
12. Take a Ski Trip in the Wintertime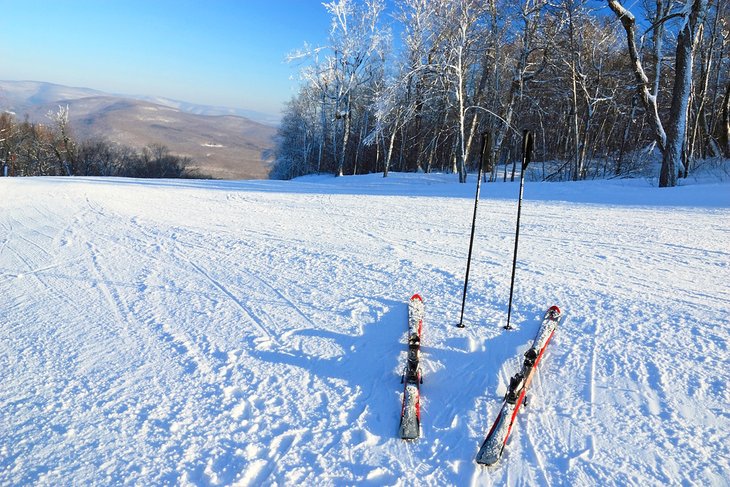 Glide down powdery ski slopes in the Great Northern Catskills. This region boasts the most dramatic scenery of the region, along with the steepest hills for downhill skiing.
Alpine skiers can choose from two major ski resorts with summits above 3,000 feet in elevation. Windham Mountain has 12 lifts, 285 acres of ski terrain, and six terrain parks. Hunter Mountain offers 320 acres of ski terrain accessed by 13 lifts.
There are also several places to go cross-country skiing, including the Cross Country Skiing Center at Windham Country Club, Mountain Trails Cross Country Ski Center in Tannersville, and the state-owned Catskill Forest Preserve in Mount Tremper.
Read More: Best Ski Resorts near New York City
13. Stop at Old-Fashioned Diners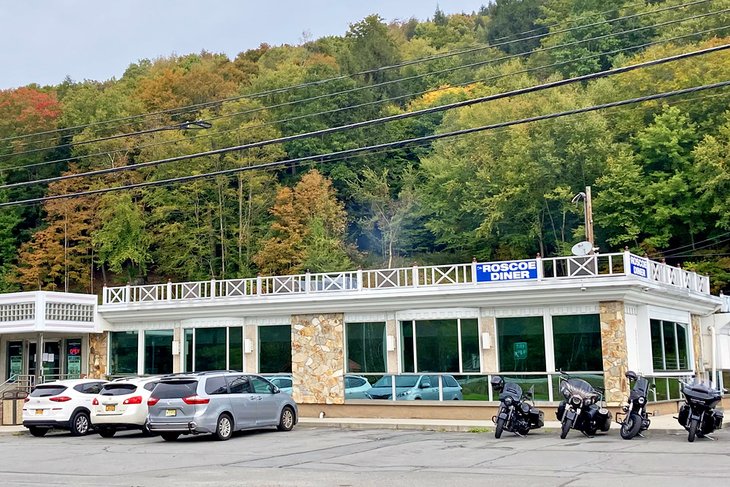 Authentic old-time diners are scattered throughout the Catskills. Stop at one of these cozy dining establishments, for a taste of the local food and culture.
Catskills diners are renowned for their classic all-American cooking. The menus feature hearty dishes such as pancakes, scrambled eggs, omelets, hamburgers, fish and chips, and grilled cheese sandwiches.
Selena's Diner in Tannersville has an inviting dining room with an old-school feel. The menu includes typical diner fare such as pancakes, waffles, omelets, sandwiches, burgers, and salads. This is a great place to refuel after an invigorating hike in the region. The trail to Kaaterskill Falls and other popular hikes are nearby.
One of the best diners in the Catskills, the Phoenicia Diner (5681 Route 28) serves breakfast and lunch from 8 am until 6 pm. The Phoenicia Diner stands out because of its focus on high-quality seasonal ingredients. Favorite menu items include homemade granola, French toast with local maple syrup, smoked trout or lox on bagels, pan-fried local trout, and grass-fed beef burgers.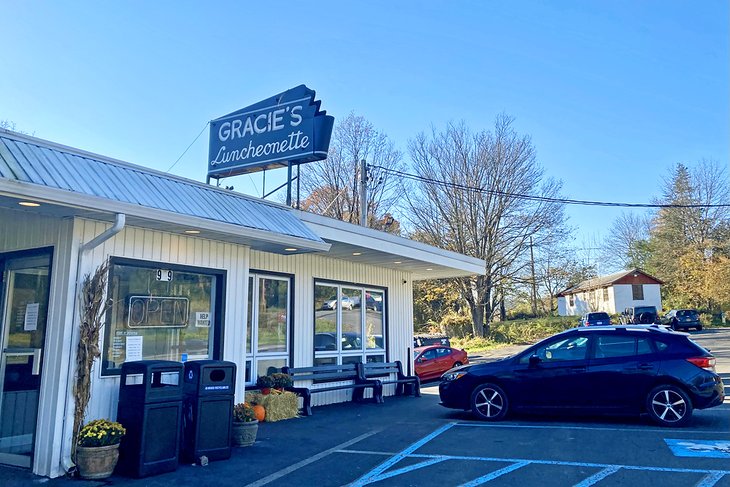 In the town of Leeds at the entrance to the Great Northern Catskills, Gracie's Luncheonette serves typical old-fashioned diner comfort food. What makes it special is the focus on preparing recipes from scratch, including house-made bread, hamburger buns, hotdogs, pickles, and pies.
14. Tee Off on Historic Golf Courses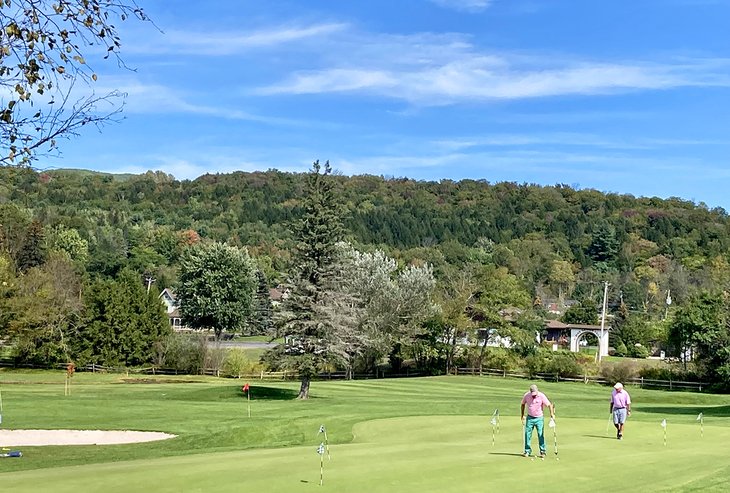 Enjoy a round of golf with spectacular mountain views and a good dose of history. The Colonial Country Club in Tannersville overlooks the peaks of the Great Northern Catskills. Dating to the early 1920s, this nine-hole USGA-Regulation golf course has a restaurant, pro shop, driving range, and equipment rentals.
The Windham Country Club in Windham was built in 1928 and has been recently renovated. This 18-hole public golf course offers scenic fairways with views of the Catskill Mountains. The golf course has a clubhouse, driving range, and restaurant.
The Hanah Country Club in Margaretville boasts a challenging 18-hole championship golf course with gorgeous mountain views. The original nine-hole golf course dates to 1949 but was enlarged in 1989.
Incidentally, Koji Nagasaka, the owner of Hanah Mountain Resort & Country Club, is a huge fan of the movie Dirty Dancing and has attempted to create the Catskills resort life of the 1950s and 1960s.
15. Unwind at a Yoga or Meditation Retreat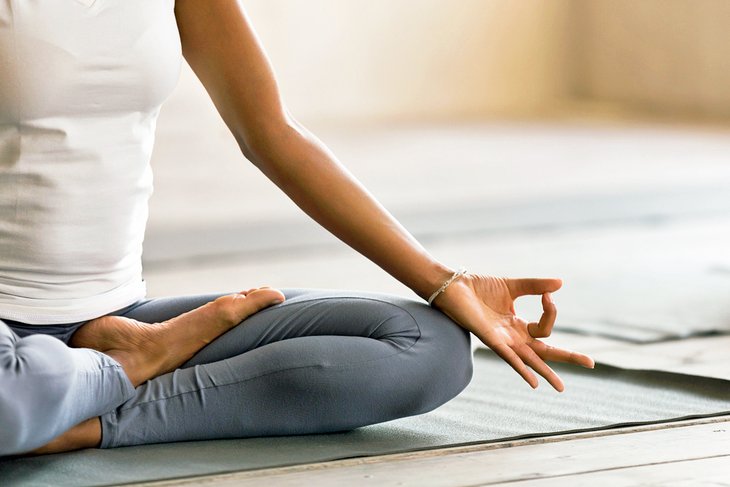 The Catskills region naturally attracts visitors in search of peace, quiet, and relaxation. Several retreat centers in the Catskills take advantage of the bliss-inducing pastoral setting and breathtaking mountain views.
On a lovely 93-acre property in Margaretville, the Blue Deer Center offers healing retreats with a focus on spirituality and Indigenous traditions. The Mahayana Buddhist Temple in South Cairo is open to the public for mindfulness meditation classes and retreats.