15 Top-Rated Things to Do in Poughkeepsie, NY
Poughkeepsie lies quietly on the banks of the sparkling Hudson River in New York State's Hudson River Valley. Pronounced "pa-kip-see," this quick weekend destination is an easy commute for New Yorkers. It's the last stop on the Metro North's Northern Hudson Line. Once dubbed the second capital of New York, Poughkeepsie is packed with fun tourist attractions and a multitude of things to do.
Whether you're an art buff hoping to catch a contemporary exhibit at the Barrett Art Center, a bridge-lover aching to enjoy views from the Walkway Over the Hudson, or a historian interested in the multiple properties on the National Register of Historic Places, there are plenty of ways to stay occupied in this university town.
Studious scholars will also enjoy a visit to Poughkeepsie, home of the impressive campuses of Vassar College, Marist College, and the Culinary Institute of America. To help plan your trip, use our list of the best things to do in Poughkeepsie, NY.
1. Enjoy the View from the Walkway Over the Hudson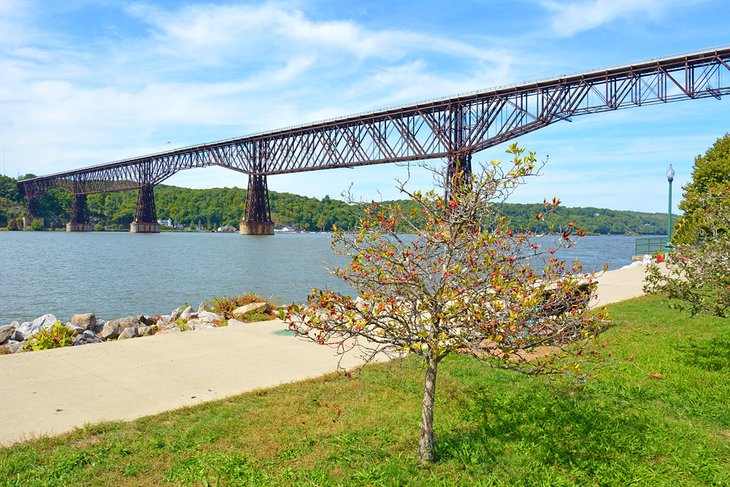 You can't beat the view from the Walkway Over the Hudson State Historic Park. The longest elevated pedestrian bridge in the world, this spectacular feat of engineering was used as a railway bridge beginning in 1889. Known as the Poughkeepsie-Highland Railroad Bridge, it connected the northeast to the Midwest.
Closed in 1974 due to fire, the bridge was revamped and reopened in 2009 as a haven for pedestrians in search of a remarkable view. Open year-round from 7am to sunset, the Walkway Over the Hudson is the best thing to do in Poughkeepsie. It continues to be the most popular attraction, which means you'll never be alone when visiting this point of interest.
The most popular route is known as the Walkway Loop Trail, a 3.6- or 4.2-mile route, depending on where you start: the Washington Street stairs or the Park Avenue car park. This trail takes visitors west, across the Walkway, south along rail and nature trails in Ulster, and through Franny Reese State Park, before cutting back east across the Mid-Hudson Bridge to Dutchess county. Bring a camera because it's impossible to resist snapping hundreds of photos.
Before crossing the Walkway, download the Travel Storys app for a self-guided audio tour, including podcast-style stories about the area's history. It's free.
Insider's tip: Don't visit if a thunderstorm, icy conditions, or high winds are in the immediate forecast. The bridge closes during inclement weather plus, you wouldn't want to be stuck at the halfway point when lightning hits!
Address: 61 Parker Avenue or 83 North Water Street, (this upper landing parking area includes an elevator), Poughkeepsie, New York
Official site: https://walkway.org/
Read More: Top Attractions & Things to Do in the Hudson Valley, NY
2. Walk through Locust Grove Estate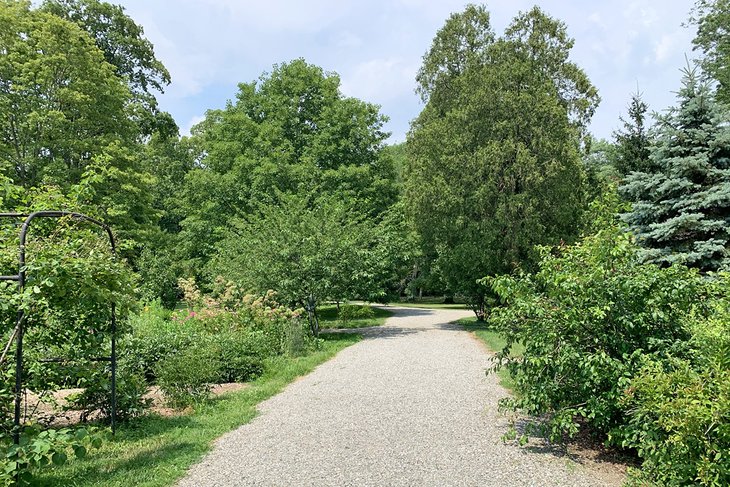 It's easy to lose yourself in Locust Grove Estate. Not in the literal sense, as the "roads" and "trails" are clearly labeled, but in the emotional sense - the serene beauty of its nearly 200 acres is both healing and thought-provoking.
A not-for-profit museum and nature preserve, this historic estate was home to Annette Innis Young between 1895 and 1975. Today, it is open to the public to enjoy daily, between 10am and 5pm. All the organization asks for in return is a donation.
The winding "roads" are wider and sometimes paved, easy terrain to push a stroller or wheelchair past streams, fields, and barns to the Hudson River. More rugged "trails" pass by streams, ponds, and waterfalls. The Sawmill Trail is perhaps the most scenic and involves a trek up a steep hill, where visitors are rewarded with picturesque river views.
The welcome center includes a gift shop, art galleries, and classrooms used for hosting educational programs. Just behind this building lie large kitchen and flower gardens, as well as the start to five miles of hiking trails. This sits just beside the pet cemetery.
You'll also find the historic, Italianate mansion designed in 1850 by architect Alexander Jackson Davis. It is open for paid guided tours and contains 15,000 pieces of the Young family's heirlooms, including art and furniture.
Address: 2683 South Road, Poughkeepsie, New York
Official site: https://www.lgny.org/
3. Stroll across the Mid-Hudson Bridge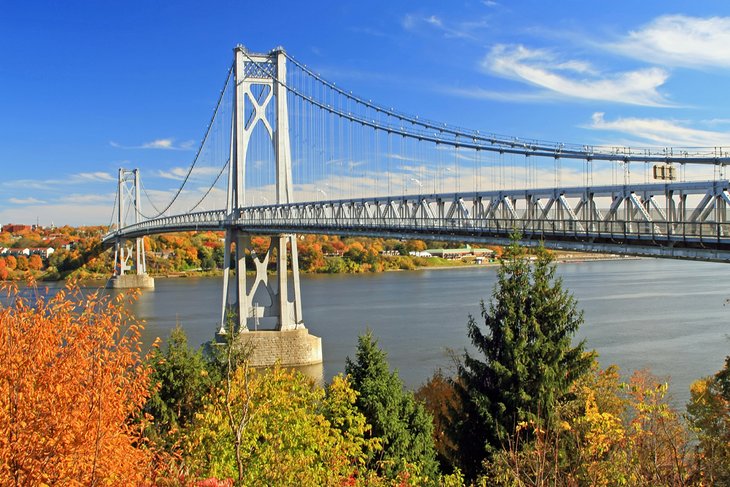 Another unmissable Poughkeepsie bridge connects Ulster and Dutchess counties. Known locally as the Mid-Hudson Bridge, this iconic structure is officially named the Franklin Delano Roosevelt Mid-Hudson Bridge. Opened in 1930, this parallel wire cable suspension bridge spans 3,000 feet across the Hudson River.
While you'll have to share the bridge with cars, the pedestrian sidewalks make it easy to stay safe while stopping to admire the breathtaking views below. Another plus of walking across: visitors can experience local composer, Joseph Bertolozzi's innovative Bridge Music.
This public sound-art installation plays music created by the bridge itself. Listening stations are set up along the bridge's two towers (just press the button, and you'll hear it) and can be enjoyed between April and October. At other times of the year, guests can listen to Bridge Music by tuning their radios to 95.3 FM while in neighboring Waryas Park in Poughkeepsie and Highland's Johnson-Iorio Park.
Together with the Walkway Over the Hudson, this is the second historic bridge on the famed Walkway Trail Loop.
Address: State Routes 44/55, Highland, New York
Official site: https://nysba.ny.gov/bridge/mid-hudson
4. Get Inspired at the Frances Lehman Loeb Art Center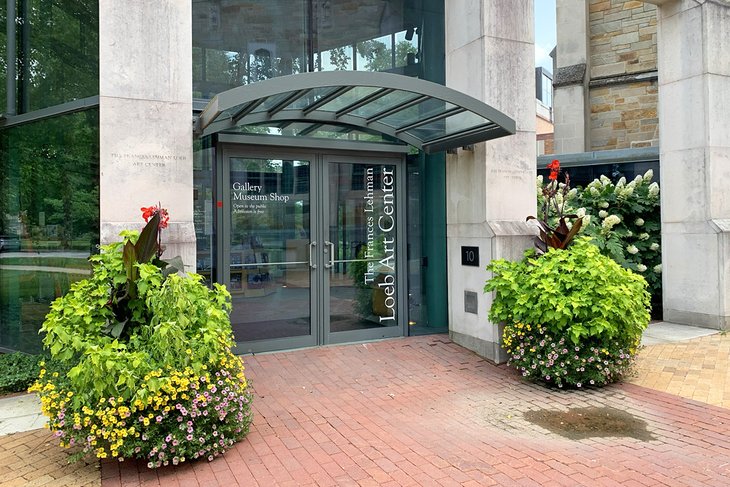 Located on the magnificent grounds of Vassar College, the Frances Lehman Loeb Art Center served as the college art gallery from 1864. Originally known as the Vassar College Art Gallery, this inspiring place to visit was renamed to honor its largest donor, Frances Lehman.
To find the center, visitors must enter the college's main gate, a series of three majestic stone archways off Raymond Avenue. Stick to the right, and you'll spot the enthralling glass hexagonal entrance pavilion, which is perfectly juxtaposed by the surrounding Gothic buildings.
Outside you'll spot the Hildegarde Krause Baker Sculpture Garden, with its lovely garden and large sculptures. Inside consists of 36,000 square feet filled with more than 22,000 impressive and interesting works of art.
These include sculptures, photographs, ceramic and glass creations, textiles, prints, and drawings, as well as masterpieces created by American and European 20th-century painters. The Warburg Collection of Old Master Prints and a series of Hudson River School paintings are also found here.
With the art center's main goal being to teach its college students, you'll find a large art repository and the Project Gallery exhibition/presentation space inside, as well as a teaching museum.
Address: 124 Raymond Avenue, Poughkeepsie, New York
Official site: https://www.vassar.edu/fllac/
5. Find Peace (and an Elevator) at Upper Landing Park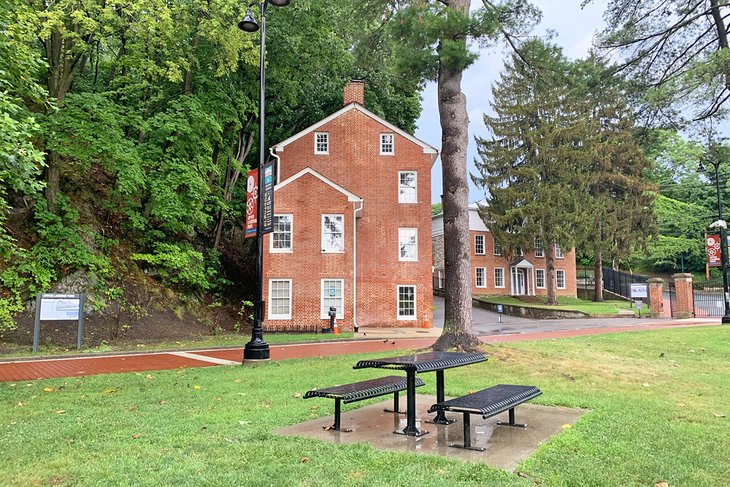 Look closely when you're in the parking lot behind the Mid-Hudson Children's Museum, and you'll spot the Upper Landing Park, which is open daily from 7am to sunset. A riverfront highlight set close to the Walkway Over the Hudson, this small but enchanting park is more than just a pretty spot to enjoy the view. It also serves as a living museum and home to the 21-story glass Waterfront Elevator that shuttles guests to the Walkway Over the Hudson State Historic Park.
In addition to bike and walking paths, perfectly situated benches, and those spectacular views, Upper Landing Park is home to both the Hoffman and Reynolds historic houses. The Hoffman House, which is listed on the National Register of Historic Places, is one of the oldest houses in Poughkeepsie, and the oldest remaining structure at Upper Landing. It was built in 1789, the year George Washington was elected president.
The Reynolds House was built between 1807 to 1810. Its ground floor once served as a grocery floor, and the owners lived in the two floors above.
Address: 83 North Water Street, Poughkeepsie, New York
6. View the Art at the Cunneen-Hacket Arts Center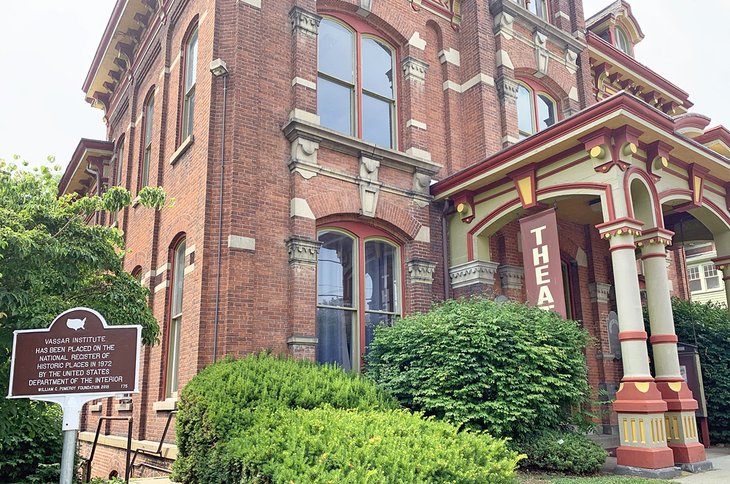 The vast offerings presented by the Cunneen-Hacket Arts Center are spread between two historic buildings located almost directly across from one another. Both are tall Victorian buildings with red accents and ornate columns. The largest property, which lies at 9 Vassar Street, is flanked by a giant metal horse sculpture.
The building at 12 Vassar Street is known as the theater building and opened in 1882. It contains the Visual Arts Galleries, which can be viewed after calling ahead to make an appointment. Inside, you'll also find the Hancock Gallery, which presents interesting exhibits year-round. These rotate about every six weeks.
Concerts, dance shows, and other performances are hosted in the recently renovated 200-seat theater. This building is also home to a 1,200-square-foot dance studio.
The Hallway Art Gallery, located at 9 Vassar Street, can be viewed between 9am and 5pm Mondays through Fridays. Otherwise, this building is used to house the offices of multiple not-for-profit agencies. This lovely structure dates to 1880.
Address: 9 and 12 Vassar Street, Poughkeepsie, New York
Official site: https://cunneen-hackett.org/
7. Catch a Show at the Bardavon Opera House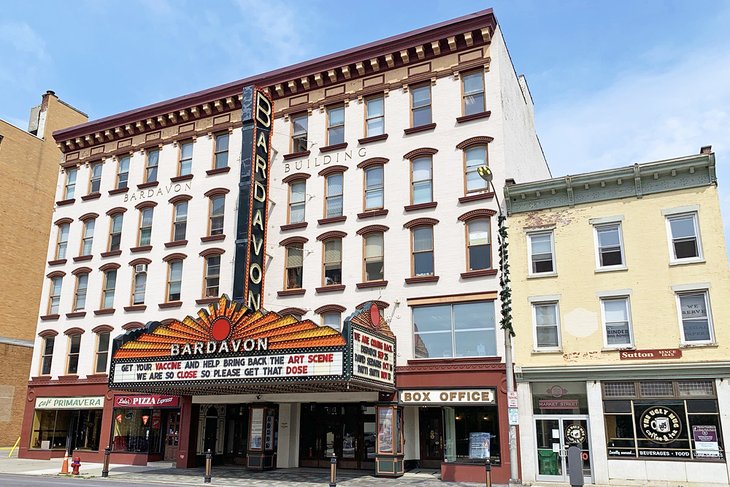 The Hudson Valley Philharmonic are happy to call the pretty Bardavon Opera House home. Built in 1869, this 944-seat theater is listed on the National Register of Historic Places. As such, it is one of the oldest theaters in the county and has been dubbed the oldest continuously operating theater in the state.
The Bardavon is set in the heart of Poughkeepsie's downtown and appeals to those who appreciate a vast array of performance types. Films, theatrical performances, dance shows, jazz concerts, rock concerts, and opera are a few of the fun offerings scheduled throughout the year. Catch a performance here if you're looking for something to do at night.
Inside its historic walls, you'll find a stage (of course), dramatic columns, and a bevy of comfortable seats primed for visitors who love the arts.
Address: 35 Market Street, Poughkeepsie, New York
Official site: https://www.bardavon.org/
8. Appreciate the Contemporary Art at the Barrett Art Center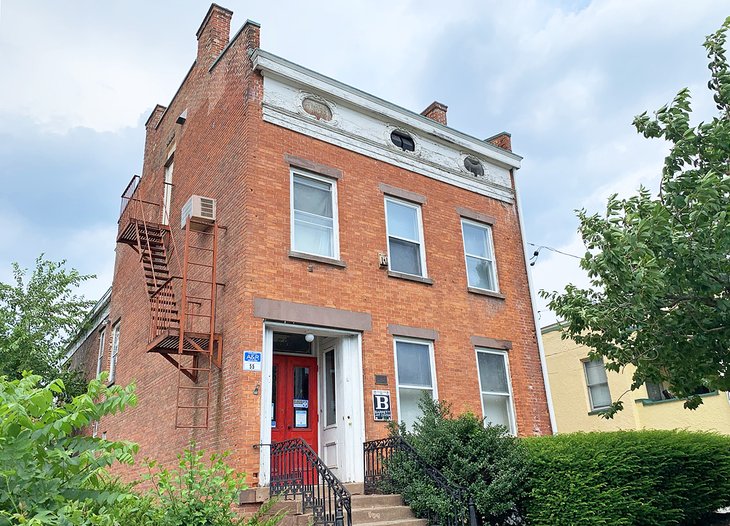 In 1900, the Barrett Art Center served as home to local banker, Thomas Barrett and his wife, Kate Stoutenburgh. Their son, Thomas Weeks Barrett Jr,. was a talented artist who organized Dutchess County's first art exhibit many years later. It was so popular, Barrett Jr. went on to found the Dutchess County Art Association in 1935 along with fellow colleagues.
In 1974, his sister bequeathed the Greek Revival home to honor her brother's passion for art. Today, this is where you'll find free exhibitions featuring international works that push boundaries, contemporary art that will both inspire and satisfy, and sculptures so intriguing, you'll want to gaze at them for hours.
The Barrett Art Center offers fascinating artist talks and fun classes for children in their Barrett Kids' Adopt-an-Artist program, which culminates in an exhibition of their work shown in the Crenson Gallery.
Address: 55 Noxon Street, Poughkeepsie, New York
9. Visit the Clinton House State Historic Site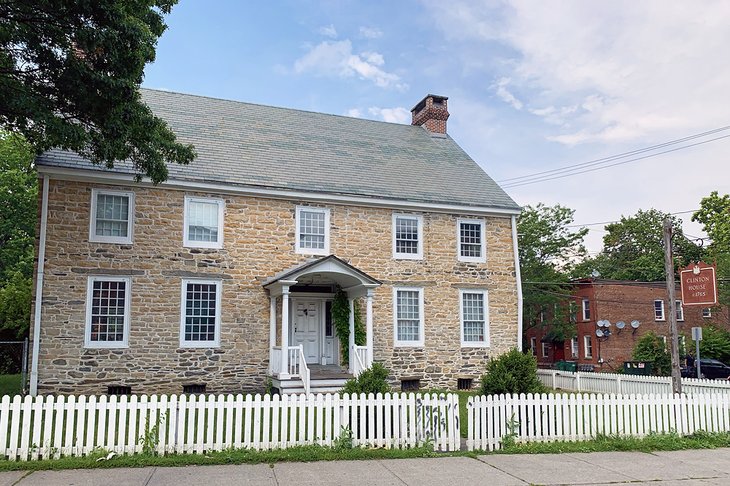 It's hard to miss the Clinton House State Historic Site. Situated among the shops and restaurants lining downtown's Main Street, this 18th-century Gregorian home certainly sticks out. Set behind a white picket fence, the stone home is surrounded by a small green lawn. It was listed on the National Register of Historic Places in 1982.
Clinton House was built in 1765 and named to honor George Clinton, the first governor of New York State. In 1783, it was rebuilt and expanded by soldiers after suffering damage from a fire.
Inside this attraction, you'll find a library reserved for local historical research, and an archive. It's home to the Dutchess County Historical Society, and there is also a small gift shop on-site.
Address: 549 Main Street, Poughkeepsie, New York
Official site: https://parks.ny.gov/historic-sites/1/details.aspx
10. Have a Picnic at Victor C. Waryas Riverfront Park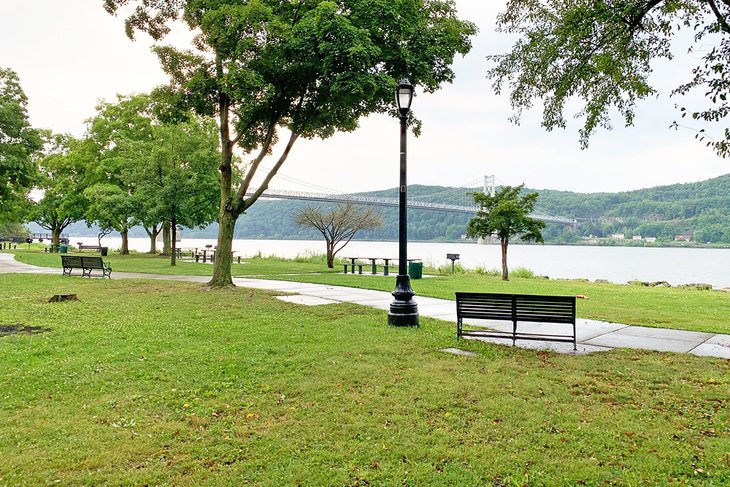 If you're looking for an unbeatable view of the two Poughkeepsie bridges, head to Victor C. Waryas Park, or Warayas Park, as it's known to locals. A hidden gem set upon nine acres at the foot of Main Street, this quiet park provides a tranquil spot to have a picnic, head out for a riverside walk, or enjoy playtime with the kids. It's a fun place to visit with the family.
It is home to two playgrounds, multiple benches and picnic tables, outdoor grills, a boat launch, dock, restaurant, and facilities. Together, these amenities make it easy to spend an entire afternoon gazing at the impressive view while lounging by the Hudson. The park is open from 7am to 9pm.
Insider's Tip: While here, tune your radio to 95.3 FM to enjoy the unique Bridge Music developed by Joseph Bertolozzi. This is one of the only spots where visitors can hear the recorded sounds of the Walkway over the Hudson.
Address: Main Street, Poughkeepsie, New York
11. Visit the Art Museum or Walk along the River at Marist College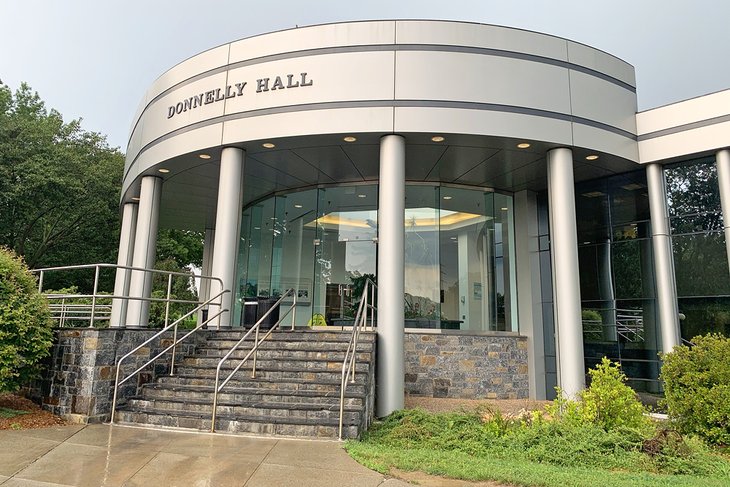 It's tough to find a more picturesque backdrop for a college in New York state. Set serenely on the banks of the Hudson River, Marist College's stone buildings and perfectly manicured gardens are almost as inspiring as the incredible minds and artworks that grace its campus. The college's sister campus resides in Florence, Italy, so no matter which school you choose to visit, your eyes are in for a treat.
Wander the riverside walking path, take a guided sightseeing tour of campus, or visit the impressive Marist College Art Gallery. Located in the Steel Plant Studios, this 3,200-square-foot gallery boasts a vast, bright, and contemporary space featuring a rotating stream of exhibitions throughout the year. Considering this is a "comprehensive liberal arts institution," you're guaranteed to view some inspiring pieces.
Donnelly Hall features a help desk, computer center, and the Donnelly Coffee Shop, among other student-centric offices. Who knows, after a tour of this gorgeous institution, you may be inspired to sign up for a semester!
Address: 3399 North Road, Poughkeepsie, New York
Official site: https://www.marist.edu/
12. Grab a Bite on Collegeview Avenue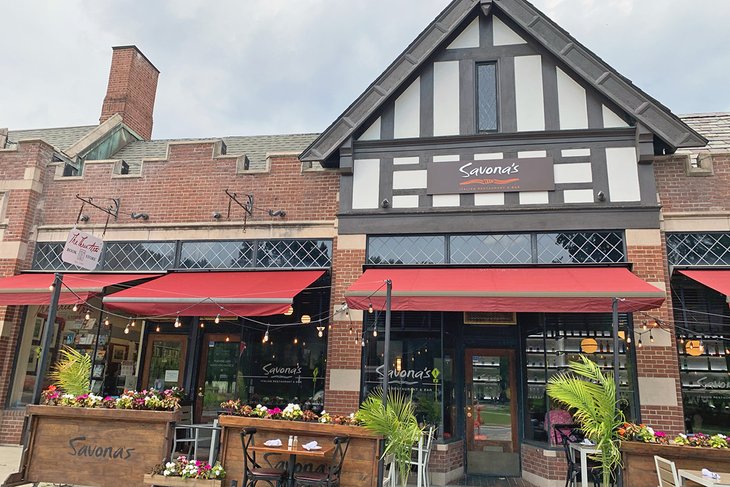 Collegeview Avenue is a short street that connects to Raymond Avenue, mere steps from the impressive Vassar College campus. While it isn't lengthy, this cute avenue boasts a few great restaurants, cafés, and shops to entice visitors to spend a couple of hours. It's frequented by college students, but that only adds to the alluring vibe.
Savona's Trattoria is a must-visit featuring delicious Italian fare. This is a popular weekend brunch destination, but the lunch and dinner dishes are just as palate pleasing. The fried zucchini flowers are divine, as are the baked gorgonzola-stuffed figs, and fresh tagliatelle.
The tiny Three Arts Book Store sits next door to Savona, offering literature lovers a vast array of everything from beloved classics to contemporary lit to history tomes to children's books. This well-organized spot seeps old-world charm.
13. Buy Fresh Produce at the Poughkeepsie Waterfront Market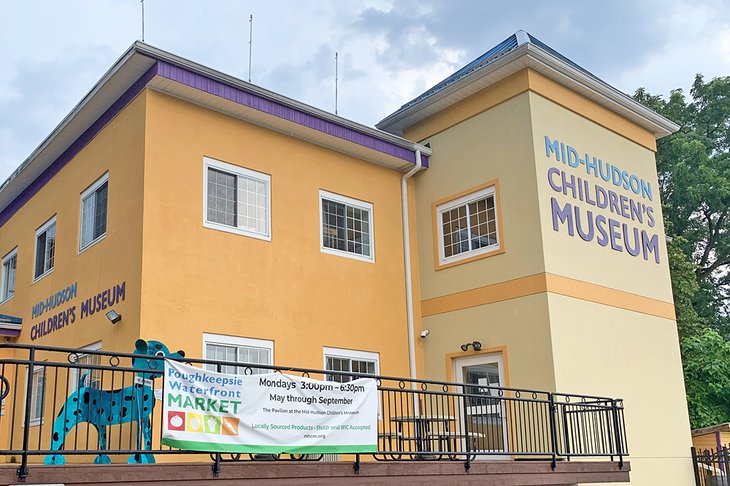 Whether you're hoping to nab the season's ripest radishes, devour a vat of just-picked blueberries, or scramble a dozen farm-fresh eggs, you'll enjoy a trip to the Poughkeepsie Waterfront Market.
Opened in 2017 to help connect Poughkeepsie residents with healthy, fresh, and affordable food, the market is held in a pavilion just outside the Mid-Hudson Children's Museum (MHCM). The view is almost as divine as the food.
This popular market is open Mondays from 3pm to 6:30pm between May and October, a prolonged season due to needs created by the pandemic. The market lies near the train station and beside Upper Landing Park's elevator to the Walkway Over the Hudson.
It's organized by MHCM, and visitors can browse, shop, or merely sample the tasty wares free of charge. When the museum reopens (hopefully in the spring of 2022) with a new, more dynamic, hands-on space dedicating to enhancing STEM education, you'll have trouble dragging your kids away.
Address: 75 North Water Street, Poughkeepsie, New York
Official site: https://mhcm.org/visit/poughkeepsie-waterfront-market/
14. Ogle the Art at Mural Square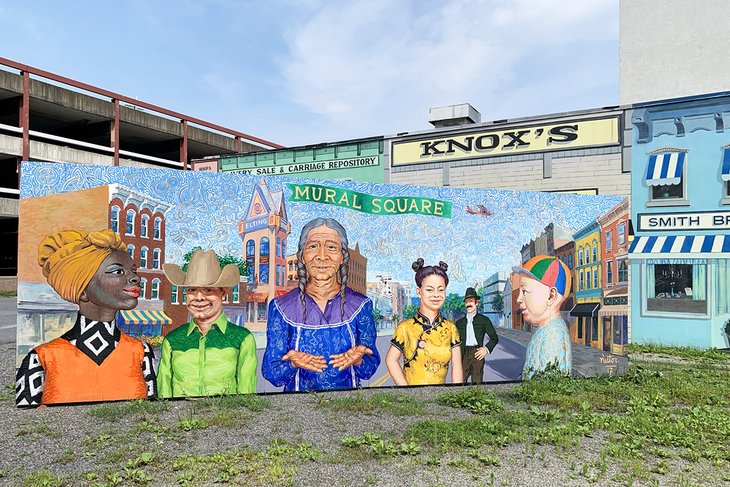 You won't need to spend very long at Mural Square, but this colorful spot is more than worthy of a visit. Set in a vacant lot off Main Street, this funky square certainly brightens the neighborhood. A pop-up park once took over the inner core of this city-owned lot, but today all that remains are patches of grass and of course, the eye-catching murals.
The 130-foot "Olde Main Street" mural is impossible to miss. A colorful replica of old-time shops was painted in 2022 by artist Franc Palaia.
Insider's tip: Mural Square isn't the only place to visit to see murals in Poughkeepsie. A wander around the downtown core (pay special attention to Columbia and Academy Streets) will lead you past multiple exciting works.
Address: 253 Main Street, Poughkeepsie, New York
15. Take a Selfie at the Poughkeepsie Underwear Factory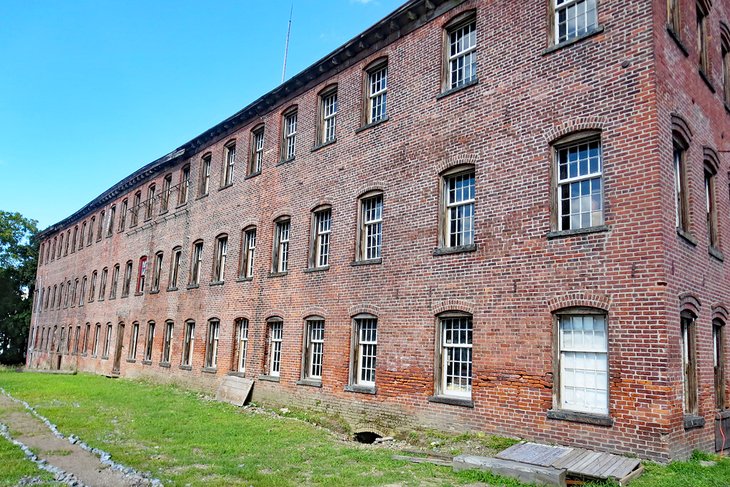 It's worth visiting the Poughkeepsie Underwear Factory just for story-telling purposes. How often do you get to start a tale with, "when I was at the underwear factory?"
Known locally as the PUF, this community hub was home to the Queen Undermuslin Company (a.k.a. an underwear factory) from its start in 1899, which produced over 60,000 women's and children's undergarments each year.
The building itself was erected in 1874 and has been listed on the National Register of Historic Places since 1982. Thanks to a revitalization project by Hudson River Housing, it has been revamped, and currently boasts various studios, apartments, and a large shared commercial kitchen that is frequented by over 30 small food and beverage businesses.
Co-working spaces are on-site, and print making studios are available to rent by the hour, as long as you purchase an annual membership.
Address: 8 North Cherry Street, Poughkeepsie
Map of Things to Do in Poughkeepsie, NY
Poughkeepsie, NY - Climate Chart
Average minimum and maximum temperatures for Poughkeepsie, NY in °C
J
F
M
A
M
J
J
A
S
O
N
D

1

-9

3

-9

8

-3

15

2

21

8

26

13

29

16

28

15

23

10

17

3

11

-1

4

-6

PlanetWare.com
Average monthly precipitation totals for Poughkeepsie, NY in mm.

81

64

91

96

120

95

120

97

94

90

90

82