18 Best Lakes in Connecticut
Author Shandley McMurray lives in Connecticut and takes advantage of the lakes in the summer months.
Spanning a mere 110 miles from east to west and 70 miles from north to south, Connecticut is far from America's biggest state. What it lacks in size, it makes up for in droves with its innate beauty. Over 3,000 lakes, ponds, and reservoirs call Connecticut home, and their sparkling nature dramatically ups Connecticut's charm factor.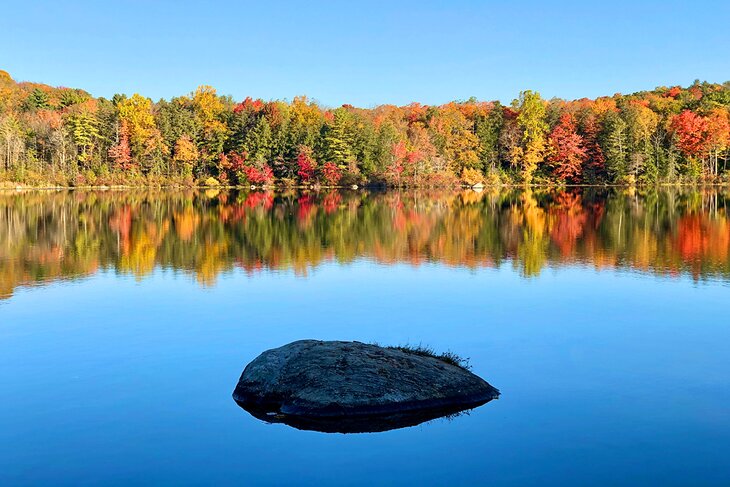 White picket fences, verdant forests, covered bridges, and thundering waterfalls make the Nutmeg State an irresistible weekend getaway, but it's these lakes that transform it into an outdoor person's dream vacation destination.
Considering Connecticut is named for the lengthy Connecticut River (it's the longest in New England) that carves through its middle, it's not surprising that lakes and other waterways are some of the state's most beloved attractions.
Whether you're looking for a place to water ski, paddleboard, canoe, fish, swim, sunbathe, hike, or master your backflip, you'll find a perfect spot with our list of the best lakes in Connecticut.
1. Candlewood Lake, Danbury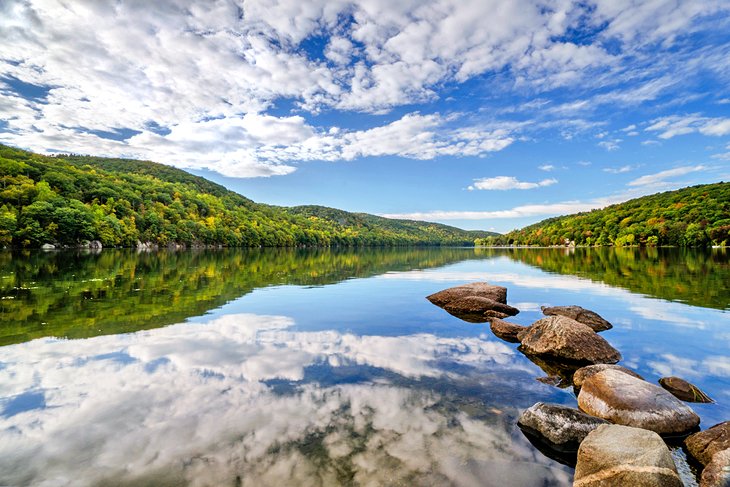 Topping the list of Connecticut's most beautiful lakes to visit is Candlewood Lake. The largest lake in the state, this manmade beauty is 16 miles long and 8.4 square miles in size. It lies within both Fairfield and Litchfield counties.
With 86 miles of useable shoreline, 10 marinas, and multiple boat launches, the lake offers plenty of spots for visitors to set up camp for the day. One of the most popular things to do (after swimming, sailing, and fishing) is scuba diving. Despite the murky waters, many explorers try to find the lost city of Jerusalem, which was flooded to create the lake.
Technically a reservoir, this Danbury lake was created by Connecticut Light & Power in the late 1920s. They built the hydroelectric Rocky River Dam to increase the amount of electricity they could produce by pumping water from the Housatonic River into Candlewood Lake.
2. Mashapaug Lake, Union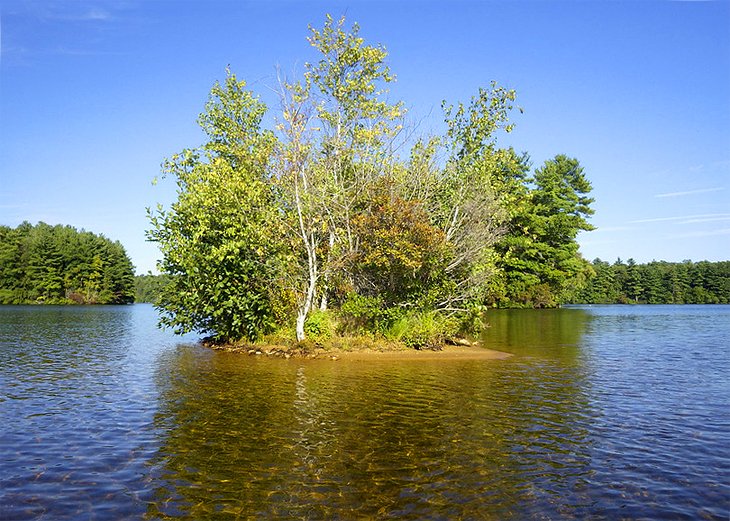 Mashapaug Lake, which lies within the Thames River Drainage Basin, is an angler's dream. This 287-acre, natural lake is well stocked with trout, bass, and sunfish, making for great sport during the high season.
Insider's tip: You'll have more luck if you head out early or stay late; the lake is a popular place to visit for boating and waterskiing. And as we all know, fish prefer the quiet.
Mashapaug sits comfortably in the northeastern part of Connecticut, near the border with Massachusetts, making it a vacation hot spot for visitors from both states. Its vast expanse is hugged by two large state parks, Bigelow Hollow State Park and Nipmuck State Forest.
Don't forget to pack a swimsuit. The water here is so clean, clear, and inviting, we dare you not to jump in.
3. Mansfield Hollow Lake, Mansfield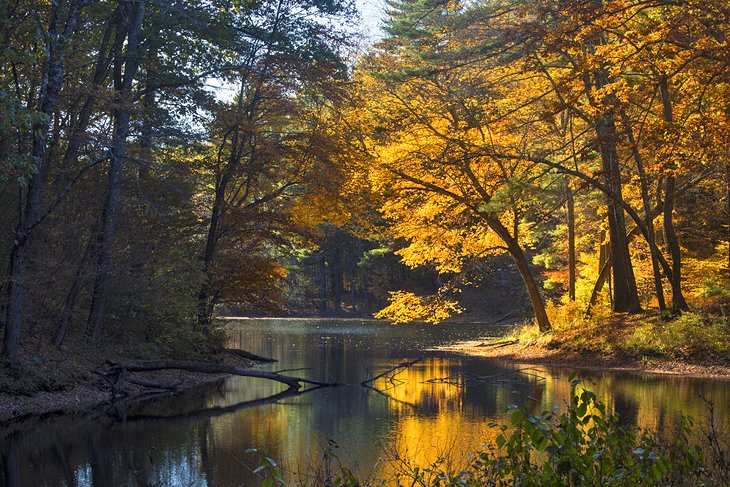 Deep in the heart of Mansfield Hollow State Park lies the impressive, 500-acre Mansfield Hollow Lake. Created when the Army Corps of Engineers dammed the Natchaug River, the faultless view can instill calm in even the most stressed of travelers. This lake is so serene, you'll easily understand why it's been dubbed one of the best lakes in Connecticut.
While both fishing and boating are allowed on the sparkling waters of Mansfield Hollow Lake, swimming is forbidden. The reason: The lake is essentially a reservoir, with a section of it being used for the public water supply.
Instead of jumping in, pack a picnic and take a hike or hop on a mountain bike to enjoy the park's numerous trails. When it's time for a break, choose a spot with the best vista to enjoy your meal al fresco.
4. Winchester Lake, Winchester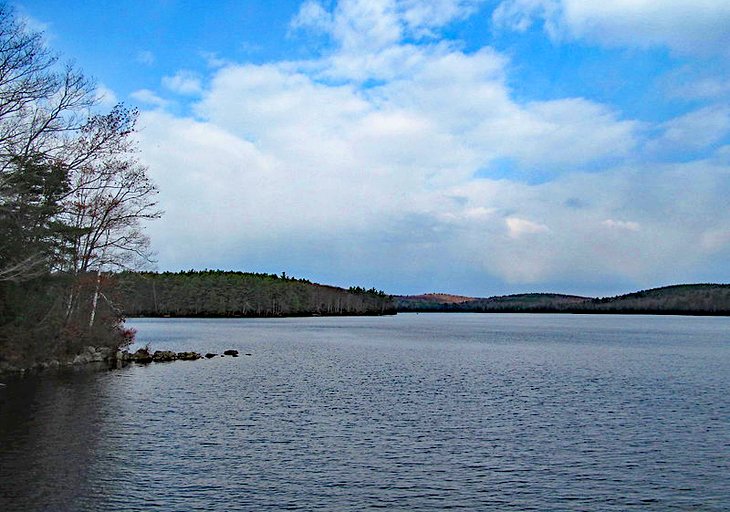 Northwestern Connecticut is home to a beautiful, hidden gem of a lake named Winchester. And life on this quiet lake is best enjoyed at a slow pace. Sprawling over 246 acres near the town of the same name, Winchester Lake is highly visited by anglers hoping to reel in a good catch.
Logging created an essential dam in the area but also left a hazard of tree stumps that lie just below the water's surface. Boaters need to take care when navigating, especially when they're getting close to shore. This could be part of the reason the lake's speed limit is set at eight miles per hour.
5. Gardner Lake, Salem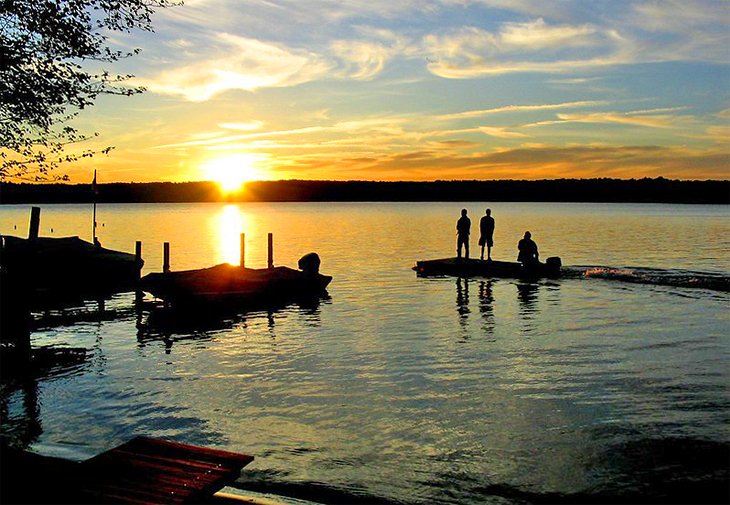 Gardner Lake State Park is where you'll find the well-loved Gardner Lake. Bordered by the towns of Salem, Montville, and Bozrah in Connecticut's southeast, the lake covers 528 acres. The park itself, on the other hand, is just shy of 10 acres in size.
Minnie Island State Park lies within the lake's dark blue expanse. A mere 0.88 of an acre, this park is famous for being Connecticut's smallest state park and the only island in Gardner Lake. Run by the Department of Energy and Environmental Protection (DEEP), the lake is well stocked with walleye, bullhead, and catfish, making it a popular spot to fish.
6. Lake Waramaug State Park, Kent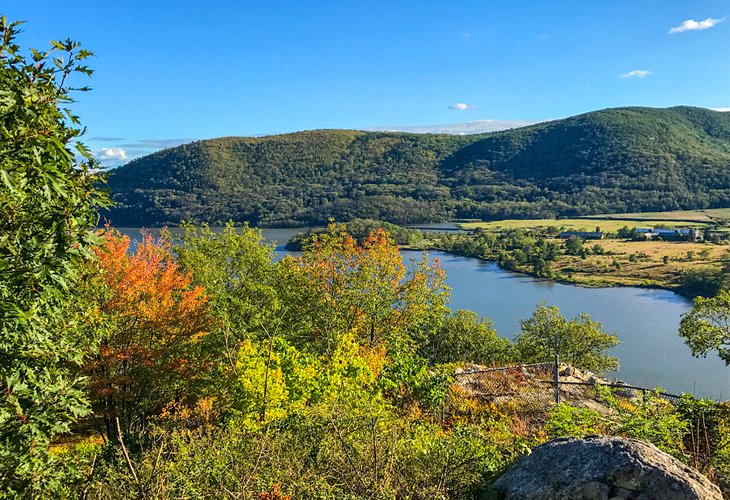 Fans of the outdoors won't want to leave Lake Waramaug, which is serenely located in one of Connecticut's best state parks, Lake Waramaug State Park. This large, picturesque lake is captivatingly gorgeous. Don't believe us? Visit during the fall to catch the trees' multicolored hues reflected on the still water's surface. The outstanding beauty will literally take your breath away.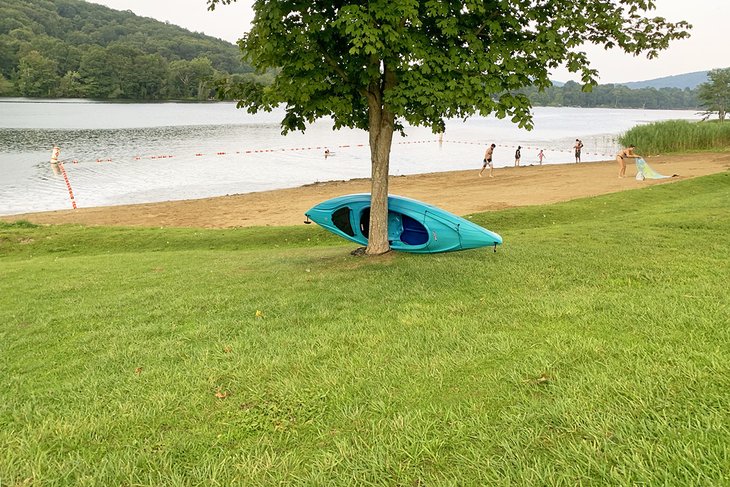 During the summer months, camping, boating, fishing, and swimming rank among the top things to do at Lake Waramaug.
Motorized boats are restricted to a max of 20 from non-residents (residents can pay a small fee to launch their boats as long as they pass an environmental inspection). The boats must also obey the "slow-no-wake" rule, meaning they can't go faster than six miles an hour, or produce anything more than a minimal wake.
You'll be nothing but thankful for this rule as you sit lakeside, soaking up the impeccable view while listening to the sweet songs of birds chirping in the nearby woods.
Can't get enough of the lake? Why not zip yourself into a tent at night? Lake Waramaug is one of the best places to go camping in Connecticut.
7. Squantz Pond, New Fairfield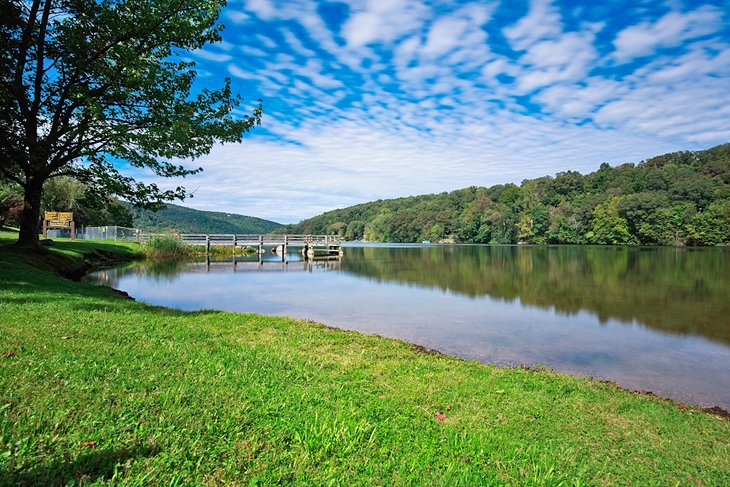 Squantz Pond is about as close as you'll get to a mountainous lake view in the Nutmeg State. Surrounding by the giant hills of Fairfield County, this picture-perfect spot is breathtaking. No wonder so many people flock here on a warm summer's day.
From water skiing to wake surfing to sailing, water sports abound at this idyllic spot. You can even scuba dive in the crisp, clear water. More of a recreational lake than a pond, Squantz is open year-round.
Insider's tip: Arrive early. The parking lot can only house 250 vehicles. Once it's full, the park closes for the day.
8. Lake Zoar, Monroe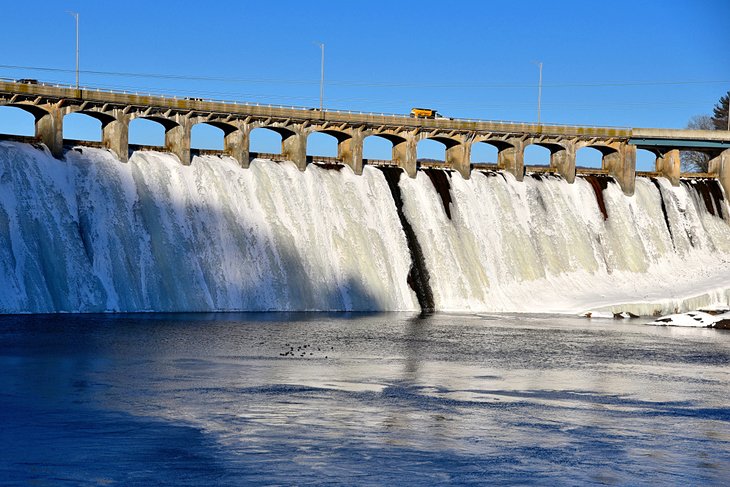 A large body of water created by the Stevenson Dam, Lake Zoar borders the towns of Monroe, Newtown, Oxford, and Southbury. Each of these boasts a boat launch, making it easy to set sail for a day spent fishing, swimming, water skiing, or windsurfing on this fun-filled reservoir.
Lake Zoar sits near Connecticut's Housatonic River and is stocked with a ton of fish, including bass, catfish, trout, and perch. That means those who love to fish shouldn't be disappointed with their catch.
Others who'd prefer to admire the scenic water views from dry land can enjoy the numerous hiking trails that weave their way along the shore.
Insider's tip: Don't miss the sandbar near Newton. It's shallow and uber-fun to walk around.
9. Hop Brook Lake, Naugatuck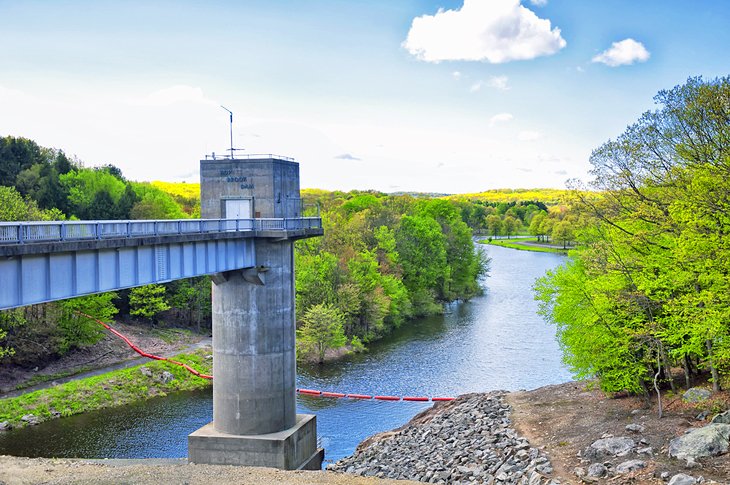 Hop Brook Lake is shouldered by the towns of Middlebury, Waterbury, and Naugatuck. During the summer months, it's hopping (sorry, we had to) with visitors soaking up the sun and cooling off with a refreshing dip in the clear waves.
The lake's recreation area comes complete with a sandy beach that kids and adults will love. Plus, it offers easy access to enjoy water sports such as sailing, kayaking, fishing, and canoeing. Motorboats aren't permitted on the lake, so you won't be able to water ski, but there's so much to enjoy you won't feel you're missing out.
Insider's tip: The lake's recreation area is only open from the weekend before Memorial Day through the weekend following Labor Day, so plan your visit accordingly.
10. Crystal Lake, Ellington
Find serenity now — at Crystal Lake. No matter the season, Crystal Lake is worthy of a visit. Originally called lake Wabbaquasset (translated to "place where cattails grow") by the Nipumuc Indians, this lovely lake has undergone multiple name changes (including Ruby Lake, after the gems were located in nearby hills). In 1889, the name Crystal Lake finally stuck.
Today, you'll find the shores lined with pretty homes and the area's lone strand, named Sandy Beach. A popular place to while away a summer's day, this beach can get crowded, so it's best to arrive early. And be sure to pack the essentials since you won't find many facilities or a concession stand nearby.
This pretty lake lies a mere 26 miles from the attractions found in Hartford, making this a perfect place to visit to enjoy a break from the hustle and bustle of a larger city.
11. Lake Lillinonah, Brookfield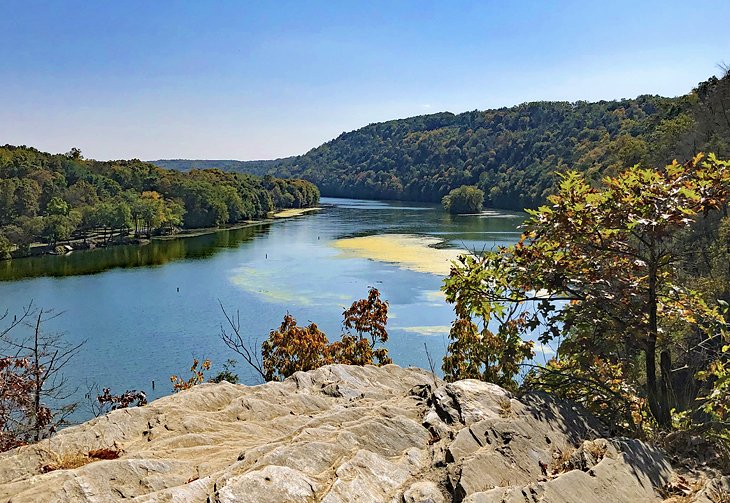 Second only to Candlewood Lake in size, the 1,900-acre Lake Lillinonah can be found in Fairfield, Litchfield, and New Haven counties in Connecticut's northeast. This captivatingly gorgeous lake was created during the building of the Shepaug Dam in 1955 and borders the Housatonic River. Two state parks line its shores, making it easy to hike or bike your way to the refreshing water.
Lover's Leap State Park is particularly spectacular, featuring 127 acres of land in New Milford, and a number of trails to choose from. Lover's Leap Trail provides one of the most impressive views of Lake Lillinonah with a short, gradual climb. The lake is bordered by six Connecticut towns and 43 miles of its shoreline are wooded.
An ideal day trip destination for tourists in search of a little R&R in natural surroundings, Lake Lillinonah can be reached easily, within an hour's drive from the glitzy shops and restaurants found in plush Greenwich. It's also set just under an hour northwest of one of Connecticut's larger, busier cities, New Haven.
12. Stillwater Pond, Torrington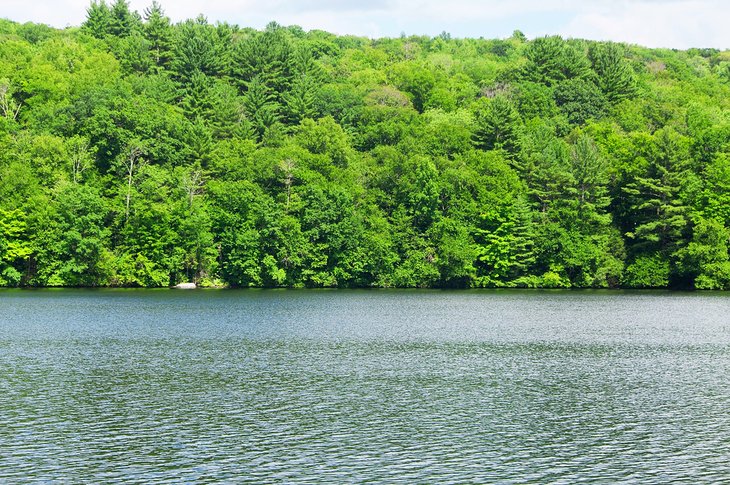 Some locals refer to this phenomenal beauty as "Mirror Lake." Those lucky enough to visit on a bright, sunny day will easily see why. Nestled in Stillwater Pond State Park, the still, clear water of this 100-acre "pond" perfectly reflects its remarkable wooded surroundings. No wonder they named it "Stillwater."
The best time to visit is during the fall, when the multicolored foliage is on full display. You won't be able to beat this picture-perfect, postcard-worthy locale for a scenic backdrop.
Across from the paved boat launch in the public parking lot off Route 272, you'll spot the most adorable white hut, sitting serenely by the shore.
Insider's tip: Take care where you step when visiting during October. The ground is covered with fallen acorns, which are much more slippery than you'd think.
13. Bantam Lake, Morris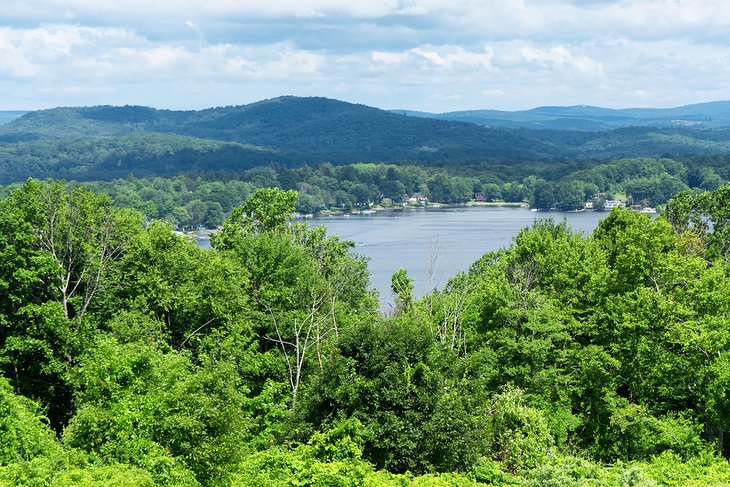 Bantam Lake is lovely in every season. Whether you're looking to hike along its shores during the spring, float on its refreshing waves during summer, enjoy the fall foliage from a canoe, or skate on the thick ice during winter, there's no shortage of things to do on this popular lake.
The largest natural lake in Connecticut, Bantam is a perfect place to engage in quality family time. It's home to two beaches, Sandy Beach (in Litchfield) and Morris Town Beach (in Morris), and everyone will love frolicking on these pretty Connecticut beaches.
At the northern end, you'll find plenty of wildlife, including a bevy of birds. This area is protected by the White Memorial Foundation. Other popular activities include rowing, swimming, water skiing (America's oldest water ski club originated here), fishing (including ice fishing), and camping.
14. Highland Lake, Winsted
Sweetly nestled near the Berkshire Mountains, this Litchfield County lake should make every visitor's must-see list. Dubbed a "resort lake" due to its shores lined with luxury homes, the scenic wonderland that makes up this region consists of 444 pristine acres.
The lake itself is made up of three bays named First, Second, and Third. The latter houses Burr Pond State Park, which offers private campgrounds and numerous hiking trails through the verdant wilderness. First Bay is home to the state-run boat launch, and Second Bay is best known for having optimal fishing, boasting high numbers of large and smallmouth bass, perch, salmon, and trout.
15. Bolton Lakes, Bolton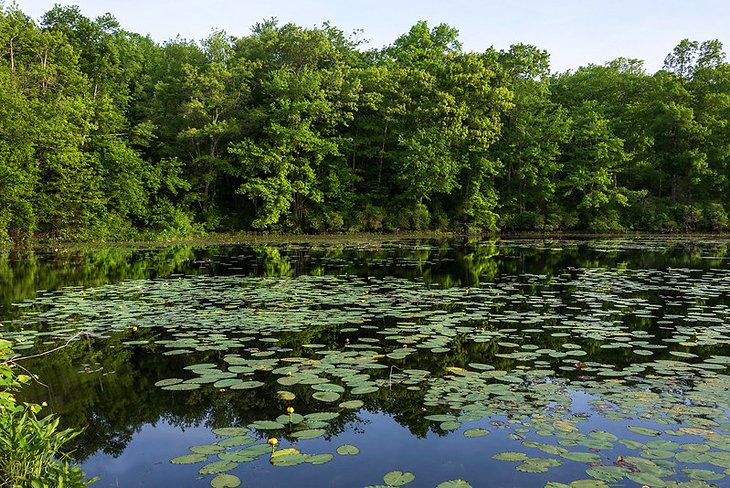 Three freshwater lakes make up Bolton Lakes in Connecticut's Tolland County. A mere 14 miles east of Hartford, these peaceful waterways offer a welcome break from the hustle and bustle of city life. Known as Lower, Middle, and Upper Bolton Lakes, the three collectively span over 340 acres.
The largest surface area can be found in Lower Bolton Lake, which boasts 175 acres. This is also the most popular, with anglers, boaters, and nature lovers zipping before the numerous residential and vacation properties that line its shores.
You'll also find a public boat launch and beach here. The most popular activities include, sailing, swimming, kayaking, fishing, and canoeing.
16. Saugatuck Reservoir, Weston and Redding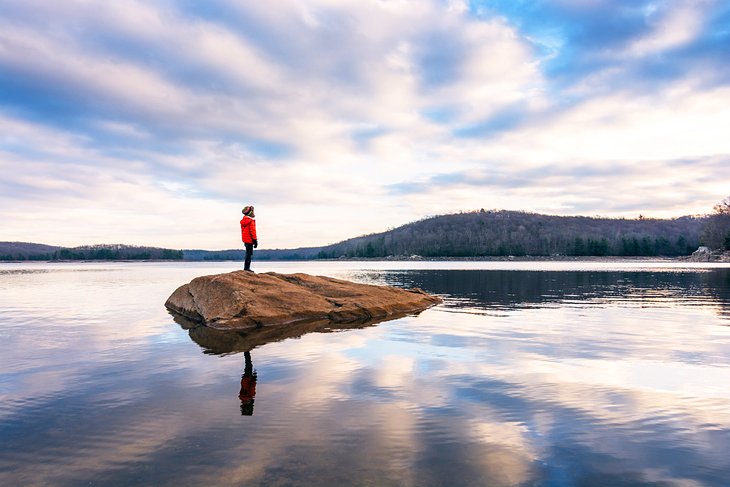 Straddling the towns of Redding and Weston in Fairfield County, the Saugatuck Reservoir is best known for its fishing. Just over 820 acres, the reservoir is home to trout, smallmouth bass, sunfish, chain pickerel, and bluegill. Those hoping to cast their lines need to obtain a fishing permit from the Aquarion Water Company before heading out.
This reservoir, which was created by a dam in the Saugatuck River, provides water to neighboring towns, so swimming isn't permitted here.
Those who'd like to get a closer look at its impressively sparkling expanse should hike through the nearby Devil's Den Preserve. The trails are well-marked and relatively easy, but watch your step for slippery rocks and roots. Also, keep your eye open for some incredible wildlife. Everything from hawks to bobcats to deer to beavers can be seen in this protected area.
Take time out to visit the quaint town of Westport, which lies a mere 17-minute drive away. Set on the Saugatuck River, this is an upscale Connecticut beach town that becomes well populated with New Yorkers looking to escape the stifling heat (and horrible smells) of Manhattan during summer.
17. Burr Pond, Torrington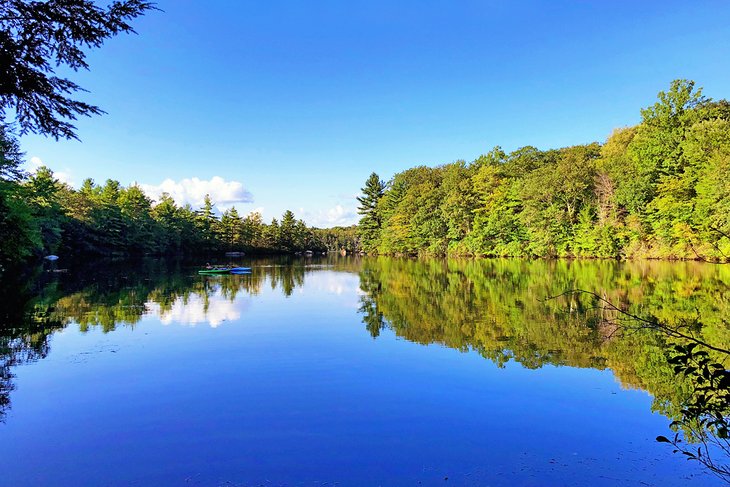 Although technically a massive pond, this expansive waterway measures over 85 acres. It is a stunning area located in Burr Pond State Park in Torrington and a popular place to cool down on a warm summer's day. Burr Pond is primed for boating, fishing, swimming, kayaking, sailing, and canoeing. So, for these purposes, we're calling it a "lake."
You'll find everything you need for a fun day by the water–picnic areas with tables, canoe rental, lengthy looping trails, a dedicated swimming area, and restroom facilities. The tip of the Peninsula Trail, which is reachable from the Blue (B) John Muir & Walcott Trail, offers an optimal viewing spot.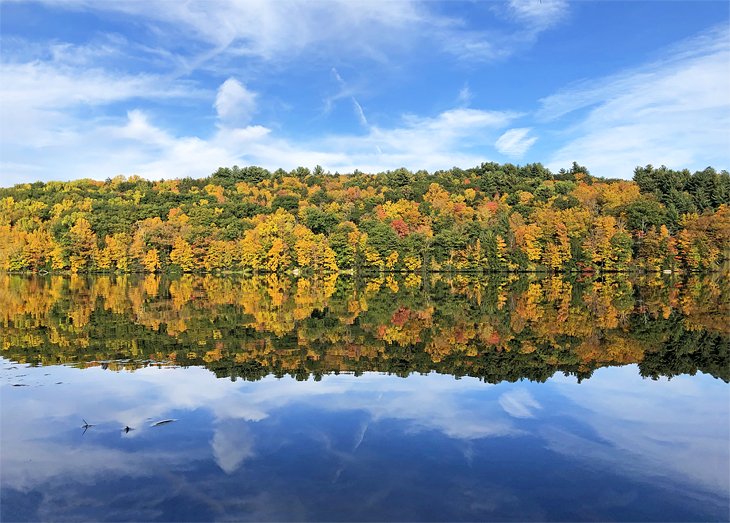 Visit on a sunny day in the fall for the most captivating views. If the air is still, the "lake" turns itself into a mirror reflecting a kaleidoscope of autumn's most vibrant colors. If you're hoping to boat, you'll find one launch but be warned, the speed limit is eight miles per hour, and waterskiing isn't permitted.
The historic and utterly charming town of Litchfield lies under 20 minutes southwest of Burr Pond, serving as an ideal place to enjoy a pre- or post-pond meal with a side of retail therapy.
18. Lake Mohegan, Fairfield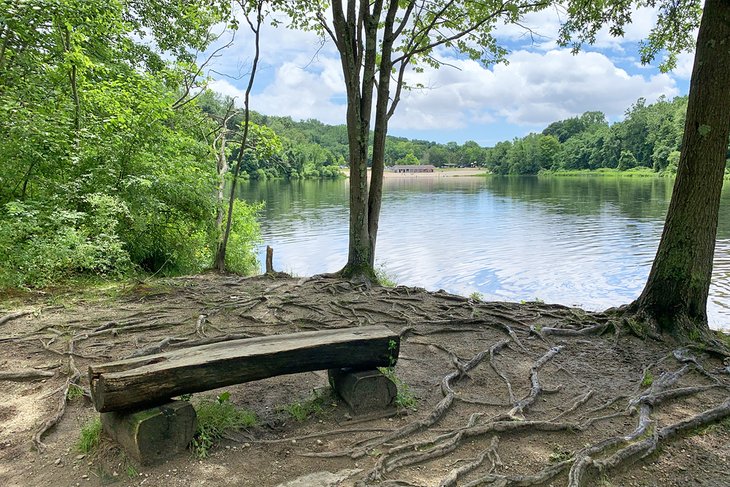 Visiting the man-made Lake Mohegan is one of the best things to do in Fairfield, and it's easy to see why. In addition to being calm and pretty, this popular lake is a hot spot for summer fun.
A beach and splash pad are open from Memorial Day to Labor Day, offering families and water lovers an excellent opportunity to swim, play, and even build a sandcastle (for a fee). Pack an umbrella and sunscreen, as there's no shade here.
If the kids still need more entertainment, head to the sprinkler park or grab a bite at the snack bar. Again, these are open seasonally.
Surrounding the lake are numerous walking trails through the forest. It's one of the best places to walk your dog in Fairfield County, and you'll spot a lot of furry friends on this route. Along the way, you'll pass creeks and waterfalls, and over 170 acres of woodland is on offer to explore.
Author's tip: If you're bringing along your favorite four-legged friend, be sure to pack poop bags, as there aren't any available along the trails.
Map of Lakes in Connecticut
More Related Articles on PlanetWare.com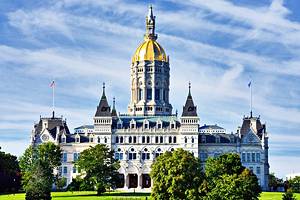 More Things to Do in Connecticut: If you're looking to up your excitement level while touring the Nutmeg State, we've got just the thing for you! These top-rated tourist attractions are sure to please every member of your traveling party. Don't miss the state's biggest tourist draws, Stamford, Mystic, and New Haven.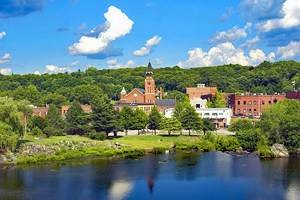 Picturesque Places to Visit in Connecticut: Looking for even more beauty than these lakes contain? Check out these best waterfalls in Connecticut. You'll also find a piece of idyllic bliss on each of these top-rated beaches. While you're exploring, book a stay in one of these adorably charming top-rated small towns.