12 Top-Rated Beaches in Connecticut
The Connecticut coast faces Long Island Sound, creating a stretch of beaches with waves that are much calmer than their counterparts that face the open ocean. Although there are no big waves, swimmers should be aware of tides that can be dangerous in some areas, especially those with sandbars where the undertow is particularly strong.
Many of Connecticut's beaches are part of the state park system; however, you will find plenty of public beaches that have other attractions and services nearby. Although some places have begun accepting cards, tourists should remember to bring cash for parking fees, which are charged at nearly all of these beaches and collected at the gate. Parking fees can vary depending on the day of the week and the location.
Find a beautiful place to relax by the sea with our list of the best beaches in Connecticut.
1. Ocean Beach Park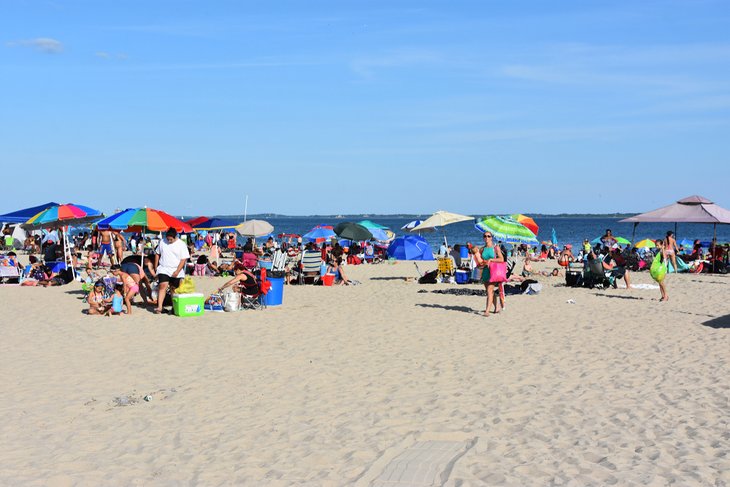 New London's Ocean Beach Park is an ideal family beach destination for all ages with a half-mile shoreline that is covered in soft sand. I love coming here for the atmosphere, which is upscale while maintaining a lively and youthful vibe that's contagious.
Whether you park or walk in, there is an admission fee, which can vary a great deal based on the time of year, time of day, and scheduled park events.
Admission includes use of the facilities, including the changing areas, showers, and beach as well as the nature trails, picnic area, kiddie playground, and a spray park for kids eight years and younger. If you don't want to get salty, you can use their Olympic-size swimming pool for an additional fee.
The park also has a plethora of token-operated entertainment, including kiddie rides like the Bumblebee flyer and more thrilling all-age rides like the Scrambler. There is also a large arcade, which includes classics like pinball and skeeball. For an additional fee, you can also enjoy the triple waterslide and an 18-hole mini-golf course.
In addition to a gift shop that carries everything from sunscreen to souvenir towels, there is a full-service restaurant, a spot for quick bites, and an ice cream shop.
Ocean Beach Park also provides live entertainment regularly on the Boardwalk Stage and hosts weekly events, including an antique car night, magic shows, and even sock hops. There are special events throughout the park season, which spans from Memorial Day through Labor Day.
Address: 98 Neptune Ave, New London, Connecticut
Read More: Top-Rated Things to Do in New London, CT
2. Hammonasset Beach State Park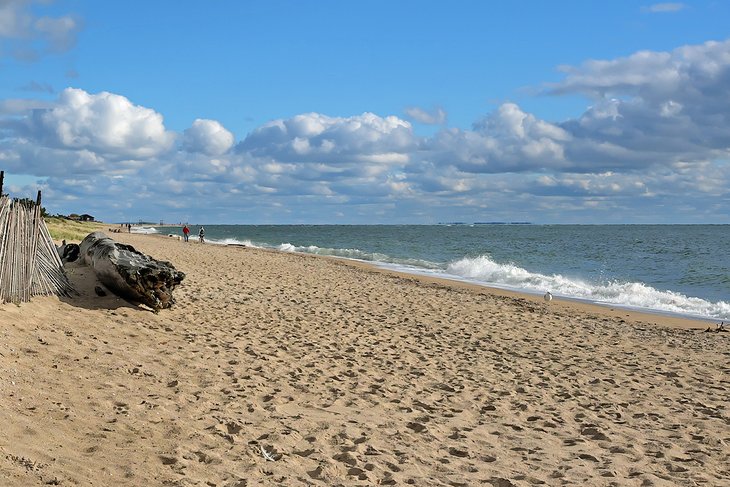 The beach at Hammonasset State Park is the largest in the state, stretching two miles along the shore of Long Island Sound. A boardwalk accompanies a large stretch of the beach, and there is a good concession stand with tables and shelter for swelteringly sunny days.
Dogs are allowed in the picnic area, but not on the beach. For those bringing kayaks, there is a designated car-top boat launch area.
Tourists should plan to check out the programs at the Meigs Point Nature Center, which offers many daily and weekly programs and activities for all ages. Daily programs include nature walks on varying topics, including beach and dune ecology, ocean birds, and identifying native plants. There is also a presentation on the area's native turtles, and kids can play in the center's touch tank.
Weekly programs include the Hammonasset Safari, canoe trips, NSI (Nature Scene Investigators), and Nature Ninjas, a program that explores conservation techniques and environmental awareness. The nature center's indoor exhibits are open year-round with reduced hours in the off-season. Admission to the beach, nature center, and park is the seasonal parking fee.
There are more than 550 campsites in the state park, as well as several rustic cabins available to rent. I love the cabins for family trips — they can sleep up to six people and are reasonably priced, making them a perfect option for a family beach vacation.
If you want something less rustic, you can relax at Hilton's Madison Beach Hotel, a grand building wrapped with balconies on every floor. The hotel has beach access, and offers a variety of amenities, from a fitness center and bicycle rentals to a full-service spa.
Address: 1288 Boston Post Road, Madison, Connecticut
3. Calf Pasture Beach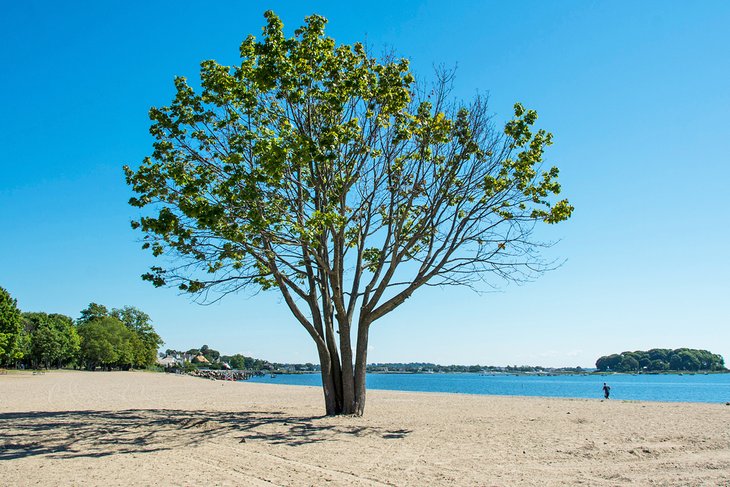 Calf Pasture sits on three-quarters of a mile of coastline and has a wide range of activities and facilities that make it a top choice for a day at the beach. The parking fee here is pretty pricey, but not quite as high as many of the comparable beach parks, and if you arrive after 5pm, it is significantly lower.
Recreation facilities include beach volleyball nets, a baseball/softball field, a bocce court, and hiking trails. There is also a skate park on the property, as well as a playground and kiddie splash pad.
In addition to a beach access pier for water-borne visitors, there is a sailing school that provides boating safety courses and rents sailboats and kayaks. Park amenities include concessions, a full-service casual restaurant with beach views, and Calfe Mu with ice cream and cold beverages.
There are special events held at Calf Pasture Beach throughout the summer season, like classic car shows and live music, including the celebrated local swing band The Fairfield Counts.
If you want to stay overnight in the area, Hotel Zero Degrees Norwalk in downtown Norwalk offers family rooms and has a fun rooftop terrace, with games like oversized chess and ping-pong.
Author Tip: I really like that I can pay using the ParkMobile app (Beach Zone# 2035), but don't try to purchase it ahead of time — parking is limited to only 130 non-resident spaces, and with fees being quite expensive, you will want to be sure you have that spot secured before shelling out that much money.
Address: Calf Pasture Beach Road, Norwalk, Connecticut
4. Compo Beach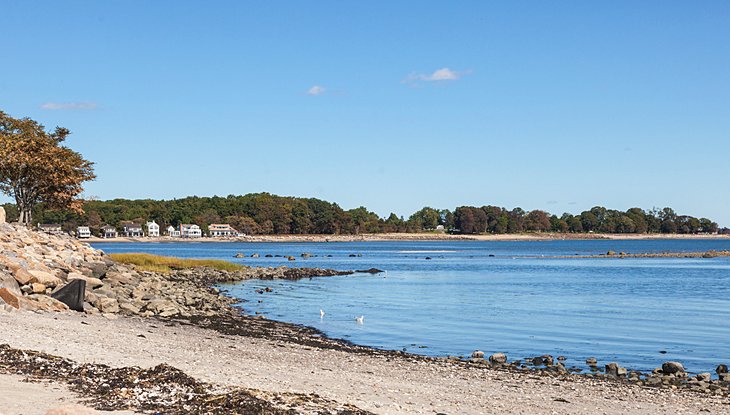 Compo Beach is part of a 29-acre park that faces Long Island Sound and also borders the Saugatuck River.
Lifeguards are here from Memorial Day through Labor Day from 10am to 6pm, during which time there is a charge for parking that also serves as an entrance fee. Bathrooms and lockers are available for use, and a well-stocked concession stand is on-site as well.
The beach has both a boardwalk and pavilion, as well as several recreational facilities including two beach volleyball courts, two lighted basketball courts, and a softball field. Families with younger kids will appreciate the playground, while older siblings can spend time in the skate park and open skate areas.
Compo Beach also offers several accessibility options, including multiple Mobi Mats, four wheelchair-friendly picnic pads, and a floating beach wheelchair.
While there are no beachfront hotels at Compo Beach, the Delamar Southport is only a short drive away, conveniently located close to the Southport Train Station. This elegant pet-friendly hotel offers a wide range of rooms and suites, as well as luxury amenities and services including on-site babysitting.
Author's Tip: Parking fees are in effect from May 1 through September 30 every year. If you will be there for an extended period or returning frequently throughout the season, it may be worth purchasing an annual pass, but they often sell out well in advance, so plan ahead.
Address: 60 Compo Beach Road, Westport, Connecticut
Read More: Top-Rated Things to Do in Westport, CT
5. Harvey's Beach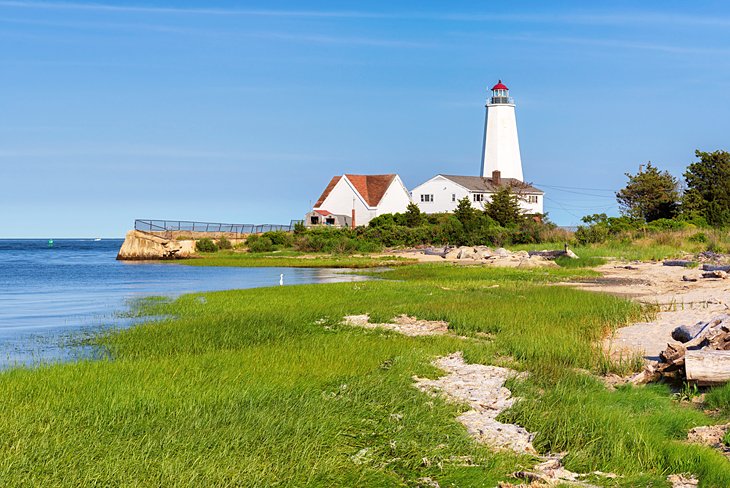 Harvey's Beach sits along 100 yards of shoreline in historic Old Saybrook. It is known for its soft sand and gradual decline, which provides plenty of safe, shallow water for young swimmers.
Although it's much smaller than many others, it's one of my favorites because I won't go broke parking. It's by far the most affordable of Connecticut's best beaches.
There are lifeguards on-site during the summer season, and many conveniences, including a restroom and bathhouse with an outdoor foot-rinsing station. There is also a concession booth and picnic tables, as well as a beach playground.
The local recreation department runs several programs throughout the summer, including beach yoga, sandbar walks, and summer movie nights, as well as an annual event dedicated to antique appraising and sales.
The town of Old Saybrook has many buildings on the National Register of Historic Places, including the Katharine Hepburn Cultural Arts Center, a restored theater that was named after the famous actress who was born here.
Other local attractions include the General William Hart House & Museum and the Fort Saybrook Monument Park. Visitors can also take boat tours and charters off the coast.
For a top-notch place to stay, the Saybrook Point Resort & Marina is an excellent option that provides a shore view, an on-site spa, and amenities like a pool and hot tub, as well as a shuttle bus to local tourist attractions. For those who never leave their four-footed friends behind, pets are welcome.
Author's Tip: If you're a non-resident planning on spending a week or more here in the summer, you can save money with a season pass. You will need to visit the Parks & Recreation office at 308 Main Street; fortunately, they are open 6 days a week (until 8:30 pm Monday through Thursday), but are closed on Sundays.
Location: Route 154, Old Saybrook Connecticut
6. Jennings Beach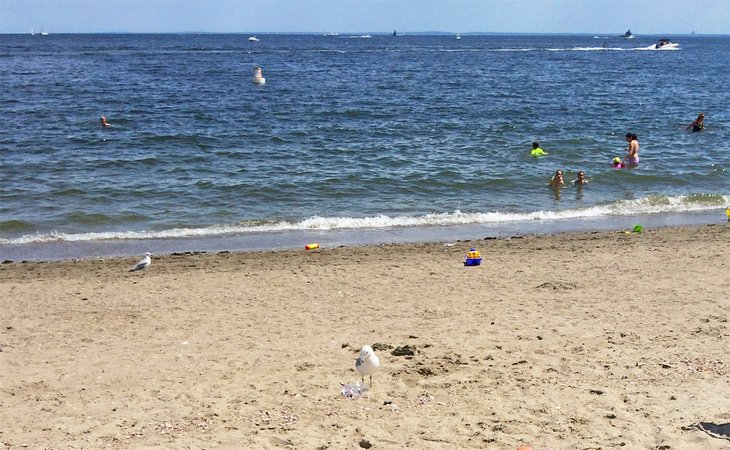 As someone who doesn't visit as often as I'd like, one of the best things about Jennings Beach is how easy it is to find. Just off Interstate 95, tourists who don't know the area can get there and get parked without too much hassle, allowing you to focus on the fun and start the day off right.
Parking fees are significantly lower during the week, and there are usually plenty of spaces on busy days if you get there at a reasonable time. Lifeguards are on duty during the summer, and the staff also offers swimming lessons. The beach is also convenient to the South Benson Boat Marina.
The walkway to the jetty has benches for resting and enjoying the view, and this walkway is also wheelchair accessible. There is a pavilion where you can find special events throughout the summer, including family dance nights and movie nights.
Kids will want to spend some time in the "Sand Castle Playground," adjacent to the beach, and there is also a skate park open to the public.
The Circle Hotel Fairfield is close to the beach and local dining, offering an outdoor pool, complimentary breakfast, and a terrace with a giant chess set.
Address: 880 S Benson Road, Fairfield, Connecticut
Read More: Top-Rated Things to Do in Fairfield, CT
7. Sherwood Island State Park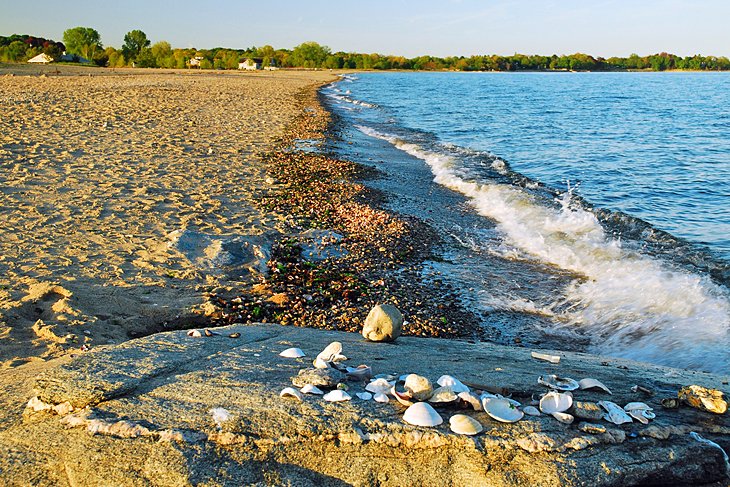 Another fantastic beach that is part of the Connecticut state park system, Sherwood Island State Park is best known for its spectacular three-color sand.
In addition to the creamy tan you would expect, you will find red sand that is colored by the state mineral, garnet, as well as black sand consisting of magnetite. Each time the tide washes in and out, the minerals separate, making beautiful colored stripes in the sand.
The entire park covers 235 acres and includes woodlands and wetland areas, as well as the sandy shore. On the west side of the park are shady oak forests with walking trails and picnic tables, as well as a salt marsh with an observation deck. To the east is the Tidal Marsh Nature Trail, as well as a large open space that is popular for flying model airplanes.
Other recreation includes volleyball facilities, kite-flying, and bird-watching; saltwater fishing is allowed in non-swimming areas along the shore.
The park is also home to a nature center, which is open seasonally, presenting several exhibits about the unique flora and fauna of Long Island Sound. The nature center also conducts educational lectures and presentations, including live animal shows and special family events, as well as summer nature walks and outdoor activities.
The four-star Delamar Southport is just a few miles from Sherwood Island and offers free breakfast, kids' activities, babysitting, and an on-site spa.
Address: Sherwood Island Connector, Westport, Connecticut
8. Silver Sands State Park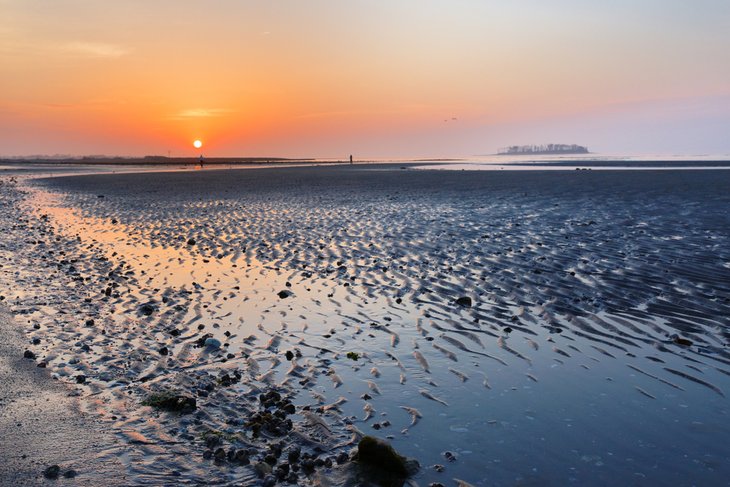 Silver Sands is a unique spot that is popular with an unlikely combination of nature lovers and treasure hunters thanks to its sandbar access to Charles Island, originally called Poquehaug.
Known as the "thrice cursed island," it was a Paugusset chief who purportedly first cast a curse on any future human inhabitants. Legend also says that Captain Kidd buried his last treasure here in 1699, then cursed it before going to Boston where he was captured and executed. The third curse was placed by another group of pirates only two decades later.
Whether the curse or simply bad planning, no business or home has lasted very long on the island, although people have tried. While I haven't found any pirate treasure (yet), it's fun to see the ruins of a short-lived 19th-century resort, as well as the remains of a chapel from a 1930s religious retreat.
Today, the island is a nesting ground for many sea birds. It is a designated nature preserve, which is closed to visitors from May 1 through August 31, although you may approach it during that time to view the shore.
Visitors hoping to walk out to the island should be aware of the tides, which rise quickly and can easily become very dangerous — the sandbar is a half-mile long, so plan accordingly and leave yourself plenty of time to get back before the tide begins to come back in. If you're unsure, don't worry, because you can easily spot the birds from the beach with binoculars.
The beach itself features a three-quarter-mile wooden boardwalk, and there is no parking fee. Lifeguards are on duty Wednesday through Sunday. The Residence Inn Milford, offers suites that feature full kitchens, as well as free breakfast, self-serve laundry facilities, and a pool.
Address: 1 Silver Sands Parkway, Milford, Connecticut
9. West Beach at Rocky Neck State Park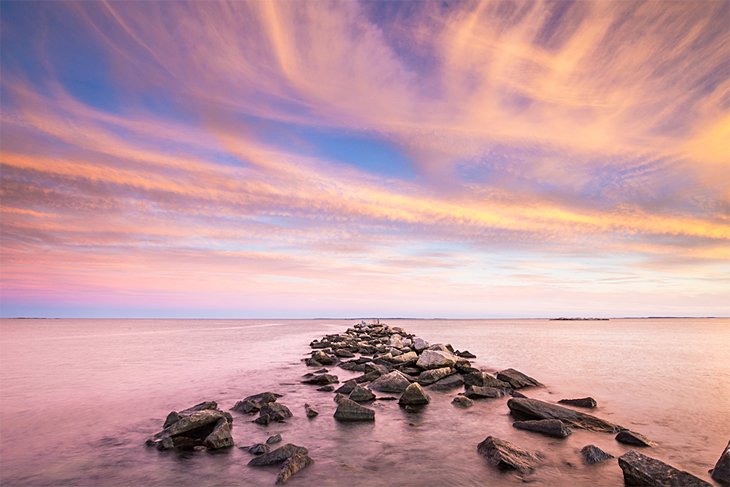 The beach at Rocky Neck State Park is covered in smooth, soft sand and there is a boardwalk that stretches across the back of the beach. Facilities are located on West Beach, where you will find a large concession area, a bathhouse with restrooms and showers, and even a bike rack for cyclists.
This 710-acre park includes miles of hiking trails, camping areas, and fishing spots, as well as a salt marsh. There are designated viewing platforms throughout the marsh for spotting birds, including cranes, herons, and osprey.
The park also has a large cobblestone pavilion with fireplaces and a second-floor area that can accommodate 300 people. Picnic shelters can also be rented for smaller groups, and there are plenty of standard picnic tables open for public use without reservation.
Author's Tip: If you're driving a vehicle registered in Connecticut, you can park here (and at any other Connecticut state park or forest) for free.
Address: 244 W. Main Street, East Lyme, Connecticut
10. Clinton Town Beach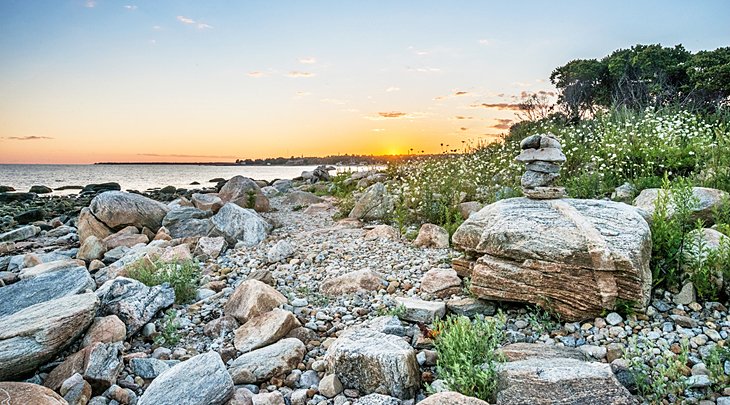 Clinton Town Beach is a family-friendly spot that has a fenced playground and equipment for all ages, as well as recreational facilities for the whole family, including a splash pad, volleyball, basketball, and a bocce court.
Open the 3rd weekend in June through Labor Day, the beach is best visited at high tide for swimming or low tide for exploring the extensive sand bars. Facilities include a large, covered picnic area and hiking trails, including one open to dogs.
The downside of Clinton Town Beach is the price — if you're a non-resident, expect to pay a hefty fee.
In the town of Clinton, you will find popular outlet stores and cozy places to stay, like the Tidewater Inn, a reasonably-priced lodging that offers complimentary breakfast and pre-dinner refreshments.
Address: 96 Waterside Lane, Clinton, Connecticut
11. Hole in the Wall Beach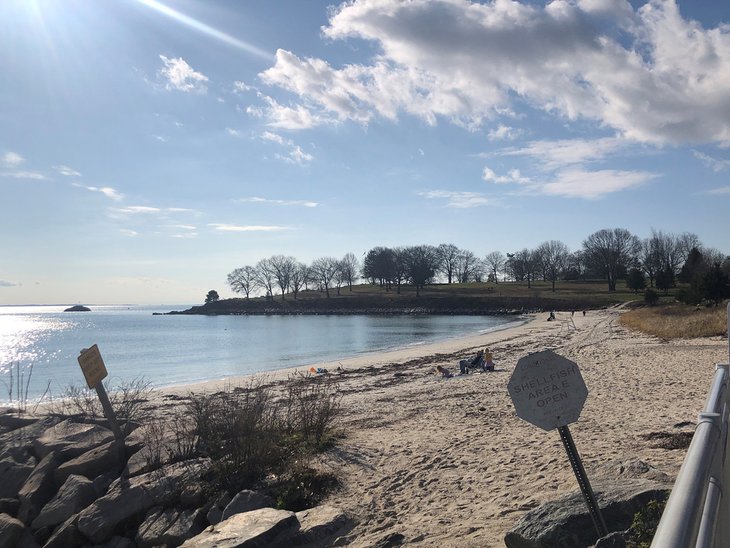 Named for its tunnel entrance beneath the railway tracks, Hole in the Wall Beach is part of McCook's Point Park in East Lyme. The entrance to the Niantic Bay Boardwalk starts here, and this is a place to park for the day if you will be exploring the area.
This beach is on the smaller side and perfect for families with younger kids. There are lifeguards on duty from Memorial Day through Labor Day, and you will find convenient foot showers by the restroom for easy cleanup.
For a midday refreshment, it is just a couple of minutes' walk to the Ice Cream Diner, as well as the Gumdrops and Lollipops candy store for those with a sweet tooth.
The Niantic Children's Museum is also located just a block away from the beach, offering a nice shady alternative on extra-hot days. The museum is designed for ages nine months to nine years, and offers hands-on activities and educational play programs.
There is a per-car day-pass fee for non-residents, or a walk-in fee with no charge for ages 15 and under.
Address: 4 Baptist Lane, Niantic, Connecticut
12. Waterford Beach Park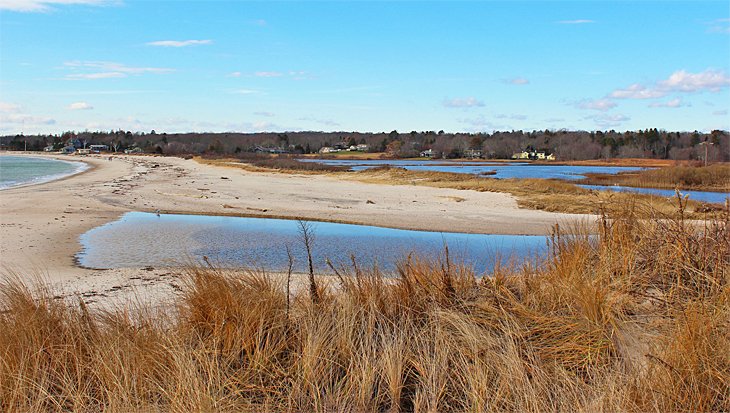 Waterford Beach Park has a quarter-mile sandy beach, which is known for being one of the state's best examples of an intact dune system. The beach also offers excellent views of Long Island Sound and its tidal marshes.
Lifeguards are on duty during the summer season, and there is a picnic area, bathroom facilities, and walkways. Shore fishing is also allowed in non-swimming areas, and there are town-owned tennis courts nearby. Non-residents can purchase day-use passes at the gate, and should arrive early on weekends if utilizing the beach parking area.
The Eugene O'Neill Theater Center sits just next to the beach, hosting original theater productions, as well as a theater school. Another nearby attraction is Harkness Memorial State Park, which offers a sandy beach for relaxing and kite-flying, although swimming is not allowed.
The park is also home to Eolia Mansion, a 42-room estate built in the Roman Renaissance Revival style; it is open during the summer on weekends for tours.
Nearby, the Rodeway Inn Waterford offers conveniences such as free breakfast, a pool, self-serve laundry, and a fridge and microwave in each room.
Address: 317 Great Neck Road, Waterford, Connecticut
Map of Beaches in Connecticut