12 Top-Rated Things to Do in Stamford, CT
The third largest city in Connecticut, Stamford is one of the state's largest and most active business hubs. It's also packed with tourist attractions and fun things to do, which means visitors won't lack excitement. The best part? Stamford is located a mere 36 miles from New York's Grand Central Station, which is easily reached aboard the Metro North train.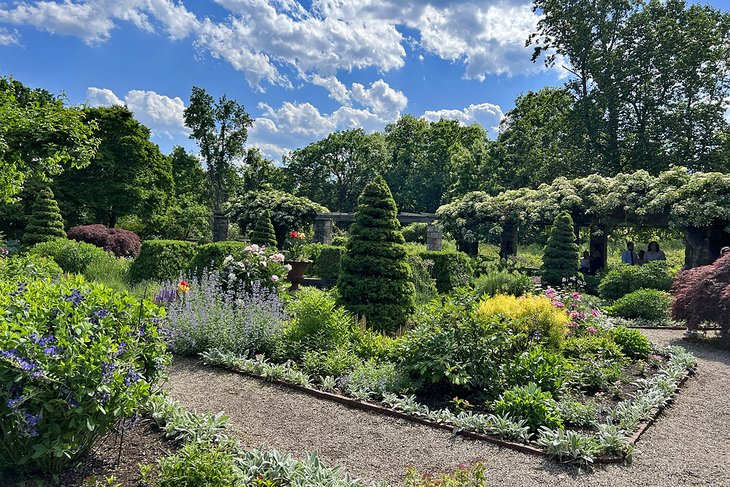 Those looking to relax and enjoy the fresh air can choose from a wide array of parks, nature areas, riverside trails, and even a few pristine beaches.
Those who are after a more exciting and eclectic experience can head downtown to explore the vibrant shopping and restaurant scenes – bustling Bedford Street is not to be missed. Or, they can catch a flick at the eccentric Palace Theatre.
The newly developed Harbor Point is another must-see, with its impeccable waterfront paths and eateries. And the Goodbody Garden provides a spectacular backdrop for photos, especially when everything is in bloom in late spring.
Plan your sightseeing with our list of the top tourist attractions and things to do in Stamford.
1. Cove Island Park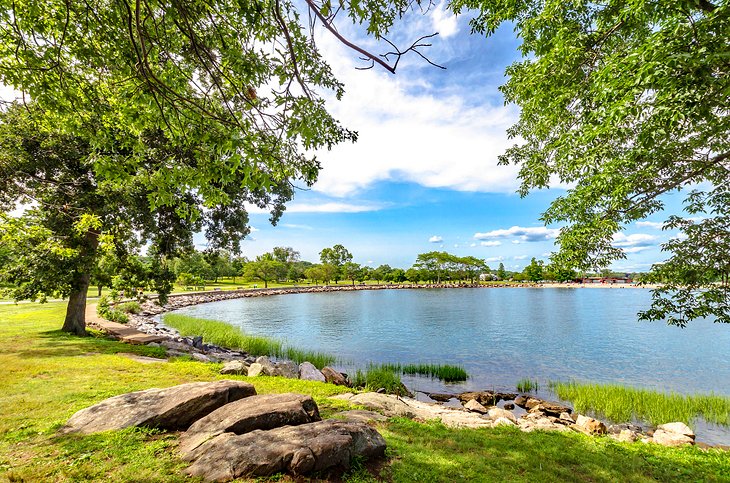 Who would have expected to find such a lovely beach and park in the heart of bustling Stamford? Once a peninsula connected on the north side by a thin strip of land, Cove Island Park was used as a "pound" to house stray livestock in the late 1600s. To retrieve your missing animal, you had to pay a fine of five shillings.
Today, this vast haven boasts a marina filled with sailboats bobbing calmly in the Long Island Sound. Its many attractions and peaceful surroundings have made it one of the best places to visit in Stamford.
Located in the Cove section of southeast Stamford, Cove Island Park is the perfect place to walk, run, swim, rollerblade, or relax away your stress. With 83 acres of land and multiple trails, there's a plethora to explore, and well-maintained paths and trails on which to do so.
The park also boasts a playground, outdoor exercise area (including a manual elliptical trainer), cycling path, and salt marsh, as well as intertidal mudflats.
During summer months, a shuttle takes visitors from one section to another-a welcome service for those loaded down with chairs, umbrellas, and picnic baskets. Those who'd rather buy food can do so at the on-site restaurant, and don't worry, there are plenty of bathrooms available.
Insider's Tip: Expect to pay a $30 fee from Monday to Thursday, or $50 on Friday through Sunday if you don't have a season's pass. Or, visit during the offseason, when parking is free.
Address: 363 Weed Ave, Stamford, Connecticut
2. Stamford Museum & Nature Center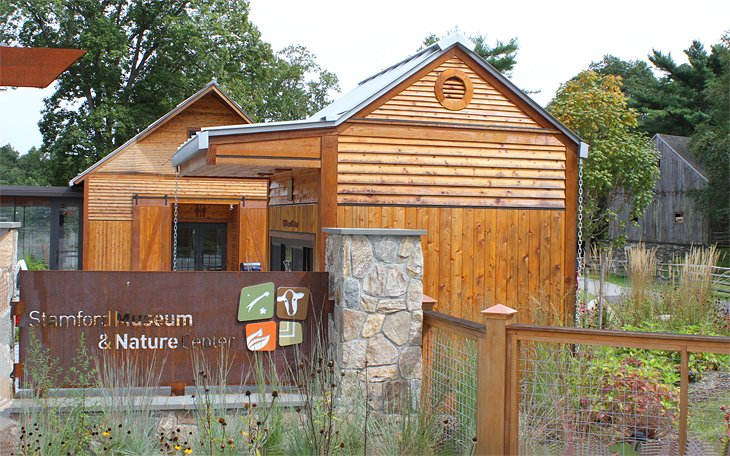 Once the summer home of department store founder Henri Bendel, the Stamford Museum boasts numerous changing exhibits throughout the year. Depending when you visit, you might admire art by Gutzon Borglum or examine a selection of historic farming tools. Or, you could try your hand at creating something impressive out of recycled materials in the Recycled ReCreations Makerspace.
The mansion's crowning glory, though, consists of marble statues decorating the hilltop garden overlooking Lake Laurel. Hit the spacious walking trails first. The "Wheels in the Woods Trails" are designed to look nice and offer accessibility to everyone, including those in wheelchairs or pushing walkers or strollers.
Take time to bird-watch (best done from November to May) and enjoy the calming sounds of the babbling brook. Once your kids catch sight of the spectacular playground, designed so kids can see nature from an animal's point of view, you'll be here for hours. They'll have a chance to crawl through a hollow log and perch in a giant bird's nest.
Make sure to leave time for a visit to the center's Heckscher Farm, a working New England farm stocked with chickens, sheep, goats, and horses. This is also home to the seasonal Maple Sugar House.
Insider's Tip: Sundays play host to the popular Sunday Art Explorers program at the Overbrook Nature Center & Gift Shop. Kids can stop by outside the rear of the building to make a craft they can later take home. Inside is where you'll also find a gerbil, box turtle, and corn and rat snakes on display.
Address: 39 Scofieldtown Road, Stamford, Connecticut
Official site: https://www.stamfordmuseum.org/
3. Bedford Street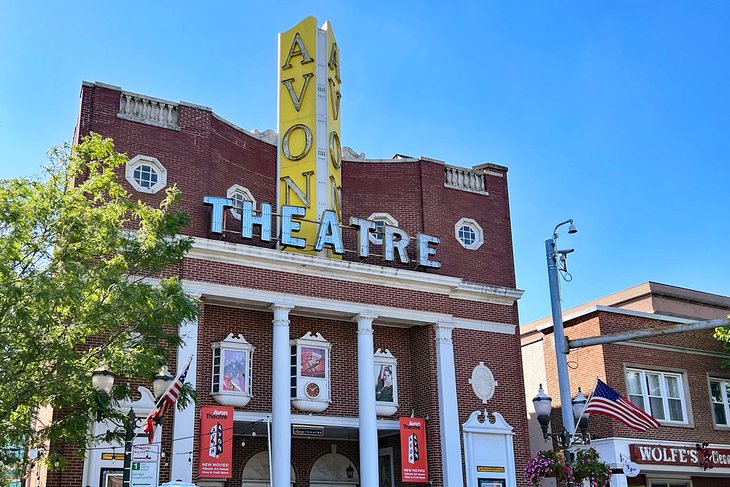 Stamford Town Center is a local mall that won't disappoint. It boasts all the big names you're looking for (like Macy's, Vans, and Barnes & Noble). When hunger hits, we suggest skipping the food court and heading to Bedford Street. A mere five-minute walk away, this bustling area boasts a European ambience to help while away your worries.
During warmer months, you can enjoy the breeze on the sidewalk patio of one of numerous restaurants. Our fave is Bedford Thai (don't miss the Mango Curry) with Lucky's Classic Burger & Malt Shop coming a close second for its super creamy milkshakes.
When you've finished eating, take a walk around Latham Park, or enjoy an ice-cream from 16 Handles while relaxing on a park bench. If you've got more time to spare, grab a ticket to one of the independent, foreign, or documentary films on offer at the beautiful and eclectic Avon Theatre.
Insider's Tip: If you want great Thai food for a fraction of the price found at Bedford Thai, head to OCHA Thai & Japanese Cuisine, a three-minute walk away on Prospect Street.
4. Bartlett Arboretum and Gardens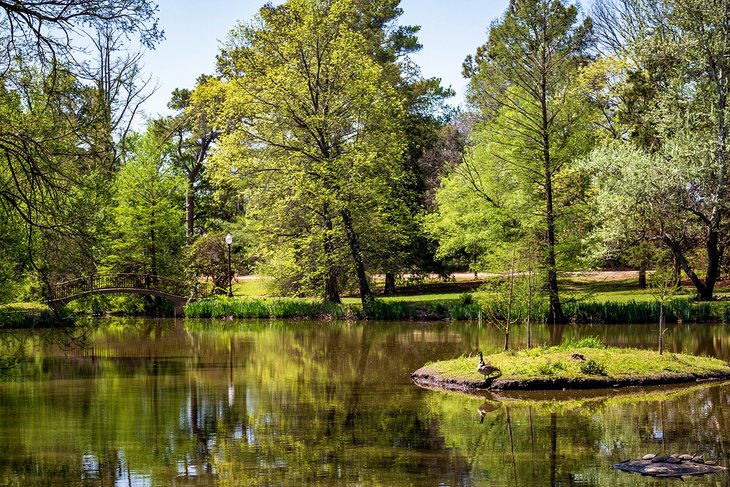 Nine color-coded, well-marked trails guide you through the calming 93 acres of this lush, family-friendly sanctuary. A visit to this natural playground will also reward you with 12 impressive gardens, all boasting educational signs depicting each specific species. You can tell a lot of work (and love) went into planning this utopia.
Whether you're looking to climb hills, visit the sparkling pond, or get lost among the trees, you're sure to enjoy every second spent in this healing oasis. Lulled by birdsong, you'll instantly forget how close you are to the busy Merritt Parkway. Admission is free (yay!) unless you've arrived for a special event like one of the summer concerts.
The Arboretum also offers popular classes and other special activities throughout the year. Another bonus: It's dog-friendly, making it a perfect spot for a morning or afternoon stroll with your favorite four-legged friend.
Kids will love the "secret head scavenger hunt." Throughout the grounds are hidden faces, often camouflaged within a tree's bark. These aren't easy to find, so you'll need to keep your eyes peeled. Or, head to their website to find eight clues to help guide you. It's not cheating, we promise!
Insider's Tip: Watch where you're stepping. Slippery roots and rocks can be underfoot. This is nature, after all!
Address: 151 Brookdale Road, Stamford, Connecticut
Official site: http://www.bartlettarboretum.org/
5. Chelsea Piers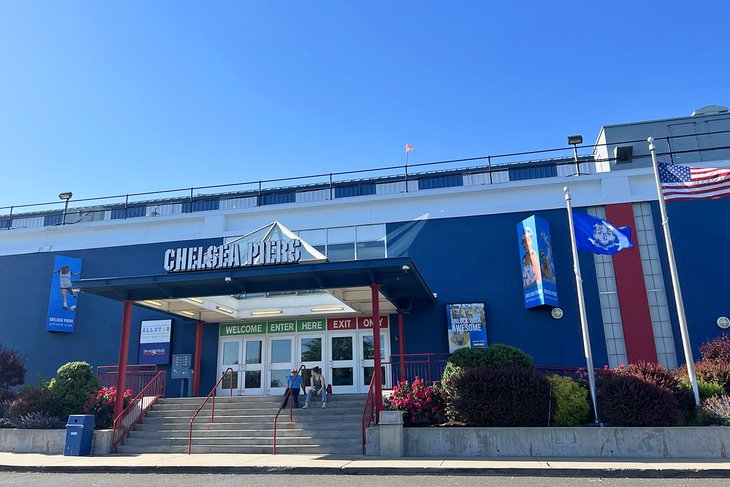 Anyone who likes to move will love Chelsea Piers. This family and fitness entertainment complex originated in Chelsea, NYC in 1995. It was so popular that they brought it to Connecticut in 2012, and it's become one of the best things to do for families in Connecticut.
The place is huge-we're talking 400,000 square feet. And it's jam packed with areas that make it impossible to sit still. Chelsea Piers has perfected the art of making exercise fun. With a variety of activities to choose from, there's literally something for every type of athlete (even you, couch potato).
They have a 5,000 square foot fitness center, skating rinks, baseball center, squash and tennis clubs, basketball and volleyball courts, an adventure center (think trampolines and rock walls), and multiple pools.
And don't forget the large Splash Zone including three waterslides. Talk about a one-stop shop for the fitness buff. Not a natural athlete? Don't worry, the fitness center offers yoga and Pilates classes, as well as massages.
Address: 1 Blachley Road, Stamford, Connecticut
Official site: https://www.chelseapiersct.com/
6. Antiquing near Canal Street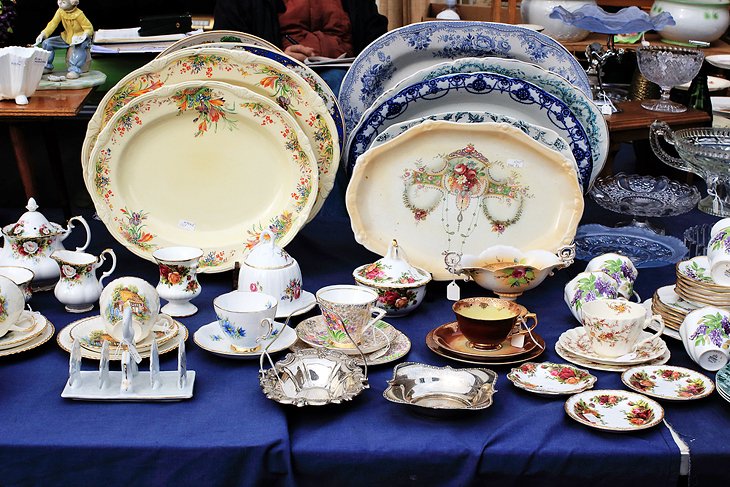 Fans of antiquing will love Canal Street, which lies just south of the I-95 on Stamford's east side. This section of town is a hot spot for those looking for bargains on vintage and antique goods. From crystal turtle figurines to old comic books to a Victorian Walnut dining chair, there's no lack of interesting finds in this district.
Hamptons Antique Galleries is home to four floors of the most amazing finds dating back to the 17th century. Tip: Take a photo of the item you're interested in and take it down to the front desk to find out more.
Don't miss the Antique and Artisan Gallery on nearby Jefferson Street. You can indulge yourself on their website, but nothing beats a physical hunt for that special item you never knew you were searching for. Unlike other antique markets, this spectacularly bright, clean, and well-organized gallery presents its treasures in an uncluttered way that draws attention to even the smallest, most unique pieces.
7. Harbor Point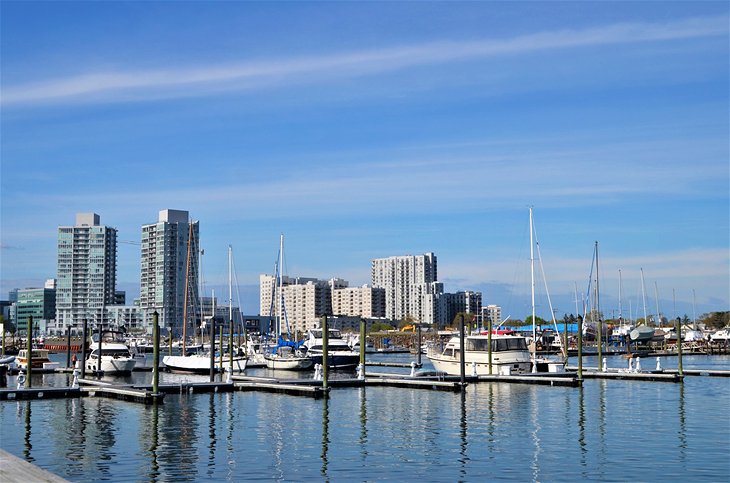 This up-and-coming area has been under construction for years, but the results were worth the wait. Located in Stamford's South End district, this picturesque peninsula is bordered by the I-95 in the north and Kosciuszko Park at its southern tip.
With brand new office and apartment buildings, the developers have created an exclusive section of town that boasts its own parks, waterfront, transportation, and an impressive number of good restaurants and shops.
Come for a romantic stroll along the boardwalk and stay to enjoy a delicious meal with a view. Most head to Sign of the Whale for its atmosphere-it's spacious, beautifully decorated, and offers an exceptionally good vista from the outdoor patio. They often have a live DJ to enhance their brunch (for which they're famous) and dinner experience.
Official site: https://www.harborpt.com/
8. Mianus River Park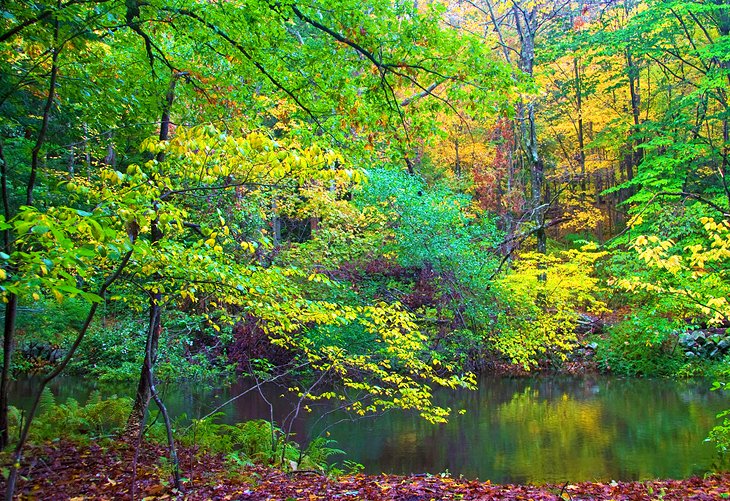 This expansive, 300-acre park straddles the border between the ritzy small town of Greenwich and Stamford. Offering multiple trails set in verdant woods, this park is filled with squirrels, chipmunks, and wild chirping birds. It's easy to spend hours here, and many do just that, packing picnics for a nice day out.
Dog walkers love to set out in this natural wonderland, so expect to be greeted by a wet nose followed by furry ears at some point during your adventure.
The trails are well kept and mild to moderate, which make this a great hiking spot for kids. You won't find any concessions, so be sure to pack water and snacks to enjoy at a beautiful lakeside spot. Also, take a photo of the park map before you begin your trek. It's easy to get lost, so consider the map your backup plan in case you feel as if you're walking in circles-again.
In terms of attractions, there's a cave to spot, a wooden bridge to cross, and a dam to observe, as well as meandering tributaries to help calm your spirit.
Those who'd like a more in-depth adventure can download the park's Nature Trail Map or print it out to use as a guide on a two-and-a-half-mile hike, passing 13 well-marked and detailed points of interest.
Insider's Tip: Weekends can get busy, and both parking lots (one in Stamford and the other in Greenwich) fill up quickly, so try to arrive early.
Address: Merribrook Lane, Stamford, Connecticut
Official site: http://www.friendsofmianusriverpark.org/
9. Goodbody Garden & Fort Stamford Park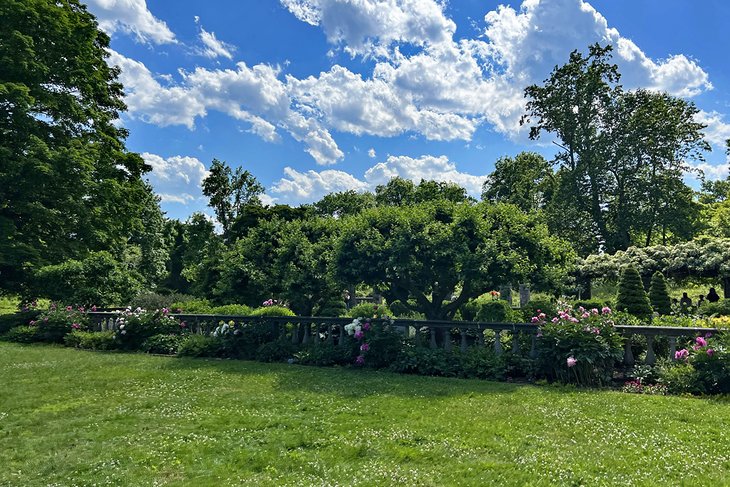 This tiny treat is hidden in a residential area off Westover road, northwest of downtown and very close to Mianus River State Park. This quiet botanical garden is a nice spot to visit if you're in the area. Pack a picnic, stretch out on a yoga mat, enjoy a latte, or slowly wander around the path.
The blooms are divine, especially during late spring, and if you visit on a weekend, you'll likely run into a wedding party making good use of the stunning backdrop for photos.
The vined gazebo begs you to shoot selfies or photos of the kids. Most come here, though, to see the ruins of the old Fort Stamford, which was active from 1781 to 1783. There isn't much to see, but the few stone remainders are a good reminder of the historical significance of this area. Plus, any four-legged members of your family will enjoy a lovely walk outside.
While here, be sure to take time to truly appreciate the gardening prowess of the Stamford Garden Club, which is responsible for the incredible blossoms. The beauty lends a magical feel to this garden, which is so captivating, you won't want to leave.
The best time to visit is in late spring or during the summer months, when the flowers are at their most spectacular.
Official site: https://fortstamfordpark.org/
10. The Stamford Center for the Arts - Palace Theatre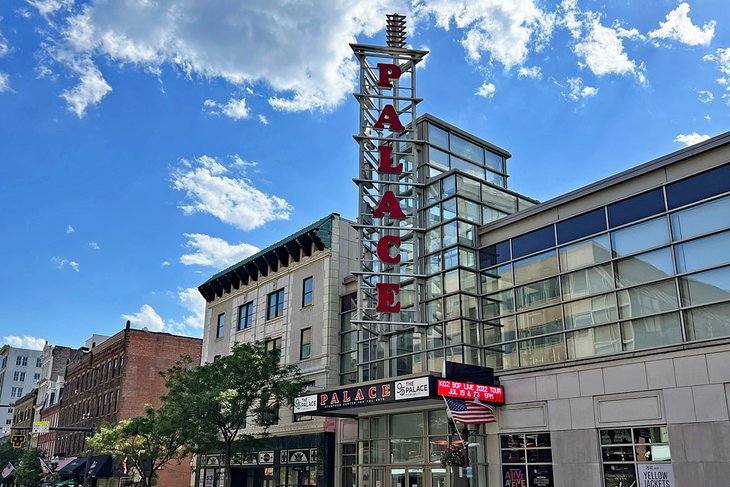 Boasting a rich history and an even more impressive list of performing guests, the Palace Theatre was opened in 1927. The original main stage is still in use, as is the smaller, more intimate UpStage, where you'll feel as if you're in a small club, getting up close and personal with the acts.
The theater was beautifully restored to preserve its old-time charm yet still offers incredible views from virtually every seat in the house. It's not too big to feel impersonal, plus, the seats are well spaced, meaning you won't have to contend with the back of someone's head blocking your view.
Offering a wide variety of performers-from comedians to dancers to a symphony orchestra, the Palace Theatre literally has something for everyone. Who needs to head into New York City when you can see acts like Three Dog Night, The Temptations, Tony Bennett, and Alec Baldwin all in the heart of Stamford?
Address: 61 Atlantic Street, Stamford, Connecticut
Official site: https://www.palacestamford.org/Online/default.asp
11. The Ferguson Library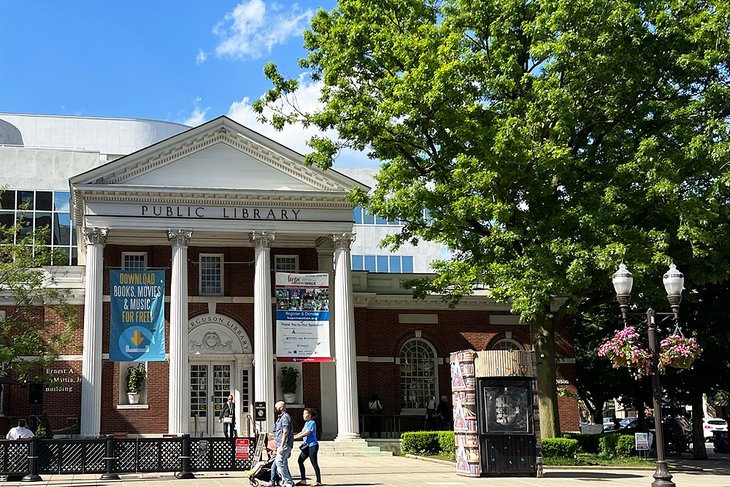 The Ferguson Library offers its visitors so much more than access to great stories. This historic venue is one of the best places to visit for author talks on a vast array of topics.
Other popular events include documentary screenings, crime-writing workshops, art shows, and of course, family story time, which is held outdoors in good weather.
The Main Library is housed in the Dimattia Building at one Public Library Plaza, in the heart of Stamford's downtown.
Three other branches are peppered throughout the city, and the Bookmobile is a brilliant mobile library that's been in operation since 1940, bringing books to the public on Monday, Wednesday, and Friday.
The library came into existence in the late 19th century and was named after its first main benefactor, a local judge named John Day Ferguson. It became a free library in 1911.
Address: One Public Library Plaza, Stamford
Official site: https://www.fergusonlibrary.org/
12. The South End Historic District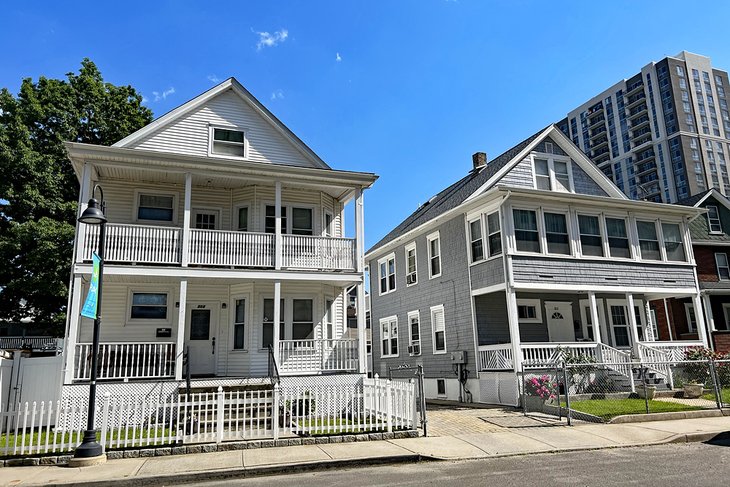 Old meets new in the unique, South End Historic District. Located below the I95 and the Stamford train station, this mostly residential area was developed as a "walking city" in the late 19th century, so residents could easily commute from home to office on foot.
In 1986, this area was listed on the National Register of Historic Places due to its late 19th- and early 20th-century buildings located at the southern edge of downtown Stamford's business district.
Various architectural styles can be found here, including Italiante, Colonial Revival, Victorian Gothic, and Queen Anne. Four churches, a fire station, and the former Yale & Towne Lock Works are also in the area.
As time went on, larger apartment buildings replaced many of the historic homes and offices that once stood on these streets. Large, country estates from the late 1800s were slowly replaced by multi-story building complexes and multi-family homes.
Today, you'll find cute parks, bodegas, local restaurants, and small shops peppered throughout the area. Bigger businesses have also begun to move in, with the newly developed Harbor Point being the most sought-after area.
Address: Washington Boulevard, Pacific Street and Atlantic Streets running north and south. Henry Street running west to east.
Map of Things to Do in Stamford, CT
Stamford, CT - Climate Chart
Average minimum and maximum temperatures for Stamford, CT in °C
J
F
M
A
M
J
J
A
S
O
N
D

3

-7

5

-6

10

-2

17

3

23

8

27

13

29

17

28

16

24

12

18

6

12

1

6

-4

PlanetWare.com
Average monthly precipitation totals for Stamford, CT in mm.

114

84

119

115

126

110

104

108

122

112

116

109
More Related Articles on PlanetWare.com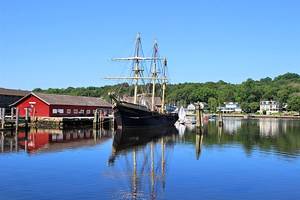 Things to Do in Connecticut: While the city of Stamford is intriguing, if you want to find some true hidden gems, have a read through our list of the best weekend getaways in Connecticut or our picks for the best small towns. To help you get started on planning a trip to the state, see our guide to the top attractions in Connecticut.