18 Top-Rated Attractions & Things to Do in Brooklyn, NY
If Brooklyn was a separate city, it would be the fourth largest city in America. With a population of approximately 2.5 million, Brooklyn is one of the most populous areas in the country. But with that comes massive diversity, rich history, and a plethora of things to do.
From iconic Coney Island to the brand new Barclays Center, and distinct neighborhoods like Williamsburg, Brooklyn Heights, and Park Slope, you will have your choice of activities and places to visit throughout the year.
A walk across the Brooklyn Bridge or, a subway ride from Manhattan, or a cruise on the East River Ferry will bring you to happening neighborhoods and attractions like museums, gardens, parks, food markets, and more.
On your day trip or a weekend getaway to Brooklyn, don't miss a chance to see the Brooklyn Cyclones play at MCU Park, have a picnic in Prospect Park, wander the gardens at Brooklyn Botanic Garden, and admire masterpieces at the Brooklyn Museum. Top it all off with a stop at an outdoor food market to taste diverse foods and mingle with New Yorkers.
For more ideas on places to visit in one of New York City's coolest boroughs, see our list of the top things to do in Brooklyn.
1. Brooklyn Bridge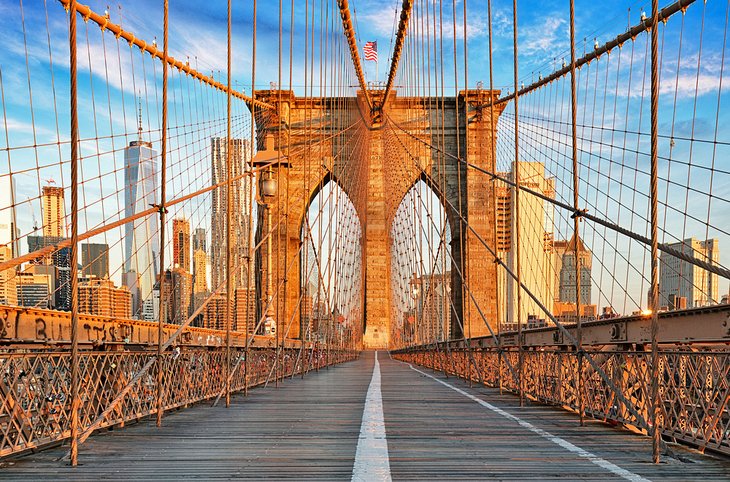 Drive, bike, or saunter across the Brooklyn Bridge, an iconic New York City landmark connecting Lower Manhattan with Brooklyn Heights. Appreciate the massive towers built from limestone, granite, and cement, and the incredible views of the world-famous skyline from various vantage points on the pedestrian walkway.
Brooklyn Bridge was the first bridge built across the East River; it took 24 years and opened in 1883. It once held the title of the longest suspension bridge in the world, until Japan's Akashi-Kaikyo bridge came along.
Since this is one of the top attractions in New York City, when you visit during high season, you may be rubbing shoulders with other tourists; go early in the morning or at night for a more relaxing experience.
2. Brooklyn Bridge Park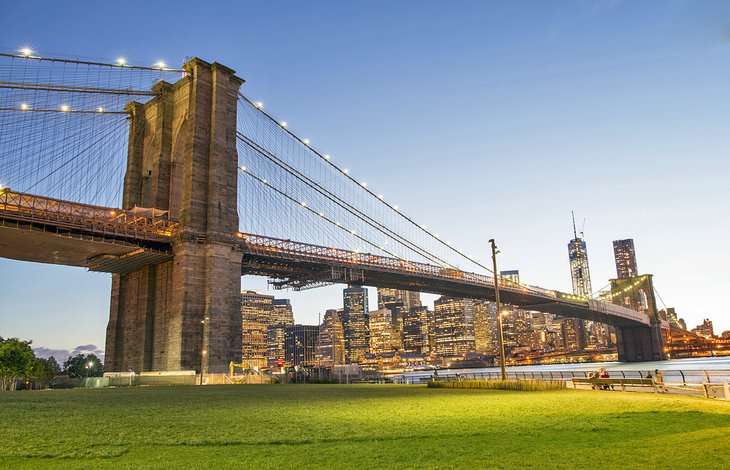 Nestled on the shores of the East River lies the 85-acre Brooklyn Bridge Park, an appealing place to relax and enjoy views of the bustling New York harbor, Statue of Liberty, and both the Brooklyn and Manhattan bridges.
The park features a 1920s restored carousel, playgrounds, piers, and lawns for picnicking. Visitors can enjoy events like outdoor movies, concerts, fitness classes, rowing, kayaking, and more. Other amenities include basketball courts, an in-line skating rink, and a small beach for non-motorized boat launch. A seasonal ferry brings folks from the park to Governors Island.
3. Brooklyn Museum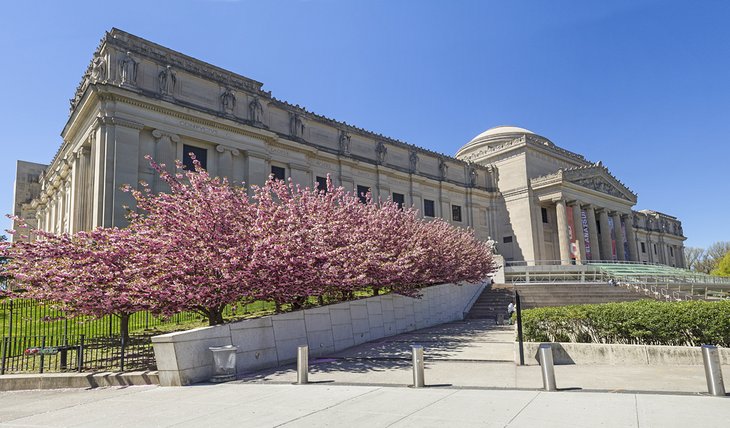 Admire masterpieces by Cézanne, Monet, Bierstadt, Rothko, and other renowned artists in this gorgeous space near the Brooklyn Botanic Garden and Prospect Park. The prestigious Brooklyn Museum houses a massive collection of Egyptian antiquities, along with African, European, Japanese, Oceanic, and American art, with the goal of helping people understand the world better. It's especially known for presenting the feminist piece by Judy Chicago, The Dinner Party.
The Brooklyn Museum houses nearly 1.5 million works in a 560,000-square-foot space. Even though it's the third largest museum in the city, it sees a lot fewer visitors than Manhattan's world-famous art museums, giving you a chance to take in famous pieces without many others around.
For over 21 years, the museum has hosted a First Saturday program, with free programming for visitors each month. Programming includes art classes, music and dance performances, art workshops, and gallery talks, as well as musical performances and film screenings.
Address: 200 Eastern Parkway, Brooklyn, New York
Official site: https://www.brooklynmuseum.org/
4. Brooklyn Botanic Garden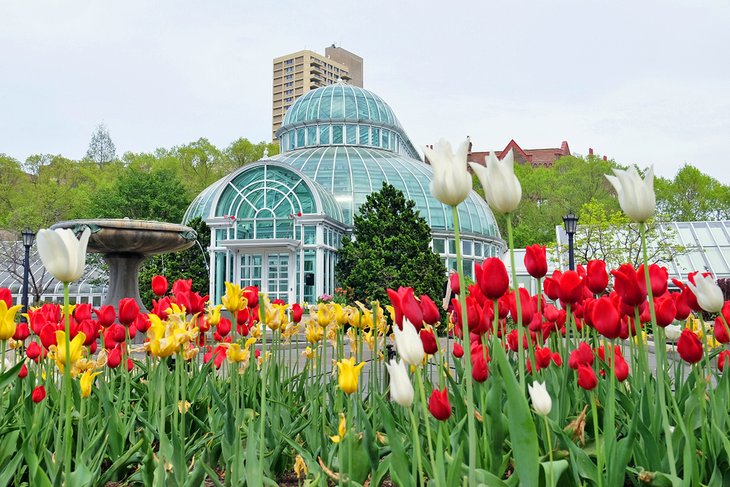 Get lost in nature as you wander through carefully tended gardens at the Brooklyn Botanic Garden, situated next to Prospect Park on 52 acres. You'll find peaceful gardens like the Cherry Esplanade, Fragrance Garden, Herb Garden, Magnolia Plaza, Cranford Rose Garden, Japanese Hill-and-Pond Garden, Shakespeare Garden, and the new Woodland Garden, among others.
Even during winter, take comfort in the warmth of the greenhouses with lush tropical flora and desert cacti. Don't miss the Sakura Matsuri Festival in the spring, which attracts thousands of locals and visitors to the blooming Cherry Esplanade.
Address: 990 Washington Ave, Brooklyn, New York
Official site: https://www.bbg.org/
5. Prospect Park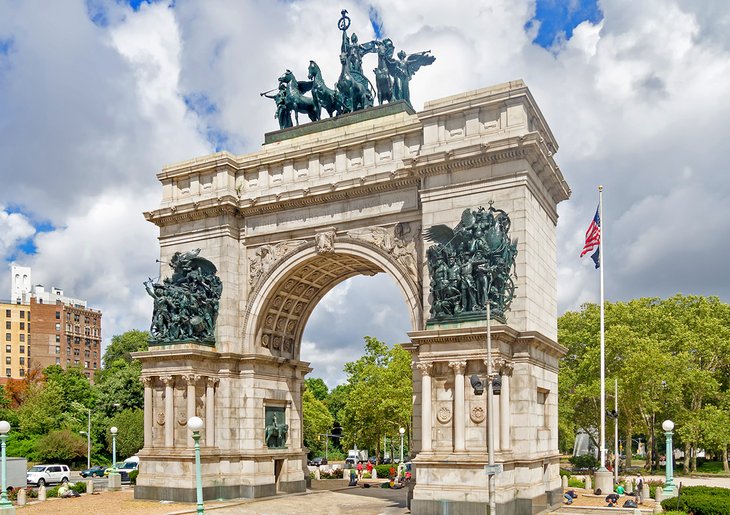 Beginning at the Grand Army Plaza's Triumphal Arch and encircled by the neighborhoods of Park Slope, Crown Heights, and Windsor Terrace, 526-acre Prospect Park is a happening gathering place for local residents. You can see them using the paths for running, biking, dog-walking, exploring the Ravine forest, and picnicking on the Long Meadow and Nethermead.
The bucolic park, with its intricate man-made wetlands and trees, is designed by the same architects behind New York's Central Park: Frederick Law Olmsted and Calvert Vaux. It includes similar attractions such as a boathouse, zoo, lake, sporting fields, ice rink, carousel, band shell, and an array of playing fields and recreational activities.
Prospect Park also boasts the first urban Audubon Center, run in partnership between Audubon New York and the Prospect Park Alliance. On Sundays near the Breeze Hill entrance, a Smorgasburg Prospect Park food festival serves a range of cuisines from local restaurants from April to October.
6. Coney Island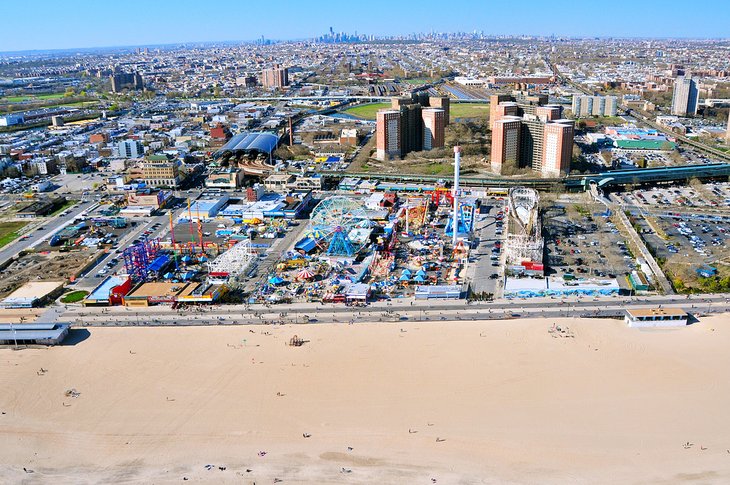 Coney Island is a popular summer destination at the southern tip of Brooklyn. Known for its carnival rides and great eats from Totonno's and Nathan's Famous, this sandy playground is just a subway ride away from Manhattan.
Allocate an entire day to make the most of your time at this buzzing attraction, which features minor league baseball at MCU Park, an aquarium, amphitheater, and thrilling roller coasters at Luna Park amusement park.
Of course, don't forget to enjoy the beach, that is if you can find yourself a spot. Coney Island in recent years has been the location for the annual Mermaid Parade, attracting costumed fans from all boroughs to take part in a lively celebration of the water nymphs.
7. MCU Park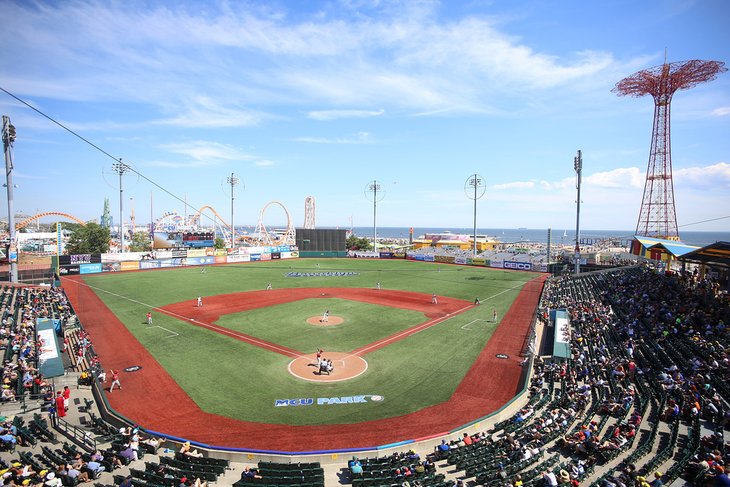 Glimpse into the future of America's pastime at MCU Park, home of the Brooklyn Cyclones. This Class A Short Season Mets Affiliate is sure to delight fans of all ages. Bring your friends and family for a fun minor league baseball game.
Enjoy special promotions like Kids Eat Free Monday, Everyone Runs the Bases, and the hilarious Tribute to Seinfeld Night. Savor top-notch refreshments, including Nathan's Famous from the comfort of your box seats or luxury suite.
MCU Park is conveniently located adjacent to the Boardwalk and Coney Island-Stillwell Avenue Station.
8. Barclays Center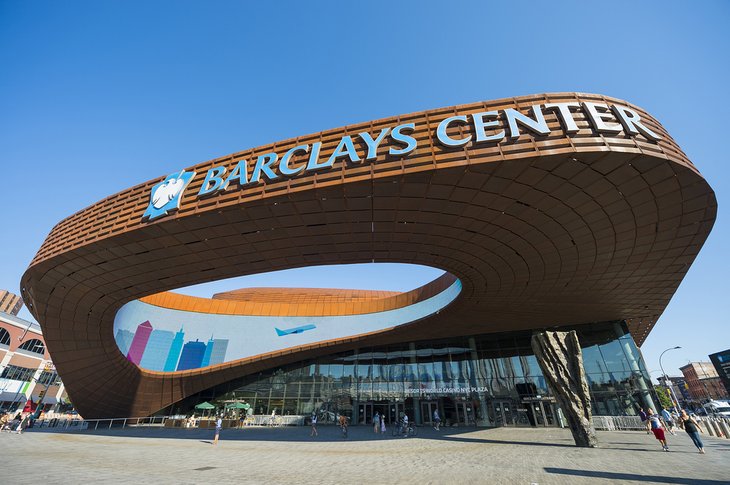 Home to the Brooklyn Nets of the NBA, the new Barclays Center takes center stage in downtown Brooklyn. Opened in 2012, this multi-purpose indoor arena is also used for New York Islanders hockey games and a number of concerts and comedy shows.
The venue can accommodate up to 19,000 attendees, and is conveniently located close to the Long Island Railroad and multiple subway lines at the Atlantic Terminal transportation hub. As you take the stairs up from the underground railroad, you can't help but admire the venue's standout exterior, made up of 12,000 weathered steel panels, representative of the brownstone blocks that surround it.
Address: 620 Atlantic Ave, Brooklyn, New York
Official site: https://www.barclayscenter.com/
9. New York Transit Museum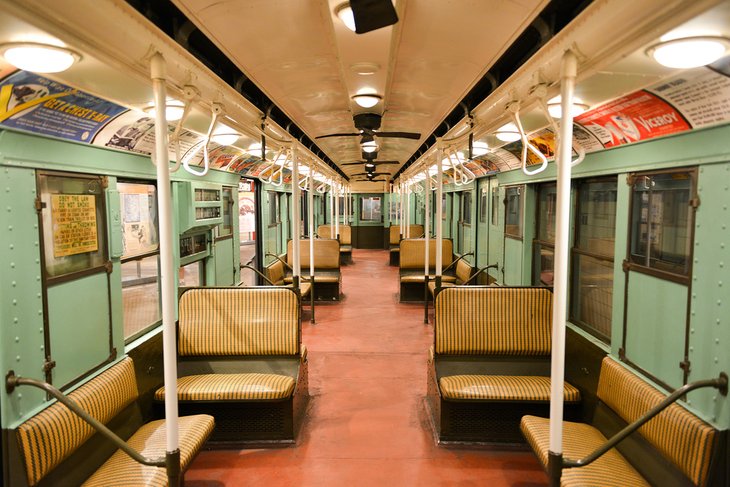 Pay homage to one of the oldest public transit systems in the country at the New York Transit Museum in Downtown Brooklyn. Housed in a decommissioned train station, the museum showcases vintage subway cars and buses from the early 1900s.
Learn about the history of mass transit in the metropolis since 1976 through memorabilia, reconstructed subway platforms, and long-term and rotating exhibits. Attend an educational program with kids and stop by the gift shop for a souvenir to remember your experience.
During the holidays, the Holiday Nostalgia Rides give you a chance to ride in a 1930s R1-9 train car on Sundays between Thanksgiving and New Year's.
Address: 99 Schermerhorn Street, Brooklyn, New York
Official site: https://www.nytransitmuseum.org/
10. Brooklyn Flea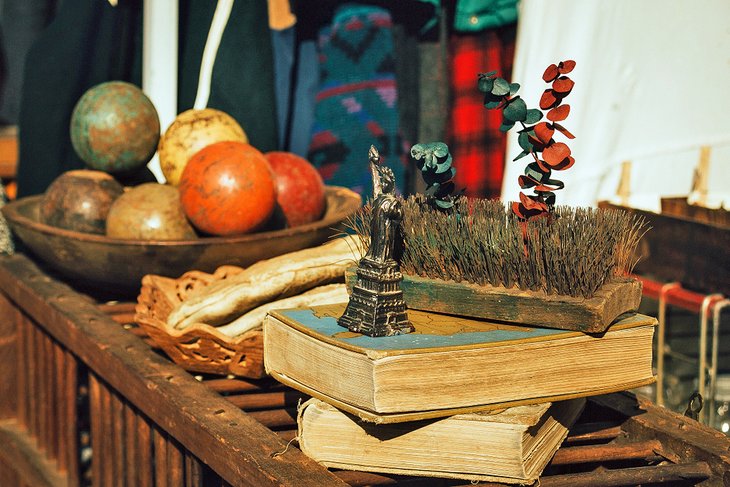 If you are into antiques, vintage clothing, furniture, and people watching, the Brooklyn Flea is a must-visit. This seasonal market, taking place on the second-level patio of the Williamsburg Hotel on Saturdays and under the Manhattan Bridge at Pearl Plaza in Dumbo on Sundays, brims with vendors selling wares, collectables, jewelry, clothing, food, and more.
Even if you can't bring anything on the plane back with you, the sheer joy of browsing through hundreds of interesting items at one of the greatest markets on the planet makes the trip to the Brooklyn Flea worth it.
Official site: http://brooklynflea.com/
11. Williamsburg Smorgasburg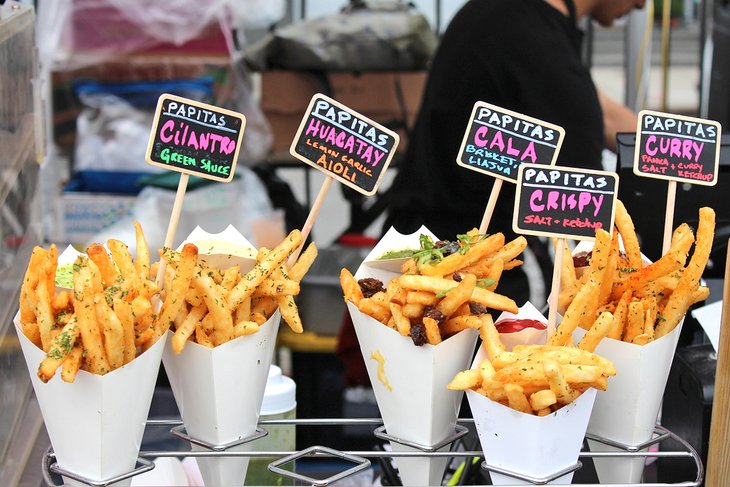 The trendy hipster neighborhood of Williamsburg and the shopping and dining on Bedford Avenue, are big draws, but the Smorgasburg Food Market in East River State Park is something one has to check out on a visit to Brooklyn, especially if you are already spending your day at the nearby flea market at the Williamsburg Hotel.
The open-air market, organized in collaboration with the Brooklyn Flea Market and the New York Greenmarket, is the largest weekly food market in the country, attracting 20,000 to 30,000 people each weekend, most of them local to the area.
If you find yourself in Brooklyn on a Saturday between April and November, head to the Williamsburg Smorgasburg to savor delicious (and cheap) food from a wide selection of vendors, mingle with New Yorkers, and enjoy views of the city skyline.
Official site: https://www.smorgasburg.com/
12. DeKalb Market Hall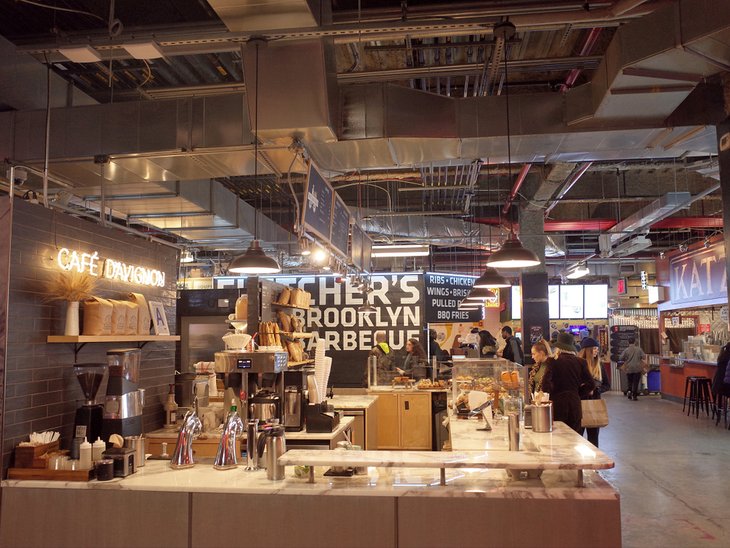 A recent addition to the food market scene in Brooklyn is catching up to the others with a year-round, indoor venue boasting diverse food vendors, like A Taste of Katz's deli, Arepa Lady, Paella Shack, Chicks Isan, Ample Hills ice creamery, Cuzin's Dozen (selling mouth-watering mini donuts), and more.
Also within the DeKalb Market Hall that opened in 2017, you'll find a Trader Joe's and Han Dynasty restaurant, and a never-boring scene of residents and tourists mingling over delicious food. The market is located in the lower level of City Point, near Fort Greene Park and several subway lines at the Atlantic Terminal.
Official site: https://www.dekalbmarkethall.com/
13. BAM Harvey Theater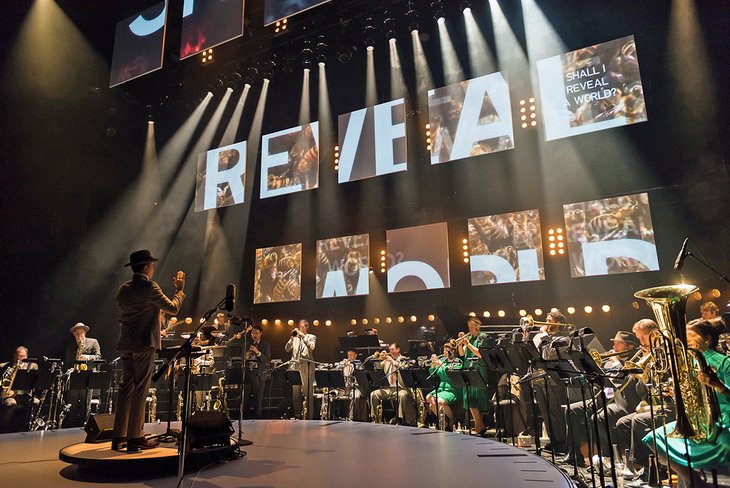 BAM Harvey Theater, is a cultural space putting on films, plays, and opera. Built in 1904 as the Majestic Theater, the impressive stage hosted musicals, vaudeville, and plays that went on to Broadway.
In the 40s, the building served as an elegant European-style movie house, until the advent of television, and closed in the 60s. It resurrected again as a prominent cultural center in the late 80s, as part of the Brooklyn Academy of Music (BAM), while still maintaining its original architectural elements. Visitors can choose from multiple shows daily.
Brooklyn Academy of Music (BAM) is a not-for-profit corporation, inhabiting three mixed-used venues, including the Peter Jay Sharp Beaux Arts-style building (housing Howard Gilman Opera House and BAM Rose Cinemas), the BAM Harvey Theater, and the BAM Fisher. Those looking for dinner and a show can visit the BAMCafé, a restaurant hosting live music and readings, in the Peter Jay Sharp building.
All these buildings, situated near Downtown Brooklyn and Barclay's Center, make up the cultural mecca of Brooklyn, putting on the annual world-renowned Next Wave Festival, featuring avant-garde cultural shows in the fall.
Official site: https://www.bam.org/visit/buildings/harvey-lichtenstein-theater
14. Green-Wood Cemetery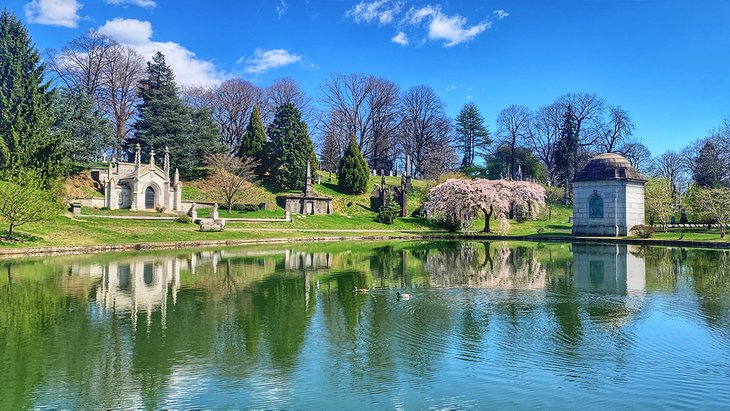 In the late 19th century, Green-Wood Cemetery competed with Niagara Falls in terms of visitor numbers. With dramatic Gothic arches at the entrance, and bucolic, rolling landscape spread across 478 acres, New York City's first rural burial ground was the preferred final resting place for many wealthy New Yorkers.
Today, the site still attracts those drawn to the countryside setting and the secrets it holds. Green-Wood is on the Civil War Discovery Trail, where you will see monuments to the fallen soldiers, from both sides.
The cemetery is also a bird-lover's paradise. A colony of blue-green monk parakeets nests in the spires of the arches, and the ponds within are teeming with herons, egrets, sandpipers, geese, and ducks. The cemetery is part of the Audubon Cooperative Sanctuary System and offers birding walks.
15. Brooklyn Grange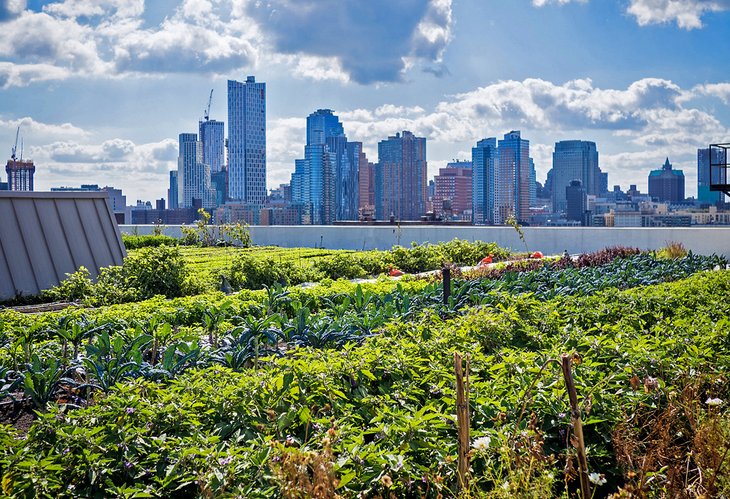 It may come as a surprise to many, but New York City has the largest rooftop soil farm in the world, growing more than 50,000 pounds of organic produce each year. Brooklyn Grange, located at the historic Brooklyn Navy Yard, is a 5.6-acre farm serving local restaurants and markets.
The Grange company has two other rooftop urban farms in Brooklyn and Long Island City, Queens. Visitors can learn about organic farming, beekeeping, floral design, and mushroom cultivation, among other farm-centric activities. Or go on a tour of the farm and enjoy views of the green space overlooking the city skyline.
Address: 63 Flushing Ave., Building 3, Roof, Brooklyn, New York
Official site: https://www.brooklyngrangefarm.com/
16. Brooklyn Heights Promenade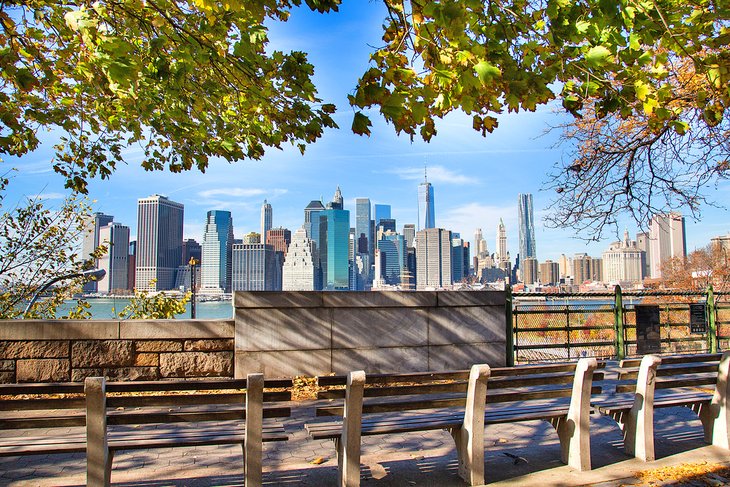 While you're in Brooklyn, you might as well soak up some stellar Manhattan views. Some of the very best views of Manhattan can be spotted from Brooklyn Heights along its beautifully manicured promenade.
The Brooklyn Heights Promenade is an outdoor walkway that overlooks Downtown Manhattan, the East River, and the Brooklyn Bridge. You'll also find some of the oldest mansions and architecture along the promenade in one of the most historic neighborhoods of Brooklyn.
The pedestrian walkway is lined with benches and lovely flowerbeds, making it a popular spot to sit and people-watch. But it's also one of Brooklyn Heights' favorite places for exercise. Runners, rollerbladers, and cyclists love to pound the pavement here.
Not far from the promenade are some of Brooklyn's best restaurants and boutiques. Near Brooklyn Bridge Park are a wide variety of dining options, as well as rooftop terraces from which to drink in the views.
17. Bushwick Collective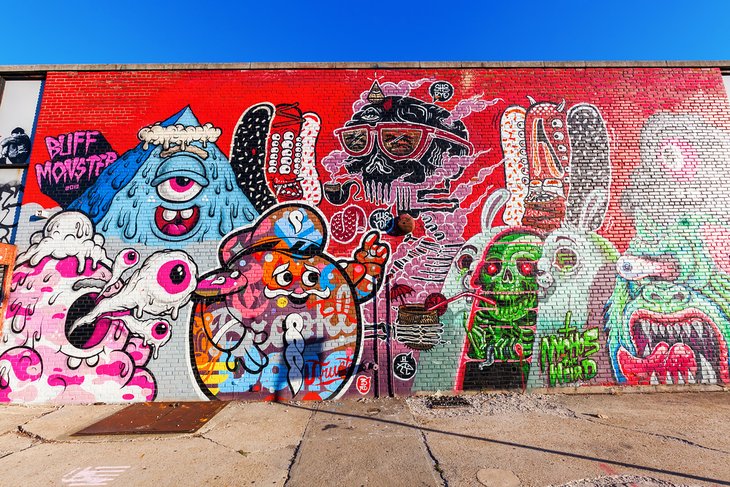 New York is famous for its street art, graffiti, and murals. The building walls across the five boroughs are often used as blank canvases for local and rising artists to express themselves in bold designs. In Brooklyn's Bushwick neighborhood, the Bushwick Collective represents some of the very best street art in the city, and visitors can make either a DIY walking tour, or sign up for a local one, to see what's on display.
The open-air gallery is curated by Bushwick native Joe Ficalora, and brings artists from all around the world. What started in 2012 has quickly evolved to become one of the top tourist attractions in the city.
To find it, take the L train to Jefferson Street. Most of the murals are along Troutman Street between Irving and Cyprus avenues.
18. Brighton Beach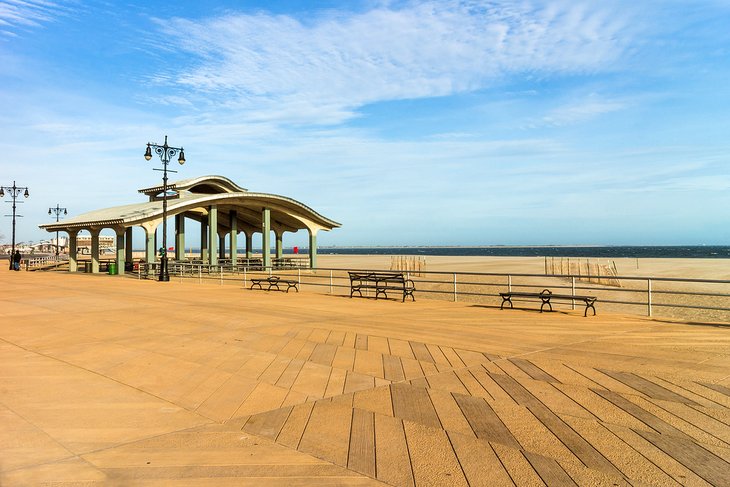 South Brooklyn is full of deep pockets of untapped Brooklyn secrets. Brighton Beach is one of them. Once home to mostly Russian immigrants, the beachfront neighborhood has blossomed into an international community, as well as a destination for locals and visitors to hit the beautiful beach.
Yes, a beach! Brighton Beach is named for the lovely, wide beach on which it sits. Today the beach has hotels and restaurants – the majority of which are Georgian, Uzbek, and Turkish, earning the neighborhood the nickname, "Little Odessa." Brighton Beach was named for the English seaside resort town. During the summer months the boardwalk is always bustling with activity, and the sand is usually packed with sunbathers who come down from their apartment buildings to enjoy the biggest asset of their neighborhood.
Where to Stay in Brooklyn for Sightseeing
Luxury Hotels:
The Williamsburg

Hotel

in the hip neighborhood by the same name is a stylish luxury boutique property with a retro-modern ambience throughout. The rooms have amenities like white noise machines, pillow menus, and Bluetooth speakers. Many also have balconies with Manhattan skyline views. The property is pet-friendly and has an all day restaurant that also serves high tea on the weekends. Also don't miss the rooftop pool with fabulous views.
Another modern luxe option in Williamsburg is The William

Vale

. This trendy, pet-friendly hotel boasts elevated green spaces for guests and a rooftop swimming pool with city skyline views. There are also three distinct restaurants, including one serving burgers out of a 1974 Airstream trailer. The rooms and suites come with floor-to-ceiling windows and balconies.
1 Hotel Brooklyn

Bridge

is located right on the East River waterfront on Brooklyn Bridge Park near the bridge itself. The 10-story building has almost 200 rooms and suites that are done up in modern design with lots of wood accents. Amenities at this family- and dog-friendly property include a swimming pool, a lounge serving light bites and awesome NYC skyline views, and a 24-hour fitness center.
Mid-Range Hotels:
One of the best mid-range choices is Franklin

Guesthouse

. It features well-appointed rooms and suites with lots of light, and modern art on the walls. Some of the suites come with full kitchens and sitting areas. Amenities include an on-site sauna, workout room, and self service laundry facilities. Bike rentals are also available.
At the corner of North Henry Street and Norman Avenue, the Henry Norman

Hotel

is a boutique 3-star option in a converted 19th-century warehouse. The 52 rooms and suites have a trendy vibe with modern art on the walls and hardwood floors. Guests can hang out on the rooftop terrace, work out in the fitness center, or sweat in the on-site sauna.
Hotel Le

Jolie

is another good-value choice. The boutique property in the Williamsburg neighborhood features modern rooms with dark wood accents, blackout curtains, and work desks. A free breakfast is offered, and there is free parking and a 24-hour front desk.
Budget Hotels:
If you just need a bed and a bathroom in a tiny but tidy space, then check out the budget-friendly Pod

Brooklyn

. In a central Williamsburg location with easy access to everything, the rooms have just enough space for sleeping, but they do have private bathrooms and are soundproofed. Amenities include bike rental, a workout room, and 24-hour check in.
For a more traditional sized hotel room that is still affordable, check out La Quinta Inn & Suites by Wyndham Brooklyn

Downtown

. Located about five blocks from a subway station with access to Manhattan, the hotel is pet friendly and also offers a free breakfast.
Best Time to Visit Brooklyn, NY - Historical Climate Averages
Average minimum and maximum temperatures for Brooklyn, NY in °C
J
F
M
A
M
J
J
A
S
O
N
D

2

-5

4

-4

9

0

14

6

20

12

25

17

28

20

27

19

23

14

17

8

11

3

6

-2

PlanetWare.com
Average monthly precipitation totals for Brooklyn, NY in mm.

94

75

104

103

114

88

106

103

103

89

102

98