11 Top-Rated Ski Resorts in New York, 2023/24
New York State has some of the best ski resorts in the East. Many are close to New York City and other metropolitan areas, so you can travel from the urban jungle to a winter wonderland in a short period of time.
Resorts range from small family-friendly operations, perfect for getting the kids into this wonderful winter sport, to large mountain resorts with impressive vertical drops. All the hills offer night skiing, so you can really max out your vertical, and all the resorts have extensive snowmaking capabilities, meaning snow coverage is generally quite good.
If you live in the greater New York City area, the closest locations are generally in the Catskills about three hours away. If you live in Upstate New York, the resorts near Rochester and the Finger Lakes are good options. For the largest ski hills, head to Lake Placid and the Adirondacks.
Skiing in New York is a perfect family getaway. The resorts are set up to cater to all ages and interests. In addition to downhill skiing, many resorts offer snow tubing, snowshoeing, cross-country (Nordic) skiing, and even bobsledding.
Accommodation options at the ski resorts range from luxurious slope-side condos and suites to romantic bed and breakfasts, and always available are standard hotels. Many of the small towns near the ski hills offer very good dining and shopping experiences.
For more details on where to plan your trip, see our list of the best ski resorts in New York state.
1. Gore Mountain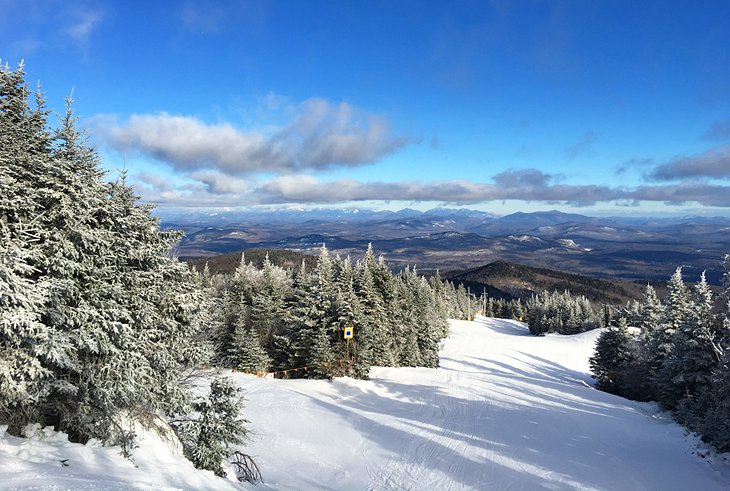 The largest ski resort in New York (446 acres)
90% of the runs are intermediate or advanced level
Operating for more than 80 years, Gore Mountain is the largest ski resort in New York. Spread over four peaks in the Adirondack Mountains, this premier ski destination has 119 ski trails, a vertical drop of 2,537 feet, and with 446 skiable acres, enough terrain for even the most demanding skier. The mountain has 14 lifts, including an eight-passenger gondola and two high-speed quad chairs.
Gore is a skiers' mountain, meaning that 40 percent of the runs are rated black diamond, 50 percent are rated intermediate, and just 10 percent are for beginners. So, if you think you are a hotshot skier, come here and test your skills against Gore's toughest runs – you'll find plenty to choose from!
The resort continues to get better each year. For the 2023/24 season, Gore has upgraded the Bear Cub Poma Lift from a single to a quad complete with a high-tech conveyor loading system. This new improvement will double the length of the lift to 1,912 feet. In addition, two surface lifts located just below the loading area of the Bear Cub lift on the Bear Cub run have been added.
The upgrades of two older chairlifts, High Peaks double chair and the Sunway double chair (new conveyer load high-speed quad) have been embraced by skiers and have provided improved skier flow in both areas.
In addition to the new chairs, a significant investment in the snowmaking pumping system has also been implemented. Also, new RFID gate systems are in place that automatically read your lift ticket and open the gate to the lift.
Beginner skiers will also rejoice at the widening of some of the easiest trails, including Pete's Paradise. Now there's way more room to make those wide turns and to undertake a yard-sale-style crash!
Six different dining options are available at Gore, from full-service sit-down restaurants featuring amazing views, right through to grab-and-go cafeteria-style options.
Gore is more than just downhill skiing, if you've always wanted to try snowshoeing, trails are available. Nordic routes are also on offer and are very well laid out.
Official site: https://www.goremountain.com/
2. Whiteface Mountain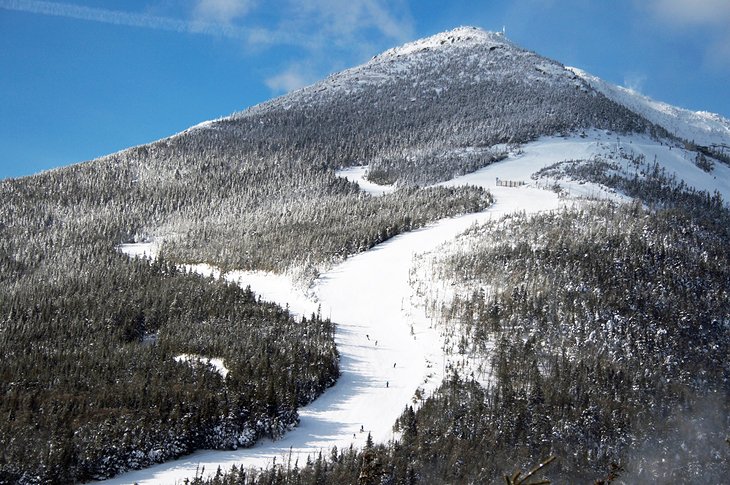 Largest vertical drop east of the Rocky Mountains (3,400 feet)
Located near Lake Placid
80% of the runs are intermediate or advanced level
Whiteface Mountain has the largest vertical drop east of the Rocky Mountains, rivaling some of the popular ski resorts out West. Here, you'll find 3,400 feet of vertical, and varied terrain that is always covered in snow in winter owing to the mountain's 98% snowmaking coverage.
The mountain skews more to the intermediate and advanced skier, but 20% is beginner terrain that will ensure any new skier leaves with a smile on their face.
The Cloudsplitter gondola whisks you to the top, and from here the views out over the surrounding Adirondacks are spectacular. The ski resort boasts one of the longest intermediate runs in the Northeast; a 2.1-mile-long leg burner called the Wilmington Trail. The hill has 87 runs in total and 11 chairlifts.
For the 2023/24 season, Whiteface has installed a long-awaited lift called The Notch. This lift will run from the Bear Den Learning Center up to the Legacy Lodge. The lift has a unique mid station that will allow skiers to unload at the Boreen trail. If riders stay on the lift, they'll end up at the lodge and the fine assortment of runs located in the mid part of the mountain.
If you are part of the boarder and freestyler tribe, Whiteface has you covered, with three terrain parks and a half pipe. The humps, bumps, rails, and other crazy structures will keep you flying and posting your best flights to your followers non-stop.
Similar to Gore Mountain, Whiteface has also recently introduced RFID gate systems in the lift lines – no need to show your ticket to a liftie anymore. Other major improvements made recently include the brand new Legacy Lodge at mid-station. This impressive new building, home to restaurants and skier services, is architecturally stunning, with huge windows allowing for unsurpassed views out over the surrounding mountains.
Whiteface skiers will be happy to see the demise of the Bear and Mixing Bowl double chairs, as they have now been replaced with the SkyTrac high-speed quad. In addition to the new chair, infrastructure and engineering work has been done on the Facelift chair to make it more reliable in the years ahead.
Whiteface is more than just a place to come for skiing. Taking a well-deserved break on a sunny patio to refuel is all part of the experience. Be sure to check out the new (and heated) lower-level patio of the Legacy Lodge, the latest addition to the food service offerings at the resort.
The nearby town of Lake Placid, home of the 1980 and 1932 Winter Olympics, is full of fantastic dining and entertainment options. You can easily spend an afternoon or evening walking down the delightful main street and soaking up the mountain town atmosphere.
Official site: https://www.whiteface.com/
3. Windham Mountain Club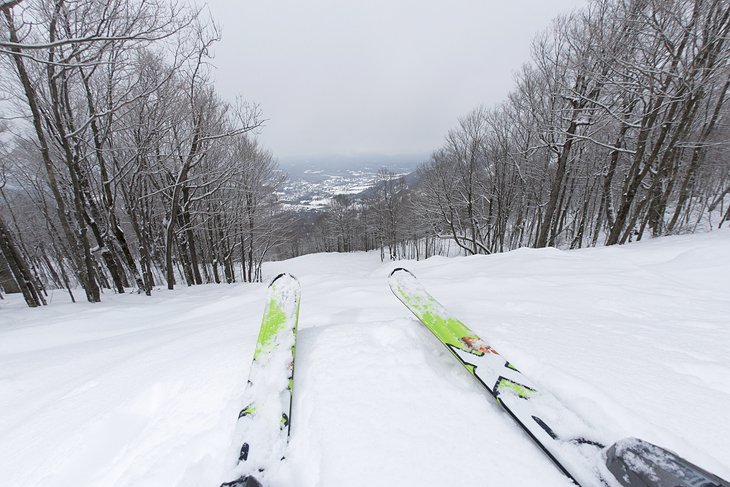 6 terrain parks
A 1,900-foot vertical drop
Windham Mountain has rebranded itself for the 2023/24 season and is now known as the Windham Mountain Club. It's located in the Catskills and within easy driving distance of New York City, just a few hours away. This fantastic ski resort offers up 1,900 feet of vertical drop and is spread out over two mountains. With 54 runs covering 285 skiable acres, you will likely run out of energy before you run out of runs.
The Windham Mountain Club is a hot spot for snowboarding, and six terrain parks have every imaginable hump, bump, or crazy rail to attempt. The resort can handle the weekend crowds with 11 lifts that can move nearly 23,000 people up hill each hour.
Although Windham's location makes for a great day trip destination, consider a weekend getaway. The ultimate skier's weekend can be had here. Pack your gear Friday morning, blast off from your desk at five, and hit the slopes that evening for a session of night skiing. The next morning, sign up for First Tracks and carve up the perfect corduroy before the crowds have even turned on their coffee makers.
Take a short dinner break and do some more night skiing, then roll out of bed early for another session of First Tracks on Sunday. You may not be able to walk on Monday, but who cares? All you need to do is sit at your desk and recover with a big grin on your face!
A variety of accommodation options are available, and a free shuttle to the hill operates on weekends throughout the season.
The past couple of seasons have seen over twelve million dollars invested in the resort, with improvements ranging from new lifts to increases in snowmaking, now with coverage on 97% of the mountain, to new grooming machines. Dining and base lodge areas have also been renovated and updated.
Windham is part of the IKON pass program.
Official site: https://windhammountain.com/
4. Hunter Mountain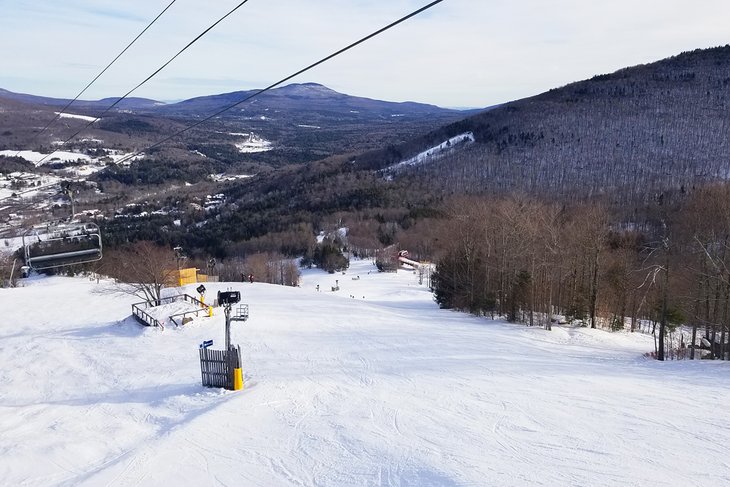 A fairly equal mix of beginner, intermediate, and advanced runs
4 terrain parks
Also in the Catskills, and just under three hours from New York City is Hunter Mountain. This resort is spread out over four mountains, and 85 percent of the runs are fairly evenly split among beginner, intermediate, and advanced. For those who are at the expert skier level, the remaining 15 percent of the runs will take you down the steeps or through the glades.
The 67 trails are serviced by 13 lifts. Four terrain parks are spread around the mountain, and each caters to a different level of ability, from beginners right through to experts.
If your legs are shot, and you are looking for something different, snow tubing is available, as well as guided ice-climbing expeditions to the top of Hunter Mountain. Those who prefer something more sedate will have no trouble finding bliss and relaxation at the Mountain Club Spa.
Accommodation options range from on-hill condos to beautifully restored inns and hotels in nearby Tannersville or Windham. One fun option is to stay in either town and ski one day at Hunter and one day at Windham, which are about 20 minutes apart.
Hunter Mountain is part of the EPIC ski pass program. Note that for the 2023/24 ski season, day lift tickets will be limited, so the hill does not get overly crowded. Access is guaranteed for EPIC season pass holders and EPIC Day Pass holders, along with people taking ski lessons. The number of day lift tickets available will be posted on the resort's website.
Official site: https://www.huntermtn.com/
5. Belleayre Mountain Ski Center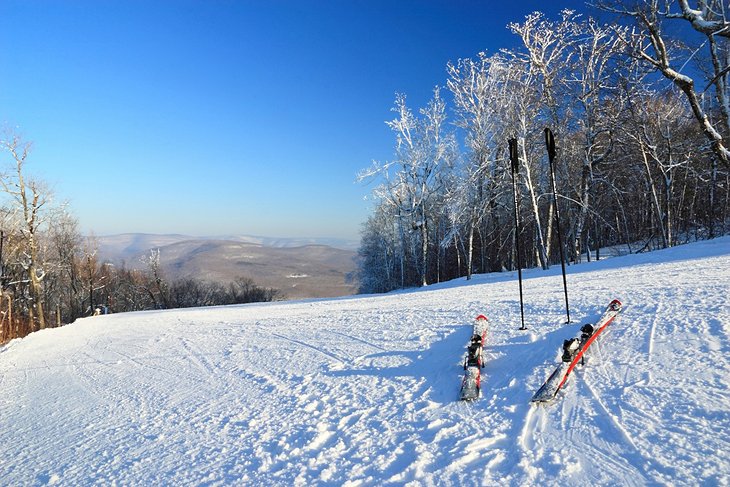 Recent improvements, including a brand-new day lodge, major investments in snowmaking, and a new high-speed quad, have made skiing at Belleayre even better. Your car's suspension will be thankful the resort has finally fixed the bumpy and potholed road leading to the slopes.
Belleayre is located in the Catskills and is about three hours from New York City. This family-friendly ski resort offers a vertical drop of more than 1,400 feet and 50 named runs.
In addition to skiing, three snowboard parks/courses are on offer, and first-class ski instruction is available at the Snowsports school. You'll be whisked back to the top of the hill on one of the eight lifts, including the Catskill Thunder Gondola. The resort has recently installed new RFID lift ticket readers to speed loading.
Cross-country (Nordic) skiing is available and free.
Accommodation options can be found close by in picturesque small towns. Choices range from hotels and cozy bed and breakfasts to condominiums.
Official site: https://www.belleayre.com/
6. Holiday Valley Ski Resort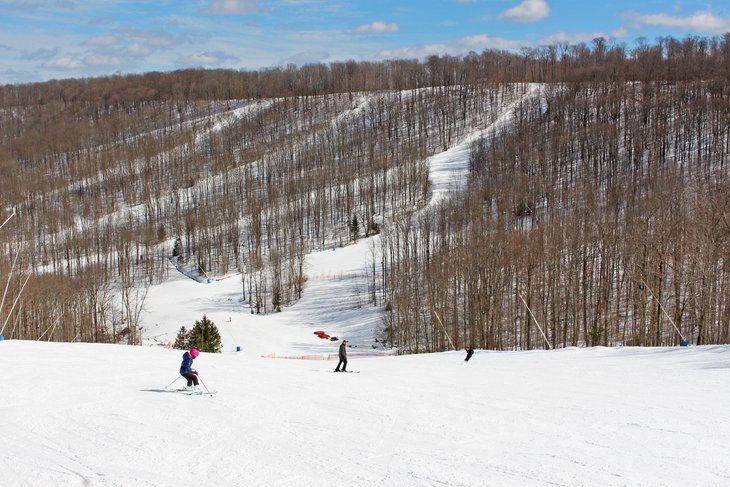 Although the vertical may not be as large at this resort, it more than makes up for this with abundant snow and extensive terrain. Due to its location not far from Lake Erie and the lake effect snow phenomenon that happens throughout the winter, it is one of the few New York Ski resorts where you have the chance of a knee-deep powder day.
Big infrastructure news for Holiday Valley in 2023/24 with the replacement of the Mardi Gras lift. A big upgrade from the former 4-seater, a new six-seater high-speed lift has been installed. This new upgrade will ensure that the queues on weekends will be reduced significantly.
The other brand-new lift, the Yodler high-speed quad chairlift, has made a huge difference to this modest mountain. This four-million-dollar capital improvement made skiing at Holiday Valley more enjoyable, especially for beginner skiers who have struggled with loading and unloading on the prior fixed grip quad. Other skiers will just be happy to get to the top faster.
Spread out over several hills, Holiday Valley is like several ski areas folded into one. Depending on where you go, you'll find long straight cruisers, steep short black diamonds, or twisty routes down through large evergreens. Three base lodges, a great ski school, and other off-mountain adventures like tubing and the Mountain Coaster make for a wide variety of things to do.
The nearby town of Ellicottville also makes a trip to Holiday Valley special. A great selection of restaurants, shops, and a cute main street make this ski resort a great destination for a winter vacation.
If you are looking for good ski-in/ski-out accommodation, try the Inn at Holiday Mountain. Some rooms overlook the hills, and the hotel has a wonderful outdoor hot tub right beside one of the lifts.
Official site: https://www.holidayvalley.com/
7. Bristol Mountain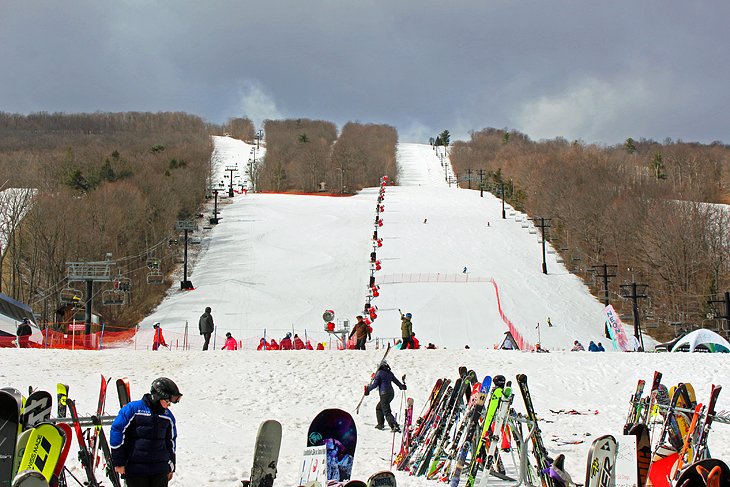 In the Upstate New York region, Bristol claims the title of greatest vertical, with just over 1,200 feet. They also claim to have the longest run in the area, two miles in length. Night skiing is popular here with 97% of the runs lit up at night.
The mountain has 38 runs across a variety of terrain and ability levels. Depending on where your interest lies, you can find some fun action at this resort. Morning Star is for the speed demons and racers, complete with a Nastar Race system. Upper Galaxy is perfect for those who like long, wide-open cruisers, and thrill seekers will like the Highpoint Terrain Park.
Two high-speed chairs whisk you back up to the top in mere minutes, so you can really maximize your vertical - especially mid-week.
A large base area has good dining options, and the well-regarded ski school will have you up and skiing with confidence in a short period of time. If you prefer cross-country skiing, those trails wind their way around the top of the mountain.
Check out Bristol's event calendar. This resort does an exceptional job of planning fun and interesting events for skiers and snowboarders.
For more information on this resort and where to stay nearby, see our guide to ski resorts near Toronto, many of which are in Upstate New York.
Official site: https://www.bristolmountain.com/
8. Titus Mountain Family Ski Center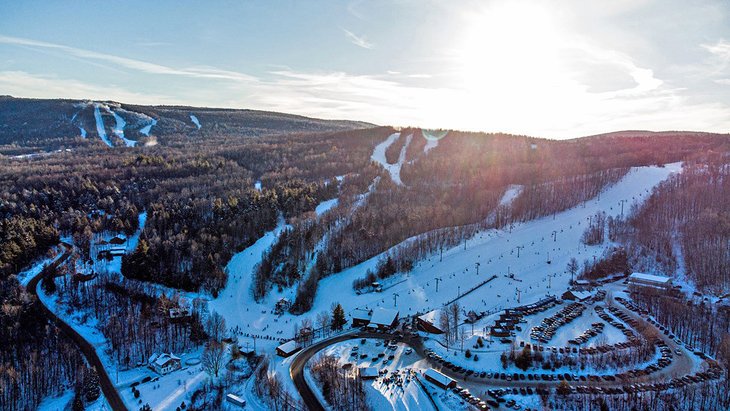 Affordable family fun is what you'll find at Titus Mountain. Located at the northern reaches of the Adirondack Mountains near the Canadian border, this smaller property is a great weekend destination. A decent vertical drop of 1,200 feet spread across three mountains and 50 trails with virtually no lift lines even on the busiest of weekends, ensures plenty of skiing and snowboarding for everyone in your group.
If you crave ungroomed terrain where you can carve your own perfect lines, point your tips towards the "Forever Wild" region of the ski hill. This area never sees the groomer, and if there's a dump of snow, it's the place to be.
The resort also offers night skiing, allowing you to crank up additional vertical on Friday and Saturday nights. Titus is also a hot spot for boarders and freestylers. The Moon Valley terrain parks have all the usual features of humps, jumps, rails, boxes, and jibs.
One of the most popular family activities at Titus Mountain Family Ski Center is snow tubing. There's nothing quite like sliding down an icy chute on a round piece of rubber to elicit shrieks of laughter.
You may find that your chairlift partner may be a Canadian. Many of the skiers are from Canada, since the border is only a short distance away, and the ski hill frequently offers deals for Canadians.
Titus Mountain Family Ski Center is part of the Indy Pass program
Official site: https://www.titusmountain.com/
9. Greek Peak Mountain Resort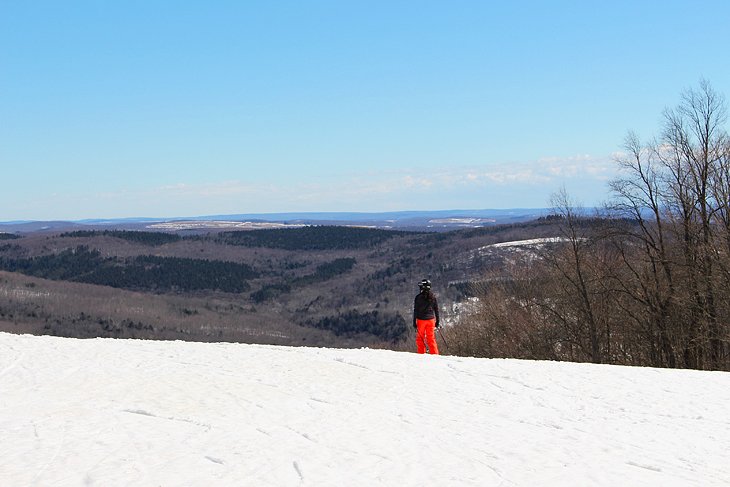 A popular family destination
Perhaps one of the most family-friendly ski hills in the state, Greek Peak Mountain Resort makes for a perfect getaway. At over 220 acres, the ski hill is considered the biggest ski resort in the Upper New York State area. Fifty-six trails are spread across the hill with a focus on beginner routes. For action seekers, there are four terrain parks to practice your slides, jumps, and spins.
The resort has recently invested in a brand new PB 600 groomer with Zaag attachment, practically guaranteeing sweet rows of endless corduroy for those willing to get out on the hill first thing in the morning.
Over at the rental shop, new skis and boards are on offer for those looking to get into the sport. Are your skis not performing quite as you had hoped? Swing by the service shop, and they'll tune them up with the new state-of-the-art machines they've recently installed.
A trip here is much more than just skiing, it's a complete family getaway destination. Greek Peak Resort & Hope Lake Lodge near the base of the hill is the main accommodation option at Greek Peak. This log lodge has a traditional mountain feel and a huge indoor water park.
This gives families lots of options. If it's too cold to ski, or the legs are too sore, hit the water park instead. Or, if you have smaller children, one parent can stay back at the water park while the other takes the eldest child skiing.
Greek Peak is part of the Indy Pass program.
Official site: https://greekpeak.net/
10. Peek'n Peak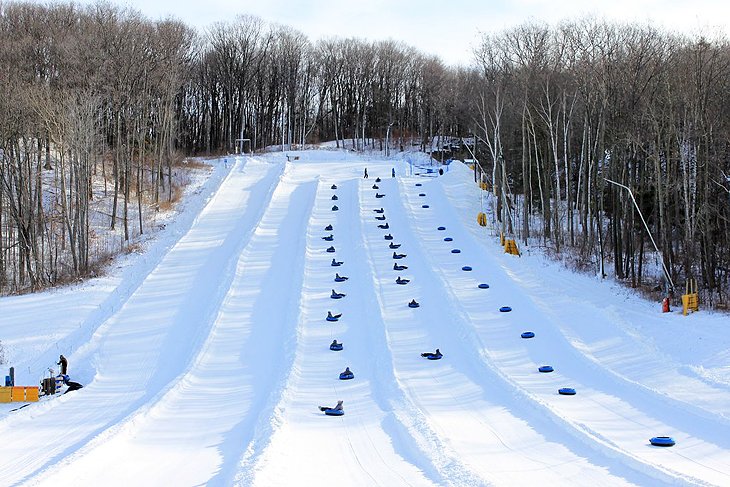 Not far from Erie, PA, Peek'n Peak has a 400-foot vertical drop, and its 160 acres of terrain are well positioned to capture an average of 15 feet of lake effect snow from Lake Erie each season.
The mountain has five terrain parks and offers some amazing rails, humps, and jumps. Skiers and boarders have 26 named runs to choose from across a variety of terrain. If you've toasted your legs from massive vertical, head on over to the tubing park. Here, you can slide down an icy chute while dance music blares.
Peek'n Peak has a beautiful day lodge at the base, so either pack a lunch or plan to buy something at the grill and watch the skiers glide gracefully (or not) down the hill.
The resort is a perfect weekend destination. Accommodation options are plentiful, with a mix of hotel rooms and condos. Families will not want to miss the Pool & Play Zone, complete with an indoor pool, outdoor hot tub, and indoor sports courts.
Official site: https://www.pknpk.com/
11. Catamount Mountain Ski Resort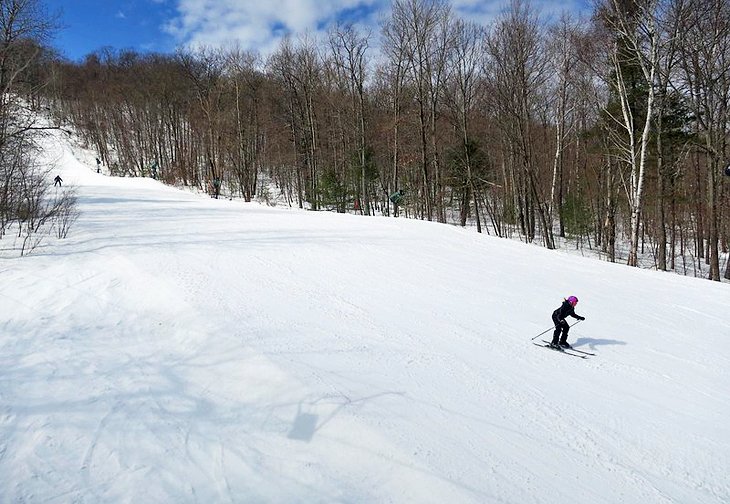 Located in the Berkshires, right on the Massachusetts border, Catamount is a smaller property with a 1,000-foot of vertical drop. One-third of the trails at this resort are rated as beginner, making it a favorite with families.
Catamount is a great place to learn how to ski, but lots of terrain exists for those looking for cruisers. Catamount is also noted for its double black diamond-rated Catapult run, one of the steepest ski runs in the entire Northeast.
The resort also has two terrain parks and a progression park to provide all the challenges you're looking for. This season the even more wonderful corduroy is on offer with brand new groomer to the mountain's stable of equipment.
Catamount is part of the Indy Pass program.
Official site: https://www.catamountski.com/
Map of Ski Resorts in New York
More Related Articles on PlanetWare.com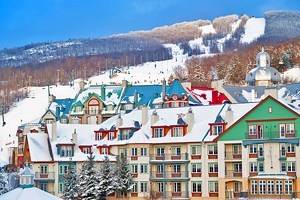 Skiing in the East: Skiing in New York is just the tip of the iceberg when it comes to the East. For other ideas to help find the right spot, see our guide to the best ski resorts on the East Coast. This is a great guide for planning a ski vacation.
While you may have considered skiing in Vermont or New Hampshire, you may not have thought about heading farther south to ski the sunny slopes in North Carolina, Virginia, or West Virginia. Consider heading north into Canada to ski at the top resorts in Quebec. All of these offer something very different.