15 Top-Rated Day Trips from New York City, NY
New York City has so much to offer that many tourists, and even the locals, never venture outside of Manhattan. However, it is well worth escaping the urban jungle to spend time in the peaceful, picturesque surroundings.
Charming historic towns are scattered around the idyllic countryside of New York State and make great day trips from New York City. Especially beautiful in late spring, summer, and autumn, the landscape features forested rolling hills and lush valleys.
Many delightful places to visit are just a 90-minute train ride (or less) from New York City: the colonial-era village of Sleepy Hollow, the quaint rural community of Cold Spring, and the lovely Victorian-era city of Beacon in the Hudson Valley. Even the unspoiled wilderness of Bear Mountain is only a one-hour drive or slightly over an hour train ride away from Manhattan.
Several of the attractions on this list are within greater New York City but are popular day-trip excursions, like Coney Island, Governors Island, and Rockaway Beach; they're ideal for a fun day of recreation and relaxation.
A few destinations on this list are considerably farther away and require a bit more effort to get there. Washington D.C. is over three hours away by train, but it has many impressive cultural attractions that merit the journey. Niagara Falls in Upstate New York is a seven-hour drive from New York City; however, it's possible to visit for the day by taking a flight and organized tour.
Learn about the best places to visit and things to do around the Big Apple with our list of the top day trips from New York City.
1. Washington, D.C.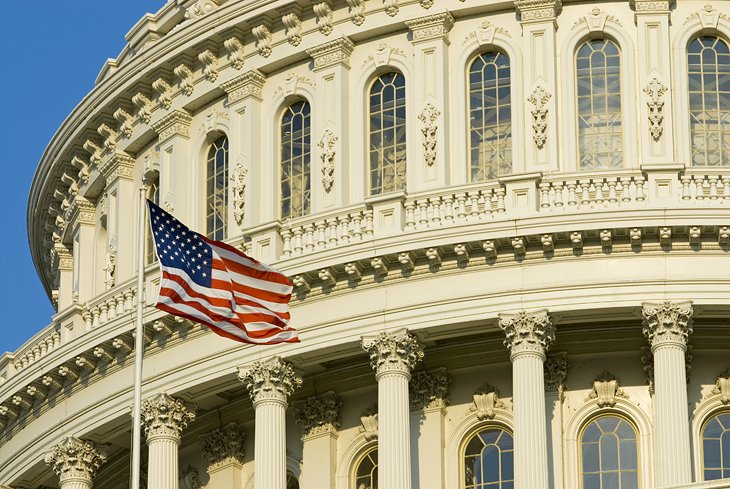 Washington, D.C. is a city of epic proportions, in its architectural monuments, as well as cultural heritage. The first president of the United States, George Washington, commissioned French-born city planner Pierre Charles L'Enfant to develop the nation's capital in 1791. L'Enfant designed broad streets and avenues that recall the grand boulevards of Paris, the most elegant capital city of Europe at the time.
The government buildings of Washington, D.C. were designed in lavish Neoclassical style, revealing an architectural and cultural influence from ancient Greece and Rome where democracy first flourished.
Today tourists are inspired by the city's rich heritage, seen in its iconic landmarks, evocative memorials, and superb museums.
Among the many tourist sites of Washington, D.C., two of the most emblematic are the magnificent domed Capitol building, seat of the House of Representatives and the Senate, and The White House, the U.S. President's official residence. Tours of the Capitol are available for individuals and groups (advanced reservations are recommended). Guided tours of The White House must be scheduled in advance.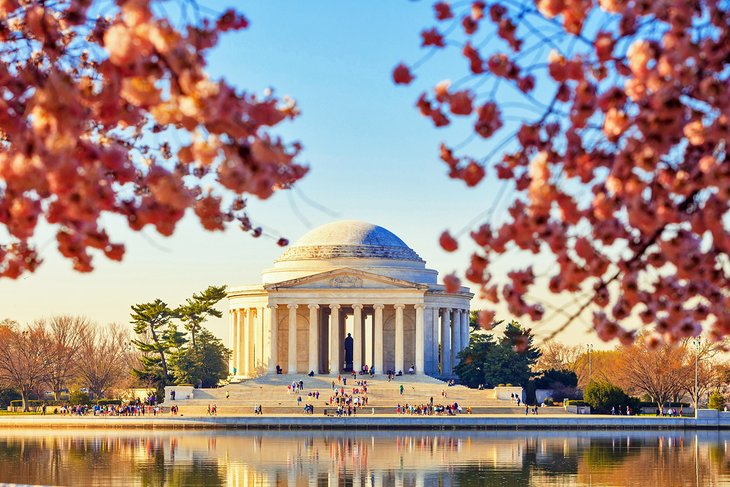 To admire larger-than-life tributes to important U.S. Presidents, visitors should see the Jefferson Memorial and the beloved Lincoln Memorial on the National Mall, an expansive park space. In view from the Jefferson and Lincoln memorials is the Martin Luther King Jr. Memorial (unveiled in 2011) honoring the prominent leader of the 1960s Civil Rights Movement.
Art lovers and history buffs could spend days just touring the museums in Washington D.C. The Smithsonian Institution alone consists of 17 different museums, including the National Portrait Gallery, which exhibits portraits of the nation's most influential figures; the popular National Museum of American History; and the National Air and Space Museum, which chronicles the history of aviation and space travel.
The newest addition to the Smithsonian Institution is the National Museum of African American History and Culture. The extensive collection features diverse topics such as exhibits about Harriet Tubman, historical records of enslaved persons, a South Carolina plantation cabin, photographs of the Tulsa Race Riot, a collection of fliers about hip hop and jazz music events. Admission to the museum requires a timed-entry pass.
Travelers can take the train from New York City to arrive in Washington D.C. However the train ride is 3.5 hours each way, so it's recommended to leave early to ensure a full day of sightseeing. An easier option is going on an organized tour, which allows tourists to visit many of the city's top attractions on a day trip. The Washington, D.C. Day Trip from New York includes transportation by air-conditioned bus and entrance fees.
2. Philadelphia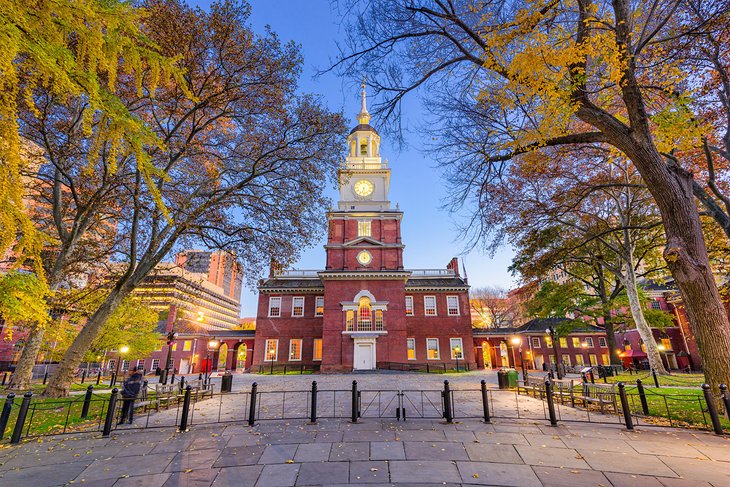 It's an easy and worthwhile day trip to Philadelphia, just one hour and 35 minutes away by train from New York City. In fact, many Philadelphians commute to work daily in New York City. However, the two cities feel further away in ambience, as Philadelphia has plenty of green spaces and more of a small-town feel.
The main tourist appeal of Philadelphia is its connection to American history. The Old City district (Independence National Historical Park), a one-square-mile historic section of downtown Philadelphia, is packed with landmarks: Independence Hall where the Declaration of Independence was adopted; the famous Liberty Bell; Congress Hall; the Betsy Roth House; the Benjamin Franklin Museum; and the Museum of the American Revolution.
One particularly enchanting corner of the Old City is Elfreth's Alley, the country's first residential street (dating to 1702). The Old City also has many shops, art galleries, and restaurants.
Outside of the Old City, the Philadelphia Museum of Art and the Pennsylvania Academy of the Fine Arts (PAFA) display superb fine arts collections.
Philadelphia is a modern multicultural city with a Chinatown and a large Italian neighborhood (South Philadelphia). Philadelphia also has a gritty urban aspect: the grey skyscrapers and industrial warehouses surrounding the historic monuments.
For the most rewarding and stress-free way to visit Philadelphia on a day trip, it's a good idea to take an organized tour. Departing from downtown New York City, the Philadelphia and Amish Country Day Trip is a full-day guided tour that covers Philadelphia's highlights plus a stop in Lancaster, Pennsylvania and a jaunt through the Amish farm country on a horse-drawn buggy ride.
3. Cold Spring: A Country Village in the Hudson Valley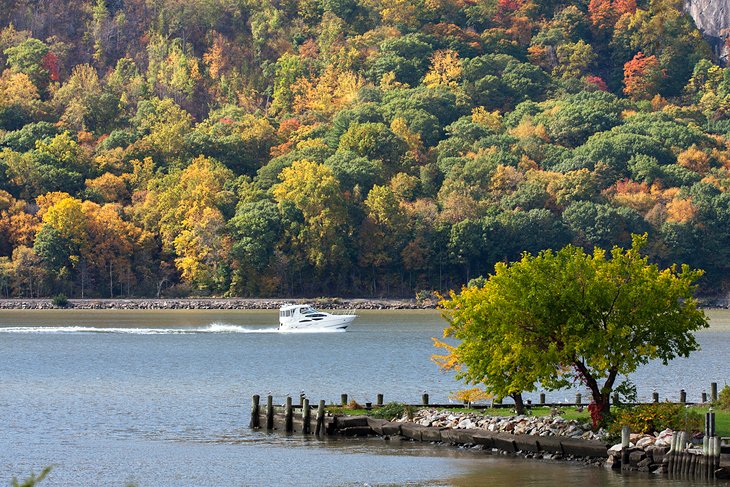 Considered one of the best-preserved 19th-century towns in the Hudson Valley region, Cold Spring is a charming country village only 50 miles north of Manhattan. The picturesque historic center was built up along the Hudson River.
A babbling brook runs right through the town's Main Street, which is lined with restaurants, boutiques, and antique stores. During summertime, visitors enjoy having coffee at sidewalk cafés and dining by the riverfront or at the restaurants with outdoor patios, many of which offer live music.
Cold Spring has a pleasant riverside park and gardens that inspire relaxation. In the wooded rolling hills surrounding the town are many hiking and biking trails that lead through pastoral scenes of leafy trees and alongside freshwater streams.
Visitors can also participate in water sports, including boating, kayaking, canoeing, paddle-boarding, and waterskiing on the river. In the autumn, fall foliage cruises are popular.
During the summer months, the Hudson Valley Shakespeare Festival takes places at an outdoor theater in nearby Garrison (one mile away) on the grounds of the Boscobel House and Gardens. This Georgian-style mansion has exquisite gardens on the banks of the Hudson River. Visitors may picnic on the Boscobel lawn or enjoy snacks from a café beside the theater.
In Garrison, the Philipstown Depot Theatre presents top-notch original theater performances throughout the year. Garrison also has several excellent restaurants.
Cold Spring is accessible from New York City by car, train, or ferry. The train ride (which takes a little over one hour) is the easiest way to arrive here. However, traveling by car makes it possible to attend cultural events in the area such as the Hudson Valley Shakespeare Festival. The car ride from New York City to Cold Spring is about 90 minutes depending on traffic.
Read More: Top Things to Do in Cold Spring
4. Quaint Historic Town of Beacon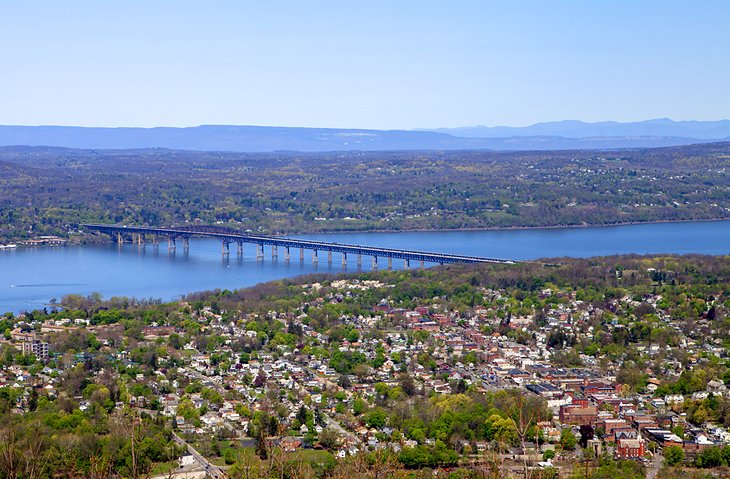 Just seven miles from Cold Spring in the lush Hudson Valley countryside, Beacon is an easy day-trip destination from New York City. The car or train (on the Metro North Railroad) takes about 90 minutes.
The historic town of Beacon brims with classic Americana charm. Handsome red-brick architecture distinguishes the Main Street, which these days is buzzing with activity. Victorian-era buildings are now filled with locally owned boutiques, antique shops, art galleries, museums, cafés, bakeries, and trendy restaurants, as well as more traditional establishments.
For splendid views of the area's natural landscape, outdoorsy types can try the Mount Beacon Incline Railway trail, a hiking path along part of a historic railway route that leads up to the top of Mount Beacon. This hike in the 234-acre Mount Beacon Park takes about one hour each way, and hikers are rewarded with panoramic views from the summit.
Read More: Top Things to Do in Beacon
5. Storm King Art Center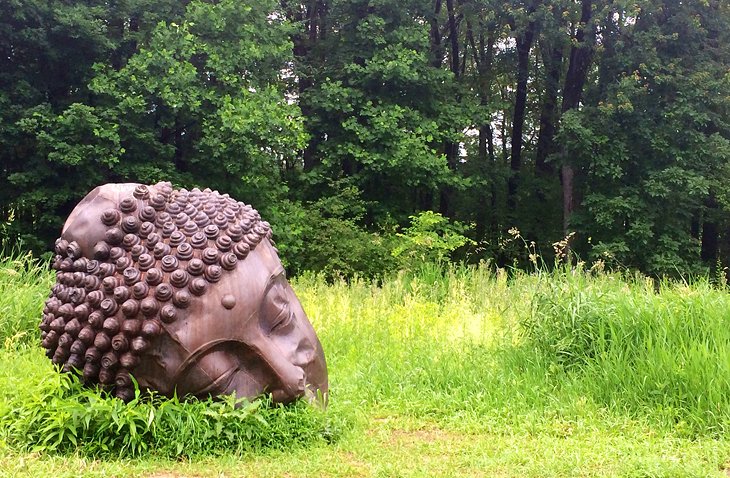 Just 12 miles away from Beacon, the Storm King Art Center is an expansive sculpture garden in the Hudson Valley. This 500-acre open-air museum is nestled in a bucolic landscape of rolling hills, meadows, and forests.
Dedicated to supporting contemporary artists, as well as protecting the environment, the expansive property exhibits large-scale sculptures and commissioned pieces. The collection includes striking artworks created from the 1950s to the present.
From New York City, it's an easy day trip to the Storm King Art Center by train or bus. Travelers can take the Metro-North Railroad from Grand Central station in New York City to Beacon and then hail a taxi to Storm King Art Center. Another option is the New Jersey Transit train that goes from Penn Station in New York to Salisbury Mills station (three miles from Storm King) or the Coach USA bus that offers round-trip tickets from Port Authority bus terminal.
Official site: https://stormking.org
6. Hiking and Cycling at Bear Mountain State Park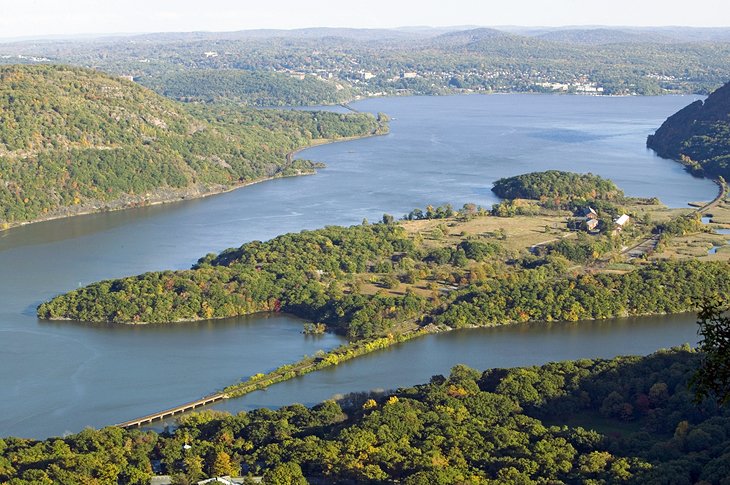 Bear Mountain State Park is an idyllic retreat in nature, about 50 miles north of New York City on the west bank of the Hudson River. The area was established as a protected nature preserve in 1910, and today is one of the most popular state parks in the United States.
Hikers and cyclists relish the rugged scenery and endless choice of trails. Hundreds of marked paths traverse the park, a vast wilderness that encompasses over 5,000 acres of wooded mountain terrain, including a lake and river with fishing access.
A favorite hike is the 3.6-mile Bear Mountain Summit Loop up to the top of Bear Mountain. The sweeping views from the summit make the challenging uphill journey worthwhile.
Bear Mountain is blanketed with wildflowers in the springtime. During summertime, visitors enjoy the picnic areas in shaded groves, swimming pool, and playing fields. In winter, things to do include cross-country skiing and ice-skating at the outdoor rink. Lake fishing is possible throughout the year; the season for trout fishing in the streams is from April through September.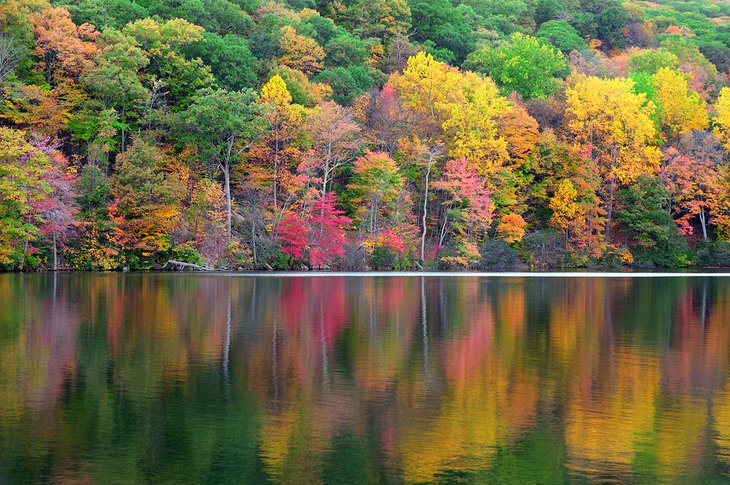 One of the best times of year to visit Bear Mountain is in autumn, when the vibrant, multicolored fall foliage is spectacular.
Bear Mountain State Park has a few attractions that appeal to families with kids, including children's playgrounds. Another favorite attraction among youngsters is the Trailside Museums and Zoo that educates visitors about natural history, the local environment, and indigenous wildlife. The zoo houses rescued mammals that are native to the state of New York.
Topping the list of children's activities is a ride around the Merry-Go-Round. The park's unique carrousel features hand-carved seats depicting animals of the region, such as the black bear, Canadian goose, deer, raccoon, rabbit, and wild turkey.
It takes about 75 minutes to arrive here by train by Metro-North Railroad from Grand Central station to the Peekskill station, and then it's six miles by taxi to Bear Mountain State Park. Alternatively, visitors can hop on the Coach USA at the New York City Port Authority terminal for an easy one-hour bus ride to Bear Mountain State Park.
7. Sleepy Hollow and Tarrytown: Colonial-Era Villages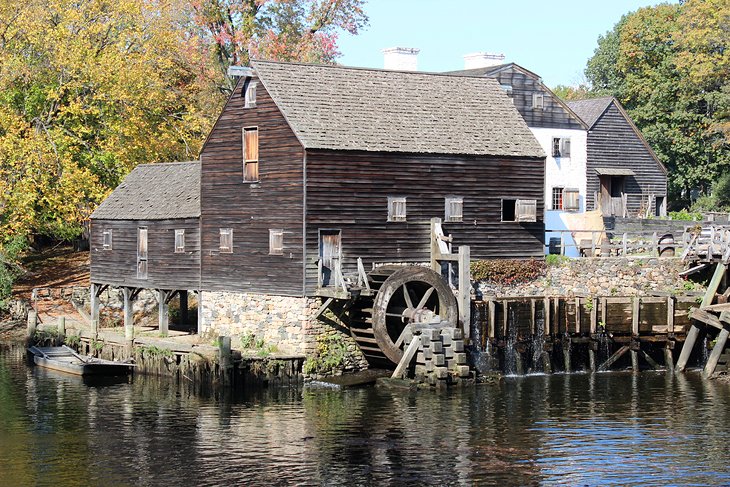 Sleepy Hollow is a colonial-era village on the Hudson River (about 20 miles north of New York City), an area that was historically a center of farming and milling. It's easy to arrive here by car or the Metro North Railroad (which takes just under an hour from Grand Central Station).
Sleepy Hollow was the setting of Washington Irving's The Legend of Sleepy Hollow, the story about a headless horseman, and is famous for its Halloween festivities throughout the month of October, when the town comes to life with haunted hayrides, glowing pumpkins, live music, literary events, street fairs, and parades. Of course, the Headless Horseman is sure to make an appearance.
The Sleepy Hollow Cemetery is considered a must-see sight during Halloween or any time of year. Daytime and evening cemetery walking tours are offered from April through October. For the evening tours, the cemetery is illuminated by kerosene lanterns.
Other tourist highlights in Sleepy Hollow are the 17th-century Old Dutch Church and the Philipsburg Manor, both mentioned in Irving's short story.
Visitors can also try to find the Headless Horseman Bridge, although it's unknown which of the rustic bridges spanning the Pocantico River is the one that Irving described in his story.
Another top attraction is Kykuit, a landmark registered by the National Trust for Historic Preservation that is open to the public for guided tours. Four generations of Rockefellers lived in this stately mansion, which is perched on a hilltop surrounded by magnificent gardens overlooking the Hudson River.
Less than one mile away from Sleepy Hollow is Tarrytown, another quaint colonial village with a National Trust landmark: Lyndhurst, a 19th-century Gothic Revival mansion that was owned by railroad baron Jay Gould. Visitors may take a Mansion Tour or purchase a Grounds Pass to see the lovely gardens on the 67-acre estate.
Tourists can travel a few miles further (three miles away) to Sunnyside, the home of author Washington Irving. This estate in the town of Irvington was originally a Dutch farmer's house and is now open to the public. Beginning in mid-September, the site ("the home of the legend") treats visitors to a special Halloween experience, featuring a scavenger hunt and exhibits about The Legend of Sleepy Hollow.
8. Summertime Fun in Coney Island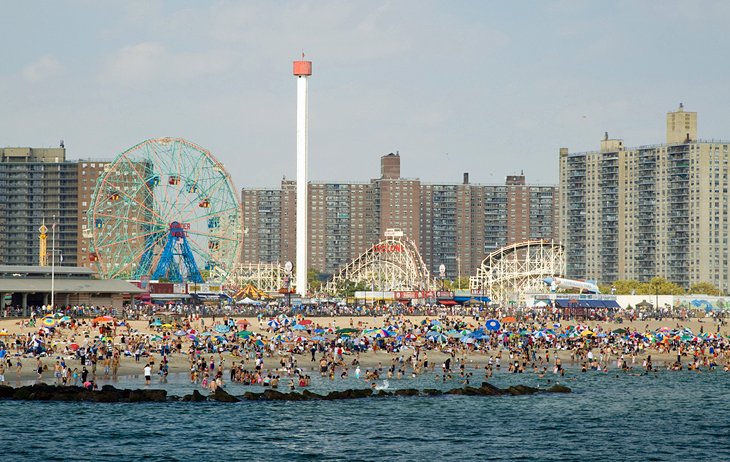 With its roller coaster rides and famous fairground foods, Coney Island is synonymous with summertime fun. This iconic seaside destination, although not technically an island, is in the southernmost part of Brooklyn, only 14 miles away from Manhattan, and easily accessible by subway.
Epitomizing American popular culture, the old-fashioned Amusement Park allows visitors to forget their cares and have a few hours of fun. Besides the Amusement Park roller-coaster rides, games, and Beach Boardwalk, Coney Island also has museums, film screenings, and circus performances.
Coney Island is open seasonally from Easter until Halloween. The park has more than 50 rides and attractions with opening hours only on weekends from Easter through Memorial Day, and all week long from Memorial Day until Labor Day, then only on weekends from Labor Day through October.
The Coney Island beach and boardwalk are open year-round; lifeguards are on duty from Memorial Day through Labor Day. The New York Aquarium and Nathan's Famous hot dog stand are open almost daily year-round.
During the summer (end of June through August), visitors are dazzled by fireworks displays every Friday evening at 9:30pm. The fireworks shows take place on the beach.
Address: Coney Island, Brooklyn 11224
Official site: http://coneyislandfunguide.com
9. Niagara Falls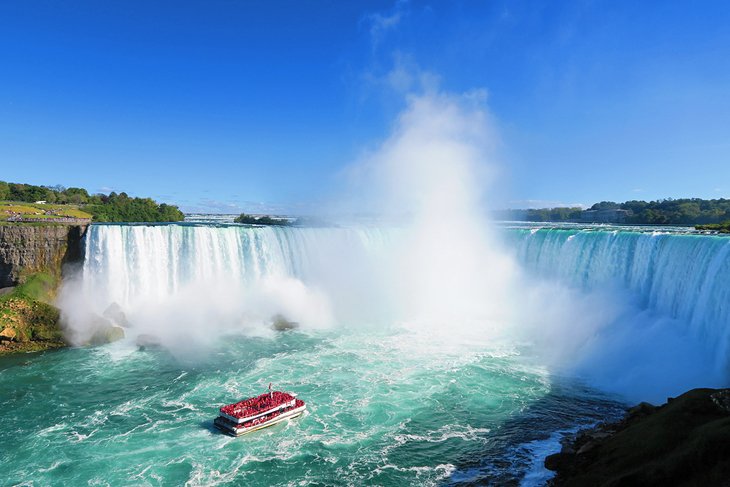 For breathtaking natural scenery, Niagara Falls is the ultimate destination. Although the location in Upstate New York is too far away to drive from New York City for the day, it is possible to visit on a day trip by taking a short flight.
The Niagara Falls Day Trip from New York City by Air coordinates the ground transportation and flights to and from New York City. The day trip package also includes a guided tour of the Niagara Falls area, a boat cruise past the waterfalls, and a buffet lunch.
10. Governors Island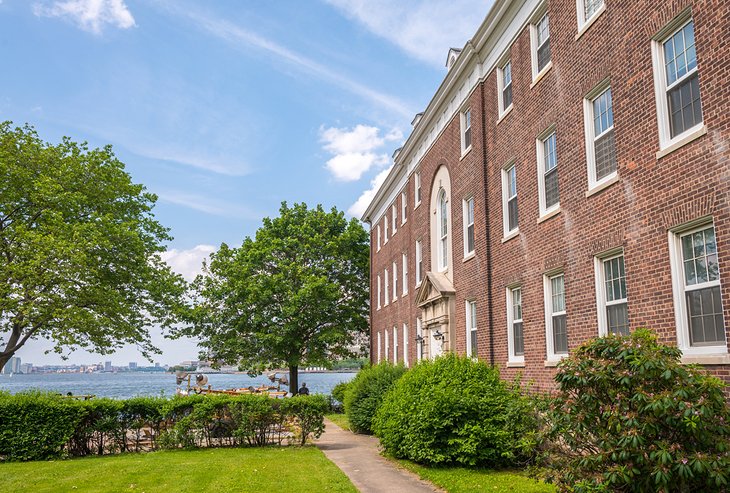 Just a short ferry ride away from Manhattan, Governors Island is an escape from the hubbub of New York City. The ferry leaves from the Battery Maritime Building (10 South Street) in Manhattan or Pier 6 (Brooklyn Bridge Park) in Brooklyn and arrives at Soissons Landing or Yankee Pier on Governors Island. A visitor's first impression will be the peaceful traffic-free atmosphere and sensational views of New York City.
The island's 70-foot-high Hills space offers amazing panoramas of the Statue of Liberty, the Manhattan skyline, and the New York Harbor.
For more stunning vistas, Castle Williams is not to be missed. Built between 1807 and 1811, this coastal fort was designed by the Chief Engineer of the U.S. Army as a sentinel overlooking the New York Harbor. Currently managed by the National Park Services, Castle Williams is open to the public on weekends.
Besides the beautiful scenery, the other main reason to visit Governors Island is for the recreational activities. Visitors can go cycling, walking, enjoy picnics, or play miniature golf. For a casual meal or snack, tourists can choose from several casual restaurants and a few ice cream shops.
Culture hounds will appreciate that Governor's Island hosts events such as art exhibits and film festivals; check the schedule before planning a trip.
Official site: https://govisland.com
11. Princeton University and Town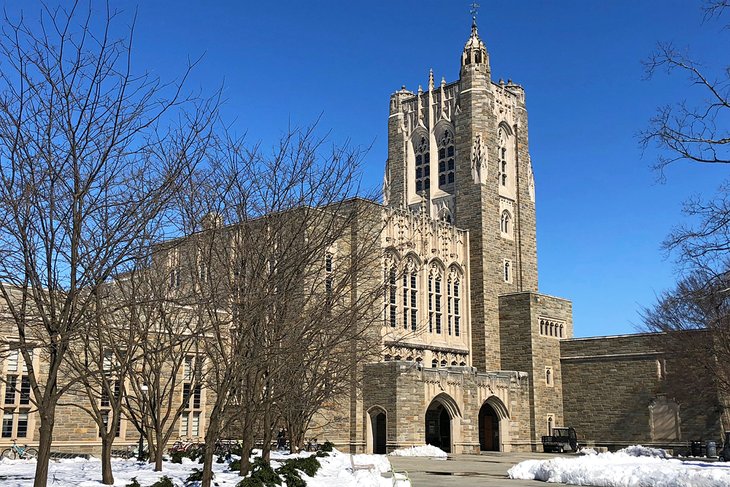 Founded in 1756, Princeton University is a prestigious Ivy League institution in a serene, park-like setting. Around 180 university buildings grace the campus' expansive 500-acre grounds. Meandering tree-shaded paths lead from dorm rooms to classrooms and libraries.
Visitors will enjoy wandering around the campus, while admiring the inspiring ivy-covered halls. The architecture of the university's buildings reflects a wide range of styles, from colonial and Romanesque to modern. Many of the Collegiate Gothic buildings were modeled after the medieval halls of Oxford and Cambridge in England.
The campus' most noteworthy monument is the colonial-era Nassau Hall, built in 1756. This historic landmark witnessed a turning point in the Revolutionary War during the Battle of Princeton in 1777. British troops surrendered to General George Washington here, and Nassau Hall then became the new nation's capital building.
The Historical Society of Princeton offers guided two-hour walking tours of the Princeton University campus and the town every Sunday at 2pm.
Cultural attractions abound in Princeton. Visitors can admire a prestigious fine arts collection at the Princeton University Art Museum and learn about American history at the Morven Museum, which is housed in a National Historic Landmark.
For cultural performances, the McCarter Theatre Center presents Tony Award-winning theater, as well as dance, jazz, classical music, and comedy performances. The Princeton Garden Theatre screens artistic independent films, classic Hollywood movies, foreign films, and screenings of live broadcasts of theatrical events. The Princeton Garden Theatre also hosts an Outdoor Cinema Series.
At Rider University in Princeton, the Westminster Choir College is renowned for its opera and choral performances.
The downtown of Princeton invites visitors to take a leisurely stroll, browse locally owned boutiques, grab a bite to eat, or dine at one of the upscale restaurants. For those who have more time, the town of Princeton is a wonderful place to spend the night.
On the handsome Palmer Square in the heart of downtown Princeton, the Colonial-era Nassau Inn is a luxury hotel that blends traditional style with contemporary elegance. Another landmark in downtown Princeton is The Peacock Inn, a boutique hotel in a renovated historic mansion. Both the Nassau Inn and the Peacock Inn have excellent restaurants.
If visiting from mid-September through October, it's worth heading over to Terhune Orchards (four miles from Princeton) for Apple Day. This festive annual event includes apple picking, live music, and pumpkin paintings.
12. Rockaway Beach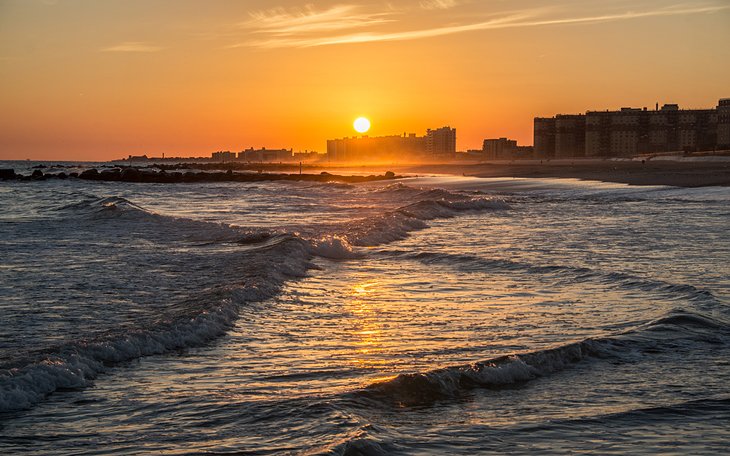 About 21 miles from Manhattan in Queens, Rockaway Beach is actually several different beaches along the expansive stretch between 3rd Street and 153rd Street. Known as the best beach destination near the city, Rockaway Beach merits the one-hour journey from downtown Manhattan by subway.
Rockaway beach buzzes with activity during the high season, from Memorial Day through Labor Day. On balmy summer days, sunbathers, swimmers, and surfers come out in droves, however this gorgeous seaside destination is popular year-round.
Enjoy the refreshing ocean scenery; go for a walk along the sandy beach; and stop for a snack at one of the casual eateries or food stands on the Beach Boardwalk at 86th Street, 97th Street, and 106th Street. Rockaway Beach also has public restrooms and shower facilities, seven playgrounds, fishing areas, skate parks, handball courts, volleyball courts, a roller hockey field, and basketball courts.
13. Greenwood Gardens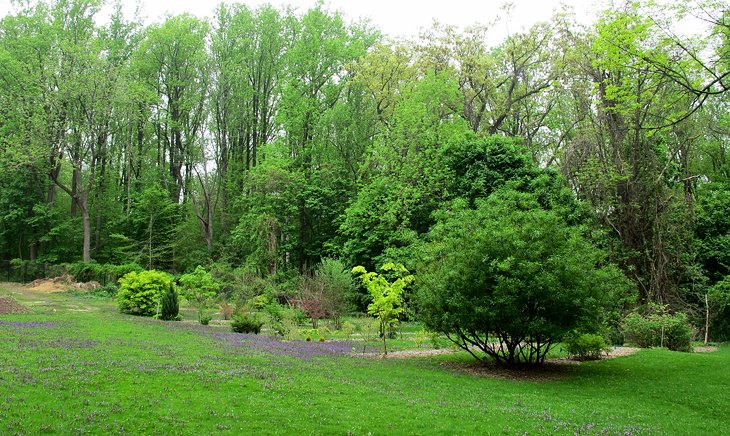 This splendid 28-acre formal garden is surrounded by 1,200 acres of parkland, including the forests of South Mountain Reservation. Previously a private estate with an elegant manor house, Greenwood Garden was transformed in 2000 into a nonprofit conservation organization and public garden. The property features a blend of contemporary, classical, and Arts & Crafts garden-design styles.
Visitors are delighted by the Italianate-style terraces, moss-covered paths, groves of shady plane and spruce trees, and wildflower meadows.
Greenwood Gardens also offers events throughout the year such as lectures about gardening and holiday festivities. Visitors may take birding walks led by an Audubon Naturalist or a guided walking tour of the garden to learn about the garden's history and landscaping.
Greenwood Gardens is in Short Hills, New Jersey, just 22 miles from New York City, which is easily accessible by train. The ride on New Jersey Transit begins at Penn Station and takes about one hour and 30 minutes.
Address: 274 Old Short Hills Road, Short Hills, NJ
Official site: http://greenwoodgardens.org
14. Shopping at Woodbury Common and Sugar Loaf Village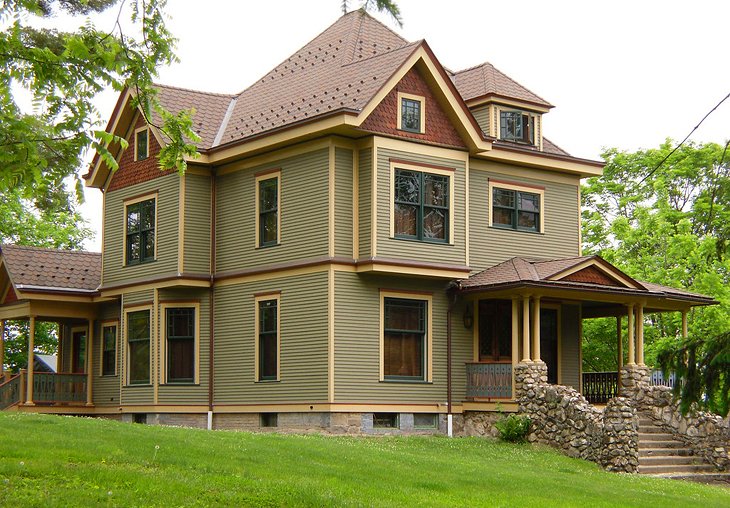 For brand-name shopping at reduced prices, fashion mavens make a beeline to Woodbury Common Premium Outlets in Central Valley, about 50 miles (a 90-minute drive) north of New York City. The wide selection of designer-label outlets includes Balenciaga, Bottega Veneta, Brunello Cucinelli, Calvin Klein, Escada, Fendi, Gucci, Izod, Kate Spade, Lacoste, Levi's, Loro Piana, MaxMara, Tommy Hilfiger, Valentino, and Versace.
Just 11 miles away from Woodbury Common, the place to go for shopping at artisan boutiques is Sugar Loaf Art & Craft Village. Tucked away amid the apple orchards and ranches of Warwick Valley, Sugar Loaf is a community of craftsmen that was founded in 1749.
In the little village of Sugar Loaf, artisans live and work in renovated 18th-century buildings. Sugar Loaf artisans create handmade pottery, paintings, candles, furniture, and jewelry that is available for purchase at the village's adorable boutiques.
15. Farms in Long Valley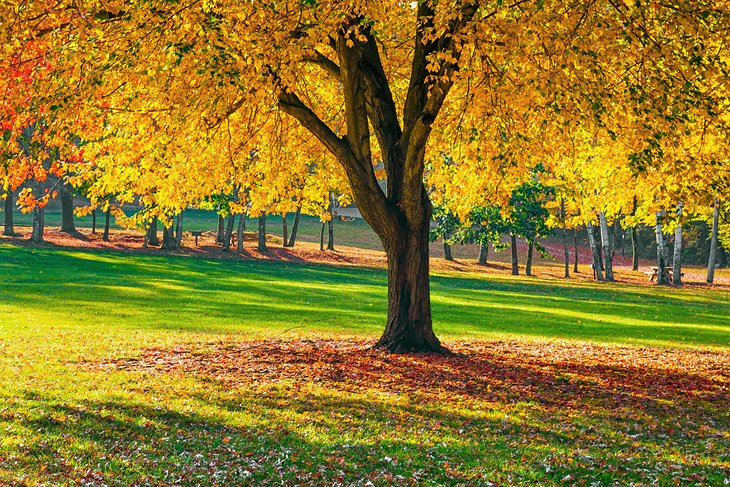 A top destination for autumn outdoor activities, Long Valley is a pastoral area of New Jersey just 55 miles from New York City. The fall foliage is especially splendid here because of the many tall, leafy trees that line the valley's country roads. Besides leaf peeping in September, October, and November (depending on the year), other attractions of Long Valley are horseback riding and the local farms.
Many of the farms in this area allow visitors to pick their own pumpkins, apples, and fresh vegetables during harvest season. The 400-acre Ort Farms entertains kids with its gentle farm animals and delights parents with its old-fashioned grocery store.
The Willow Grove Farm offers horseback riding lessons and horse-drawn wagon rides.
Covering 120 acres, the Valley Shepherd Creamery is a working sheep diary that produces the finest artisanal cheeses and leads farm tours that explain the cheesemaking process.
Map of Day Trips from New York City, NY
More Related Articles on PlanetWare.com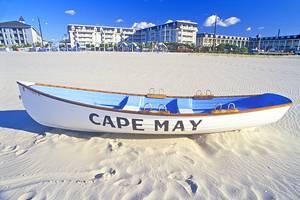 Nearby Beach Vacation Destinations: During summertime, vacationers flock to the beach resorts within easy reach of New York City. Topping the list of weekend getaways is the Hamptons (a three-hour drive from NYC) on the southern tip of Long Island, but many great beaches on Long Island, such as Fire Island, are closer. About a 2.5-hour drive away are fabulous beaches on the Jersey Shore. It's worth the four- to five-hour drive to picturesque Cape Cod for its seaside charm and superb sandy beaches.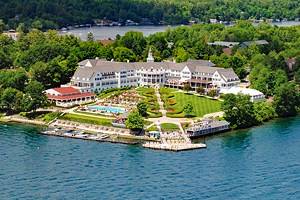 Weekend Getaways in Upstate New York: The resorts of Upstate New York and the attractions of the Hudson Valley draw many visitors. In a tranquil region of wooded rolling hills, several upscale Catskills resorts are just a two-hour drive from NYC. Other highlights of Upstate New York include Otsego Lake in Cooperstown (a 4.5-hour drive), renowned for its luxury resort hotel; Saratoga Springs, famous for its spa and horse racing; and The Sagamore on Lake George (a four-hour drive), one of the best resorts in the Adirondacks.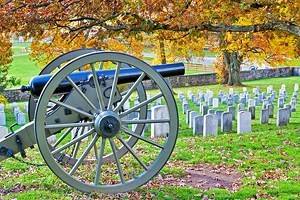 Relaxing Escapes in Rural Pennsylvania: Among the small towns of Pennsylvania, Lancaster and Lilitz (both about a 3.5-hour drive from New York City) are great places for a peaceful escape in Amish farm country. Besides Lancaster County, other weekend getaway destinations in Pennsylvania include the Pocono Mountains (a two-hour-and-45-minute drive from New York City). This pristine natural environment draws many visitors for hiking, cycling, white water rafting, bird-watching, and other recreational activities.