14 Best Waterfalls in New York
We may earn a commission from affiliate links ()
New York is known for its shimmering lakes, rugged mountains (i.e. the Catskills and Adirondacks), and big, bustling metropolises (nothing beats New York City). This East Coast state's most luxurious and resplendent attributes, though, often lie hidden. We're talking about its stunning waterfalls — beauties so picturesque, you won't be able to stop yourself from snapping a hundred selfies.
New York's best waterfalls are so spectacular that visitors will traipse through verdant forests, ascend rocky terrain, climb craggy cliffs, and wander along roadways just to marvel at their magnificence. Once you feel the soft, cool mist on your face; hear the water's thunderous roar; and spy the breathtaking plunge up close, you'll understand why so many travelers flock to these natural wonders.
If you're hoping to see the waterfalls at the height of their splendor, plan your trip accordingly. The best time to see waterfalls in New York is in early spring, when they're full of water from the snowmelt. Other times of the year, especially between late spring through the fall, you'll often find trickles where there should be gushes due to dry weather. This doesn't mean the falls aren't worth seeing during these times. They are! It just means you may not bear witness to the most spectacular rush of their cascades.
Ranging in size from trickling cataracts to gushing chutes, the best waterfalls in New York are more than worthy of a visit. Better yet, come back to them time and time again. Not sure where to start? Choose the top places to visit with our list of the best waterfalls in New York.
Note: Some businesses may be temporarily closed due to recent global health and safety issues.
1. Niagara Falls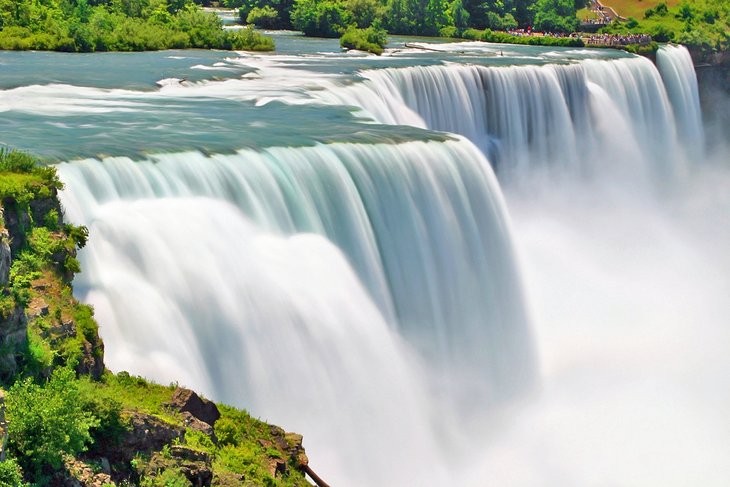 Niagara Falls is the obvious list topper for the best falls in New York. The largest waterfall in the state, and one of the biggest in the world, this impressive marvel is a bucket list item.
Horseshoe Falls is the largest of the three plunges that make up Niagara Falls. It measures a whopping 173 feet tall and nearly 2,600 feet in width. Over 150,000 gallons of water plunge over this phenomenal site every second. No wonder this has been deemed one of the Seven Natural Wonders of North America.
The best view of the falls is said to be from the Canadian side. A bit kitschy, Niagara Falls in Canada is home to Ripley's Believe it or Not!, as well as multiple wax museums. That said, the incredible Journey Behind the Falls, which allows visitors to explore tunnels that lie 125 feet below the falls, is a must-see.
On the American side, hitch a ride on the Maid of the Mist to get up close and personal to the falls. Wear one of the provided ponchos because you're guaranteed to get wet! The American Niagara Falls is quieter and more serene. No wonder it's been dubbed the "Honeymoon capital of the world."
Accommodation: Where to Stay in Niagara Falls
2. Middle Falls, Letchworth State Park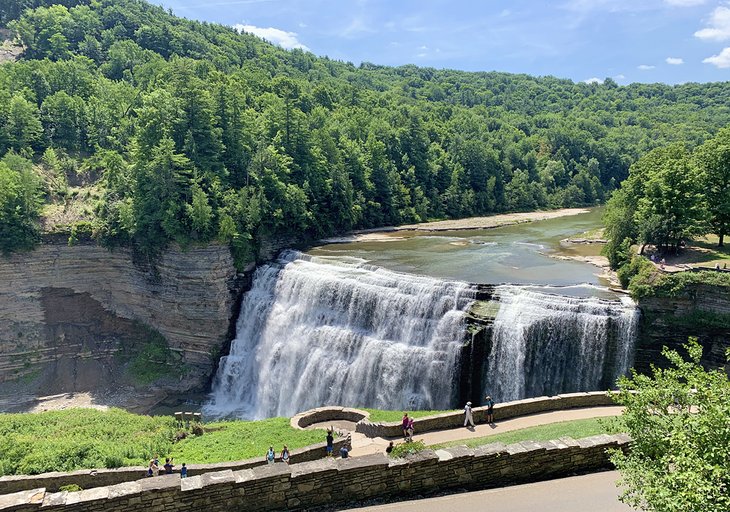 The Genesee River flows majestically through a giant gorge in Letchworth State Park, tumbling loudly over three impressive waterfalls along its journey. The most captivating of these cascades is the 107-foot Middle Falls.
Wider than it is tall, this watery wonder is a sight to behold. This is also a vista you'll want to capture in a zillion photographs, something that's easy to do from pretty much every vantage point due to the comfortable walking trails that wind throughout the area. Not a big walker? Follow Trail 1 (a.k.a. The Gorge Trail) from the Falls Area parking lot for a quick and simple path to this incredible beauty.
Insider's tip: For a more memorable experience, visit during a summer evening when the falls are lit up.
Known as the "Grand Canyon of the East," Letchworth State Park is a marvel of nature at its most awe-inspiring. You'll feel small and inconsequential while standing next to its towering trees, cliffs, and falls. It's also home to 66 miles of hiking trails, the Humphrey Nature Center, a pool, white water rafting, and hot air ballooning.
3. Buttermilk Falls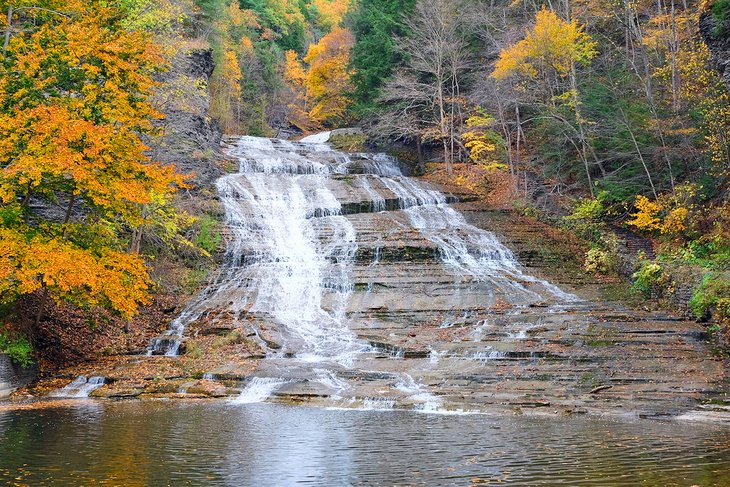 Old-school fun can be had at Buttermilk Falls. The most impressive of 10 cascades located in Buttermilk Falls State Park, near Ithaca, these beautiful falls are worthy of a photograph (or many). Consisting of two segments, the falls plunge from more than 165 feet, twisting around a gorge as they run towards their final, ultra-fun destination: a swimming hole.
Unlike many cascades on this list, Buttermilk Falls are easy to see without a hike. You won't need to trek for miles to catch sight of this spectacular spot, set close to the parking area, which is great considering you'll want to have towels on hand to dry off after a cooling dip in the pool.
If you're hoping to catch a glimpse of the park's other falls, wear good shoes and plan to hike through the trails for anywhere between one and three hours.
4. Taughannock Falls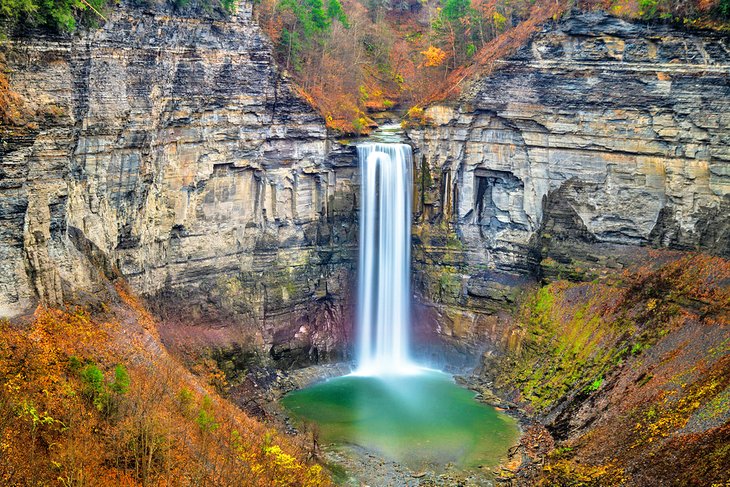 It's impossible to feel big at Taughannock Falls. One of the most dramatic cascades on this list, and the tallest in the eastern U.S., this thundering beauty is breathtaking, and super tall. Set in a massive gorge within Taughannock Falls State Park, the falls roar down 215 feet (that's 42 feet higher than Niagara Falls) from the 400-foot cliffs above.
You'll hear these beauties before you see them, and wow is it a powerful sound. The best vistas can be found along the park's Gorge and Rim trails, which allow visitors to get views from both above and below the cascade.
Book a campsite, so you can enjoy the falls again the next day. While you're here, rent a canoe or kayak from within the park to explore sparkling Cayuga Lake, one of the best lakes in New York state.
5. Eternal Flames Falls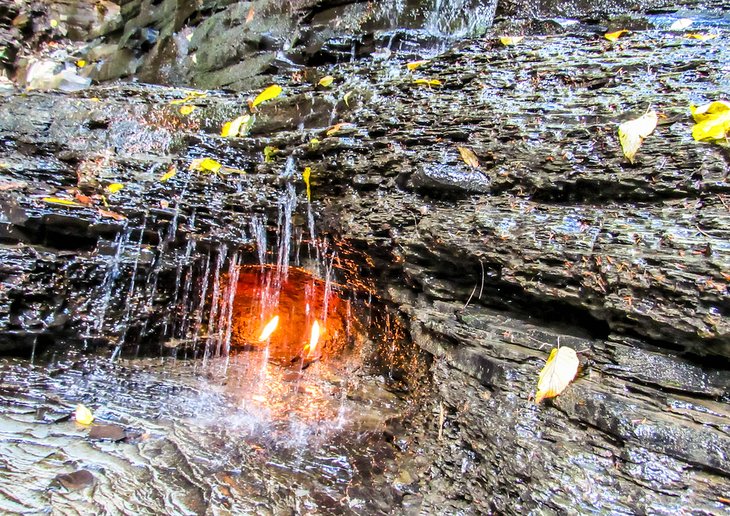 At only 30 feet in height, Eternal Flames Falls pales in comparison to massive Niagara Falls. The heart of the magical cascade will light your visit in a way that no other waterfall in the country, or likely the world, can. It may even blow your mind a little.
Located in a small cave to the right of the middle section of the falls lies a small flame (between four and eight inches tall) known as the eternal flame. This unique wonder is apparently caused by natural gas emitted from a spring inside the cave. Although it's usually lit, granting visitors an impressive photo opportunity, hikers can relight the flame if it has gone out with the help of a lighter.
The trek to Eternal Flame Falls, which flows from Shale Creek in western New York's Chestnut Ridge Park, is a bit cumbersome (we're talking tree roots and rocks that can easily trip you up). Visitors will have to hike a challenging 1.5-mile-trail to marvel at this impressive, fiery feature, so be sure to pack comfortable shoes and water.
6. Kaaterskill Falls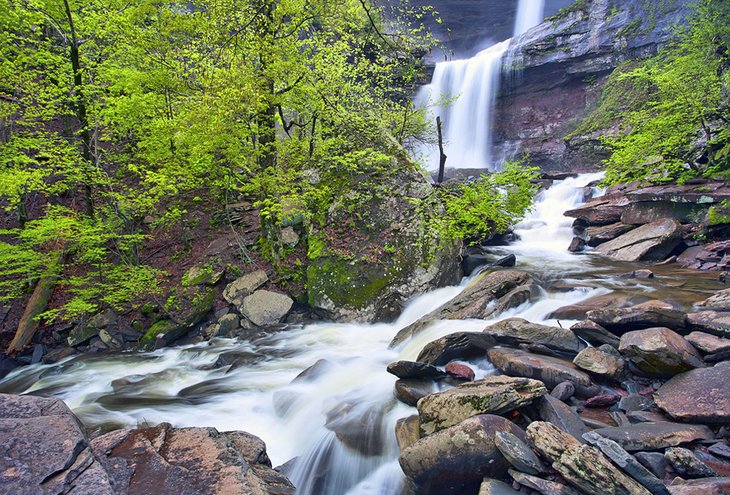 A highlight of the Catskill Mountains in upstate New York, Kaaterskill Falls knows how to put a person at ease. The sight of the water dropping dramatically over the two tiers, the sound of it crashing along its journey, and the feel of the cool mist on your face is enough to melt every worry.
Between its two cascades, this phenomenal wonder crashes nearly 260 feet to the pool below, making it one of the tallest waterfalls in New York. It's also one of the loveliest, especially if you visit during the autumn, when the surrounding palette is brushed by bright red, orange, and yellow hues.
To get here, you'll have to hike. Don't worry, it's only about 1.4 miles there and back.
Insider's tip: Unless you're super adventurous (and have Spiderman-like grip), avoid walking the ledge to get to the falls' upper tier. The view from its base is spectacular, and you won't need to risk your life to appreciate it. Be warned: The rocks are super slippery!
7. Rainbow Falls, Watkins Glen State Park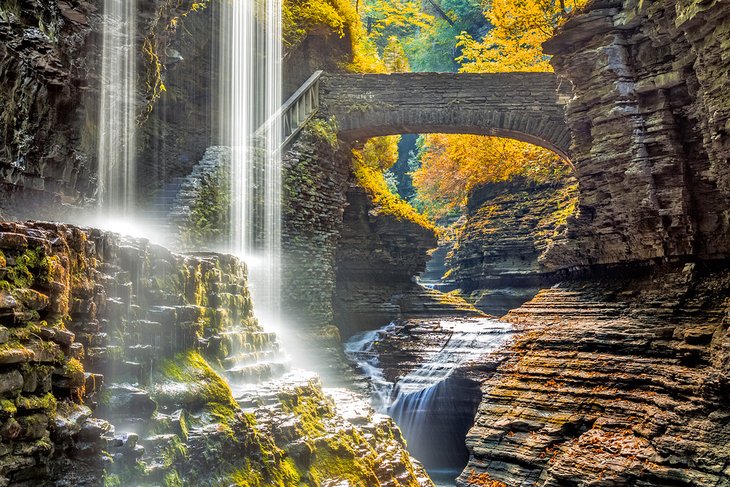 Watkins Glen State Park may be small (it's only two miles long), but it's filled with so much outstanding natural beauty that you'll find it hard to leave. Towering, craggy cliffs; a deep gorge; and verdant forest make this western New York spot unmissable, but its pretty Rainbow Falls is one of the area's most mesmerizing features.
Expect to get wet as you walk behind the flowing falls on your way to cross the picturesque stone bridge.
Insider's tip: An afternoon visit often rewards travelers with a rainbow, which is how the falls got their name.
The park's main stream creates a total of 19 waterfalls (Cavern Cascade, Central Cascade, and Pluto Falls are also worth a visit) as it sweeps past the massive cliffs. Beside it lies the Gorge Path, an easy trail that takes visitors over, under, and behind waterfalls. The Rim Trail provides the best gorge vistas. The old stone steps and bridges make this area incredibly unique and up the charm factor tenfold.
8. Rainbow Falls, Ausable Chasm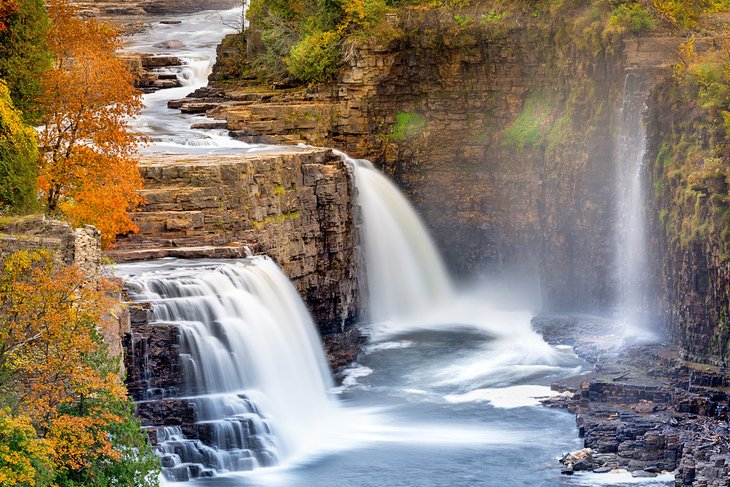 Another Rainbow Falls graces our list of the best waterfalls in New York. This one resides in the resplendent Ausable Chasm in the Adirondacks. A series of falls, these beauties flow from the Ausable River and are often the site of rainbows, hence the name.
The river's flow, and therefore the intensity of these falls, are regulated by a hydro-electric power company, which means you can't be sure what you'll see when you visit. You may be blessed to witness the falls in all their overflowing glory or see them in a more subdued light. Either way, they are a lovely sight to behold.
Insider's tip: Want to see the falls without heading into the chasm? Drive to the bridge on Route 9, just outside Keeseville for a photo-worthy view. In fact, many would argue this is the best way to view the falls in their entirety. That said, a trip through the chasm is unforgettable, and will offer you a view so close, you'll feel moisture on your skin.
9. Chittenango Falls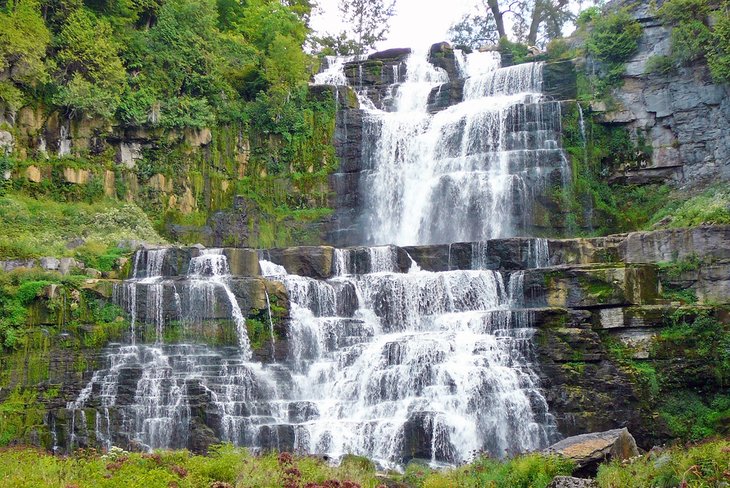 It's easy to forget which century you're living in while traipsing around Chittenango Falls. A glacial cascade, this 167-foot masterpiece is set among bedrocks dating back as many as 400 million years. Being in its presence feels both calming and energizing — the intense rush of water makes it almost impossible to resist the urge to cool off in the stream below.
Set within Chittenango Falls State Park (about 30 minutes southwest of Syracuse), this pretty waterfall is looped by trails, making it easy to appreciate its glamor from all angles. A sweet footbridge further enhances the romantic backdrop. That said, some of the terrain can be quite steep, so beware, and wear hiking shoes.
Insider's tip: Bring bug spray to keep away unwelcome pests.
10. Lower Falls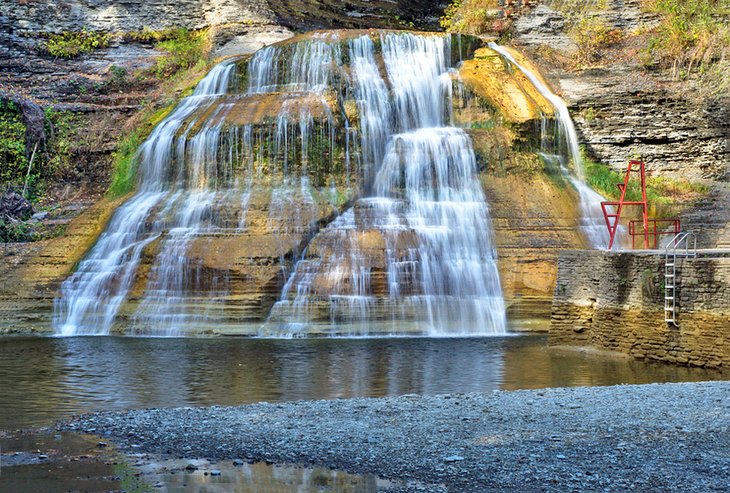 Robert H. Treman State Park is home to 12 notable waterfalls, the most scenic of which is arguably Lower Falls. Also known as Enfield Falls (after the rugged, wooded gorge of the same name), this lovely waterfall offers visitors a fun-filled locale overflowing with adventure.
Standing to the right of the falls, near the sparkling pool at its base, is a diving board. This fab feature literally adds a spring to your step as you launch yourself (via cannonball, swan dive, or front flip) into the cool water below. When you've dried off, hike along one of the park's nine miles of trails to enjoy the other falls and incredible views that will leave you breathless.
Insider's tip: Don't miss nearby Lucifer Falls, a 115-foot waterfall also located in the park. It, too, boasts a natural pool to enjoy at its base.
11. High Falls in Rochester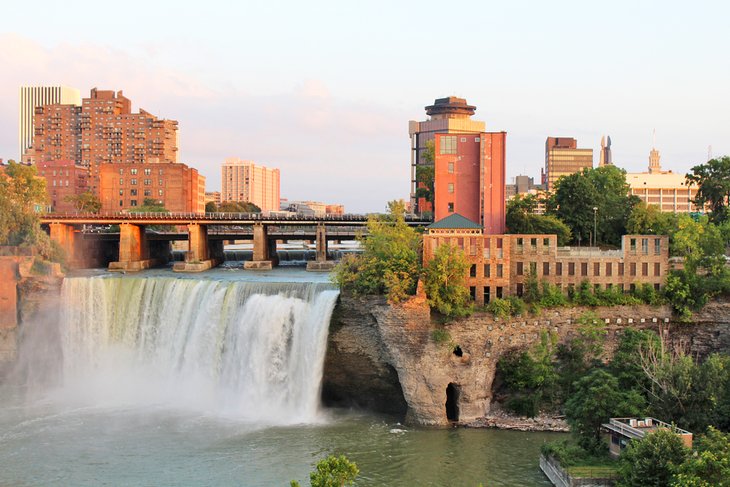 It's impossible to miss High Falls when visiting Rochester. One of multiple waterfalls that flow from the Genesee River (see Middle Falls, above), this large (just under 100-feet-high), thundering mass adds a magical element to the city's skyline. It's the most striking of three falls (the Middle and Lower falls are the other two) in Rochester and is located in the historic district next to the downtown core.
Walk across the pedestrian Pont de Rennes Bridge for the best views of the falls and the rail bridge that runs behind it. You'll want your camera charged, especially if you're snapping photos at sunset. Speaking of photos, head to High Falls Terrace Platform on the river's east side for a particularly rewarding view. Set farther away from, and off to the side of, the falls, you can snap a great panoramic photo of the city.
12. Ithaca Falls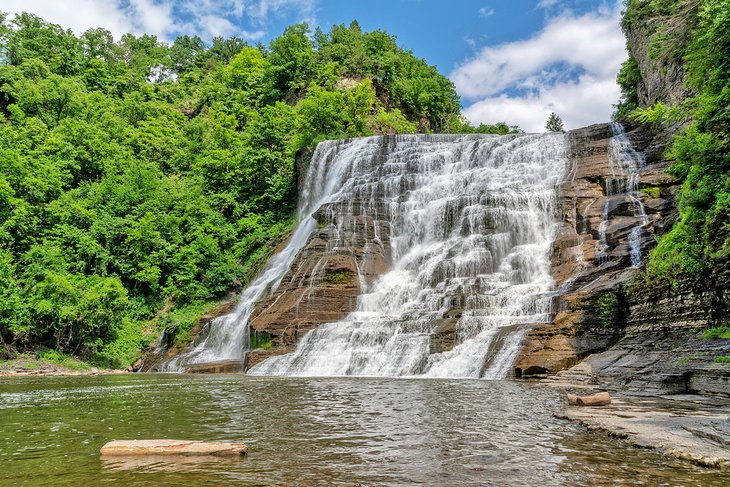 While touring Ithaca, you'll notice a ton of bumper stickers and signs touting its tourist slogan: "Ithaca is gorges," a play on words to highlight the area's exceptional natural beauty (we're talking deep, craggy gorges and soft, flowing streams). The city's main waterfall definitely falls under this category.
Of more than 150 waterfalls peppering 10 miles in this Finger Lakes region (including Taughannock and Buttermilk Falls), Ithaca Falls has earned a top spot on our list. The reason? It's gorges (sorry)! Tumbling down 150 feet to the popular plunge pool below, this lovely cascade spans nearly 175 feet.
Getting here is easy. Just cross the bridge over Lake Street. Take at least a few minutes here, as you'll be rewarded with an unsurpassable view of the falls. A small trail runs next to the creek, making it simple to get a closer view of this watery marvel.
13. Upper Falls, Letchworth State Park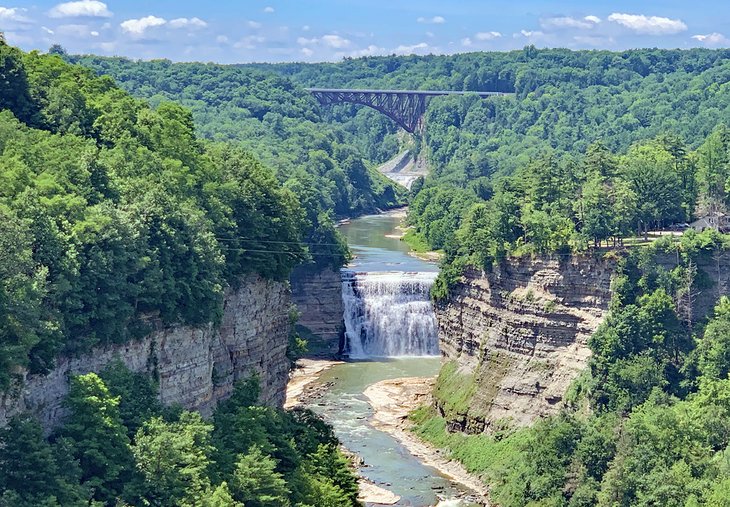 The smaller sibling of Middle Falls, this Genesee River waterfall is just as captivating. While it only drops about 70 feet, as opposed to Middle Fall's 107-foot-plunge, the backdrop is unbeatable in this Letchworth State Park marvel. It's surrounded by massive rock cliffs and verdant forest, as well as a picturesque bridge (a.k.a. the Portage High Bridge). Your camera will quiver in anticipation of the phenomenal shots it's about to take.
If you don't have a lot of time to spare, you're in luck. Getting to these falls takes only a few minutes of walking along a path from the parking lot. Along the route, you'll be rewarded with stunning vistas of the falls and surrounding gorge. If you've got more time and energy, follow the path farther up towards the bridge.
14. Bash Bish Falls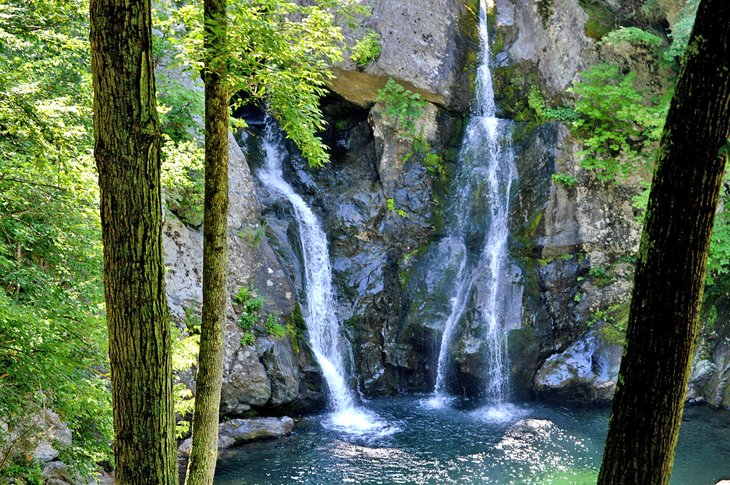 Technically in Massachusetts, Bash Bish Falls lies so close to the border of New York that it has a parking lot in both states. Set within the Taconic Mountains in Bash Bish Falls State Park, this beauty consists of multiple drops that fall a total of about 200 feet. Not quite as tall as New York's Buttermilk Falls, Bash Bish has been deemed the highest single drop falls in Massachusetts.
A series of multiple cascades, the lower falls are perhaps the most picturesque. They run around a giant boulder, being split into two smaller falls as they flow 80 feet to the pool below. To see the falls from within New York, enter at the lower parking lot. A short hike (about two thirds of a mile) will get you to the base.
More Related Articles on PlanetWare.com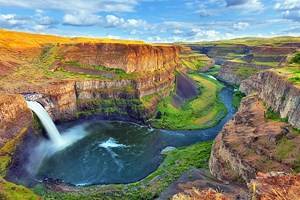 Other Unmissable Waterfalls: We know you love waterfalls. Who doesn't? So why not add these most beautiful waterfalls in the world to your bucket list. Or stay a little closer to home and visit these amazing waterfalls in Washington State, North Carolina, and Connecticut?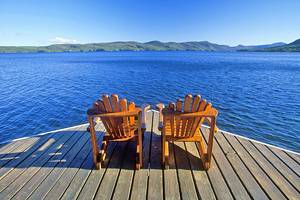 Lakes You Absolutely Must Visit: There's nothing like water to help quell your worries. While waterfalls are impressive, giant, sparkling lakes can do a lot to both inspire and energize your soul. Check out these picturesque lakes in Connecticut, guaranteed to make you want to jump right in. Oregon and New York also boast vast, clean, welcoming lakes you'll be begging to explore.