8 Top-Rated Road Trips from NYC
New York City is one of the best spots in the country to serve as a jumping-off point to some truly spectacular road trips. Whether you're taking far-flung road trips from New York to Miami, or keeping it local with weekend road trips from NYC, there are dozens of scenic drives, charming towns, and acres of untamed forest to explore.
Plan your adventures with our list of the best road trips from NYC.
1. Road Trips from New York City to Miami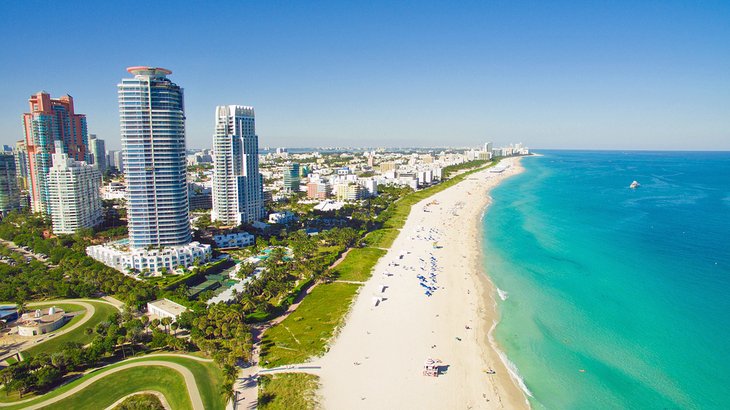 Recommended Stops: The New Jersey Shore, Ocean City, Norfolk, Cape Hatteras, Charleston, Savannah, Orlando, Miami, and Key West
This ultimate road trip will take you from the southern tip of New York City to the bottom of Florida in one to two weeks. It all depends on how long you want to spend at each stop. Along the way, you'll pass through some of the best beach towns on the Eastern coast, so feel free to linger as long as you like. Seeing as you'll be heading south, this route is a great idea for winter road trips from NYC.
Start your trip with the Statue of Liberty in the rear view mirror as you cruise your way down the coast of New Jersey. Forget what you know from the MTV reality series, the Jersey Shore is a lovely stretch of 150 coastal miles made up of barrier islands divided by estuaries, which offer fishing and bird-watching. Start with Margate, which is near Atlantic City, and breeze through the Victorian-era beach town of Cape May.
Passing down the Delaware coastline, you'll cross into Maryland and land on one of America's most historic seaside resorts, Ocean City. When you think old time boardwalk fair, what you're picturing is Ocean City, complete with its Ferris wheel, roller coasters, mini golf, bumper cars, and so much more.
As you drive into Virginia, you'll leave the sounds of carnival music trailing in the distance as you drive onto the Virginia shore, which is one of the most isolated regions of the country. You'll also pass through the beach communities of Norfolk and Virginia Beach, which are much more developed and popular with summer tourists.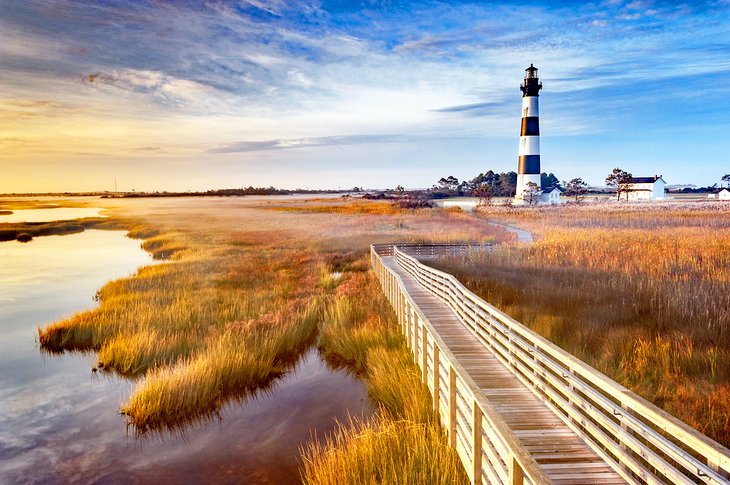 Eventually you'll emerge on the North Carolina coast, known for the Cape Hatteras National Seashore, a 75-mile stretch of coast that was the first piece of coastline to be protected as a national park. Visit the Cape Hatteras Lighthouse, relax on some of North Carolina's best beaches in the Outer Banks, or take advantage of the strong, steady winds for windsurfing, kitesurfing, or sailboarding. Coastal towns in North Carolina make great stopping points.
Charleston, South Carolina is all about that Southern charm, known for its fantastic culinary scene and gorgeous Southern architecture. Next, pass through Savannah, Georgia, where charm drips from the Spanish moss-covered oak trees.
The last leg of the journey takes you into sunny Florida, which offers enough for a trip on its own, with its sugary beaches, turquoise water, Everglades National Park, Disney World, and Universal Studios, the cosmopolitan and artistic energy of Miami, and finally, the laid-back Caribbean lifestyle of the Florida Keys.
Accommodation: Top-Rated Resorts in Miami
2. Road Trip through New England from NYC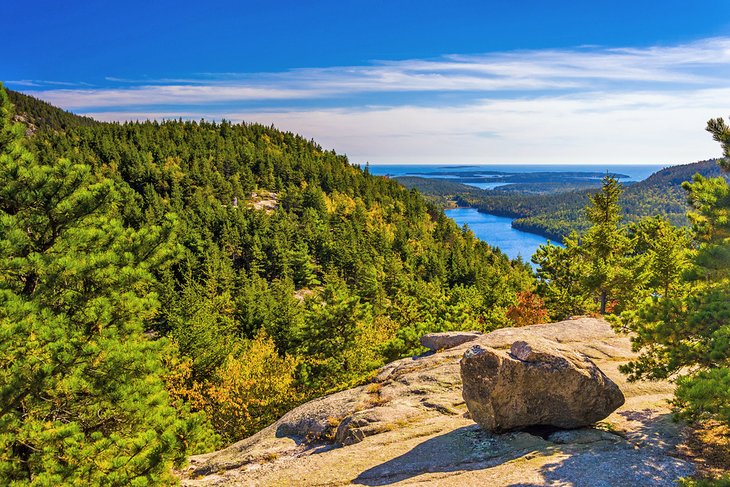 Recommended Stops: Mystic, Newport, Providence, Boston, White Mountains National Forest, Portland, Acadia National Park
New York enjoys a very strategic position at the gateway to New England. As you cross over into Connecticut and Massachusetts, you can feel the atmosphere change. New England is home to quintessential, historic colonial towns; acres of apple orchards; rolling hills; and a maritime coast.
New England is a jewel of a road trip destination because it has a different feel through all four seasons. You'll discover an entire year's worth of things to do, based solely on the changing landscape.
That said, road conditions may slow you down in the wintertime, when snow can pile high. Still, hunkering down in a quaint New England village while watching the snow fall can be a welcome road trip activity.
Leaving New York City, you'll pass through Mystic, Connecticut, which is a beautiful town on the water and is home to the massive Mystic Aquarium and Mystic Seaport Museum.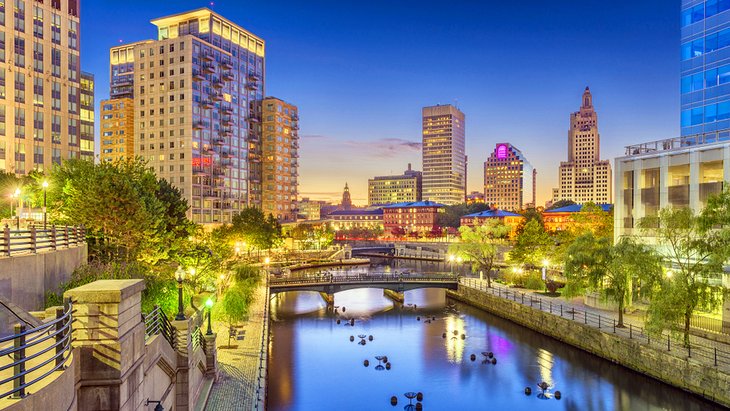 From there it is a quick drive into Rhode Island, where you can explore Providence for its college town vibe, complete with great restaurants and galleries. Newport is not far, either, and that caters much more to a maritime crowd, with its marina and seaside charm.
Of course, you can't drive through New England without stopping in Boston, one of the most historic cities in America. Indulge in retail therapy on Newbury Street or explore the stalls of Faneuil Hall Marketplace. Or visit the Boston Tea Party Ships & Museum for a bit of American history.
Next stop will be crossing over into New Hampshire to take in the nature of the White Mountains National Forest. Whether taking the views in from behind the wheel, or lacing up your hiking shoes for an intense New Hampshire hike, the landscape will not disappoint.
As you head into Maine, your first stop will be Portland, another seafaring community with deep maritime roots. Today's Portland is very much of the 21st century, with boutiques, galleries, an international food scene, and plenty of water activity out on Casco Bay.
End your New England road trip in none other than Acadia National Park, which sits on more than 40,000 acres of Mount Desert Island wilderness. Whether you're deciding to extend your road trip for days (or a week, even), or you're passing through for a quick hike, there are miles of hiking and biking trails, pristine water for swimming, and endless views. Use the town of Bar Harbor as the home base, which has a stunning New England small-town vibe, complete with great restaurants and hotels.
Accommodation: Top-Rated Resorts in New Hampshire
Read More: Best Weekend Getaways in New England
3. Ride the Appalachian Trail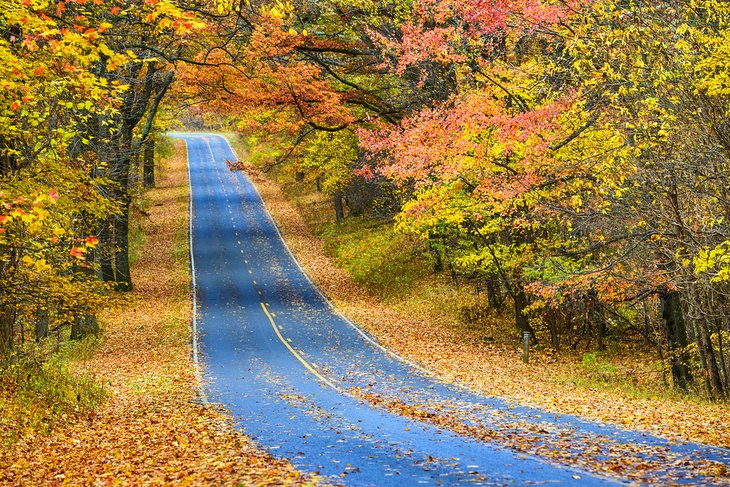 Recommended Stops: The Poconos, Shenandoah National Park, Asheville, Great Smoky Mountains National Park, Atlanta
The Appalachian Trail is a hiker's ultimate goal, spanning 2,190 miles of hikeable trails across 14 states. It typically takes travelers five to seven months to complete the entirety of the trail, but if you're pressed for time (or daunted by 2,000 miles), here is a great road trip alternative.
Leaving New York City behind, cross over into the state of Pennsylvania and make your way to The Poconos, a mountain range that rises west of the Delaware River. This was once a thriving summer getaway for New Yorkers in the 1950s and 60s, and travelers can still find a taste of that vintage vibe. Check out the Skytop Lodge, a family-friendly hotel from the 1920s, which sits on more than 5,000 acres of forest.
As you drive south through Pennsylvania, you'll pass through towns like Bethlehem and Allentown, Lancaster, and Pennsylvania Dutch Country. A stop at Gettysburg is more than moving as the site of one of the bloodiest Civil War battles, and the place of President Abraham Lincoln's legendary Gettysburg Address.
Briefly your journey will pass through Maryland and West Virginia before you stumble at the doorstop of Virginia's Shenandoah National Park. Imagine 300 square miles of stunning forest along the northernmost edge of the Blue Ridge Mountains. Don't miss the Skyline Drive, a road that starts from the valley and climbs up along the crest, for uninterrupted views over the peaks in the distance. Numerous hiking trails in Shenandoah National Park begin along this road. You'll pass through Lexington and Roanoke, as well, on your way to North Carolina's western mountainous region.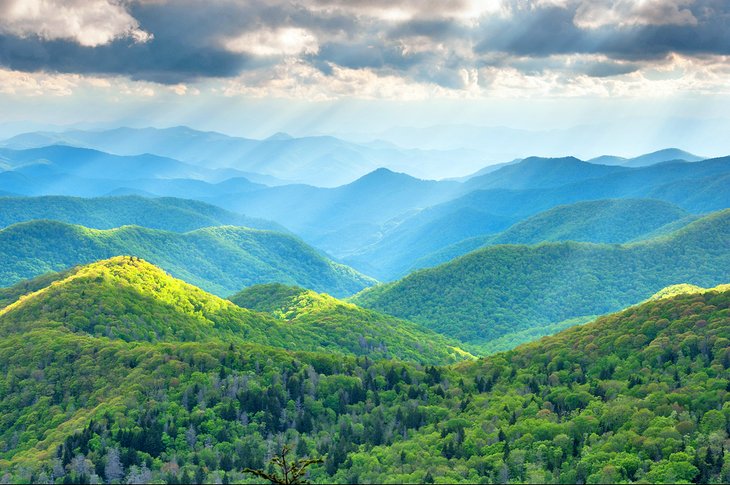 Asheville is one of the great small towns of America, home to the Vanderbilt family's Biltmore Estate. This historic mansion is one of Asheville's top tourist attractions and a great piece of American history, with gardens planned by Frederick Law Olmsted, 250 rooms, and world-famous art. The rest of Asheville has charming galleries and boutiques, restaurants, and cafés. If you're looking for something a bit more quaint, nearby mountain towns in North Carolina make great alternatives.
Continuing on, you'll find yourself in the Great Smoky Mountains National Park, veined with more than 800 miles of hiking trails across more than 500,000 acres. The Great Smoky Mountains straddle North Carolina, Tennessee, and Georgia, and are home to some of the most pristine forests in the country.
The last leg of the journey will take you into Georgia and its juxtaposition of Southern charm with cosmopolitan energy. The route ends in Atlanta, the capital of Georgia, and home to museums, shopping, restaurants, hotels, and important monuments for Civil Rights history like the Martin Luther King Jr. National Historic Site.
4. Road Trip from New York to Chicago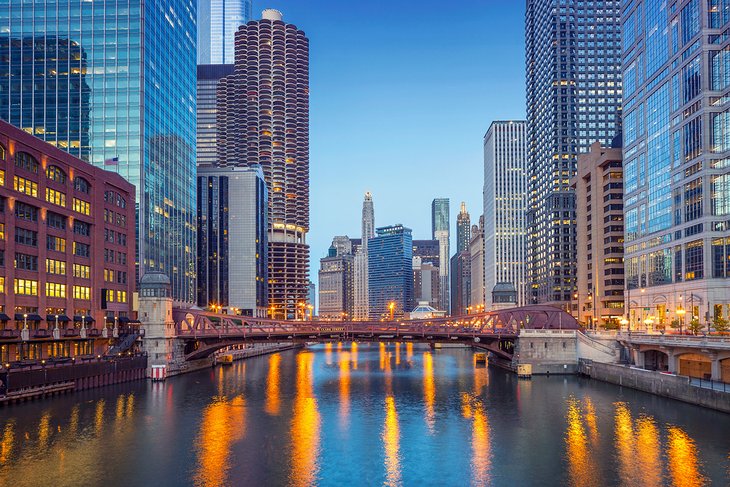 Recommended Stops: Troy, Niagara Falls, Erie, Cleveland, Indianapolis, Indiana Dunes National Lakeshore, Chicago
If New York City is America's number one city, Chicago is certainly a close second. Why not link the two with one unforgettable road trip? Fun fact: This route runs across a section of the original Oregon Trail.
From New York City, travel north through the Hudson Valley up to Troy, just outside of Albany. The river city on the banks of the Hudson River is at the point where the Erie Canal heads west. Its industrial past has given way to a bohemian environment of farm-to-table restaurants, where words like "craft" and "artisanal" are the norm.
The drive continues northwest through Syracuse and Utica, as well as Geneva and Seneca Falls, before emerging near Buffalo and Niagara Falls. Niagara Falls shares a border with Canada, and is one of the highlights of New York State.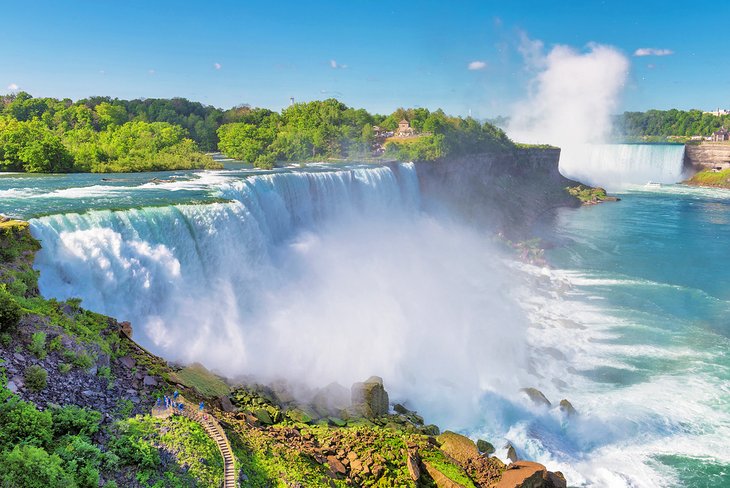 Keep driving US-20 across northwestern Pennsylvania along the shoreline of Lake Erie. The town of Erie, part of the Rust Belt of America, was once a major industrial center along the Union Pacific Railroad. Today, it's a reinvigorated town that still manages to retain remnants of its vintage past.
The Lake Erie shoreline leads directly into Ohio, and this part of the country was once a meeting point for settlers and Native American tribes, whether they were at war or trading goods. Follow US-20 from Toledo not the Cleveland area.
Admittedly, the drive through northern Indiana may be a tad tedious, but the bright lights of Chicago are within arms reach. Still the state shares a shoreline with Lake Michigan, and one of the most beautiful stretches is the Indiana Dunes National Lakeshore.
US-20 crosses into Illinois, where the Mississippi River feeds into Lake Michigan, and before long, you'll be staring at the glittering skyline of the Windy City, with its spectacular lakefront, historic architecture, museums, restaurants, high-end hotels, and immigrant influence that have helped shape it as one of the greatest American cities.
5. Weekend Road Trip from NYC to the Catskills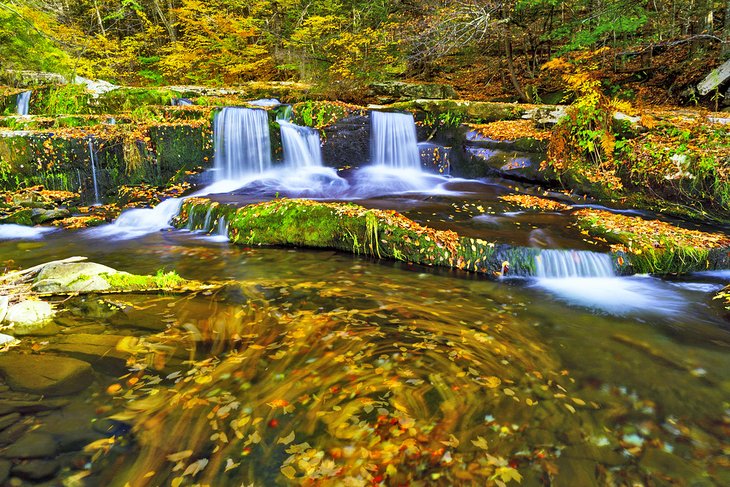 Recommended Stops: Kingston, Woodstock, Hunter, Hudson
Spread over a sprawling 700,000 acres of Upstate New York (about two hours north of New York City), sits the Catskills Park and Forest Preserve. More than 200,000 acres of that land is protected, but nestled among the rest are a series of tiny towns that make up the region of New York State known as The Catskills.
Its history is built on the relationship between Native Americans and fur traders, Dutch settlers, 19th-century artists, and, eventually, summer trippers from New York City up to take advantage of the now-abandoned summer resorts and bungalow colonies. Today, it's still a haven for artists, musicians, and nature lovers.
Leaving New York City on I-87, which is the New York State Thruway, the first stop on this weekend road trip from New York will be Kingston, which was the original capital of the area. Today, it's a juxtaposition of Dutch-history-meets-hipster, with 17th-century buildings that sit alongside vegan cafés and boutiques.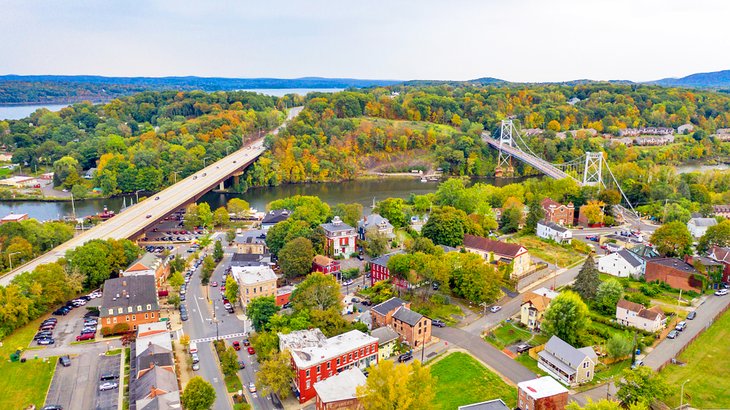 From Kingston, it's a short trip to Woodstock, one of the best-known cultural enclaves in the country. While in town, you'll want to explore the charming restaurants, galleries, and boutiques that line Tinker Street. The town is all about live music and showcasing local artists and artisans, as well.
Next stop is Hunter, which is a great place to visit, whether you're driving in summer or planning winter road trips from NYC. It's one of the top ski destinations in New York, home to Hunter Mountain and its many ski runs. Summer and fall delight, as well, with a zipline park, horseback riding, fly fishing, and lovely local restaurants.
Finally end the road trip in Hudson. Hudson is on the west side of the Hudson River, so you'll have to cross back over. Brace yourself for stunning river views. Hudson is very much a bustling town, with a boutique vibe that is based on words like "craft," "artisanal," and "farm to table." Over the last few years, it has become a hot spot for New Yorkers looking for quaint town life, so there is very much a palpable city energy, with a much more laid-back vibe.
Accommodation: Top-Rated Resorts in the Catskills
6. Weekend Road Trip from NYC to the Adirondacks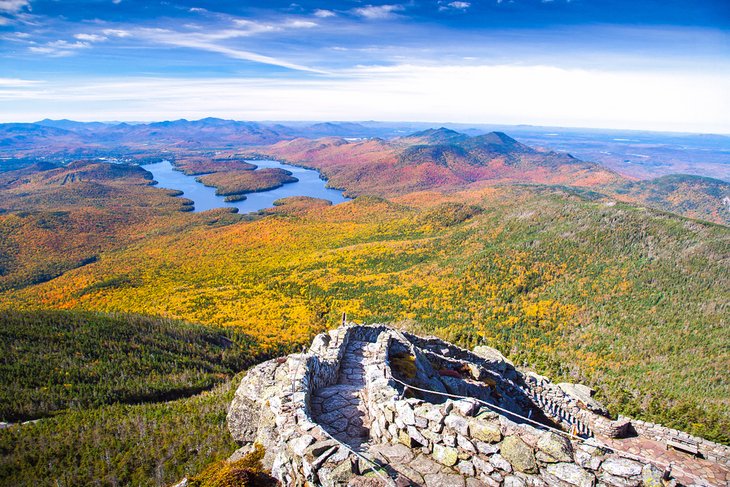 Recommended Stops: Lake George, Keene Valley, Lake Placid, Montreal
If you thought the Catskills were impressive, just wait until you see the Adirondack Mountains. Spanning more than six million acres, the mountains are the largest protected natural area in the country (not including Alaska and Hawaii).
Spread across these millions of acres are more than 3,000 lakes, 30,000 miles of rivers, and 46 peaks. Most New Yorkers don't even know what they can discover in less than four hours from Manhattan.
The first stop will take a while to reach, but it will be worth it for the full scenery transformation. Exit the New York State Thruway at Lake George and be prepared to be amazed. The scenery is simply spectacular, surrounded by the Adirondack Mountains and stretching vertically, close to the Vermont border. Outdoor activities are a must in Lake George, whether on the lake itself or wandering the trails of Prospect Mountain
Continue up I-87, or opt for the scenic route along the scenic byway in the High Peaks region to reach Keene Valley. The small downtown is lined with quaint shops and restaurants, from vintage clothing stores to Adirondack-style decor.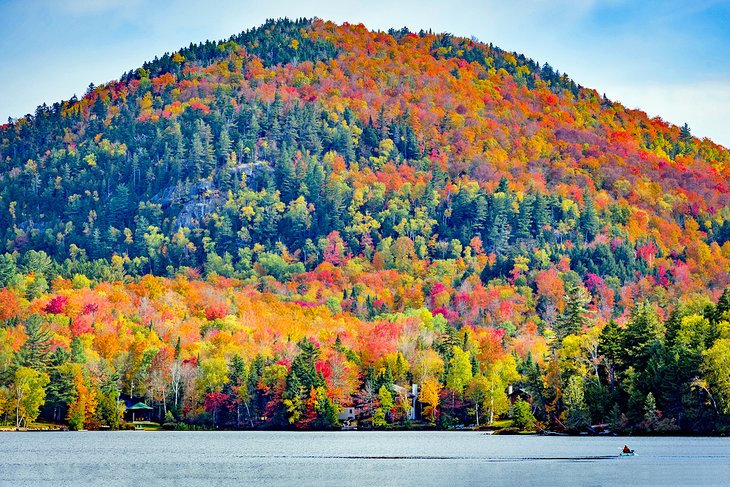 End the journey in Lake Placid, though the drive there from Keene will be replete with pull-off points to explore waterfalls, streams, and rivers. Lake Placid is home to New York's fourth-largest peak, Whiteface Mountain, which stands at an impressive 4,800 feet and is home top one of the best ski resorts in New York. Lake Placid hosted the 1980 Winter Olympics, and visitors can explore the Olympic Ski Jump Complex, a Bobsled and Luge Complex, and an Olympic Museum.
If you're keen on driving to Montreal from NYC, you can certainly extend this road trip and keep heading due north to reach the Canadian border and the wonderfully European-style city of Montreal.
Accommodation: Top-Rated Resorts in the Adirondacks
7. Weekend Road Trip from NYC to The Berkshires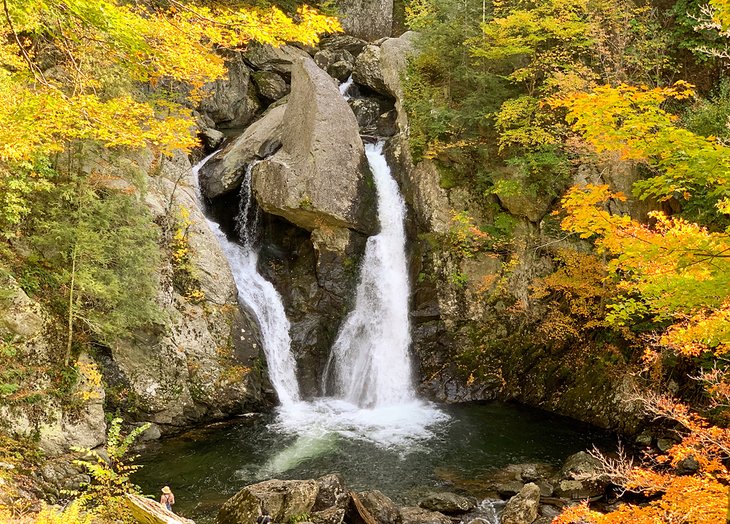 Recommended Stops: Great Barrington, Stockbridge, Hancock, Lanesborough, Mount Greylock, Williamstown
As different as they are in landscape and vibe, New York City and New England are not very far away from each other. A weekend through Western Massachusetts is one of the most popular road trips you can take from New York City, and The Berkshires are a great place to start.
Approximately 150 miles from New York City, this western Massachusetts mountain hideaway is a cluster of small towns, bucolic landscapes, and rolling mountains. The Berkshires are also packed with things to do, from art galleries and antique stores to museums, farm-to-table restaurants, charming hotels, and even skiing in the winter months.
The first town you'll hit in the Berkshires from New York City is Great Barrington. Stop here for the dining options – the town is practically bursting with them. The Main Street is always humming with diners and shoppers popping in and out of the cafés and boutiques.
Continue on to Stockbridge. This colonial town has roots that date back to the 18th century. The vibe in Stockbridge is idyllic and quiet. It's where painter Norman Rockwell settled, actually, and his house has been turned into a museum. The Berkshire Botanical Garden is also located in Stockbridge, with 24 acres of gardens.
From Stockbridge, the journey continues through other small towns, like Lenox and Pittsfield, which could also be good places to stop. Or keep going to Hancock to visit the famous Hancock Shaker Village. This outdoor museum is devoted to detailing the life of the Shakers, a Protestant sect founded in 1747 who settled in this part of Massachusetts.
For adventure, make sure that Lanesborough or Mount Greylock are also on the road trip itinerary. Lanesborough is home to the Ashuwillticook Rail Trail, which consists of 12 miles of beautiful bike paths. Mount Greylock, near Adams, Massachusetts, is the highest peak in the state and has more than 70 miles of trails, including a section of the Appalachian Trail.
Art lovers will want to be sure to make it all the way north to Williamstown, which is home to the Williams College Museum of Art, the Williamstown Theatre Festival, and The Clark art institute.
Accommodation: Best Resorts in the Berkshires
8. Road Trips from NYC to the Finger Lakes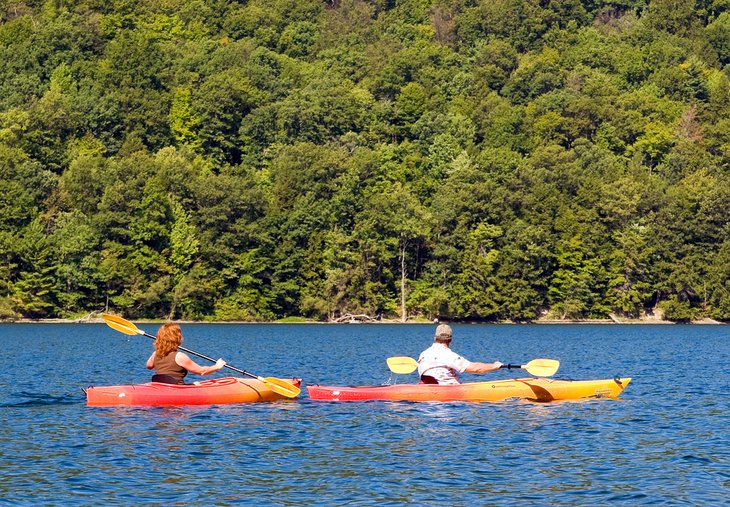 Recommended Stops: Hammondsport, Watkins Glen, Ithaca, Aurora
To New Yorkers, Western New York feels like a whole different world. That's because it has endless farmlands, towering mountains, industrial cities packed with history, and, of course, the Finger Lakes.
The Finger Lakes region of New York State is made up of 14 counties that offer breathtaking scenic views, festivals, farm-to-table cuisine, art, and lake life. These 11 lakes are long and skinny and sit like a handprint on the map of New York – hence their name. The start of the Finger Lakes is roughly 283 miles, which is a considerable drive. But once you're there, everything else is relatively close by.
The first stop will be Hammondsport, though you can break up the drive with a stop in Corning to visit the world's largest glass collection at The Corning Museum of Glass. But you can cover more ground and make Hammondsport the first stop, which is one of the most interesting small towns in New York. Home to less than 1,000 residents, this small town is wonderful for outdoor activities, fishing, scenery, and dining.
After stopping in Hammondsport, continue on to Watkins Glen. A very small, funky town brimming with outdoor activities, Watkins Glen sits on the southern tip of Seneca Lake. One of the most popular things to do in Watkins Glen is to follow the Gorge Trail, which runs for a mile and a half through a plunging gorge. Discover the surging waterfalls that line the gorge walls.
From Watkins Glen, continue on to Ithaca. Larger than Watkins Glen, Ithaca is known for the two universities that call it home – Cornell University and Ithaca College. The influx of students means that Ithaca is a hub of cultural, artistic, creative energy. Explore art galleries, great restaurants, boutique shops, and beautiful nature.
End the road trip in Aurora, which is on Cayuga Lake. Cayuga is also a top place to visit for dining and nature. The Cayuga Waterfront Trail gives a beautiful lay of the land. Aurora is also a great jumping-off point from which to explore the many lake cruises that depart daily.
Accommodation: Best Resorts in the Finger Lakes Region
Map of Road Trips from NYC