15 Best Places to Visit in March
We may earn a commission from affiliate links ()
Traveling in March is a great idea if you're looking for an enjoyable mix of ideal weather and brag-worthy deals. Depending on your vacation goals (be it to ski, sightsee, or lie on a beach), there are plenty of fabulous places to visit in March. A bonus: you'll be early enough to miss the rowdy spring break crowds.
In addition to making the most of spring in countries like Ireland and the US, March travelers will relish Australia's comfortable Autumn temps.
Washington, D.C. radiates when the pink and white cherry blossoms are in full bloom. Dublin puts its Irish pride on full display for St. Patrick's Day. India seduces travelers with its annual color festival, Holi, this month. And Phuket couldn't be a more perfect place for a tropical island vacation in March.
For more ideas on where to take an early springtime getaway, check out our list of the best places to visit in March.
1. Washington, D.C.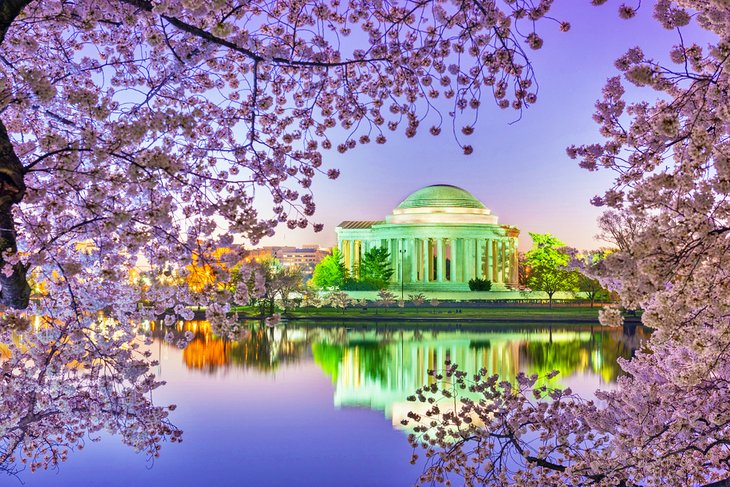 Washington, D.C. looks downright spectacular during cherry blossom season. The American capital's famous attractions, like the Washington Monument, Jefferson Memorial, and Martin Luther King Jr. Memorial, take on a softer aesthetic when surrounded by the delicate pink and white blooms. A stroll around the Tidal Basin during the peak of the blossoms will feel like you've stepped into an oil painting.
Timing your trip to Washington D.C. to see the cherry blossoms is tricky, though. Peak bloom can hit as early as mid-March or as late as mid-April. Your best bet is to plan a trip for mid-to-late March and stay as long as you can - and hope for the best.
Accommodation: Where to Stay in Washington, D.C.: Best Areas & Hotels
2. Dublin, Ireland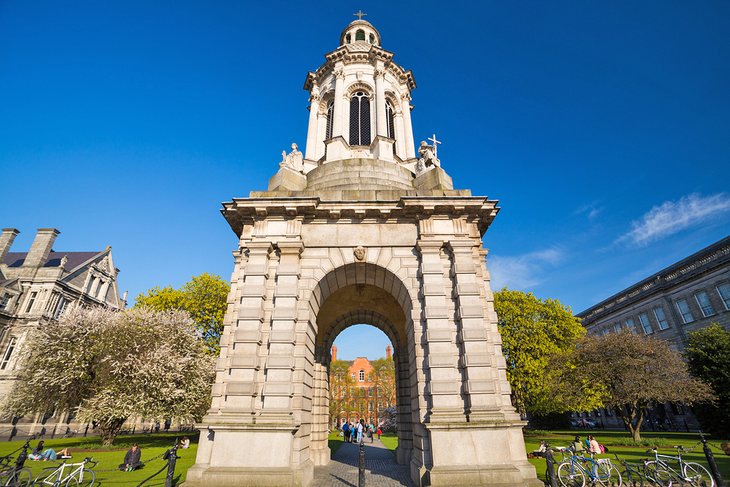 St. Patrick's Day in Dublin isn't just a one-day affair – it's nearly a weeklong extravaganza of festivities akin to Carnival that enliven the Irish capital. You'll find thousands of revelers (decked out in green outfits and leprechaun hats) partying in the streets of Dublin's Temple Bar neighborhood, along with live performances of Irish folk music, a traditional parade, and a heavy dose of Irish pride in this top place to visit in March.
When you need a break from the crowded celebration, explore the other fantastic attractions in Dublin. Trinity College's 40-acre campus is starting to get green come March, while St. Stephens Green is a serene oasis from downtown. Tourists can also learn more about the history of life in Dublin at the Little Museum.
Accommodation: Where to Stay in Dublin: Best Areas & Hotels
3. Riviera Maya, Mexico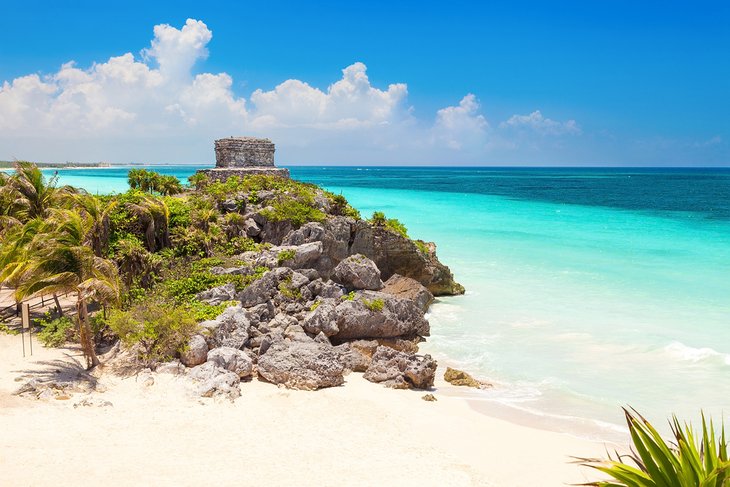 If you're looking for a side of sun, sand, and surf during your vacation, you'll find it in the majestic Riviera Maya. One of the best places to visit in March, this Mexican hot spot is a winner for beach lovers and families hoping to spend a few days (or more) digging their feet in the soft, warm sand.
March boasts warm temperatures and mostly sunny skies, making it easy to visit the region's top tourist attractions. Whether you're hoping to wander the streets of a charming beach town, traipse through Mayan ruins in Tulum, or zipline through the trees, you'll find plenty of fun things to do in the Riviera Maya in March.
4. Istanbul, Turkey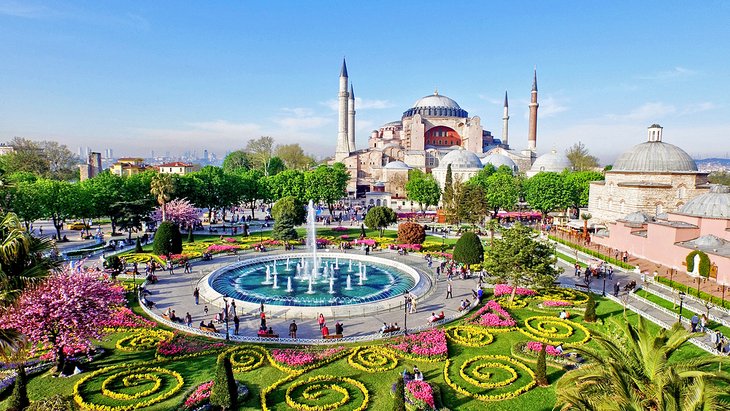 Another of the best places to visit in March in terms of crowds and weather is Istanbul. It's a sweet spot in this perpetually popular city for tourists looking for generally warm temperatures without having to deal with the massive influx of visitors of the summer months. Look for deals on hotels and tours, especially earlier in the month.
Istanbul is a dream destination for sightseeing, with each tourist attraction offering something completely distinctive. Go underground to the eerily-lit Basilica Cistern, which was featured in the James Bond flick From Russia With Love. Shop at thousands of stores in the Grand Bazaar.
The Blue Mosque's ornate tiles and domed stained-glass ceilings will take your breath away. And overall, the East-meets-West culture of Istanbul proves to be an exciting experience for globetrotters. Plan some day trips from the city for even more adventure.
5. Sydney, Australia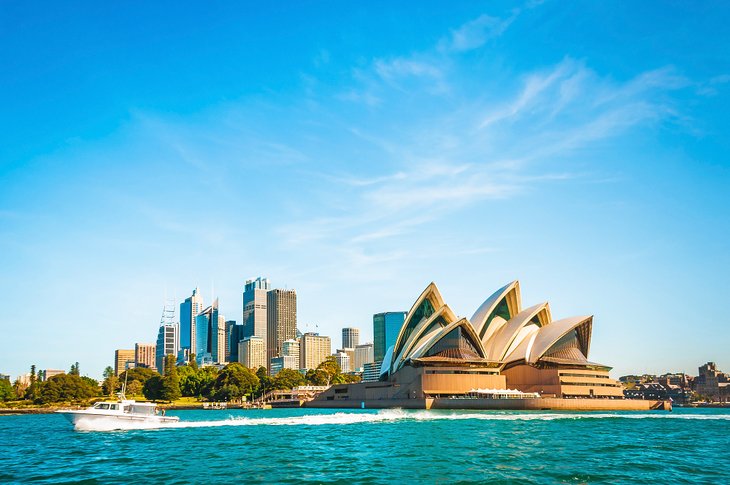 Sydney is one of the best places to visit in March for a slew of reasons, the top being its remarkable weather. The beginning of Autumn presents travelers to this Australian haven a perfect opportunity to take advantage of the city's best attractions (inside and out) without breaking a sweat or shivering through their jumpers (sweaters).
Missing out on visiting the Sydney Opera House would be a veritable crime. Sign up for a guided tour, catch a performance, or visit at night to witness the free seven-minute light show, Badu Gili.
March is dubbed "art month" in Sydney. You can enjoy a walking tour of four art galleries, attend interesting workshops, visit artists' studios, see impressive exhibitions, and so much more.
6. Valencia, Spain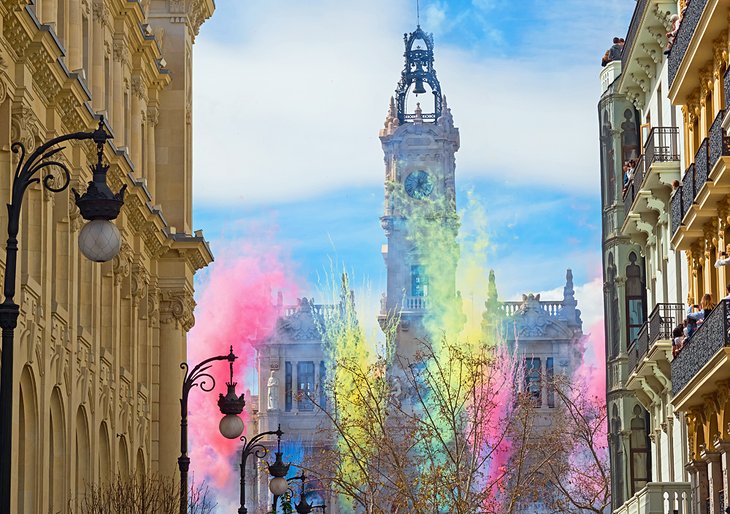 Valencia is one of the best places to visit in March for one very special reason: Las Fallas. This festival, recognized by UNESCO as an Intangible Cultural Heritage, has 19 days of action all revolving around fire.
The celebrations derive from an old carpenter's tradition that involved lighting a bonfire to burn pieces of wood that held up lights in the winter as a way to mark the start of spring. Neighbors started to add their scraps to the fire, causing it to take on a human form that inspires the fallas, or papier-mâché floats, paraded and set ablaze at midnight during this fiesta today.
Las Fallas gives tourists plenty of things to do throughout the month of March. Head to the Plaza del Ayuntamiento at 2pm on any day of the festival to see a unique pyrotechnic display called mascletà. Check out the Flower Ofrenda, an impressive 15-meter-tall floral display at the Plaza de la Virgen.
Watch the judging of more than 750 cartoonish papier-mâché works (and choose your favorite!). And gaze at the night sky exploding with color during the impressive fireworks displays at midnight during the last few nights of the festival.
Accommodation: Where to Stay in Valencia: Best Areas & Hotels
7. Phuket, Thailand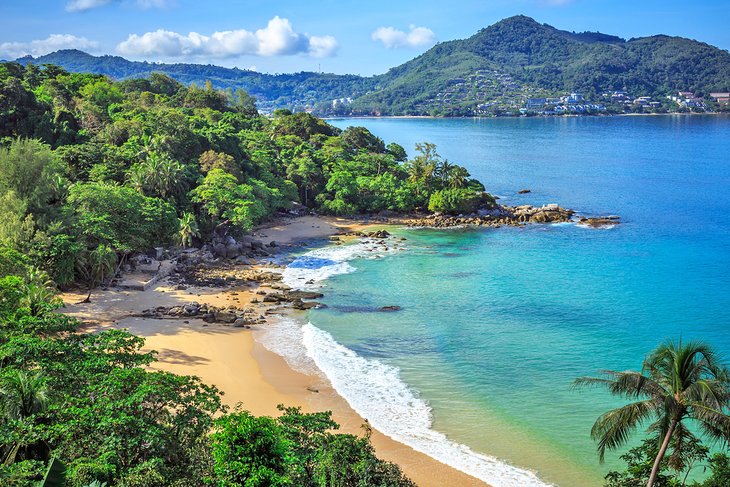 Does your March vacation involve pristine white sand, turquoise seawater, and rugged limestone cliffs? Phuket's got you covered. The island, located off the southwest coast of the Thai mainland, treats tourists to amazing beach weather (think: temperatures between 25 and 34 degrees Celsius, with almost no chance of rain) this time of year, making it one of the best places to visit in March.
Given that it's high season, your travel budget will need to account for peak hotel rates and flight costs this time of year. Make reservations as far in advance as possible.
8. Mexico City, Mexico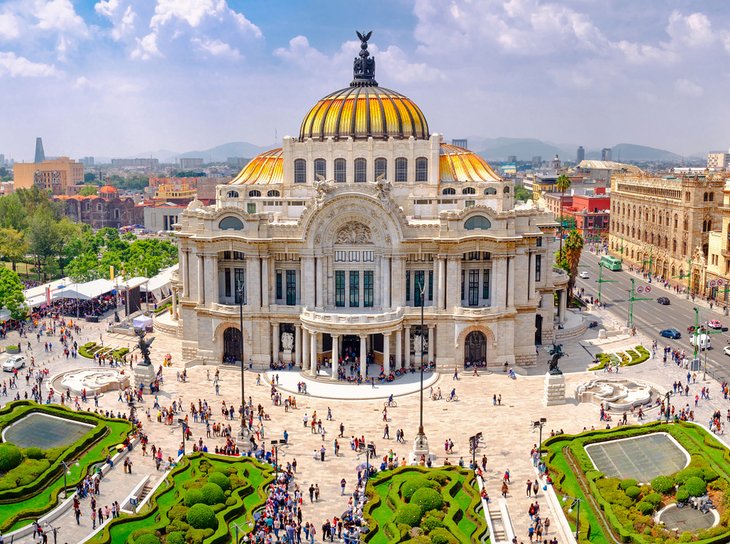 Mexico's lively capital beams in March, when the springtime weather is perfectly warm and the calendar has started to fill up with fun events. On the docket for March is Benito Juárez's Birthday (March 21), Festival de México en el Centro Histórico (nearly all month), and possibly Semana Santa, depending on when Palm Sunday and Easter fall in a given year.
9. Prague, Czech Republic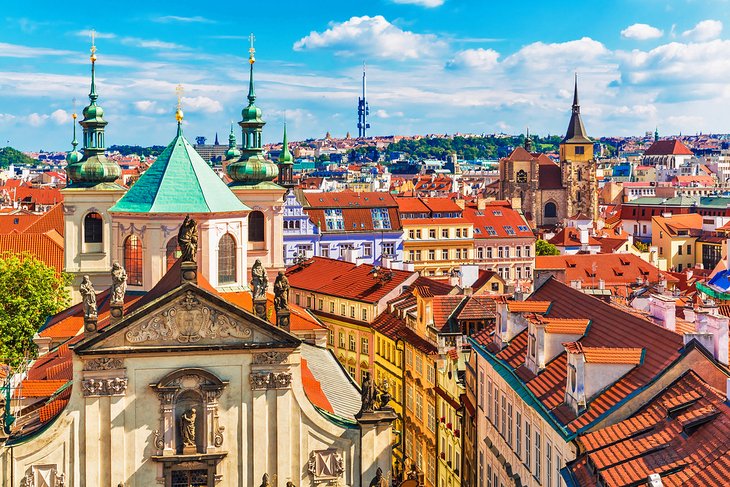 Spring is splendid in Prague. The city bursts with energy after a long winter, even in March, when temperatures can still be a bit chilly. Expect overall mild weather, sunshine, and bright blue skies.
If your trip to Prague happens to coincide with Easter (an important holiday in Eastern Europe), you'll want to visit the city's Easter Markets in the Old Town Square and Wenceslas Square. Take in the lively atmosphere and shop for elaborate Czech Easter eggs to take home as souvenirs.
10. Las Vegas, Nevada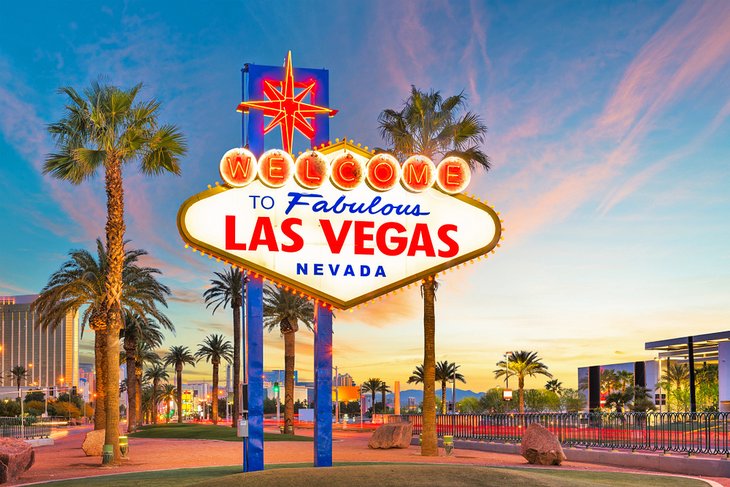 If "Sin City" has been calling your name, consider visiting this spring. Las Vegas is one of the best places to visit in March. There's little to no chance of rain, and the desert has the perfect temperature for sightseeing, ranging from 49 to 70 degrees Fahrenheit.
Plus, far fewer people visit this glittery city this time of year. You can easily score a great deal at a high-rise hotel and enjoy the top tourist attractions in Las Vegas without dealing with crowds.
Every tourists who goes to Vegas needs to walk the 2.5-mile-long section of Las Vegas Boulevard known as "The Strip." It's lined by some of the city's most famous sites, like the giant Statue of Liberty at the New York-New York Hotel, the recreated Eiffel Tower at the Paris Las Vegas, and the dancing fountains at the Bellagio Las Vegas.
11. Whistler, British Columbia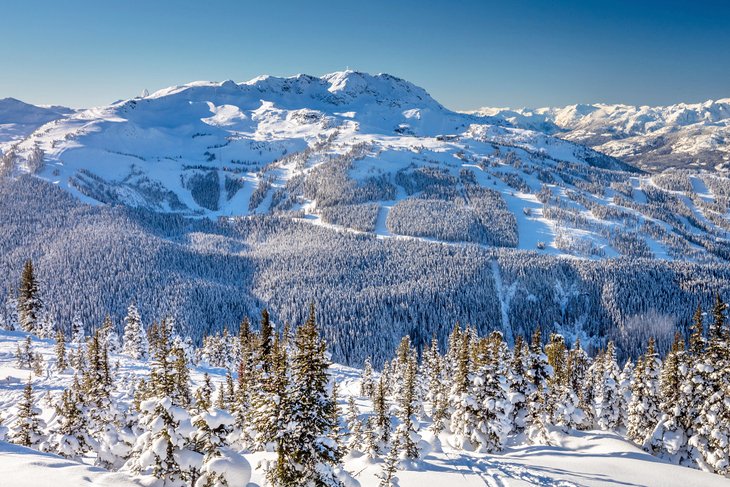 Didn't get your fill of powder yet this season? Squeeze in one last ski trip to Whistler, one of Canada's best ski resorts. Ski season typically lasts until the end of March or even mid-April, depending on the mountain and the weather.
Whistler also has plenty of things to do for non-skiers, as well. Kids love tubing down the slopes, while anyone with a need for speed will feel an adrenaline rush on a snowmobiling adventure. Just be sure to pack plenty of warm winter gear, so you stay cozy throughout your trip.
Accommodation: Where to Stay in Whistler: Best Areas & Hotels
12. Bermuda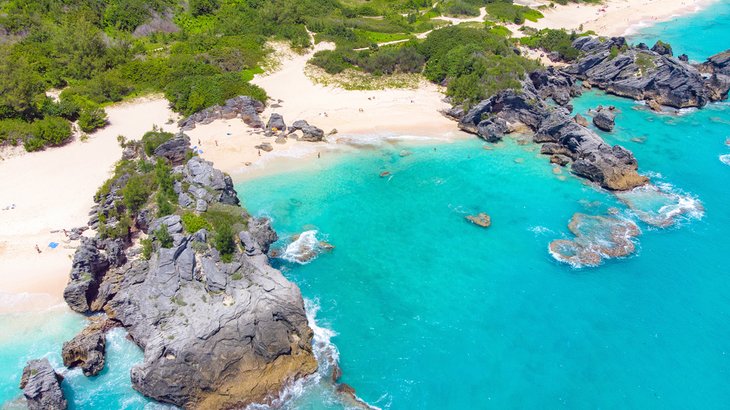 For a luxurious, warm-weather escape in March, head to the paradise of Bermuda. You'll have ample sunshine to explore the island's many attractions. And while it won't be quite warm enough to swim in the Atlantic Ocean, the destination makes up for it with ultra-affordable rates on rooms at the best hotels in Bermuda.
Tourists on the island for Good Friday will love seeing the locals fly colorful handmade kites on Horseshoe Bay. March is also a pleasant time to go sightseeing in Historic St. George, marvel at the famous pink sand of Elbow Beach, practice your putting at the Port Royal Golf Club, and visit the Bermuda Aquarium.
13. Maui, Hawaii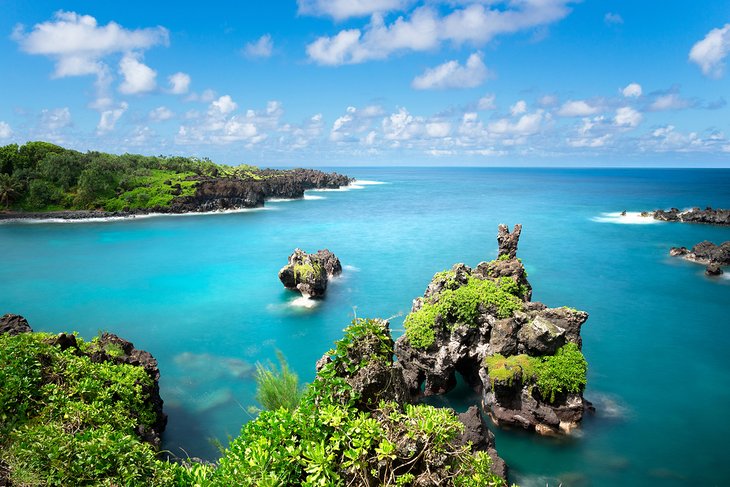 Tourists with big travel budgets and a willingness to splurge can take a dream-worthy vacation to Maui in March. The weather this time of year is unbelievable - lows of 64 degrees Fahrenheit, highs hovering around 80 degrees, and just a small chance of rain.
You can expect to spend every day of your vacation luxuriating on Maui's legendary beaches, like Napili Bay, Makena Beach, or Hana Beach Park. Hiking through Haleakala National Park and taking a dip in the freshwater Pools of 'Ohe'o are top things to do in Maui. Be sure to pack a swimsuit, towel, sunblock, and extra water!
Accommodation: Top-Rated Resorts on Maui
14. New Delhi, India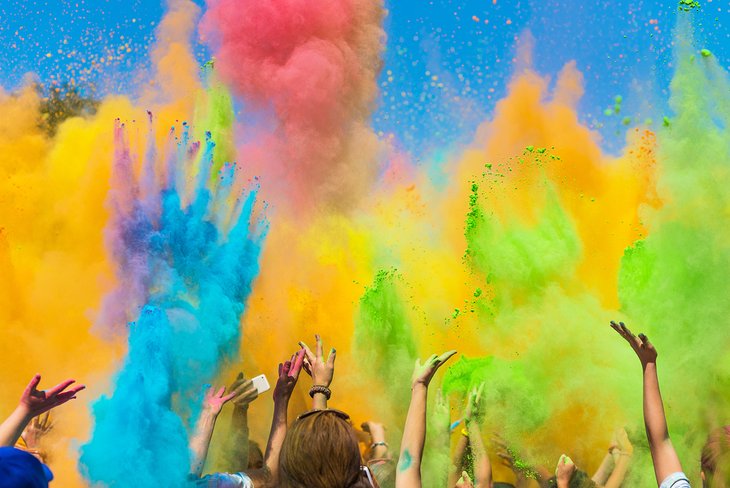 While India always has tons of surprises and delights, it takes things to the next level in March during the annual Holi celebration. This North Indian festival of color is one of the most exuberant events in the world, symbolizing the end of winter and the triumph of good over evil. If you've seen photos of other tourists covered in powder in every shade of the rainbow, you can bet that they've crossed this festival off their bucket list.
Partake in Holi this March in New Delhi, where local celebrants are especially inclusive of tourists. Part of the fun is just watching families gently smear a thumbprint of color on a loved one's forehead or young boys blast each other with water guns from rooftops.
But even more exciting is participating yourself. Anyone – especially a tourist – who walks through the streets of the backpacker area of Paharganj is sure to be on the receiving end of colorful powder thrown by shopkeepers and local kids. The revelry continues with music and dancing on the streets.
Accommodation: Where to Stay in Delhi: Best Areas & Hotels
15. Kyoto, Japan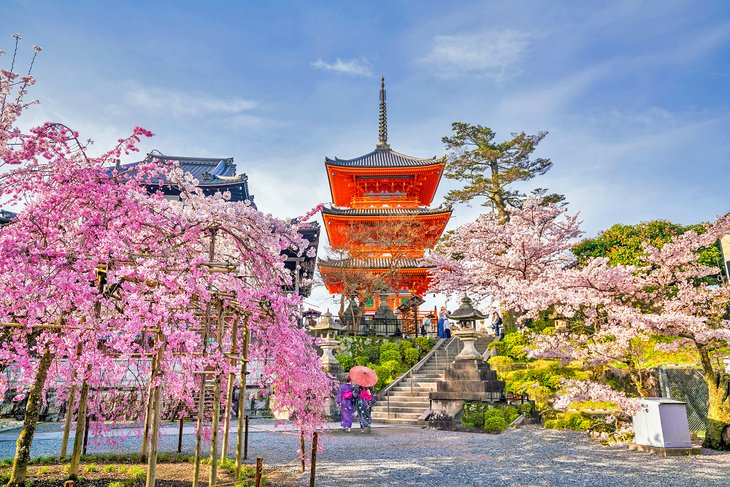 Japan's world-famous cherry blossoms don't typically peak until April, but tourists can get a jumpstart on sakura season with a trip to Kyoto in March. By the last week of the month, trees in this culture-infused city usually have plenty of pretty flowers that make the scenery look like an anime film brought to life. Amble along the Philosopher's Path for postcard-worthy springtime sightseeing.
If you can't wait until late March to travel to Kyoto, the earlier weeks of the month feature their own seasonal treasure: plum blossoms. You can see them in full bloom on the 2,000-plus trees at the Kitano Tenmangu Shrine.
No matter your exact dates, you'll want to reserve hotel rooms weeks or even months in advance to ensure you have a place to stay in Kyoto during this popular time for tourists.