12 Top-Rated Tourist Attractions in Kyoto
We may earn a commission from affiliate links ()
Surrounded by the hills of central Honshu, Kyoto is one of Japan's largest cities. It's also the educational hub of western Japan and boasts several universities and higher educational establishments. Although one of Japan's great tourist destinations, it is famous for having preserved much of the atmosphere of the past, having been the only major Japanese city to escape the devastation of WWII.
Celebrated as the residence of the Emperor, and Japan's principal cultural center for almost 1,100 years, Kyoto today boasts numerous things to do and great places to visit, including exploring the fine examples of sculptures, paintings, and other art forms in its many museums and galleries.
Your Kyoto travel itinerary should include seeing non-touristy sites, too. These should include the many examples of its centuries-old architecture, much of it influenced by Buddhism, which can still be seen in the many splendid temples located in the quieter, less visited corners of the old city.
Kyoto continues to play an important role in Japanese religion, with 30 of the city's temples still serving as centers of various Buddhist sects, along with some 200 Shinto shrines within the city limits. All told, UNESCO World Heritage Site status has been designated to 17 historic buildings in Kyoto.
Find the best places to visit in the city with our list of the top attractions in Kyoto.
See also: Where to Stay in Kyoto
Note: Some businesses may be temporarily closed due to recent global health and safety issues.
1. Nijo Castle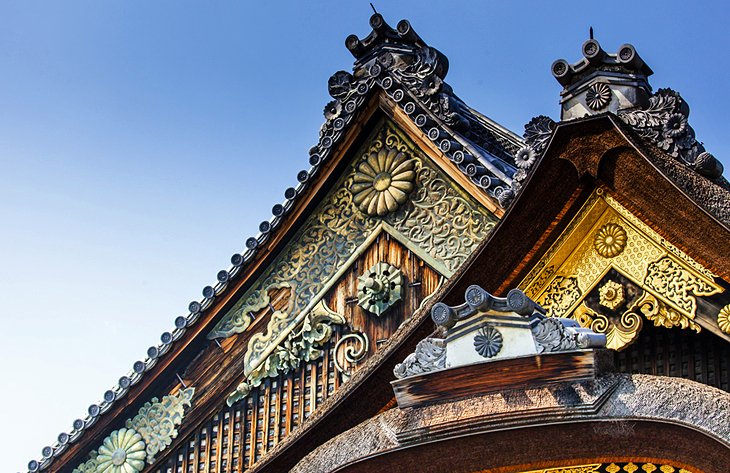 Nijo Castle (Nijō-jō), complete with well-preserved walls, towers, and a moat, was built in 1603 and later served as the seat of government. The complex has several buildings containing many significant works of art, and is famous as the location chosen by the emperor to issue the rescript abolishing the country's once powerful Shogunate.
Highlights include the castle's East Gate (Higashi Otemon, its main entrance), as well as the Inner Gate, or Karamon, notable for its fine carvings and decorated metalwork. Beyond this, the elaborate Mikuruma-yose is another must-see. The castle's fine gardens are also fun to explore.
The site's most important building is Ninomaru Palace. Consisting of five separate buildings linked by corridors, it boasts exquisite interiors decorated with many paintings by Kano Tanyu and his pupils. The principal apartment is the Hall of the Imperial Emissary (Jodan-no-ma), matched in splendor by the adjoining rooms, Ni-no-ma and Tozamurai-no-ma with their paintings of tigers.
Also of interest is the adjacent building with its large Audience Hall surrounded by a gallery and with sliding doors with large paintings of larches on a gold background. The fourth building, the Kuro-Shoin, has animal paintings by Kano Naonobu, while in the Shogun's private apartments are paintings of mountain landscapes.
If traveling as part of a tour, be sure to request a chance to tread the castle's famous "nightingale floors." These squeaking floorboards were specially designed to replicate the chirping of a nightingale.
Address: 541 Nijojocho, Nakagyo Ward, Kyoto, Kyoto Prefecture 604-8301
Official site: https://nijo-jocastle.city.kyoto.lg.jp/?lang=en
2. Fushimi-Inari Taisha Shrine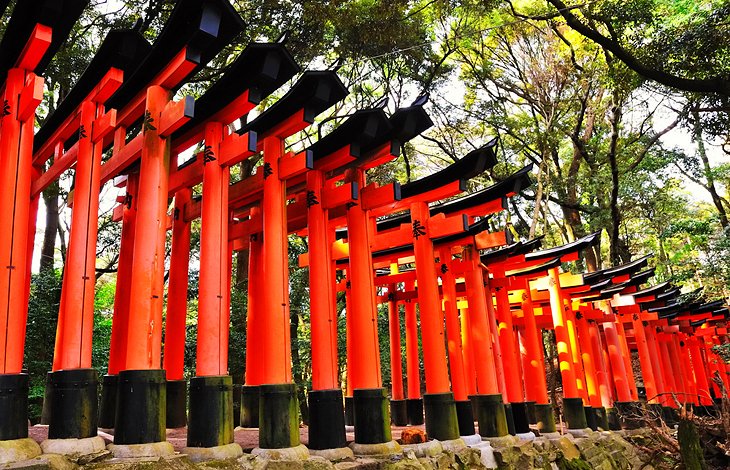 One of Japan's most famous shrines, the Fushimi-Inari Taisha Shrine is a must-visit when in Kyoto. Founded in AD 711 and dedicated to the goddess of rice-growing, Ukanomitama-no-mikoto, the shrine is still frequented by merchants and tradesmen who pray for prosperity.
The main building dates from 1499 and features a spectacular four-kilometer-long avenue of bright orange "torii," or arches, each dedicated by a business (it takes some two-hours to travel past the 1,000 arches lining the route). Also notable are its many sculptures of foxes, reputed to be messengers of the gods.
A great time to explore the shrine is at night. Not only will you be rewarded with a unique glimpse of this wonderfully illuminated heritage site, you'll be rewarded with few if any crowds.
Fortify yourself with the purchase of traditional Japanese fortune cookies from the shops and stands at the shrine's entrance. And to beat the crowds, visit as early in the day as possible (a 7am or 8am start is well worth it for the chance to avoid other visitors).
Address: 68 Fukakusa Yabunouchicho, Fushimi Ward, Kyoto
Official site: http://inari.jp/en/
3. Kinkaku-ji: The Golden Pavilion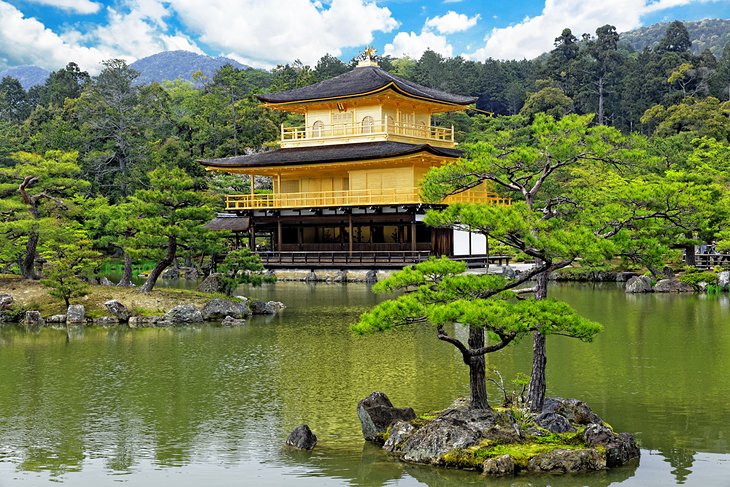 Originally built in the 14th century as a retirement villa for Shogun Ashikaga Yoshimitsu and now a Zen Buddhist temple, the magnificent Golden Pavilion (Kinkaku-ji) is one of Kyoto's most picturesque attractions.
Taking its name from the gold leaf adorning the top two of its three floors – a design element believed to alleviate any negativity associated with death – the structure has been rebuilt in its original form a number of times, this most recent incarnation dating from the late 1950s.
Built over a large pond, the site is also famous for its beautiful grounds, as well as its old stone pagoda and the Sekkatei Teahouse with its traditionally served beverages. For a different perspective of this wonderful tourist attraction, plus avoiding the summer crowds, time your visit for either winter or autumn (the latter is spectacular thanks to the fall colors).
Address: 1 Kinkakujicho, Kita Ward, Kyoto, Kyoto Prefecture 603-836
4. Kiyomizu-dera Temple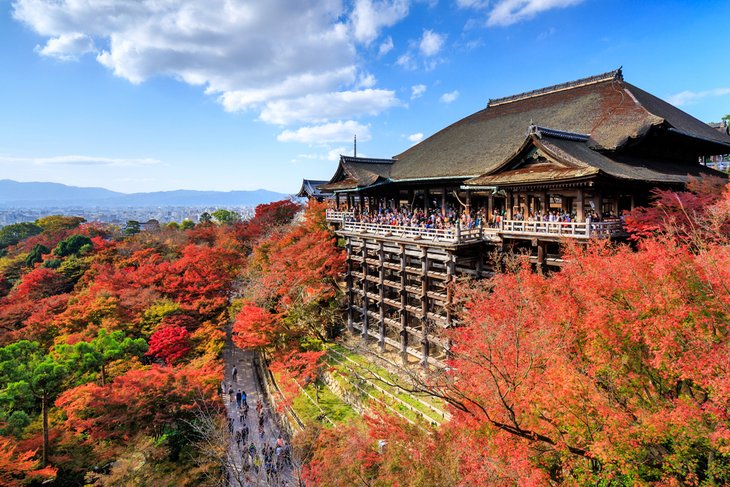 In the east part of Kyoto, the Kiyomizu-dera Temple, an important UNESCO World Heritage Site, lies in a picturesque location on Otowa Mountain overlooking the city. Visitors can enjoy a delightful stroll to the temple along quaint Tea-pot Lane with its small shops and craft stores.
This beautiful temple was founded in AD 790 and dedicated to the 11-headed Kannon, the Buddhist Goddess of Mercy whose statue can be seen here. The existing buildings were erected after 1633 in the period of the third Tokugawa Shogun, Iemitsu, and stand mainly on a rocky outcrop high above the Otowa Waterfall.
Highlights include the large terrace of the Main Hall, built on 30-meter-tall pillars with five rows of cross-beams and used as a stage for temple dances and ceremonies. The terrace affords spectacular views over the city and the surrounding wooded hills, especially when the leaves change color in fall. Personalized English language guided tours are available.
Address: 294 Kiyomizu 1-chome, Higashiyama Ward, Kyoto, Kyoto Prefecture 605-0862
Official site: www.kiyomizudera.or.jp/en/
5. Sanjūsangen-dō Temple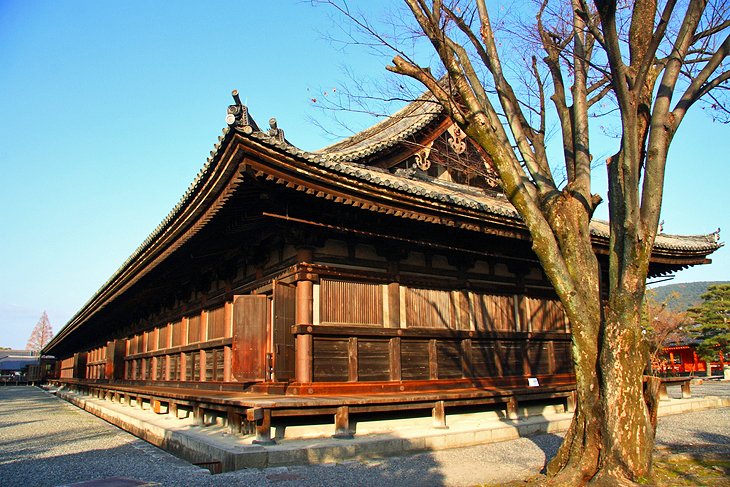 Sanjūsangen-dō (Rengyoin Temple), or the Temple of the 33 Niches, takes its name from its rather unusual structure: its façade is divided into 33 (sanjusan) niches (gen) to reflect the belief that Kannon, the Goddess of Mercy, could take on 33 different personifications.
Originally built in 1164, the present elongated building was constructed in 1266 after a fire destroyed its predecessor. Evidence of its former importance as a place of training in archery can still seen in the many holes in its ancient pillars and timbers made by arrowheads.
The most important of its many works of art is the Kannon with a Thousand Hands, a nearly three-and-a-half-meter-tall statue. Dating from the 13th century, it's famous for the 500 standing figures of Kannon lined up on either side of it. Also of note are the additional sculptures of the 28 "celestial auxiliaries," spirits considered subordinate to Kannon, located behind it.
Address: 657 Higashiyama Ward, Kyoto, Kyoto Prefecture 605-0941
6. Kyoto Imperial Palace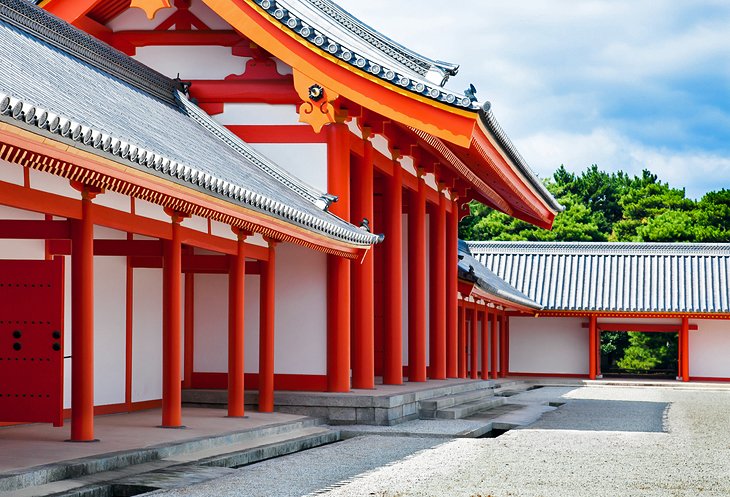 The original Kyoto Imperial Palace (Kyoto-gosho), built in AD 794 and replaced several times after being destroyed by fire, remains one of the city's most visited historic sites. Although the present building was constructed in 1855, it still impresses.
Occupying a large (once-walled) enclosure near the heart of the city, highlights include its finely decorated gates and important rooms and buildings. These include the Hall for State Ceremonies (Shishinden), the Emperor's Residence (Seiryo-den), the Courtroom (Ko-gosho), and the Imperial Library.
While the lovely grounds of this Kyoto landmark are open to the public, the palace itself can only be visited as part of a guided tour operated by the Imperial Household Agency. Be sure to plan ahead and check their website for reservations and application forms.
Address: 3 Kyoto-Gyoen, Kamigyo Ward, Kyoto, Kyoto Prefecture 602-0881
Official site: https://sankan.kunaicho.go.jp/english/index.html
7. Nishi Honganji Temple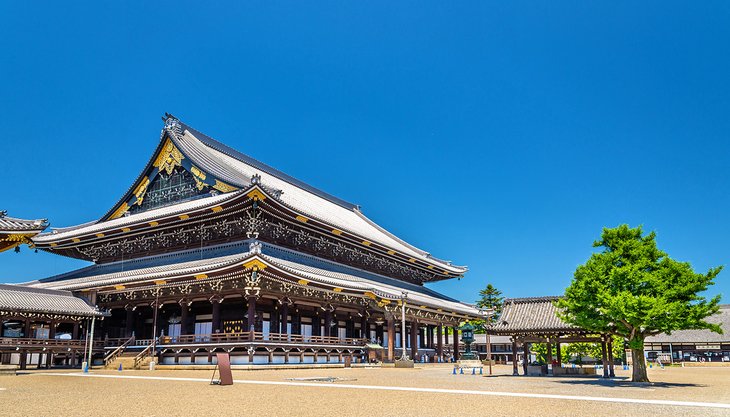 The chief temple of the original Jodo-shinshu sect, Nishi Honganji Temple is an outstanding example of Buddhist architecture. Highlights include the Hondo, or Main Hall. Rebuilt in 1760, notable features of this fine structure include a number of rooms decorated with paintings on gold backgrounds, and numerous important statues, some dating from the 6th century.
Also of interest is the Founder's Hall (Daishi-do). Here, you'll find the much-revered statue of Shinran, carved in 1244 and later covered with a coat of lacquer mingled with his ashes.
Another notable building is the Daishoin, or Treasury, with various rooms named after the exquisite wall and ceiling paintings with which they're decorated. These include the Sparrow Room (Suzume-no-ma), the Room of the Wild Geese (Gan-no-ma), and the Chrysanthemum Room (Kiku-no-ma) with its fine 17th-century paintings of flowers in gold and white by Kaiho Yusetsu.
Also of interest is the Higashi-Honganji Temple of the Jodo-shinshu sect. Founded in 1602, it's home to a number of examples of fine artwork.
Only a few parts of these temples are open to the public, so be sure to make arrangements through the temple's website in advance of your visit to include other areas not normally accessible.
Address: Shimogyo Ward, Kyoto, Kyoto Prefecture 600-8501
Official site: www.hongwanji.kyoto/en/
8. The Kyoto National Museum and Municipal Museum of Art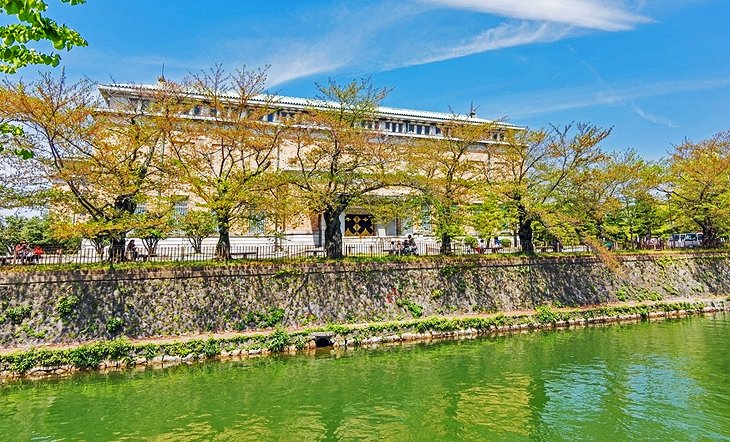 In addition to its many fine old temples with their important artworks, Kyoto also boasts a number of impressive collections in its world-class museums and galleries. Perhaps the best known is the National Museum, an art gallery established in 1897 that is widely considered the most important such museum in Japan.
Focusing predominantly on pre-modern Asian art, particularly examples from Japan, the museum has been completely renovated and includes a new wing designed by architect Yoshio Taniguchi. Highlights of a visit include seeing numerous examples of historic art and applied arts, along with regular exhibitions (be prepared for plenty of walking).
Also worth seeing is Kyoto Municipal Museum of Art. Opened in 1928, this fine gallery features important works by Takeuchi Seihō, one of Japan's leading artists of the 20th century.
Address: 527 Chayacho, Kyoto, Kyoto Prefecture 605-0931
Official site: www.kyohaku.go.jp/eng/index.html
9. Gion's Geishas and Temples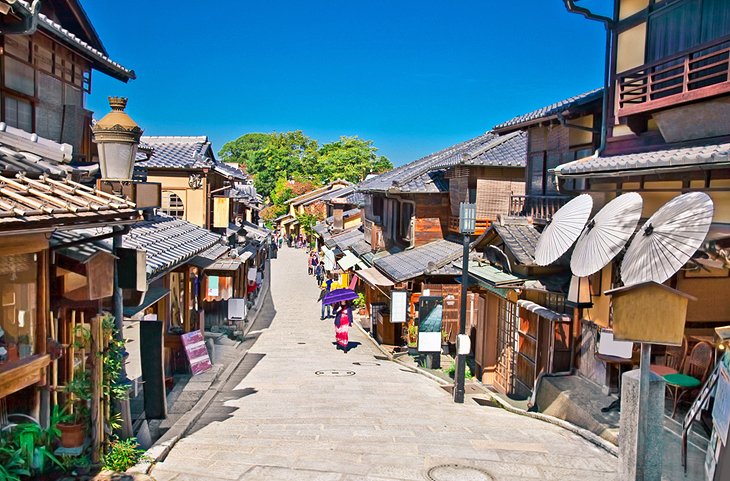 Famous as an entertainment and geisha district, Gion is an area of Kyoto that is well suited to explore on foot. Located on the eastern bank of the Kamogawa River, Gion is an eclectic mix of modern architecture and historical beauty that provides a unique taste of numerous Japanese traditions, from the elaborately dressed geishas to well-preserved 17th-century restaurants and teahouses offering a glimpse of old Japan.
Centered on an area encompassing Hanami-Koji Street, Shijo-dori Street, and the waterside promenades of Shirakawa Minami-dori Street, Gion is also famous for its many fine temples. The best-known of these are the 15th-century Silver Pavilion (Ginkakuji) and the Chion-in Temple.
Chion-in is one of Japan's most famous temples, notable for its 24-meter-high, two-story tower (Sammon-san), which houses the country's largest bell. Weighing 71 tons, it was cast in 1633, and is rung only during festivals in mid-April. Gion is a wonderful (and safe) place to enjoy a walking tour at night, too.
Address: Nishi Ten-o-cho, Okazaki, Sakyo-ku, Kyoto, Kansai 606-8341
10. Katsura Imperial Villa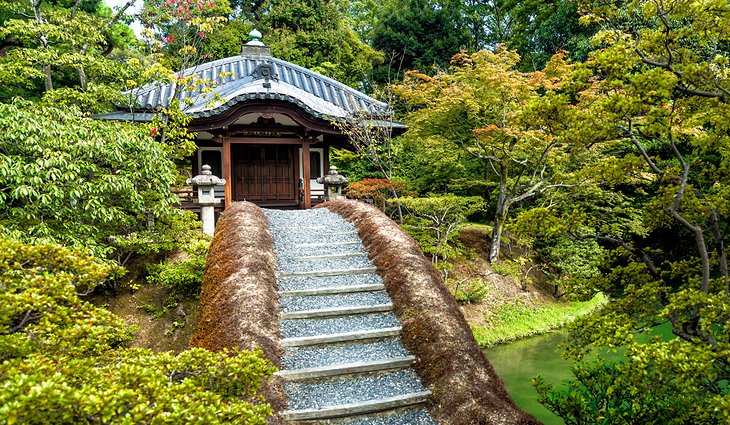 Originally constructed in 1624 for Prince Hachijo Toshihito, brother of Emperor Goyozei, Katsura Imperial Villa is home to splendid historic architecture and one of Japan's most famous historic gardens.
Designed by Kobori Enshu with assistance by the prince, this beautiful garden is laid out in such a way that the visitor always sees things from the front – smaller gardens are grouped around a large pool with the summits of Mounts Arashiyama and Kameyama in the background.
Highlights include the Miyuki-mon Gates and the many garden paths, some made from river pebbles and others of rectangular cobbles, edged by mosses and bushes. These lead through more gates into the inner garden with a group of buildings known as the Goten at its center.
A particular highlight here is the veranda of Furu-shoin, specially designed to permit observation of the moon, and the three rooms of the Naka-shoin with its many fine paintings by Japan's leading artists. If time allows, be sure to stop and enjoy a meal or light refreshments in one of the many on-site teahouses.
Address: Katsuramisono, Kyoto, Kyoto Prefecture 615-8014
Official site: https://sankan.kunaicho.go.jp/english/guide/katsura.html
11. Daitoku-ji Temple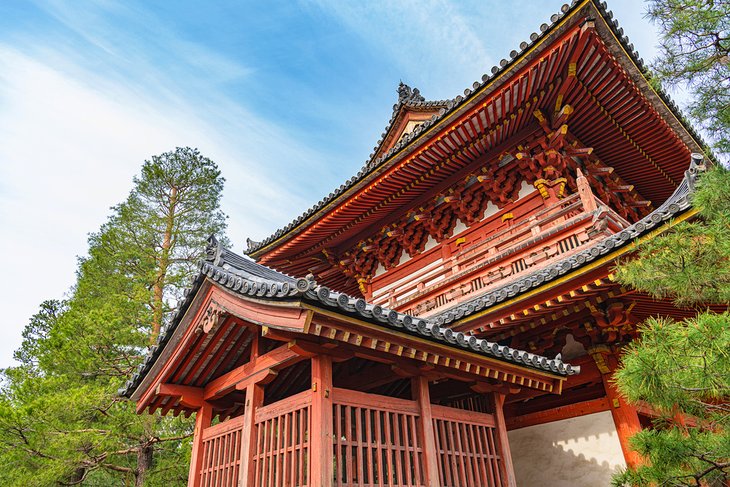 The Daitoku-ji Temple – the Zen Temple of Great Virtue – is one of the principal temples of the Rinzai sect and was founded in 1324. The present structures date from the 16th and 17th centuries.
Of the 22 buildings on-site, seven are open to the public. These include the Kara-mon, a Chinese-style gate with magnificent carvings, and the two-story main gate, Sammon, built in 1589 and notable for its many fine ceiling paintings and statues. The Main Hall, the Butsuden (or Daiyu-den), was built in 1664 and contains a statue of Shakyamuni with his disciples Anna and Kayo and a figure of Daito-kokushi, first Abbot of the temple.
Beyond the Main Hall is the Lecture Hall, or Hatto, based on Chinese models, and the Hojo, or Abbot's Lodging, with its paintings, wooden tablet, and adjoining garden.
Other highlights include the old Abbot's Lodging (Shinju-an) with its statues and tombs dating from the 14th century, and a lovely Zen garden.
Address: 3 Murasakino Daitokujicho, Kyoto, Kyoto Prefecture 603-8231
12. The Byōdō-in Temple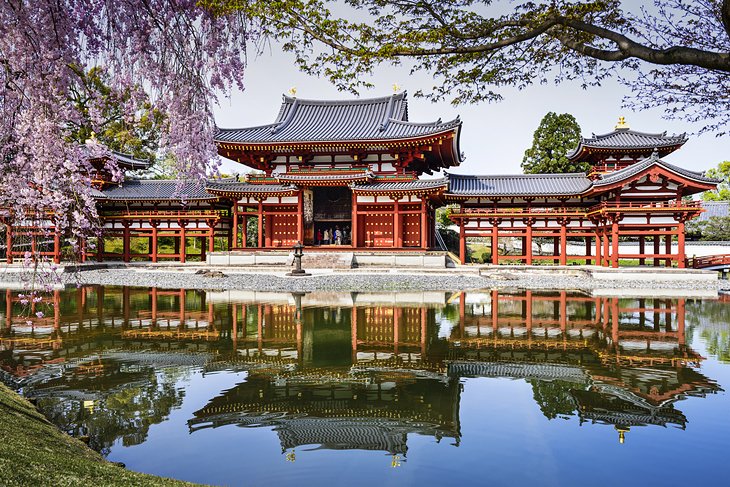 The Byōdō-in Temple, established in AD 988, boasts many unique buildings, shrines, and artworks and is worthy of a visit. Highlights include the Phoenix Hall (Hoo-do), with its bronze phoenixes on its two gables and rich interior décor. This attractive hall also features 11th-century paintings, including an imposing gilded figure of Amida, and an altar and ceiling inlaid with bronze and mother-of-pearl.
Adjoining is the Kannon-do, a hall directly above the river and known as the Tsuridono, or Fishing Hall. Be sure to spend time visiting the temple gardens with their many fine ponds, as well as the Byōdō-in Museum with its treasures relating to the temple site, including its 52 wooden Buddha statues, carved phoenixes, and the original temple bell.
Also worth a visit is the Zen Tenryu-ji Temple. From here, you can access the wonderful Arashiyama Bamboo Grove, an area full of tall bamboo that is simply breathtaking.
Address: Renge-116 Uji, Kyoto Prefecture 611-0021
Official site: www.byodoin.or.jp/en/
Where to Stay in Kyoto for Sightseeing
The best place to stay in Kyoto is downtown, preferably in or near the Gion or Kawaramachi-Dori districts. These areas are central to many of the main attractions, as well as restaurants, shops, and entertainment venues. Below are some highly-rated hotels near these areas:
Luxury Hotels: The Ritz

Carlton

is on the banks of the Kamogawa River and offers unsurpassed luxury and service, four restaurants, and a well-regarded spa.

The Hotel Kanra

Kyoto

is a short walk from the main train station and has large, modern rooms with beautiful cedar wood bathtubs.

In the heart of the Gion area, the

Maifukan

offers well-appointed rooms with mini fridges. This hotel also has a rooftop garden terrace.
Mid-Range Hotels: Close to the main train station is the

Ohanabo

. This is a small, cozy hotel in a quiet area, with comfortable rooms and a popular restaurant.

The contemporary Hotel

Anteroom

is perfect for those looking for something different. This hotel features an art gallery and unique rooms that are tastefully compact but highly functional, including some with terraces.

The Citadines

Karasuma-Gojo

is a good option for longer stays, with large rooms that include kitchens and sitting areas.
Budget Hotels: The ibis Styles Kyoto

Station

hotel is in an excellent central location and offers efficient rooms and a complimentary breakfast.

In the heart of the Kawaramachi-Dori shopping district and also serving a free breakfast is the Super

Hotel

, with modern and cozy rooms.

For a more traditional Japanese experience, the Ryokan

Shimizu

features rooms that come with futons and tatami mats, and an onsen (hot spring) is on the premises.
Tips and Tours: How to Make the Most of Your Visit to Kyoto
More Related Articles on PlanetWare.com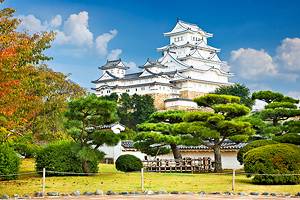 Places to Visit near Kyoto: Osaka is an easy day trip from Kyoto, and the city is less than 90 minutes away by high-speed train. Once there, you'll enjoy historic points of interest such as Osaka Castle and Shitennō-ji Temple, and more modern attractions including the Osaka Aquarium Kaiyukan and the huge Tempozan Ferris Wheel. For those wanting to see a few off-the-beaten-trail destinations, consider taking a day trip. Popular options include the historic temples of Nara and the busy port of Nagoya, each an easy rail journey away.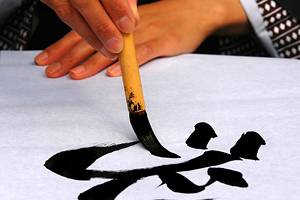 Explore Japan's Rich History: Chances are if you like Kyoto, you're also going to like the city of Fukuoka. This fascinating city is famous for its huge 17th-century castle, the splendid Sumiyoshi-jinja Shrine, as well as modern attractions like the beautifully designed Kyūshū National Museum. Nagoya is also worth visiting for its history. An easy train ride away, the city boasts numerous lovely shrines and temples, and its own well-preserved historic castle.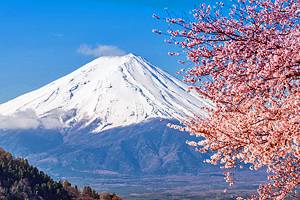 Japan Vacation Ideas: Japan, of course, offers no end of great vacation choices. A few favorites include exploring the sites of Tokyo, with its endless shopping, dining, and entertainment options; magnificent Mount Fuji, perhaps the country's most recognizable natural feature; and the beautiful island of Hokkaido, where you'll have the chance to explore the country's most northerly major city, Sapporo.