16 Top-Rated Beaches in Maui
Author Meagan Drillinger spent time exploring the beaches of Maui in January of 2023.
Few places in the world have a surplus of picture-perfect beaches quite like Maui. In fact, Maui has some of the highest concentration of spectacular beaches in the country, if not the world. With 130 miles of coastline, 30 miles of which is beach, you can spend weeks on end exploring Maui and still have so much to discover.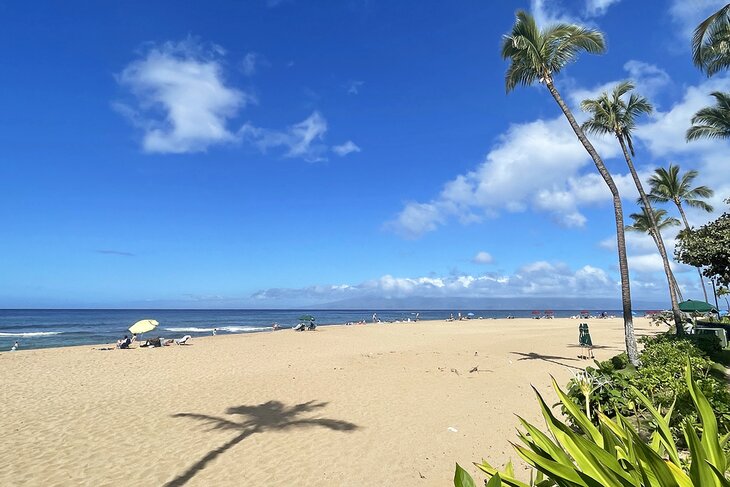 Maui's beaches, much like most beaches in Hawaii, have a variety of different aesthetics. Parts of the island have sparkling white sand beaches and turquoise water, while other beaches are made of volcanic black sand and shrouded in thick, lush jungle. On Maui in particular some beaches are actually rust and burnt orange.
Whether you're interested in soaking up the sun, laid-back snorkeling, or tearing it up testing your skills surfing the waves, Maui has a beautiful beach to match. Figure out where you want to go with our list of the best beaches in Maui.
1. Napili Bay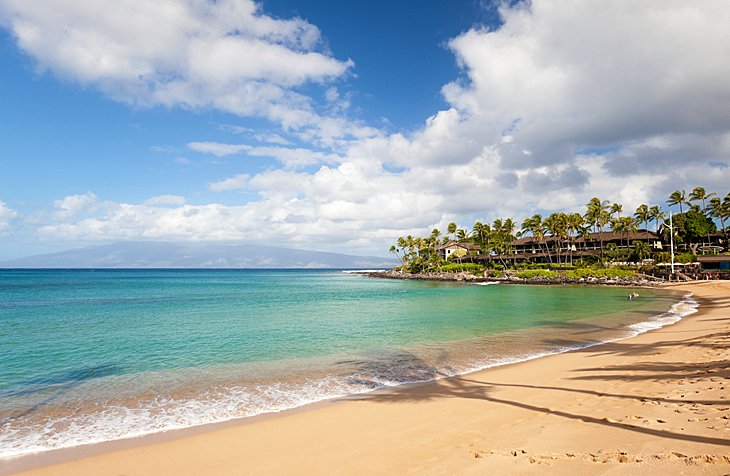 The postcard-like setting of Napili Bay, near Lahaina on the west side of Maui, is the quintessential tropical beach. There's a wide, curving beach around a bay with turquoise and deep blue water.
The beach here is slanted towards the water but gets flatter as you get farther from the ocean. There's a line of palm trees and the lush mountains beyond. Along the soft sand beachfront are a few luxury resorts and condo buildings.
The Napili Kai Beach Resort takes up a large portion of the vast beach and does well at providing a fully self-contained vacation without a need to leave the property. The studio (one to two people) or one-bedroom (three to four people) condo units are in a resort setting with several dining options on-site. The units have their own kitchenettes.
2. Hana Bay Beach Park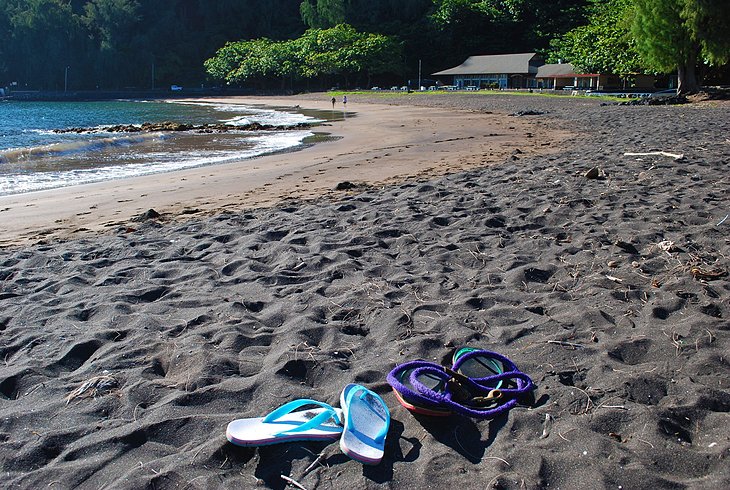 This natural, unguarded (no lifeguards) beach offers plenty of scenic beauty and usually a good taste of Hawaiian culture. The ocean area off the beach is where many local groups practice their outrigger canoe skills, and several times a year there are big canoe regattas.
The beach at Hana Bay Beach Park is wide in spots, with some good shade from the trees. The sand is very dark and fine-grained, with an area considered one of Hawaii's black-sand beaches. Picnic facilities with BBQ grills, showers, restrooms, and a tiny snack bar are also here.
Any visit to the area should include a drive along the twisting 50 miles of the Hana Highway, aka the Road to Hana, which offers some great views. Avoid it during busy weekends and holidays, as it's only two lanes, and traffic can be bad.
3. Makena Beach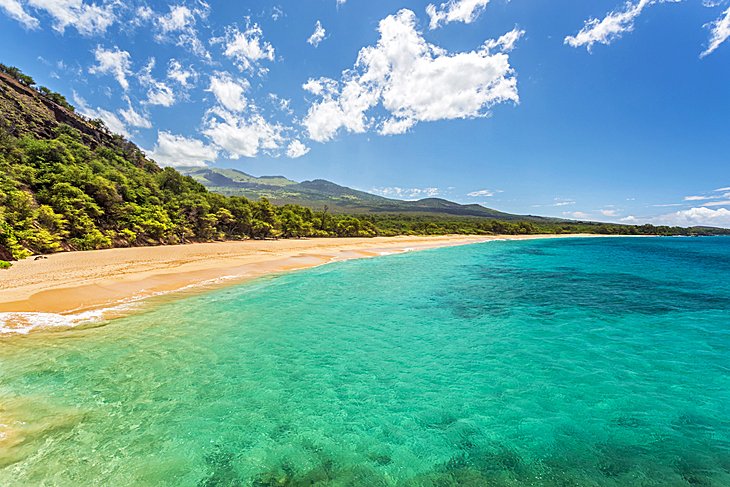 Along Maui's southeastern coast, past Wailea, is a wild and rugged slice of the island. Here is where you'll find sprawling volcanic lava fields at the base of Haleakala. You'll also find one of the most beautiful beaches in Maui — Makena Beach.
Makena Beach also goes by "Big Beach," and it's easy to see why. It is one of Maui's biggest and most popular stretches of coast to soak up the sun. Keep in mind that the currents are strong here, so swimming is only recommended for experienced swimmers.
That said, the beach is always humming with people who come to sprawl out on the soft sand, which stretches for nearly two miles. The beautiful turquoise water fades into a bright aqua-green. It's truly an idyllic tropical beach.
Makena Beach is south of Wailea (about an hour from Lahaina), and there are good facilities available, including restrooms, showers, and picnic areas. Food trucks are also on hand to satisfy your appetite.
4. Charley Young Beach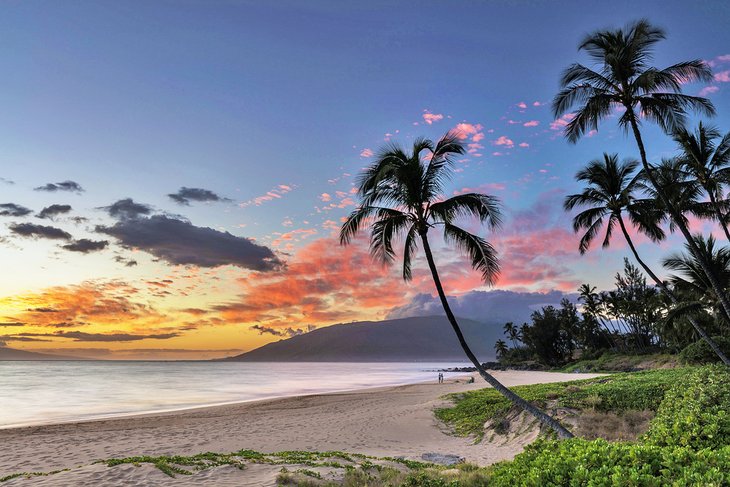 Located at the north end of Kamaole I Beach in Kihei, Charley Young Beach is a raw section of beach dotted with some striking rock and vertical lava structures at its edges. This is a beach popular with photographers, both for its natural subjects and for portraits using the rocks as a background.
The beach is wide, gently sloping into the sea with dark golden, soft sand. If you visit during low tide, there are a lot of tide pools to explore, which is a great activity to do with kids. The beach is long, about 600 yards (549 meters), so it's a great place for running or beach walks.
5. Mokapu Beach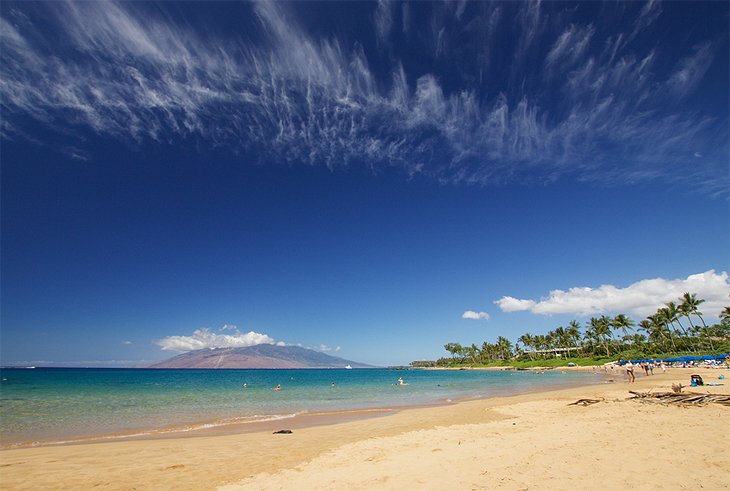 Usually mentioned along with its next-door neighbor, Ulua Beach, this area in Wailea is considered the best place to visit in Maui for diving (and snorkeling).
Ulua Beach especially sees many instructors and dive groups, so it can be crowded on weekends and holidays. Mokapu Beach is less crowded and perfect for enjoying the warm sun and clear, calm water.
Mokapu is a beautiful, wide, curving beach with warm, light-blue water. It's a beach park, so there are lifeguards and basic facilities. Both beaches have parking lots: park at Keawakapu Beach (the next beach) if they're full.
6. Kapalua Beach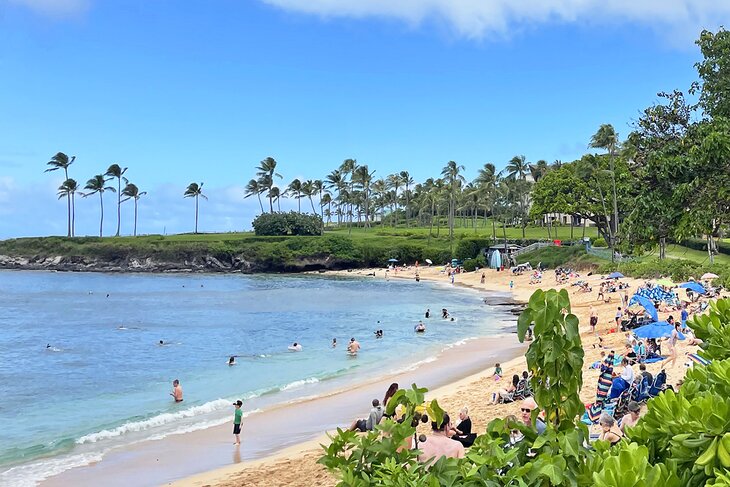 There's a reason Kapalua is constantly ranked as the best beach in Hawaii. It's especially great for families because the water is extremely calm and warm and there are many tide pools to explore.
Beyond the beach, attractions include whale watching off the coast (done mainly in winter). Aside from the beach, there's a good amount of development, with condos and hotels like The Ritz-Carlton, Kapalua on the beach. The shoreline has a row of palm trees and shrubs before becoming a white sandy beach, sloping towards the aqua-colored ocean.
One of the best coastal walks in Maui can be found behind this beach, too. The Kapalua Coastal Trail is a 2.5-mile out-and-back gentle walk that runs along the shoreline. Along the way, you'll get some great ocean views, as well as walk past some of the best resorts and hotels in Maui.
If you're not staying at one of the resorts and simply want to experience the beach, it's best to go as early as possible to secure a parking spot. Parking can get very tricky, especially on weekends or holidays.
7. Kaanapali Beach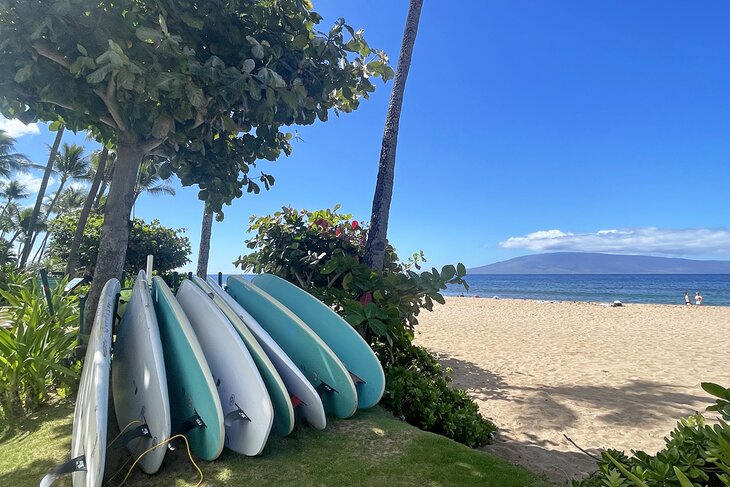 Part of Lahaina, this mega-resort area is in west Maui and originally was a retreat for Hawaiian royalty. The almost two miles of beachfront can be crowded during busy holiday seasons, but it's usually possible to find your own spot.
Lahaina is to Maui what Waikiki is to Oahu, but it does provide an authentic Maui beach experience, even if you never leave your resort. The beach is one of the top attractions on Maui.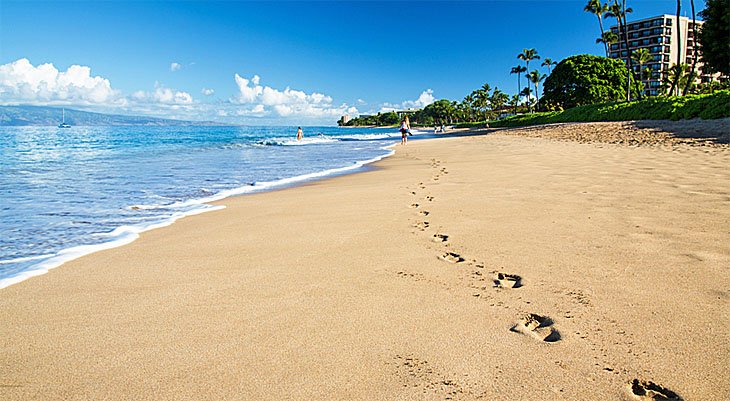 The wide beach area, sometimes a few hundred yards from trees to water at low tide, is bordered by bushes and palm trees. At the north end of the beach there's the iconic Black Rock, the area in front of which is a great spot for snorkeling. It's also where cliff divers impress the tourists each day at sunset.
8. Kahekili Beach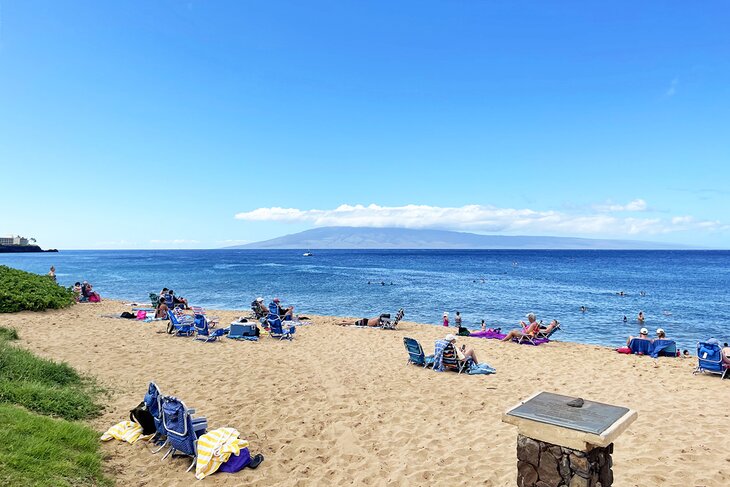 Those in the know often skip Kaanapali Beach and head right next door to the much quieter — but equally beautiful — Kahekili Beach. Cross the lava rock and pass the hotel that separates the two, and you have a much more natural experience.
This is a great beach for diving, but swimmers should take note of the strong current. If you're not a strong swimmer, this may not be the best beach for splashing around in past your ankles. Off the sand, there's a popular picnic area, with many shady trees to set up under.
9. Keawakapu Beach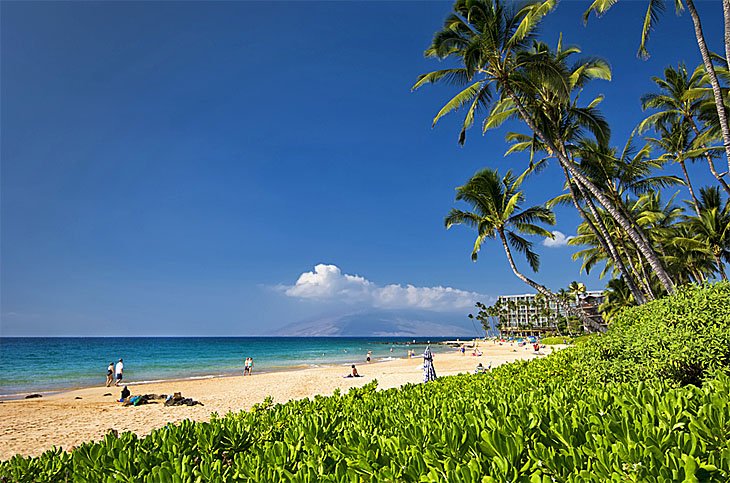 After visiting some of the more popular beaches in Maui, you may want to seek out a more hidden, raw, unspoiled location, and Keawakapu Beach fits the bill.
This beach is halfway between Wailea and Kihei off Kihei Road, and since there aren't too many resorts nearby, it's a bit off the radar. Typically, you'll see more locals than tourists.
The sand here is soft and white, and there's a reef just off the beach that is good for snorkeling. If you're coming by car, there is a public parking lot across from the beach.
10. Waianapanapa Black Sand Beach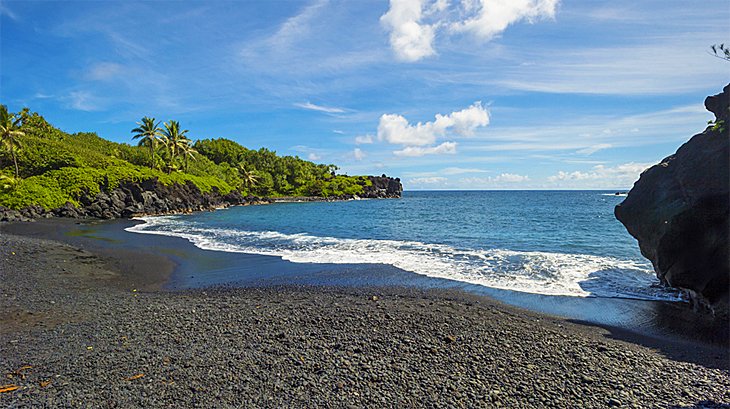 With beautiful black sand, formed from waves crashing on flowing then cooling black lava, Waianapanapa Beach at Waianapanapa State Park is on the famous Hana Highway.
It's a gently curving beach, with rocks at one side and trees at the other. The black sand is coarse, but it's still easy on the feet (except it gets very hot as the day goes on).
The water here is shallow, but you will find strong currents and a dangerous shore break, where waves break on a reef close to the beach. It's not a good place for swimming.
It is an excellent area for sightseeing: the Hana Highway is one of the world's most beautiful roads. The beach is just part of the 122-acre Waianapanapa State Park. The park is filled with forests, volcanic coastal areas, and caves. You can camp or rent bare-bones cabins to stay overnight inside the park.
11. Kaihalulu Red Sand Beach
After enjoying the black-sand beach of Waianapanapa, why not head to Kaihalulu to check out a red-sand beach.
The interesting beach is in a hidden cove, surrounded by cliffs of lava rock, with orangey-red sand. The red comes from the high iron content in the sand, which rusts in the salt air, turning the beach red. The sand here is coarse, so shoes or sandals are recommended.
The Kaihalulu Red Sand Beach is off the Hana Highway and accessed on foot via a steep and sometimes crumbling trail.
12. Hamoa Beach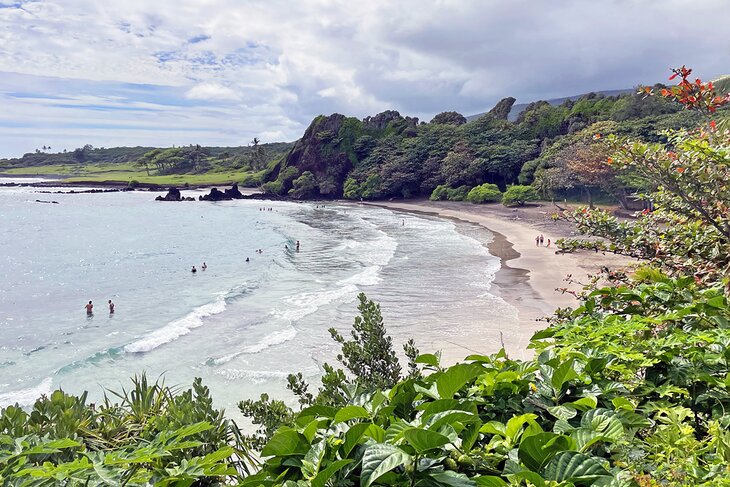 If you're driving the legendary Road to Hana, you'll want to keep going past town to see one of the most beautiful, raw, and unspoiled beaches on Maui — Hamoa Beach. Consistently ranked as one of the best in Hawaii, Hamoa Beach retains a wild and rugged look that can sometimes be hard to find in Maui.
While the beach has no lifeguards, it does have bathrooms and showers, which is nice, particularly if you're going to make the long drive back from Hana. The sand is powdery soft and has that dreamy aesthetic with the turquoise sea and lush, green foliage around it.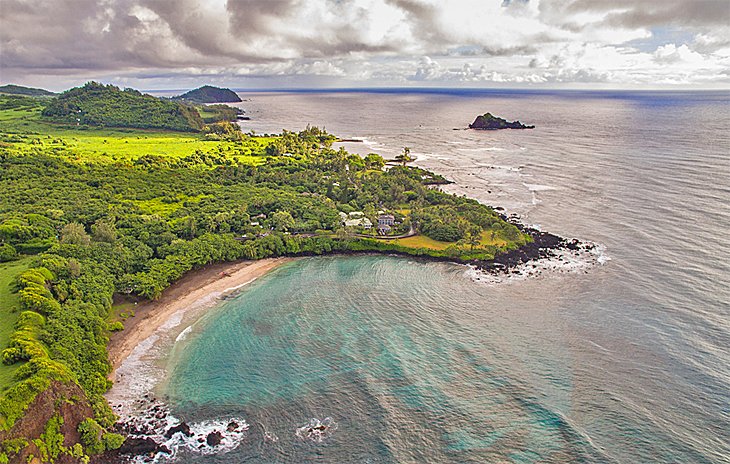 The beach has many shady areas along the tree line. Street parking is available; just be sure to read the posted signs carefully, as they do tow illegally parked cars.
13. Lahaina Baby Beach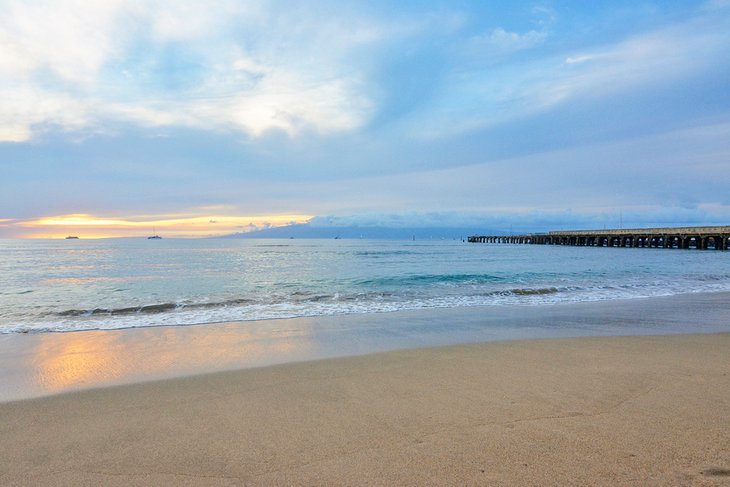 Lahaina Baby Beach is where many families with small children come to enjoy the water. The draw here is the kiddie-pool-calm water, created by an offshore reef. There are no waves and no current, so it's safe to frolic in the surf. The beach is narrow but wide, so it usually does not get very crowded. It does have restrooms and showers, but there are no lifeguards at Baby Beach.
Pu'unoa Beach, as it's formally known, does have some rocks and coral underwater, which can make swimming less than ideal. A bonus is the great views of the neighboring islands you get from the beach.
Baby Beach is very easy to get to, it's in Lahaina off Front Street, at the end of Pu'unoa Place.
14. Koki Beach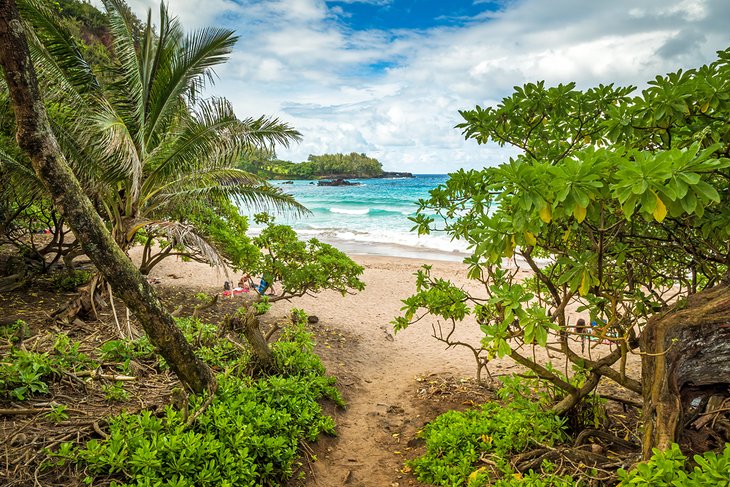 Koki Beach and the surrounding Koki Beach Park are another great stop if you're driving the Road to Hana. The park has several sites that hold incredible significance to the Native Hawaiian people. A visit to Koki Beach gets you a beautiful beach day, as well as a few lessons in Hawaiian culture.
Koki Beach is vastly different depending on the season. In the wintertime, much of the sand is washed away, and the surf is angry and dangerous. In the summer, sand is naturally deposited on the beach, making it a nice place to visit. The water also calms down enough to make it possible to go in and swim.
You just might see an endangered Hawaiian monk seal at Koki Beach. You won't see any services here — there are no facilities and no lifeguards.
The area is extremely culturally important. Now part of a ranch owned by Oprah Winfrey, to the north is Ka Iwi o Pele ("the bones of Pele"), honored as the sacred burial place of Pele. Hawaiian people consider her as the volcano goddess and creator of the Hawaiian Islands.
Just south of Koki Beach are two ancient Hawaiian fishponds. These were used to trap fish and sea life during high tide and are probably 1,000 years old.
15. Ho'okipa Beach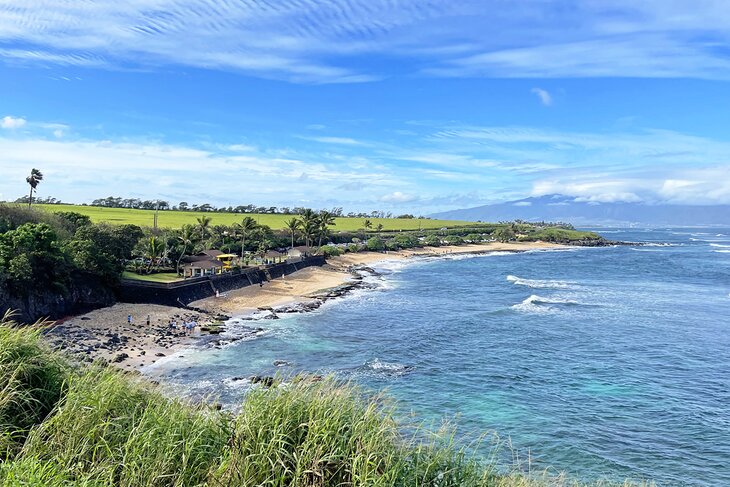 Ho'okipa Beach Park, located just past the town of Paia, is a great spot to kick off your adventure along the Road to Hana. This will be the first beach you encounter if driving from Paia along the Road to Hana. The beach sits at the base of a cliff and is one of the top spots for sea turtles to camp out for some sun.
While the beach is beautiful to look at, with a stunning stretch of sand, be very careful of the surf here. This is one of the top spots for professional surfers thanks to the perfection (and intensity) of the waves. This beach is so popular among surfers because the reef system stretches across the entire bay and causes some really perfect waves.
Still, even if you're not getting in the water, it's a great beach for watching the action and possibly seeing a sea turtle or two.
16. Wailea Beach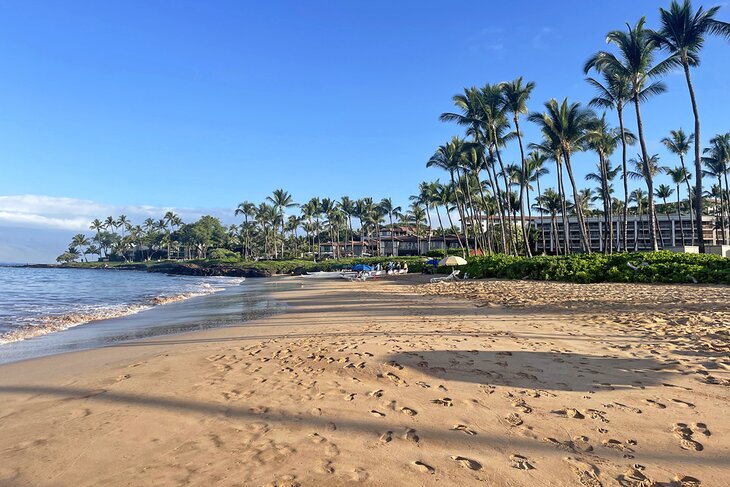 The Wailea community of Maui is one of the most upscale areas on the island, known for its luxury hotels, golf courses, and five beautiful beaches. Wailea Beach is one of the most perfect beaches on the island and is the area's signature beach.
Frequented mostly by resort guests, the beach is a broad stretch of golden, soft sand featuring spectacular views of Molokini and Kaho'olawe islands.
The water is frequently calm here, making it one of the best spots for snorkeling.
It's also a great beach to head out on in a traditional outrigger canoe. Tour guides will take travelers out early in the morning, just after sunrise, for the opportunity to view the many whales that come to this part of Maui to give birth during the winter months. The whales are so abundant here that you are almost guaranteed to see them between November and May.
Map of Beaches in Maui
Frequently Asked Questions
Can I picnic on the beach?
Many beaches have separate picnic areas, some with picnic tables, BBQ grills, and even electric outlets. You can also picnic on the sand. Keep in mind, Maui beaches are tobacco-free, and alcohol consumption is prohibited. Fires are not permitted on the beach.
Are there private beaches on Maui?
In Hawaii, all beaches are public. However, the public beach area can stop at the high-tide, high-water line. Land and sand beyond that line can be privately owned, and public access can be restricted.