Hawaii in Pictures: 15 Beautiful Places to Photograph
The incredible landscapes and rich biodiversity of the Hawaiian Islands make them one of the word's best destinations for photography. There's an incredible range of environments to capture, from barren, Mars-like volcanic landscapes to idyllic beaches and even tropical rainforests.
The islands' relatively compact size also means many different sites can be visited in a single day, and several islands can be visited on a single vacation. Here's a look at the most beautiful places to photograph around the Hawaiian islands.
Note: Some businesses may be temporarily closed due to recent global health and safety issues.
1. Hanauma Bay, Oahu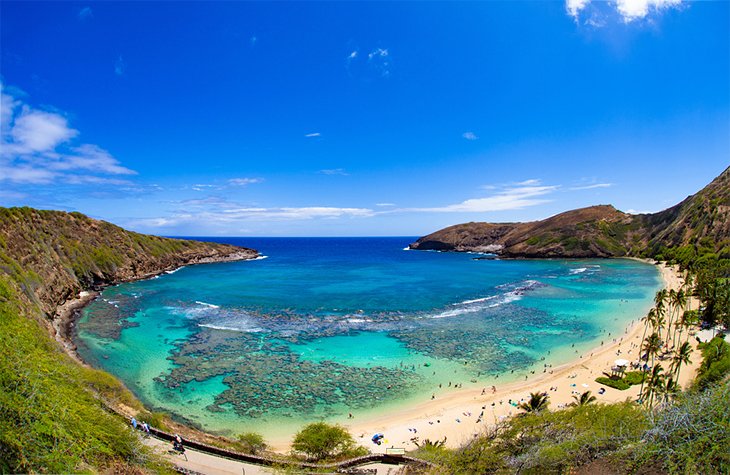 This aquatic park is a protected marine sanctuary, located close to Honolulu. It's like swimming in a giant aquarium as you're surrounded by sea life as you snorkel around. Hanauma Bay is a great location for underwater photography.
The curving crescent of beach is also beautiful, and from the highway, you can get some great shots of the overall circular location, as it's the top of an extinct volcano.
Accommodation: Top-Rated Resorts on Oahu
2. Diamond Head, Oahu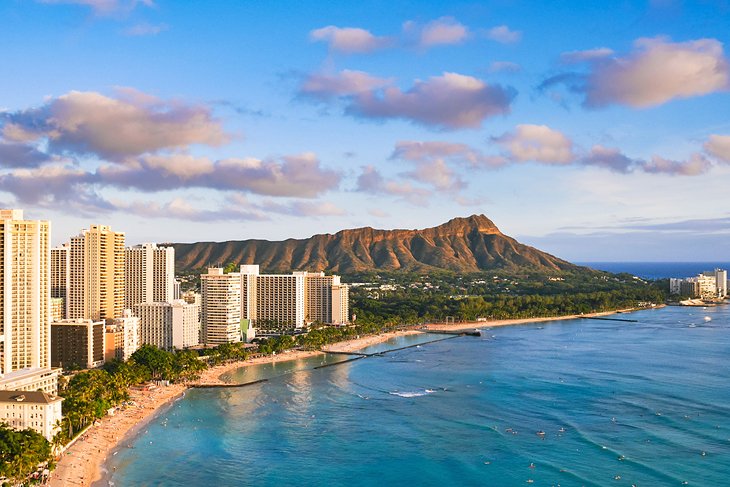 This mountain at the end of Waikiki Beach offers a wide range of photo opportunities, all from a site only minutes away from the attractions of Waikiki. Diamond Head also offers great photos whether you're shooting it or shooting from it. The best photos can be obtained by hiking to the top in the very early morning, then taking pics of the beach and coastline below you.
Accommodation: Top-Rated Resorts in Honolulu and Waikiki
3. Hawaii Volcanoes National Park, Hawaii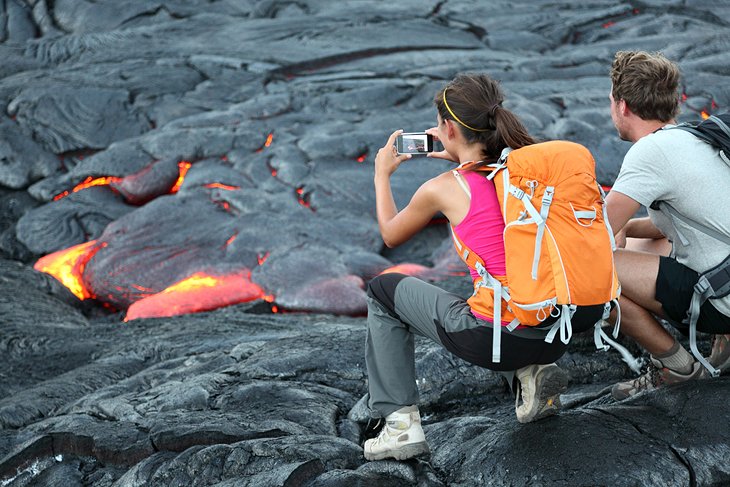 This huge space offers a wide range of landscapes and environments to photograph. The park has it all: mountains, valleys, jungles, two active volcanoes (Kilauea and Mauna Loa), and barren rocky areas that look like another planet. It's possible to hike for hours, or you can easily see many photogenic and volcanic areas from your car with a drive along Crater Rim Drive or Chain of Craters Road.
Accommodation: Top-Rated Resorts on the Big Island of Hawaii
4. Punalu'u Beach, Hawaii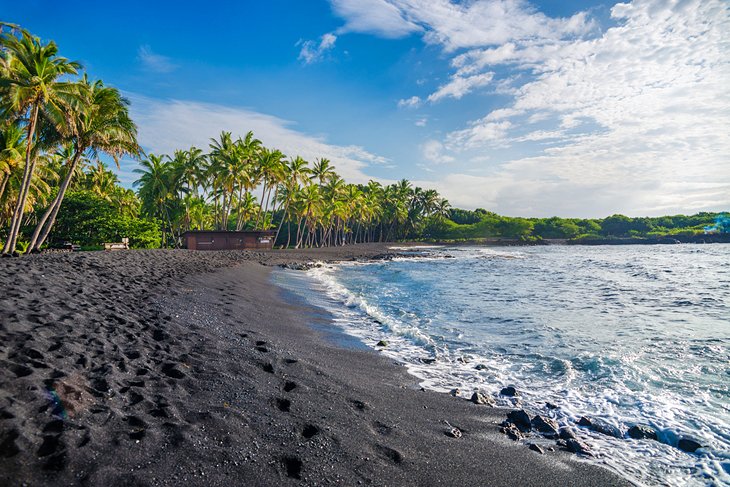 Hawaii's most famous black-sand beach is a great place for photos. It's off the road between Pahala and Na'alehu. The black sand is actually pulverized basalt lava, which flows into the sea and explodes as it cools, creating the sand that forms the beach.
5. Pearl Harbor National Memorial, Oahu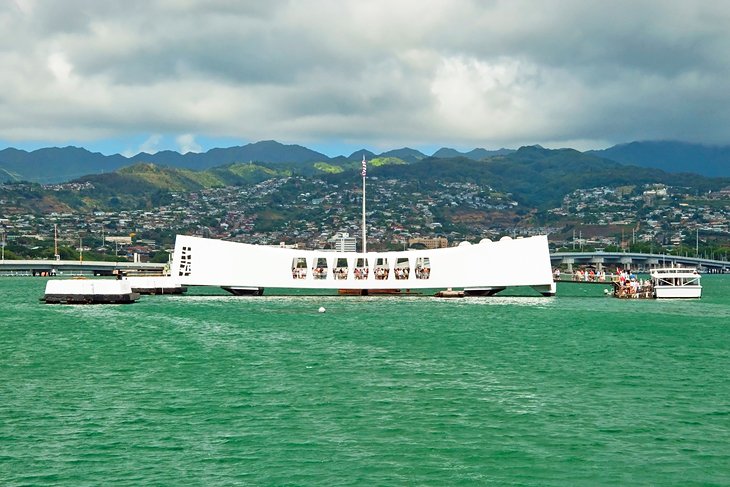 This hallowed site in the harbor of the naval station is focused around a shrine built over the sunken wreckage of two American battleships. The memorial also includes a museum building onshore, in addition to the over-the-water memorial. The stark white memorial building sitting on the blue water can make for some moving photographs.
6. Honolulu's Chinatown, Oahu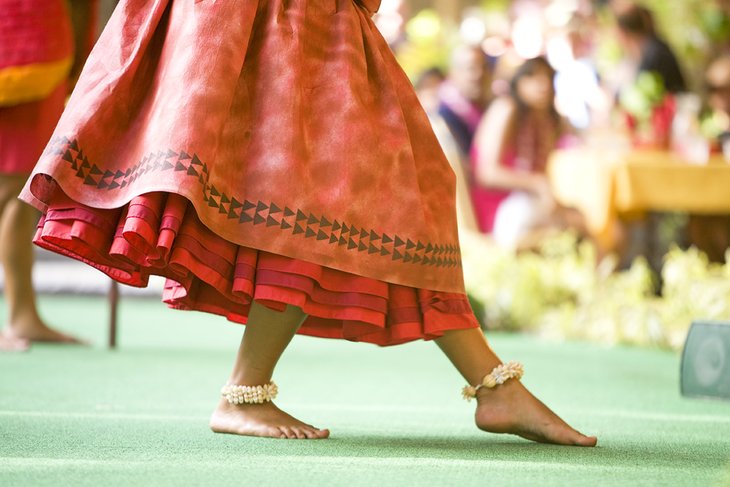 This newly revitalized area combines hip new restaurants and lofts with traditional Asian markets and stores. There's a great outdoor food market with lots of meat and cool things to photograph and a wet market filled with fish and seafood. The Chinatown area is filled with some well-preserved and restored Art Deco and Streamline Moderne architecture as well.
7. The Road to Hana, Maui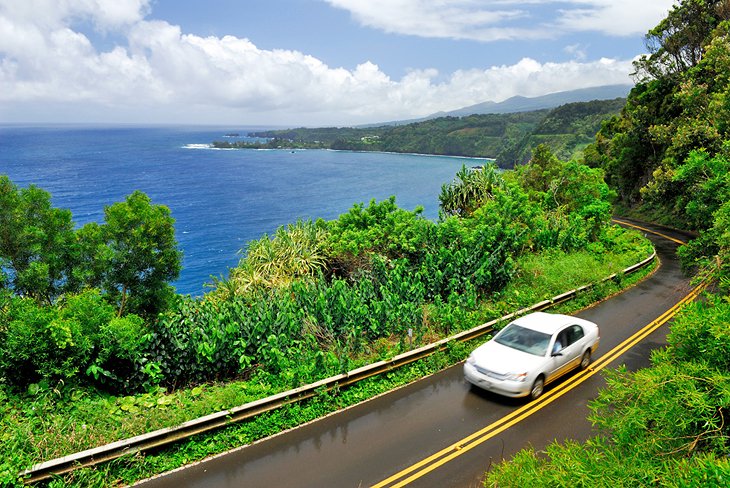 Probably Hawaii's most famous road, this incredible 64-mile stretch of mainly two-lane highway connects the towns of Kahului and Hana. Along the way there are forests, mountains, and waterfalls along with deserted beaches and tiny beach towns.
Accommodation: Top-Rated Resorts on Maui
8. Koki Beach, Maui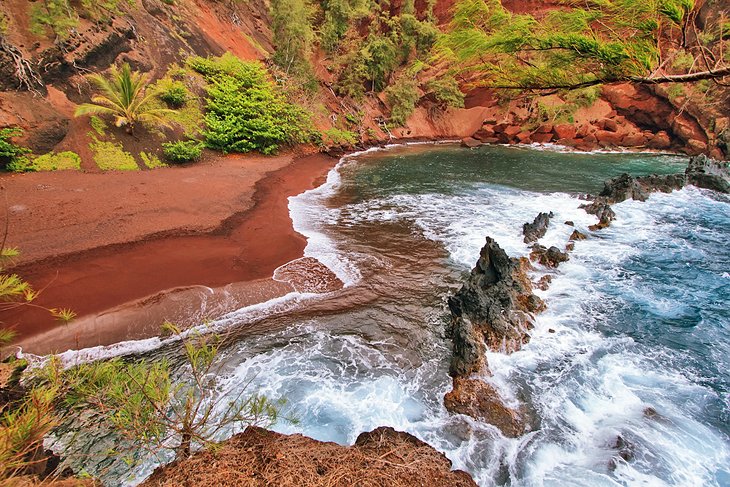 To complete your Hawaii beach color palette, visit this red-sand beach on Maui. It's a serious surf break and where many locals teach their kids. The rich red color of the sand is due to the local geology and volcanic activity. It's easily accessible and just off the Road to Hana.
Accommodation: Top-Rated Hotels in Maui
9. Shipwreck Beach, Lanai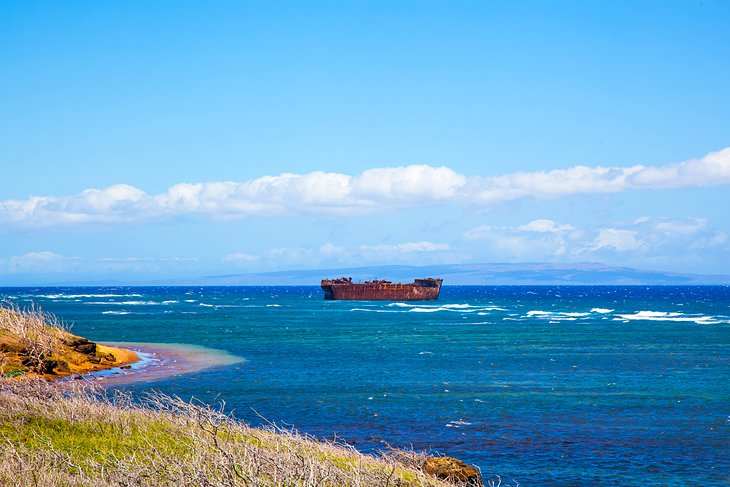 This remote beach, only accessible on foot or by jeep, has a huge WWII tanker wreck sitting just offshore. The wreck offers some really cool photos. You can also see the islands of Molokai and Maui from the beach. The ship was left here intentionally – it's an artificial reef and is made from concrete, not metal.
10. Garden of the Gods, Lanai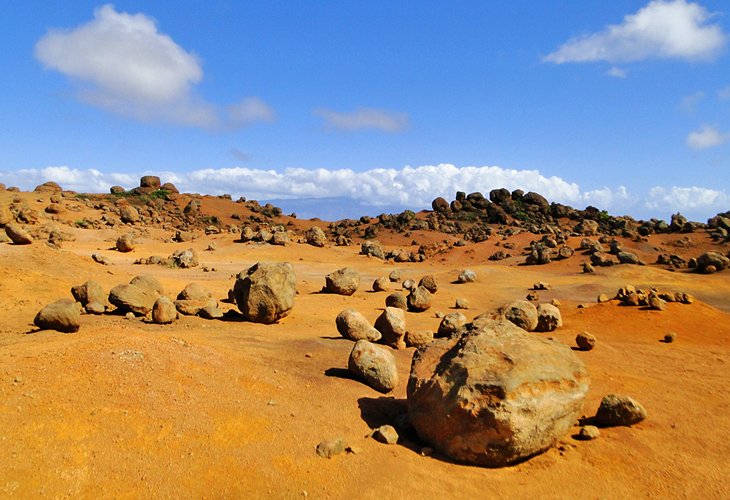 Hawaii is filled with otherworldly landscapes that could easily be mistaken for Mars or the Moon. The Garden of the Gods (Keahiakawelo in Hawaiian) is one of those places. It's great for photography and is about 45 minutes from Lanai City. The Garden of the Gods is a strange landscape populated with large boulders and rock towers.
11. Laniakea Beach, Oahu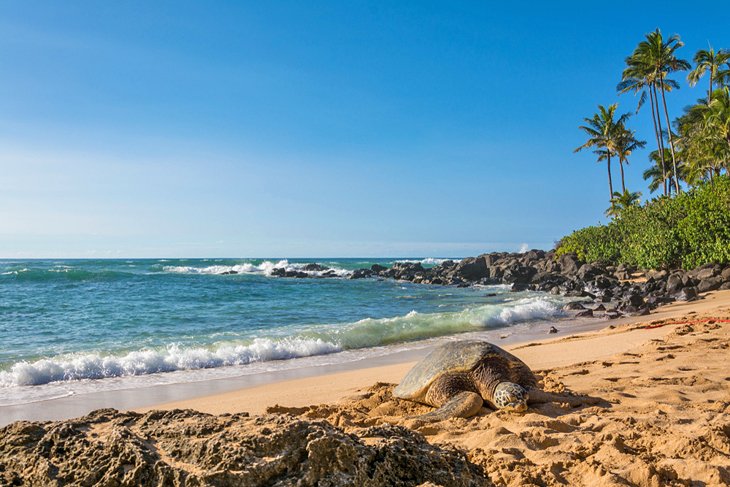 Known as "turtle beach," this North Shore beach is the place to spot sea turtles. They lay eggs and sun themselves on the beach, and volunteers rope off the areas where the turtles are located. You can get some great wildlife pics here. When you're done taking turtle pics, the beach is part of a seven-mile stretch of some of the world's best surfing beaches.
12. Haleakala National Park, Maui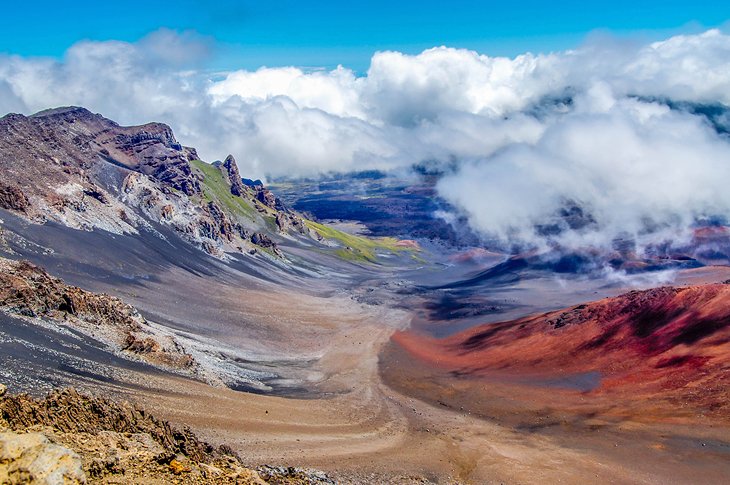 This large national park is an excellent place for wildlife photography. The park is home to more endangered species than any other national park in the country. You can photograph a subtropical rainforest or barren volcanic landscapes, all within the park. Daily ranger talks are given each morning at the visitor center (10am); they're a great way to discover the best photo ops.
Accommodation: Top-Rated Family Resorts in Maui
13. Wailua Falls, Kauai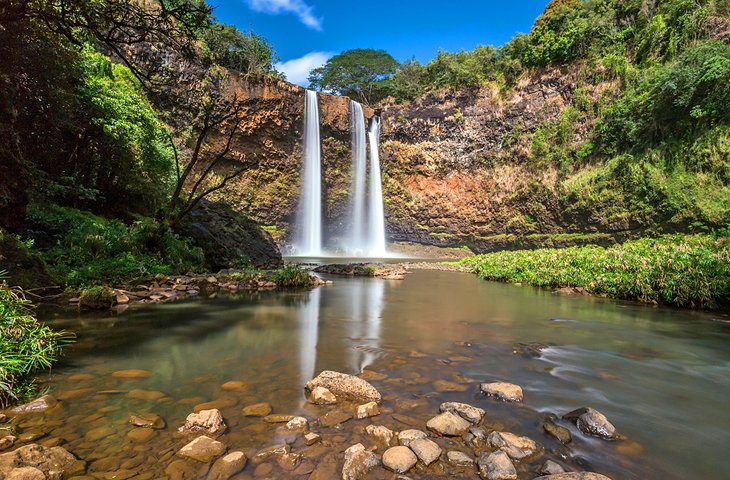 This nearly 200-feet-tall waterfall may still best be known for its appearance in the opening sequence of the iconic 1970s TV series Fantasy Island. It's on the island of Kauai near the town of Lihue. While you're here, drive a bit down Route 580 to view Opaeka'a Falls, a 150-foot-tall double waterfall, which is less well-known (and less visited) than Wailua.
Accommodation: Best Hotels in Kauai
14. Kapuaiwa Coconut Grove, Molokai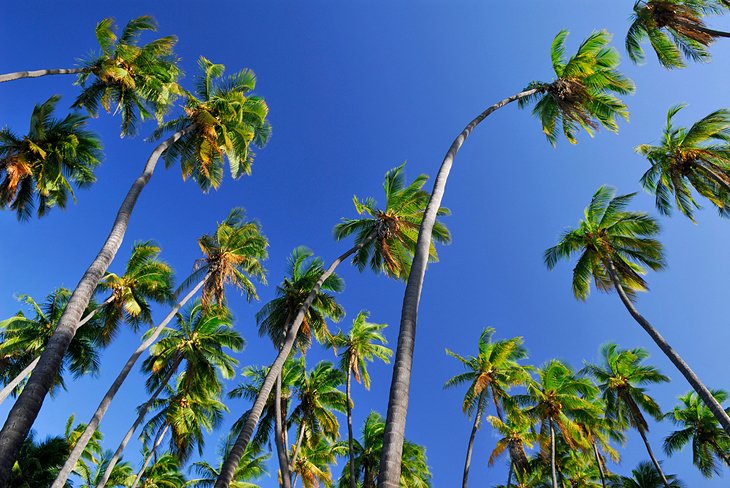 This former royal coconut grove is right off the Mauna Loa Highway on the island of Molokai. The best time to visit is sunset, when the dense grove of tall trees stands out against the pinks and purples of the sunset sky. This really was a royal grove, it was planted in the mid-19th century for the king to provide a source of coconuts.
15. Waimea Canyon, Kauai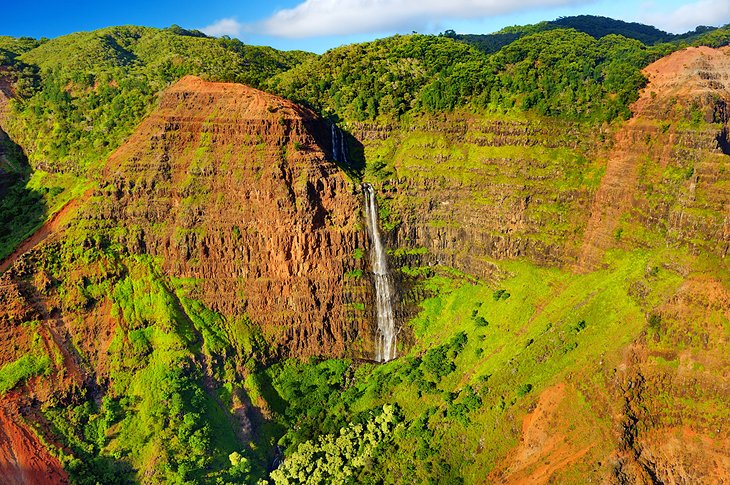 Known as the Grand Canyon of Hawaii, this large gorge is a great place to take photos. The colors are incredible – deep reds and browns due to the ground's high iron content. Most of the viewpoints along the rim face to the east, so late afternoon gives the best lighting.
Accommodation: Best Hotels in Kauai