15 Top-Rated Tourist Attractions & Things to Do in Waikiki
We may earn a commission from affiliate links ()
Waikiki enjoys a reputation for being the world's most famous beach resort, blessed with South Sea magic. This small, flat area of Honolulu is where the majority of visitors to Hawaii spend their holidays.
Waikiki is the heart of Honolulu, if not all the Hawaiian islands. Located in this small area is the state's largest choice of hotels. They can be found either on the beach or in the Kalakaua Avenue vicinity, which runs parallel to the beach and is loaded with restaurants, shopping, entertainment, and other things to do. The beach has been a favorite bathing place for Hawaiians long before tourists began to flock to the area, and Waikiki beach was once used to receive royal guests.
Find the best things to see and do in the area with our list of the top attractions in Waikiki.
See also: Where to Stay in Waikiki
1. Visit Waikiki Beaches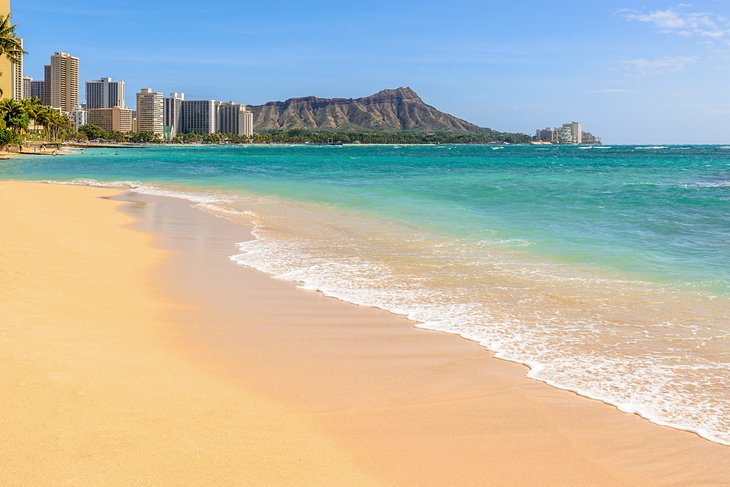 The main attraction of Waikiki, by far, is the two-mile sand strip along the oceanfront. Waikiki has a series of beaches, almost all of which are ideal for swimming and water sports, including snorkeling, boogie-boarding, canoeing, and, of course, surfing.
The beaches begin in the west with Duke Kahanamoku Beach, named after the famous Olympic swimmer, sitting immediately in front of the Hilton Hawaiian Village. The stretch of sand extends to the east to Sans Souci Beach at Diamond Head. Beaches overlap one another so smoothly that tourists find them indistinguishable.
Just past Kahanamoku Beach is Fort DeRussy Beach Park, a lovely spot that offers a grassy area for picnics and recreation. This is followed by the small Gray's Beach and then the Royal Hawaiian Beach, which is without a doubt the most famous and crowded part of Waikiki. Beachgoers will find most of the area's amenities centered around this area, including catamaran rentals, outrigger canoes, and surfing lessons, as well as several beach shacks.
Next comes Kuhio Beach Park, also known as Prince Kuhio Beach or "The Ponds," a nickname that was the result of cement wall enclosures. These have created calm swimming areas that are ideal for younger swimmers. Beyond this is Kapiolani Beach Park and Sans Souci Beach.
Additional beaches, located outside of Waikiki proper, include the small Kaluahole Beach; Diamond Head Beach Park; Kuilei Cliffs Beach Park, made somewhat dangerous because of high waves; Kaalawai; Kahala Beach, where The Kahala Hotel & Resort is located; and Wailupe Beach Park, on the western side of the artificial peninsula of the same name.
2. Diamond Head Crater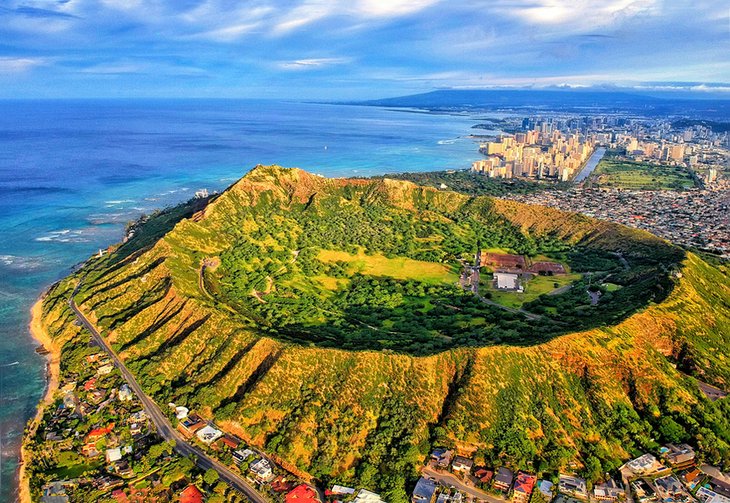 Diamond Head Crater, known in Hawaiian as Le'ahi, is the extinct volcano on the east end of Waikiki and is a symbol of the city. What you see from the beach is only a profile; the best place to visit for viewing the crater is at Diamond Head State Monument, where the crater itself can be visited.
A historic hiking trail leads up from the floor of the crater to the summit, following a rather steep path, which eventually turns into stairs and leads to a viewpoint overlooking Waikiki. The road to Diamond Head Crater drives up the eastern side of the rock and then passes through a tunnel cut to connect the inner and outer sides of the rim.
3. Atlantis Submarines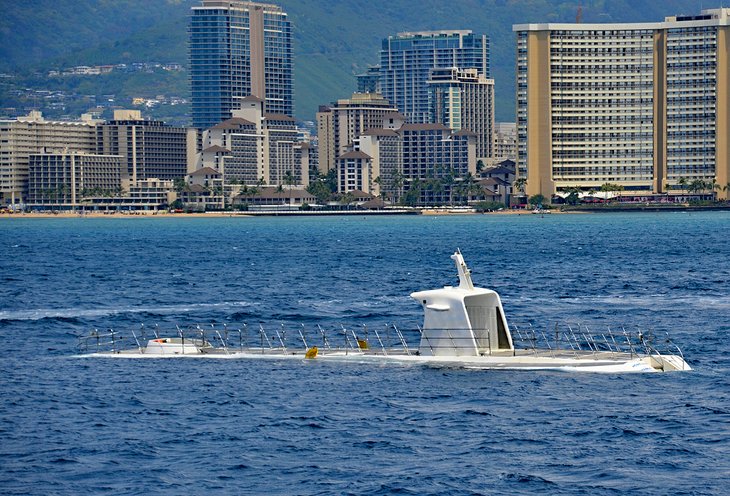 Atlantis Submarines offers tourists the opportunity to stay dry in one of their passenger submarines while taking in the wonders of the undersea world. While exploring beneath the surface, guides provide fascinating details about the numerous fish and other sea creatures, as well as commentary on the various man-made objects that can be seen offshore. Among these are ships and airplanes that have been sunk intentionally to help create barriers and protective places for the reef and fish to re-grow after destruction by both weather and human activities.
These submarines can be a good option for families or those who are not interested in scuba diving but would still like a truly immersive underwater experience. If you are lucky, a whale might even meander by to inspect the sub.
Address: 252 Paoa Pl, Honolulu, Hawaii
Official site: www.atlantisadventures.com/waikiki
4. Waikiki Aquarium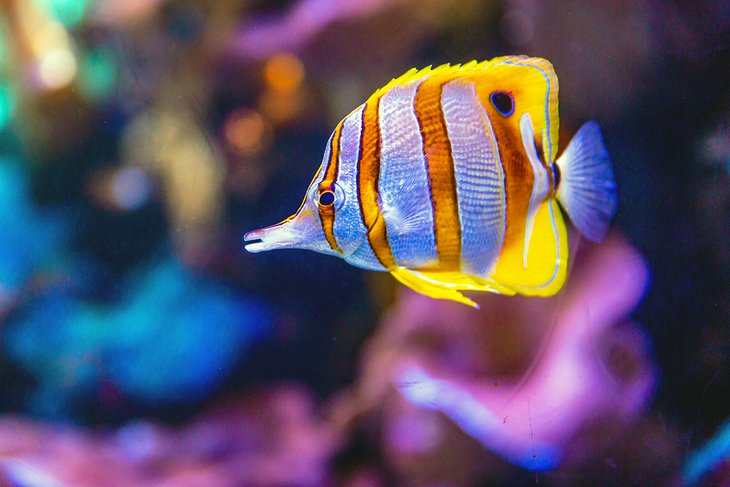 The Waikiki Aquarium educates visitors about Hawaii's unique sea life and the marine communities of the South Pacific. Exhibits feature both habitats and specific animals, with a large portion of the aquarium dedicated to the ecology and residents of coral reefs.
Within several coral reef exhibits, kids will love to learn about the relationship between clownfish and sea anemones; get an up-close look at reef predators like sharks and groupers; and view the aquarium's coral farm, which produces colonies that are used by other aquariums around the world.
Visitors also come to see the aquarium's Northwestern Hawaiian Islands exhibit, home to two critically endangered monk seals, as well as several other unique marine species only found among these uninhabited islands. Other exhibits include the underwater habitat in a mangrove forest, giant clams, jellyfish, and an assortment of rare deep-sea fish and invertebrates.
Address: 2777 Kalakaua Avenue, Honolulu, Hawaii
Official site: www.waikikiaquarium.org
5. Honolulu Zoo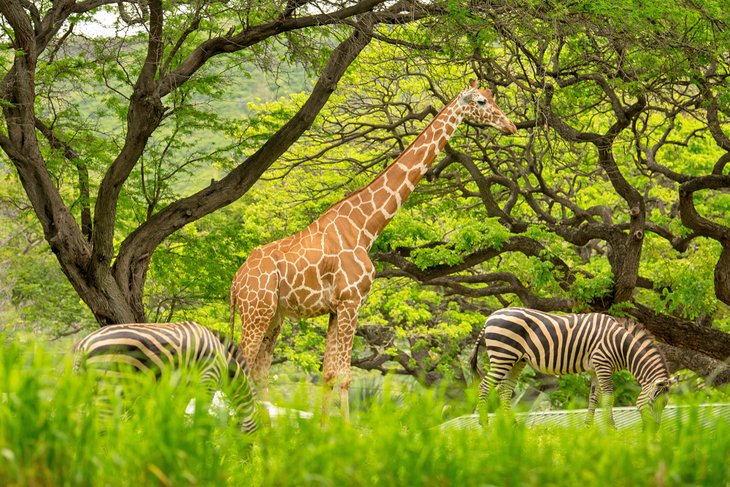 The Honolulu Zoo is a 42-acre zoo featuring hundreds of animals, birds, reptiles, and amphibians. The grounds also include a huge variety of tropical plants, creating a botanical garden setting, which includes native Hawaiian plants. There are also native Hawaiian animals in residence, including the Hawaiian Goose, Nene, and the Hawaiian Hawk, 'Io. Additionally, there are many favorites such as tigers, elephants, monkeys, and Komodo dragons.
The Honolulu Zoo is the only zoo that sits on a royal land grant. Today, the zoo represents three tropical zones: the African Savannah, tropical rainforests, and island ecosystems. There is also a children's zoo and playground.
Address: 151 Kapahulu Avenue, Honolulu, Hawaii
Official site: http://honoluluzoo.org/
6. Kapiolani Park and Queen Kapiolani Garden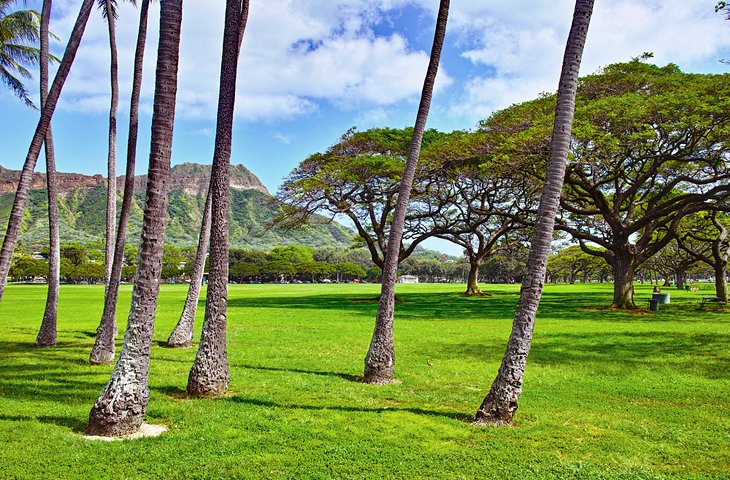 This beautiful park, which King Kalakaua gave to the city and now bears the name of his wife, divides Waikiki from the small residential area on the southwest side of Diamond Head.
Kapiolani Park is Honolulu's oldest public park and also the best loved. It contains family attractions, including the Waikiki Zoo and Waikiki Aquarium, but the main highlight for adults is the Queen Kapiolani Garden, which is home to a beautiful assortment of flowering plants. The garden contains plants from Hawaii and other parts of the world, including rare Hawaiian species.
The park is a pleasant recreational area with a large selection of leisure activities available, including tennis courts, picnic areas, and jogging paths. The Queen Kapiolani Bandstand is the finishing point of the Honolulu Marathon held each December.
Address: 3672-, 3698 Paki Ave, Honolulu, Hawaii
7. Go Snorkeling: Explore the Reefs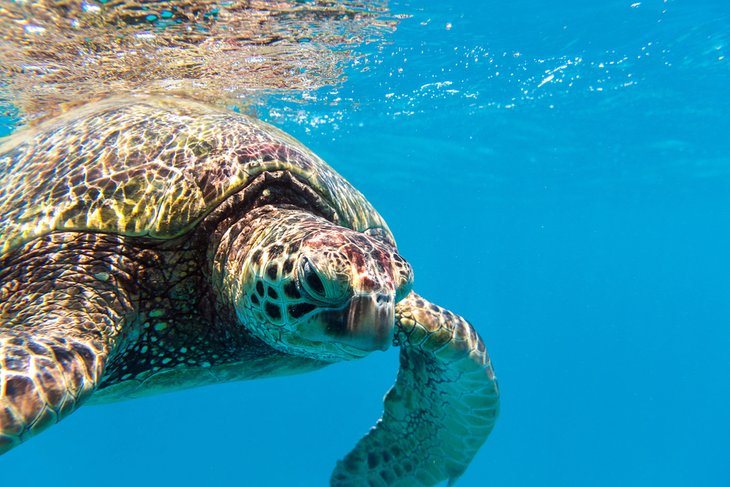 The island of Oahu is home to several top snorkeling spots, one of which is right on Waikiki Beach. The best spot along this long stretch of sand is on the southern end in the Waikiki Marine Conservation District, by the Waikiki Aquarium. The best place to enter the water is at Queen's Beach or the adjacent Kapiolani Park Beach, where the reef is visible from the shore.
The Waikiki Catamaran Snorkel and Turtle Tour is an excellent way for beginners to see a natural reef. This hour-long tour includes equipment and instruction, as well as a catamaran ride to Turtle Canyon, a popular reef that is known for its large population of green sea turtles. This is a good choice for beginners, with the reef lying only 20 to 30 feet below the surface, providing good views for snorkelers. Other aquatic life in the area includes a multitude of various reef fish, starfish, and even octopus.
8. Go Surfing on Waikiki Beach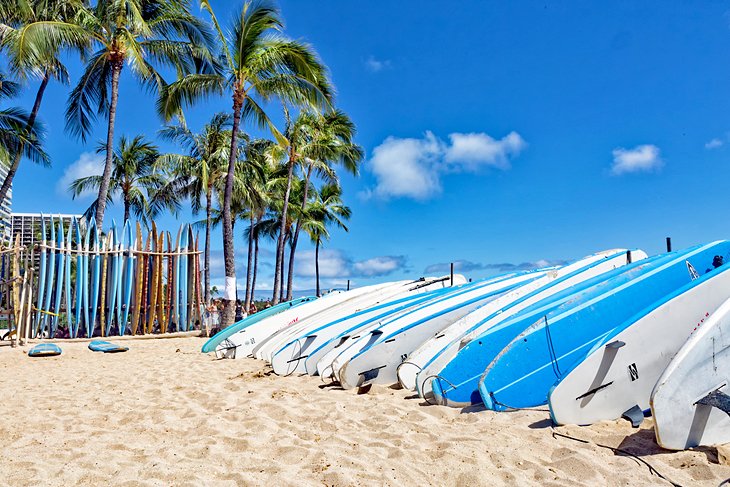 Waikiki was brought into the international spotlight as the surfing mecca by Duke Kahanamoku, Hawaiian surfer, instructor, and Olympic swimmer. The protected bay of Waikiki makes this an ideal place for surfing, especially beginners. It is a must-do for anyone visiting Waikiki, and there are plenty of rental shops along the beach where you can grab a board and hop a wave.
For those who have no experience, surfing lessons are a great option to help you get your feet wet. Professional surfing instruction on Waikiki Beach is tailored to your experience level, helping newbies try it out for the first time and learn the right techniques from the start, or helping seasoned surfers hone their skills.
9. Glass-Bottom Boat Cruises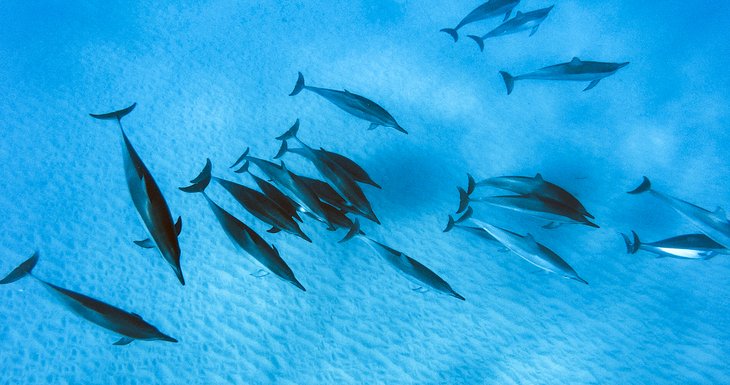 Tourists who don't want to get in the water or explore the depths by submarine can still enjoy and admire the beauty of the reefs and ocean life off the shore of Waikiki. The Waikiki Glass Bottom Boat Cruise is an accessible excursion that is a great option for those with mobility issues, including wheelchairs.
This one-hour cruise is on a 50-foot catamaran, the Haleiwa Queen, which features a transparent floor for crystal-clear viewing of the colorful fish, sea turtles, and other marine life. Tourists can also spot migrating whales and dolphins from the boat, and get excellent views of Diamond Head Crater and the city of Honolulu. The boat includes a shaded area for those who are sensitive to sun, as well as knowledgeable guides.
10. Kalakaua Avenue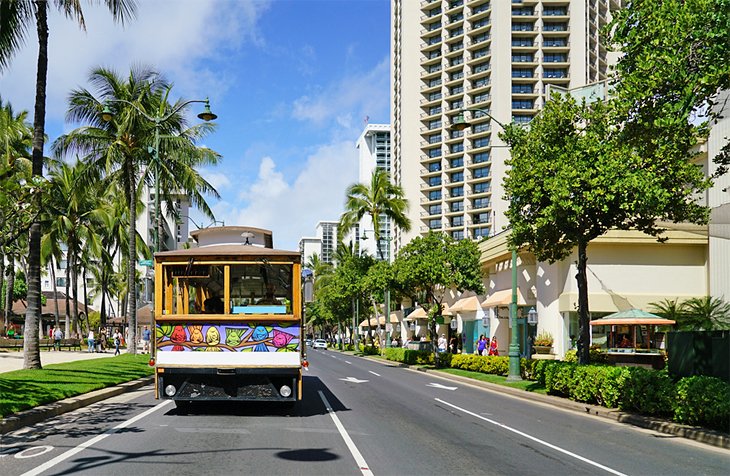 Waikiki's main street, named after King David Kalakaua, stretches for one mile from Beretania Street to the end of Kapiolani Park. Kalakaua Avenue is considered the heart of Waikiki, running parallel to the beach. Here, you will find countless hotels, restaurants, and shops.
If visitors are looking for a change from the beach, they need never be bored in this always lively street. Very close by are the Waikiki Shopping Center, on the corner of Seaside Avenue; the International Market Place, between Seaside Street and Kanekapolei Street; and the Royal Hawaiian Shopping Center, which stretches from Lewers Street as far as Seaside Avenue. Many shops can also be found in the hotels and resorts that line Waikiki beach.
11. International Market Place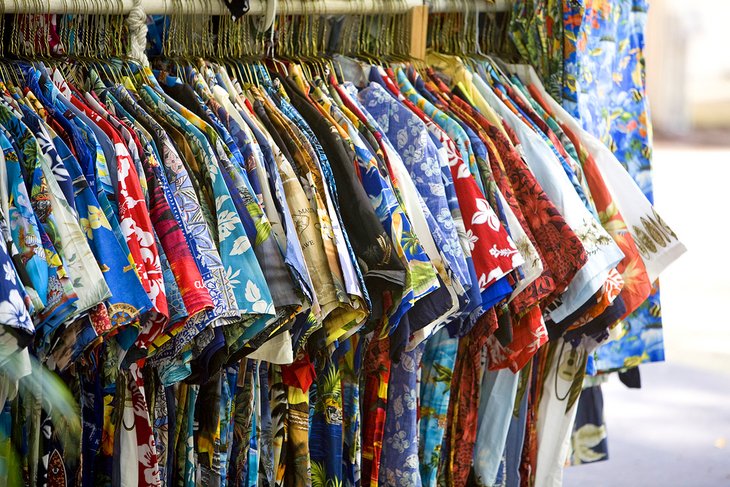 The International Market Place is a long-established collection of open-air shops in Waikiki, which take shelter under huge banyan trees strung with twinkly lights at night. Retail shops include internationally-renowned names like Saks Fifth Avenue, Burberry, and Swarovski, as well as locally famed products like Kona Coffee. Even if you aren't in the mood for shopping, this is a lovely area for a stroll and to people-watch, landscaped with tropical plants accented by water features.
This is also where you can find nearly any type of food you are craving, with a huge selection of both quick food and full-service restaurants, which represent everything from Asian cuisine to Tex-Mex. The International Market Place also hosts a wide variety of events and activities, including food festivals, concerts, Lei-making classes, and more. This can be a fun thing to do at night in Waikiki.
Address: 2330 Kalakaua Avenue, Waikiki, Hawaii
Official site: www.shopinternationalmarketplace.com
12. Royal Hawaiian Shopping Center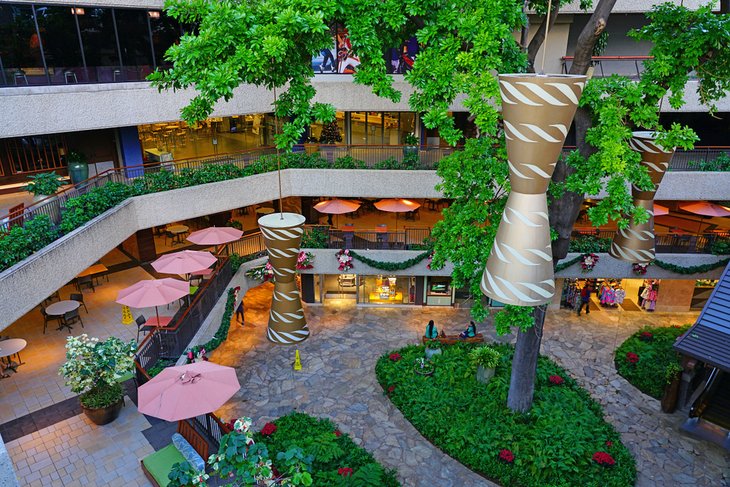 The Royal Hawaiian Shopping Center, located in central Waikiki, is a modern shopping complex with all kinds of stores, from international chains to Hawaii-specific names. It is situated on the south (seaward) side of Kalakaua Avenue and contains clothing stores, boutiques, souvenir shops, jewelers, and restaurants.
The Royal Hawaiian Center also offers a wide variety of free things to do for couples, families, and everyone else. Kumu (teachers) conduct hula lessons, as well as ukulele classes and instruction in lauhala weaving and lei making. There are also regular hula shows, which feature traditional dancers in full costume, as well as an explanation of the art form's history and significance in Hawaiian culture. The center also provides live entertainment in the evening and frequent musical events featuring both traditional and contemporary Hawaiian music.
Address: 2201 Kalakaua Avenue, Honolulu, Hawaii
Official site: www.royalhawaiiancenter.com
13. US Army Museum of Hawaii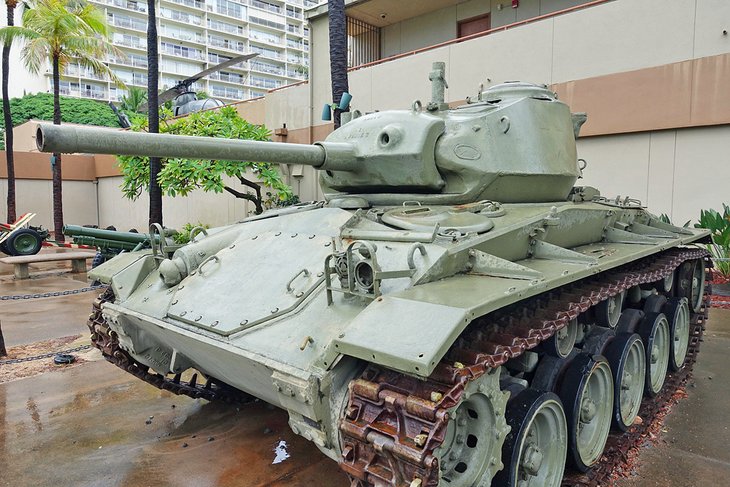 Among the exhibits in this small military museum are weapons from the time of the Hawaiian wars in the 18th century to the Second World War and the Vietnam War. Also on display are American soldiers' uniforms from the last 200 years, as well as enemy uniforms. Most interest is doubtless aroused by the old Hawaiian weapons studded with sharks' teeth. These were used in battles between former Hawaiian tribes. The museum also features temporary exhibits. The collection is located in a 1909 building originally built to defend Honolulu and Pearl Harbor.
Address: 2131 Kalia Rd, Honolulu, Hawaii
Official site: www.hiarmymuseumsoc.org
14. Shangri La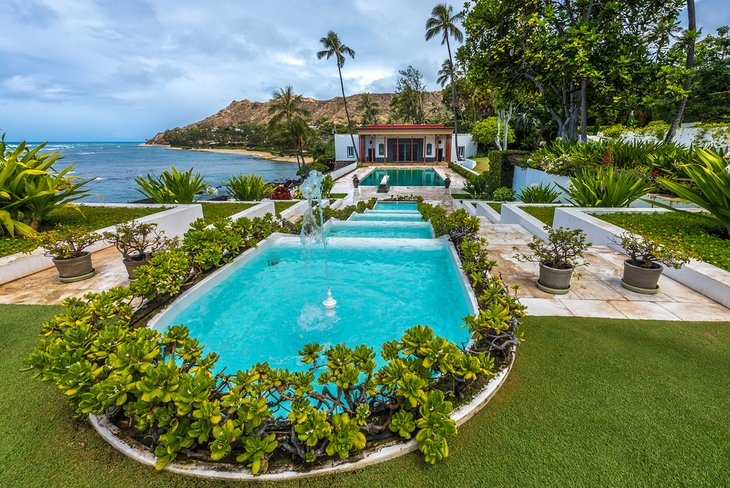 The collection found at Shangri La is an unexpected one given its setting on a Pacific Island, reflecting Doris Duke's love for both the island and Islamic culture. Shangri La, built as a vacation home to Doris and her husband, is now home to the Doris Duke Foundation for Islamic Art. The collections include approximately 2,500 items that represent some of the best creative work from the Middle East, Moorish Spain, India, and Asia.
In addition to decorative arts made of glass, ceramics, textiles, and other media, several of the museum's best examples are in its architecture. Commissioned by Doris in the 1930s, when she had the house built, several large installations by Moroccan, Indian, and Iranian artists were incorporated into the construction, giving it a truly unique ambience.
The museum is operated by the Honolulu Museum of Art, which is located nearby in downtown Honolulu. It features permanent collections and visiting exhibits that showcase not only Polynesian art, but works from around the world, focusing on Asian art. Collections also include works by Monet and Van Gogh, as well as artifacts from ancient Egypt, Rome, and Greece.
Address: 4055 Papu Circle, Honolulu, Hawaii
Official site: http://www.shangrilahawaii.org/
15. See the Kūhiō Beach Hula Show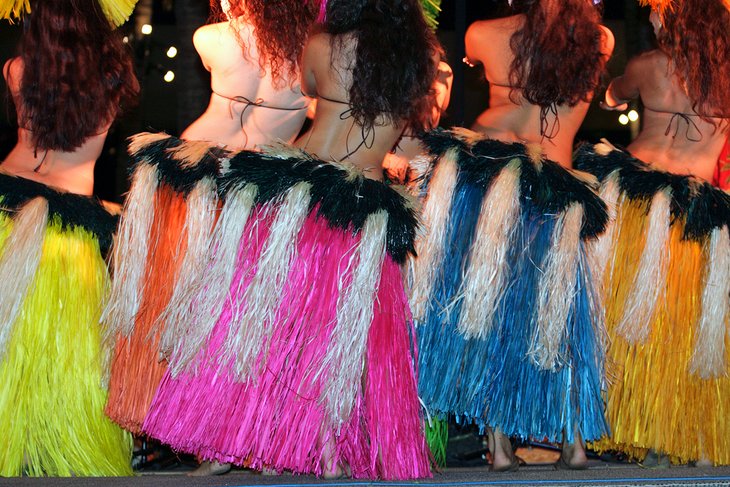 Several evenings per week on Kūhiō Beach, visitors can watch a free hour-long traditional hula dance performed on an authentic hula mound, or pa hula. The ceremony begins with the sound of a conch shell horn and then the lighting of torches, and features local dancers. The beach is conveniently located just off Kalakaua Avenue near the Honolulu Zoo.
On the other side of the island, a little over a one-hour drive from Waikiki, the Polynesian Cultural Center is another excellent spot to see traditional dance and customs in action. It is a living history museum, with six villages, each representing the culture of a Polynesian island, including Hawaii, Tahiti, Samoa, Fiji, Tonga, and Aotearoa (Maori for New Zealand). Visitors can enjoy hands-on activities within the center, as well as watch traditional dance, and participate in an authentic luau.
Where to Stay in Waikiki for Sightseeing
We recommend these wonderful hotels near great shops and restaurants and the famous Waikiki Beach:
Tips and Tours: How to Make the Most of Your Visit to Waikiki
Scenic Soaring
The adventurous will not want to miss the Waikiki ParasailiLurang Experience in

Oahu

, a one-hour excursion that includes an eight or 10-minute parasailing experience. Perfect for couples, passengers are paired up for the flight and can even purchase photographs of the exciting moments. While other passengers are taking their turn, you can relax on the boat and watch for marine life, including sea turtles, dolphins, flying fish, and even migrating whales in the winter and spring.
More Related Articles on PlanetWare.com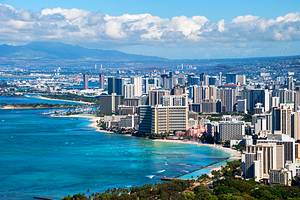 Exploring Honolulu: Tourists who are enjoying a vacation at one of Honolulu's top resorts will not want to miss out on the opportunity to explore the city and the surrounding area. Among Honolulu's top tourist attractions are several excellent museums, and natural sites like Hanauma Bay Nature Preserve and Diamond Head State Monument. The most visited place, however, is Pearl Harbor. The complex is home to the USS Arizona Memorial, an excellent visitor center, and several other historic attractions that commemorate those who lost their lives in the 1941 attack.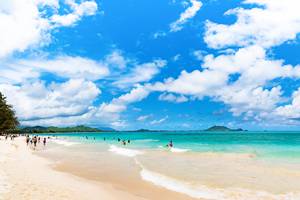 Beautiful Oahu: Because of the area's many things to do, visitors often choose to stay in Honolulu, but the Island of Oahu is small enough that tourists can stay in any one of the island's top-rated resorts and still visit Honolulu's attractions easily as a day trip. Surfers may want to consider staying on Oahu's north shore, where the waves are particularly gnarly. Couples might want to savor each evening's unforgettable sunset over the Pacific from the western shore, and families might be looking for a less crowded option among Oahu's most popular beaches.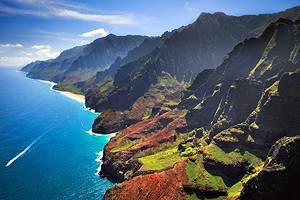 Island Hopping: Tourists with enough time will want to explore beyond Oahu and visit more of Hawaii's most visited tourist attractions. To the east, a wide variety of beaches and beautiful scenery await visitors to Maui, a popular place for surfing, swimming, and snorkeling. If you want to see an active volcano, look no further than the Big Island, home to Mauna Loa in Volcanoes National Park. West of Oahu sits Kauai, an island which is home to a variety of natural attractions and things to do, including the impressive Waimea Canyon and the iconic Na Pali cliffs.